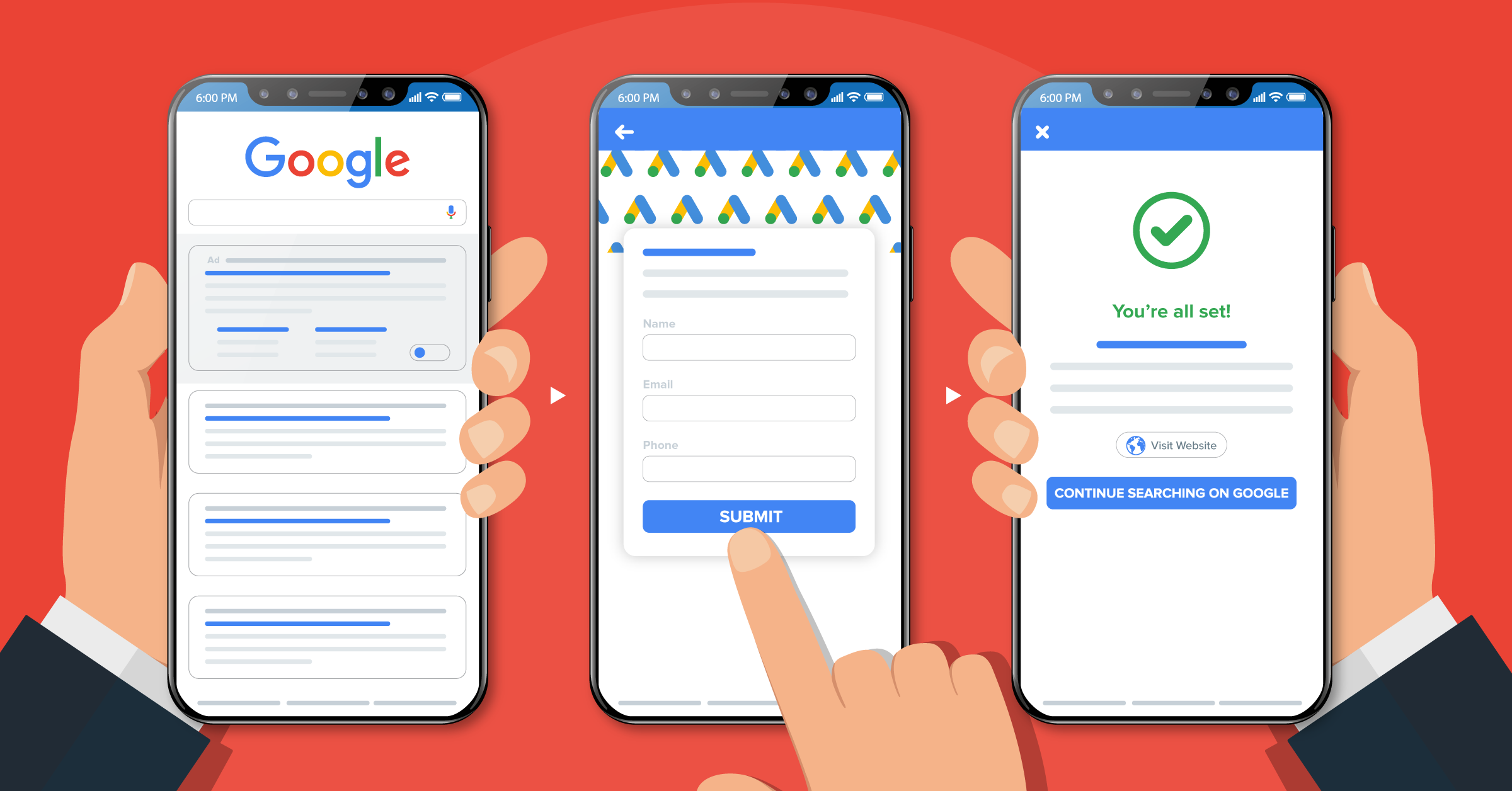 Every business owner knows that setting a strong lead generation strategy in place helps target high-quality prospects that are more likely to become customers.
However, generating high-quality leads is not an easy task. In a survey carried out by HubSpot, marketers revealed that generating high-quality leads is one of their most extensive lead generation challenges. Here, we are going to talk about this issue and how to address it.
In this article, you will learn all that you need to know about Google lead form Ads, as well as some of Google Ads best practices and examples to follow. Additionally, you will discover how LeadsBridge, a Google premier partner, can offer integration tools that help to automate your advertising experience.
Reasons to use Google lead form extensions
One of the main challenges of acquiring leads is to meet consumers where they are at. For many years, mobile users have accounted for approximately 59.6% of web traffic worldwide. Moreover, fewer people are using laptops to browse the internet or use social media sites. Currently, 91% of mobile internet users connect to social networks through mobile devices.
The traditional process of generating leads by redirecting people to a landing page, where they have to fill multi-field forms before submitting their contact information, has become obsolete. This process is not only an obstacle to higher conversions but also financially costly. If you hope to see any kind of success with this method, you'll have to use a good form builder.
Apart from the forms, slow-loading landing pages are a real curse for advertisers. They increase the bounce rate by 32% and decrease the conversion rate by 4.42%. To address this issue, advertising publishers such as Facebook, LinkedIn, and Google have been rolling out new solutions for advertisers to generate leads, such as native lead generation ads.
Native lead generation ads are designed explicitly for mobile navigation, enabling users to become leads in a couple of clicks. A study revealed that nearly 63% of Google searches are done using mobile devices.. Besides, the user-friendly aspects of these devices make them a go-to option. And considering the high number of users, mobile marketing has become the dominant market for digital advertisers.
Another factor that contributes to the high rates of mobile conversions is how these ads run on smartphones. The mobile form fields are automatically pre-populated with the user's personal information, and the users can submit a form directly on the platform where they are shown the ad.
Like Facebook Lead Ads and LinkedIn Lead Gen Forms, Google has also developed its own native lead generation ads, including Google lead form extensions and YouTube TrueView for Action Form Ads.
It's worth noting that the challenge in generating new leads for businesses is not just in terms of quantity, but also quality. Although Google lead form Ads drives more leads by reducing friction, it might trade off some quality while doing so. More often than not, the leads do not provide some vital information about their profile. For a long time, this information-related dilemma has been a burden on advertisers: how to create seamless campaigns without compromising some or all of their marketing efforts in the process.
However, Google lead form extensions and YouTube TrueView for Action Form Ads partially solve this pain point. Since the users are actively searching for either your company or a product or service related to your offer, their explicit interest can be seen as a synonym for quality.
This way, companies can drive large amounts of leads without giving up on quality. For more information about this, watch our webinar to get the most out of the Google Ads suite for better ad results and higher conversions.
Google Ads automation and LeadsBridge as a Google Premier Partner
Choosing the right integration provider to automate your Google ads can be challenging at times. The good news is that LeadsBridge is a Google Premier Partner. This means that LeadsBridge has a direct line with Google, and so do our customers. All our Google integrations are Google certified, indicating that LeadsBridge offers advanced Google product training, direct Google support, Customer Match, and Offline Conversions tracking.
In addition, LeadsBridge empowers all integrations with Google Ads lead form extensions so that you can create your Google form directly in the app.
How to get a $500 Google Ad credit as a LeadsBridge customer
Google now presents all the LeadsBridge customers with a Google $500 free advertising credit after creating a new Google Ads account. So you can use this money to grow your campaigns.
How to get your Google $500 free advertising credit?
It is super easy. To redeem your ad credit, you just need to:
Create a LeadsBridge account for free.
Create a new Google Ads account within the LeadsBridge platform.
Start running ads on Google and syncing lead data with LeadsBridge.
How does the credit work?
In order to activate the offer – which is only available to new Google advertisers – you'll have to spend at least $500 on Google Ads campaigns within the first 60 days.
Once you reach $500 in ad spend, you will receive a Google $500 free advertising credit to spend on your campaigns (USD or equivalent currency).
You will see the promotion automatically applied inside your Google Ads account (Tools → Billing → Promotions). The credit will be spendable until the end of the year and starting 31 days after it was issued.
Sounds like a deal? Sing up to get started.
Google Ads lead form extensions
Google Ads lead form extensions are lead generation ads designed to help businesses drive leads directly from the mobile search results page. The leads data are collected as they search for a product or service, or when they type specific keywords on Google. These extensions can help various businesses across several industries, such as real estate, automotive, education, finance, B2B, travel, hospitality, and more.
If you'd like to learn more about how to use Google Ads for real estate and for retail, check out the articles below:
How do Google Ads lead form extensions work?
Google lead generation forms aim to capture new prospects with a simple call to action attached to a responsive form under the ad. Once users click on the ad, they are shown a Google-hosted form which is automatically pre-populated with their Google account data. Additionally, the form comes with a call-to-action (i.e., "Apply now") to submit the form with a single tap (see an example below).
What are the benefits of Google lead form extensions?
There are many benefits for companies using Google Ads lead form. Here are some of them:
Google Ads lead generation forms are pre-filled, making it easier and quicker for users to submit their contact information.
Google Ads lead generation forms are high performing and optimized for mobile navigation and do not require extra technical intervention on the company side.
Google lead generation forms are easy to customize to fit a business's marketing goals.
Google lead generation forms can be integrated with other marketing tools such as a CRM or Email software to promptly contact new leads as they sign up.
Google Ads lead form extensions are relevant to the viewer since they are based on their search patterns on Google.
What are the privacy rules and limits to data collection?
Advertisers must be aware that Google lead form Ads are subject to specific ad policies to protect Google users' personal information. Therefore, the lead form should include a URL that directs the user to the privacy policy on the company's website. This is to clarify how the company will use the acquired information.
Furthermore, to comply with Google Ads policies, advertisers cannot create lead forms that:
Use the personal information previously collected without the user's consent.
Misuse the user's personal information to trigger an emotional reaction.
Collect sensitive data such as credit card numbers, tax ID, health status, social security numbers, etc.
Besides these regulations, Google lead form Ads have other limitations. For example, it's not possible to:
Use promotional language in the business name field (i.e., "Buy now at Tony's Car Dealer").
Run advertisements for alcoholic beverages, gambling services, or adult-oriented products.
Create advertisements for political favors or healthcare and medicine services.
In general, advertisers who violate the privacy policies risk having their extensions disapproved or the entire account suspended. Google lead generation form Ads are also subject to external privacy regulations such as the EU General Data Protection Regulation (GDPR) or the California Consumer Privacy Act (CCPA). These regulations prevent advertisers from running remarketing campaigns that leverage cookies without the users' consent to use their information.
To learn more about what companies can or cannot do to be compliant with the GDPR, read this extensive guide.
How to track conversions for Google Ads lead form extensions?
Although tracking results can still be beneficial, ultimately, a company should always make an effort to drive leads that convert into sales.
Tracking real conversions in an all-inclusive PPC reporting template can help businesses better understand their return on investment (ROI) and return on ad spend (ROAS), and allocate their marketing budget strategically through informed decisions.
To track the quality of the newly collected leads, advertisers must measure conversions through a full-funnel strategy. Google allows advertisers to master the sales funnel using its conversion tracking tool.
Conversions are not necessarily purchases. Instead, any time a visitor responds to a call to action and completes the desired goal, they have converted while becoming identified prospects in the process. It can be newsletter sign-ups, calls with sales reps, or app downloads; it's up to the marketing manager to define what actions should be considered conversions and create conversion actions on their Google Ads account.
For example, you can track each booked call as a conversion to assess the effectiveness of your lead form campaign. Generally, companies run advertising cross-channel campaigns (i.e., on Facebook, YouTube, Google Search, LinkedIn), so it becomes critical to understand which channel drives the most conversions.
The best way to measure where the conversion came from is to "push" first-party data from your CRM to Google. In other words, you can download this data from the CRM's segment of people who booked a 30-minute introductory call. Then, import it on Google to match it with the leads coming from the lead form campaign.
This process can be done manually or automatically by integrating the CRM with Google's conversion tracking tool. Check this step-by-step guide on setting up your Google conversions tool.
Once advertisers set up conversion tracking, they can sufficiently draw an image of which advertising efforts drive the best results.
Here is another one of our info-filled webinars that you can watch for free and learn more about how to convert high-intent search leads directly on Google Ads.
How to run remarketing ads with lead form extensions
Google lead form ads can encourage new leads to enter a marketing funnel but might require further advertising efforts. Marketing managers can create remarketing campaigns with Google Customer Match to address their audience depending on their stage in the funnel.
Remarketing enables them to tap into their first-party data and leverage meaningful signals present in their CRMs. For example, this data can belong to the segments of people who have placed a call with a sales rep, subscribed to a newsletter, or signed up for an "open day".
Many people might connect with a business by submitting their contact information on lead form extensions but will not engage further than that. In this case, the marketing manager can decide to create a remarketing campaign to nudge the lead a step further down the funnel. Since these leads have already engaged with the brand and are familiar with it, they are more likely to take action.
To create a remarketing campaign with Google, companies can leverage Google Customer Match. This feature allows them to create Pay-Per-Click (PPC) ads to target prospects on Gmail, Search network, Display network, and YouTube, starting from the user's personal information.
Google Customer Match identifies people by hashing their data (the first name, last name, country, and zip code). By doing so, advertisers can remarket people on all devices such as mobile, tablet, or laptop. This practice is a highly efficient remarketing technique, considering that a majority of consumers use multiple devices to browse online.
It is ideal for remarketing custom segments of contacts to approach them based on their stage in the funnel and with a tailored message. Therefore, companies must connect their CRM with Google Customer Match to optimize and automate the process.
Use this step-by-step guide to develop your audiences with Google Customer Match to learn how to build a Customer Match list and how to connect your CRM with it.
Here, you can also learn about LeadsBridge integrations for Google Customer Match. These tools allow you to automatically sync audiences and manage leads databases without dealing with heavy CSV files. Some of the best automation integrations for targeting leads and re-engaging with your customers across Search include;
Want to take advantage of first-party data to get unique marketing insights? Watch our webinar and learn how to scale Google Ads by leveraging first-party data for audiences.
How to integrate Google lead form extensions with your CRM
Once companies drive new leads to their funnels, it triggers a series of marketing communications via email, SMS, or other channels. The most popular and effective ways of communication with new leads are via email marketing and SMS messages.
Once a user submits a lead form, it's necessary to immediately follow up with the lead by sending a confirmation email or a welcome SMS text to nurture their intent. 74% of people expect to receive email communication immediately after subscribing to a list. Companies that respond quickly to leads are seven times more likely to convert those leads into sales. Use these email sequence examples and our guide to email marketing integrations for creating effective communication with your audience.
Communication with new leads must be practical and instant to make the best of your advertising efforts. To sync the leads in real-time, it is best to manage the collected data via Google Ads lead form extensions through a company CRM or Email software. To do this, you need to create a bridge between Google Ads and other platforms (CRM, autoresponders, etc), using a trusted third-party integrator.
As a Google premier partner, LeadsBridge offers numerous integrations to connect Google lead form ads with the rest of your marketing stack.
Generally, there are two ways to retrieve your leads at the end of a campaign: manually or via a webhook integration. The latter is the recommended option by Google to secure the leads and instantly start building your marketing funnels.
Companies can also manually download and manage their collected leads in a CSV file. However, these files are stored only for 30 days and the process to upload them to the marketing tools is slow, error-prone, and costly.
Most businesses automate the process by integrating Google Ads lead form extensions with a webhook integration. This way, they can sync new leads in real-time and efficiently deliver the promised offer and a welcome message. For instance, you can use the integration mentioned below.
It's essential to know that if a business decides to use a webhook integration to sync leads to its CRM, the CRM manager must ensure that it works correctly and adequately. Otherwise, the form extension will stop working altogether. Besides, a dysfunctional webhook URL will trigger a malfunctioning error that results in the rejection of the lead form.
This is why using a trusted third-party platform such as LeadsBridge is highly recommended. The integration helps create the webhook link between the CRM and the Google lead form campaigns. LeadsBridge is a cloud-based integration platform with a strong focus on privacy-safety best practices and robust integration technology.
How to create a Google lead form extension
To create a Google Ads lead form extension, follow the steps below:
Open a new window and log into your Google Ads account.
Click on Campaigns on the left menu.
Then, click on the "+ New Campaign" icon. In case you have already created your campaign, you should select the one you want to connect with your CRM and continue from step number 7.
4. Here, you need to define your campaign objectives. If you are creating a new campaign, then you should select "Leads" as the Campaign Goal, and click "Continue".
5. The next step is to select a campaign type. Select "Search" as the campaign type (considering that you are just generating leads).
6. Then, select the ways you'd like to reach your goal. Notice that LeadsBridge will need Lead Form submissions to retrieve your leads. Select it and click "Continue".
7. In this step, you will need to set up extensions. However, you can do this only after setting details for "Budget and bidding", "Campaign settings", and "Keywords and ads". Then, find the "Extensions" on the left side panel and click on "More extensions" to find "Lead Form Extensions". Select it and click"Continue".
8. Fill in all the information requested to create the form under the "Add lead form extension".
Remember that LeadsBridge will be able to retrieve only the values that you select under the "Questions" section.
At this point, if you wish to secure your leads automatically in your CRM, you will need to open the Lead delivery option. There, you will paste the Webhook URL and Google Key to your LeadsBridge account to create the integration and run a test to make sure everything is working. For a more detailed understanding of how to connect Google Lead Form Ads with your CRM, follow the dedicated step-by-step guide.
9. Find "Submission Message" and click on it. Then, fill in the requested information here. This includes a Headline, Description, CTA and a link.
10. The next step is to find the "Ad" section. Then, submit the requested information to finalize your ad.
11. Finish your campaign setup and publish it. Once completed, you can start acquiring leads and securing them in your CRM.
Here, advertisers can select their Call-to-Action and Extension Text, besides choosing the Headline, Business Name, and a Description of up to 200 characters.
Advertisers can also decide which information they want to collect from their prospects (name, email address, phone number, and zip code). It is also possible to add an image in the background, as shown in the example below. This is also where advertisers can link to the privacy policy and explain that the information collected will be used for marketing purposes.
Here are some of our top Google Ads lead form extensions integrations you can use for free.
Check out all the possible integrations to connect Google Ads lead form extensions with your marketing tools.
Google Ads "leads" vs "website traffic" campaign goals
In Google Ads campaigns, "leads" and "website traffic" are two different types of campaign goals that businesses can choose from based on their objectives. Here is the difference between the two:
Leads: The goal of this campaign is to generate more leads. These ads encourage users to fill out a form or take some other type of action that indicates interest in your product or service. The metrics that you should pay attention to include the number of leads generated, conversion rate, and cost per lead.
Website traffic: The goal of this campaign is to drive more visitors to your website. It helps increase your brand visibility, generate more page views, and potentially lead to more conversions. The metrics that you should pay attention to include clicks, impressions, click-through rate (CTR), and average cost per click (CPC).
YouTube TrueView for Action Forms Ads
YouTube is one of the largest digital video platforms. With over 2 billion monthly users, it is a highly productive playground for advertisers.
The same trend is reflected on YouTube for mobile navigation; the statistics show that more than half of watch time comes from smartphones.73% of consumers stated that they're more likely to make a purchase after viewing a YouTube video, with 96% of people stating that video content was useful when making a purchasing decision.
Advertising on YouTube is becoming increasingly lucrative for businesses. One of the best tools provided by YouTube for advertisers is the TrueView Action Forms Ads.
TrueView for Action Form Ads is a form of native lead generation ads specifically designed for YouTube, with the goal to help advertisers across several industries (i.e., automotive, travel, eCommerce, etc.) drive leads directly on YouTube while they are watching the video ad.
By displaying a YouTube-hosted form with a prominent call-to-action and headline overlaying the ad, the format eases the way for viewers to take action. It must be noted that this type of ad only runs on the skippable ad format.
Moreover, they are optimized to reduce friction and enhance the user experience. In practice, TrueView for Action Form Ads helps companies drive more leads than traditional ads, where viewers are redirected to a landing page.
Please note that TrueView for Action Form Ads is currently only available to advertisers who are "whitelisted" by Google. There is no news on when they will be available to all other advertisers.
How does YouTube TrueView for Action Form Ads work?
The YouTube TrueView ads show up in-stream on the viewer's YouTube video. From there, the viewer will see a call to action button underneath the TrueView in-stream ad. When the viewers click on the call-to-action button, they are shown a form that is already pre-filled with the viewers' information, such as the first and last name, email, phone number, and zip code. Once the user submits the form, a "thank you" page is displayed with a link to a website. Find an example of the YouTube action form ad below.
What are the benefits of YouTube TrueView for Action Form ads?
Some of the benefits of this ad format are outlined below.
It helps businesses drive higher volumes of leads by reducing UX friction.
It helps businesses to acquire new leads based on high-intent.
It helps businesses to reduce the cost per lead compared to landing pages.
It helps businesses to secure leads to any CRM with a webhook integration.
How to optimize your TrueView for action campaign for conversions
There are some tips and best practices that YouTube suggests to get the most out of your TrueView campaign. For example, to optimize your TrueView for action campaign for conversions, you can:
Leverage Google's automated bidding solution in order to capture the most conversions within a set budget
Run A/B testing of different CTAs and ad copy (up to 4/5 different versions)
Use assertive CTAs such as "Buy now" or "Sign up" and combine it with a copy that stresses how you can solve the customer's problem.
Automate the lead sync process from the YouTube TrueView for Action Form Ads to your favorite CRM using a third-party partner
YouTube also recommends setting an average daily budget which is 20 times your CPA for Display campaigns or 30 times your CPA for Search campaigns.
It goes without saying that, exactly like for Google Ads lead form extensions, it's critical to monitor results every week and measure performance based on conversions by setting up the conversion tracking tool (i.e., Adobe Analytics) on your Google Ads account.
How to integrate YouTube TrueView for Action Form Ads with your CRM
As mentioned earlier while talking about the search lead form extension, the timing in communication with new leads is the key to driving conversions.
This means that leads coming from YouTube TrueView ads must be synced and secured in real-time to the CRM or email software. Again, businesses can either retrieve their leads manually, or set up automation via a trusted integrator such as LeadsBridge. This way, they can sync leads automatically and immediately manage their marketing funnel.
LeadsBridge offers a robust integration technology with over 380 marketing tools, such as HubSpot, ActiveCampaign, Bitrix24, and many more.
Check out more of LeadsBridge's YouTube TrueView integrations here.
As a business manager, if you decide to do this process manually, it's important to remember that the lead's CSV files are only stored for 30 days.
If you decide to automate it, keep in mind that the webhook integration must work properly in order to correctly sync your leads. These challenges make it imperative to rely on official Google partners such as LeadsBridge, which keeps everything running smoothly.
How to create a YouTube TrueView for Action Form Ads
To create a YouTube TrueView Ad there are some steps to follow:
1. Log into your Google Ads account.
2. Click on "Campaigns" on the left menu.
3. Then, click on the plus (+) icon and select "New campaign", if you're creating a new campaign.
Load campaign settings, if you have already created your campaign. Remember to select the one you want to connect with your Bridge and continue from step number 6.
4. If you are creating a New campaign, then you should select Leads as the Campaign Goal.
5. Then, select "Video" as the campaign type, and click on "Continue".
6. Then, click on the "Form" button.
7. Fill in all the information requested to create the form under " + lead form extension".
As mentioned before, LeadsBridge will be able to retrieve only the values that you select under the "Questions" section.
8. Find "Submission Message" and click on it. Then, fill in all the required fields, including a Headline, Description, CTA and a link.

9. Find the "Ad" section and click on it. Then, submit the requested information to finalize your ad.
At this point, if you wish to send your new leads automatically from YouTube TrueView ads to your CRM with LeadsBridge, you can enable lead delivery by webhook. You need to copy-paste the Webhook URL and Google Key that you receive while creating your bridge on the LeadsBridge app.
For more detailed instructions on how to integrate YouTube TrueView for Action Form Ads with your CRM, follow this step-by-step guide.
Would you like to try some of these integrations for free? Here are some of our most popular bridges which are included in our freemium plan;
To find your favorite bridges, explore all the possible integrations with YouTube TrueView for Action Form Ads here.
3. Using Lead Forms in Google Discovery Campaigns
With the fall of Google+ a few years back, many experts assumed that Google was falling short when it came to top-of-the-funnel ad revenue. Fortunately for many people, Google introduced Google Discovery Ads back in 2019 and, soon after, made it available worldwide.
Using Lead Forms in Discovery campaigns makes it easier for advertisers to capture the individuals with the correct interests (matching with their target audiences).
What is Google Discovery Ads?
Google Discovery Ads are a type of visual ads that can be displayed within the Google Discovery Feed. These ads appear on the Google App or Google homepage, the YouTube home feed, and even Gmail.
Depending on the platform the ad appears on, the overall look of the ad can change entirely. For example, Google Discovery Ads modifies the ads' outlook in order to focus on the visual aspects and draw more attention to the ad.
In the past, Google has delivered ad experiences to users based on search history and intent. Now, Google Discovery Campaigns aims to change that idea completely by focusing on the audience's interests and collecting valuable data as the user moves through the Google ecosystem.
Benefits of running Google Discovery Ads
Google Discovery ad campaigns were initially an exclusive product for the Google Discover app. However, these ads soon became a great success and were optimized to run on YouTube and Gmail. Discovery ads increase the possibility of offering relevant content to users at every stage of their journey as a buyer, hence growing conversion rates.
Google Discovery ads are featured on three main Google properties, including Discover, YouTube, and Gmail.
As you already know, the Discover feed is designed to provide updates on news, events, and other topics that users are interested in. Moreover, Discover delivers its services to over 800 million monthly users. These numbers suggest the platform's widespread popularity, hence, its outstanding potential for running advertisements.
Google Discovery ads also can run on the YouTube Home feed. Besides having over 2.6 billion monthly users, the feed is highly visible and in a perfect location to get visitors' attention.
The Gmail Promotions Tabs are another ideal place for displaying Google Discovery ads to connect to new users in their email inboxes. The primary benefit of these ads is their rich and highly relevant content for each user that stands out, all without being too forward.
Let's look at an example for each of the three main Google properties: YouTube, Discover, and Gmail
An effective marketing strategy and the right automation tools are essential to getting the best out of Google Discovery Ad. As a result, you can capture more qualified prospects and increase your conversion rates. However, keeping track of all that goes on with your leads and campaigns could be challenging. The best way to turn the odds in your favor is using a third-party integration like LeadsBridge to automate the process. Check out this article to learn: how integrations can help you build a Google Ads strategy that converts.
Google Discovery Ads examples
Gmail
Gmail is one of the popular locations for discovery ads to be placed, typically being found within the "promotions" or "social" tabs, as seen below;
Once you click on these ads, they will open in the same format of a general email, displaying further details regarding the offer from the brand.
Google App
If you have the official Google app downloaded on your mobile and have the "discover" feature turned on , you will have seen a plethora of discovery ads whilst scrolling.
The Discover feed features a variety of content that is tailored to each user based on their previous web searches, their interests, and what items they have saved.Take a look at these Google Ads Discovery examples from mandmdirect and Ted Baker.
YouTube
The YouTube app is a common host for Google Discovery ads, typically appearing as you scroll through the "home" tab to explore videos.
To help you differentiate between these and videos, you will see a yellow ad box on display in the left corner.
This Google Discovery ads example, by Fabletics, perfectly highlights how brands typically use this platform to advertise their offering.
If you'd like to see some Google Ads examples to get inspired, check out this article: Google Ad examples that work in 2023.
Google Discovery Ads best practices
Much like any advertising strategy, garnering success with Google Discovery Ads requires following a number of best practices that set a strong foundation for driving campaign results and increasing conversions.
Let's take a look at the four Google Discovery Ads best practices that you need to keep in mind going forward.
1. Creative quality
When curating your discovery ad, it is imperative to remember that this may be a customer's very first touchpoint with your brand. First impressions are crucial, with 55% of initial opinion being based on visuals.
To ensure that you give yourself the best chance possible in the eye of the consumer, only use high-resolution images that display a creative, yet clear, idea of your product.
Try to avoid using images that are poorly cropped, as well as an excessive amount of text or a cluttered, busy background as these can distract leads from the central viewpoint.
2. Grab attention
Discovery ads are generally seen by those who are not actively searching for your brand online. This means you must grasp a user's attention and command their interest, instilling a new search intent that they previously did not possess.
Although this is no easy-feat, there are a number of tactics that you can employ to increase the likelihood of planting intrigue. By using eye-catching headlines, creative copy, and descriptions that tap into a general pain point, you can draw a lead's eye to your advertising.
3. Be attentive with "Automatic Targeting"
According to Google, Automatic targeting can help your business reach new audiences, relevant to your target market, that have a high likelihood of converting.
However, there is one issue that presents itself with this. You want to avoid Google extending your reach to users who have never previously interacted with your brand whilst you are currently remarketing to those within your audience lists. In order to avoid this coming to fruition, you will need to navigate your ad group settings and select "Optimized targeting" off. This action is important as this setting is turned on by default.
4. Don't optimize too early
This is one of the most notable Google Discovery ads best practices, as you will have to work against temptation to alter your campaign too soon. If you want to achieve the best, most actionable insights from this advertising activity, it is wise to let the bidding strategies that you have selected settle.
Of course, if an aspect of your strategy is undeniably incorrect, then by all means you should intervene and fix any issues. Other than that, it is best to leave the campaign to gather data for a couple of weeks and then begin reviewing results.
YouTube Discovery Ads
YouTube Discovery Ads, also known as TrueView video discovery ads, can run off of both YouTube search results and watch pages. They are compatible with the desktop and mobile versions of YouTube, as well as the homepage for the mobile app.
All the discovery ads on YouTube videos feature a thumbnail image and a maximum of three lines of text. Clicking on an ad in this format will take the user to the YouTube watch or specific channel homepage, in order to view the playing video for the ad.
Benefits of TrueView discovery ads
One of the outstanding benefits of TrueView discovery ads is their ability to render highly relevant content to the user. Similar to how Google ads appear according to Google's organic search results, TrueView discovery ads match with the regular videos that users are looking for.
These ads are linked to YouTube videos. Once users click on them, they are redirected to a watch page, practically the same way as an organic video result. What makes TrueView discovery ads and organic video results different is a small ad tag that shows up on paid ads.
Moreover, TrueView video discovery ads improve user experience, which leads to brand awareness and loyalty. Unlike in-stream ads that everyone finds intrusive, these ads don't interfere with the video that is already being streamed. Instead, they appear as mild but well-suited suggestions that focus on the user's interest.
When it comes to marketing, costs matter. Another highlight of TrueView discovery ads is their optimized costs. It allows advertisers to place a bid, so they can stay within their budget.
The difference between in-stream and video discovery
The terms for TrueView in-stream and TrueView video discovery ads are often used interchangeably, but they are different. However, each category of TrueView ads allows the users to choose whether or not to watch the video.
TrueView in-stream ads are displayed while the user is watching a video. It could be right at the beginning or the middle of streaming once or more. The minimum time before the user gets to press the "Skip Ad" button is 5 seconds.
On the other hand, TrueView video discovery ads don't cut through the streaming. Instead, they are suggested to the user in their search results. The user willingly chooses to click on these ads to watch them.
TrueView Discovery Ads examples
When browsing YouTube, you've undoubtedly come across a TrueView discovery ads example. These ads are videos that say "ad" next to them. Here is a similar example of how it looks;
When browsing YouTube, you've undoubtedly come across a TrueView ad. As you can see, the ad meets the criteria we mentioned above: a thumbnail and some text. Because of the nature of YouTube Discovery Ads, this video is mixed in with the regular videos. It looks like the user, in this case, was looking for videos on tents and camping gear.
Based on the intent of the user, YouTube (or Google) automatically recommends something that its ad algorithm deems relevant. Using this as an example, the algorithm is pretty spot-on.
Key takeaways
Advertisers must constantly adapt to changes in consumer behavior. In a world where over half of people browse the web from mobile, one of the best ways for a business to drive leads is with native lead generation ads, which are specifically designed for mobile navigation.
Google Ads lead form extensions and YouTube TrueView for Action Form Ads make it easy for users to submit a form, all without interrupting their navigation experience, like being directed to another landing page.
However, businesses should also implement more in-depth analytics to track real conversions. These assessments should analyze lead form extensions and TrueView Ads to understand which efforts are generating the highest returns.
To do so, it's key to integrate their CRM with their Google Ads account, ideally through an official Google partner and automation platform, such as LeadsBridge. Discover all the possible integrations for Google Ads lead form extensions and Youtube Trueview for Action Form Ads to get the most out of your campaigns.