What Real Estate Agents and Agencies need to collect better leads with Facebook
LeadsBridge helps thousands Real Estate agencies improve the quality of their Facebook leads
LeadsBridge is the official vendor of these amazing companies




How LeadsBridge is making the difference in the Real Estate industry
Lead Generation Ads
LeadsBridge helped generating over 20 million fresh leads in the last year.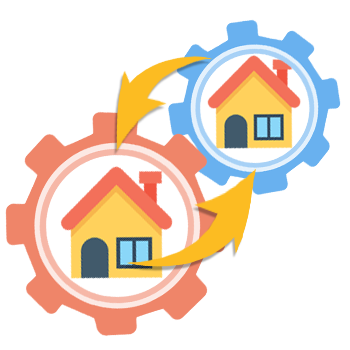 Integrations
Real estate CRM or Custom Solution? We got you covered.
Emails & SMS
Receive an Email or SMS every time you generate a lead.
LeadsBridge also works with
A vigorous, Enterprise-Friendly technology
GDPR, PCI, Facebook, Google and LinkedIn compliant
Serious enterprises around the World work with us for a reason. Get a trusted partner who cares about regulations.
No Storing
No storing no trouble. LeadsBridge keeps your privacy and your lead privacy super-safe. Leads data are NEVER stored on our servers.
Advanced Automations
Laser-targeted segmentation, local stores distribution, automation rules and filters, lead communication, you name it!
Featured customers
"
"LeadsBridge is definitely the best tool for any serious Agency out there! The effectiveness and the fact that the developers keep the software constantly updated. Great Customer Support as well. Since I have started to use Facebook Lead Ads, I have been searching for services or tools that could help me in synchronizing these CVS files with my email autoresponder as the manual process was just too long for me. I found LeadsBridge about two months ago, and I am euphoric with the service as it does all the job for me. It..."
Renato Capasso
Online Monkeys.
"
"Takes one more thing off of my to-do list. LeadsBridge saves me time (and my sanity) since that is my most precious commodity as a working mother! Manage my Facebook leads is super easy by now thanks to LeadsBridge!"
Erica Colon
Nitty Gritty Science.
"
"LeadsBridge Is Awesome! I'm a huge fan of LeadsBridge, It has improved my agency's business! It is simple to integrate with just about any CRM and the connection into Facebook is so easy. It turned Lead Ads from a hassle to super effective. 5 stars!!"
Kevin Manning
Disruptive Advertising.
"
"LeadsBridge works flawlessly with the many CRMs that our clients employ. On the two occasions where some customization was required to appease specific requirements of a CRM for our automotive business, a ticket with LeadsBridge resulted in a resolution within 24 hours each time!"
Understand how 6,000 real estate agencies are getting over 60% more leads with LeadsBridge
See with your own eyes why LeadsBridge is the #1 choice for realtors and agencies who want to generate more leads.