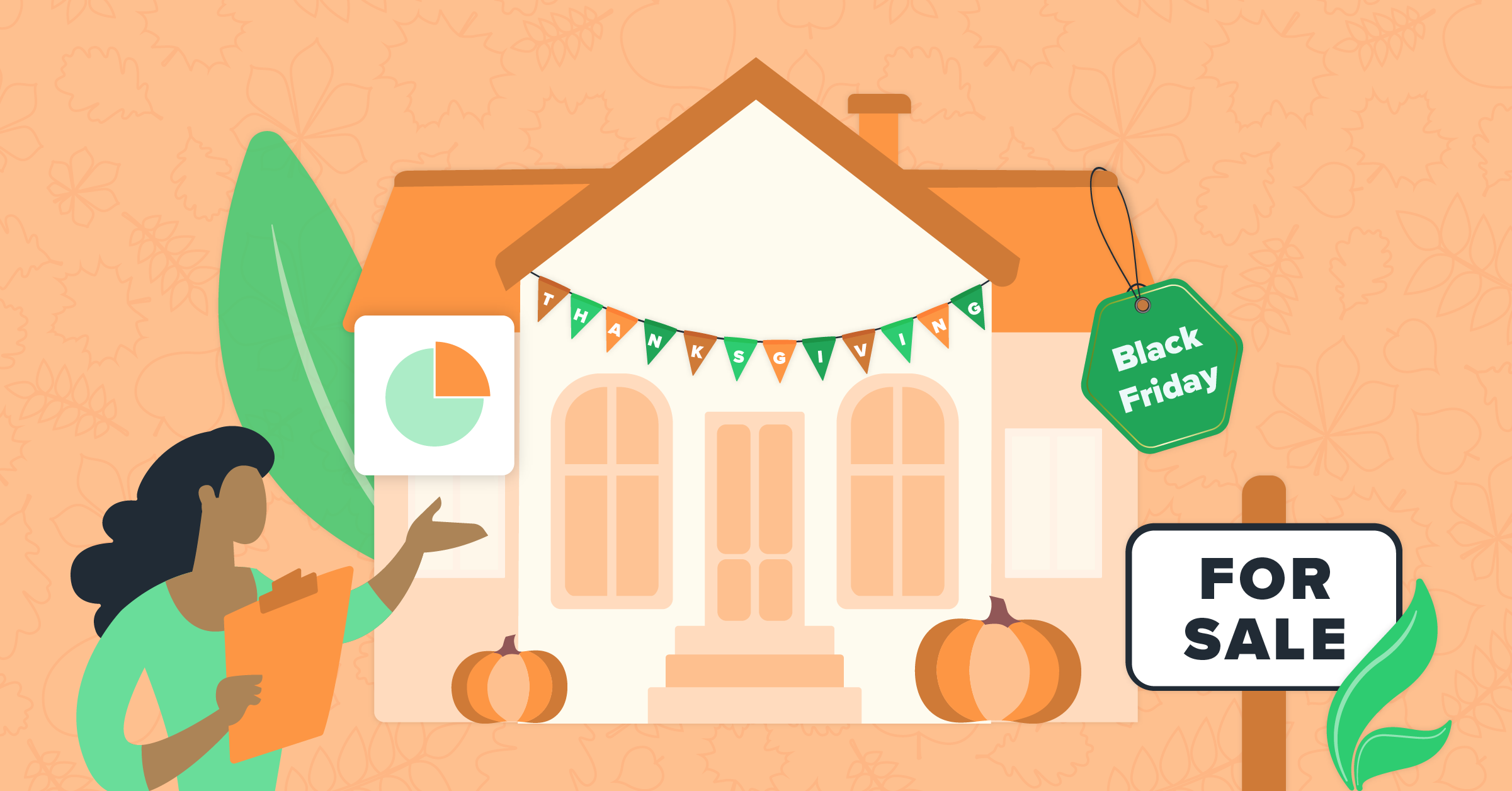 Why run real estate marketing campaigns this holiday season? There are several reasons why you should. But mainly because anyone taking time out of their holiday shopping and traveling schedule to look for properties shows a strong purchase/selling intent. And the same is true for buyers.
In this article, we'll discuss the real estate marketing ideas to help you get an edge on the market this holiday season. In the end, we'll also talk about tools you can use to take your marketing to the next level, such as;
Understanding the holiday season real estate market
The holiday season is the biggest shopping period of the year all over the world; it starts on Black Friday, peaks around Thanksgiving, and ends on Cyber Monday.
This time of the year can give you the perfect excuse to reach out to leads and have fun while doing so. Before discussing Black Friday and Thanksgiving real estate marketing campaign ideas, let's take a closer look at these markets and what they offer.
Thanksgiving real estate market
The Thanksgiving real estate market focuses on buyers who want to buy and are looking to take action sooner rather than later. However, the holiday season is full of the hustle and bustle, family gatherings, exciting to-do lists, and more.
So to get the people to come off the sidelines and check out your properties, you'll need to create catchy and themed ads. This is where our Thanksgiving real estate marketing strategies will come in handy.
Source: Breakthrough Broker
While most realtors take time off during the holiday season, you can seize the opportunity to reach out to your audience by tapping into the season's festive spirit.
Additionally, some reports, such as ATTOM Data Solutions, have started a trend for people who look for lower property prices during the holiday season.
Keeping all these factors in mind helps you understand the mindset of your target audience and use the best Thanksgiving real estate marketing ideas to create relevant campaigns.
Benefits of Thanksgiving for real estate business agents
Better reach to potential qualified leads: The market during the holiday season is full of high-intent shoppers. So convincing potential first-time buyers to take the plunge isn't going to prove that challenging. Sometimes, all it takes is following up with your leads at the right time to conclude a deal. However, you'll still need the right tools to do that:
Thanks-giving as a marketing instrument: Gratitude and thankfulness appeal to both buyers and sellers at this time of the year. That's why creating themed campaigns shows them that you actually care.
Be one of the first marketers with the holiday season campaigns: People get countless marketing messages during December. However, you can get their attention early on with the perfect realtor Thanksgiving message.
Increase awareness for your real estate business: Brand building helps your contacts and prospects to remember your services whenever they're ready to move forward with buying or selling their properties.
Black Friday real estate market
In 2021, Black Friday traffic was down 21.7%, in contrast with higher traffic rates in 2019. However, 44% more shoppers preferred ecommerce over in-store shopping compared with 2019.
Regardless of these statistics, Sensormatic Solutions by Johnson Controls predicts that the Black Friday of 2022 is expected to be a massive shopping day.
What if we told you that your real estate business could benefit from the huge sum of money spent on Black Friday?
Most advertisers consider Black Friday for real estate businesses as an irrelevant marketing opportunity. While buying or selling a home may not be the top priority on a traditional holiday shopping schedule, some people will still look for deals during this time of the year.
Most Black Friday for real estate sales happens because the agents:
Use Black Friday as a 'time-off' opportunity to search for houses to buy.
Look for Black Friday deals for real estate to get discounted prices on their favorite properties.
Or, follow the new trend of Black Friday for real estate, which is becoming a well-established tradition for people looking to sell and buy houses.
Benefits of Black Friday for real estate business agents
Black Friday is an opportunity to get qualified clients who are really interested in buying or selling houses during the winter months.
It offers a way to take advantage of people in buying mood.
Selling houses is easier during Black Friday since people are already looking forward to deals, and they know most deals are genuine during this period.
It provides a great occasion to build credibility and brand awareness with themed campaigns.
Ways to leverage Black Friday & Thanksgiving for your Real Estate Business
Host a Thanksgiving dinner
Thanksgiving is synonymous with a festive meal. So why not combine a delicious roast meal with a marketing campaign?
Invite your clients to an appreciation event; while this is an excellent opportunity to create brand awareness for your real estate business, you can pick up on people's festive mood. This way, they can associate your business with genuineness and feel related to it.
Source: Swift Current Real Estate
You can cater an open house Thanksgiving dinner to show your listing and invite past clients, prospects, and referral partners. Additionally, you'll get to create great holiday memories for your guests while they explore the listing.
Apart from hosting a fancy thanksgiving dinner party, you may also consider delivering themed goodies door-to-door or even organizing a pumpkin pie pickup at your open house.
Source: Gia Lucchetta Real Estate Group
Charitable initiatives for Thanksgiving
Thanksgiving is a holiday that stands for gratitude and helping those in need. Besides their philanthropic nature, these charitable initiatives can provide an effective marketing prospect.
You can run charity campaigns to show your commitment to giving back to your community and let your prospects know about your humanitarian endeavors. This could symbolize your goodwill among your audience, who may even encourage them to take part in your initiatives.
Have a look at this year's Thanksgiving campaign by Interior Properties real estate below. Who wouldn't want to get in on this campaign?
Thanksgiving-themed giveaways & contests
Everyone loves to win a prize, despite the occasion. However, you can get creative and use Thanksgiving as an opportunity to offer branded gifts by adding a QR Code that will keep your business top-of-mind. While this isn't a direct approach to sales, it could be considered a micro-conversion that helps improve your branding immensely.
In addition, contests allow you to engage passive audiences through a survey, a quiz, or even a simple contact form.
Discover more about lead capture forms here.
Source: Baxter Ryan Real Estate Group
Sending real estate Thanksgiving cards
Another way to show compassion for this holiday is by sending realtor Thanksgiving cards. Besides brand building, it allows you to get more referrals and stay in touch with clients with whom you've done business this past year or so.
You can mail out your real estate Thanksgiving greeting cards or deliver them with a sweet treat.
Here are some tips to help you create a memorable holiday message:
Keep it short and on the point.
Prioritize gratitude and a positive future over marketing.
Make sure the design matches the occasion and your business tone.
There are many websites that offer low-cost templates, which you can use to design your card in just a few minutes.
Source: ReaMark
Capture the story of the home
People tend to forget facts, but they remember stories. You can use storytelling to get more sales on Thanksgiving as a real estate business is to tell the story of the home you want to sell.
Stories engage the emotion of potential buyers as they start to imagine themselves living in the house. They create an image of how life will look in the new home and its environment. That's why you need to create authentic stories around the properties you want to sell on Thanksgiving.
This includes stories that show how unique the property is, the landscaping, stunning hardwood floors, and other features of the house that will entice buyers.
An example of a story well told is posted by Century 21 realtor:
Offer enticing incentives
By offering incentives, you can also get more sales during Black Friday for the real estate business.
First, offer to pay the points lenders charge to secure a lower interest on mortgages. This is an eye-catching and relevant highlight since most home buyers use mortgages to purchase homes; you are lending them a helping hand to get the best interest rates available.
Secondly, you can offer to pay closing costs and pre-closing costs. These are fees charged by the lender, title company, inspectors, etc, to close a sale. In most cases, sellers are entitled to pay these fees. To encourage them, you can relieve them by paying off some of the costs as incentives.
Another incentive is providing upgrades and repair credits and offering to carry out major upgrades in popular areas like the kitchen and bathroom.
There are countless creative ways you can offer incentives, such as TV screens, stoves, dryers, washers, and furniture to further entice prospective buyers and encourage purchases. Prospective buyers will love the thought of buying a home with essential home appliances.
However, ensure that the items you are offering are in line with the lender guidelines.
Offer discounts
When we talk about Black Friday deals, the first thing that comes to mind is Discounts. Accordingly, people who are looking to buy houses on Black Friday search for a discounted price. Offering substantial discounts on homes, condos, rentals, and commercial properties will entice prospective clients to buy. You may even go as low as 5% under market value to encourage them to finalize a deal. The discount will give your prospective clients the nudge they need to sign the contract.
Besides offering a discount on the prices of properties, you can also offer discounts on your agent's commission. This will enable your prospective clients to use the discounts as part of the money to buy other things, such as furniture for the home, or convince them to use your services for listing their property.
One great example of a real estate company that did this is Casaktua.
They put up about 4,000 properties for sale with discounts of up to 75%!
This Black Friday-themed offer included flats, chalets, penthouses, or studios on offer at average prices. They also offer about 30% off on garages, storerooms, land sites, and warehouses. What's more, this offer was extended to the entire holiday season by making it available for buyers until the 31 of December.
Display exquisite pictures of the property
Another way to leverage Black Friday as a real estate business agent is to showcase exquisite pictures of the property to prospective buyers. You can turn house hunters into buyers by putting up high-quality and all-encompassing pictures of the property. Instead of taking photos of the home yourself, it's best to use professional services to showcase the listings in the most appealing light.
Try including attractive parts of the property such as a fantastic and spacious kitchen, manicured garden, parking lot, and even nearby attractions such as lakes or green urban spaces. These additions will help boost home viewing and accelerate the selling process.
Below is an example of a home listing photo from Carter Home taken by a professional real estate photographer.
It's also ideal to ensure your photos are arranged to take buyers on a home tour, from the house's entrance to the back door.
November real estate newsletter ideas
Thanksgiving is drawing closer, and it's the perfect reminder to offer thanks to God for our loved ones. Also, it's a great occasion to get new leads and sales for your real estate business.
So to celebrate the spirit of gratitude along with your audience, here are some real estate newsletter ideas for Thanksgiving.
1. Send out a realtor Thanksgiving message
Emails for festive occasions, such as the Thanksgiving real estate newsletter, are necessary to show your appreciation to clients for doing business with you during the year. It's an act of goodwill that will show clients how much you value them and also help you to generate more referrals and leads for your real estate business.
Check out this Thanksgiving real estate newsletter, for instance:
Source: Stripo.email
2. Share real estate Thanksgiving hacks
As a realtor, you already have lots of experience in the real estate business. Thanksgiving is a good opportunity to share some of them with your customers.
You may also add hacks that are unrelated to real estate activities but interest your audience at this time, such as 'how to decorate their home for a perfect Thanksgiving dinner'. Have a look at this newsletter by Prudent Penny Pincher.
Source: Penny Pincher
3. Offer special Thanksgiving real estate deals
Thanksgiving discounts and deals help you win more customers. Check out how Nordstrom used this approach.
Source: Penji.com
4. Create a round-up of new property listings
Create a round-up of your current real estate listings and send it to your prospects and customers. This will encourage generating more business during the Thanksgiving period. Below is an example from RayWhite.
Source: Propertyme.com
Thanksgiving real estate marketing ideas for 2022
Write a Thanksgiving post for your real estate blog
Write posts about what you're thankful for, and appreciate your clients and all they have done for your business. You can even take it up a notch and add in some holiday-themed real estate advice too.
Educate people on how to decorate a perfect Halloween porch or share some entertainment tips for their Thanksgiving dinner party, or keep it niche-focused. Topics like 'How to sell your house this Thanksgiving', or 'Best stuffed turkey recipes', and so on.
Update your social media
Tips on decorations, recipes, what you and your family will be doing to your charitable campaigns_ anything Thanksgiving-related would be welcomed at this time of the year.
You can also connect with new people or existing clients on a more personal level when adding seasonal photos, showing that you're not all about business and actually have an ordinary person who cares about things like the holiday season.
Source: The Realtor Steven Rosas
You can also bind Thanksgiving to Halloween and even Christmas by adding community and property photos – a decorated listing ready for an open house and more. This allows you to fully leverage these campaigns by running real estate follow up emails throughout the holiday season.
Depending on your platform, you can use different formats. For instance, you can use the Thanksgiving-themed videos on TikTok for your real estate campaigns or try a few trendy realtor Facebook post ideas.
Here are some integrations you can use to run your TikTok campaigns on autopilot:

Thanksgiving real estate ads
Apart from sending themed newsletters to your prospects and customers, create Thanksgiving real estate ads on Google and other advertising platforms to help spread the message further. These ads help you to increase brand awareness and generate leads and customers. Check out this example of a Thanksgiving ad from Stovetop on Twitter:
Source: Designmantic.com
In addition, here are 22 Successful Real Estate Facebook ad examples you can use all year long.
Automating your real estate marketing system
While summer is traditionally the busiest time of the year for real estate markets, use this holiday season to revamp your marketing system.
You can make your real estate business more efficient by implementing automation. Just consider removing the countless repetitive and time-consuming tasks that your team needs to handle continuously. Besides cutting back on unproductive tasks, automation helps you ensure completing every task with precision.
This way, your team can focus on other and more important aspects of the job, such as capturing and nurturing new leads or building high-performing strategies.
To reach qualified potential buyers and scale your business, try these real estate specialized integrations by LeadsBridge:
Learn all you need to know about real estate marketing automation here.
Final thoughts
Black Friday and Thanksgiving are two of the biggest events for marketing and sales. It's more common for ecommerce and other businesses than real estate, but as a real estate agent, you can seize the opportunity and sell more of your properties. Any themed marketing idea could work, including giving prospective buyers discounts to entice them to buy, providing a great photo of the house to showcase its beauty, creating a story around the house, and also offering seasonal incentives to draw them to make purchases.
Moreover, using the LeadsBridge platform allows you to automate your marketing; you can use our integrations to sync your marketing software to your real estate advertising tools and target your ideal potential buyers.
Discover how LeadsBridge makes a difference for real estate agents here.