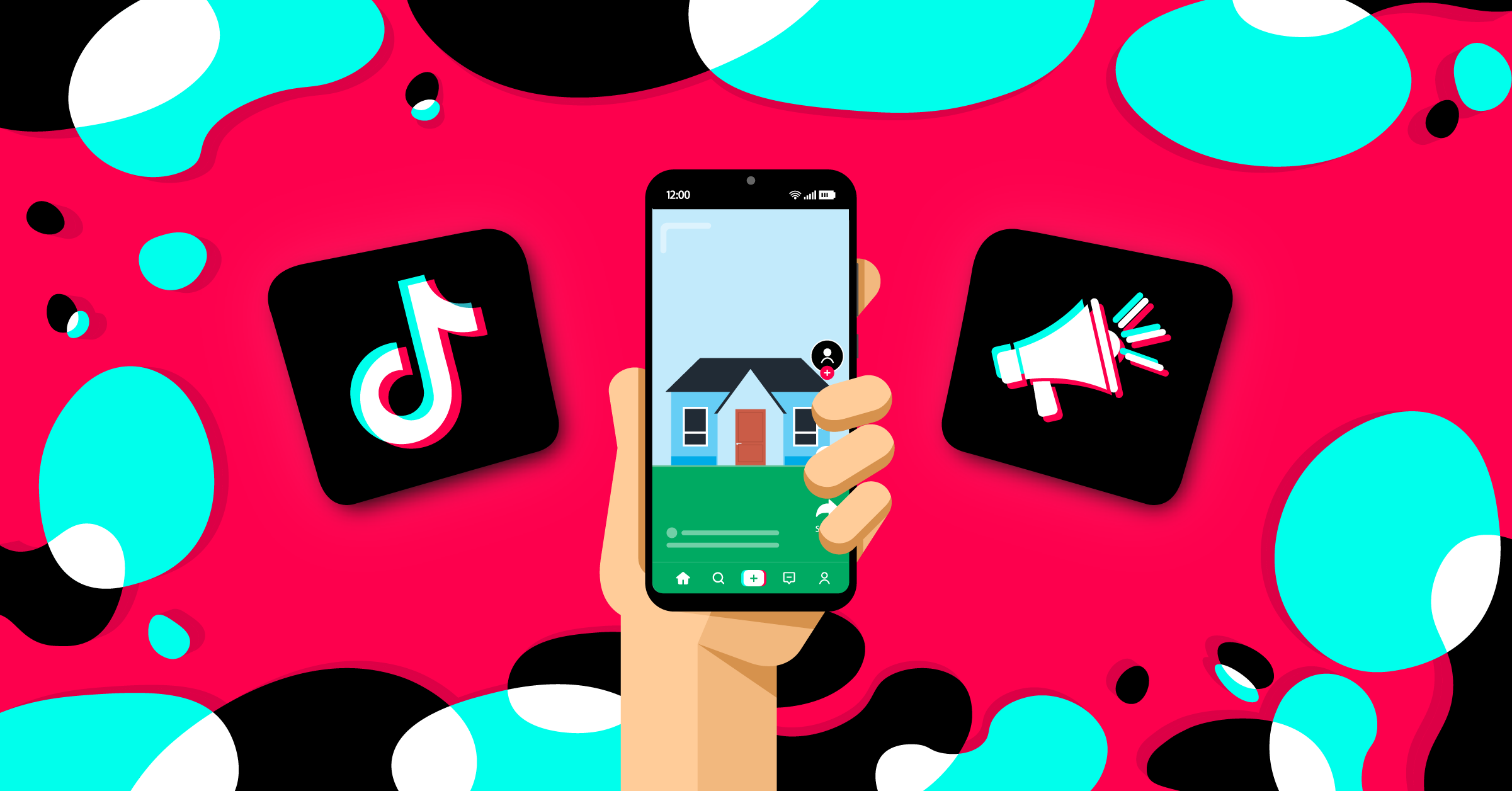 If you work as a real estate agent, you've almost certainly heard about how using TikTok for real estate can be a game-changer.
While it's a newer social media marketing platform, it's also undeniably popular with exceptional reach with over 1 billion monthly active users.
If you're wondering how to use TikTok for real estate marketing, this post can get you started.
Why you need TikTok for real estate marketing
If you want to use TikTok for real estate agent marketing, you've come to the right place.
First, it's important to talk about why TikTok is so valuable for real estate agents.
The reality is that it has massive reach, and it's a highly engaging platform for younger generations, including both Millennials and Gen Z users. These demographics are starting to buy their own homes, including a big wave of first home purchases. When users are buying their first home, that's the best chance to snag them as clients.
And since TikTok is a discovery-focused platform, with relevant content popping up in people's feeds, it's a great way to build trust and reach all at once. This characteristic makes it a highly effective lead generation platform.
Worth pointing out— you can also repurpose this content through Instagram and Facebook reels to get the biggest bang for your marketing buck.
7 TikTok real estate marketing ideas
Need TikTok content ideas for your marketing campaigns?
Let's take a look at seven real estate TikTok ideas that can get you the reach, engagement, followers, and (most importantly!) clients that you're looking for.
1. Reflections on buyer, seller, or other agent behavior
Have a strong sense of humor and some killer comedic timing?
A funny take on buyer, seller, or other agent behaviors currently happening in the market is an easy way to create relatable, funny, and highly shareable content.
Make sure you're never being mean, but finding content that highlights relatable experiences is the way to go.
2. Updates on the market
Want to prove how much you've got your finger on the pulse of your local market?
Share updates about what's happening in the areas where you're helping buyers and sellers. Talk about average prices, the amount of time homes are sitting, the average number of offers, and anything that's relevant. The practice of sharing updates is timely, and it's relevant right now.
Agents who are able to show that they're up to date (and not just "casually" selling homes) will have better luck attracting high-value clients.
3. Quick resources clients need
When it comes to TikTok for real estate agents (or any small business!), you can't go wrong with providing quick resources that potential clients need.
You can do this fast, thanks to the short-form video content.
Fast facts like minimum credit scores or down payments needed to buy a home can actually convince users that they can buy a home— even if they didn't think they could.
You could also share quick videos showing things that potential buyers often overlook, or repairs sellers should make before listing their home.
This list is a good starting point.
Again— this can help you prove that you're knowledgeable and trustworthy.
4. Breakdowns of how the home buying process works
This ties into the tip above, but one thing that first-time home buyers often need is basic information about what to expect.
Do they find a realtor before they find a home? Do they need to be prequalified or find a lender before making an offer? Should buyers be ready to move when they're making offers?
(Of course, the answer is yes to all of the above, but they don't know that).
If you're using TikTok for real estate marketing, consider creating video series and playlists walking users through the buying and selling processes.
5. Before & afters of a staged home
Do you help your clients with staging?
Help your clients see the value of letting you properly stage their home before listing, or use videos of renovations showing buyers how a fresh coat of paint and maybe some updated cabinets can make all the difference in homes they're considering.
6. Show properties you're listing
With the owner's permission, consider sharing TikTok videos of properties you've listed.
Not only can this show the caliber of homes that you're selling (and help you find both buyers and sellers!), but it can also give you a chance to promote potential listings to maybe find a buyer for them.
7. Consider using TikTok advertising
When you want a fast boost in reach, you should think about using TikTok Ads.
TikTok's self-serve advertising platform makes it easy to promote content that you've already published on the platform. You can reach cold audiences, or use the ads to reach potential or existing clients with whom you've already connected.
The right tools can help with this, making it easy to set up custom audiences on an automated basis. (We'll talk more about this in a minute.)
Whether you want to generate new leads or seal the deal with new clients, learn more about how to use TikTok Advertising.
Automation for TikTok ads
As your following grows on TikTok and you start investing in TikTok ads to expand your reach further, automation will be your best friend.
LeadsBridge offers multiple TikTok integrations, all of which are offered under our "free forever" plan to keep them accessible to small business owners— including real estate agents!
Our TikTok Lead Generation integration can help streamline the TikTok lead generation process. This way, you're getting all new lead information updated in the location of your choice, automatically and almost immediately. Filling this data gap also will make sure you never miss your chance at a hot lead. (See how to integrate TikTok Lead Generation with LeadsBridge).
We also have a free TikTok Custom Audiences integration so that you can sync data from your CRM to a TikTok Custom Audiences. Connecting these platforms automatically allows you to target specific segments of users for retargeting campaigns. By capturing all the interested users, you'll increase their likelihood of converting into leads.
Final thoughts: Best practices for real estate TikTok agents
You've got all the tools you need for real estate TikTok marketing, including content ideas and automation software.
The last thing you need is a few best practices that will help you maximize your reach and drive real results.
Keep these tips in mind:
Consider using location-focused keywords in your description to increase the odds that you'll reach your target audience (and real potential buyers and sellers).
Keep a consistent brand voice, and know that being entertaining and funny is great, but value is king; don't worry if you don't want to make "funny" videos.
Use hashtags like #firsttimehomebuyer and #orlandorealestate to help find the right target audience you're searching for.
Use automation to streamline your TikTok marketing, including free integrations, so that you're able to capitalize on the full momentum of your marketing campaigns.
Ready to take your real estate TikTok marketing to the next level? Want to capitalize on the momentum you already have? Try our TikTok integrations free today!