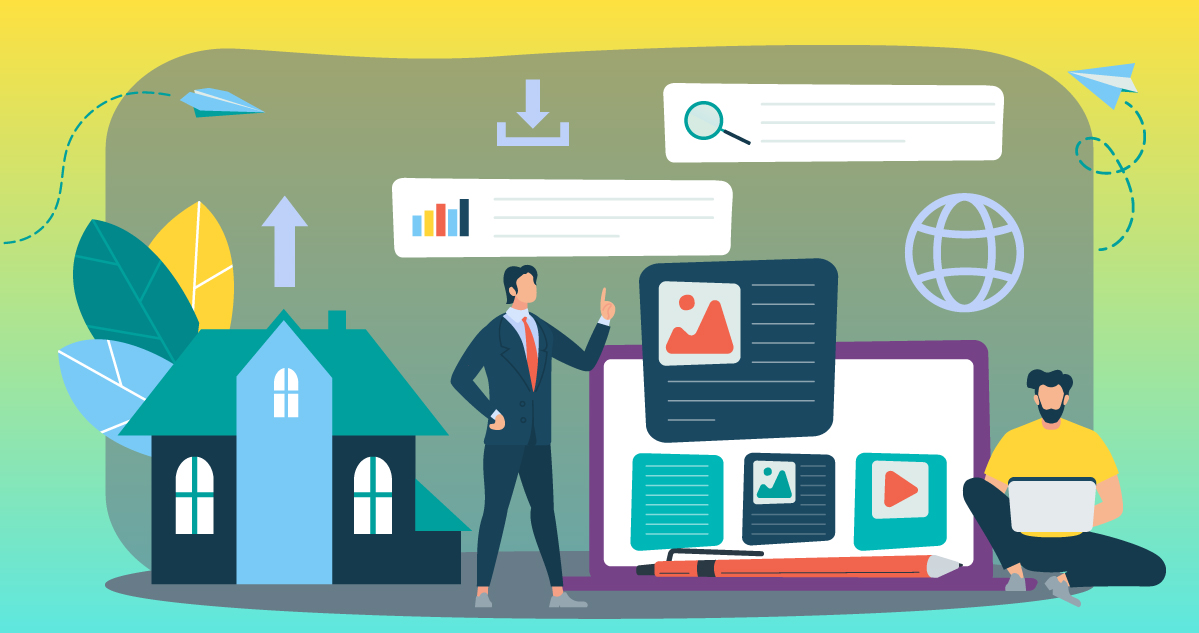 Coming up with real estate post ideas on Facebook that will generate leads for your real estate business is challenging. In practice, it takes equal amounts of inspiration and hands-on experience to create a real estate Facebook post that goes viral.
Here at LeadsBridge, we offer our services to thousands of real estate agencies who want to generate leads with Facebook. And as an official Facebook partner, we can help them generate highly qualified leads in a short time with specialized integrations, such as:
In this article, we will look at 29 quick and easy realtor Facebook post ideas for real estate agents and 17 Facebook post ideas for small businesses – all of which you can use to generate leads.
Top 29 post ideas for real estate agents
1. Facebook post ideas for real estate agents: Facebook Lead Ads
Facebook Lead Ads is a powerful advertising tool when it comes to generating a successful Facebook post for your real estate agent business. Since a large percentage of the real estate market has moved online, the industry no longer relies on cold calling and traditional marketing. Instead, it depends on social media (especially Facebook) and other forms of digital outlets to reach out to their audience.
Facebook is a major lead generator for real estate businesses, particularly through lead ads. Facebook Lead Ads is essentially an ad that lets you target and capture leads with purchase intent within Facebook. To learn more, check out this step-by-step guide to Facebook Lead Ads.
So why is Facebook Lead Ads an ideal tool for your real estate agent business?
For many reasons! With Facebook Lead Ads, you don't need a landing page. It also makes it convenient for users to submit their information through the pre-filled form fields of the lead ads, which is also convenient for you as an advertiser. It lets you download the leads directly into your CRM software, so you can quickly follow up with Facebook leads.
Facebook Lead Ads are easy to set up, and it generate tangible results.
Facebook post ideas for your lead ads can be a blog post, a newsletter opt-in, a request for free home valuation, a neighborhood open house event, or sales you've recently closed.
Let's check out this example together:
The first image (A) shows the Facebook lead ads of B.Holt & Partners Realty Group. Once a Facebook user clicks on "Get deal now", it takes them to (B), where they are instructed to fill-in a few details and click submit.
Once the form is submitted, it takes them to (C), where they need to show their consent by agreeing to terms and conditions. By clicking the submit button, they are directed to (D).
You can see how fast you can generate leads with Facebook Lead Ads. To streamline the data sync from Facebook Lead Ads campaign into your CRM software, you can use our dedicated Facebook Leads Ads integration.
This helps you sync leads as they come in and send an automatic welcome email to start a profitable communication with them. This way, there is no need to manually download Facebook leads, which is a lengthy process, resulting in untimely follow-ups and reduced conversions. With these integrations, you can easily automate your lead generation efforts and improve real estate marketing automation.
Lead nurturing is imperative to creating a result-driven sales funnel. Read our detailed post on this topic to get some ideas on how to nurture your leads!
2. Facebook post idea for real estate agents: Blog posts
As a real estate advertiser, you should maintain an active blog on your website.
According to a study by Traffic Generation Cafe, blogging can increase your lead generation by 67%. It helps you get traffic from the search engine and turn that traffic into customers. Also, it helps establish you as an expert in the real estate business, which leads to brand authority and awareness.
Getting the right blog post idea that your fans will like and share is difficult. You can, however, write articles on market predictions and statistics, tips for homeowners, how to buy or sell houses, and posts about the neighborhood or community where your properties are geographically located.
Look at this blog post on the Facebook page of ERA Real Estate, for instance:
3. Facebook post ideas for real estate agents: Videos
Consider this: 500 million viewers watch 100 million hours of video on Facebook daily. Consequently, videos generate lots of views, likes, and shares on Facebook. A video is a great medium to communicate with your fans and educate them about your business. You can share inspirational or educational videos that are aligned with your marketing objectives.
Apart from the regular videos, using Facebook's live videos is another great way to attract leads to your business. If done well, your fans will share it with their friends, especially on their mobile devices_ and there you have a viral video campaign. It is a great way to gain attention and increase your conversion.
Below is an example of a Facebook video for a real estate agent company – Mr. Sell Team, promoting their listings through a video.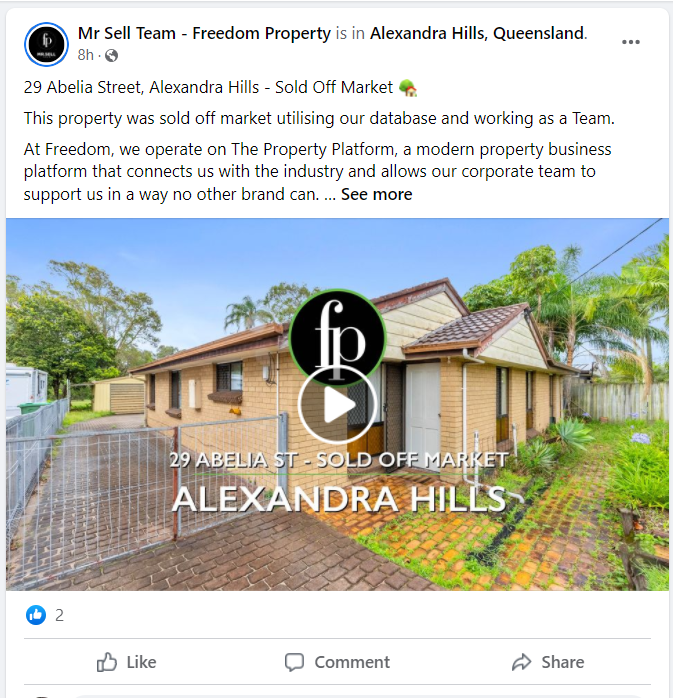 4. Facebook post ideas for real estate agents: Photos
Photos drive more engagement than blog posts, tips & tricks, listings, property tours, etc.
When it comes to communication, people can remember visual elements easier. According to research, the brain processes images 60,000 times faster than text. This is why people are more likely to remember a post with an image than a post without one. To attract likes and shares, your photos need to be appealing. You can get professional designers and photographers to help you create posts with attention-grabbing pictures of your houses for listing, pictures of family and friends, pets, cars, workplace or office, etc.
Here's an example of The Corcoran Group that uses photos intelligently to get lots of likes and shares.
5. Facebook post ideas for real estate agents: Quotes
Everyone loves reading relatable and motivational quotes. So you can use quotes as another Facebook post idea for your real estate business. Additionally, quotes can help improve your ranking on Facebook and consequently increase your Facebook reach.
Facebook EdgeRank is an algorithm that shows what appears on people's news feeds. So when your fans engage with your quotes, they will see your following content. Quotes are easy to create. You can use Canva to make their design more attractive. Pinterest, Tumblr, Google, and Instagram are great sources to find quotes.
6. Facebook post ideas for real estate agents: Business testimonial
Testimonials are critical to your business. Your potential buyers want to hear about your success, like how many people you have assisted in selling their houses or what makes you stand out from the rest of the realtors. Testimonials strengthen your brand awareness and authority, and make your fans trust you more. Once they develop trust in you, it will be more comfortable for them to do business with you.
7. Facebook post ideas for real estate agents: Share tips on home purchase/maintenance
Our next realtor's Facebook post idea for real estate agents is about sharing tips on home maintenance. This is about educating your fans about home purchases. Many people do not know what to expect until they are ready to sell. Posting tips on home purchases, sales, and maintenance will educate and prepare them for when they will need the information. You can also share tips on space-saving, decorating, etc.
8. Facebook post ideas for real estate agents: Use humor
The eighth Facebook post idea for a real estate agent is posting content that can make people laugh (humorous). It is a good way to connect with your fans. It also generates more likes and shares since people love sharing funny posts.
To do this, upload funny real estate stories, funny pictures, witty real estate signs or memes, etc. But remember, overusing this technique can backfire. You need to create a balance between authoritative and humorous posts- just enough to break the ice occasionally.
9. Facebook post ideas for real estate agents: Holiday and seasonal posts
Holiday and seasonal posts are about sharing posts themed with a national holiday, local event that supports your community, astronomical events such as Eclipses, super-moons, meteor showers, and even local news reports that have an impact on your audience.
Take a look at how Remax showcased this home and directed it toward people looking for a home during the Thanksgiving season:
Using holidays as an occasion to post is a great way to bond with your community and show that you are interested in their real-life experiences – creating a real estate Christmas marketing campaign, for instance.
10. Facebook post ideas for real estate agents: Photos of houses you are showing
Display the pictures of the house you want to offer or even the ones you have already sold. This is a great Facebook post idea you can use to show your fans what house you are proposing. It will create awareness while helping you to build trust in your real estate business.
11. Facebook post ideas for real estate agents: Share photos of happy customers
We talked about the importance of testimonials, but sometimes a good old-fashioned photo can be a better proof of your services- and can be used as a real estate Facebook post. Improving customer relations and strengthening your brand sometimes requires a simple approach.
When a buyer finds their dream home, real estate agents will often post photos of the home. However, what often goes unnoticed is the joy that comes from being the new homeowner. Potential buyers can't relate to someone else's dream home, but they can relate to the joy that comes with it.
For this reason alone, a simple photo of the new homeowners holding the keys to their new home, removing the for-sale sign from the front yard, or even the smile that's on their face as they sign the contract usually leaves a compelling impression on the viewer.
12. Facebook post ideas for real estate agents: Virtual open house tours
Open houses can be big lead generators for many real estate agents. However, open houses are limited to people in the area, that too if they're available that day.
Virtual open house tours have become quite a trend in recent years. They allow potential buyers to see the home without having to clear their schedule. At the very least, these virtual tours help generate leads by reaching more than one prospect at once.
Virtual open house tours are a quick way to reach a large audience. With that said, to maximize the exposure of a specific property, consider doing a virtual tour.
Custom Audiences help you find your existing audiences among people who are on Facebook. To do this, you can create Custom Audiences of people who already know your business, using sources such as customer lists, website or app traffic, or engagement on Facebook. However, this process is rather complex, and you need to automate the data sync between your marketing tool and Facebook Custom Audiences through a trusted Facebook partner such as LeadsBridge:
13. Facebook post ideas for real estate agents: Share some home decor inspiration
Selling homes doesn't have to be your entire focus. Home decor is a big deal for landing potential buyers_ and often a deal-breaker too. A quick and easy way to open the eyes of your clients to new and inspiring designs is to post about home decor on your Facebook page.
With just a few images, you can increase a house's potential, especially in the eyes of to-be homeowners. You can even try a few different styles to really get the minds of potential buyers rolling, sometimes as simple as changing out some curtains and a rug or moving furniture around.
14. Facebook post ideas for real estate agents: Showcase the neighborhood
When buying new homes, buyers have their focus on different details. One of those details is the surrounding neighborhood. Expectedly, the neighborhood matters a lot for most families.
If the neighborhood has a community pool, a lake, or a really pleasing urbanscape, it's worth showing it off in a Facebook post. Especially if the neighborhood is still being built, it's easy to draw the leads' attention while highlighting some of the best features that the buyers would like to know about.
Take a look at this aerial view of this beautiful neighborhood from Bayleys Real Estate, for example:
After seeing this view, who wouldn't want to live there?
15. Facebook post ideas for real estate agents: Showcase DIY projects
Along with the home decor theme, you could also post some DIY projects. Anything from before-and-after paint jobs to custom-built cabinets in the kitchen can work. Just make sure you get some high-quality images, and your next Facebook post will be a success.
16. Facebook post ideas for real estate agents: Highlight price-drops
One of the biggest, if not the biggest, deciding factors for buyers is the price. You might be surprised at how many people are unaware of price drops on houses they really like.
It's common practice to lower the prices of houses if they don't sell. Significant price drops are worth posting about on Facebook for real estate agents.
17. Facebook post ideas for real estate agents: Show your personal information
One thing that often gets overlooked is simply posting your contact information. You'd want to do it in an authentic and pleasant way. Take a look at what Avery Harrison did on the EXP Realty Facebook page:
Post your office hours, location, phone number, and so on. You'd be surprised at how this kind of information sticks with people, even if they don't click on the post.
18. Facebook post ideas for real estate agents: Repost older listings
A great way to maximize your exposure is to repost older listings. When a house doesn't get sold, it doesn't necessarily mean that people don't want it. It might mean that not enough people have seen it.
Every couple of weeks, as long as the house isn't selling, you should consider reposting it. All it takes is one customer to make the purchase. You never know when that one customer is browsing through Facebook.
19. Facebook post ideas for real estate agents: Shout out to other agents
There are many ways to repost other real estate agents' branded content. Naturally, you don't want to advertise for your competition, but you'd be surprised to know that it could support your own business.
As a realtor, share Facebook real estate listings posted by other agents and include your name as a reference. This practice leads to earning some extra credits and possibly sales.
Or, if you find some useful real estate articles to share, give the author a shout-out. You never know what could come of it.
20. Facebook post ideas for real estate agents: Post images of key local businesses
Posting pictures of key businesses in the neighborhood is another idea. It could be images of banks, shopping centers, and fitness centers close to the listings. These posts let your audience know about the business amenities located at a commutable distance to the listing. Use drones to take the pictures so you will have them all together.
21. Facebook post ideas for real estate agents: Post information about your real estate agent business
Although your information is already on your business's Facebook page, you can still expand your audiences' understanding of your business and your offerings. It could be by adding a short summary of your business listings, a picture of your office, posts about your staff and their history, and other business-introductory info. This helps you build trust and increase brand awareness. They will know you are real. Below is an example from Haring Realty.
source: Haring Realty
22. Facebook post ideas for real estate agents: Weekly series
To be successful on Facebook, you need to post regularly. When your account is active, your audience will always come back to see new posts. Here, you can start a routine weekly series to engage your audience. This creates an expectation and keeps your audience anticipating your next post. Besides having a themed content idea to work with, it helps to display homes that require quick sales, and your audience will come back to read the weekly series. Here is an example from Dickens Mitchener & Associates.
Source: DickensMitchener
23. Facebook post ideas for real estate agents: Mortgage Facebook posts
As a mortgage broker, there are different Facebook post ideas you can use to generate engagement and convert mortgage leads on your page. One of them is to post a photo of a client closing. For instance, you can take a photo as you are closing a mortgage deal and post it on your Facebook page. Below is a real example from Primary Residential Mortgage, Inc.
Source: Primary Residential Mortgage, Inc. – Bellevue, WA
Through these posts, you can also alert your potential buyers about new loan products. It is a great way to create awareness for your new product.
24. Facebook post ideas for real estate agents: Creative posts
This might sound like an obvious one. However, there are many ways to make your posts stand out by adding creative elements. For example, you can make a unique combination of photo and text media, play with designs, add in emojis, and whatever else that makes catchy Facebook posts for your business.
Always remember that the large user base on Facebook is also flooded with marketing agents in different fields, including real estate. So what really makes your posts attention-grabbing is the amount of creativity put into them.
Take this image, for example:
Source: Casaloca Guatavita
Now, wouldn't you call this creative?
25. Facebook post ideas for real estate agents: Giveaways
People are repelled by the hard-sale approach these days. If your Facebook page reflects that you are only trying to take without offering anything in return, your audiences will likely turn cold on you and even unfollow your page. Once in a while, share a post with a special offer, giveaway, discount codes, etc. This especially works well if you add an element of time limit, which gives urgency to it.
In the example below, Dickens Mitchener celebrates the month of October along with its audience by offering a seasonal giveaway:
26. Facebook post ideas for real estate agents: Sharing genuine information
There are different types of people among your audience. They range from window shoppers to people with purchase intent and homeowners who are evaluating their options.
Including genuine information from your informative content and a link that directs them to your blog post or whitepaper can help you generate high-intent leads. This is because only truly interested people will click on these links. And if you are offering something of value, they will likely share their information with you for future communication.
27. Facebook post ideas for real estate agents: ​​"Sign up" or "Learn More" CTA buttons
Adding CTAs to your Facebook posts is more leaning towards the action you are targeting and less about the post itself. The idea is that different kinds of posts need different types of CTAs.
Providing your audience with a clear path of action on what you want them to do next helps you get higher conversions.
Check out this Facebook ad from Zillow, for instance:
Source: AgoraPulse
28. Facebook post ideas for real estate agents: Use polls and quizzes
The best way to know what your audience wants is to ask them. People love getting involved and sharing their personal opinion, which is why polls and quizzes are such a great idea to get your audience to actively participate in the conversation.
With polls and quizzes, you can get insights into your audience's preferences – what they want to see more of or less of – to build a more focused real estate Facebook strategy.
Take a look at this post example by Haring Realty.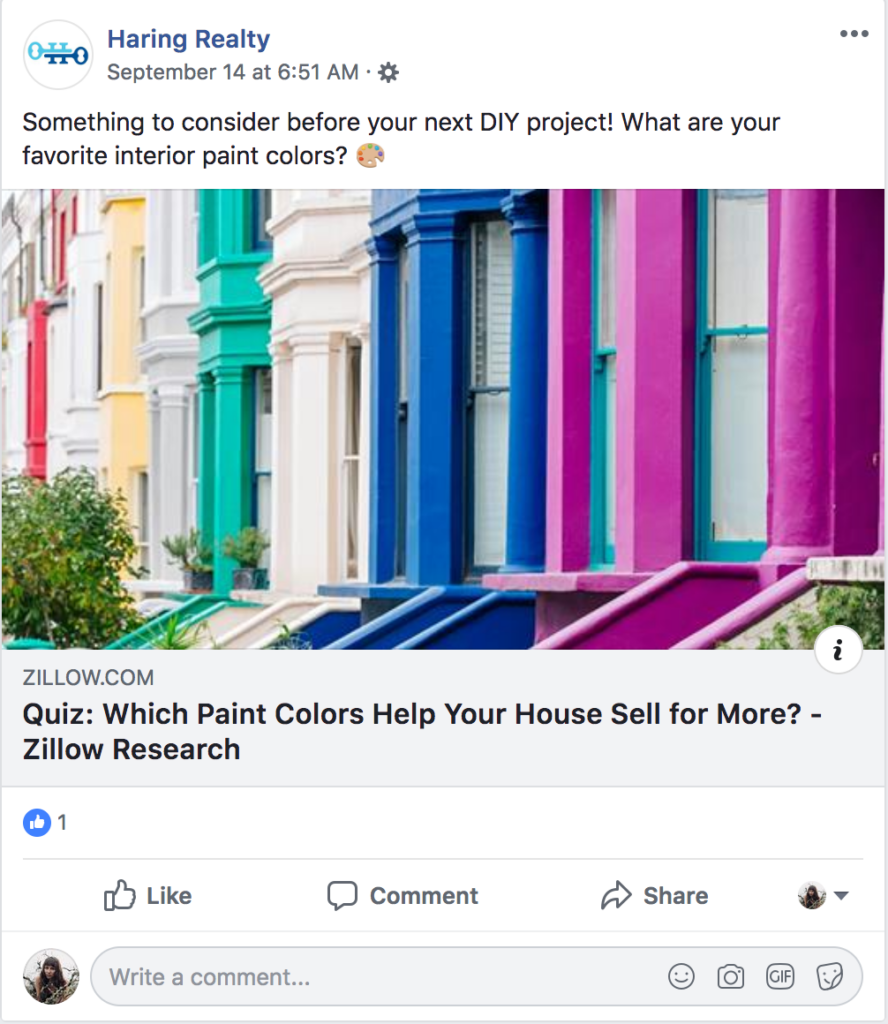 29. Facebook post ideas for real estate agents: Run contests
One more thing that people love is to get something for free, it doesn't really matter what it is. According to an MIT study, "the word free gives us such an emotional charge that we perceive what is being offered as immensely more valuable than it really is."
This is why you can run a contest with your real estate Facebook posts and promise the winner something free in return: for example, a home evaluation, home staging service, or gift.
Take a look at this example by Darren Khan Real Estate Team.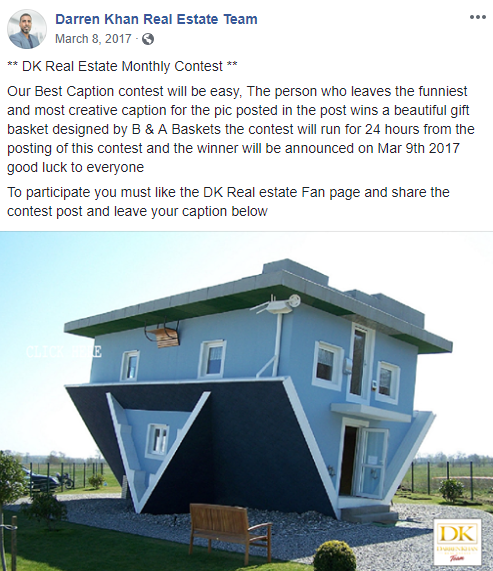 Real estate Facebook marketing for new agents
If you are new to the real estate business, you must be aware of the unique complexities of the real estate industry.
The market demand in this sector constantly faces various difficulties, but knowing them can help you target your audience the right way. Matters even become more complicated when you are trying to meet the demands of short-term investors, long-term investors, the rental market, and actual users. However, understanding all of these touchpoints can help you curate accurate marketing models and inspire your business's Facebook post ideas as well.
Remember that due to this market's volatility and fluctuating ad expenses, you need to be very cautious with your real estate Facebook marketing.
Discover everything you need to know about online ad expenses in 2022.
If you are new to the realtor business, send out an email to all your friends and offer them some promotional item or service. Also, you can ask them to share it with their friends and family members to create more awareness for your new business.
Here is an example.
Source: Myrealpostcards
Watch our webinar and learn all about lead generation through Facebook & Instagram Lead Ads.
More Facebook post ideas for small businesses
Specialized content apart, Facebook is the most popular social network in the world and works as a gold mine for any marketer. Facebook users use this platform to connect with others, search for products or services, watch videos, and share bits of their own lives.
Considering this fact, it's important to know how to leverage this platform to meet your business needs. You can enhance your performance further by streamlining your workflows with integrations such as:
So here is an additional list of business Facebook post ideas you can use to interact with your audience and encourage engagement.
1. Tell a story
Storytelling is an engaging technique for passing on information, traditions, and even marketing details; people love to hear stories and sympathize with other people's experiences, and feel what it's like to be a part of what they do. So using stories as part of your Facebook posts can bring about engagement, trust, and brand awareness for your small business.
Let's take Humans of New York as an example; the page is filled with short and long stories that keep its followers engaged, and this formula has helped the brand grow.
2. Give them behind-the-scenes sneak peeks
Giving your followers and customers an idea about what happens behind the scenes and how your business is run humanizes your business and allows them to relate to your activity through your Facebook content.
3. Ask your followers to chip in on your decision making
Of course, you shouldn't base a big business decision on your social media follower's ideas. However, asking them to share their opinion about some details, like a small change to your e-commerce or whether or not you should participate in something, is a great way to engage with your customer. You can also get great marketing insight out of this practice.
4. Showcase your product being used
Give your followers a clear idea about the products you're selling by showcasing them through photographs or videos of them being put to use.
In this example from Green Chef, the ad shows the product entirely. It's the center of attention, and the details around it make you feel as warm as the season. It also includes the emotional outcome of using their product.
5. Memes and GIFs
Memes and GIFs have become an essential part of the internet culture; understanding and integrating them with your digital presence helps you join the popular bunch. So give it a try if your brand is playful and allows for this kind of content.
As a small business, you should keep in mind that any image could be copyrighted. A great approach to memes for your Facebook post ideas is to mimic them by creating your pictures and adapting the message to your own.
6. Holiday posts
Holidays and festivities are essential all over the world, though they may be different in topics or dates. Still, if they're very relevant to the culture and life of your customers, consider making them part of your content as a way to bond further with them.
Use a professional image manipulation service to add some interest to your shots and make your posts more engaging.
7. Facebook posts with brand identity elements
You may use the posts to enforce your brand positioning by making content themed with your logo, your brand's colors, or any other element representing your brand identity.
For instance, you can make your brand's logo more appealing by using a logo generator platform and creating a unique logo appropriate to your brand's colors and style.
Creating creative content that shows this kind of material about your small business makes your followers more familiar with your brand and keeps you at the top of their minds.
8. Share the spotlight with your fans
Followers are attracted to your brand because they are interested in your product, identify with your mindset, or are interested in your content. Anyway, they are there because they've engaged with you in some way, so you may increase that bond that ties you by sharing the spotlight.
Kooh-i-noor, in this example, shared the work of an artist that used their products to do it, achieving a great sense of community while putting their product on the front of the Facebook post.
9. Social proof
People want to know what they are buying is legit, that the product matches its claims and that they'll get their money's worth. Getting your customers involved in your small business and collecting reviews or testimonials is a great way to build trust with your existing and future customers.
As a Facebook post idea, you can create pictures highlighting excellent reviews or make video testimonials from customers. You may even do small takeovers with loyal customers where they reply to potential buyers' questions.
10. Post behind-the-scenes videos
Sneak-peek of the behind-the-scenes always makes trendy content, thanks to the never-ending curiosity of human nature. So people love seeing this kind of content. Below is a screenshot of a short video showing the artist's process of creating a lettering piece. It showcases both her artwork and her method to her small business followers.
11. Showcase your small business's culture
As we touched on before, we're all curious about what happens behind the scenes. Another great way to draw attention to your small business is by sharing information about the things that are part of your company's culture and what make it so great; maybe you have a slide in the office, you make great retreats, or celebrate accomplishments in a peculiar way that you may show through a Facebook post.
12. Post photos or videos of the team
Let your followers get to know your team, which makes it all happen; putting faces to your hard work humanizes you and creates empathy, which helps create a stronger bond with your customers; just simple pictures in your Facebook posts or LinkedIn profile here and there would work wonders.
Take this photo taken of the LeadsBridge team during last year's Mega Camp, and was posted on our LinkedIn profile. It helped us engage with our audience and helped our customers get to know us a little more.
13. Get the community involved
Every relationship is a two-way street, so making things about not only your customers but also the community you belong to is a great way to engage with your followers. In addition, this kind of Facebook post shows your small business's values and mindset.
In the example below, ModCloth displays a series of photographs showcasing the fantastic women in San Francisco, empowering and supporting them.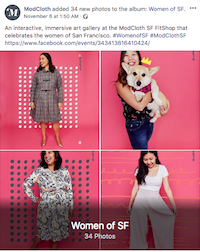 14. Activities and shows
Show the activities you participate in and tell your following about it, keep them in the loop about what's going on, and they'll have a way to be even more involved with your small business.
Again, you can see an example of something we did and posted to LeadsBridge's LinkedIn profile. The main point of doing this was to maintain full transparency with our audience, and show them how we like to get involved in any way we can, i.e., LeadsBridge was acquired by ActiveProspect exactly a year ago.
15. Ask a simple question
Another excellent post idea for your small business is to post questions about whatever relevant topic you come up with and either get the opinion of your followers or open up the dialogue and have an idea exchange that will strengthen your relationship with them.
16. Quick tips and ideas
Bite-size content is perfect for maintaining an active presence on Facebook; you may create posts containing tips, tricks, ideas, advice, or other valuable information for your customers. This type of content can be created quickly and will allow you to keep up the interest in your business's Facebook page.
17. Your blog posts
Blog posts are hard work, and if you're already using resources to have one, then put those blog posts to good work by creating Facebook posts with them. This way, you form a loop of information that your audiences look forward to while allowing you to make the best out of what you have.
We always share our blog posts with our followers so they may get the information we work on and follow everything we make.
Recommendations for Facebook marketing for real estate agents
Facebook offers a great deal for real estate agents to attract new clients and get the word out on your properties. However, there are some dos and don'ts to consider while going for lead generation through Facebook.
Dos
Setting up an independent Facebook page: Start by establishing a professional Facebook page first, then start building your audience by posting new listings and your business information on your page.
Become a local resource: Establishing trust and credibility in your location means that your prospects should get to know you as a reliable service provider. You should also be responsive to the up-to-date events in the community by posting about general local events and news or locally-focused real estate resources.
Channel new leads to your page: Keep channeling new leads to your Facebook page and get them to like it. You can do this through business cards at open houses, email newsletters, website links, etc. You can also use the leads who responded to your call to action (liking your Facebook page here) to your data stack and use them for running nurturing campaigns. The best way to do this is through automation:
Design precise targeted ads. Facebook allows you to create ads for specific groups of prospects. Designate tailored CTAs for each group to increase your conversions. You can go about this by using Facebook Custom Audiences to reach specific target groups of leads or customers already segmented in your marketing tools such as CRMs and Email automation platforms, such as:
Connect with prospects. Stay present by responding to every comment or direct message. This way, it is easier for prospects to connect with you.
Share testimonials and reviews: The more testimonials you have, the better. This way, you can build trust and convince future buyers.
Don'ts
Avoid irregular posts: After setting up your Facebook page, it is important to stick to a schedule. Try to keep it updated and manage your Facebook leads with the help of specialized tools.
Avoid overlooking analytics: Digital advertising is all about metrics, and this is also true when it comes to Facebook marketing for real estate agents. Use Facebook Insights to get automatic analytics connected to your Facebook page. This gives you insights about an upper hand on what your audience likes, what type of posts drive conversions, or even know when to take secondary actions like direct follow-ups or updating your lead lists.
Avoid falling off the track. Always remember that getting likes is not your purpose on Facebook. Though they are valuable, you are looking for buyers or practically leads that can become customers.
Takeaways
We went over some of the top real estate Facebook post ideas for real estate agents and small businesses for lead generation. Are you still looking for some Facebook ad ideas? If yes, we recommend reading this post about 20 successful real estate Facebook ads examples!
Try all the Facebook post ideas for real estate agents on your Facebook page and document your results. This way, you can figure out what works best for you.
If you're ready to take the plunge and automate your lead generation process, we're here to help! We offer loads of integration solutions for real estate agents and agencies, all available at the click of a button.
Facebook Lead Ads is an excellent source for lead generation, and with the help of LeadsBridge's Facebook Lead Ads integrations, you can increase your advertising efficiency by manifolds. Discover all the possible integrations with Facebook Lead Ads.