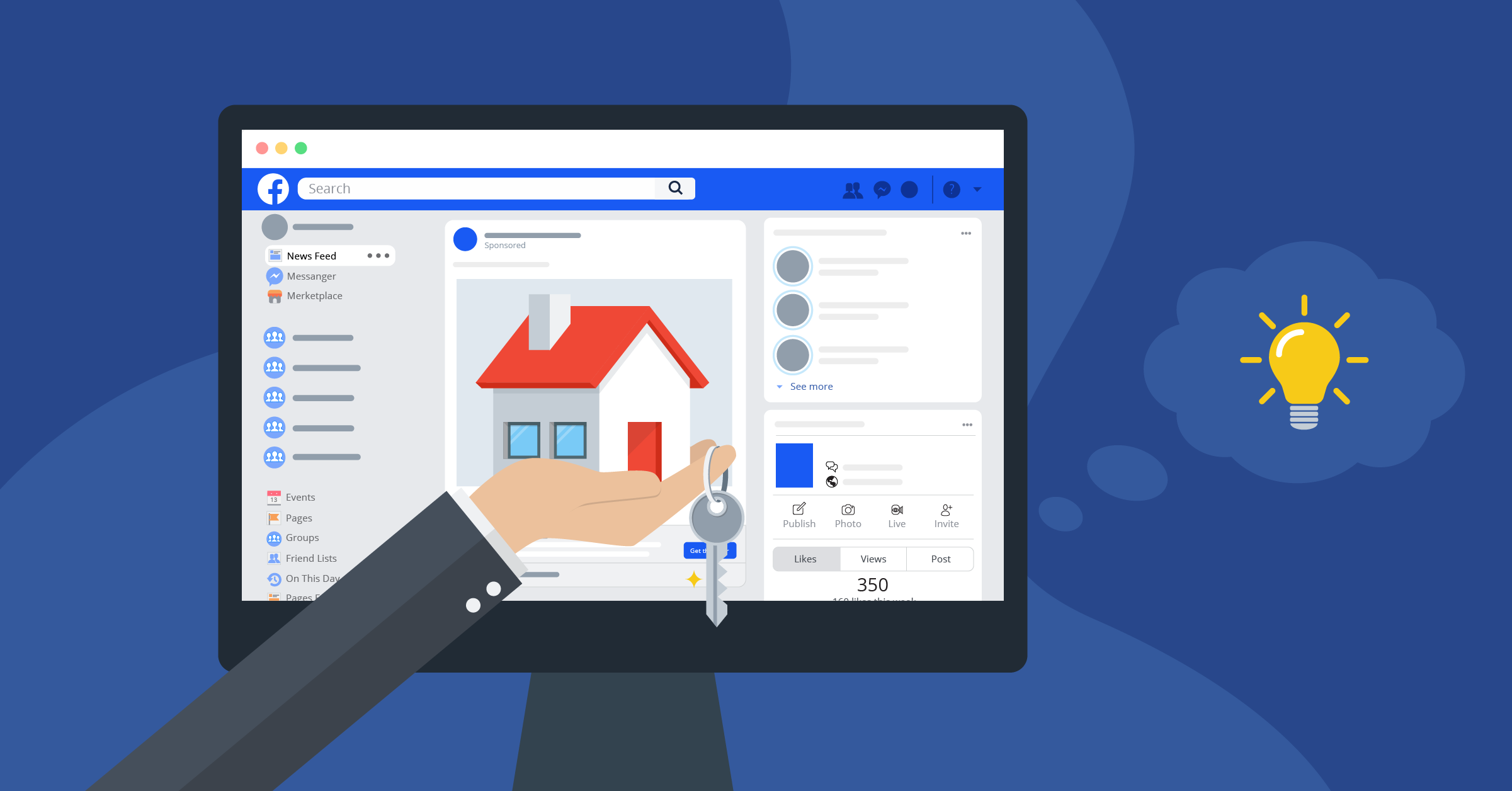 Whilst lead generation is an important facet of every business, this rings particularly true for the real estate industry. Agency advertising stretches far beyond garnering a high social network following, instead being used to help real people find their forever home.
However, curating engaging content that showcases the full potential of a property can be challenging, especially when partnered with high competition fighting to capture audience attention.
Throughout this article, you will discover 29 quick and easy Facebook post ideas for real estate agents, accompanied by 17 additional social media post ideas for small businesses, which you can use to drive lead generation efforts.
The value of Facebook for your business
With a monthly active usership of approximately 2.96 billion people, the lead generation opportunity that Facebook poses for businesses is immeasurable. Real estate agents can showcase their offering to a diverse, expansive audience using a comprehensive range of advertising formats.
By allowing for the publishing of engaging images and video content, perfect for showcasing property offerings, your agency can increase its brand awareness whilst connecting with interested potential buyers.
Facebook marketing recommendations for real estate agents
As with any platform, Facebook has its own set of recommendations that real estate agents should consider following in order to maximize its lead generation activities.
These are as follows;
Do's
Utilize the platforms' detailed demographic targeting options, including location and age. By doing so, you can advertise to leads who are in the same zip code as your property listings, as well as targeting an age group that is most likely to be financially qualified to purchase a home.
Make use of video content capabilities in order to engage leads and offer a more realistic view of the property. According to the National Association of Realtors, properties listed with videos achieve inquiries 4 times greater than those posted without.
Showcase multiple properties using the carousel ad format, allowing leads to discover a greater amount of listings in a single view. This way, you can increase the likelihood of a lead being enticed by an offering, creating various pathways to conversion.
Maintain concise, transparent copy within your posts, providing clear information regarding property pricing, number of bedrooms/bathrooms, square footage, and location. This can go a long way in fostering trust with prospective buyers and generating qualified leads.
Don'ts
Avoid directing leads to low-quality landing pages linked within your post, as this can be a deal breaker in their decision of whether or not to progress with your agency. Therefore, ensure the landing page is correct (matching the listing), visually appealing, simple to navigate, and includes clear instructions.
Refrain from poor targeting practices, as this can lead to quality advertising being wasted due to its visibility amongst an incorrect audience. This can have a detrimental effect on your campaign performance and generation of qualified leads.
Insufficient performance tracking can be damaging to the longevity of success associated with a specific advertising campaign. Facebook's analytics platform makes it easy to visualize the results of your advertising. Therefore, disregarding this intuitive data can harm your lead generation efforts.
Now that you have established a baseline and parameters for your advertising activity, let's take a look at some real estate social media posts that you can easily implement into your publishing schedule.
29 usable Facebook post ideas for real estate agents
1. Facebook Lead Ads
Given that a large percentage of the real estate market has migrated online, the industry no longer relies solely on cold calling and traditional marketing methods. Instead, it depends on social media (Facebook in particular) and other digital outlets to reach an audience.
Facebook is a major lead generator for real estate businesses, particularly through through lead ads format. Facebook Lead Ads is essentially an ad that allows you target and capture leads that possess purchasing intent within the Facebook platform. To learn more about how this format works in-depth, check out this step-by-step guide to approaching Facebook Lead Ads.
So, why is Facebook Lead Ads an ideal tool for your real estate agent business?
With Facebook Lead Ads, you can eliminate the need for a landing page. Also, it simplifies the way in which users submit their information, being done through the pre-filled form embedded within the lead ads. You can then download the leads directly into your CRM software, enabling you to quickly follow up with a targeted nurturing campaign.
Let's check out some examples of real estate content ideas using Lead Ads;
The first image below shows the Facebook Lead Ads of B.Holt & Partners Realty Group. Once a user clicks on "Get deal now", they will be directed to the second image. From here, they are instructed to fill-in a few details and click submit.
Once the form is submitted, the user will be taken to the third image. Here, they will need to confirm their consent by agreeing to terms and conditions. By clicking the submit button, they will be directed to the last image.
To streamline the data sync from a Facebook Lead Ads campaign to your CRM software, you can use our dedicated Facebook Leads Ads integration.
This will help you to sync leads as soon as they enter your funnel, sending an automatic welcome email in order to start a flow of communication with prospects. This eliminates the lengthy process of manually downloading leads, which can often result in untimely follow-ups and reduced conversions.
Using these integrations, you can easily automate your lead generation efforts and improve real estate marketing automation.
Lead nurturing is imperative when creating a result-driven sales funnel. You can read our detailed post on this topic to get gain an idea on how to successfully nurture your prospects and drive conversion.
2. Blog posts
It is advisable to maintain an active blog on your website, which can be easily transformed into creative real estate social media posts.
According to a study by Blogging Wizard, blogging can increase your lead generation by 67%, as it helps to gain traffic from the search engine and turn that traffic into customers. In addition to this, blogging can help you to establish yourself as an expert in the industry, which leads to greater brand authority and awareness.
Choosing the best material to base your blog content on can be a challenge. However, it is best to consider what your leads will find interesting, and what information can be of benefit to them. Writing articles on market predictions and statistics, tips for homeowners, how to buy or sell houses, and posts about the neighborhood or community where your properties are geographically located is a great place to start.
For more inspiration, take a look at how Zwillow have used their Porchlight blog to attract leads.
3. Video content
Approximately 500 million viewers watch 100 million hours of video on Facebook daily. Consequently, videos generate a vast number views, likes, and shares on Facebook. A video is a fantastic medium to use to communicate with your leads and educate them on your business, making it one of the Facebook post ideas for real estate agents that cannot be overlooked.
You can share educational videos that are aligned with your marketing objectives, and showcase properties in a more effective manner.
Below is an example of how Mr. Sell Team optimize video to promote their listings.
4. Imagery
Photos drive more engagement than any other tactic, whether it be blog posts, tips and tricks or quick hacks.
When it comes to communication, people remember visual elements much easier than any other medium. According to research, the brain processes images 60,000 times faster than text. This is why people are more likely to remember a post with an image, as opposed to a post without one.
To acquire a greater portion of likes and shares, you must ensure that the imagery used within your advertising is visually appealing. You can use the help professional designers and photographers in creating posts with attention-grabbing pictures of your properties for listings.
Take a look at how The Corcoran Group intelligently uses photos to acquire high numbers prospect attention;
5. Quotes
Using quotes as a means of relating to your audience is another real estate social media post idea suitable for Facebook. Quotes can help to improve your ranking on Facebook and consequently increase your Facebook reach.
The Facebook algorithm determines what is displayed on a users news feed. Therefore, when your leads engage with your quote posts, they will continue to see your additional content.
Quotes are easy to create, and you can use Canva to make your designs more attractive.
6. Business testimonial
Testimonials are critical to your business, as potential buyers always want the reassurance of past success to be demonstrated. This can include how many people you have assisted in selling buying a home and what makes you stand out from other realtors.
Testimonials strengthen your brand awareness and authority, making prospects more willing to trust you. Once they develop trust in your ability, they will become more comfortable and willing to do business with you.
7. Tips on home purchase/maintenance
Sharing tips on home maintenance and educating your leads about home purchases are one of the many Facebook post ideas for real estate agents that gain high social traction.
Many people are unaware of what to expect regarding purchasing a home. Therefore, posting tips on this process can help to prepare them for when they will need this information.
8. Humor
Many creative real estate social media posts employ appropriate humor in their content. This can generate greater numbers of likes and shares, allowing you to differentiate yourself from competitors who typically take a more serious tone.
To do this, you can use witty real estate signs, upload unusual open house stories or share memes targeted at first time buyers etc. However, you need to create a balance between authoritative and humorous posts.
9. Holiday and seasonal posts
Holiday and seasonal posts are highly shareable, and often garner more social interaction than any other type of post.
Take a look at how Remax showcased this home, directing the content toward people searching for a home during the Thanksgiving season:
Using holidays as an occasion to post is a great way to show that you are interested in your community's real-life experiences.
10. Current listings
Consider regularly displaying images of the properties you want to offer, along with the properties you have already sold. This way, you can showcase the full caliber of your offerings whilst creating awareness of listing amongst leads.
11. Satisfied customers
Knowing the importance of testimonials, let's not forget how important it can be to visualize this proof of satisfaction. Sharing an image of buyers who have used your agency can improve your customer relations and strengthen your brand.
A simple photo of the new homeowners holding the keys to their new home, removing the for-sale sign from the front yard, or signing the contract usually can be one of the compelling Facebook post ideas for real estate agents.
12. Virtual open house tours
Open houses can be huge lead generators for many real estate agents. However, the access to these properties viewings is limited to people in the area.
Virtual open house tours have become quite a trend in real estate social media posts over recent years. They allow potential buyers to see the home without having to clear their schedule. At the very least, these virtual tours help generate leads by reaching more than a single prospect at once.
Virtual open house tours are a quick way to reach a large audience. With that said, to maximize the exposure of a specific property, consider doing a virtual tour.
Custom Audiences can help you find your existing audiences among people who are on Facebook. To do this, you can create Custom Audiences of people who already know your business, using sources such as customer lists, website or app traffic, or engagement on Facebook.
However, this process can be rather complex. LeadsBridge, an official Meta partner, can help to automate the data sync between your preferred marketing tools and Facebook Custom Audiences.
13. Home decor inspiration
Selling homes does not have to be the initial focus of your content. A quick and easy way to draw the attention of leads to a home is to showcase new and inspiring decor designs within your Facebook posts.
With just a few images, you can increase a properties potential by incorporating fresh, intriguing styles in order to inspire the buyer. This may be as simple as including statement furnishings in a living room, or changing the placement of sofas and chairs.
14. Neighborhood
When purchasing a new home, buyers have their focus on multiple details. One of those important details is the neighborhood in which the property is situated.
If the neighborhood has a community pool, a lake, or an attractive urbanscape, it is worth showcasing this in a series of creative real estate social media posts for Facebook. This can make it easier to draw the leads' attention, all whilst highlighting some of the best features that buyers would like to know about.
Take a look at the aerial view of this beautiful neighborhood posted by Bayleys Real Estate;
15. DIY projects
Along with the home decor theme, highlighting DIY projects can be one of the most successful Facebook post ideas for real estate agents. Anything from before-and-after paint jobs to custom-built cabinets in the kitchen can capture the attention of users.
16. Price-drops
One of the biggest, if not the biggest, deciding factors for buyers is the price of a property.
It is common practice to lower the prices of houses if they do not sell at the original asking price. Therefore, significant price drops are worth posting about on Facebook for real estate agents.
17. Personal information
One simple aspect that often gets overlooked is the efficacy of posting your contact information. This is imperative, as potential customers must know when and where they can interact with your business.
Take a look at how Avery Harrison incorporates this into their EXP Realty Facebook posts;
Post your office hours, location, phone number and any other relevant details, as clearly and often as you can. This information can stick in the minds of leads unbeknownst to them.
18. Older listings
A great way to maximize your exposure is to repost older listings. When a house does not get sold, it does not necessarily mean that people are uninterested it. It may be the case that not enough people have been made aware of its availability.
Every few weeks, you should consider reposting the properties that are still available for purchase and tailor your pitch to suit a number of custom audiences.
19. Other agents
Naturally, you do not want to advertise for your competition. However, you would be surprised to know that doing so may have potential benefits for your business. There are many clever ways to repost other real estate agents' branded content.
As a realtor, sharing Facebook real estate listings posted by other agents and including your name as a reference can earn you some extra credits and sales.
20. Local businesses
Posting images of key businesses in the neighborhood is another of the Facebook post ideas for small businesses that can reap numerous benefits.
These may be images of banks, shopping centers, and fitness centers close to your listings. These posts let your audience know about the amenities located at a commutable distance to the listing. Having this post shared by the businesses mentioned can reinforce your standing within the community and build trust amongst prospects.
21. Business information
Although your information is already on your business's Facebook page, you can still expand your audiences' understanding of your business and your offerings.
It could be by adding a short summary of your business listings, a picture of your office, posts about your staff and their history, and other business-introductory information. This is one of the social media post ideas for small businesses that can genuinely help build trust and increase brand awareness.
22. Weekly series
To be successful on Facebook, regular posting is a necessity. When your account is active, your audience will always come back to see new content. Here, you can start a routine weekly series to engage your audience.
This creates an expectation and keeps your audience anticipating your next post. Besides having a themed content idea to work with, it helps to display homes that require quick sales, and your audience will come back to read the weekly series.
Here is an example from Dickens Mitchener & Associates;
23. Mortgage
As a mortgage broker, there are different Facebook post ideas for real estate agents that can be used to generate engagement and convert mortgage leads on your page. 
For instance, you can take a photo as you are closing a mortgage deal and post it on your Facebook page. Below is a real example from Primary Residential Mortgage, Inc. that have used this angle for content;
Through these posts, you can also alert your potential buyers about new loan products, creating awareness for your new offerings.
24. Get creative
It may sound obvious, but there are many ways to make your posts stand out by adding creative elements. For example, you can make a unique combination of photo and text media, experiment with designs or add moving elements to differentiate your posts from others.
Always remember that the large user base on Facebook is flooded with marketing communication. So, taking the time to generate creative real estate social media posts can go a long way in acquiring engagement and garnering shares.
Take a look how Casaloca Guatavita have used this to their advantage;
25. Giveaways
People are repelled by the hard-sale approach these days. If your Facebook page reflects that you are only trying to take without offering anything in return, your audiences will likely turn cold and may even unfollow your page.
Once in a while, share a post with a special offer, giveaway or discount codes. This works especially well if you add a time limit element, which gives a sense of urgency.
In the example below, Dickens Mitchener celebrates the month of October along with its audience by offering a seasonal giveaway:
26. Sharing information
There are different types of people among your audience. They range from window shoppers to people with purchase intent and homeowners who are evaluating their options.
Including genuine information from your informative content and a link that directs them to your blog post or whitepaper can help you generate high-intent leads. This is because only truly interested people will click on these links. If you are offering something of value, they will likely share their information with you for future communication.
27. ​​ Call to actions
Adding CTAs to your Facebook posts is more leaning towards the action you are targeting and less about the post itself, and is a facet seen within all Facebook post ideas for real estate agents. The idea is that different kinds of posts need different types of CTAs, including "learn more" or 'register interest"
Providing your audience with a clear path of action on what you want them to do next helps you get higher conversions.
Check out this Facebook ad from Zillow, for instance;
28. Polls and quizzes
The best way to know what your audience wants is to ask them. People love getting involved and sharing their personal opinion, which is why polls and quizzes are such a great idea to get your audience to actively participate in the conversation.
With polls and quizzes, you can get insights into your audience's preferences – what they want to see more of or less of – to build a more focused real estate Facebook strategy.
Take a look at this post example by Haring Realty;
29. Contests
Another thing people love is to get something for free. According to an MIT study, "the word free gives us such an emotional charge that we perceive what is being offered as immensely more valuable than it really is."
Why not run a contest on your social media and offer the winner something free in return: for example, a home evaluation, home staging service, or gift.
Take a look at this example by Darren Khan Real Estate Team;
Real estate Facebook marketing for new agents
If you are new to the real estate business, you must be aware of the unique complexities of the real estate industry.
The market demand in this sector constantly faces various difficulties, but knowing them can help you target your audience the right way. Matters even become more complicated when you are trying to meet the demands of short-term investors, long-term investors, the rental market, and actual users. However, understanding all of these touchpoints can help you curate accurate marketing models and inspire your business's Facebook post ideas as well.
Remember that due to this market's volatility and fluctuating ad expenses, you need to be very cautious with your real estate Facebook marketing.
If you are new to the realtor business, send out an email to all your friends and offer them some promotional item or service. Also, you can ask them to share it with their friends and family members to create more awareness for your new business.
Here is an example;
Check out our webinar to learn all about lead generation through Facebook & Instagram Lead Ads.
More Facebook post ideas for small businesses
Specialized content aside, Facebook is one of the most popular social networks in the world and is a lead generation gold mine for any marketer. Facebook users use this platform to connect with others, search for products or services, watch videos, and share bits of their own lives.
Considering this fact, it's important to know how to leverage this platform to meet your business needs. You can enhance your performance further by streamlining your workflows with integrations such as:
Take a look at this additional list of business Facebook post ideas you can use to interact with your audience and encourage engagement.
1. Storytelling
Storytelling is an engaging technique for passing on information, traditions, and even marketing details; people love to hear stories and sympathize with other people's experiences.
Therefore, using stories is one of the most effective Facebook post ideas for small businesses that can bring about engagement, trust, and brand awareness.
Let's take Humans of New York as an example; the page is filled with short and long stories that keep its followers engaged, and this formula has helped the brand grow.
2. Behind-the-scenes
Giving your followers and customers an idea about what happens behind the scenes and how your business is run humanizes your business and allows them to relate to your activity through your Facebook content.
3. Decision making
Of course, you shouldn't base a big business decision on your social media follower's ideas.
However, asking them to share their opinion about some details, like a small change to your e-commerce or whether or not you should participate in something, is a great way to engage with your customer.
You can gain great marketing insight out of this practice, and leads will appreciate having their opinion valued.
4. Showcase properties
Give your leads a clear idea about the value of the properties you're selling by showcasing them through photographs and videos.
For example, you can run a campaign on checking in on first-time buyers who have been in their new home for one year, sharing content of how they have mad the property their own.
5. Memes
Memes are typically always included in social media post ideas for small businesses due to their high shareability and appeal to people's sense of humor. As an essential part of the internet culture, understanding and integrating them with your digital presence can help you gain engagement.
Keep in mind that any image could be copyrighted. Therefore, a creative way to approach these is to mimic them by creating your own pictures and adapting the message to your offering.
6. Holidays
Holidays and festivities are essential all over the world, though they may be different in topics or dates. Still, if they're very relevant to the culture and life of your customers, consider making them part of your content as a way to bond further with them.
Use a professional image manipulation service to add some interest to your shots and make your posts more engaging.
7. Brand identity
A non-negotiable factor of many successful Facebook post ideas for real estate agents is the reinforcement of positioning through brand themed content. This may include your logo, brand colors, or any other aspect pertaining to your business' identity.
Creating clevercontent that shows this kind of material about your small business makes your followers more familiar with your brand and keeps you at the top of their minds.
8. Share the spotlight
Followers are attracted to your brand because they are interested in your properties, identify with your mindset, and are engaged by your content. You can increase this affinity with your agency by sharing the spotlight.
9. Social proof
People want to know what they are buying is legit, and that the property matches its claims. Getting your customers involved in your small business and collecting reviews or testimonials is a great way to build trust with your existing and future customers.
As a post idea, you can create pictures highlighting excellent reviews or make video testimonials from customers who have been to an open-house or found their home using your services.
A more creative real estate social media post may be to do small takeovers with loyal customers where they reply to potential buyers' questions.
10. Exclusive videos
Offering a sneak-peek of an aspect of your business always makes trendy content, thanks to the never-ending curiosity of human nature. Therefore, people love the exclusivity of this kind of content.
You might consider sharing the behind-the-scenes footage of staging the house to pique customer intrigue.
11. Culture
As we touched on before, we're all curious about what happens behind the scenes. Another of the great Facebook post ideas for real estate agents is to draw attention to your small business by sharing information about your company's culture and what makes it great.
This may include a tour of the office, footage of company retreats, or a celebration of accomplishments.
12. Showcase the team
Let your leads get to know the team that makes it all happen by showcasing them in a series of posts. Putting names to faces helps to humanize your agency and creates trust, fostering a stronger bond with your customers. This makes it one of the most effective Facebook post ideas for real estate agents.
Take this photo taken of the LeadsBridge team during last year's Mega Camp, and was posted on our LinkedIn profile. It helped us engage with our audience and helped our customers get to know us a little more.
13. Community
Every relationship is a two-way street, so making things about not only your customers but also the community you belong to is a great way to engage with your followers. In addition, this kind of Facebook post shows your small business's values and mindset.
14. Activities
Show the activities you participate in and tell your followers about it, keep them in the loop about what's going on, and they'll have a way to be even more involved with your small business.
Again, you can see an example of something we did and posted to LeadsBridge's LinkedIn profile. The main point of doing this was to maintain full transparency with our audience, and show them how we like to get involved in any way we can, i.e., LeadsBridge was acquired by ActiveProspect.
15. Ask a question
Another excellent Facebook post idea for your small business is to ask questions about a relevant topic and either get the opinion of your leads or open up the dialogue and have an idea exchange.
This will strengthen your relationship with your prospects as you showcase that you value their opinion and give them an opportunity to have their voice heard.
16. Quick tips and ideas
Bite-size content is perfect for maintaining an active presence on Facebook; you may create posts containing tips, tricks, ideas, advice, or other valuable information for your customers.
This type of content can be created quickly and easily manipulated into a series of creative real estate social media posts.
17. Blog
Blog posts are hard work, and if you're already using resources to have one, then put those blog posts to good work by creating Facebook posts with them. This way, you form a loop of information that your audiences look forward to while allowing you to make the best out of what you have.
We always share our blog posts with our followers so they may get the information we work on and follow everything we make.
18. Open house
Although single viewings are a major component of garnering conversion, open houses remain a lead generation tactic that should not be overlooked for real estate agents.
A creative way to weave this viewing method into your social media post is to create a recap of all available open house viewings available within a specific time period, be it weekly, every fortnight, or monthly.
This way, leads can avoid the tedious task of sifting through all listings, they can attend more than one showing and become aware of other available properties that they may not have known of.
Take a look at this open house social media post example by Tim Lind Real Estate below;
19. New Year
New Year is an optimal time to target prospect buyers, as many people look to a new beginning, particularly in a new location. Therefore, agents can capitalize on this opportunity, advertising to those who intend to make a fresh start, with a series of real estate New Year's posts.
Additionally, you can use this time as an opportunity to thank all of the buyers that have engaged with your business over the past year, and show your appreciation for their custom.
You can take inspiration from the following posts by One Step Services;
Final thoughts
Now that you are armed with an arsenal of actionable Facebook post ideas for real estate agents that you can implement immediately, it's time to consider how you simplify your lead generation process.
Here at LeadsBridge, we offer our extensive services to thousands of estate agencies who want to generate leads using Facebook. As an official Meta partner, we can help them generate highly qualified leads in a short time with specialized integrations with a comprehensive collection of automation solutions.If you're ready to take the plunge and automate your lead generation process, we're here to help!
We offer a variety of integration perfect for real estate agents and all available at the click of a button.