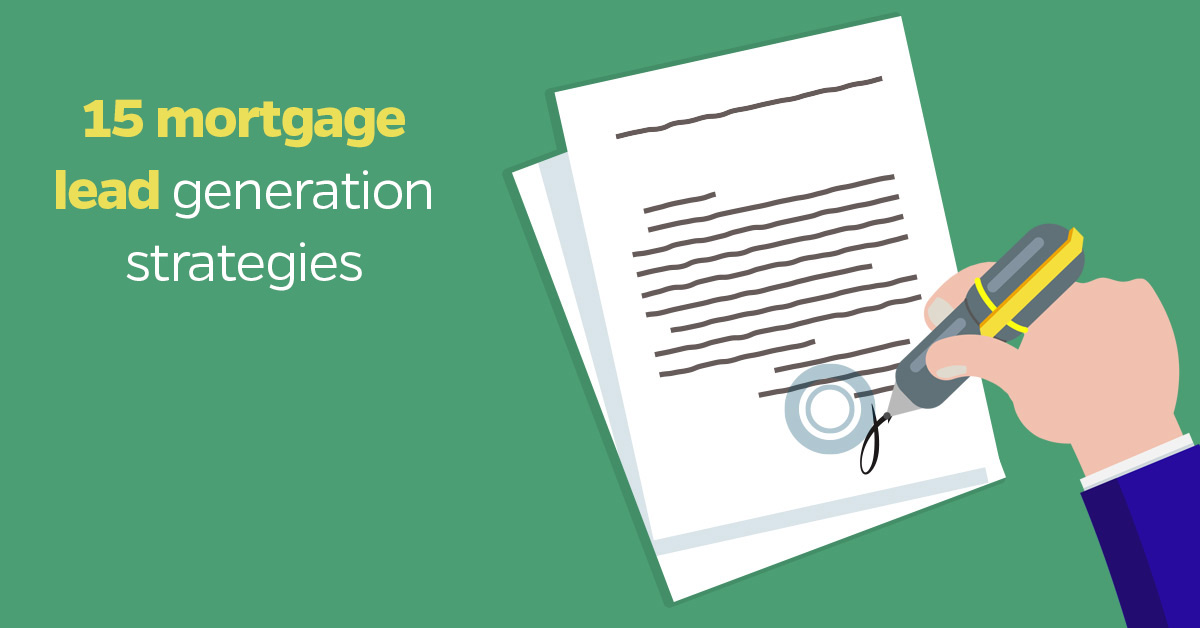 A study revealed that more than 6 million home sales occur in the United States every year and 92% of new mortgage borrowers do online research before speaking to a lender. In the same vein, 66% of homebuyers would prefer to handle their mortgages entirely online. This shows there are lots of leads waiting to be tapped. However, you need solid strategies that will help you to get high- quality mortgage leads.
In this article, you'll get 20 mortgage lead generation strategies with examples. These strategies will help you to collect more leads and convert them into customers.
1. Organic Search Engine Optimization (SEO) strategy
2. Build a local SEO strategy and use reviews
3. Get published in local real estate magazines
4. Use a social media strategy
5. Use Advertising
6. Earn referrals from real estate agents and builders
7. Network with Divorce attorneys and Family Lawyers
8. Use MLS listings
9. Buy mortgage leads
10. Use email marketing
11. Close up more sales with a quick response
12. Categorize the leads
13. Follow up mortgage leads constantly and diligently
14. Keep track of your interactions with leads
15. Use mortgage leads data to know your conversion process
16. Content marketing
17. Optimize your website
18. Direct mail
19. Use offline channels
20. Measure your results
1.Organic Search Engine Optimization? (SEO) strategy
Search engine traffic is one of the best ways to generate mortgage leads with a low budget. Search engine optimization is getting your website rank high in search engines using different methods. There are two coveted positions you should aim for. The first position is the section just below the ads. Check it out below:
The second position is the Google snippet.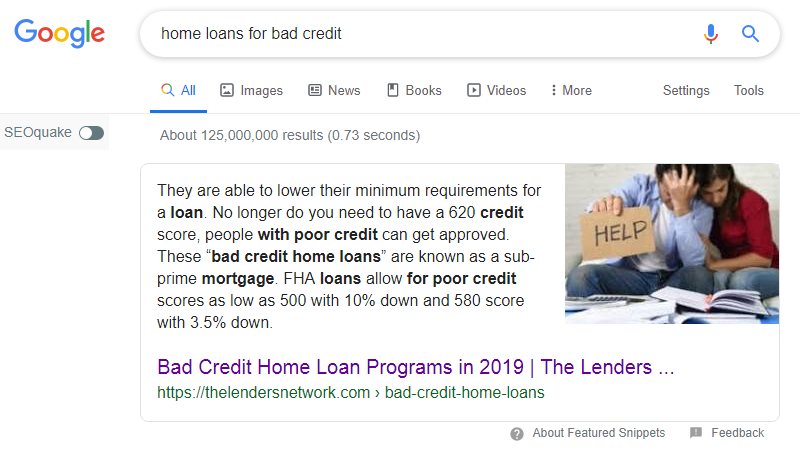 But there is a problem:
A lot of brokers are chasing after these spots because they are search engine real estates. In this article, we share some of the best strategies to compete for the highest rank on Google search.?
1.A solid keyword research strategy
The first thing you need is a keyword research strategy. You need keywords that have a good search volume, high commercial intent, and low competition. To get this set of keywords, you need to use both free and paid keyword research tools such as Google keyword planner, Ahrefs, Ubersuggest, Keyword Everywhere, and similar.
For example, using the Ubersuggest keyword tool, type in any keywords. Let's use home loans to see suitable keywords to use. Remember, you need keywords with good search volume, commercial intent, and low competition.? So go to ubersuggest.com and type in the keyword.
It leads to the page below:
The ubersuggest tool shows the search volume and the SEO difficulty of keywords (SD). These are important features. Looking at the image above, you can target the keywords highlighted in green. They are not too competitive and with a good content strategy, you can rank for the terms.?
So, download all the keywords with a low seo difficulty score and a good search volume.
What do you do with the keyword you got from the keyword tool?
Create content with the keywords. The first thing you need to do with the keywords is to create useful content. This will help to position your website in the search engine rankings. It will help to drive traffic to your website where you can convert them to leads and paying customers. Create long-form content because they rank better on search engines. Add images to boost your chances of ranking high. Check out this mortgage website sitting in the most coveted position.
I searched for the keyword "home loans for bad credit". It returns the result above with a website making it to the Google snippet. Look at how the writer sprinkled the keywords throughout the article. No wonder it appears in the Google snippet.
Look at the article below:
The full-page article is here. It is a long-form, and it contains images. Use this as an example and write a much better article to rank above the competition. Add a call to action to every content you create on your website.
Use the keywords in the subtitles on the content page: To further enhance your chances of ranking on search engines, sprinkle your keywords in the sub-titles of your content.
Use the keywords in the URL and Meta description of the content. Adding keywords to the Meta description of the content will boost its click-through rate. If people click on your article link on the search engine, it tells the search engine that the article is popular, which can lead to more clicks, and more clicks lead to a higher ranking. This will increase the number of visitors to your website.
[card_optin id='16927′]
2.Build a local SEO strategy and use reviews
The second way you can get mortgage leads is by building a local SEO strategy. The thing is, most of your customers are around you, so you need to build awareness for your business through local SEO strategy. Below are three local SEO strategies that will be of help.
a. Claim your Google my business profile
The first thing you need to do is to claim your Google my business profile. When you have an optimized profile on Google, it is shown with the map when someone searches for your kind of business in your city.? For example, searching for a mortgage company in New York brought the following result:?
When the searcher clicks on any of the companies? names, the business profile is shown with information that will enable them to find the business locally such as the Business name, the address, phone number, hours of services, etc. For instance, clicking on the first company – Keypoint Mortgage LLC brought out this information with a map, pictures, and reviews.
You can see the description of the office on the map. This makes it easy for potential leads to trace the business.
To claim your Google my business profile, go to google.com/business and walk through the steps.
b. Use positive reviews
Online reviews are very important to the success of your mortgage company. They are useful for search engines and potential leads. People want to ensure that they work with a reputable company. A local consumer review survey carried out by Brightlocal revealed that 90% of clients trust online reviews and check them before making a purchase and 84% say they trust reviews as much as personal recommendations.??
Positive reviews are difficult to get and you can't fake it. It must be real and it takes time. So, offer good services and be diligent. Ensure that your customers are happy. This is the only way you can ask them to share their positive experiences with people online. Check out Keypoint customer reviews on Google below.
c. Get local links
Local links are also part of the local SEO strategy for your business. You need links from local organizations. This will help to send strong signals to search engines that your business is relevant in your locality, town or city. For example, local links include links from local alumni associations, local chambers of commerce and other organizations in your local community. These links will help you rank for the city you live in.
If all of this sounds a little complicated you can always look at hiring outside SEO help. Remember if you want to execute a powerful Local SEO strategy then you should look at local SEOs. For example, if you need to rank in London, I would look at hiring a London-based SEO professional.
3. Get published in local real estate magazines
One way you can draw mortgage leads from your local area is by writing great articles and publishing them in your local real estate magazines. This way you will build brand awareness for your business in your local community and beyond. The truth is, the competition online is much, and the noise is also deafening. Coupled with the fact that most website visitors just click away to find things that attract their attention, making you lose loads of leads on the line. But with real estate magazine publications, it is a different ball of the game. People read them and not scan through the headlines. They spend a lot of time reading print magazines as shown below.
Also, a real estate magazine has long-lasting exposure. It stays in homes and offices months after it is being published. It will continue to bring leads and awareness to your business.
Find an example of a real estate agent magazine whose target areas include Treasure Valley, Idaho, and Philadelphia below.
4. Use a social media strategy
Social media is very important in generating mortgage leads. This is because 81% of Americans are active on social media. That is a lot of leads. Social media provides the best way for you to promote your services to get leads daily. One good thing about the social media strategy is that it is most free. Below are ways you can use social media to get mortgage leads.
a. Share pictures from past closings
As you close a loan deal, ask the customer to take their pictures. Check out an example from Primary residential Mortgage Inc below.
Post the picture and tag the client also on your social media account. You can take it further by adding a call to action button to the post at the end. Use something like "If you want to be fulfilled as the Bullock's, fill out the application at …". This will help you close more deals.
b. Share clients' testimonials
This is one of the best posts that can help you get more mortgage leads for your company. Testimonials create awareness and trust for leads that are sitting on the fence. It strengthens your brand and helps you to build trust with potential leads.
Check out the example below from Pacific residential mortgage.
c. Share real estate agent's listings
If you are connected with agents and you notice that they are promoting a new listing, share it with your audience. This tells the agent that you are helping them to get more exposure and your fans might see it and ask you for a loan to buy it. Win-win.
Find an example below.
Other activities you can carry out to increase your leads on social media include:
Join and engage with real estate groups on Facebook and LinkedIn

Send Direct messages (DMs) to past clients

Search for hashtags

Create and share videos on Facebook, LinkedIn, and YouTube.
5. Use Advertising
Advertisement is a faster way to get loads of leads for your mortgage business. There are several online advertising programs such as pay per click, social media advertising, and native advertising. Others are:
Retargeting ads

Web classifieds

Online banners on relevant websites

Zillow advertising
There are offline advertisements that are also very effective, they are:
Local print magazines

Newspapers

Outdoor
However, since we are in the age of technology, social media advertising is trumping other forms of advertising because it allows you to target borrowers directly. For example, you can target borrowers on Facebook, Google, and LinkedIn using their targeting section to create highly effective ads. This includes using their demographics, such as salary, age, industry, and income to create a highly targeted ad. The best among the platform is the Facebook lead ads, which is very rewarding, easy to create, and work for every business.?
It works because it is easy for users to fill, all they need to do is to click on the call to action button, a pre-filled form comes out and they can confirm if the information is correct and then submit the form.
A Facebook ads consulting firm shared a case study of one of their clients? – a mortgage broker that got a tremendous result from running Facebook leads ads. The broker needs more mortgage leads and engagement. The company created Facebook lead ads targeted at an audience they are after – debt consolidation and mortgage re-finances.?
They also created a lead nurturing plan and follow up system for incoming leads through email and text messages.?
The result?? They got 64 leads at $2.72 per lead for the leads specified.
Facebook lead ads make it easy to funnel your new leads directly into your nurturing campaign in order to quickly follow them up and nurture them to become clients in no time. You can only do this if you use integrations. Leadsbridge offers integrations to 360 CRMs. You don't need to waste time downloading your leads, all you need is to integrate your Facebook account with Leadsbridge's Facebook lead ads sync tool and it will be funneled to your CRM or autoresponder immediately they sign up.
6. Earn referrals from real estate agents and builders
One of the best ways to generate mortgage leads is to build relationships with real estate agents and builders in your community. It takes time but generates good results over time. The first thing you want to do is to search for local business referral network. Most organizations meet regularly to get leads from one another. They have different businesses that make up the organization. Therefore, members can easily trade referrals with one another.
Second, search for realtors that have many listings in the local real estate magazines and local realtor websites. Get in touch with them and ask how you can be of help.
Third, visit real estate networking events. You can find current events on Meetup.com. Go to meetup.com, type in your area, and search for a real estate related term.
I typed in Real estate and chose New York. Below is the result.
You can type in real estate and the city you live in, the date and time of the events, so you will plan your program around it to be part of it.
Prepare for the events by getting your business card ready. Dress smartly and sharply. The first impression matters a great deal. When you do this regularly, you are guaranteed to get loads of mortgage leads in return.
Apart from getting referrals from realtors, you can also diversify your referral sources by contacting life insurance agents and financial planners, estate planners, CPAs, etc.
7.? ?Network with Divorce attorneys and Family Lawyers
Good sources of mortgage leads are Divorce Attorneys and Family Lawyers. The truth is, when couples are divorced, there are some real estate properties to deal with. For example, when couples are divorced, they can put up their house for sale, share the proceeds to buy their own new home individually. This is where your services come in.
To network with these lawyers, you need to join your local chamber of commerce, or rotary club. You can also ask to speak at a family law function.
8. Use MLS listings
A study by rateplug revealed that buyers search for and view property listings online. MLS (multiple listing service) is a real estate website consisting of a shared database of property listings by real estate professionals. It is a great platform for generating mortgage leads.
You can get potential leads by contacting sellers with information about your mortgage services. It has over 700 regional databases. So there are many more leads than you can handle.
9. Buy mortgage leads
If you have the budget and you don't want to go through the hassles of getting leads through the ways mentioned above, you can purchase your mortgage leads.
However, you need to be careful of the lead company you work with. Before you invest your money in buying leads, ensure that you do thorough homework on the lead company. Below are a few things you can consider before buying mortgage leads.
How much does a mortgage lead cost?

? Know the amount you are to pay per lead. Choose a company that fits your budget.

The source of the leads:

? Find out where the company gets its leads. Some companies recycle leads and sell to many buyers, which may not be useful for you.

Check the return policy:

Check for return policy so that if the leads they sell to you are not good, you can easily return it back to get your money.

Prioritize quality over quantity:

Be willing to pay more for less qualified leads than getting plenty leads for cheap. All that matters is that you get leads that have a better closure ratio.

Ensure the website allows cherry picking

. This is a feature that allows you to see leads before purchasing them. Some site also includes how many time such leads have been sold. This will make it easy for you to decide.

Ensure the company has good customer service:

Customer service is one of the best attributes of a great company. Make sure you can contact them through different means such as phone, chat, and email, whenever you have a question.

Exclusive or non-exclusive:

Exclusive leads means you will be the only one that the leads will be sold to. It is costlier but produces the best results. Non-exclusive leads are those sold to about three to five buyers. It doesn't cost much but also the value is not as much.
10. Use email marketing
Email marketing is a great way to capture leads and nurture them to become paying customers. Do you know that email marketing generates $40 for every $1 spent? That means a 40x ROI. Email marketing is cheap, effective, immediate, easy and measurable.
All you need to do is to create a useful newsletter for your subscribers. The content can be your latest blog posts, promotions, discounts, etc. You can also promote your products and services. Make sure you add a pop-up, sidebar or footer form to your website to further help you collect leads.?
Pay attention to the email frequency. Ensure you deliver value consistently. Also, personalize each message so they feel you create it just for them. Don't forget to add a call to action at the end of the email to help you drive more engagement.
See an example of an email newsletter from C- loan below.
You can view the entire newsletter here.
11. Close up more sales with a quick response
One thing seafood lovers? like is freshness. A fisherman needs to catch his fish and sell it very fresh. Keeping it will make it go bad, thus selling such a fish is not workable again. The same goes for lead generation. Once you generate mortgage leads, you need to sell to them when they are fresh. Leaving them means they will grow cold, and that translates to no sales.?
A research carried out by HBR on 1.25 million sales leads received by 29 B2C and 13 B2B companies revealed that:
?Firms that tried to contact potential customers within an hour of receiving a query were nearly seven times as likely to qualify the lead as those that tried to contact the customer even an hour later and over 60 times as likely as companies that wait 24 hours or longer.?
When a visitor comes to your website and submits a lead form, they are convinced that you have something to offer them. This gives you an opportunity to quickly respond to them. If you contact them when they are still hot, you are more likely to convert them into paying customers.
This means that spending money and efforts on lead generation only becomes fruitful if leads are promptly responded to and turned into paying customers.
Do you know that taking longer than 5 minutes to contact a lead can lead to an 80% decrease in lead qualification?
Therefore, the earlier you respond to mortgage leads the better conversion you get.
12. Categorize the leads
As mortgage leads are coming in through different acquisition channels (Facebook ads, Google AdWords, Blogs, etc) you need to qualify them in order not to waste your money and effort.? Start by categorizing your Marketing Qualified Leads (MQLs) and Sales Qualified Leads (SQLs).?
The MQLs are leads who have signed up and probably downloaded a free e-book, a white paper or case studies from your website to become leads. They are the people ready to receive more information from you. They may not be ready to buy yet as they are still in the research phase (middle of the funnel). What they need is more information that will help them see the need to solve their problem with your mortgage services.?
The SQLs are people who are done with the research stage; they have been in contact with your sales team and ready to schedule meetings to explore their purchasing options. These are mortgage leads ready to close. They need continuous follow up to close them.
Categorizing your mortgage leads into MQLs and SQLs will help you know where they are in the sales funnel and how to effectively reach out with information that will help to convert them to paying customers.
Now you know who to follow, the next tip is to know out how to follow them.
13. Follow up mortgage leads constantly and diligently
You need to develop a game plan to follow up on mortgage leads appropriately. Following up on leads is very important and you need to do it continuously. You can nurture your mortgage leads with emails, phone calls, text messages or set up a face-to-face meeting.?
Actually, the follow-up strategy depends on how you get the mortgage leads and what has worked for you in the past. Follow up strategy may change depending on whether you generate the mortgage leads through an online form on your website, Ads, referral or you purchased the leads.
Let?s look at the options.
Follow up leads through Email or SMS (text messages)
If you generate your mortgage leads through Ads such as Facebook or Google ads, email follow up will be the most appropriate. Especially if you can sync your Facebook or Google ads with your CRM.?
Leadsbridge can help to sync your Facebook or Google ads with your CRM. This ensures that as your leads are coming in, you can quickly send a welcome email or text message (SMS) to them before they get cold. This makes the process faster and easier for you to convert your mortgage leads into paying customers.
Second, you can contact mortgage leads through phone calls.
Contact leads through phone calls
If you acquire your mortgage leads through lead forms on your website or you purchase them, following up with phone calls can be appropriate, but you need to map out your strategy. You need an introduction, which should be brief. Ask a few questions about their mortgage needs and then invite them to contact you if they would like to know more. Let them know you will follow up with them soon. Thank them for their valuable time and end the call.
If you have many mortgages leads to call, you could sync a phone dialer with your CRM. This will make the process faster as you need not search for a number and dial manually. This process will also help you call more mortgage leads without getting distracted.
You need to constantly follow up with your mortgage leads again and again. If the first touch is not working, reach out to them again within two to three days. Do it over and again to convert mortgage leads to paying customers. After all, it takes 6 to 8 touches to convert a lead. That means contacting them repeatedly.
Insidesales shows the number of calls and the success of followup in the graph below:
The people surveyed had an average call attempt of 2.8, which is shown to be ideal in the graph. But you need to do more. Follow up aggressively on your mortgage leads in other to turn them to paying customers.
14. Keep track of your interactions with leads
Keep track of all your efforts to convert mortgage leads. You can do this using an excel sheet, a word document, CRM software, and Google Analytics. Whenever you call, email or send text messages to mortgage leads, record the interaction.?
The truth is, what gets measured can be improved. This way, you know the best way to follow up on your mortgage leads based on your success rate with phone calls, email or text messages. It will also help you keep track of when you contacted mortgage leads so you can pick up from there the next time you contact them.?
Doing this will make your prospects appreciate you the more.?
15. Use mortgage leads data to know your conversion process
The data you gathered while tracking your interactions with mortgage leads is very important. It will help you know which mortgage leads to still continue to follow up and which ones you need to drop. Like the fish analogy at the beginning of this article, if your net did not catch a matured fish ready for food, you need to nurture them more than usual till they are ready to convert to sales.?
You need to monitor and update the mortgage leads data in your CRM regularly to make them useful and effective.?
16. Content marketing
Content marketing is 3 times more efficient in terms of leads more than outbound marketing. This is why 56% of businesses worldwide intend to spend more on content creation. You need content marketing in your business to help bring in more clients and increase sales. Content marketing helps you to:
Drive more traffic to your website
Increases engagement with your business
Build brand awareness
Boost Search Engine Optimization efforts
When you create quality and search engine optimized content, it drives traffic to your mortgage website. The same content will help you build trust with visitors and also make them subscribe to become leads and customers. To achieve these objectives, you need to create top-notch content. Below are different content you can create for your mortgage business.
Blog content
Video
Images
Infographics
Checklists
Email content such as Newsletters
Below is an example of blog content on City Creek ( a Mortgage business in Utah, U.S).
17. Optimize your website
Optimizing your mortgage business website will help visitors to take action without being distracted on your website. The first thing you need to do to optimize your website is to remove every distraction that can take people's attention away from your call to action. Make it easy for users to complete forms before leaving your website. Reduce the number of questions on your forms to make it easy for them to sign up. Thereafter, you can send more questions to their inbox.
Second, use simple and clear calls to action buttons or text on your website. The call to action button should lead the user to take the next action. Place it in a visible location so that users will not miss it. Avoid creating competing calls to action on the pages of your website.
Below is an example of a clear call to actions buttons and text on the Altius mortgage website.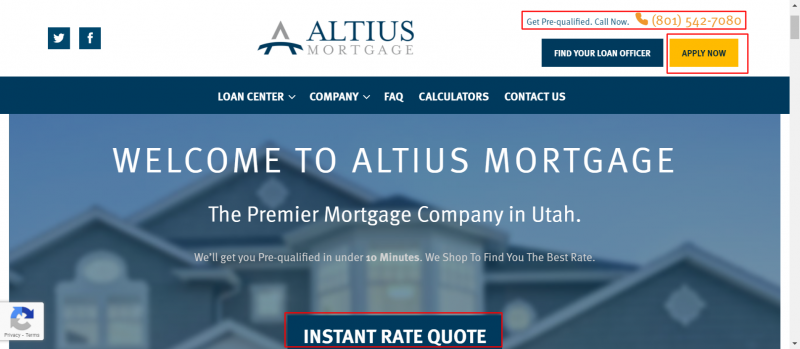 18. Direct mail
Direct mail is an effective way to generate leads because over 98% of consumers collect their mails everyday. Direct mail is also the preferred method among baby boomers and millennials for receiving promotions. To achieve the best result in using this strategy, the content of the mails must be top-notch. Your message should be short and clear to help you generate phone calls and emails. The content you can include in your direct mail includes holiday greetings, anniversary greetings, rate information, market information, and financial tips. This content will help you educate your prospects and clients in order to help them make an informed decision. The target of your direct mail campaign should be past clients, present clients, and prospects in that order. Below are tips that will help you get the best from your direct mail lead generation strategy.
1. Develop a direct mail strategy: Create a plan for your direct mail. This can be a 6 – 12 month strategy. Stay consistent with it to generate an excellent result.
2. Create attractive images with colors that reflect your business branding.
3. Don't use generic letters. Personalize it to include the name of the recipient.
4. Add a call to action to tell the recipient what to do next. Examples include call me today send me an email and check out my website, etc.
Below is an example of direct mail.
19. Use offline channels
Offline marketing channels are great for generating mortgage leads. Use offline channels such as television, billboards, and radio to get new leads. Advertise on these media to different audiences to generate lots of leads. For example, the television channel will attract the people in the community – the educators, business people, etc. Billboards will attract people passing by either walking or in their vehicles. The radio channel will attract people in Offices, vehicle owners, and even homeowners. Place ads in small stores' windows or walls to attract shoppers and passers-by. This strategy will help you position your mortgage business in front of your target audience. This can result in more lead generation.
Find an example of a billboard mortgage ad below.
20. Measure your results
When you are done executing the strategies above, it is time to take stock and measure your results. This will enable you to know the right strategy that generates the best results and those that did not measure up. Google Analytics is a useful tool that can help you measure the traffic coming into your website and the actions they take while there, the type of content they interact with. With this information, you can produce more content that generates better results, thus enabling you to generate more leads.
Conclusion
Generating high-quality mortgage lead is not easy, but it doesn't mean that leads are scarce. Especially, with the fact that 6 million home sales occur in the United Sales every year. All you need are strategies to get them. The Fifteen (15) lead generation strategies enumerated above will help you to generate high-quality mortgage leads.