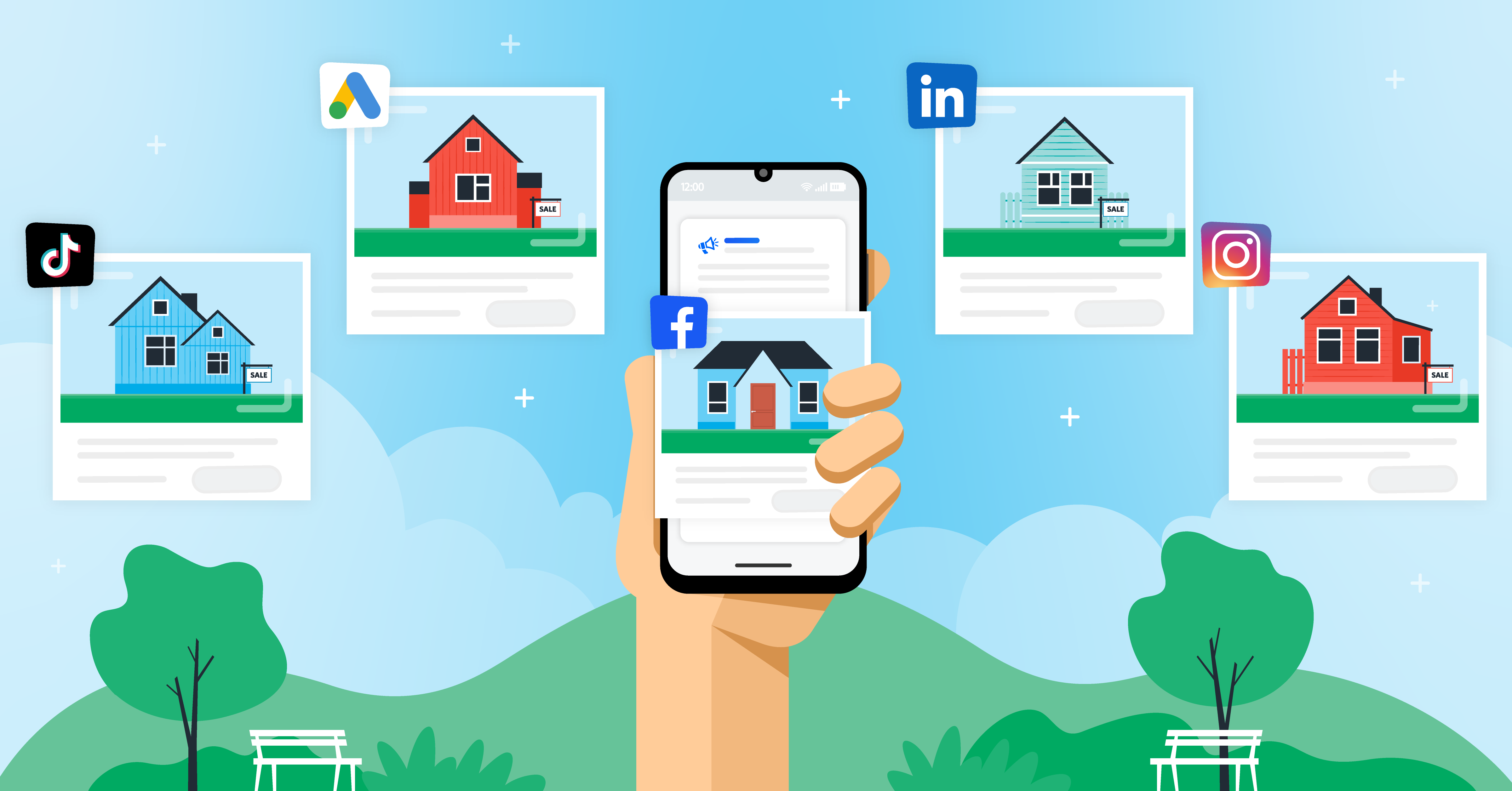 Leads are the lifeline of real estate businesses. This is why 60% of real agents search for leads daily. Nowadays, the Internet plays a considerable role in the real estate niche. Almost every home buyer begins their research online. A study revealed that 79% of buyers found detailed information about properties online, and 28% of buyers found their homes through a real estate agent. All these stats point to one central fact here: mastering online advertisement is crucial for running a successful real estate business.
This guide shows how to use the best lead generation tips for realtors to boost your business. Additionally, we'll introduce a few integrations to take your online real estate campaigns to the next level.
1. Facebook Ads: Facebook lead generation for real estate businesses
Facebook is potentially the best platform to generate leads for your real estate business. With Facebook ads, you can target the right audience by location, demographics, and interests.
Considering that 50% of home buyers find their homes on the internet, you should not ignore Facebook's potential to get new clients.
Real estate advertising calls for visual presentation of properties, which makes Facebook the perfect place to post pictures of beautiful homes, families, and neighborhoods.
One of real estate's best lead generation strategies is using Facebook Lead Ads.
Facebook Leads Ads helps you generate real estate leads at a lower price both on mobile and desktop. When users click on the Lead ads, they are presented with a pre-populated form with their details, i.e. name and email address. Then, all the users need to do is confirm their details or add some information to it and submit it.
Facebook Lead Ads is also optimized for mobile since 98.5% of Facebook users access the platform through mobile devices. Another advantage of Leads Ads is the pre-filled form, which enables native ad submission. This means that your potential lead doesn't have to leave the platform in order to submit your form. In addition, this process minimizes conversion frictions typical to landing pages.
You can also integrate Facebook Lead Ads with your favorite CRM tools through an official Facebook partner like LeadsBridge to funnel your incoming leads automatically and nurture them towards conversion.
You can also learn how to master your posts with these 27 quick and easy Facebook post ideas for real estate agents.
Here's an example of a Facebook Lead Ad from Arizona Real Estate showing an exclusive listing for a property. The ad aimed to capture lead data in exchange for more information about the listing.
Interested in Facebook real estate ads? Check out these 20 successful real estate Facebook ads examples.
How to generate leads from Facebook for real estate?
You'll need to master Facebook advertising in order to get the most out of this platform. Read this step-by-step guide to Facebook Lead Ads to find all the necessary information.
However, here's an outline of how to generate leads using Facebook for real estate:
Create a Facebook Business Page for your real estate business.
Post engaging content that is relevant and useful to your followers. Staying consistent with posts is another important practice.
Join other Facebook groups, offer guest posts or referrals to other realtors on the platform, and so on. This helps you to expand your network.
Use paid advertisements and the platform's marketing features such as Facebook Lead Ads to increase your reach.
Connect your Facebook leads to a CRM through automation for the best results.
2. Google ads
With Google ads, you can advertise your real estate business on the search network, display network, Google shopping ads, video campaigns, and app campaigns. In particular, one of the formats of Google ads for real estate is the Google Lead form extensions. Because of their native operation, they help you drive leads directly from the mobile search results page as users type in search words on Google.
Google Lead form extensions are an advertising feature, designed to attract users with a call to action, which is placed in a responsive form under the ad. The lead form extension is created in Google ads and then added to a search, video, and discovery campaign.
When users click on the ad, they see a form pre-filled with their Google account data and a call to action to submit the form. After that, you can download and manage the leads from Google Ads or integrate them with a CRM or Email marketing software to quickly move them to where you can contact them right after they opt in.
Google Ads Lead Form Extensions integration with Email Notification
Google ads for real estate advertising are ideal, especially since you can customize the Google lead form extensions to fit your real estate marketing goals.
Here's an example of a Google Lead form extension.
For more details on creating Google Lead form ads to generate leads for your real estate business, check out this post – Google Lead Form Ads: The Complete guide to Google lead generation.
How to get real estate leads from Google?
If you are evaluating how to get real estate leads from Google_ in addition to using the Google lead form extensions_ check out the following features:
Google Ads for mass audience reach.
Google Keyword Search through metric providers such as Google analytics.
Google Alerts for content change detection and notification services.
Google My Business feature to manage your business from Google Search and Maps and reach more clients.
Staying aligned with Google's most recent SEO policies and keeping your NAP (Name, Address, Phone) updated at all times.
3. LinkedIn ads
LinkedIn offers access to a massive network of professionals, making it suitable for running effective real estate lead generation campaigns. LinkedIn Lead Gen forms, just like the Facebook and Google Lead Gen forms extension, are mobile-optimized ads allowing advertisers to collect LinkedIn leads without directing them to external landing pages. It comprises a form that is pre-filled with the user's information. When a user clicks on the ads, the pre-populated form pops up, which they can easily submit. This increases users' experience, reduces friction, and increases lead generation rates.
Find an example of a LinkedIn Lead Gen form below.
For more information on setting up the Lead Gen form, read this post – Everything you need to know on LinkedIn Lead Gen Forms.
What's more, LeadsBridge helps streamline your LinkedIn campaigns by bridging the gap between this platform and your favorite marketing tools.
How to generate real estate leads on LinkedIn?
If you are wondering how to generate leads on LinkedIn for your real estate business, follow this standard approach.
Start by building a reliable LinkedIn profile that is aligned with your business goals. Then, add relevant content by posting bi-weekly or weekly content that attracts attention. Using this approach, you start to get connection requests and followers. However, you can make connections by visiting potential prospects and sending them requests yourself.
To expand your network, you'd want to join relevant groups where you'll find a mine of high-intent leads. Keep in mind that LinkedIn members are mostly B2B professionals who appreciate authenticity and a genuine approach. So ensure to engage with them meaningfully, like and share their content, and post topics that they might be interested in, such as the current market trends.
4. TikTok for real estate agents
With a massive user base, businesses expand their marketing efforts on TikTok to tap into its potential for lead generation. This also includes real estate agents.
However, it is important to adapt a video content strategy for effective TikTok real estate lead generation. By doing so, you can build brand popularity on the platform, draw more clients, and increase your revenue.
It is also essential to add automation to your TikTok marketing mix to run optimized campaigns and get the best results. Using LeadsBridge, you can integrate TikTok with your existing marketing tools, such as:
Discover more about lead generation on TikTok here.
How to use TikTok for real estate agents' activities?
Here's how:
First, you need to create your TikTok real estate profile and add your information, some content, and a few other basics. According to TikTok marketing experts, the best way to market on this platform is to target a specific niche and adhere to your audience targeting throughout.
Since the platform is dominated by GenZ, you need to get creative when it comes to TikTok posts, including trendy videos, challenges, and even audio. Also, remember to create a balance between your real estate listings and offerings, and the posts that are meant to deliver entertainment to your followers.
5. Local SEO
It's the dream of most real estate agents to have quality local leads coming in on autopilot. One of the best real estates lead generation ideas that help you realize this dream is using local SEO.
Local SEO helps your business appear in search engines when a user is looking for help to buy or sell a property. Considering that 69% who convert on a site came from a local search, you have to position your business to show up more on Google search. The following tips can help you optimize your campaigns based on geographical location.
a. Optimize your local Google My Business page so your business can appear more frequently in search engines.
b. Use targeted keywords to create high-quality and SEO-optimized content.
c. Optimize on-page elements and images on your website for the highest relevance.
d. Use attractive headlines to increase click-through rates.
e. Ensure that your website is mobile-friendly.
6. Real estate websites for lead generation
The best real estate lead generation websites enable agents to find clients and close deals. A well-executed real estate website design can generate significant monthly traffic, making it an effective tool for lead generation and helping agents find clients and close deals. For instance, Zillow, Trulia, and Realtor.com each generate about 80 million unique monthly visits. These are the traffic you need to get to convert to leads.
Source: Statista
Let's take a closer look at these websites.
a. Zillow:
Zillow is a real estate service that helps users buy, sell and rent properties online. It provides enough info on real estate properties so that buyers and sellers can make informed decisions. It also simplifies the process of owning and living in properties by offering valuable data for buying, selling, financing, renting, and remodeling. You can integrate Zillow with different CRMs through LeadsBridge. Learn how to integrate Zillow with your CRM here.
b. BoomTown ROI:
BoomTownROI is used for lead generation, creating IDX websites, and managing leads and customers. In addition, you can integrate it with other CRMs and Autoresponders.
Visit the BoomTown ROI documentation page to learn how to set it up.
c. Zoho CRM:
Zoho is used by many industries but is also highlighted as a valuable platform for real estate agents who want to generate leads from social media. You can also integrate your Zoho CRM with your favorite tools.
Visit the Zoho documentation page to learn how to set it up.
7. Blogging
Blogging is a go-to practice for the best real estate lead agents. Check out these interesting statistics: 54% of decision-makers spend more than an hour per week reading and reviewing thought-leadership content, which has also encouraged 70% of marketers to actively invest in content marketing.
In short, blogging helps drive targeted traffic from search engines as you create targeted content for your business. Although it is a strategy that takes time to deploy, you can still derive short-term benefits, such as promotional opportunities or linking your content to a newsletter or social media post. It's best to write content that shows website visitors different aspects of your business. For example, you can create short guides about places in your city to keep your audience informed.
Have a look at this guide on "How to de-winterize a home" from Massrealty, for instance.
8. Video marketing
Video marketing is one of the most popular and rewarding real estate lead generation ideas. 68% of marketers claim that promotional video generates the biggest ROI, while 72% of customers said they'd like to learn about a product or service through video. Also, according to the National Association of Realtors, online video websites have increased, with a 36% increase in the number of people using video as an informative source during their home search.
Creating an informative video about your real estate business will open up your business to enhance your lead generation efforts greatly. There are different types of videos you can produce for your real estate business, such as:
a. Listing videos
b. Interview videos
c. Live-stream Q/A
d. Homebuyer/ seller advice videos
e. Neighborhood/community videos
9. Virtual tours
Technological advancements have made it easy for real estate agents to offer video tours, floor plans, and other tools and generate quality real estate views and leads. Virtual tours allow prospective leads to access the realistic property environment independently. With it, they can see each room and look at the tiniest details about the property.
Virtual tours can be expensive to create, but they are well worth it. You can add them to marketing emails and open-house notifications, websites, and social media platforms.
Here's an example of a virtual tour by Zillow.
10. Community pages
A community page on your real estate website offers property information to buyers and sellers. It contains details such as the population of the neighborhood where you work and live, the cost of living there, history, population, etc.
It may also include popular events, traditions, attractions, restaurants, and other interesting details. Creating these pages also improves your local search engine optimization.
For example, people looking for houses in that region can see your website using search engines. As these visitors find your website through the search engines and click through, you get more traffic that can be converted to leads. To convert the traffic to leads, you can offer a free pdf of the region in exchange for visitors' emails, for instance. This will help you keep in touch with them and nurture them to become clients.
Below is a community page example from Deborah Hess – a realtor.
11. Expired listings
Looking for how to get more leads in real estate? Expired listings offer great potential.
Expired listings are lists of properties that could not sell before their expiry dates. They provide an opportunity to find a bonafide seller who is willing and ready to sell. There are two major ways to find expired listings — the first is through MLS. Check out MLS (Multiple listing service) daily and search for expired listings.
Second, through signing up with real estate prospecting services such as RedX, Vulcan7, and Landvoice. The services search the MLS for expired listings and provide authentic contact information. However, these services are not free, but they will help you save time and effort in searching for them manually. One good thing about these services is that they come with built-in CRMs and Auto-dialers, which makes it easy for you to reach out to expired listings owners. You can get in touch with expired listing owners through an auto-dialer, send an educational letter, or physically knock on their door.
12. Retargeting
Retargeting is an effective marketing strategy for targeting website visitors repeatedly (and strategically) until they convert. It is one of the effective lead generation tips for realtors.
You can run retargeting campaigns by installing a pixel on your website that allows storing your website visitors' information. You can then use this information to create relevant ads that target them based on their actions on your website as they move around the web.
With a retargeting campaign, you can:
a. Get more customers
b. Increase in average conversion rates when properly integrated
c. Increase in branded search results
d. Improve the overall organic traffic
Here are some platforms you can use to retarget your website visitors and generate more qualified leads for your real estate business.
Facebook retargeting ads
Facebook retargeting ads feature allows you to target your website visitors based on their actions while on your website. All you need to do is place the Facebook pixel on your website. When a visitor comes to your website, the pixel tracks their movement and shows them your ads in their feed on Facebook.
With the latest iOS updates and stipulations on data collection, it is becoming more challenging for marketers to use the Facebook pixel. For instance, if the user refuses to share their data, you can't access or use their information. However, there is a way out – the Facebook Conversions API.
Learn how you can use the pixel compliantly with the Facebook Conversions API.
The next thing you can do with the API's information is to create a custom audience for your website visitors. This helps you to retarget your website visitors based on the pages they visited on your website.
Setting up a custom audience on Facebook is easy. You can build audience lists based on your website visitors, customer list, app activity, and offline activity.
Here's a step-by-step guide to Facebook Custom Audiences.
To save time and avoid errors, you can automate your Custom Audience creation using LeadsBridge's Custom Audiences Sync tool to sync your autoresponder or CRM with Facebook to create a custom audience from your customer list.
A good example of Facebook retargeting is from QuintoAndar. It uses dynamic ads to target website visitors who viewed specific properties on the website.
LinkedIn retargeting features
With LinkedIn's retargeting tool, you can target your audience based on three criteria:
Contact targeting – targeting based on prospect's email addresses
Account targeting – targeting the accounts of prospective customers
Website targeting – targeting website visitors based on the pages they visited.
Setting up retargeting ads on LinkedIn is relatively straightforward, especially for the contact targeting option. If you use HubSpot, for instance, all you need to do is integrate your LinkedIn account with your favorite CRM or email marketing tool through LeadsBridge's LinkedIn Matched Audiences tool.
The tool helps you to sync your static lists, smart list, and more on your CRM to your LinkedIn campaign manager. This process also facilitates uploading your email contacts to LinkedIn.
To learn how to set up the three types of LinkedIn retargeting, read this post: LinkedIn Matched Audiences: Improve the Efficiency of your Retargeting Campaign.
Use Google Remarketing
Google Remarketing targets your website visitors who did not take the required actions with relevant offers. Remarketing is a strategy that works for businesses, and this is why more and more agencies and brands are allocating more budgets to it. There are two ways to target users with a remarketing campaign – a pixel or website and a remarketing list.
Website or pixel remarketing involves adding a piece of code provided by Google to your website which helps capture users' details. You can use this information to target them with suitable ads as they move from one website to another online. Then, as they click on the remarketing ads, they are redirected back to your website.
On the other hand, list remarketing targets your existing customers using their emails. You can upload this email directly to Google through LeadsBridge's Custom Audiences Sync. It helps to automatically upload emails to your campaigns to save time and effort.
Use this Google Ads Remarketing tutorial to learn how to set up the pixel or website remarketing and list remarketing.
13. Referrals
As one of the best ways to generate real estate leads, Referrals offer easy and budget-friendly lead acquisition solutions. 82% of all real estate transactions come from a friend, a neighbor, a relative, or a previous client.
In short, referrals are a reliable source of generating consistent leads for your business. You can also get them from your former clients, real estate professionals, and real estate referral companies.
The referral system works because of the psychological mechanism behind it; most people believe in word-of-mouth from people they know. This is why most successful real estate agents earn almost half their income from referrals. However, generating referrals is not as easy as it sounds.
Below are ways to generate referrals for your business:
a. Provide exceptional service that will produce referrals naturally.
b. Join efforts with local business owners who have relationships with local residents and different professionals.
c. Maintain your relationship with your clients.
d. Build promotional strategies, such as creating rewarding plans for clients who refer businesses to you.
e. Stay engaged with your fans on social media channels.
14. Automated text messages
Automated text messages work for real estate lead generation because optimized text messages have a 23.3% conversion rate, which is much higher than email or form submission leads. Additionally, 95% of texts are read within 90 seconds of being sent, showing that fast responses can lead to more sales.
Automated text messages get results because statistics show that most people would rather text your business than call, email, or fill out a form on your website.
Here are ways to incorporate automated texts messages into your marketing strategy;
Ensure website visitors can text you to make inquiries. For this, you can use click-to-text and SMS chat options.
Source: Textrequest
Send a welcome SMS as soon as a website visitor subscribes.
Send new offers or content through promotional messages.
Send them links to download useful content.
Provide SMS-operating customer support services.
Discover more with our guide to SMS mobile marketing best practices in 2022.
15. Live chat
With live chat, it is easy to encourage an interested prospect to become a client. You can use the live chat software to answer your website visitors' questions and offer relevant solutions to them. More often than not, visitors may not find their way to specific information on your website without a guide.
Having live chat software makes it easy for them to contact you; if you can chat with them directly, the chances of conversion increase significantly.
When choosing live chat software for your business, make sure that it is mobile-friendly. This allows you to chat with prospects on the go.
Some best live chat for real estate agents is Intercom, Drift, LiveHelpNow, and LivePerson.
Below is an example of a real estate website with live chat software.
16. Pitch your listing to news outlets
Pitching your listing to news outlets is one of the best lead generation strategies for getting high-quality leads quickly. All you need to do is look for reputable news outlets such as New York Times or other outlets and pitch your property listings to them. By appearing in these reputable periodicals, you can get new leads for your business daily.
A good example of a real estate agent that is using this strategy is a Florida realty company iSella.com.
The company pitched its listing to the New York Times, and it was published. As a result, they received at least five calls a day thereafter.
17. Open houses
Running an open house is a known best way to generate real estate leads. Even if you didn't sell the property, you only need a list of potential buyers you can contact after that. To have a successful open house that generates enormous leads, you need to design door hangers, flyers, and postcards for publicity in your neighborhood. It is also a good idea to use property management software to keep track of all your listings and open houses.
Create social media posts to highlight the listing. When the day comes, place signposts on the streets to direct people to the event. For example, run a Facebook live stream to show your fans what's happening at the event. This way, you can get a recorded video of the event and allow your followers to watch the event live. You can also post the video on your page and boost it to generate more leads or promote the video on your Instagram story.
It is important to capture the event visitors' names and contact details. Then follow up with them afterward.
An alternative option is hosting virtual open houses using Zoom, Facebook live, and LinkedIn events.
18. Cold calling
Cold calling is the practice of contacting people unfamiliar with your real estate business but can potentially convert to leads. 27% of marketers believe reaching out to new contacts is highly effective, with about a 2% success rate of turning a cold call into an actual appointment. Cold calling allows you to reach a larger audience while remaining cost-effective. With it, you can also get instant feedback from your prospect.
To start cold calling, you need a list of prospects to call. You can get this from:
a. Expired listings.
b. Public records or on MLS.
Once you have the list of prospects to call, create a script you will use when cold calling and start calling them.
19. Expand your networking to non-real estate events
Networking is a must for any type of promotional activity. And the same goes for generating more leads for your real estate business. The good thing is you can explore networking occasions outside the real estate context to get potential clients. They include:
a. Local chamber of commerce
This is one of the best places to find networking groups. They offer business promotions for members, and they organize community events.
b. Relevant conferences and events
Search for events and conferences your target audience will likely attend and pitch your services to them. This is huge because almost everyone has a strong intent to buy, sell, rent or remodel properties. For instance, events like Business Franchise Expo are where you can meet attendees that may need commercial office space.
c. Volunteer groups
Prospects like knowing that you share a genuine interest in the humanitarian aspects. This makes you relatable and builds trust. For instance, you can volunteer your time to a cause you are passionate about and network at the same time.
Other networking opportunities include online groups and charity programs.
20. Optimized landing pages
A study showed that the average time on a page across all industries is 54 seconds. This study points to the short time you have to make your site visitors convert. Having multiple optimized landing pages on your website will help you to quickly capture their details and convert them to leads.
According to a HubSpot report, companies with 10 and 15 landing pages increase leads by 55%. So, creating an exceptional landing page on your website means increasing the number of your leads. However, these statistics are true if only the landing pages are optimized to capture emails and generate phone calls from the incoming traffic. There are different landing pages for real estate businesses, such as:
a. Home valuation landing pages
b. Appointment booking landing pages
c. Community landing pages
d. Buyer guide landing pages
e. Luxury landing pages
Here's an example of a home valuation landing page.
Check out our step-by-step guide to increase your landing page conversion rate.
Let's explore some elements that can help you create an optimized landing page for your real estate business.
Attractive, concise, and clear headlines that show your value proposition.
Brief and captivating subheads.
Clear presentation of the benefits of your offerings.
A single call to action.
Strong and attractive visuals.
Offering social proof.
To understand a landing page better, discover the anatomy of a Landing page that converts over 60% of traffic.
21. Put a sign on a building
Although an old-school method, house-front signage and banners are great for generating real estate leads. You can use the property you want to sell to advertise your real estate business. This method is especially effective in a place with plenty of foot traffic. These signs allow you to position your business in front of more people effectively.
22. Choosing the best CRM app
Like many other companies, real estate businesses often adopt a system that works best and continue using it. Sounds logical, right? But it's not always the best approach. As your business grows, you will have different demands from your marketing tools and CRMs.
The best Customer Relationship Management (CRM) platform results in better management of your clientele, organizing and accessing your lead data, and ultimately increasing your ROI. So for your real estate staff to keep track of prospects and active customers, you need the best-in-class CRM that matches your exact requirements, especially because not all available CRMs are ideal for the real estate business.
Following years of offering marketing integration solutions for real estate agents, we recommend the following platforms:
HubSpot and Zillow are the most valid options that are available for free. FollowUpBoss is another one of the best CRM for managing and following up on leads.
Moreover, LionDesk is highly recommended for real estate agencies and mortgage agents.
Additionally, you can automate the workflows between your advertising platforms and these CRM apps through LeadsBridge for maximum efficiency.
Check out these 5 smart tips to choose the best CRM for real estate agents.
23. Meet up with your top contacts in person
In the age of digitalization, both people and companies rely on technology for communication. However, personal connection is a powerful approach to generating leads for your real estate business.
Create a list of your top contacts with the greatest possibility of turning into clients.
Get in touch with your leads and customers, and set up appointments for face-to-face meetings. These meet-ups allow you to learn more about new leads while developing a stronger bond with the existing clients. You can encourage them to attend by hosting upmarket events, movie nights, seminars, and more. After your first meet-up, you can also turn these occasions into periodic events such as bi-annuals or quarterlies. Such meetings will build trust among your customers who will be sure your real estate service will not try twisting in insurance or churning.
24. Tapping into niche markets
Offering something special makes you stand out. However, the key is to highlight your properties' special aspects the right way. If you offer historical buildings, for instance, you can capture leads by highlighting these building' good and bad. After all, the old structures all have their own shortcomings. So staying honest and providing thorough information helps you build trust and become more approachable to your website visitors.
Have a look at this historical property listing by Stance real estate.
Also, if you think that your property listing is considered in the ordinary range, you can still make them stand out. Try categorizing your offerings by relating them to some particular characteristics of the property or its location, such as houses at a drivable beachside destination, properties located on elevated locations, child-friendly interiors and furniture, and so on.
How to qualify your real estate leads
It is one thing to generate real estate leads; it's another to qualify them. After generating leads, you need to sieve through and score your leads. This categorization enables you to know which lead is ready to make a purchase decision and how to nurture them to convert to clients. There are four things you need to do to qualify marketing leads, including:
a. Track and qualify the content consumption patterns of your website visitors. These metrics indicate their journey towards becoming a lead. For instance, a visitor comes to your website and downloads an e-book or requests a quote.
b. Once you observe the actions that convert them into leads on your website, you can track the conversions using the Facebook Conversions API or Google Offline Conversions_ if you use one of the two platforms for lead generation.
Learn more about this topic with our complete guide to Marketing Qualified Leads.
Real estate lead management
You can only succeed with your marketing efforts to generate and qualify your real estate leads if you have a real estate lead management system in place. A lead management strategy helps nurture your leads until they convert.
This approach is highly related to a business's success and helps to reduce the cost of lead acquisition and increase revenue. An effective system also allows your agents to know who to call, email, or text on autopilot.
Besides strategizing, running A/B tests, and staying up to date with the market's trends, adapting automation is an influential factor in outlasting the tight competition in today's marketing world. According to a study, 80% of marketing automation adopters saw an increase in the number of leads, and 77% witnessed significantly higher conversions.
To streamline the process, learn more about Real Estate CRM integrations here.
Two of the most effective real estate lead management systems are FolllowUpBoss and FiveStreet.
a. FiveStreet:
Fivestreet helps you build a relationship with your leads and convert them to customers. With FiveStreet, you can send out emails and text messages to leads as they opt in. To automate the workflows, you can integrate the software with your autoresponders or CRM through LeadsBridge.
b. FollowUpBoss:
FollowUpBoss is both a lead management system and a follow-up service created for real estate businesses and agents. The platform allows you to import your leads from over 200 digital sources in order to nurture them and close more deals. In addition, you can integrate FollowUpBoss with your autoresponders and CRMs through LeadsBridge.
Learn how to integrate FollowUpBoss with your CRM here.
The final takeaways
The real estate industry is evolving, and so are the strategies for generating leads. These strategies have evolved around Facebook ads, LinkedIn Ads, Google Ads, Tiktok Ads, Referrals, optimized landing pages, cold callings, real estate lead generation services, blogging, and networking.
As you generate real estate leads, you also need to manage and nurture them until they convert to clients. Two of the best real estate lead management systems are the FiveStreet and FollowUpBoss. Now, it is time for you to try the best way to generate real estate leads, which work for your business and marketing strategy.
Discover our real estate integrations with your favorite email marketing software and CRM here.