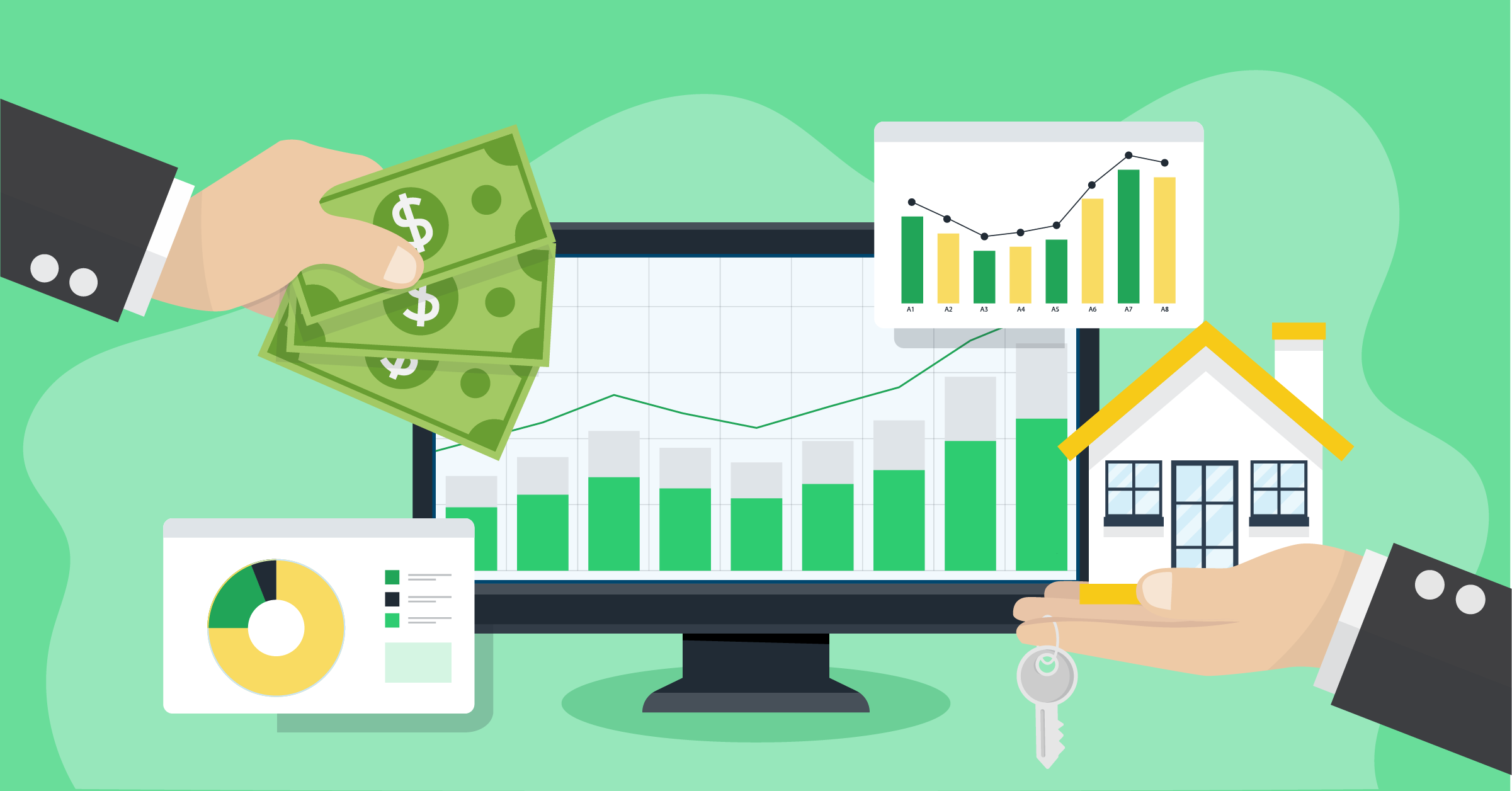 Customer relationship management systems have become an essential tool for businesses of all sizes. They play an important role in the refining of operations and organization of data.
As well as this, CRMs enhance the lead management process, automating targeted marketing campaigns and tracking interactions throughout the entirety of the sales funnel.
Effective lead generation is an imperative element of real estate, with agents and investors being reliant on a continuous influx of prospective customers to meet their objectives.
Throughout this article, you will discover the value of a customer relationship management system for the property industry and the best CRM for real estate agents to better manage leads and close deals.
What is a CRM in real estate?
Within the real estate industry, a CRM (customer relationship management) system is used to streamline the management of an agency or investor pipeline. This addresses every step of the buying process, from the initial capture of a lead right through to repeat customers.
Typically paired with a number of marketing integrations, this unified platform is employed to generate leads and enhance the nurturing of clients, both new and existing, to bring them closer to finalizing a deal at a quicker rate.
Many real estate CRMs offer comprehensive management capabilities, including sales, marketing and reporting. This enables agents and investors to concisely store and update client data, monitor the pipeline, deliver targeted and personalized marketing at the most opportune time, automate workflows and track relevant KPIs along the way.
How to use a CRM for real estate
Running a successful real estate business, either as an agency or independent agent, is a multifaceted process. The steps involved in bringing a transaction to fruition involve a number of actions, and carrying out and tracking these can be a demanding task. This is particularly true when time is playing a pivotal role.
Let's take a look at how you can benefit from the introduction of a real estate CRM;
Sales opportunity identification
CRM systems begin to work as soon as prospects initiate contact with your agency, be it through the opening of a property viewing email or the submission of an application
This automatic registering of initial interaction means that your sales opportunities are never overlooked or missed.
These actions are tracked and stored within the CRM, affording you the opportunity to identify and monitor exactly where leads are in the funnel and administer the most effective marketing communication to guide them toward the next stage.
Automation of workflows
Using a CRM for real estate allows for the automation of manual, repetitive tasks and workflows. This means that you can spend more time focusing on clients and less time sending emails, posting on social channels and updating spreadsheets.
With automation, real estate agents can ensure that qualified prospects are being promptly followed up with and effectively nurtured – reducing the occurrence of lead loss.
CRM automation enables you to set your workflows on autopilot, delivering emails to the correct segmented sequences at the right time, consistently posting listings and other valuable content to social media and storing referral data immediately.
Discover more about real estate marketing automation here.
Maintaining data organization
CRM software simplifies the management of large datasets that exist within every real estate business. This storing and organization enhance your agent's understanding of each lead's information, making it easier to pull from when communicating with clients. This facilitates the overall real estate lead management process.
Data organization within the CRM system is beneficial for the entire agency, as each team member has access to a visually concise representation of a lead's journey. This allows them to provide a more refined service, in place of prospective customers being solely reliant on a single agent throughout their entire buying journey.
How to choose the best CRM for real estate agents and investors
Now that you are aware of the value a management system can bring to your business, you can begin to think about which CRM system would be most suited to your needs.
It is best to consider the following factors when assessing which relationship management tool is most aligned with your requirements and objectives;
Define your needs
Each CRM system offers its own range of functions and services, which should be parallel to your objectives.
Therefore, it is important to clearly define what exactly you and your team want to achieve through the use of a CRM in order to ensure that you experience the most value. This may be acquiring insights that can better inform your agents or standardizing your real estate lead generation strategies.
It is also important to take your team's ability to adapt to a CRM functionality into consideration. By researching the user experience before committing to a specific system, you can ascertain how well-suited the team is.
Consider an implementation timeline
When choosing the best CRM for your real estate business, the estimated timeline for implementation should be anticipated.
For example, the size of your team will play a role in the integration of a CRM. Time must be accounted for to provide adequate training to every team member, depending on their individual needs.
Account for costs
When evaluating the best CRM for real estate agents, it is important to remember that you may incur costs. Most platforms offer different packages based on both the extra features included and how many people will be using it.
Focus on productivity and efficiency
The best CRM for real estate agents makes it easier to do your job, not harder. For this reason, it's best practice to try before you buy. Before you implement the platform of your choice, look at software on a smaller scale.
Your chosen CRM should be accessible, above all else. Ensure that you are comfortable with the user experience and that you can quickly customize it to your needs. Try using it amongst a small team, first, with two or three users. Measure how long it takes to update lead profiles and complete processes manually. Then, compare that to how long it takes to use the CRM platform.
If you really want the best CRM for real estate investors, look for those with features that maximize efficiency. Some platforms automate tasks, taking them off your hands entirely. Others will push reminders to your smartphone, letting you focus on other tasks without forgetting important tasks.
Include reporting and insights functions
The right software will help you manage clients every day. Updating profiles and accessing relevant data will become easier than ever. You can foster better relationships without as much effort from the team. However, the difference between any platform and the best CRM for real estate investors is the reporting functions.
When test-driving the platform that interests you, consider which reporting functions are available. In particular, consider which data you are able to visualize, and which matters the most to your business model.
The insights provided by real estate CRMs help you create long-term strategies. It helps you find your best team members and inefficiencies in your current process. Overall, it informs and enhances your decision-making across the whole team. The most valuable CRM is more than just an everyday tool, it is a platform that allows for data-driven strategy.
How LeadsBridge can help
With LeadsBridge, you can sync your real estate leads directly into your CRM to ensure that you target your ideal audience of qualified buyers every time. Using our solution, you can connect the advertising platforms from which you run your lead generation campaigns directly to your CRM. By doing this, you can better manage your leads and follow up with them immediately.
Deliver greater ad campaigns
By establishing a connection between your advertising platforms, email marketing software and CRM, you can ascertain the performance of your ad campaigns, identify which strategies are most effective and what areas need to be refined.
LeadsBridge affords you the opportunity to target and retarget your most optimal audience using the Custom Audiences feature. Using this, you can retarget your CRM audiences on the main advertising platforms and remarket to them with specific and customized campaigns.
Rely on valuable partnerships
LeadsBridge has established partnerships with leading companies including Google, LinkedIn, Meta and TikTok. Using our solution, your real estate agency can experience exclusive access to each of these companies' products and support. This way you can upgrade your campaigns across channels and leverage each platform's unique advertising capabilities.
4 of the best CRM for real estate investors
Zoho CRM for real estate
Zoho CRM offers a sophisticated sales and property management system that is suitable for real estate agencies of all sizes. This unified platform provides automation capabilities that allow you to generate leads from social channels, online campaigns and offline campaigns.
Learn more about the best real estate marketing strategies to follow on Facebook, Google and TikTok.
Zoho CRM lead scoring lets you see which prospects your team needs to focus on. Once an inquiry enters your pipeline, you can set up automated email responses to nurture them and drive engagement.
Using Zoho CRM for real estate, you will have centralized access to important documents, such as property details, service reports and transaction documents, making it easier to promptly send important documents directly to leads.
You can close deals on the move using the Zoho CRM mobile app, which enables you to maintain communication with buyers and sellers at all times. Using the QR code scanner, you can schedule follow-ups, send emails using prebuilt templates and access real-time performance insights.
Discover more about real estate follow-up email examples.
HubSpot for real estate
HubSpot provides one of the best CRM for real estate agents, presenting the opportunity to sell more properties, faster. Using the designated Sales Hub, you can precisely track lead interactions, identify sales opportunities at the most optimal time and close more impactful deals.
HubSpot for real estate grants access to comprehensive customer service tools that allow you to provide efficient and valuable customer interactions.
Using HubSpot's data sync technology, your agency can save time and money by automating manual tasks, such as updating contact information and scheduling emails for property viewings. The benefits of this feature can be amplified by integrating HubSpot through LeadsBridge.
With the Marketing Hub feature, you can attract and nurture prospective buyers and sellers through educational blog content, social media posts and newsletters.
Top Producer real estate CRM
Top Producer allows real estate agents to generate, nurture and convert clients from your database.
Using the Top Producer real estate CRM, you can leverage the Lead Response Plan feature to automatically nurture clients with personalized and targeted communications, sent at the optimal time. This CRM system offers smart follow-up capabilities, meaning you can remove the guesswork from deciphering which leads require prioritization.
LeadsBridge can enhance this feature even further by automating lead synchronization from any advertising platform that you use to the Top Producer CRM in real time.
The MLS-integrated CRM provided by Top Producer offers property insights, built from automated data and status population. This way you can stay updated on changes within the market and with buyers and sellers. By building comprehensive workflows, you can transform new leads into repeat clients.
BoomTown real estate CRM
BoomTown is a CRM software designed for real estate teams, boasting an impressive range of features. With a comprehensive, well-rounded marketing suite, you can enhance your lead generation and automated email campaigns. Through LeadsBridge integrations, these features can be enriched even more.
As one of the best CRM for real estate agents, BoomTown allows for the networking of multiple IDX websites together, enabling you to funnel clients to a central site, from which they can navigate to other, region-specific sites or landing pages. This feature is particularly advantageous for larger real estate teams.
This CRM system provides a dashboard screen with daily reminders and to-do items. These can be configured to be automatically populated once a lead takes a desired action. Additionally, BoomTown comes with a reporting tool that allows you to monitor agent performance.
Similar to Zoho CRM, BoomTown provides a mobile app. It has the same system of alerts based on predefined customer actions that are present in the desktop version. The app also automatically tracks agents' actions, conversations, and response times, which are then transferred to the reporting feature on the desktop version.
Final thoughts
As mentioned, LeadsBridge provides an easy implementation of over 380 CRM software suites for a wide range of clients. Though we can help you find exactly which platform you need, the more informed you are about your choice, the better.
For that reason, keep the aforementioned tips at the forefront of your decision-making and ensure you select the best CRM for real estate agents based on your exact needs.
Discover the full range of real estate solutions available via LeadsBridge here.