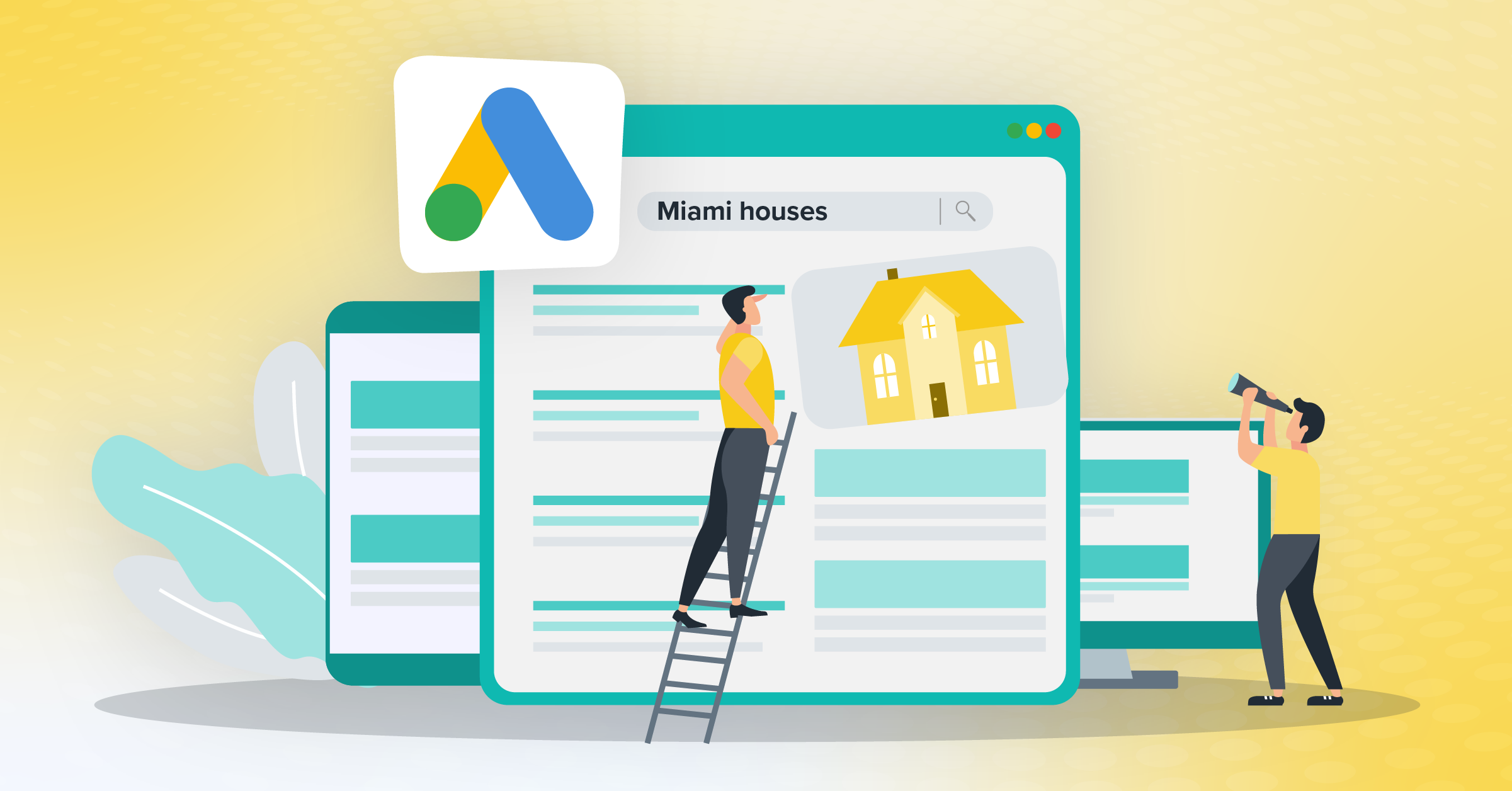 Businesses typically earn $2 for every $1 spent on Google Ads. PPC is a huge business driver for 74% of brands. Over 1-2 years of running a PPC campaign, most real estate agents convert between 1-5%. Considering these statistics, Google Ads for real estate agents are a must-have.
In this article, we'll discuss the top 7 strategies to write Google Ads for real estate and the tools you need to generate leads effectively, such as:

How to write Google Ads for real estate?
The headlines are of primary importance in Google Ads. Many users do not even read the text of a real estate ad. Nevertheless, the ad must have additional elements.
And while the extensions can improve your ads and increase overall click-through rates, most users will click on the real estate ads with relevant and compelling headlines.
The headline must include keywords and a call to action. Add any competitive advantages and limited-time promotions are also other recommended components of high-converting Google Ads. In short, don't spell out your main message in the body of the ad. Put it in the headline.
All in all, the description texts are still important, and they must be a supplement to the headline. For example, if you are selling real estate in London, you can make up two versions of the ad:
Buy Real Estates in London – 20% discounts for the next 5 days
Real Estates in London at 20% off – view all options
The description text can be as follows: "From simple to modern, you'll love our properties for sale in London!". This ad's text continues the title's message by providing more information. However, it does not carry the main idea.
Ad extensions should contain additional and helpful information for users:
Additional links: All Real Estate Options, Villa, Private House, How To Choose Real Estate.
Structured Descriptions: Cottage, Contemporary Real Estate, Wood House.
Price: Real estate A – £190 900, Real estate B – £299 000, Real estate C – £399 000, Real estate D – £499 000.
Google Ad's interface lets you see what the ad will look like with all the added elements. Of course, you need to think through the text and extensions, but remember that the user will click on the ad with the headline in mind. As a rule, essay writing services have adequate experience in writing short but catchy headlines and descriptions so that you can help you get more clicks.
7 Best strategies to write high-converting Google Ads for realtors
Are you new to Google real estate advertising or looking for new ideas? We have prepared seven strategies to help you avoid mistakes and get the most out of Google Ads for real estate agents.
Google Ads for real estate: collect and structure specific real estate semantics
The selection of your target keywords must represent the specifics of your real estate strategy and goals.
Suppose you are advertising for a particular residential complex. In that case, use branded search queries and keywords related to the product (real estate, neighborhood, housing class, etc.). In contrast, the semantics will be more extensive if you are advertising a real estate agency with different properties in diverse areas.
You can use the following search intents as the blueprint for the selection of keywords for real estate Google Ads:
Type of service: sale, lease, exchange
Building type: brick, panel, monolithic, aerated concrete
Property class: economy, business, comfort, luxury, elite
Location: city, district, subway, street, landmark
Additional options: parking, park, river, elevator, number of floors
Number of rooms: one-room, studios, two-room, three-room
Name of the housing estate, the builder, agency: reviews, the progress of building
Property type: new building, secondary, from the builder
Type of premises: layout, area, ceiling height
Developing the semantic core is necessary to show the most relevant ads to each target audience segment. Otherwise, users will not click on it even with a high frequency of Google Ads on real estate.
Google Ads for real estate: target brands of other developers and housing estates
This approach works best for advertising developers and housing estates that are geographically close to the developer or housing estate whose brand is being targeted. In addition, it's crucial to target properties for sale in a similar price range.
The advantage of targeting competitor brands include:
Guaranteeing exposure to hot leads;
And increasing your brand awareness, especially if you are targeting well-known companies.
When targeting competitors' brands, it's important to remember a few rules:
Advertising systems prohibit listing the names of registered brands in ads of advertisers who do not own those brands;
These ads must not include information that defames the reputation of those you are targeting.
If you violate these rules, your ad account may be subject to getting banned, and losing access to these Google real estate leads. Read our Google Ads checklist article to avoid pitfalls when creating ads!
Google ads for real estate: use Google Ads lead form extensions for your lead generation
Google Lead Form extension helps collect information about users who search for your real estate on Google from their phones or tablets. Its purpose is to simplify and speed up the interaction of your potential customers with the lead form. It's quite simple: fewer unnecessary steps mean more conversions. How's how it works:
Users type keywords in the Google search box and Google suggests your real estate ad to them. Then, they click on the call to action – "Check price", "Apply", "Register".
Once clicked, the Lead Form appears on the screen. You can customize your form to request different information like the users' name, email address, phone number, zip code, etc.
After completing and submitting the form, the client is shown a "Thank you" message, such as "We look forward to seeing you for a purchase".
The advantages when using the Google Lead Form for realtors include:
Removing the barrier between the customer and the order form; users searching for real estate on their phones will find it much easier to send information and contact you.
If the potential customer has a Google account, the user's data will automatically appear on the form, making it even easier to fill out.
Google Ads that come with an embedded lead form offer a practical solution for websites that are not optimized for mobile devices.
They enable real estate advertisers to add a link to their website on the "Thank you" page for users who want to learn more about the real estate's offerings. Alternatively, they could include a link to download a lead magnet.
They boost the real estate's ad conversion rates.

With LeadsBridge's Google Ads Lead Form Extension integration, you can increase the effectiveness of your Google campaigns using real-time data sync. Once your Google real estate leads click on the ad and submit the form, our integration syncs this information from Google into your CRM, autoresponders, or other realtor-specialized marketing tools such as BoomTownROI, Hubspot, Topproducer. This practice allows you to run timely follow-up campaigns and prevent your leads from falling through the cracks.
Google Ads for real estate: target keywords close to the topic of real estate
This is another way to expand your reach. You can find users who are planning to buy real estate not only by direct search queries but also when using indirect keywords related to buying/renting real estate.
Targeting the indirect search queries is recommended if you have covered the primary keywords in your niche to the maximum and you have some budget left for additional advertising on Google. For example, you should not launch targeting for the same mortgage (as relevant but not direct keywords) if you have not covered the primary search queries in the first place. Doing so may lead to a decline in the number of conversions.
In this example, the most apparent option is search queries related to mortgages. If the user is interested in mortgage lending, he is most likely considering purchasing an apartment (primary intent).
The next layer of related search queries is associated with the execution of real estate transactions. If users enter such search queries, it is possible that they may be looking for specific properties. So it's only natural for them to find out about the prices for related services in advance.
Related search queries can also be related to relocation. But in this case, it is necessary to understand users in this stage might have already selected the property. Alternatively, they might be analyzing the prices in advance. Therefore, developers and real estate agencies are still sometimes targeting such keywords.
As for search queries related to repairs and restorations, they will not work as much. This is because tenants and buyers are often looking for a deal that has been finalized.
Google ads for real estate: target the right audience with Customer Match
Google Customer Match is a tool that allows you to build an audience based on the information provided by users (most often an email address) and show them ads on Google search, Gmail, and YouTube. In order to create such an audience, there must be at least 1,000 users on the list.
You can upload lists using email addresses, phone numbers, first and last names, physical addresses, zip codes and other lead data. Additionally, this tool allows you to upload lists consisting of individual data types, or a combination of them.
You can also create similar audiences based on user data. Audiences will be generated automatically if your lists meet the minimum Google Ads requirements. Targeting for similar audiences is done similarly to remarketing lists. According to Google Ads, the more information you provide about your users, the more likely the system will find it in the database.
So, the Customer Match feature allows using both online and offline data to target and retarget customers across different Google properties. Because of its different properties, you can reach out to a much bigger audience and have the opportunity to acquire new customers for your real estate agency.
LeadsBridge integrations for Google Customer Match enable you to improve your Google Ad campaigns by connecting your CRM or email marketing platform with Google Customer Match. This way, you can target and retarget your customer lists that are already segmented into your marketing stack. In short, LeadsBridge Google Customer Match integration allows you to automate your real estate marketing and streamline the workflows between your marketing tools and platforms.

Google Ads for real estate: make a unique offer
Most Google ads in real estate are pretty formulaic: they offer a specific object, apartment complex, or services for the sale/lease of real estate. So working on a unique selling proposition allows you to stand out against the general background.
For example, when looking for apartments for leasing, some real estate agencies pay for up to 1 month of downtime while looking for tenants, prepare the apartment for rent, and make ads. By specifying this info in their Google Ads, they attract the viewers' attention.
You can also add a time-limited promotion to the headlines. The limited time will motivate them to go and familiarize people with the offer.
Creating unique real estate ads isn't easy, but it's possible. Always test out different options to find what works best and what the most profitable practices are.
Google Ads for real estate: create separate landing pages and quizzes for different real estate offers
The target users click on the ad "two-bedroom apartments in London housing estate – discount 3% for families with children". Then they are redirected to the main page of the developer's website with information about the company and its projects. With so much information, the potential client finds it hard to understand where to look, so they navigate back to the previous Google search results.
An optimal solution is to create separate web pages for each product.
Elements of a good landing page:
The information on the page meets the target request.
The unique selling proposition is clear and noticeable, and offers related information.
Its text and visual content are original and compelling.
The maximum download speed does not exceed 2 seconds.
The website opens and reads well on different gadgets.
Also, separate landing pages ensure great results with quizzes. In Google Ads, quizzes serve as a tool for additional warming up of an interested audience at the awareness stage. The user is already showing purchase intent. However, it is still too early to lead him to the landing page with a direct offer.
Characteristics of a conversion quiz in Google Ads:
The design is catchy and noticeable.
It's readable.
The quiz must be simple; complex issues will often get ignored.
It comes with a strong offer.
It shows the preliminary result at the end of the survey, such as prices per square meter, the average cost of an apartment, etc.
In the real estate niche, quizzes are used for:
Selling new buildings
Leasing secondary buildings
Selling apartments on a secondary market
Selling and renting vacation properties
These quizzes should always be analyzed to understand the step the audience drops out of the funnel and use the results to optimize your campaigns.
Conclusion
Google ads for real estate agents are very important. The best Google Ads strategies for real estate are:
Using specified real estate semantics
Targeting brands of other developers and housing estates
Using Google Ads lead form extensions for better lead generation
Choosing keywords that are relevant to the topic of real estate
Targeting the right audience
Creating separate landing pages and running quizzes
Offering unique propositions
If you advertise real estate on top social networks such as Google, Facebook, Instagram, and TikTok, you can monitor all your real estate ad campaigns on a single dashboard. Connect your advertising accounts to LeadsBridge.

Discover all the possible integrations you need for streamlining your real estate marketing here.