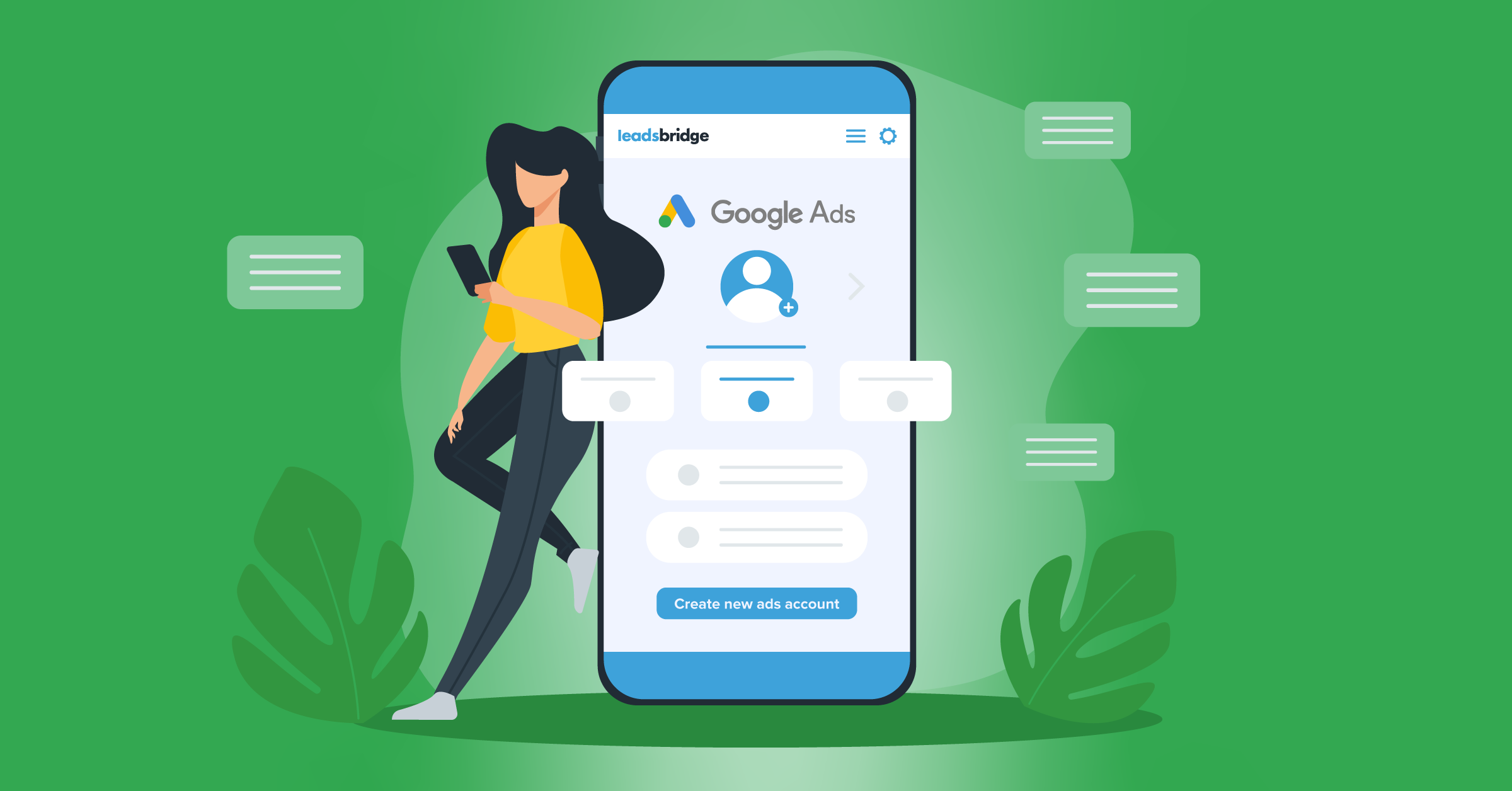 You can now create a Google Ads account directly from the LeadsBridge platform, and make the best use of the Google suite. Additionally, all LeadsBridge users who create a new Google Ads account are qualified to claim a $500 advertising credit.
In this article, we will discuss this new exclusive gift for LeadsBridge clients, how to get it, and how to take full advantage of the Google Ads suite.
What's more, we'll introduce the ingerations that help you get the most from your Google Ads lead form extensions.
Why Google Ads
Google requires no introduction. As the most popular search engine worldwide, integrating Google Ads into your digital marketing strategy is a must-have feature. So, you'll have diverse solutions to channel your paid marketing efforts through ad targeting, tracking, and campaign management.
Want to know more? Explore the potential of the Google Ads suite for better ad results and higher conversions in our webinar.
Register to watch our special webinar in partnership with Google.
Why you should create an account through LeadsBridge
LeadsBridge is proud to be a part of Google's Partnership Ecosystem as a Premier Partner, which is the highest level of partnership program reserved for only 3% of all Google Ads users.
Google authorizes its Premier Partners to help you get the most out of your marketing dollars. As a result, LeadsBridge can offer you unique features, such as additional tools, industry research, beta programs, Google support, and exclusive gifts.
Benefits of using LeadsBridge for your Google Ads account creation
Achieving better performance
Maximizing ROI, retention, and growth
Optimizing ad spend
Maintaining and growing customer-base
Keeping your ad strategy up-to-date
Advice from digital marketing experts trained by Google
Exclusive access to Google products, insights, and offerings
Besides, we'll help you automate your workflow processes using LeadsBridge Google Ads integrations:
Here are some popular Google Customer Match integrations to improve match rate, eliminate errors, and enable automatic and real-time list updates. 
The biggest offer ever: How to get $500 in Google Ads credit
Following Google's effort to help its trusted Premier Partner's clients stay at the top, LeadsBridge has access to exclusive campaign features and an exclusive gift for those creating a new Google Ads account through LeadsBridge.
How to get a $500 Google ad credit
Google now presents all the LeadsBridge customers with a $500 advertising credit after creating a new Google Ads account. So you can use this money to grow your campaigns.
To redeem your ad credit, you just need to:
Create a LeadsBridge account (it is free)
Create a new Google Ads account within the LeadsBridge platform
Start running ads on Google and syncing lead data with LeadsBridge
Here's how the credit works:
To activate the offer – which is only available to new Google advertisers – you'll have to spend at least $500 on Google Ads campaigns within the first 60 days.
Once you reach $500 in ad spend, you will receive a $500 Google Ads credit to spend on your campaigns (USD or equivalent currency).
You will see the promotion automatically applied inside your Google Ads account (Tools → Billing → Promotions). The credit will be spendable until the end of the year and starting 31 days after it was issued.
It is a deal like no other! Sign up to get started
Setting up Google Ads for your campaign
Technically, owning a credit card is enough to set up a Google Ads account and run a campaign. However, running a successful Google Ads campaign takes more than that.
It calls for professional experience to run and optimize a Google Ads program that gets results. Besides, Google's dynamic features make the process more challenging. This is why you need a trusted Google Premier Partner to back your campaigns.
How to create a new Google Ads account through LeadsBridge (A step-by-step guide)
Creating a new Google Ads account for running ad campaigns on Google is free. You just need to sign up for LeadsBridge (it is also free) and create a new Google Ads account following three easy steps. This takes only a few minutes.
Step 1: Log-in to your LeadsBridge account and click on "Google Suite" on the left-side panel. Next, select "Google Ads Accounts" from the drop-down menu.
Step 2: Find and click on "Create new ads account".
Step 3: Completing the Google Ads account creation process:
a. Create: Fill in your information, google account (email), timezone, and currency and click "Continue".
b. Activate: Fill in your billing information, including name, personal and billing address, and payment method. Once verified, you can "Continue" to the next step.
c. Connect: Here, you can set your Customer Match Audience and start your Lead Gen Campaigns, using "Try now" buttons.
There, you will also find direct links to comprehensive guides on Google Customer Match and Google Ads lead form extensions to set up either of these campaigns and learn how to skyrocket your ad campaigns with Google Ads. And you are all set to start advertising on Google!
Take advantage of the Google Ads suite's full potential
We encourage you to create your Google Ads account and take advantage of the amazing $500 ad credit.
While as a new user you will earn ad credits to get started, we also offer you exclusive services. So you can discover and use the full potential of a suite of tools offered by Google.
Are you interested? Sign up to reach better ad results, get higher conversions, and claim your gift now!
Contact LeadsBridge today to request a demo, or discuss how we can help you use the Google suite to grow your business through our Google Premier Partnership.