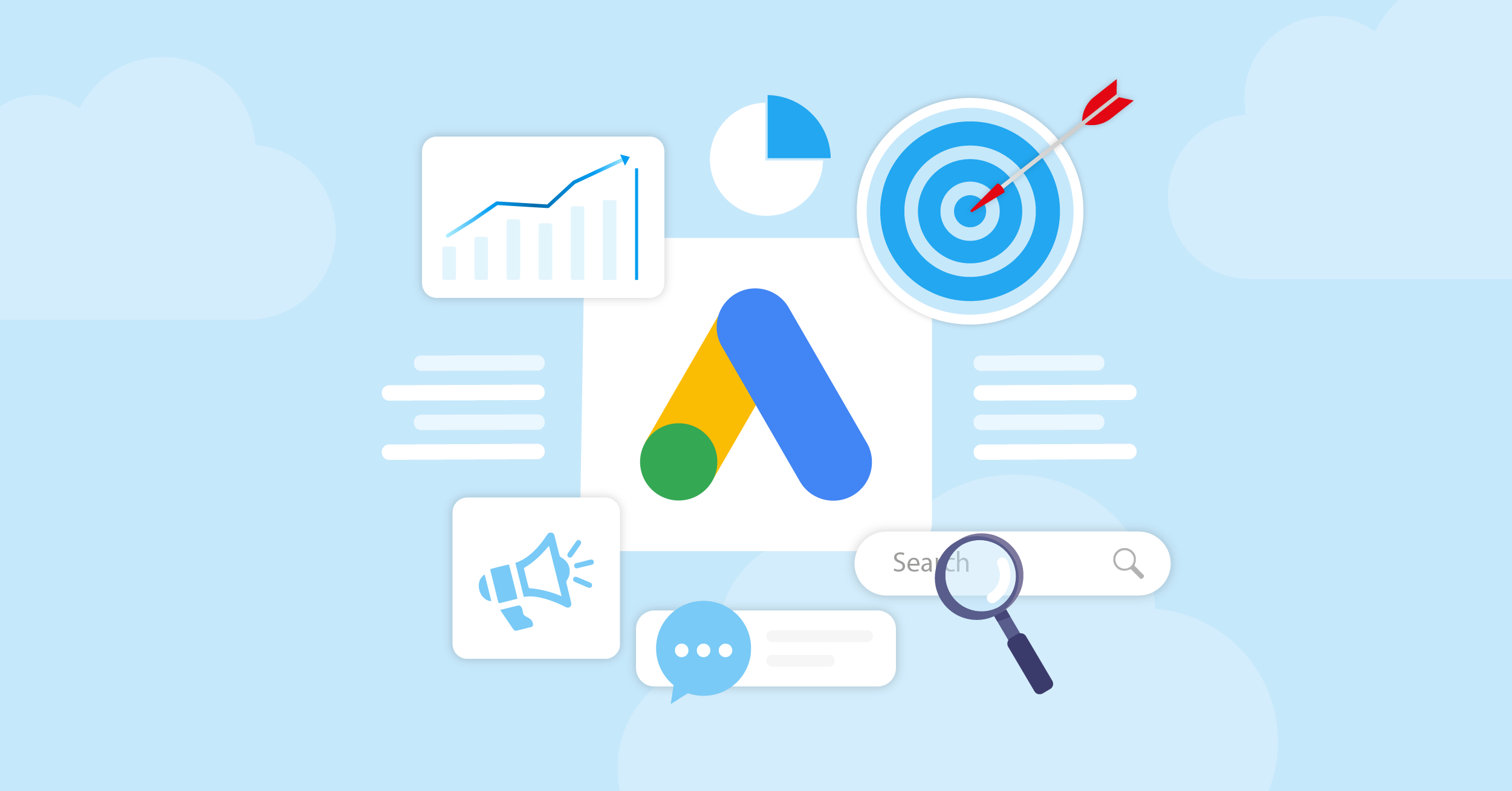 The majority of internet users start their search on Google, with Google processing about 40,000 search queries every second. That's more than 2 million searches per minute!
Having a Google Ads strategy places your brand in front of a giant audience. Plus, Google makes sure you reach the right people with its extensive user data and keyword tool. This is why it's able to deliver an average ROI of 8:1–that is, for every $1 you spend on ads, you get a return of $8.
But with ads getting more competitive, the hot transactional keywords at the bottom of the funnel could be as expensive as $50 per click.
So, how can you reach your ideal audience without burning a hole in your pocket?
A Google Ads strategy allows you to tap into your ideal audience at earlier stages where the acquisition cost is significantly lower. And since they get familiar with your brand name early on, the chances of conversion increase by the time they decide to make a purchase.
Additionally, integrating the right technology and automation tools into your strategy helps you to build reliable workflows and automate overarching tasks through live-updating and orchestrating. This way, you can generate and nurture leads, have complete control over your Google Ads campaigns, and get results.
So, when implementing a strategy, it is crucial to understand how a Google Premier partner like LeadsBridge can boost your Google advertising efforts through dedicated integrations, such as:
In this article, we will discuss how you can use a Google Ads strategy throughout your marketing funnel to increase conversions.
Creating Google Ads accounts through LeadsBridge
LeadsBridge is a Google Premier Partner, which means having the advantage of offering you exclusive features, so you can build and implement a successful Google Ads strategy.
Using premier partner services and integrations for Google Ads, you can run and optimize a Google Ads program that derives conversions and higher ROI. In short, it helps you tap into the full potential of your Google Ads advertising.
Use this guide to learn how to create a new Google Ads account via LeadsBridge.
How to get a $500 Google ad credit
Yes, there are numerous benefits to setting up Google Ads through LeadsBridge, including improving performance, ROI, retention, and growth rates, optimizing ad spend, keeping your ad strategy current, and many others.
What's more, Google now offers all the LeadsBridge customers a $500 advertising credit, which they can get after creating a new Google Ads account and spending the first $500 on their campaigns.
All you need to do is:
Create a LeadsBridge account (it is free)
Create a new Google Ads account within the LeadsBridge platform
Start running ads on Google and syncing lead data with LeadsBridge
And here's how the credit works:
To activate the offer – which is only available to new Google advertisers – you'll have to spend at least $500 on Google Ads campaigns within the first 60 days.
To start with, you must spend $500 in ad spend. Then, you will receive a $500 Google Ads credit to spend on your campaigns (USD or equivalent currency).
You'll see the promotion automatically applied inside your Google Ads account (Tools → Billing → Promotions). The credit will be spendable until the end of the year and starting 31 days after it was issued.Sing up to get started!
Before you get started with your Google Ads strategy
Creating a successful Google Ads strategy depends on three main components:
Budget
Your advertising network of choice
Keyword research
1. Budget
Google Ads expenses can get out of hand if you're not budgeting for them. The average cost per click is $1 to $2, which can go up to $55 for some industries.
It gets even more complicated for the ads funnel as it consists of different stages with varied importance. You'd want to allocate a budget proportional to the importance of the funnel stage. For example, the end of the funnel captures the most valuable customers, so allocating a higher budget for it will result in higher ROI.
Start by defining an overall budget for the campaign. From there, allocate individual budgets for each stage based on importance.
2. Your advertising network of choice
Google offers four main types of ads. Each of them is suited for a specific purpose and also has a different cost-per-click (CPC). The type of network you choose will depend on your goals and budget. Here are the four types of ad networks you can choose from: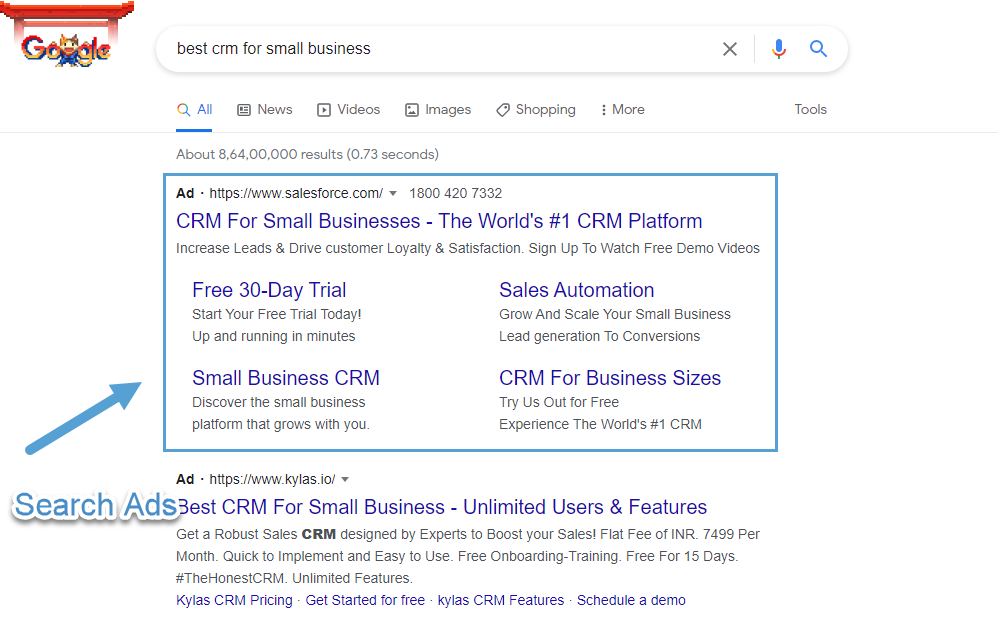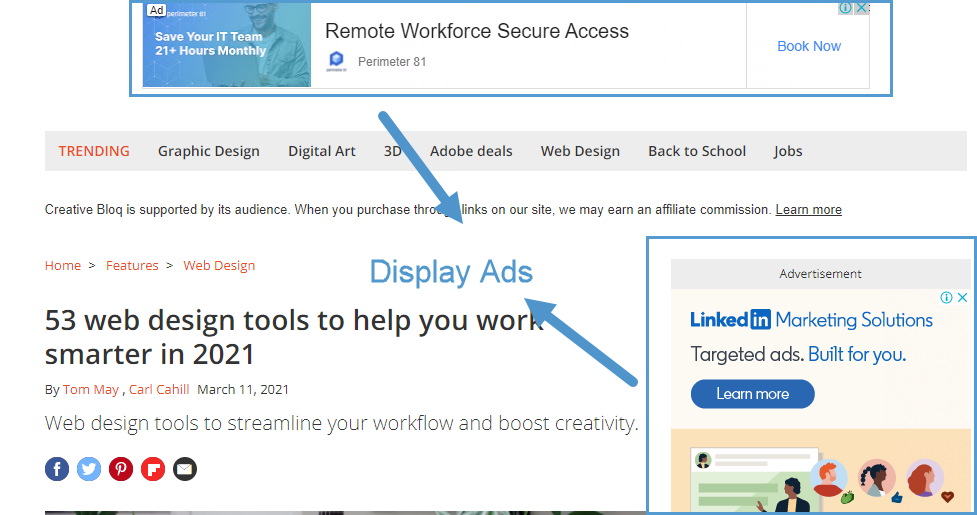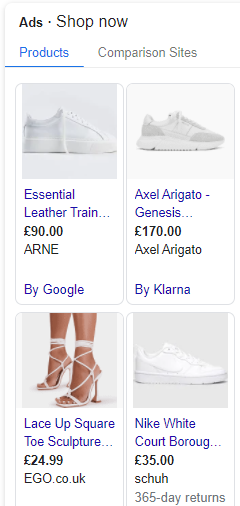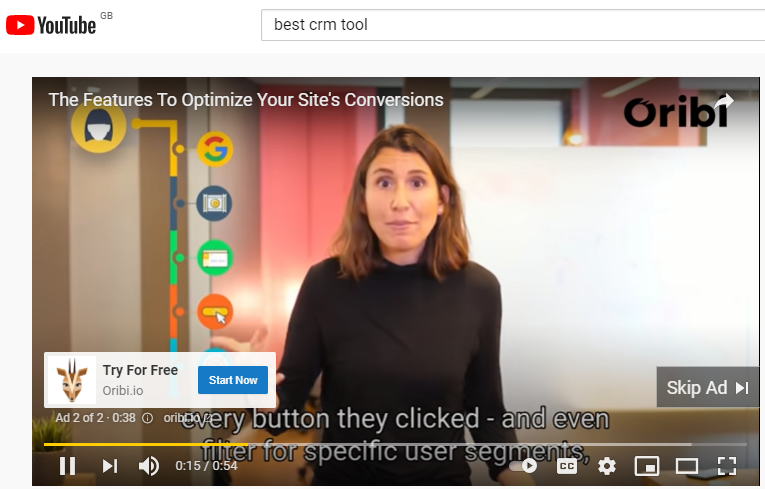 3. Keyword research
The way your audience speaks will vary at each stage of your marketing funnel. People at the top of the funnel will resort to common industry terms, while the audience at the later part of the funnel will use more specific and intent-based keywords.
You can use keyword tools like Google's Keyword Planner or paid tools like Semrush and Ahrefs to optimize your keyword strategy. SpyFu is an excellent place to find inspiration and see what keywords your competitors are targeting.
Besides these points, you can also watch our webinar for a deep dive into the features of Google Ads suite for better ad results and higher conversions.
Register to get immediate access to our webinar in partnership with Google to learn more.
Google Ads tips for every stage of the marketing funnel
The marketing funnel can be broadly divided into three stages:
Awareness stage
Consideration stage
Decision stage
Here are some tips that will help you at every stage:
1. Awareness stage
The awareness stage or the top of your funnel consists of people interested in your industry. They are in the process of discovering their problem and aren't particularly aware of your product or service or how you can help them.
Targeting your ideal audience can be difficult here as this stage is categorized by a huge audience with no particular intent and varying interests. But you can still target by location, demographic, and shared interests.
Best type of ads: Display and video ads.
These ads help you get in front of this audience when they read a related blog or watch an informational YouTube video (all the activities they are already doing). Display ads reach more than 90% of internet users, which aligns with the audience size you're trying to target.
At this stage, using informational and educational content increases your probability of attracting your potential customers. Create ad copies that provide value through information and are not too salesy. Remember that your audience is not yet ready to commit to purchasing.
Take, for example, the following ad by Postclick catered towards an audience having the problem of low conversion. It hits the pain point and presents itself as the solution.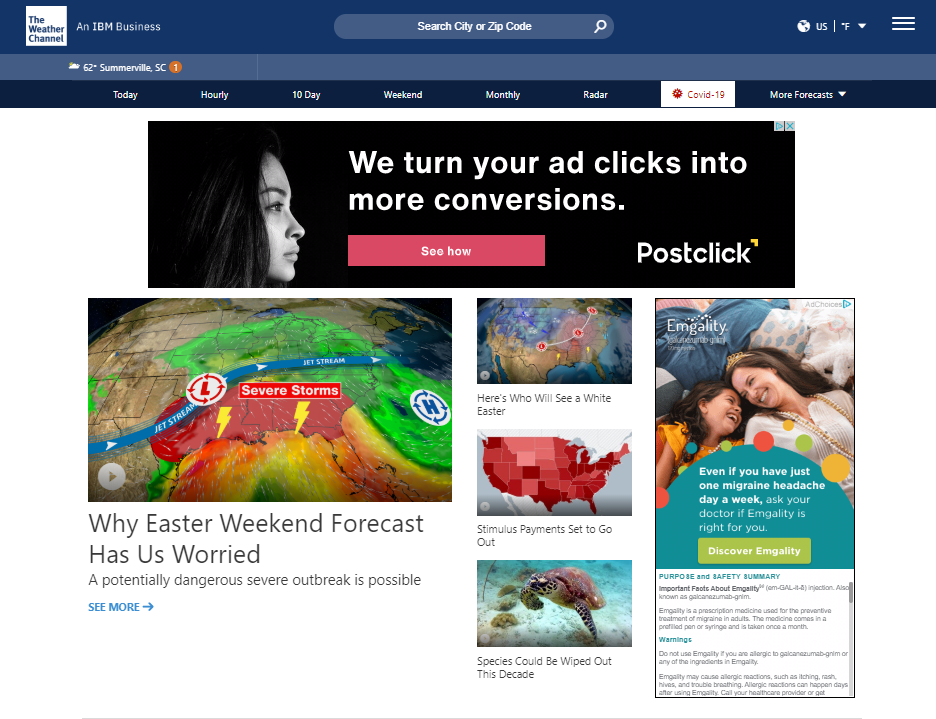 The success of this funnel stage might not be evident since it's not directly tied to a monetary result. But it helps tremendously as your potential buyers move down the funnel and can be great if you want to use Google Ads for lead generation. Google's Brand Lift can still help you to measure the awareness metrics of your video campaigns.
2. Consideration stage
In the consideration stage or the middle of the funnel, your target audience consists of potential buyers who are now completely aware of their problem and solution. This stage includes assessing your competitors as they weigh their options to get the best solution.
Since people are looking for the best product or service, you'll find success in targeting comparison keywords, like Toggl vs. Harvest (X vs. Y). Your ads should still remain unbranded as in the previous stage because your audience has not yet completely decided to go with you.
People have a low buying intent at this stage and get more specific with their terms. So, make sure you're specific with your search terms (and avoid expensive generic industry keywords). For example, you can use long-tail keywords like "time tracking tool for graphic designers" instead of the generic keyword "time tracking tool".
Just like at the awareness stage, don't make your ads too pushy for sales. Instead, slowly start the process of using Google Ads for lead generation by including forms in your ads. This way, you can then nurture and guide them to the next stage.
Best types of ads: Search ads and intent-based display ads. Shopping ads also work here if you're selling a product.
These ads make sure you get on the radar of your potential customers as they're already searching on Google for a solution.
Google also allows you to create custom audience segments that you can use here to target people based on interests and their recent searches–a great way to leverage the extensive data Google has and to use a successful customer match strategy for Google Ads.
At this stage, you are already in possession of valuable, first-party in your CRM and other marketing tools. It is important to know how to scale Google Ads by leveraging first-party data for audiences.
Watch our webinar to learn from Global Product Lead, Emma Phillips as she shares how you can leverage first-party data to scale your Google Ads.
3. Decision stage
By the time people arrive at the end of the funnel or the decision stage, they are ready to make a purchase. They know exactly what they need and are convinced they want to buy it from you.
At this stage, you can be more assertive with your ad copy and pitch your best offer to your potential customers. Your main objective should be to resolve any last-minute doubts your audience may have before they make the transaction. You can also include time sensitivity in your offer to create a sense of urgency.
Best type of ads: Branded search campaigns, high intent search ads, and remarketing campaigns.
You can keep the budget for this stage on the higher end because it will result in direct conversions.
Branded keywords work well here because your audience has likely interacted with you earlier in the previous two stages. This makes the transaction easier. Plus, as the transactional keywords used in this stage are highly competitive and expensive, you can rely on branded keywords that your audience also recognizes by now.
You can also use display ads and video ads to run remarketing campaigns or create a Google Ads remarketing strategy to entice interested people back to your site. Consider offering free shipping or special time-sensitive discounts for these audiences. TrueView Shopping ads with powerful CTAs can also help with conversions.
Tools to enrich your Google Ads strategy
Now that you know how to create your own Google Ads strategy and a Google Ads remarketing strategy to drive more conversions, you might've noticed that the funnel can get complicated quickly. Here are some tools you can use to set a smooth sail with your Google Ads strategy:
Google Ads strategy for lead generation
If one of your goals is to use Google Ads for lead generation, LeadsBridge's Google Ads lead form extensions will be a game-changer for you.
Lead Form Ad extension allows you to include a CTA on your form in the search result itself. This makes form submissions more convenient for your potential customer as they won't be redirected to your website to complete the form.
Check out these Lead Form Ad extension integrations to capture more leads and streamline your lead data across their journey:
You can read more about it in our complete guide on Google Lead Form Ads.
Watch this video to learn how you can create your own Lead generation form:
You can also use this Lead Form Ad Extension for YouTube Trueview and Discovery ads. Learn how you can integrate it with your favorite tool.
And here are some of our popular integrations you can use to automate your Lead Form Ad Extension for YouTube Trueview and Discovery ads campaigns. These integrations are also included in our Free plan:
Customer match strategy for Google Ads
Retargeting is extremely helpful in conversion, especially at the bottom of the funnel when ad costs are sky-high in a cutthroat competition. Google Customer Match helps you create a customer match strategy for Google Ads to target customers that have shown interest in your brand earlier and are more likely to convert.
Moreover, using Google Customer Match integrations can update your data and systems with integrity and at scale:
The catch here is you have to manually upload your customers' information into Google Ads, which is time-consuming and prone to human errors. But that's not the only way!
You can automate the entire process by integrating your ads with a tool like LeadsBridge Audience Sync that automatically syncs your customers' information into Google Customer Match without you having to maintain endless CSV files.
Find out more about the integration here and read our guide to Google remarketing ads here.
Track offline conversions
So, after a great deal of planning and research, you created a powerful ad campaign that led to many conversions online. But how do you track the real ROI of the campaign if your customers also used offline methods to purchase from you?
Google solves this problem with its Offline Conversion Tracking tool. You can track offline conversions like sales, form submissions, and phone calls that resulted directly from your Google Ad campaign. Read here how to use Google Offline Conversions.
Since our Google Offline Conversion Tracking integration is still in the waiting list, you can join our list to be the first to get notified.
Again, to take complete advantage of this tool, you'll have to manually upload your leads' data into Google Ads, which can be taxing and might lead to you missing out on some valuable customer data.
But with LeadsBridge integration, you can automatically sync your company's CRM with Google Ads, saving your time and effort. You can read more about how the integration can help your conversion tracking here.
Get your Google Ads strategy right at every stage of the funnel
A solid Google Ads strategy can help you capture more qualified prospects and easily convert them when they reach the bottom of the funnel.
While it's powerful, the problem with such a lengthy process is that keeping track of it can be confusing. Fortunately, you can use various tools offered by Google itself to make your job easier. To further automate your campaign, consider our third-party integrations.
Automation and strategy are the key components of a successful Google Ads strategy.
Sign up to enjoy our high-ranking integrations for Free, or request a demo with us to discover how integrations can help you build a Google Ads Funnel that converts.