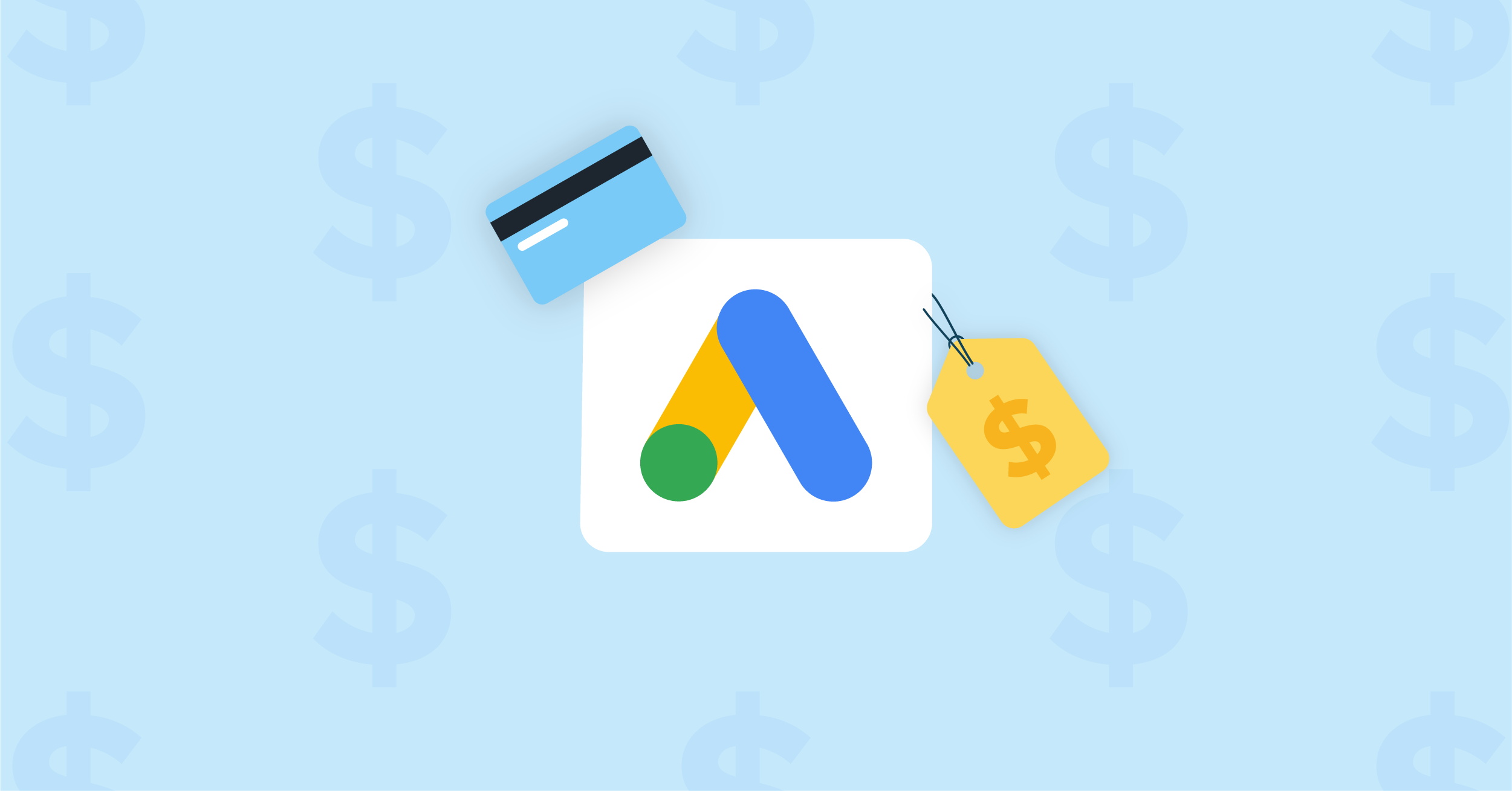 Google Ads (formerly known as Google AdWords) is Google's advertising platform where advertisers are allowed to place bids on specific keywords so that the ads can show up in Google's search results and on different websites through the Display Network and Google's AdSense program. According to PPC Media Survey, Google Ads is the most popular PPC network with digital advertisers.
This is not unconnected with the fact that Google Ads has one of the best returns on investment of $2 for every $1 spent. This means a return of double investment. Google not only gets people to click on ads but also to take appropriate actions thereafter. This shows it is cost-effective. But despite its effectiveness, you also need to consider the cost. You need to know how much Google Ads costs to acquire customers for your business.
In this article, you will learn how Google Ads work, Google Ads costs, how much Google Ads cost, factors influencing Google ad spend, and much more.
How Google Ads work
Google Ads uses the auction system that is focused on keywords. The Advertiser selects a list of keywords relevant to their business and bid on them. They specify how much they are willing to pay when a user clicks on the ad. Google combines the bid with other factors such as the quality score of the ad and uses it to determine which ads show up on Google's search engine result page (SERP). When a user clicks on the ad, the advertiser pays a specific cost (known as the cost per click or CPC).
Google Ads in a nutshell is running ads with the aid of relevant keywords or audiences to attract people to your landing page and get them to buy from you.
Now that you know what Google Ads is, you need to know how much Google Ads costs to generate customers for your business.
How much do Google ads costs?
Businesses spend an average of $9000 to $10000 per month on Google paid advertising. The cost varies from one business to another. Therefore, there is no fixed answer to the question "how much does Google Ads cost?". Google gives advertisers the liberty to set their own ad spends. You can increase or decrease your ad spend in real-time as you want. Many businesses use Google Ads because of the flexibility in ad spend.
Even though there are no fixed Google Ads costs, the average cost per click is influenced by several factors such as the Industry, Country, and the Google campaign networks you run your ads on. Let's look at these factors one after another.
1. Google ads cost by Industry
Each industry has its own cost per click. For example, find the average cost per click (CPC) for real estate, retail, e-commerce, automotive, education, and finance industries listed below.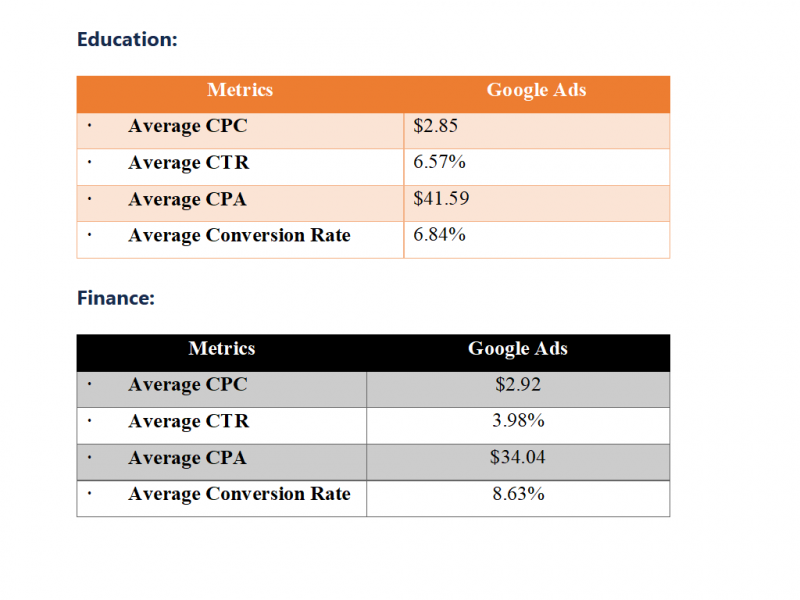 For other industries, find them listed below: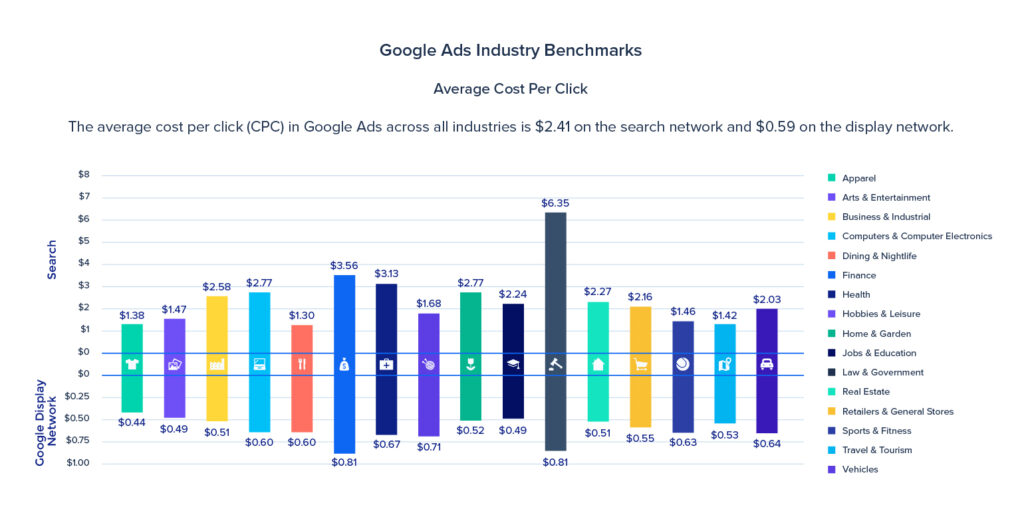 Source: Wordstream
If your business belongs to an industry with a higher CPC, you are likely to spend more money on Google Ads. For example, if your business is in the legal sector, the cost per click is $6.35. This means you are spending more on Google Ads. The two sectors are part of the top 20 most expensive keywords on Google. Others include insurance, loans, mortgage, attorney, credit, Donate, Degree, hosting, and claims.
Source: Wordstream
On the other hand, there are industries where you get some of the cheapest Google ads costs such as e-commerce and hospitality.
PS For recently formed businesses Google often gives away coupon codes worth several hundred dollars. Make sure to sign up to Google Ads with your business email to get this code.
2. Google ads cost by country
Location affects Google advertising costs. Web users search for different things online from different locations, and advertisers also run campaigns internationally. This makes the average CPC different in relation to each location. Wordstream carried out research that revealed the countries with the most expensive cost per click.
Source: Wordstream
In the research, a total of 97 countries were surveyed. The US average CPC is between $1 and $2. The country with the highest CPC above the U.S is the United Arab Emirates (8% above the US average). Other countries have less CPC than the U.S Average as shown in the map above.
3. Google ads cost by Google networks
Most people think Google only has one network to show ads. Google has about two other networks apart from the Google ads – namely – The Google search and the Google display network. The Google search network is popular. It shows your ads when users search for things related to your ads on the Google search engine. The display networks show ads to a bigger audience by utilizing other people's websites. Webmasters can show ads on their websites to receive commissions whenever users click on the ads. These two networks have different costs which can affect your Google advertising costs.
Below is the average cost per click (CPC) for each Google ads network.
1. The average cost per click for Google ads is $1 – $2
2. The average cost per click for the Google search network is $1 – $2
3. The average cost per click for the Google Display Network is $1 or less
3.1 SE Ranking Keyword Research Software [BONUS TOOL]
Check SE Ranking's Keyword Research software to find the right keywords for your advertising campaign and get more information about Google Ads costs.
SE Ranking is the all-in-one SEO software for businesses and digital agencies who want to set up a seamless workflow on SEO and PPC-related tasks that includes keyword and competitor research as well as website and ads monitoring.
a. Go to the SE Ranking Keyword Research
b. Type the targeted keyword that you selected earlier in the Google keyword planner. For example, 'Wide calf boots.'
Select Google search engine and the location of your search.
c. Click on the 'Analyze' button to proceed. The results displayed in the 'Overview' tab show core keyword parameters – Difficulty, Search Volume, CPC – as shown below.
d. Now that you have the keyword data, you need to check the CPC parameter that allows predicting Google Ads cost. It is the actual price for each click in a Google Ads marketing campaign.
e. Click on the 'Ads History' tab to see detailed competitor ads reports for current and previous months. It shows data about traffic, total traffic cost, keywords, and ad position in SERP. For the last one, move the cursor on one of the ad boxes in the table.
f. If the selected keyword didn't meet your budget expectations, go to the 'Keyword Suggestions' tab and analyze other keyword ideas. Sort by Search Volume or CPC and find your target keywords to minimize Google Ads costs.
SE Ranking platform offers effective and easy-to-follow Keyword Research and Competitor Research tools that help to analyze rival websites and select the right keywords for SEO and PPC campaigns.
What is the minimum Google Ads budget?
If you are a new Google Ads advertiser, the first question you will want to ask is "what is the minimum Google Ads budget? This is because you don't want to spend too much when you are still new to the ads system and are prone to making mistakes. You don't also want to spend too little either. The good news is, there is no minimum Google Ads budget.
However, you need to spend enough money to acquire data quickly. You need data to know where your conversions come from, the winning keywords, and the ads that are bringing people to your website. This data does not come easy, you need to spend money to acquire it. If your daily budget is too low, it will take ages to get the data and if it is too high, you could run at a loss because you are still learning the ropes.
Therefore, you need to come up with a moderate budget that is suitable for your business and work it up as you get familiar with the ad system.
Daily budget Google Ads
Google Ads works on a daily budget. The daily budget is how much you are willing to spend on your ads per day. Google allows you to set up an average daily budget and edit it any time you want. The good thing here is that Google can help to optimize your ad campaign so that you get more clicks on days when your search traffic is higher or when you are likely to get higher returns for your ads. This means that your ad spend may vary. However, you may not pay more than your daily budget on Google Ads.
Google Ads provides two tools for advertisers to calculate their daily budget. The first is the performance planner and the Cost-per-click (CPC). The performance planner helps you to optimize your budgets on all your current campaigns. The cost-per-click, on the other hand, helps you to set the highest amount you are ready to pay for a click on your ad.
You need a considerable budget to get a desirable ROI. In other to do this, aim to get at least 6 – 10 clicks per day. For instance, if you are in the education niche, the average CPC is around $2.85, here you need a budget of about $17.1 – $28.5 a day to get 6 – 10 quality clicks.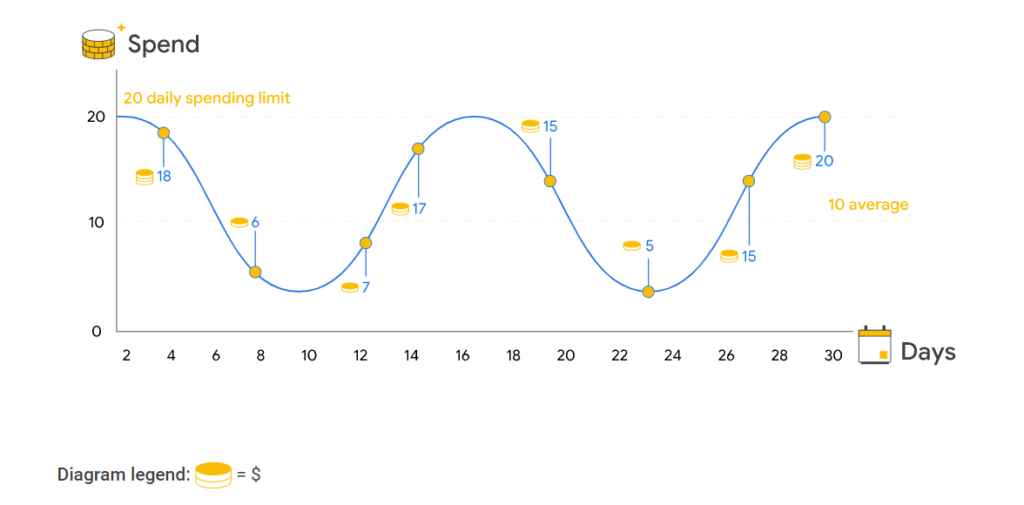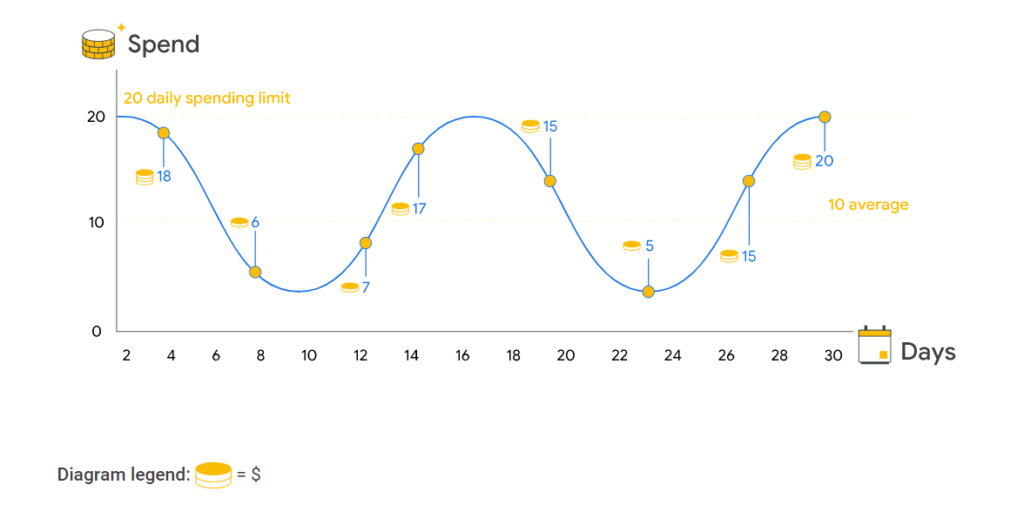 Factors influencing Google Ads spend
There are other factors that can influence Google advertising costs apart from the industry, country, and Google networks. They are:
1. The competition
Google advertising costs increase when there is a lot of competition. This affects your bidding strategy, ad position, click-through rate, and cost per click. For example, if two businesses are vying for the same position on Google search, it will drive up the cost per click as they try to outbid one another.
Also, there seems to be a lot of competition during the holiday shopping season. Therefore, the cost per click may vary at such time of the year. In addition, if you are in a competitive industry such as finance, payday loans, lawyer, and insurance, the cost per click will increase. But if your business is in a less popular niche, you are likely to pay a lower cost per click. For example, if you operate in the e-commerce sector, the cost per click is $1.16 which is low compared to the legal sector $6.35.
2. Device targeting
A long time ago, users searched specifically from desktop browsers. This is because laptops and mobile phones were not common then. Today, there are mobile phones everywhere. According to Statista, there are 3.8 billion smartphone users worldwide.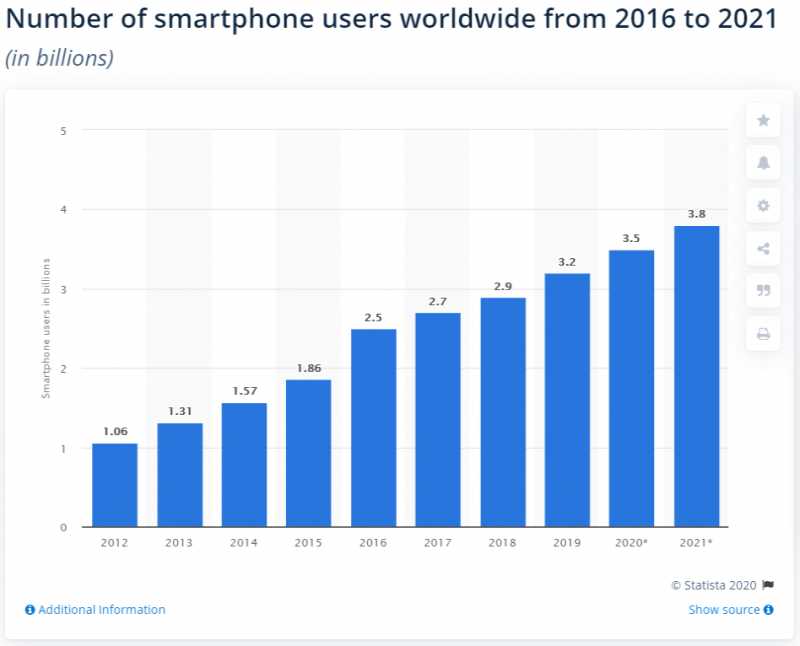 Therefore, people search more using their mobile phones. If your audience uses mobile phones more, that means you will need to apportion a greater budget towards mobile devices than spending all or more on desktop or tablet devices. Showing your ads to the wrong device users will amount to wasted ad spend. Below is the average CPC by the device.
3. The quality score
The quality score is Google's way of rating the quality and relevance of your keywords and ads. It is one of the most important factors that determine Google advertising costs and campaign success. The quality of your ad will either save you a lot of money or cost you more money. A high-quality score can lower the average cost per click of ads by up to 50% and a bad quality score can increase the cost per click by up to 400%.
The quality score is based on different factors such as the Click-through rate, keyword relevance, landing page quality, ad text relevance, and historical Google ads account performance as seen in the image above. The click-through rate is the most important of them all. When people click on your ads continuously, it tells Google that your ads are relevant and useful to users. So, Google rewards you with higher ad rankings and lower cost per click. On the other hand, if your click-through rate is low, it increases your cost per click.
Improve your quality score by using relevant keywords in your ad campaigns, refining your ad text, and optimizing your landing pages.
Knowing how much Google ads costs is not enough, you need to also predict your Google Ads costs.
How to predict your Google Ads costs
There are two major ways to predict your Google Ads cost per click. The first is to use the Google Keyword Planner, and the second is to use a Google Ads cost calculator. Below is how is to use the Google Keyword Planner tool to know how much Google Ads cost for your keywords.
Google keyword planner
a. Go to the Google keyword planner tool
b. Click on 'tools' and then click on 'Planning', then on 'Keyword planner' as shown below.
c. Click on 'discover new keywords' button to proceed
d. Type in your general industry or service keyword. For example, Leather boots. Alternatively, you can type in your website's home page address or a landing page address to give you lots of keyword ideas. So, here we will use Leather boots.
Ensure you select the right language and location of your search. If you have a local business, use your city, or delivery area.
e. Click on 'Get results'. The results displayed show the keyword ideas listed by relevance, average monthly searches, competition, and top of page bid low range and high range as shown below.
f. Now that you have the keywords, you need to choose few ones that are relevant to your business. Check the box by the keywords to select them and click on 'add keywords' button.
g. Once you have added the keywords, you can forecast the cost of your campaign by clicking on 'view forecast' and you can see the forecast for the Google advertising costs for the keywords selected as shown below.
This Google keyword planner forecasting tool is very effective, as it works like any Google ads cost calculator.
The second tool is the Google ads calculator.
2. Google ads costs calculator
Google ads cost calculator is a free tool that helps you calculate the cost and the ROI of your Google ads campaigns based on data you input such as the Ad spend, average ctr, agency management fees, etc.
There are different Google ads cost calculators online and the good thing is, most of them are free, so you don't have to pay to use them.
Google ads costs calculator shows you where your money is going, successful campaigns, and those that need tweaking.
If you are in a competitive niche, you will battle with high CPC. However, there are ways you can reduce your cost per click. Check them out below.
How to lower your Google ads cost
1. Target more keywords for intent and not volume
Instead of looking for keywords with high volume to target, go for long-tail keywords with search intent even if the volume is low. This will enable you to reduce the cost per click.
2. Add negative keywords
Include negative keywords you don't want to be part of your ads to lower your Google advertising costs. Using irrelevant keywords can increase your cost per click.
3. Use Google customer match to target your ideal customer
Google Customer Match is a feature in Google Ads that helps you to build your audience by creating a group of users from your existing email lists in order to generate more conversions. This is done in two ways. The first method is to manually upload your customer's data to Google and the second method is to upload your data automatically by integrating Google Ads with your CRM through Leadsbridge's Audience Sync. This tool is especially useful if you have a huge list.
LeadsBridge helps Google Customer Match users to integrate with popular CRMs and third-party tools
4. Increase your quality score
Google provides a quality score for every ad. Three factors are involved in calculating the score and they are – the ad relevance, landing page experience, ad click-through rate. The quality score is multiplied by your bid to get your rank in the ad auction. A higher quality score means higher ad placement and a lower quality score means lower ad placement. You want to ensure that your ad is relevant to your audience and there is a great landing page with the best user experience. This will help increase your ad click-through rate and hence lower your cost per click.
5. Use Google Lead ads forms
Google Ads lead form extensions are a type of Google Ads designed to attract users with a call to action in a form under the ad. When a user clicks on it, it displays a pre-populated form with their details and a call to action. After confirming the details, users can submit the form. One good thing about this is that you can integrate the ads with CRM or email software so you can contact your leads immediately after they sign up. Leadsbridge can help you create the webhook link between your CRM and the Google Lead form extension ads.
It is easier to generate leads and turn them into customers using the Google Lead ads forms since it is based on user's search patterns on Google.
LeadsBridge provides integrations for Google Ads Lead Form Extensions. With this, you can connect your ads with CRMs and other popular third-party apps.
Here is a Complete guide on Google Lead Form Ads.
LeadsBridge becomes a Premier Google Partner

LeadsBridge has been a Google Partner for a long time. Recently, we became a Google Premier Partner. This means that we are able to serve you better with faster and update integrations with all Google products. This will enable you to scale your business even further. For instance, you can automatically sync your audiences to Customer Match, and integrate Lead Form Extensions to automatically collect your leads.
Conclusion
Google Ads is effective as it allows you to determine your ad spend. It has a high return on investment of $2 on every $1 spent on ads. But business owners want to know how much Google Ads cost so they can know the amount it cost to acquire customers. Google Ads cost is not the same for every business. It varies based on different factors such as the Google networks you place your ads on, the country you are targeting, and your industry.
However, there are two ways you can predict your Google Ads costs. They are using the Google Keyword Planner tool and the Google Ads costs calculator. Once you can predict your cost and you discover it is high, there are ways you can also reduce it. They include targeting more intent keywords, using the Google customer match to build an audience, including negative keywords, increasing quality score, and targeting the second position.