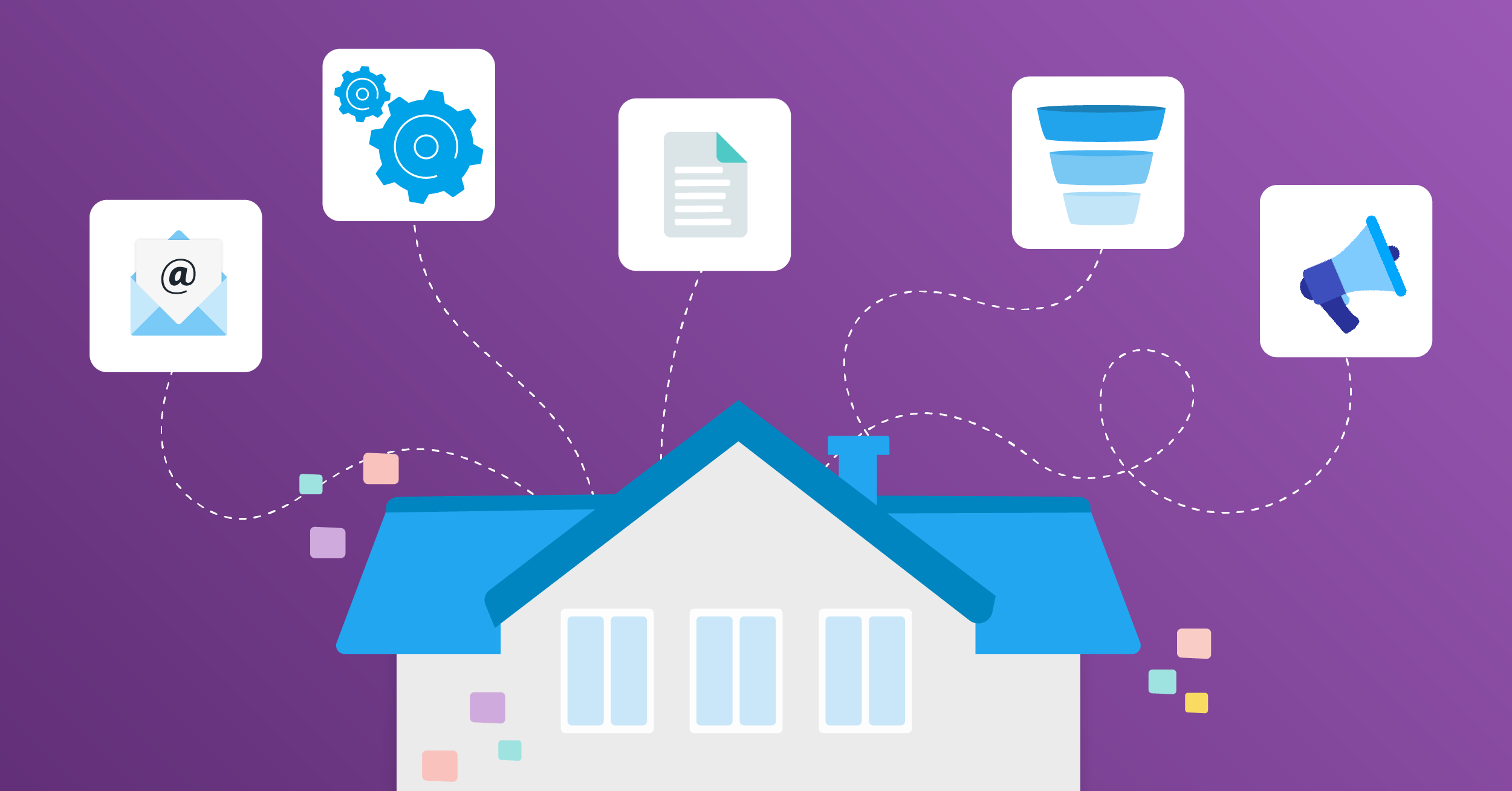 Realtors are endlessly busy, with constant streams of new and returning leads who want to buy, sell, or buy and sell at the same time. Each home needs to be researched, and they need to always know what's happening with the market, with real estate law, and with their target areas.
The last year and a half have been only more high-stakes for realtors everywhere in the US, with rapidly-changing markets and skyrocketing house prices.
And then, on top of all that, they need to worry about marketing and relationship building.
Real estate marketing automation, therefore, is a strong option for many agents.
When you automate your real estate business, you're streamlining the entire process by eliminating repetitive and time-consuming tasks from your day-to-day checklist while they still get done. This gives you more time back in your day so you can focus more on your specific client's needs, or even just take a day off here or there.
In this post, we're going to look at four ways you can automate your business and sales process to improve your real estate workflow.
What Exactly Does Real Estate Automation Look Like?
Automated real estate systems take some of that repetitive grunt work off your hands by automatically tackling it either on a regular schedule or whenever a triggering action occurs.
You can get an alert the second you see that someone fills out a real estate lead generation form, for example, so you can reach out right away to ask if they'd like to see it. Or you can send an autoresponder text or email if your customer relationship management system (CRM) can see that it's been two weeks since they've last been in touch and they haven't asked to see a property.
This gives you invaluable time back in your day, allowing you to focus more on the parts of your job where your clients need you, or to cut your work hours down significantly so you can spend more time with your own friends and family not working.
4 Ways to Automate Your Real Estate Business
There are four core ways that you can utilize real estate marketing automation to grow your business and streamline your workflow. Let's take a look at each.
Automate Lead Generation & Management Through Your CRM
Real estate lead management and lead generation is no easy task, even with multiple CRMs offering real estate-specific features.
Automated lead generation for real estate (and lead management) is one of the most valuable automation options you can choose.
You can, for example, run ads, build SEO-based campaigns, and have referral systems in place as lead acquisition strategies spread across the internet. No matter where leads come from, however, you want to know right away when they enter the funnel and when they take certain qualifying actions.
Thanks to LeadsBridge, you can even integrate your CRM with Zillow so that you can easily process and manage new leads coming directly from this third-party platform. You can see how this works here.
Automated lead generation and real estate lead management features can help with that. You can set up integrations with tools like LeadsBridge so that all Facebook Lead Ads send completed forms straight to your CRM so you can reach out instantly.
You can take a look at some of the most popular CRM tools for real estate agents and their potential integrations with LeadsBridge here:
HubSpot integration with Facebook lead ads
HubSpot integration with Facebook Custom Audiences
Automate Follow-Ups & Lead Nurturing Through Email
We know that the follow-up and the lead nurturing process can be draining for real estate agents because you have so many leads and clients to track and so much going on day to day. That's why automation is crucial.
Email marketing for real estate agents, for example, is a popular strategy. You can reach out to leads and clients and they can get back to you on their time. Real estate follow-up systems become invaluable.
When you're using LeadsBridge's automation capabilities (like using MailChimp integrations for automation), you can streamline significant parts of this process. You can also take advantage of Followupboss's Integrations to help with this process.
After a client signs a contract, for example, you'll move them to a certain segment within your CRM. If your CRM is integrated with your email marketing software, this action alone could trigger an autoresponder series to be sent to the client to share resources of what to expect in the coming weeks and reminders about important milestones to watch for.
You can also check in automatically through email based on certain triggered behaviors, or even just send out instant follow-ups to show clients homes that fit their parameters.
Automate Workflow Management
Workflow management likely takes up a significant portion of your day.
This includes everything from setting up calls and meetings, organizing documents, tracking income and expenses, and more.
Every time you set up a meeting with a new client to go see their property, you need to check your calendar, list a few times or dates, and then wait for the client to respond. This can take up to 15 minutes just to schedule a meeting with the back and forth emails.
If, however, you integrate your CRM and your site with appointment scheduling software, this task is made easy. You can automatically block out certain times and days where you're available to meet new clients, and just send them a link. They can book from the available options, and you can go from there. Fifteen minutes saved.
There are so many real estate workflow hacks that automation can grant, including the following:
Keeping track of meetings in your CRM
Reminding users (and you!) of meetings before they happen
Organizing clients' documents for review and to send off
Automatically managing income or tracking expenses
Think about what workflow changes could give you time back in your day and start there!
Automate Remarketing Campaigns
Marketing is always part of a real estate agent's job, especially for residential realtors, because most clients only buy a few houses in their lifetime max. This means that you need to constantly have a list of incoming leads.
Remarketing is a great option to reconnect with warm potential leads who have dropped off, and PPC ads are a great choice. You can use marketing automation to send audience segments in your CRM to generate custom audiences on Facebook Ads, Google Ads, and other PPC platforms to retarget specific users.
You can then use custom audiences created off high-value clients to create "lookalike audiences," which help you connect with similar users who may be at a higher likelihood of becoming new leads.
Final Thoughts: How to Automate Your Real Estate Business Quickly
Plenty of individual tools that you're already working with likely have some limited automation features on their own.
Plenty of invoicing software, for example, can track expenses I incur if I connect it to my business credit card without me having to input them manually.
Taking a look at the features available to you is a good start. That being said, the true power of automation comes into play when you're using automation-specific software to link third-party tools for ultimate integrations.
That's where LeadsBridge can help with our real estate integrations. We'll let you sync your CRM with Zillow (for example), your email marketing software, Facebook Lead Ads, sales tracking software, and even your Gmail account.
When everything is hyperconnected, you have a truly streamlined real estate workflow. Someone is sent to you through your referral system or convert on a Zillow link, and they:
Are automatically uploaded to your CRM
Receive an email from your professional or gmail account right away
Can schedule a meeting through an appointment-scheduling link based around your schedule
Can be onboarded to access your real estate database
While so much of your job is personal, there's so much grunt work involved, too. LeadsBridge can help with the latter so you can focus on the former.
Ready to take advantage of real estate marketing automation? Take a look at some of our most valuable real estate solutions and integrations here.