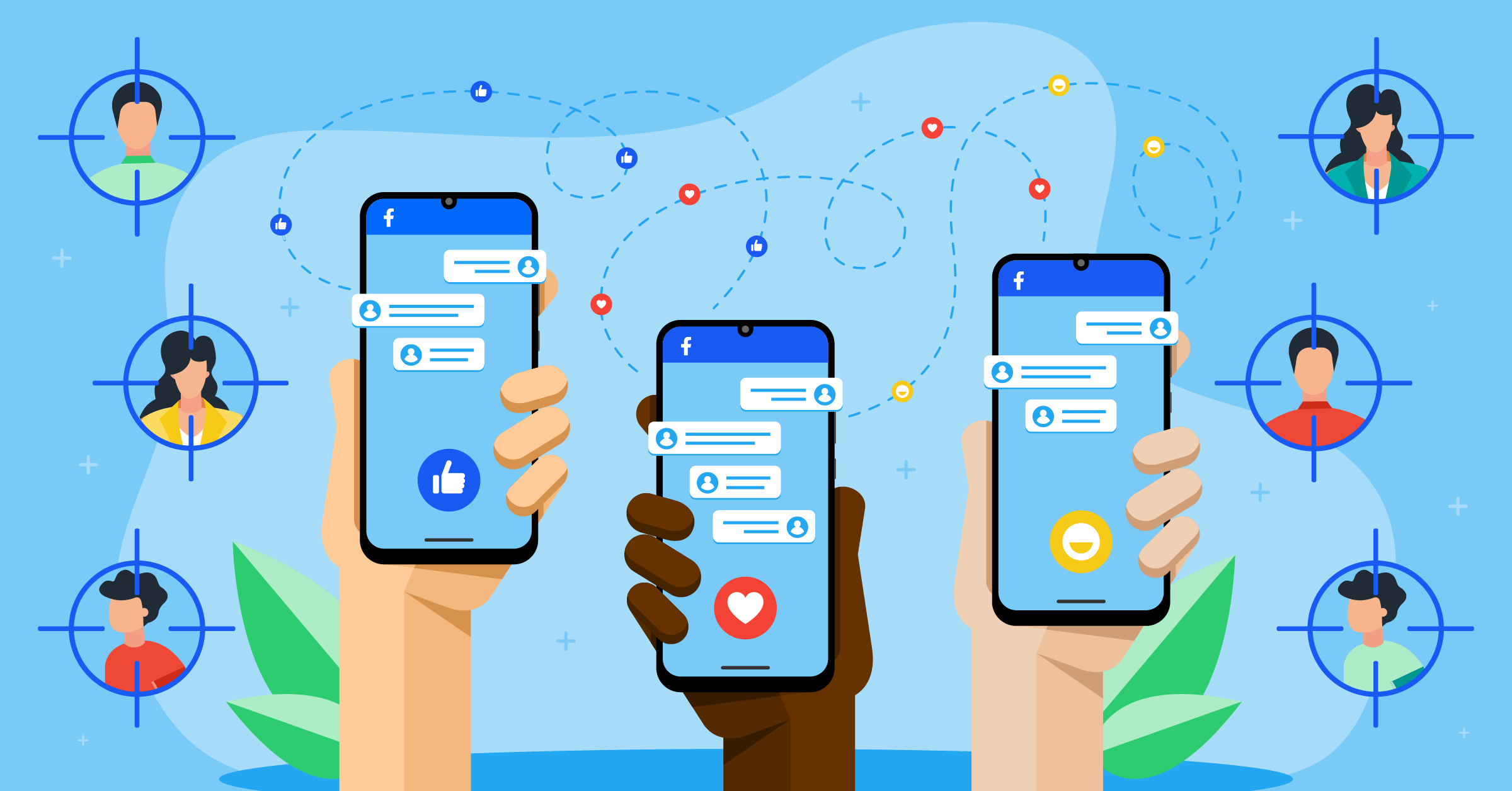 With its 2.99 billion monthly active users, Facebook provides a huge potential audience to businesses. One of the core strengths of Facebook is its granular targeting, which is why over 200 million businesses use Facebook's ad products and free tools. In 2012, Facebook launched its Custom Audiences tool to help businesses reach users who are the most likely to be interested in their products and services.
Connecting your business system with Facebook Custom Audiences through LeadsBridge allows you to automatically create the best audiences by using your CRM segments, email marketing contacts, or customer lists. You can use this data for retargeting or excluding audiences at every stage of the funnel while always maintaining GDPR compliance.
In this article, you will learn all you need to know about Facebook Custom Audiences and creative ways to use it to enhance the profitability of your campaigns.
What are Facebook Custom Audiences?
The Facebook Custom Audiences tool is a powerful targeting tool you can use to laser target your ads to show them to potential customers who are most likely to convert.
The Custom Audiences list comprises people that have shown interest in your business. They are those from your CRMs, visitors to your website, app and email subscribers, customers from your retail store, etc. This tool also allows you to add or remove people who have carried out specific actions from the Custom Audiences. For instance, you can exclude people who have recently subscribed to your app. This will ensure that you are not advertising to the wrong set of people, wasting your ad spend.
With Custom Audiences, you can also create a lookalike audience to get new customers that look like your best customers, thereby maximizing the ROI of your campaigns.
Benefits of using Facebook Custom Audiences
There are many ways Facebook Custom Audiences can help you get good results from your ad campaigns. Below are four of them, along with case studies to help you understand the impact of Custom Audiences on your campaigns.
Generate more qualified leads at a lower cost
Facebook Custom Audiences is a great tool you can use to generate more qualified leads at a lower cost for your business. You can do this by retargeting those who have previously shown interest in your business but did not make a purchase.
A good case study of a company that got leads and increased their conversion rate by using Custom Audiences for acquiring customers that are actively shopping for their product is Graham Media Group and their partnership with a mattress manufacturer.
In order to find their target audience, they curated location-based audiences that visited not only their own locations, but locations of their competitors in the target market. By identifying an audience of consumers actively visiting mattress stores, they built a highly relevant target segment.
The campaign engagement saw a 160x improvement over the industry average desktop advertising click-through rate (CTR), and achieved a 3.3% CTR compared to the standard 0.02%.
Drive quality traffic to your website
Facebook Custom Audiences can help increase your website traffic. An example of a company that achieved this is Walmart, an international retail leader. The company used Facebook tools such as Augmented Reality ads and Custom Audiences to drive website traffic and increase sales.
They targeted its ads to a Custom Audience that included Walmart shoppers from the previous 12 months aged 18 and older in the US and were able to achieve the results illustrated above.
Drive in-store visits
With Facebook Custom Audiences, you can retarget customers who have bought from your offline store or engaged with your services.
KFC India – the world's famous fast-food chain – wanted to increase customer visits to its stores all across the country, and boost sales. In order to do so, they used Custom Audiences to create a lookalike audience based on people who had previously visited their stores or website.
The brand also retargeted ads to people who engaged with the KFC Facebook Page in the previous six months and tested for various interests – such as entertainment and shopping – to find the best-performing one.
The fast-food company ran a series of Facebook video ads to highlight its special offers and encourage restaurant visits, resulting in over 57,000 people visiting its stores across India.
Increase mobile app installations
If you have an app for your business, you can use Custom Audiences to increase your app installs by targeting the right audience with your ad. This is seen in the results obtained by Glovo – the world-famous Spanish delivery app. They wanted to understand the incremental value of Facebook mobile app ads – not only in driving app installs but also in their effect on sales.
The ads were targeted to Facebook Custom Audiences based on people's previous engagement with Glovo's app, website, and ads.
They lifted incremental app installs by 73% after running a series of Facebook mobile app ads.
Types of Facebook Custom Audiences
There are five major types of Custom Audiences available for advertisers. They are:
Website Custom Audiences
Customer list Custom Audiences
App activity Custom Audiences
Offline activity Custom Audiences
Engagement Custom Audiences
1. Custom Audiences based on website activity (pixel)
Custom Audiences allow you to build an audience of website visitors who came to your website from different sources. You can segment them based on the actions made on your website, such as the specific pages they visited. For example, when a visitor comes to your website and clicks on a product to view it but does not make a purchase, the Facebook Pixel on your website will track their actions, and you can use the data to create a Custom Audience specifically targeted for them.
But before you can do this, you need to install the Facebook Pixel on your website.
What is Facebook Pixel?
The Facebook Pixel is a tracking code that follows your website visitors around your website and sends the data back to Facebook. With this pixel, Facebook has quality information about your website visitors that you can use to create Custom Audiences to target them with your ads.
For example, if you search for a product or service online and go to a specific website, it's very plausible that if you go to Facebook after that, you'll see retargeting ads for that specific product or service that you just browsed the internet for.
This is exactly how Facebook retargeting visitors with relevant ads.
How to create a Custom Audience for website visitors
To create an audience for your website visitors on Facebook, follow the steps below:
Log into your Facebook account and go to the Ads Manager.
Click on the Meta ads menu and click on Audiences.
Click on Create a Custom Audience.
In the next window, choose the source for the audience you want to create, which in this case is your Website. Then click on Next.
On this screen, you choose which website visitors Facebook will include in your Custom Audience. Start by clicking on the Events drop-down menu.
You have different options:
All website visitors: This is anyone who has visited your website.
People who visited specific web pages: This allows you to filter based on URLs, either including or excluding certain keywords or entire URLs.
Visitors by time spent: Select the top 5%, 10%, or 25% of visitors based on the time they spend on your website.
From your events: Pick a pixel event to build an audience from. For example, you can use the purchase event to build a list of recent customers. This option may not be available if you have not set up any pixel events yet.
Depending on your choice, you can keep refining your audience to make it capture exactly the people you want it to.
Lastly, add a name and a description for it to help you recognize it later. And when you're done, click Create Audience.
2. Custom Audiences based on CRM segments
The customer file contains a list of people who have interacted with your business. They are your newsletter subscribers, customers, etc. You already have their details, such as their email and/or phone numbers, stored on your CRM or auto-responder. All you need to do is download this data as a CSV file and upload it to Facebook, and it will create a Custom Audience based on these details.
How to create Facebook Custom Audiences (based on your CRM data)
To create a Custom Audience for your customer list, follow the steps below:
Download the CSV file of the leads/customers you want to reach from your CRM or auto-responder.
On the Custom Audiences page, click on the Customer list.
Now, you can start to build a Custom Audience from your existing customer lists.
There are two ways you can do this:
Import a customer list from your marketing software (for example, Mailchimp). With Mailchimp, simply click on "Import from Mailchimp" and follow the steps.
Import a CSV or TXT file. If you are manually importing a list as a CSV or TXT file, you have to be mindful of how it is formatted to ensure Facebook can digest the data you're feeding it. Facebook matches users with your data through identifiers like email addresses, phone numbers, and names. The more identifiers you include, the more accurate Facebook will be in matching the data. Follow Facebook formatting guidelines to ensure your list is as clear as possible to Facebook's AI. If you're new to this, use Facebook's template to avoid any mistakes. When you're all done, click Next.
Now, you need to let Facebook know whether or not you have included a customer value on your list. A customer value is a number given to each customer on your list that tells Facebook how valuable this customer is to your business. This value is required if you want to take advantage of value-based Lookalike Audiences.
When you're done, click Next.
Now you can upload your list, name your audience and add a description as a reminder of who this Custom Audience is targeting.
If you are using a file with customer values, you will have to be specific and tell Facebook exactly which column contains these values.
Lastly, Facebook is going to ask you to confirm that it has mapped your data to the correct identifiers. So, go through the list and make sure that emails are seen as emails, names as names, and so on.
When you are done, click Import & Create, and you're all set!
As you can imagine, this manual process is extremely time-consuming and at risk of errors. Instead of having to go through this each time you create an audience, you can easily use LeadsBridge integrations to seamlessly connect your CRM segments, email marketing contacts, and customer lists with Facebook Custom Audiences and create target audiences automatically.
We keep each audience always synced and updated to not only add new contacts coming in but also to remove the ones that need to be excluded from the audience. For example, if a contact decides to opt out of your list, LeadsBridge will automatically remove it from the custom audience, keeping your audience always on target and, most importantly, GDPR & CCPA compliant.
This way, LeadsBridge makes it easy to both not target users whom you do not want to target anymore and users who do not want to be targeted.
Below are some of our most popular integrations for Facebook Custom Audiences.
Here is the complete list of integrations available for Facebook Custom Audiences.
3. App activity Custom Audiences
As advised by Meta, creating an app activity audience is an ideal way to target groups of people who are most likely to take action when you want them redirected to your app.
Using the Facebook SDK, you can seamlessly pass data from your app to Facebook. Then, you can use that data to filter who you want to include with your targeted ads and Custom Audience.
An effective model would be using the Traffic or Conversion objective to conduct an ad engagement campaign for your app. If this is the case, you might find that your ads perform better for those who have already installed and used your app.
Before you begin creating Custom Audiences for app activity, you have to register your app. Set up Facebook SDK and log app events on Facebook for Developers Site.
Once registered, creating app activity Custom Audiences is extremely simple. Follow the steps below:
On the Custom Audiences page, select App activity and click Next.
On this page, select the app you will be sourcing your contacts from, as well as the audience's name and description.
Once your app is selected, refine your audience based on in-app events, which can include people who have: reached a certain level of your game, added payment info, purchased something from your app, spent a certain amount of money.
Once you have chosen your app audience, you can create your audience.
4. Offline activity Custom Audiences
Offline activity Custom Audiences are essential to accurately tracking customers who make their final purchases in an offline setting. The audience will constantly refresh based on offline events and data collected within the last 180 days and uploaded within your specified timeframe.
By creating an offline activity Custom Audience, you can exclude customers who have recently bought something offline to target new customers. Once you've created the offline activity Custom Audience, you can start building a Lookalike Audience to target people similar to your customers.
Setting up offline activity Custom Audiences is relatively straightforward and only takes a few steps. This is what you need to do to get started:
On the Custom Audiences page, select Offline activity and click Next.
Select the Offline Event Set you want to track, then give your audience a Name and a Description.
If you don't see any Offline Event Sets available, you must create one first. You can easily do so from the Meta Events Manager by following the steps provided by Meta.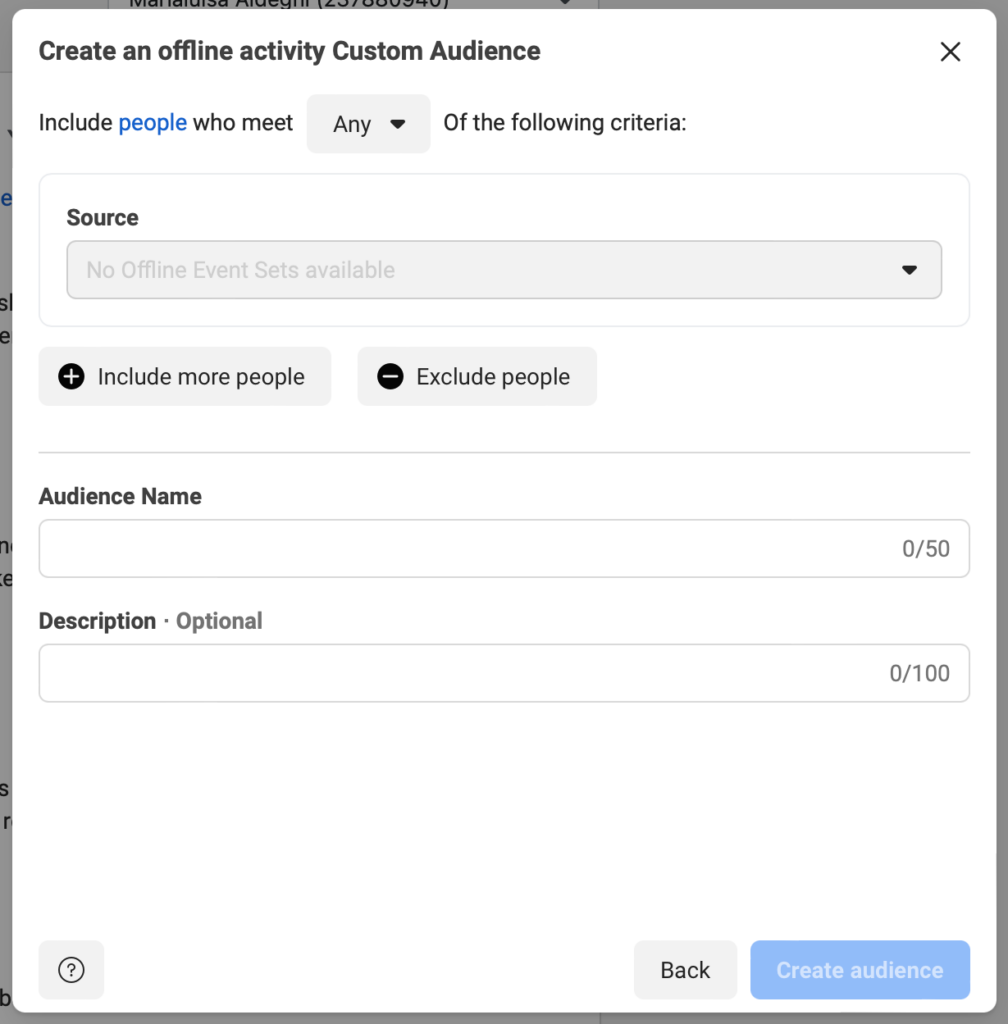 Once you've selected an Offline Event Set, you can create your audience.
5. Engagement Custom Audiences
An Engagement Custom Audience targets users who have engaged with your brand across the Meta suite of tools, apps, and services.
These "engagements" can be targeted based on viewing videos, clicking on Facebook pages, or opening a form in a lead generation ad. Based on these actions, you can show your ads to relevant people who are already somewhat familiar with your brand.
There are several Engagement Custom Audience types available:
Video
Lead form
Instant experience
Shopping
Instagram Account
Events
Facebook page
On-Facebook listings
Keep in mind that Engagement Custom Audiences are different from Website Custom Audiences. Although they target a similar audience, Engagement Custom Audiences focus exclusively on the Meta family of tools, apps, and services. And since all of the data is already on Meta, these audiences are usually the easiest to set up. Let's take a look at each type of Meta source for Engagement Custom Audiences.
Video
The most important part of creating a Video Engagement Custom Audience is picking your target group.
Here you're presented with all of your options. You can even select multiple ones, and when you're done, you can pick the specific videos you want the data pulled out from to build your audience.
Lead form
The lead form Engagement Custom Audience allows you to source data from your current or past lead forms to create a new Custom Audience.
You have to specify the page and the lead form you want to pull the data from, as well as the events that will determine who gets included in your new audience.
You have three options:
Anyone who opened this form
People who opened but didn't submit the form
People who opened and submitted the form
Fill out all the details and you're all set!
Instant experience
To create an Instant experience Custom Audience, you have to pick which Instant experience you want to base your audience on, by typing its name in the search bar.
Then, select which events you want to include in the audience:
Either People who opened this Instant Experience
Or People who clicked any links in this Instant Experience
Give your audience a Name and a Description, and you're good to go.
Shopping
First, you need to choose your desired platform – either Facebook or Instagram – and the exact page you want to use.
Then, you need to define the event that will be included in your audience. You can only pick one. Once you're done, you can create your audience.
Instagram account
First, select the Instagram account you want to use. Then, pick the event you want your audience based on. Again, you can only pick one.
Once you've given a Name and Description, you can create your audience.
Events
Pick one segment of people you want to include in your audience.
Then, choose a page and a Facebook event from which you want to pull data.
Facebook page
Just as it works for the Instagram account, for the Facebook page Engagement Custom Audience, you start by choosing the Facebook page you want to use.
Then, you get to decide which people you want to include in your audience based on what kind of interaction they've had with your Facebook page.
On-Facebook listings
Last but not least, On-Facebook listings Engagement Custom Audiences require you to pick a Facebook page first.
Then, you're asked to decide which group of people you want to target:
People who viewed products in my catalog
People who messaged about products in my catalog
Once you've selected an option, you can create your audience.
How to automate your Custom Audiences with LeadsBridge
Did you know you can sync your CRM databases or marketing platforms such as Salesforce®, Bitrix24, Act-on, HubSpot, and many others with a Facebook Custom Audience integration using LeadsBridge Audience Targeting tool?
When you sync your CRM or auto-responder with a Facebook Custom Audience integration through LeadsBridge, the lead list updates automatically. Therefore, you can upload your customers list directly to Facebook. It will automatically create the Custom Audiences from your list. That means you don't have to worry about uploading manually and mismatching data. 
To automate your data sync, take a look at some of our most popular Facebook Custom Audience integrations.
Take a look at all integrations available for Facebook Custom Audiences.
How to automate audience segmentation through LeadsBridge
Creating automatic Facebook LTV Custom Audiences saves time and effort since it prevents advertisers from manually uploading custom audiences to Facebook. The Facebook Custom Audience integration also helps keep your Lifetime Value Audience lists on Facebook updated whenever someone makes a purchase. 
Let's find out how to connect your marketing software with a Facebook Custom Audience integration through LeadsBridge:
Step one:
First of all, log in to your LeadsBridge account or – if you don't have one yet – create one for free. Once you're inside the LeadsBridge app, click on the Create new bridge green button at the top left of the screen.
Step two:
On this screen, you can select your source – which is your marketing software – and your destination – Facebook Custom Audiences. In order to do so, go to the search bar and simply type in your desired apps. When you're done, click Continue.
Step three:
Here, you're required to connect your accounts; for the sake of this example, we used Google Sheets as a data source. Here, you're required to connect your Google Sheets and Facebook accounts to let LeadsBridge have access to your platforms.
You can choose to include the "value-based" extra row of data simply by clicking on a switch button. Moreover, you get to decide how often you'd like your audiences to be updated with new data.
Step four:
Once you've connected your accounts, you can start matching fields. Make sure that all your Google Sheets fields match with the ones required by Facebook Custom Audiences to guarantee a perfect data transfer.
Once the fields have been matched, you can click Save & publish and tadà! Your bridge is successfully completed and will start running data automatically & in real time.
LeadsBridge Audience Add-ons
LeadsBridge audience targeting allows you to target new leads and re-market to existing ones within your CRM software and your custom audiences on platforms similar to Facebook, including Google and LinkedIn.
By syncing your CRM segments, such as email contacts and customer lists with advertising platforms, you can automatically create precise custom audiences, whilst retargeting or excluding leads at every stage of the funnel.
Using new customized solutions, LeadsBridge offers integrations that allow you to advertise to your audience more affordably. This new solution counts the maximum size of your reached audience, in contrast to the previous model that counted an audience each time a contact was added or removed.
This audience targeting add-on enables you to ascertain your required audience size, charged at a flat fee. The value of this system is that it gives you greater flexibility in the running of your campaigns, free from interruption.
To initiate this audience counter on your current custom audience plan, you can contact our sales team by booking a call today.
How to target email list on Facebook
It would be worth considering leveraging your existing email list to create custom Facebook Ads audiences, giving you the opportunity to precisely target leads within your database that are the most likely to convert.
Thanks to Facebook Custom Audiences, you can input your available lead email addresses, taken from subscription forms and other sign-ups, directly into the platform. Facebook will then match those email addresses to its current user base, and establish a custom list. You can then begin to target your ad campaigns toward this audience of users.
There are a number of strategies that you can use to effectively create a Facebook audience from email lists. These include;
Abandoned cart customers
Just because a customer has abandoned their cart at the last moment before committing to a transaction does not necessarily mean that they have lost all purchasing intent.
Oftentimes, these users need a final push to complete an action. Therefore, you should consider running a Facebook ad campaign that solely targets this custom audience, offering an incentive or discount that can push the customer over the line.
Website visitors
Creating a custom audience ad campaign focusing on past website visitors can significantly inspire conversion, as it keeps your brand in the lead frame of reference and nurtures the relationship that has already been initiated. 
Benoa swim used this strategy to their advantage by reminding customers to purchase swimsuits that they had previously browsed.
Custom Audiences' common questions
Here are some common questions about Custom Audiences;
1. What is Facebook Custom Audiences' privacy?
If you want to use Facebook Custom Audiences, you must follow the applicable terms. Two of their policies are:
Show people the origin of the audience information. This is especially useful if you are uploading a customer file. According to consent-based marketing regulations, you need to indicate where you got the information.
Ensure you have permission to use and share people's data.
Check out this Facebook article to learn more.
Additionally, we've gone over GDPR and Facebook regulations in another article. Since privacy laws are changing, it's definitely worth reading.
2. Do Facebook Custom Audiences auto-update?
Yes. Custom Audiences update automatically by syncing information from your website. It selects the data according to the rules specified for website users. For example, if you set a rule to include people who visited your website in the last 30 days, it will automatically add people who have been on your website in the previous 30 days.
If the audiences come from your CRM or Email software, their data needs to be updated by manually downloading and uploading CSV files. However, you can automatically sync your CRM or Email software with your Facebook account through LeadsBridge's Audience Targeting tool to avoid errors and waste time in manual updating. In addition, this process ensures that the leads in your customers' files are seamlessly and instantly synced to your custom audiences while reducing the possibility of data point mismatch.
3. What is the Facebook Custom Audiences' minimum size?
Facebook Custom Audiences' minimum number of users is 100.
4. How do you change your audience on Facebook?
You can take the following steps to modify your Facebook audience:
You can edit an ad set by going to your Facebook Ads Manager and selecting the ad set you want to edit.
Next, click on the "Edit" button.
To find the "Audience" section, scroll down.
You can now edit the targeting options for your audience, including age, gender, location, interests, behaviors, and more.
To update your ad set with the new audience after making your changes, click the "Save" button.
Remember that altering your audience may have an impact on the effectiveness and reach of your advertisement, so carefully consider your targeting options and keep an eye on the results.
Facebook Custom Audience best practices
Each segment is addressed with a campaign that triggers the right buying impulses at the right time.
However, many Marketing Departments still operate by uploading CSV files on Facebook to create Custom Audiences. Timing and accuracy are crucial to taking advantage of the available data and running effective retargeting campaigns.
The information must flow freely from the CRM database to the Meta Business Manager. That can be a problem, especially for large companies with strong hierarchic environments and several managers whose responsibilities often overlap.
Here are five ways large companies can benefit from automating Custom Audiences despite their structural challenges.
Now that you know exactly all the different Custom Audiences types available, let's dive into some of the best practices to help you kickstart your retargeting campaigns.
1. Create your campaigns faster by avoiding manual work
Close collaboration among several departments is required to develop a robust retargeting strategy. However, coordinating the work among departments already takes a lot of effort. This leaves little room for repetitive, manual work.
Since effective retargeting campaigns depend entirely upon constantly updated CSV files, they need to be synced on the Meta Business Manager quite often. The best way to avoid manual upload is through marketing automation.
By bridging the CRM with the Meta Business account, the information is updated automatically in the Custom Audience on Facebook once a new subscriber enters a particular CRM segmentation or a specific stage in the buying cycle.
2. Create instant retargeting campaigns with updated Custom Audiences
Building a retargeting strategy that grows sales needs to be updated with the latest data. For omnichannel retailers such as Adidas or Nike, the database of leads, customers, and segments is rearranged by the minute.
Once or twice-a-week intervals can result in a loss in sales, marketing budget, and customer satisfaction. For instance, if some leads become customers, they keep receiving ads as if they were still leads.
To maximize your marketing precision, updating the audience more frequently is better. Ideally, three or four times a day. Performing this task manually is impossible. This is not only overwhelming but could also create interference between the responsibilities of CRM Managers and Advertising Planners, which adds an extra layer of friction to the process.
Having the Custom Audiences updated as often as every 6 hours with the latest data helps maintain a high-quality shopping experience and increase profit margin.
3. Reduce the possibility of data points mismatch
Another aspect of retargeting campaigns that is often overlooked is the need to upload the customers' information precisely and in the format that Meta requires.
To create a CSV file manually, you need to gather the data, sort it out in the proper columns, extract the data file, and upload it on Facebook. However, some CRMs like HubSpot provide the native option, allowing you to extract CSV files that are ready to be uploaded.
When sorting the files, the file format needs to be consistent, and the margin for error is close to zero. In order to decrease the mismatching rate, it is best to access the data straight from their value fields in the CRM using an API script.
By enabling companies to increase matching rate precision, the API script function is to keep the Custom Audiences clean at all times for effective retargeting campaigns.
4. Keep your ads' relevance score high
Sometimes, to maximize the efficiency and quality of retargeting campaigns, advertisers can work the opposite way by excluding certain Custom Audiences instead of addressing specific segments of customers.
For example, when creating retargeting campaigns for website visitors, it's possible to tell Facebook to exclude all of the email contacts of those who have already completed a purchase and have been registered in the CRM. This technique is implemented by copying a snippet of code (pixel) on the website page confirming the transaction.
This feature allows you to show ads to people who visited the website but are not registered in the CRM. Additionally, it prevents flooding customers who have already converted with further ads by keeping the Relevance Score high.
The Relevance Score is an indicator of ad performance. Usually, a higher score is associated with lower overall costs and higher reach per dollar spent.
In other words, having strong Relevance Scores allows advertisers to enjoy lower costs and more effective ad distribution.
5. Keep your Lookalike Audiences relevant
Lookalike audiences are one of Facebook's targeting options. They are audiences that share similar traits and interests to customers or leads who have already had some interaction with a business.
By replacing the information about the usual identifiers such as name, email, and phone number, with the ideal client data in terms of spending over time, Facebook can reach a more qualitative audience.
6. Creating precise audience segmentation
Past website visitors within 30 days audience name example: The people who are already familiar with you or your products on some level.
People who visit specific high-intent landing pages audience name idea: A high-intent landing page is typically a sign-up page, a checkout page, a product page, or a pricing page.
Audience name example for blog readers with high engagement: Users visiting your blog might not be ready for purchase just yet. However, this does not mean you can't retarget them on Facebook to share more valuable content.
Audience name idea for Newsletter subscribers: Newsletter subscribers fall into two different categories: 1) active readers engaging with your emails and 2) inactive users who never open your emails. You can leverage Facebook Custom Audiences retargeting campaigns to reignite their interest.
Final thoughts
Facebook Custom Audiences is a perfect tool for all businesses. Operating even better when combined with cold campaigns, this tool lets you blend a retargeting campaign all whilst achieving higher efficiency.
Implementing Custom Audiences can boost your leads and sales by targeting people who are likely to convert and drive traffic to both your online and offline stores through retargeting activity. In addition, if you have an app for your business, it will help to increase installs.
At LeadsBridge, we can facilitate the seamless installation of Facebook Custom Audiences using our very own Audience Targeting tool.
With LeadsBridge integrations, you can easily integrate Facebook's Custom Audience with the rest of your marketing stack. Sign up now, or request a demo to test out our tool for yourself.