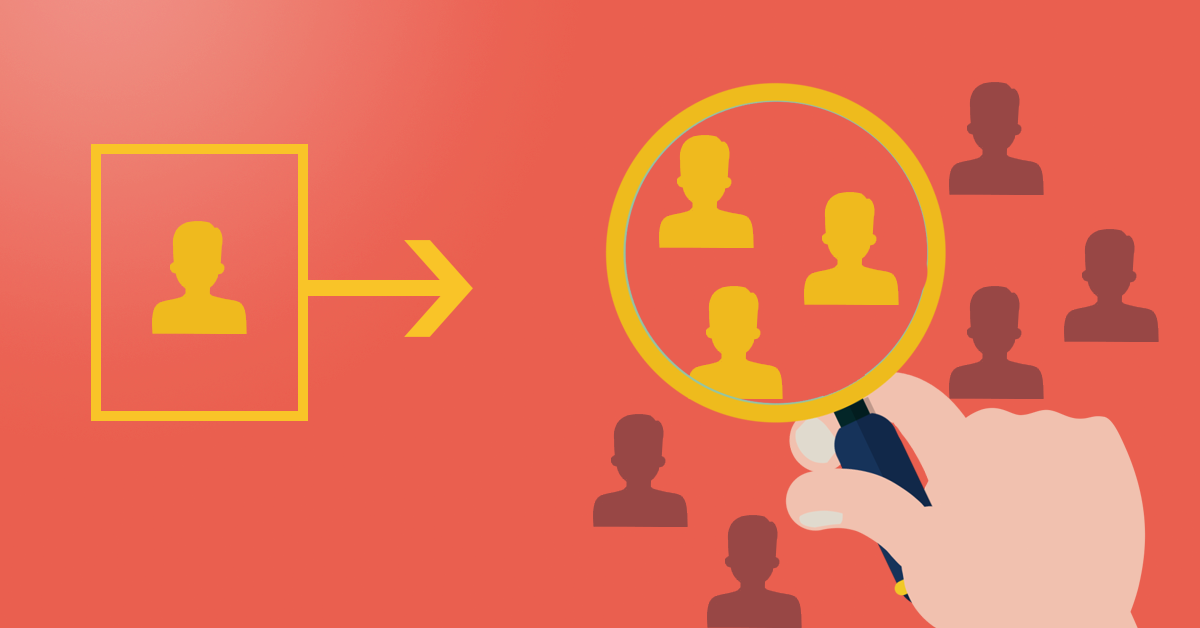 Facebook Lookalike Audiences is a Facebook tool that allows companies to target users that have similar characteristics to your existing customers and followers. It is a way to reach people with similar demographics and interests to your ideal customer, improving the chance to find high-converting users.
If the existing customers are receptive to your ads, chances are, the Lookalike Audiences will be receptive too. So also is the Lookalike Audiences you build on the customer segment. This means a high relevance score. The relevance score is an indicator of how well your ad is performing and resonating with the people you want to reach. The more positive interactions your ad receives, the higher the ads relevance score. A higher score indicates lower ad costs and offers more reach. This means a good relevance score helps companies to get more efficient ad distribution at lower costs.
With Facebook Lookalike Audiences, companies can choose how closely the new audiences fit the source audience. A source audience is an audience you created the Lookalike Audiences from. For example, it could be the customers' list, website visitors or Facebook page fans. So, if you want the Lookalike Audiences to have 90% of the traits of the source audience, the audience will be small but high in the target. However, if you prefer a bigger audience to accuracy, you can reduce the percentage of similarities with the source audience.
How Facebook Lookalike Audiences works
If you are familiar with other advertising tools, Facebook Lookalike Audiences works similarly to Google's Similar Audiences and LinkedIn's Matched Audiences. When you import a list of customers from your source audience, Facebook Ads Manager gives you an option to create Lookalike Audiences from a source audience.
When you click on the "create a Lookalike Audiences" option, Facebook helps to search through its vast base of users' data to find the most suitable users that have similar traits such as demographics and interests to the source audience.
The source audience can be from the followings:
The Facebook Pixel:

Facebook gives you a piece of code (a pixel) to install on your website. The pixel is fired when someone takes an action on your website such as browsing a product page or making purchases. The pixel helps to understand the actions visitors take on your website. For example, you can create an audience of people who bought a product from your website. Using it as a source audience for your Lookalike Audiences will make Facebook search for similar users as that of your website visitors or customers.
Mobile app:

With the Facebook SDK, you can create a source audience from mobile app users. For example, you can create a source audience of people who have installed the app on their mobile phones, opened your app, abandoned purchased, purchased, finished registration, played or reached a specific level of games. Facebook will search for a similar audience you can target with your ads.
Facebook page:

The Facebook page audience consists of users who have visited your page, engaged with a post or ads, clicked on a call to action button, sent a message to your page, and saved your page or a post. Using this audience as a source audience will help you target the most engaged users who will respond to your campaigns. This source audience is most suitable for the middle of the sales funnel because they are warm prospects who have engaged with your Facebook page.
CRM segments:

This consists of the email list acquired from newsletter sign up or from past customers from your CRM or autoresponder. These are people who have interacted with your business and have clearly expressed interest. This can be used as a source audience to help Facebook search and match users with emails. Use this source audience to find similar customers, especially top spenders and create a targeted campaign for them. For example, if you have a list of customers details such as their name and surname, email addresses and phone numbers from your business, you can upload it to Facebook. The algorithm will help to find users who have similar traits like your past buyers. This new audience can now be the target audience.
Advertisers can only upload data from customers who have expressly given their permission to market to them. Facebook doesn't accept purchased email addresses, or the emails scraped from other websites.
FB Lookalike Audiences Targeting VS Interest Targeting
Facebook has different targeting options for users such as the Facebook Lookalike targeting and Interest-based targeting. The interest-based targeting helps to target people based on their interest in a subject related to your product or service. For example, if you sell automobiles such as Toyota, you could target users who have liked other brands of automobiles Facebook pages.
A good example of the Facebook Lookalike Audience is a company that sells software, uploading a list of customer email addresses will assist such a company to find Facebook users who have the same traits as past software buyers.
Interest-based targeting has been available for a long time, and it has thousands of options to choose from. While Lookalike Audiences were created in 2013, it was difficult to use at first since it was only available in Power editor but it has been greatly improved and easier to use.
The questions is: Which one is better – the Lookalike Audiences or the interest-based targeting?
The Facebook Lookalike Audiences use the Facebook algorithm to search for a similar audience to your Custom Audience while interest-based targeting is up to the advertiser's abilities to choose the right target.
Interest-based targeting can be more useful in some cases, for example, it can be used to narrow audiences. Companies can also use it to target people for a new product/service.
If you are just starting out without lots of website visitors or customers, interest-based targeting is a viable option, as it doesn't require much data to get started like with Facebook Lookalike Audiences. AdEspresso carried out an experiment to determine the best targeting option between the Lookalike targeting and the Interest targeting. They ran an A/B test with two audiences for a conversion campaign to get registrations for a webinar.
They created a Lookalike Audiences based on a 180-day custom audience from the webinar registration pixel event. A 1% US Lookalike Audiences was used with a 21-64 age range filter. It produced a 1.9 million audience. The Facebook audience insights tool was used to pick the interests with the highest affinity score and it produced a 1.9 million audience, which is the same size as the Lookalike Audiences.
Below are the key metrics from the experiment:
From the table above, it is clearly seen that the Lookalike Audiences is the best with a 13% lower CPA and a much better clickthrough rate and cost per click.
The importance of Value-based Lookalike Audiences
The Facebook Lookalike Audiences is great, but the new Value-based Audiences works better in some cases. This is due to the fact that not all the customers are similar and of equal value to your business. There are loyal customers who will always buy continuously, there are those who will only buy once and there are those who will buy because there are discounts on your products. This means you need to know the value of your customers to your business in order to improve the returns on them. There is no way you can do that with a Lookalike Audiences tool. This is why Facebook created Customer Lifetime Value.
According to Facebook, Lifetime Value (LTV) is a value associated with your customers based on how much and how often they spend with your business over the course of their relationship with you.
When you tell Facebook how much a customer is worth to your business in terms of lifetime value, the Ai algorithms help to search for more people similar to your most valued customers.
Value-based Lookalike Audiences are built from your most profitable customer or high- value customers.
The source audience of Value-based Lookalike Audiences are mobile app, pixel, SDK, catalog or a custom audience with customer value as a data type.
How does Value-based Lookalike Audiences work?
When creating your customers list in a spreadsheet or a CRM, there is an additional column labeled value, which is the lifetime value of your customers. The Value-based Lookalike Audiences works with CRMs that allow companies to keep track of the purchases. This is where you will add the value of each of your customers in monetary terms ($). When you upload this list into Facebook and build a Lookalike Audiences from it, Facebook looks at its database to search for users that have similar traits to your high-value customers. These could be users who share the same interests as your customers. When you create ads for the Value-based Audience, Facebook will bid only on users who have similar traits to your high-value customers.
Attracting customers to your business is important, but much more important is to attract the right audience. The Value-based Lookalike Audiences help to target valuable existing and potential customers with relevant ads.
The Value-based Lookalike Audiences reduce the number of times your ad is shown to generate a successful result. It increases revenue by bringing in customers with high and more frequent spending habits. Since Facebook optimizes ad delivery to reach users that are valuable customers to a business in the long term, it implies that Value-based Lookalike Audiences brings in long-term customers.
Value-based Lookalike Audiences can be used to target the bottom of the funnel with offers such as a discount offer for subscription, buy now offers, and free product trials.
How to create a Custom Audience based on Lifetime Value with CSV
The first thing you need to do before you create a Custom Audience with a lifetime value is to determine the business goals. Know the most valuable customers, the specific buying behaviors that make them valuable and the metrics to use to quantify and track it. The only way to target your best customers is to know who they are. Thereafter, you can create a similar audience just like them.
How to determine the Customer Lifetime Value
To know your Customer Lifetime Value, there is a need to calculate a few variables as shown below.
The formula for Customer Lifetime Value is Customer value x Customer's average lifespan
The customer value is determined by finding the average order value and multiplying it with the purchase frequency.
Customer value = Average order value x Purchase frequency
1. Average order value
This is the total average of how much a customer spends on your website with each new order made. It is calculated over one year:
Total revenue x number of orders = Average order value
2.Purchase frequency
This is the number of times a customer makes purchases from your business in a given time. The purchase frequency is calculated over one year by:
Number of orders x unique customers = Purchase frequency
For instance, if you have 300 orders in 2019 and 250 unique customers, the purchase frequency will be 300 x 250 = 75,000.
So, the Customer Value is = average order value x purchase frequency.
3.Customer Average Lifespan
A customer's average lifespan is the average time a customer stays with your business before they become inactive or dormant. It is the most difficult to calculate. It is based on the kind of business you run. For example, if you sell items that people buy just once, such as a house, the lifetime will be shorter. But if you sell items that people need regularly, such as shoes, it will be a long lifetime. However, Avinash Kaushik from Shopify recommends 1-3 years to be a good lifespan for a customer to be active.
The formula for the Customer lifetime value is = customer value x customer average lifespan.
Multiplying the Customer Lifetime Value by how long a customer stays with your business gives an accurate value for each customer. This is the number you need to add to the customer list to generate a Value-based audience.
It is time to prepare the customer list. Follow the steps below to do it.
Step 1: Prepare the Customer List
The first thing you need before creating the custom audience based on Lifetime value with CSV is to prepare a spreadsheet with the customer information. Create a column for each of the customers details such as email, phone number, first name, last name, city, state, country, date of birth, age, zip code, and gender. Add as many identifiers as you can because more identifiers mean better matching and specificity. If you need a template to use to create the list, download it from Facebook here.
Download the example template and add the customers information to the columns. Facebook will use the information to search for similar customers to the one in the list and then create a custom audience out of it. Pay close attention to the formatting as required by Facebook. For instance, the fn is the first name, while the column for the city is written as "ct".
Below is a table showing how to format customers lists according to Facebook.
Ensure you format the customer list according to the tables above.
Step 2: Create a column for Customer Lifetime Value
In this step, create a column for the Customer lifetime value data in your spreadsheet. The data type for this column according to Facebook is "value" as shown below.
As shown above, for each of your customers, enter the Customer Lifetime Value in the two formats specified. i.e. $500 or 500.00 USD. As seen in the format above, ensure that all your currencies are converted to USD. Facebook will not do any conversion if there are different currency types. Don't use a comma or other separators to separate the value in the thousands, only a decimal point is allowed.
Use a broad range of numbers for the customers as shown above. This will ensure that your data is accurate. Facebook will calculate the difference between the top spenders and the average spenders. Avoid using negative numbers to show customers with poor values. This will make it difficult for the algorithm to calculate the values.
Below is an example of a formatted customer list.
Step 3: On the Ads Manager, Choose "audiences" from the shortcuts.
Now you have the customer list and Lifetime value data formatted, it is time to upload it. Click on the ads manager and select "audiences" under the shortcuts.
Click on "Create audience" and then on "custom audience" instead of clicking on the "Lookalike Audiences". This will enable you to set up a custom audience first before moving on to the Lookalike Audiences.
Step 4: Click on "customer list" from the list of audience types
Facebook provides a list of five different audiences you can use to create a custom audience as shown below.
You can create a custom audience from your website traffic, customer list, app activity, and offline activity. However, in this tutorial, we will choose the customer list. A customer list is a file containing your customers' data such as the name, email address and phone number. Facebook will take the data and match with other users in its database to create potential audiences for your ad.
Step 5: Upload your Lifetime Value customer information
Here, choose the customer list you want to use to create a custom audience. You have three options as shown below:
The options include: Use a file that includes Customer Lifetime Value (LTV), Use a file that doesn't include LTV and Import from MailChimp.
If you have a MailChimp account, you can import customers' email addresses as a data source. However, it will not be as comprehensive as the spreadsheet created in step 1.
Here, click on "use a file that includes customer lifetime value (LTV)".
Step 6: Create a data file custom audience
Here, there are three steps. The first is to prepare a file with your customer data. This has been done in steps 1 and 2 above. The second step is to add your file. This is where you will upload the Customer file prepared above. So click on "Upload file" to choose the spreadsheet file.
The third step is to name your audience. Give the audience a unique name. Click on next to upload the file. Facebook will use the data and the Customer Lifetime Value to create a custom audience.
When you are done uploading the custom audience, run a Facebook ad the same way you would. However, instead of choosing an audience based on demographics, choose the custom audience created with the customer data.
This will make your ads visible to Facebook users who are ready to convert.
How to create a Custom Audience based on Lifetime Value with LeadsBridge
Leadsbridge's Custom Audience sync tool helps you to automatically sync your audience from your favorite CRM, such as HubSpot, Marketo, and MailChimp to Facebook. It collects information of your customers such as the email address, phone number, first and last name, city, country, etc and as much information as you want. This will save you time and effort in uploading it manually.
The Custom Audience Sync tool helps to keep your audience lists updated regularly whenever someone subscribes or unsubscribes. This helps to reduce ad spend and increases quality ad delivery. Also, with the tool, you can create a value-based Lookalike Audiences. You can feed one custom audience for your campaigns with different sources by adding them together in the same audience. You can also use different integrations such as two different CRMs or different segments of the same integration to produce two lists of your customer's platform. You can segment all your contacts by filtering them based on different conditions. This is especially useful for businesses with big lists or when you want to retarget only a segment of your audience and exclude other contacts from the list.
Below is how to create a custom audience based on Lifetime Value with the LeadsBridge Custom Audience Sync tool.
Before you start, make sure to connect your CRM in the integration area shown below.
There are four steps involved in creating a custom audience through LeadsBridge. They are:
Destination

Settings

Sources

Summary
1. Destination
a. Log into your LeadsBridge account and click on Facebook suite.
b. Select custom audiences. If you have custom audiences available, choose the appropriate one. If not, click on Add New to add a new audience.
c. Select the Facebook Ad account you want to use for the Custom Audience. If there are no accounts added, simply click on the "Add Ad Account" button and click next.
2. Settings
The next step is the settings.
In this section, you can either create new custom audiences or use an existing one in your Facebook. Here, we will build a new audience and name it test audience. Next is the interval time which depends on the volume of traffic you have. For example, if you choose a 24-hour or 6-hour.
LeadsBridge will sync the new records back to Facebook. The function also will help you to remove a contact that has been unsubscribed from your list in the CRM.
The next option is the Value-based. This is for the Lifetime Value of your client's lead. It enables you to create Value-based Lookalike Audiences. To activate it, click the button and switch it to "Yes". The audience will be made up of people similar to your highest valued customer.
In case you need to use specific event value, you can also switch it on. Otherwise, you can leave it.
3. Sources
Here, you will define the lead source. In the same bridge, you can add multiple sources, multiple CRM, email marketing tools, different kinds of lists, and even create sub-segment using some function here. So. Click on browse to select your preferred source.
Here, we will use HubSpot as an example with the right integration.
In the next screen, select the right segment where the leads or the contacts are stored on HubSpot (or the preferred CRM).
In the next step, match the fields from your system to the Facebook field. Ensure that it is done correctly.
Then click on "next".
In the next step, it will show the software/platform you've just added.
If you have multiple audience sources, click on the add another source button to include it. Here, we will add another audience source MailChimp and click on next. Choose the right list for the account.
Match the fields accordingly and click on next.
On the next screen, you will see the two audiences you added to the account as shown below.
You can add more lists by clicking on Add another source. When you are done, click on next.
4. Summary
This is the last step before you go live. Here, you can simulate the bridge. There are options when you run it on assimilation mode.
Click on Publish to run the simulation. This will help you see the last execution, the day, the time, the contact has been synced or deleted. It will show you if there are any errors as shown below.
When you click on history of the custom audience you just created, it takes you to a page where you can see all details such as the execution date, duration, status, sync errors, etc. Here, you can adjust the errors to make it right before you publish it.
Here is the video of a step by step method to create a custom audience based on Lifetime value with Leadsbridge.
About Lookalike Audiences Percentage
When creating a Lookalike Audiences on Facebook, you are given a percentage from 1-10% of how many users you want in your audience.

The percentage signifies the portion of Facebook users that look like your custom audience. It is calculated by country. For example, a 1% Lookalike Audiences percentage in the U.S has a reach of about 2 million people. If you want the audience to match 90% of the traits of the custom audience, which is the top 1%, then you will get a small, but a specific audience that is likely to convert to leads.
However, if you prefer to target large sizes such as 10% of the total population of the choice country with the traits of the custom audience, it will give you more reach and less targeted audience. This implies that the higher the percentage, the more the reach and the less the targeted audience.
However, the lower the percentage of the Lookalike Audiences, the highest the degree of similarity to the seed audience even though the reach is small, and the more targeted it is. This means the lower the reach, the more the specificity. However, you need to test different audience sizes to see what works.
AdEspresso carried out an experiment to determine the right percentage of Lookalike Audiences to target in a campaign. They tested three Lookalike Audiences of 1%, 5%, and 10%.
They carried out a 14-day Facebook ad A/B test to discover which of the Lookalike Audiences has the lowest cost per conversion and cost per click (CPC). The goal of the ad was to collect new leads that are similar to the existing audience. They created Lookalike Audiences based on the Custom Audience of past customers. The Lookalike Audiences were targeted to the U.S. This means it includes about 2.1 million people.
The result of the experiment is summarised in the image below.
It is clearly seen that 1% Lookalike Audiences performed the best more than the 5% and 10% audiences.
You can create multiple audiences at a time on Facebook. This allows you to create different audiences and also test them out to see the one that performs the best.
Facebook Lookalike Case studies
1. Moda in Pelle
Luxe Footwear brand Moda in Pelle (Fashion in leather) is a footwear company located in Leeds with branches all across the UK. The company wanted to try the power of social media to increase its activities on Facebook and Instagram and use it to drive online sales. They created Facebook ads strategy with the purpose of using different ad types, formats and audiences that will help propel their customers down the sales funnel.
They ran a series of ads for their audience through the sales funnel with the addition of Lookalike Audiences of their existing customers over the course of a year. They got:
9.5x more sales from Facebook and Instagram

8.5x increase in website
2. Invstr
Invstr is a financial investment app funded by Kerim Derhali to teach young people how to invest with as little as $1. The company wanted to have more users in the international markets at low cost per install.
So, the company created a Facebook ad strategy that involves targeted international Lookalike Audiences similar to its active app users. The results:
2.5x increase in app installs

2.5x increase in registrations

2.5x decrease in cost per install
3. Revolutionrace
Revolutionrace is an online Swedish outdoor clothing specialist founded by Pernilla and Niclas Nyrensten in 2014. The company wanted to use Facebook and Instagram ads to boost brand awareness and increase sales in Sweden, Finland, and Germany.
They used different Facebook products such as Lookalike Audiences to find people similar to their existing customers and custom audiences to engage shoppers who visited their website. The result?
11-point lift in brand awareness in Sweden

7-point lift in purchase intent in Sweden

2.5X incremental return on ad spend in Sweden

9-point lift in brand awareness in Finland

3-point lift in purchase intent in Germany

2X incremental return on ad spend in Germany
Facebook Lookalike Audiences Common questions
How big should a Lookalike source audience be?
The source audience is a list of people collected from the customer list, page, website custom audience, app users and engagement custom audience. Facebook uses the data to create Lookalike Audiences of similar uses in its database that you can target with ad campaigns. The minimum number of the lookalike source audience is 100 users.
According to Facebook, you need about 1,000 to 50,000 people to create an efficient Lookalike Audiences. The quality of the dataset matters as it determines the profitability of the audience. For example, an email list of 1,500 emails of customers who have made purchases from your business is better than an email list of 3,000 subscribers who signed up through your newsletter but have made no purchases.
Emails, although difficult to obtain, have quality data sets that will help you create targeted Lookalike Audiences. However, if you don't have enough emails to create the custom audience, use your website visitors. Instead of broadly targeting all the people that visited your website, segment them into groups of people that view your product pages, as these people have greater intent.
Due to the latest Facebook's rules around data privacy and security, are advertisers still able to upload lists of email addresses?
Yes, advertisers are allowed to upload their email lists to Facebook, provided they comply with the GDPR. GDPR stipulates that data controllers (companies that decide the purpose of how to process the data they collected) must obtain the consent of their subscribers before they can market to them. It doesn't matter where you got the email lists such as from LinkedIn contact, website newsletter subscribers, purchased email lists, scraped email lists from different websites, etc. You need to get their consent before using it on Facebook. You cannot display ads to them on Facebook according to the GDPR law. You can upload and market to the email lists of people who have willingly given you their consent. Also, to stay in the path of compliance to the GDPR law, you must ensure that your email list is continuously updated. If any user unsubscribes, you need to quickly remove them from your list. It shows that they no longer give you the right to market to them.
Can advertisers create a Lookalike Audiences for a location-specific campaign, e.g. a small part of the country?
No, they can't. Facebook only permits advertisers to select from countries or regions. You cannot target by state or city. However, you can layer geotargeting on your Lookalike Audiences.
Do Lookalike Audiences based on my CRM data keep up-dated, as new customers come in?
Lookalike Audiences based on CRM data doesn't update itself on Facebook. You need to ensure that your email list is constantly updated on Facebook to prevent GDPR issues. The only way you can get your list updated is by syncing your custom audiences through a third-party company like Leadsbridge. Leadsbridge created a Custom Audience sync tool that can help to sync your email list with your Facebook ad account. This way, you can keep your email list updated whenever anyone subscribes or unsubscribes from your list. Leadsbridge is GDPR and Privacy-shield compliant. It ensures that your data is hashed in real-time without keeping or storing sensitive data on the platform. This ensures that your list is always updated with people who have given you their consent to be marketed to.
Conclusion
Facebook advertising is a great way to reach new prospects. With Facebook Lookalike Audiences, you can create audiences that have similar traits to your customers. It produces lower ad cost and high conversions which helps to increase return on investments.
In addition, Value-based audiences are more effective when it comes to targeting your high-valued customers. With it, you can create a Lookalike Audiences of high spenders in your business and target them with relevant ads. This increases your revenue and gives you customers you can target again and again.
However, for the value-based audience to work effectively, you need to ensure you choose the right audience size that will work for the campaign. According to AdEspresso, the best converting audience is the 1% audience because they generate cheaper sales and increase your return on investment. But, this varies from one business to the other, therefore, you still need to test the audience and see what works for your business.