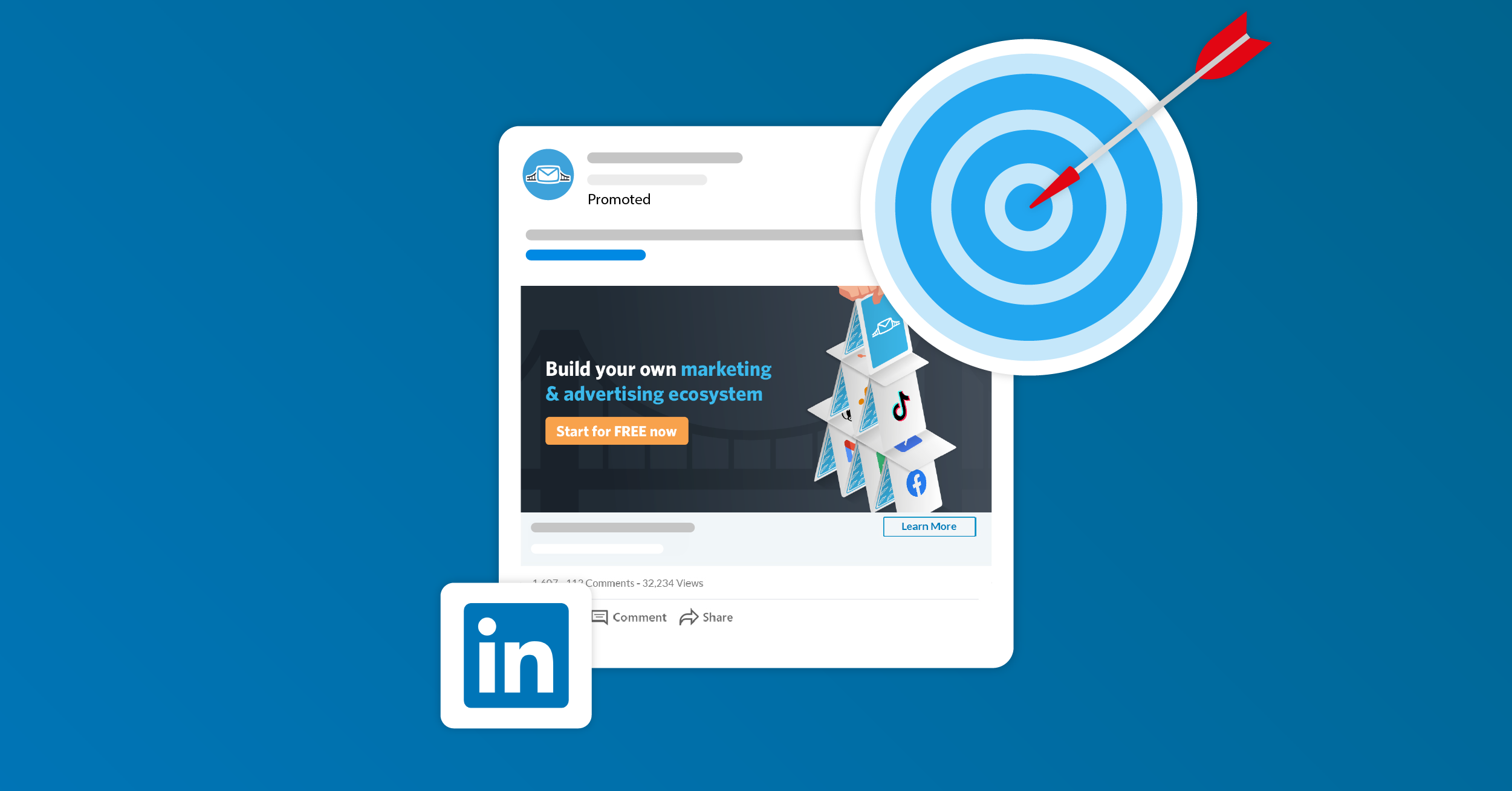 LinkedIn Matched Audiences is a tool that allows businesses to build audiences from email lists, website traffic, and high-value LinkedIn accounts. With it, you can upload a list of companies or contacts you may like to target, retarget people, integrate contacts from a third-party system, and create a lookalike audience.
Facebook and Google both offer similar tools designed to create custom audiences and lookalike audiences.
In this article, you will learn about LinkedIn Matched Audiences and how to use it to improve the efficiency of your campaigns.
Why you should use LinkedIn retargeting options
LinkedIn retargeting helps businesses to reach people that look like website visitors. It uses a piece of code to track people who have been to your website so you can retarget them with ads as they browse on the internet. A study revealed that click-through rates (CTRs) for retargeting display ads can be as high as 10 times better than non-targeted ads. Also, retargeting ads provide a 1,046% increase in trademark search behavior. Other LinkedIn retargeting benefits are:
It allows you to send more highly relevant and personalized content to your audience based on previous actions taken with your brand. For example, if a user visited a product page on your website, you can target the user with exclusive offers related to that product. This will improve your conversion rates. In fact, the more personalized your content is, the higher conversion rates you will get.
2. It can accelerate the buyer's journey from awareness to conversion. Most of the users you are targeting have already interacted with your business, which makes them warm leads. All you need is to recapture their interest with a compelling offer and move them down the buyer's journey in no time.
3. It helps you retain your customers and make more personalized offers to improve Lifetime value. Customer retention increases profits and reduces expenses. A study carried out by Bain & Company revealed that a 5% increase in customer retention correlates with at least a 25% increase in profit. Also, Fundera revealed that a 2% increase in customer retention can reduce costs by as much as 10%.
How to find your target audience on LinkedIn
In order to get your message out to your most ideal LinkedIn target audience, there are different options available. Let's take a look at them.
LinkedIn targeting options
Locations
You can decide to reach potential customers based on where they live. Geographic location is either based on the long-term location specified by the member in their own profile, or by their IP address for short-term visits.
2. Audience attributes
You can also reach your LinkedIn target audience based on the information found in their profiles. These kinds of targeting options include the following data:
Company: which includes further details such as degree of connections, number of followers, growth rate year over year, industry, name, revenue, and size.
Demographics: which include the member's age and gender.
Education: which includes schools, fields of studies and degrees.
Job experience: based on function, level of seniority, job title, specific skills, and years of experience.
Interests and traits: these include groups that the member is associated with, interests – inferred by the member's engagement with specific content – , and traits – based on the member's actions on the platform.
3. Matched Audiences
Matched Audiences allow you to create custom audience segments from lists of contacts in your CRM – or other marketing platform – that you can include in your campaign targeting selections. We are going to go over this tool extensively over the following paragraphs.
What is LinkedIn Matched Audiences?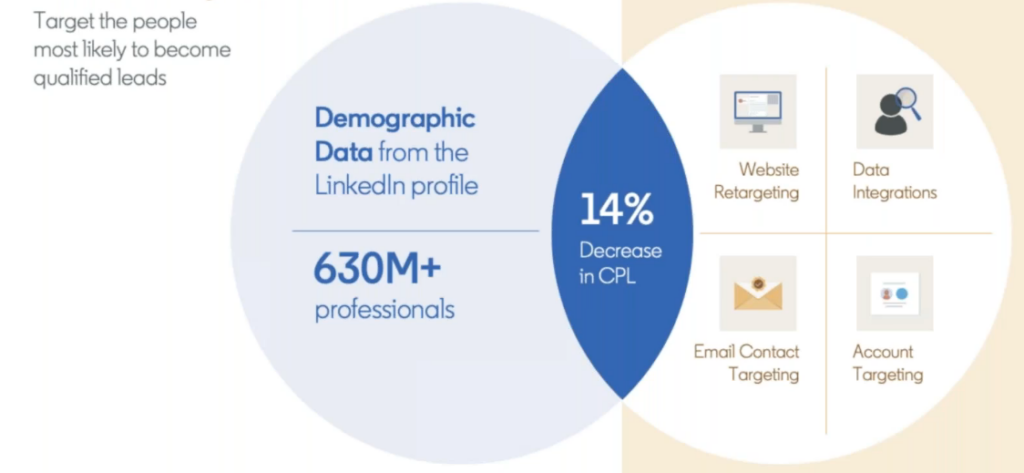 LinkedIn Matched Audiences is a tool that enables you not only to retarget website visitors but also to promote your product and services to contacts from your CRM databases and marketing automation platforms and reach decision-makers at target companies with the account-based targeting feature.
Matched Audiences helps you focus your marketing efforts on the audiences and accounts that are likely to convert. With it, you can manage your audiences in one dashboard and grow your business with lookalike audiences.
LinkedIn Matched Audiences is available for Sponsored Content, Sponsored InMail, and other different LinkedIn ad formats.
LinkedIn Matched Audiences results
LinkedIn created a six-month pilot program that enables 370+ advertisers to create 2000+ campaigns for a beta test.
The result?
The customers using account targeting saw:
A 32% increase in conversion rates after a click and a 4.7% decrease in cost per click with account targeting.
A 37% increase in CTR with contact-based targeting.
A 30% boost in CTR and a 14% decrease in cost per click from website retargeting ads.
How to use LinkedIn Matched Audiences
With LinkedIn Matched Audiences you can create three types of targeting to get the best customers for your business. The first is the website retargeting. With website retargeting you can run a consistent campaign. According to a study, the average website gets up to a 726% increase in traffic after a month of retargeting. With a tag placed on your website you can create audiences by matching the visitors' data to your site.

This data can be used to create a continuous marketing campaign for prospects. For example, you can run a campaign for visitors who visit a particular product page with an offer to increase conversions.
Let's move on to the second option. Contact targeting is great for upselling products or services to leads and customers. According to the LinkedIn case study, they experienced a 37% increase in click-through rate with contact targeting.

Contact targeting produces a high yield on ad spend because the contacts are in the decision-making phase of the buyer's journey.
The last option is account targeting, which helps businesses to reach out to influencers and key decision-makers in companies. In a case study carried out by LinkedIn, they received a 32% increase in post-click conversion rates and a 4.7% drop in post-click cost per conversion. That is a very high conversion rate for businesses targeting decision-makers.

With 58 million companies present on LinkedIn, you can target your products and services to decision makers and influencers in your industry.
Now that you know how to use LinkedIn Matched Audiences, below you will find how to add a matched audience to your LinkedIn campaigns.
How to add a matched audience to LinkedIn campaigns (for both Account and Contact targeting)
The LinkedIn Matched Audiences tool allows you to add matched audiences to your LinkedIn campaign. You can do this in two ways: either by uploading a company or contact list; or through a third-party app.
Uploading a company or contact list
The company or contact list is a list of email contacts of companies. Below is how to upload a company or contact list as a matched audience to your LinkedIn campaign.
a. Click on Advertise on LinkedIn's home page. This will take you to the campaign manager. Select the right campaign group and account name.
b. On the campaign manager, click on Account assets and then click on Matched Audiences.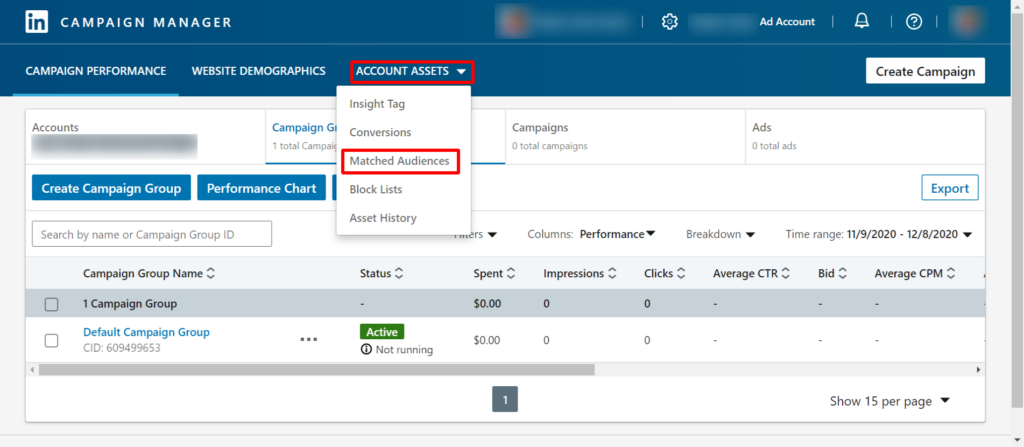 c. Click the Create audience dropdown and click on Company / Contact under Upload a list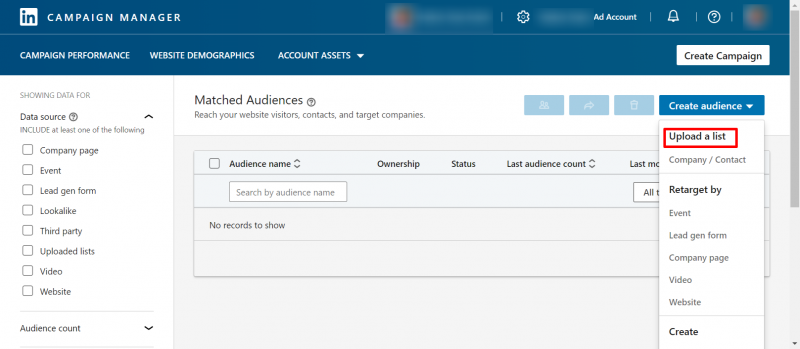 d. Give the audience a name and click on Select list to pick up the CSV file from your computer.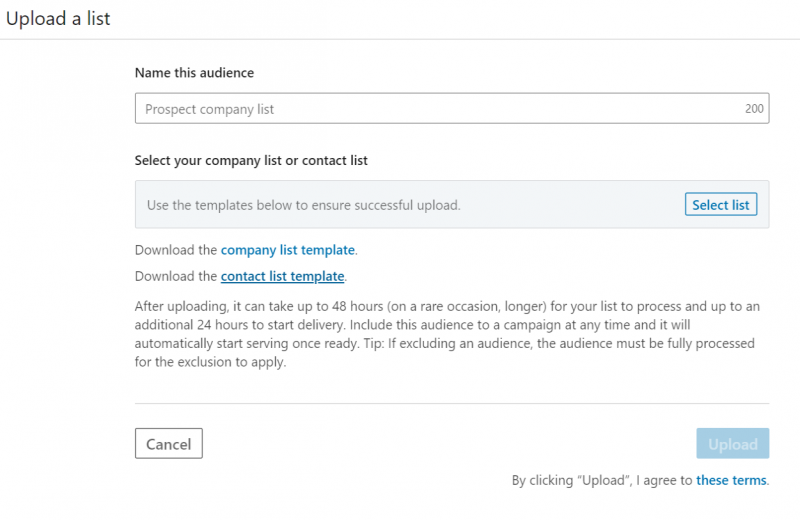 There are two files specified list templates in the image above. The company list template and the contact list template. Use them as appropriate to create your list to make it easy to upload.
e. Upload the saved file from your computer and click on Upload.
Uploading takes about 48 hours to process and 24 hours to start delivery. After that, you can select and add the list to your campaign.
2. Third-party software
LinkedIn allows you to create an audience from emails sent from your contact management platforms such as Mailchimp, HubSpot, and ActiveCampaign. This is done by integrating your contact management platform to LinkedIn through a third-party software like LeadsBridge. LeadsBridge helps you connect your LinkedIn Matched Audiences with your favorite tool with a few clicks. There are over 380 integrations available. Find some of them below.
Integrating through LeadsBridge will help you keep your list automatically and constantly updated. This is particularly useful for large companies with high volume CRM segments. With it, you can create audience segments and use them in your LinkedIn campaigns.
Through LeadsBridge integrations, you can create audience segments and use them for your LinkedIn ads targeting. It also helps you to scale audience-building by automating the task of sending new email addresses as they come into LinkedIn Matched Audiences from your CRM software.
Below is a video showing how to integrate LeadsBridge with LinkedIn Matched Audiences.
How to connect My CRM Example to LinkedIn Matched Audiences | LeadsBridge Documentation
Below is how to set up the LinkedIn retargeting campaigns.
LinkedIn Website Retargeting
The website retargeting feature of the Matched Audiences tool allows you to target LinkedIn users who have been to your website with ads. This is done by defining your target audience and offering them relevant ad content based on the pages they visited, such as the product page, blog pages, or content they viewed on your website.
With website retargeting you can:
Segment website visitors based on the website pages they visited;
Tailor your ad content based on pages visited;
Convert more prospects to paying customers.
How to create a website retargeting campaign
Add the LinkedIn Insight Tag to your website
If you are familiar with the Facebook pixel, you'll notice that the LinkedIn Insight tag is quite similar. Follow these steps from LinkedIn to add it to your website.
2. Create an audience to retarget
On the campaign manager, click on Create an audience to retarget and set up the three rules for tracking.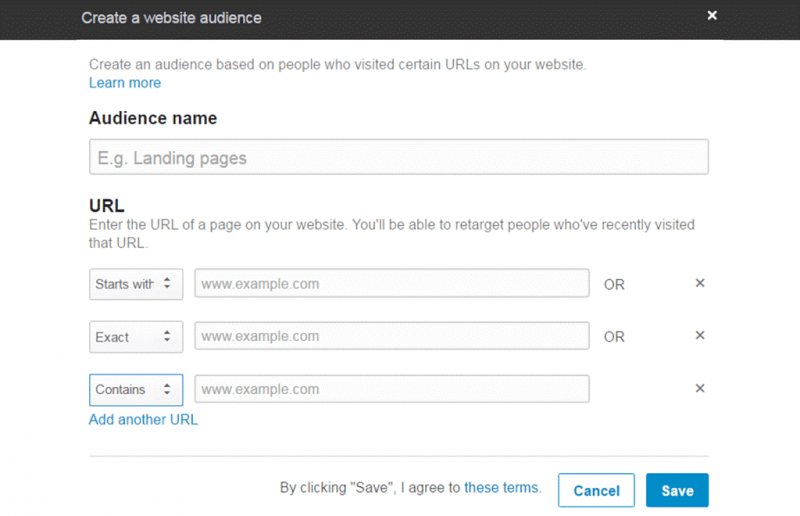 There are three rules as shown in the image above: Starts with, Exact and Contains.
Select Starts with to retarget users who have been to your website using the specified URL;
Select Exact to retarget LinkedIn users who visited the URL you specify;
Select Contains to retarget visitors to URLs that contain a specific string of characters.
Add the website URL according to which visitors you want to retarget.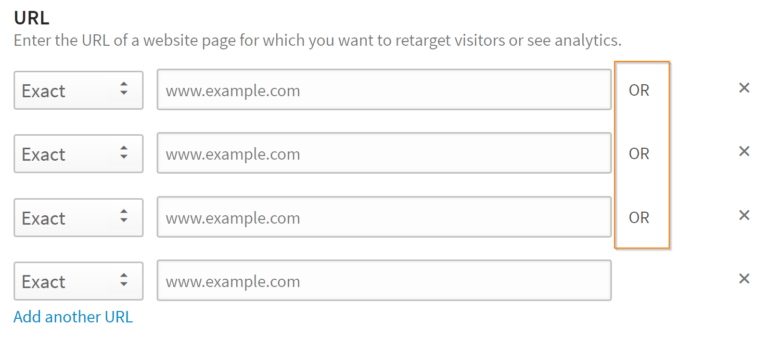 Once you define your URLs, LinkedIn will display ads to anyone who has been to your website in the past 90 days. Consider that you need to have an audience size of 300 to see results and that it may take up to 48 hours.
The second LinkedIn Matched Audiences feature is account-based targeting.
LinkedIn Account targeting
Also known as ABM, LinkedIn account targeting is the second feature you can use in the LinkedIn Matched Audiences. It enables you to target companies amongst LinkedIn pages on LinkedIn. The best advice is to target professionals who make or influence the buying decisions of your targeted accounts. You can do this by combining your target account list with targeting facets such as Job title, Job Seniority, etc. Ensure you don't add too many facets to avoid the risk of hyper-targeting.
This feature enables you to target a list of up to 300,000 companies and target demographics of the companies. With LinkedIn account targeting, you can show ads to the influencers and decision-makers at the companies you want.
How to set up LinkedIn Account targeting
List out your target accounts
You can do this using a spreadsheet. In the first row, write Company name, then type in the names of the company and save it as a .CSV file. See a sample below.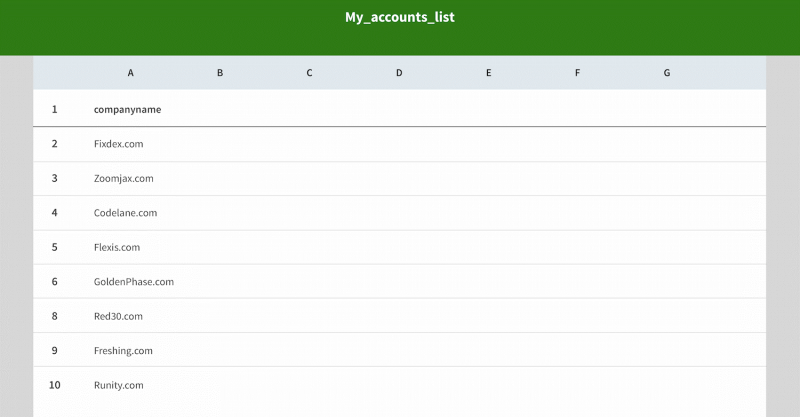 You can download and use LinkedIn templates for company contact lists to get it right and avoid errors.
2. Create your ads for account targeting
Upload your company's list by following the processes outlined above under the section How to add Matched Audiences to LinkedIn campaigns. Once, it is uploaded, LinkedIn will match the companies against the companies on LinkedIn and give you a list of accounts you can target.
The third LinkedIn Matched Audiences is contact targeting.
LinkedIn Contact Targeting
The contact targeting option of the LinkedIn Matched Audiences is similar to the Facebook custom audiences. It requires that you upload the email addresses you want to target on LinkedIn. With the contact targeting option you can:
Upload a list of email contacts to target on LinkedIn;
Contact potential customers, current customers, and unresponsive customers;
Get more conversions.
If you are uploading the contact list manually, the first thing you need to do is to prepare your email list in a spreadsheet. Ensure you format the CSV file with a single column and one email address per row. Use the word email as the first row. LinkedIn allows you to upload about 300,000 email addresses, and you must have at least 300 email addresses on your list.
Alternatively, download the LinkedIn contact list template and add your list to it to make it faster and also avoid errors.
When you are done with the formatting, follow the process outlined under the section How to add Matched Audiences to LinkedIn campaigns above to upload the list of email contacts.
Once you upload the file and click on next, the contact list will be uploaded and matched.
LinkedIn Matched Audiences best practices & tips
Find your target accounts
The best practice you need to follow in setting up your LinkedIn Matched Audiences is to find the right target accounts. Prequalifying your target accounts will help you save time and money. List out the ideal demographics of the clients (age and gender), the company (name, size, and industry), education (degrees, fields of study), job experience (job title, function and seniority, and years of experience), interests (groups and members).
2. Build your audience
Once, you have the target accounts listed out, it is time to build your audience. LinkedIn offers templates for the list in order to avoid errors. Download the template, add your list to it and upload it. Alternatively, you can sync your contact management platform with LinkedIn to upload the list through third-party software such as LeadsBridge. Once the list is uploaded, you can create and deliver ads to targeted accounts and individuals.
3. Don't hyper-target your audience
When starting out with your target audience, the rule of thumb is to use about 50,000 audiences for sponsored content and text ads, and 15,000 for message ads. You will see the estimated reach and a suggested range as you build the audience. This will help you have a wider audience when starting out and as you test the audience and know what works, you can narrow it down to what is working for your business.
4. Run A/B tests on your audiences and campaigns
Test two similar campaigns with different targeting criteria. You can change a few criteria such as skills, job titles, industry, etc. This will help you identify the campaign that works best and how to reach people who will respond faster and better to your campaigns.
LinkedIn Matched Audiences minimum audience size
LinkedIn Matched Audiences' minimum audience size is 300 members according to LinkedIn, and the maximum is 300,000. Location is a requirement for targeting. Therefore, when using LinkedIn Matched Audiences, it is required to have a list of audience size that is more than 300 because location will reduce your audience size. However, if you have a small list of fewer than 300 contacts, you can use multiple lists or create a lookalike audience to get the LinkedIn Matched Audiences minimum audience size for your campaign to start. The larger the contact lists, the better the match rates.
LinkedIn Lookalike Audiences
Once you've created your segment of high-potential converting customers, you can expand on that with another tool: LinkedIn Lookalike Audiences. This tool matches the characteristics of your ideal customers with other members and companies on LinkedIn to help you find and target new professional audiences that are similar to your existing customers, website visitors and target accounts.
LinkedIn Lookalike Audiences uses data such as member profile and company attributes to determine similar characteristics – with an exception for sensitive demographic data such as sex or age, which are not used. What is great about this tool is that the lookalike audience size can be up to 15 times larger than the original audience size, which exponentially expands your reach and therefore increases your potential for conversion.
Obviously, the original Matched Audiences segment is automatically excluded from the new lookalike audience.
LinkedIn and GDPR
The question comes naturally: While handling all this data, how exactly is LinkedIn operating within GDPR restrictions?
The "social" nature of a platform such as LinkedIn makes it clear that, upon signing up to it, users are automatically agreeing to share their own data and in return have access to other fellow users' data for professional purposes.
When this happens, LinkedIn becomes the data controller and processor, and is therefore completely responsible for protecting the personal information of all its members. So, as long as the members are communicating and interacting with each other on LinkedIn – through Matched Audiences and Lookalike Audiences, for example -, LinkedIn and GDPR go happily hand in hand and no laws get breached.
However, the picture changes if you decide to download your LinkedIn contacts and feed them to your email marketing software. When downloading that data from LinkedIn, you automatically become the data controller and are therefore responsible for its protection and GDPR compliance. Keep in mind that any email marketing activity generated from a LinkedIn list of contacts will result in heavy fines and legal proceedings.
LinkedIn Matched Audiences Case studies
Scorpion Healthcare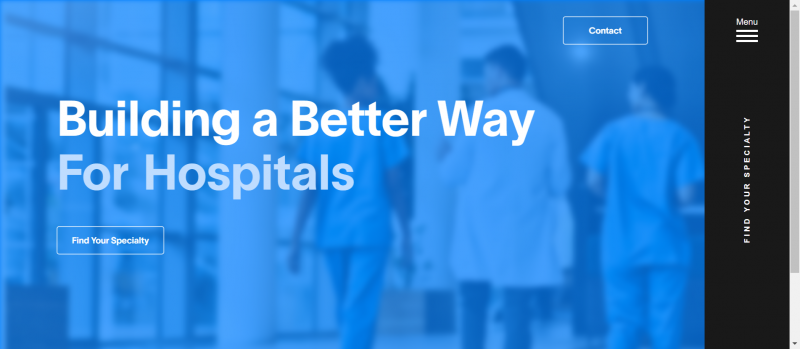 Scorpion healthcare used LinkedIn's audience segmentation and retargeting features to reach out to senior healthcare decision-makers and got high quality leads. The company wanted senior healthcare decision-makers to be aware of its products. So, they created a campaign that allowed them to reach the senior healthcare decision-makers, build relationships, and trust with them, and generate leads and conversions. The company used LinkedIn sponsored content and LinkedIn Matched Audiences tool to target and deliver quality leadership content to prospects and customers. They got 56% in conversions, a 33% reduction in cost per lead, and a 3.14x increase in opportunity-to-customer rate.nted senior health care decision-makers to be aware of its products. So, they created a campaign that allowed them to reach the senior healthcare decision-makers, build relationships, and trust with them, and generated leads and conversions. The company used LinkedIn sponsored content and LinkedIn Matched Audiences tool to target and deliver quality leadership content to prospects and customers. They got 56% in conversions, a 33% reduction in cost per lead, and a 3.14x increase in opportunity-to-customer rate.
Sage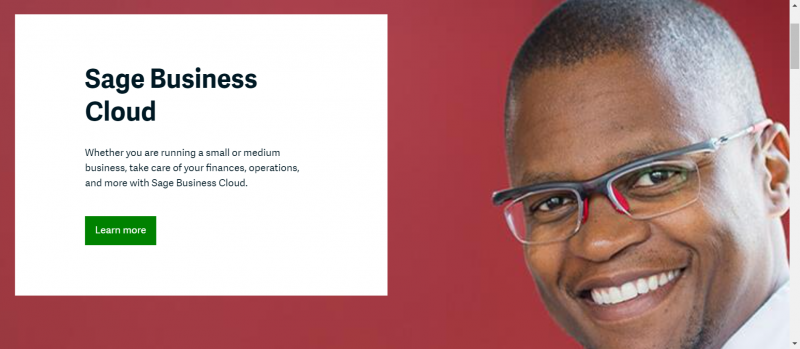 Sage is a company that deals with accounting and payroll software. The company wanted to create awareness for their payroll solutions and withholding tax requirements and offer support for existing customers. They used LinkedIn's retargeting options to engage prospects with a free compliance guide, sponsored content, and landing page to achieve their goals. The campaign generated 700,000 impressions in six weeks, got more leads that exceeded their target by 4x, and reduced cost per lead that was less than a fifth of Sage's previous average CPL.
Hewlett Packard Enterprise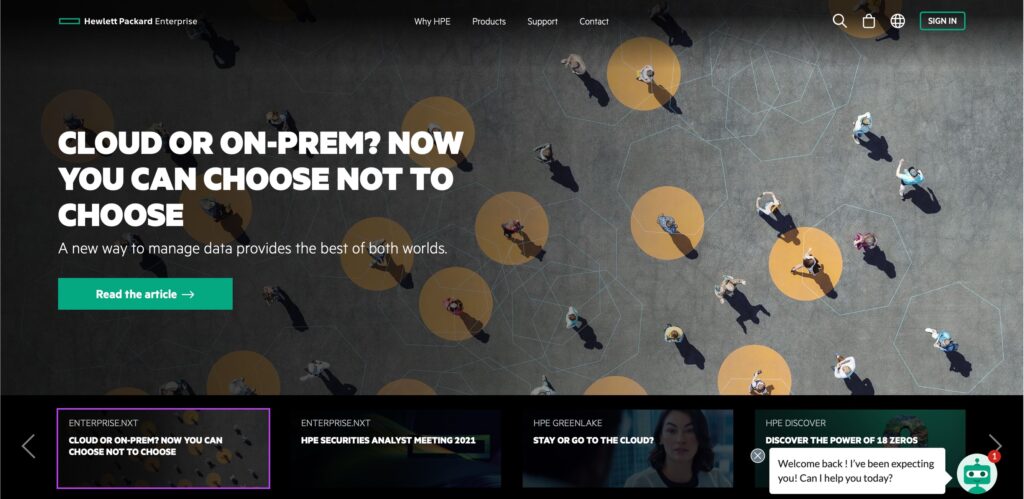 Hewlett Packard Enterprise is a global, edge-to-cloud, Platform-as-a-Service company, built to transform businesses. HPE's goal was to create awareness around the company's new solutions and generate annuity revenue from large enterprise accounts. By leveraging LinkedIn Matched Audiences' unique targeting capabilities, HPE was able to create acustom audience of approximately 1,200 leaders from 450 priority accounts, focusing on key decision-makers it had previously been unable to connect with.
As a result, HPE made 399 new connections effectively engaging leaders from 42% of HPE's target accounts, increased its number of mentions by 21%, exceeded estimated engagement by 250%, had valuable interactions with 215,000 unique professionals.
Zycus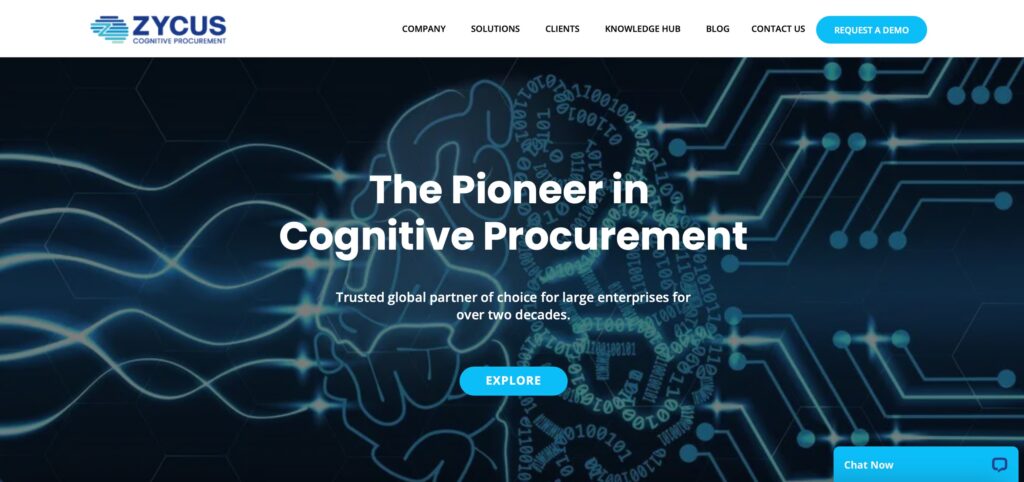 Zycus is a company specialized in procurement technology and advanced solutions that help global enterprises up their delivery game with unique and innovative AI-powered Source-to-Pay and Procure-to-Pay suites across various segments and industries. In order to open up to new opportunities that were presenting themselves in markets across Europe and Asia-Pacific, Zycus resourced to LinkedIn to expand their reach and engagement amongst key decision-makers in these target markets.
Zycus leveraged LinkedIn Matched Audiences to exclude their list of existing customers and engage high-quality lookalike audiences instead. As a result, they generated approximately 460 new leads per month over the corse of 9 months, decreasing their average cost-per-lead to $29, increased MQLs yearly conversions by 150%, and increased ROI by 7.4X on LinkedIn spends.
Conclusion
The LinkedIn Matched Audiences tool offers exciting new capabilities for businesses. It reduces the sales journey and keeps your brand fresh in the minds of prospects with decision making power. It saves valuable time and helps you to achieve better ROI with LinkedIn advertising by making it possible to create audiences from your contacts and showing your ads to any one of its 500 million members.
With LinkedIn Matched Audiences, you can target decision-makers and influencers in your industry or collect their information with lead generation campaigns. You can know how people respond to your ads. You will see the number of views and clicks. These features have turned LinkedIn into a powerful competitor against Facebook or Twitter.
Explore all the available integrations for LinkedIn Matched Audiences by LeadsBridge.