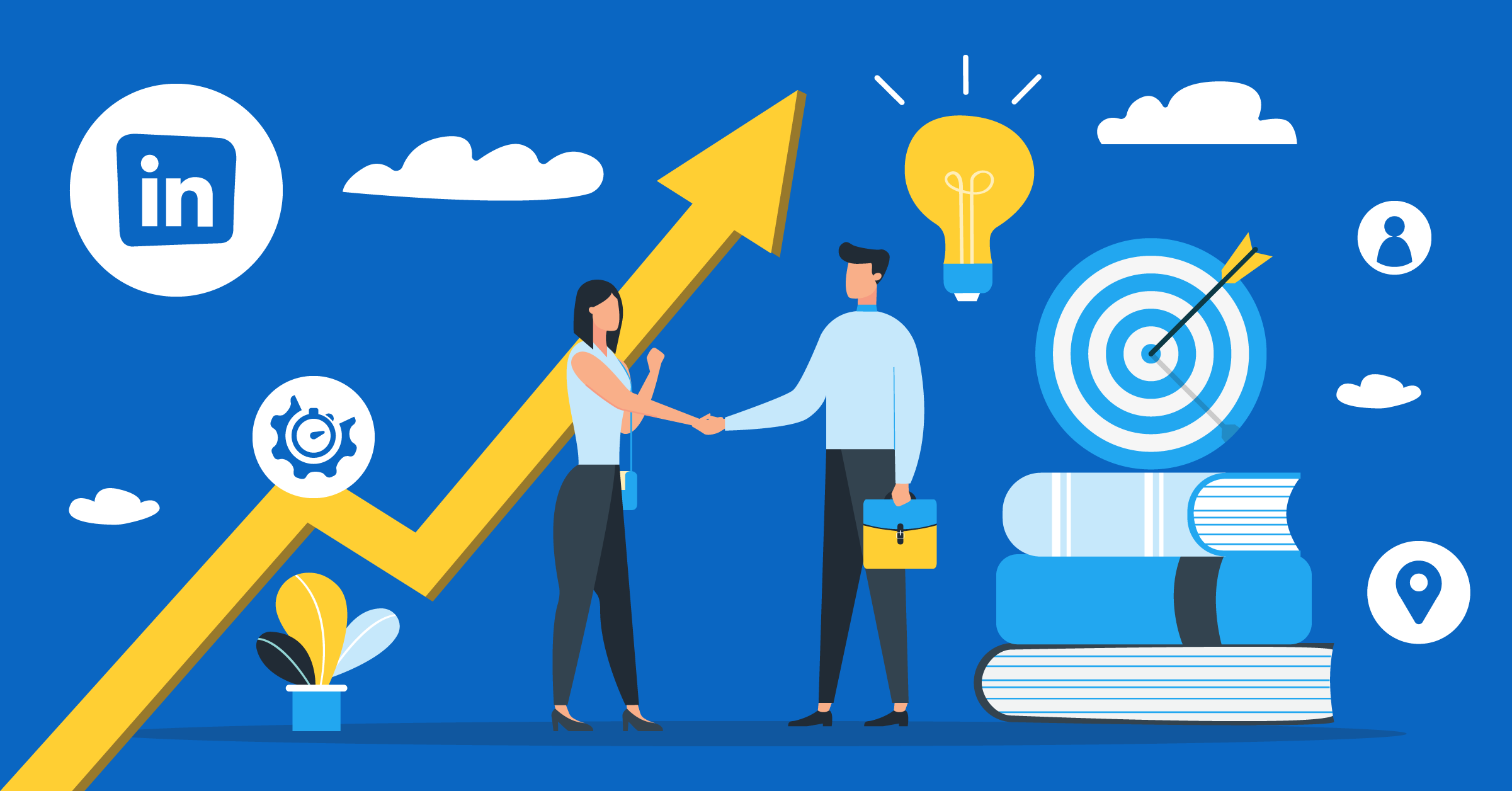 As a leading platform in B2B marketing, LinkedIn offers a suite of advertising tools, including LinkedIn Matched Audiences. This tool allows businesses to build audiences, upload a list of companies or contacts they want to target or retarget, integrate contacts from a third-party system, and create lookalike audiences.
But how can you use this tool to achieve true full-funnel marketing?
In this article, you'll discuss LinkedIn Matched Audiences and how to use it to improve your campaigns' efficiency. Additionally, we'll introduce some automation integrations that you can use to take your LinkedIn advertising to the next level.
Why you should use LinkedIn retargeting options
Statistics show that click-through rates (CTRs) for retargeting display ads could be as high as 10 times more successful than non-targeted ads. Also, the retargeting ads provide a 1,046% increase in trademark search behavior. These are all study-backed proofs of why you need to include retargeting in your marketing mix.
LinkedIn retargeting also allows you to:
1. Send highly relevant and personalized content to your audience.
For example, if a user has visited a product page on your website, you can target the user with exclusive offers related to that product. This will improve your conversion rates immensely; the more personalized your content, the higher your conversion rates.
2. Accelerate the buyer's journey from awareness to conversion.
If most of your target users have already interacted with your business, they are naturally warm leads. All you need is to rekindle their interest with a persuasive offer and move them further down the sales funnel.
3. Retain your customers through personalized offers to improve customer lifetime value.
Customer retention increases profits and reduces expenses. A study revealed that a 5% increase in customer retention could boost a company's revenue by 25-95% and reduce its lead acquisition costs. Additionally, the 20/80 Pareto Principle explains that only 20% of customers are the source of 80% of a given company's profits.
What is LinkedIn targeting?
When running ads or Sponsored Content on LinkedIn, you can launch campaigns that are specially optimized for audience targeting. This process is done by establishing various criteria, such as company size, number of employees, job titles, etc.
All these factors combined make LinkedIn an ideal medium for running flexible marketing_ whether for advertising, content marketing, or networking.
If you are new to advertising on LinkedIn, find out how to create your first LinkedIn ad campaign here.
After understanding what LinkedIn targeting is, it's time to implement LinkedIn's targeting features for your campaigns.
Why use LinkedIn retargeting ads?
​​LinkedIn allows you to run ads and retarget members who have interacted with it. You can retarget your audience by website, video ads, Lead Gen Forms, company page, single image, and LinkedIn Event.
LinkedIn retargeting ads target audiences using segments of the individuals with appropriate actions or conversions, for example, a video ad's completion quartile or engagement with a text ad.
Advertisers can use these retargeting campaigns built around users' behavior to achieve various marketing objectives. Have a look at these ads, for instance.
In this ad by Euronext Group, you can see a strong social proof with a solid content for retargeting campaigns. Additionally, its design and copy could target all the LinkedIn contacts actively looking for positions, young members that want to grow in their current fields, and so on.
Here's another retargeting example by the Fiction Writer Group. This ad uses retargeting based on location. The content is designed to reach a specific set of potential customers who are likely to have already expressed interest in a particular area or users within the specific location relevant to their business.
How to find your target audience on LinkedIn
To get your message across to your ideal target audience, use the following criteria to create target personas and, thus, meaningful connections with your prospects.
LinkedIn targeting options
1. Locations
Users often expect to hear from brands in their geographical location. So to segment your LinkedIn target audience by location, you'll need to use the data specified by the member in their profiles or their IP address for short-term visits.
2. Audience attributes
You can also reach your LinkedIn target audience based on other information found in their profiles:
Company info: Degree of connections, number of followers, growth rate year over year, industry, and the company's name, revenue, and size.
Demographics data: Age, gender, etc.
Education data: Schools, field of studies, and degrees.
Job experience: Field of expertise, level of seniority, job title, specific skills, and years of experience.
Interests and traits: Group associations, content engagement, and other personal and social traits based on the member's interactions on the platform.
3. Matched Audiences
LinkedIn Matched Audiences allows you to create custom audience segments using lists of contacts in your CRM or marketing apps.
LinkedIn audience insights
LinkedIn audience insights provide metrics that help track analytics and your campaign's performance. This tool allows you to access useful metrics, such as engagement rates, for the content or ads you post. And since engagement is the deciding factor in conversion performance, this is crucial to your overall marketing success.
For improved tracking of your audience engagement, LinkedIn allows you to find audiences with a high engagement rate, track the performance of various content and topics, and test the strength of your metrics.
Want to increase your B2B audience engagement? Learn all about tracking LinkedIn's audience insights and metrics here.
What is LinkedIn Matched Audiences?
Think of the LinkedIn Matched Audiences as Facebook's Custom Audiences feature. It's designed for retargeting website visitors and promoting products and services to contacts from CRM databases and marketing and sales management tools.
As an account-based targeting feature, it enables you to reach your audience with maximum efficiency by narrowing your marketing efforts to the audiences who are likely to convert. It also helps better manage your LinkedIn target audience and target different users based on their traits using Lookalike Audiences.
LinkedIn Matched Audiences is available for Sponsored Content, Sponsored InMail, and other LinkedIn ad formats.
LinkedIn Matched Audiences' minimum audience size
LinkedIn Matched Audiences' minimum audience size is 300 members, and the maximum is 300,000. Besides size, location is a requirement for targeting. Since the location will naturally reduce the number of your audience, some marketers find it difficult to meet this requirement.
However, if your list is smaller than 300 contacts, you can still use multiple lists or create Lookalike Audiences to achieve the LinkedIn Matched Audiences' minimum audience size for your campaign.
How to use LinkedIn Matched Audiences
With LinkedIn Matched Audiences, you can create three types of targeting.
The first is website retargeting, allowing you to run a consistent campaign through a simple tag on your website. An average website gets up to a 700% increase in traffic after running retargeting campaigns.
Contact targeting is the next option for creating matched audiences and is best for upselling products or services. It often delivers a high yield on ad spend because the contacts are in the final stage of the buyer's journey (decision-making phase).
The third option is account targeting, which helps businesses reach out to influencers and key decision-makers in companies.
How to add a matched audience to LinkedIn campaigns (for both Account and Contact targeting)
You can add matched audiences to your campaigns by uploading a company or contact list, or through a third-party app.
1. Uploading a company or contact list.
The company or contact list includes email contacts of individuals you can reach out to. Here's how to upload a company or contact list as a matched audience to your LinkedIn campaign.
1. Click on "Advertise" on LinkedIn's home page. This'll take you to the "Campaign Manager". Select the right campaign group and account name.
2. Select "Plan" on the left menu, then click on "Audiences".
3. Click on the "Create audience" button. Under "Upload a list", find and select "Company/Contact".
4. First, you'll need to "Name" the audience, and define the "List type". Once completed, click "Select list".
Then, you'll have to upload a saved file from your computer. Remember to use LinkedIn's formatting (company list template and the contact list template) before uploading your lists.
5. Once done, click "Upload".
Uploading takes about 48 hours to process and 24 hours to start delivery. After that, you can select and add the list to your campaign.
2. Use an automation partner & data bridges
CRM integrations
LinkedIn also allows building an audience from the emails sent from your CRM platforms such as Mailchimp, HubSpot, and ActiveCampaign. This is done by creating a CRM integration with LinkedIn through an official partner like LeadsBridge.
Using our data bridges helps you to streamline your data sync processes and keep your list up to date automatically. This is particularly useful for large companies with high-volume CRM segments.
Contact management platform integrations
Another option is using contact management platform data. To build a custom audience by uploading your email address lists or using your own data from platforms like Marketo, you just have to have to connect both automatically.
Create your LinkedIn Matched Audiences-Marketo through LeadsBridge. Then, you can use a Marketo static list or smart list as a LinkedIn audience segment. By doing so, you can automate the entire process, including list updates and other data flows between the two apps.
Other useful data bridges
With LeadsBridge, you can connect LinkedIn with your favorite marketing tools in just a few clicks. We offer over 380 integrations, offering you a wide range of easy-to-use integrations to choose from. You can also get tailor-made integrations to automate the exact workflows you are looking for.
Another popular LinkedIn integration is with the leading pipeline management software Pipedrive:
Our platform helps you to scale audience-building by automating the task of sending new email addresses to LinkedIn Matched Audiences from your marketing and sales software.
Get your $500 LinkedIn Ads credit with LeadsBridge
LeadsBridge customers can now take advantage of a $500 ad credit from LinkedIn. This offer is available for new LinkedIn Ads accounts, as well as for existing accounts that have not been active in the last 90 days.
To access this offer, simply follow these steps:
Sign up for a free LeadsBridge account.
Create a new LinkedIn Ads account on the LeadsBridge platform or connect your existing account.
Start running LinkedIn Ads and syncing lead data with LeadsBridge.
To activate the offer, you must spend at least $500 on LinkedIn Ads. Once you reach this amount, you will receive a $500 LinkedIn Ads credit to use on your campaigns. Don't miss out on this opportunity to create a new LinkedIn Ads account and take advantage of this offer.
Create your new LinkedIn Ads account today with LeadsBridge!
LinkedIn website retargeting
The website retargeting feature enables you to target LinkedIn users who visited your website through LinkedIn ads. You can leverage their interaction history data (product and blog pages, or content they viewed on your website) to target them with relevant ads.
With the website retargeting feature, you can:
Segment website visitors based on the website pages they visited;
Tailor your ad content based on their page visit history;
Convert more prospects to paying customers.
How to create a website retargeting campaign
To create retargeting campaigns, you'll need your audience's interaction history, which you can record by adding the LinkedIn Insight Tag to your website.
The LinkedIn Insight tag has the same function as the Facebook pixel. Follow the set-up direction by LinkedIn to add this JavaScript code to your website.
Installing the tag
1. Sign in to your ad account and select "Advertise" on your homepage.
2. Find "Analyze" on the left menu, then select "Insight tag" from the drop-down menu.
3. Select "Create Insight Tag" to install your tag. Here, you'll also have to select the installation method:
If you are adding it yourself, copy the full code to add it to your website.
Creating the audience
1. On the "Campaign Manager", click on "Plan" and select "Audiences" from the drop-down menu.
2. Click on "Create audience" and under "Retarget by", select "Website".
3. Add in all the requested details and click "Agree & Create".
There are three URLs to fill in, as shown in the image above: starts with, equals, and contains.
Select starts with to retarget users who have been to your website using the specified URL;
Select equals to retarget LinkedIn users who visited the URL you specify;
Select contains to retarget visitors to URLs that contain a specific string of characters.
You can also add additional website URLs according to which visitors you want to retarget.
Once completed, LinkedIn will display ads to anyone who has been to your website in the past 90 days (or the engagement duration you selected). Consider that you need to have an audience size of 300 (at least) to see results.
LinkedIn contact targeting
Advertisers can achieve a 37% increase in click-through rate with contact targeting. It requires that you upload the email lists you want to target on LinkedIn. With the contact targeting option, you can:
Upload a list of email contacts to target on LinkedIn;
Contact potential, current, and unresponsive customers;
Get more conversions.
If uploading the contact list manually, you'll need to prepare your email list in a spreadsheet with a single column and one email address per row.
It's recommended to use the word email as the title of the first row. LinkedIn allows you to upload up to 300,000 email addresses, with an obligatory minimum of 300 email addresses on the list.
Alternatively, download the LinkedIn contact list template and format your list correctly.
Follow the process mentioned under "How to add Matched Audiences to LinkedIn campaigns" to upload the list of email contacts.
You can also learn more about how to download leads from LinkedIn here.
Leverage LinkedIn's email targeting through automation
When running contact retargeting campaigns, automation can help you get the most out of your ads. Leadsbridge helps you make the most of LinkedIn's email targeting by enabling you to:
Create a customized audience by securely uploading your email address lists and automatically connecting to your contact management platform;
Tailor and deliver suitable content by having a complete view of your marketing efforts;
Increase your conversions using your in-market audience data by streamlining data transfer between your marketing apps with LinkedIn.
LinkedIn account targeting
LinkedIn account targeting enables you to target companies on LinkedIn pages or the professionals who make or influence the buying decisions of these targeted accounts.
A case study released by LinkedIn showed that this feature brings about a notable 32% increase in post-click conversion rates and a 4.7% drop in post-click cost per conversion.
And with 59 million company profiles on LinkedIn, you can advertise your products and services to a large collection of decision-makers and influencers in your industry.
You can run account-based marketing (ABM) campaigns by combining your target account list with targeting facets such as Job title, industry, etc. However, ensure you don't add too many facets to avoid hyper-targeting.
Setting up LinkedIn account targeting
1. List out your target accounts.
You'll need to prepare your lists using a spreadsheet. In the first row, write "Company name", then type list the names of the company in the column below. See a sample below.
You can also download LinkedIn templates and use them when creating the company contact lists to follow the exact format and avoid errors.
2. Create your ads for account targeting.
Once you have your CSV file ready, upload your company's list by following the steps mentioned under "How to add Matched Audiences to LinkedIn campaigns". After that, LinkedIn follows a similar process by matching the companies against other companies and giving you a list of accounts you can target best.
LinkedIn Matched Audiences' best practices & tips
1. Find your target accounts.
When setting up your LinkedIn Matched Audiences, you'll need to find the right target accounts. Pre-qualify your target accounts and list the ideal demographics (name, gender, company, education, job details, interests, etc.) to save time and money.
2. Build your audience.
Download LinkedIn templates and add your list to avoid formatting errors. Alternatively, use automation; you can integrate LinkedIn with your contact management platform to automatically upload the list through third-party software such as LeadsBridge.
Book a call to discover how you can automate your data sync to and from LinkedIn.
3. Don't hyper-target your audience.
To get results with the target audience, LinkedIn recommends using about 50,000 audiences for Sponsored Content and text ads, and 15,000 for InMail ads. This'll help reach a wider audience right at the start, and to know what works best through testing and analysis. Then, you can narrow your campaign's focus on result-driven factors.
4. A/B tests your audiences and campaigns.
On LinkedIn, A/B testing means comparing two different campaigns you want to run and seeing which one performs better.
For A/B tests, your audience should be split in half; one half sees one ad, and the other half sees the other. Then, you can compare results from the two groups to determine which ad yielded better results.
5. Audience targeting Add-on
For any scaling company, Custom Audience segments are considered an essential part of marketing strategies and campaigns. For instance, using Facebook Custom Audiences integrations can help you sync the data of your existing audiences among people across all meta products.
On the other hand, Google Customer Match integration boosts your audience targeting when advertising on Google, based on the lead data collected in your database. Similarly, LinkedIn Matched Audiences integrations help you create high-converting audience segments.
These integrations offer many advantages. But then again, there's always the problem of audience size-price ratio as your business grows. That's why LeadsBridge has introduced a new solution:
This new customized solution is designed to help our clients engage and advertise to more leads affordably. You can activate the audience counter on your current plan by getting in touch with our sales team: Book a call today.
6. LinkedIn Lookalike Audiences
Once you've created your segment of high-potential converting customers, you can expand on that with another tool: LinkedIn Lookalike Audiences.
This tool matches the characteristics of your ideal customers with other members and companies on LinkedIn to help you find and target new audiences that share similar attributes to your existing prospects.
LinkedIn Lookalike Audiences uses data such as member profiles, and company attributes to determine similar characteristics – except for sensitive demographic data, which are prohibited, such as sex or age.
Another advantage is that the lookalike audience size can be up to 15 times larger than the original audience size, which rapidly expands your reach and therefore increases your potential for conversion. Obviously, the original Matched Audiences segment is automatically excluded from the new lookalike audience.
7. LinkedIn and GDPR
With the constantly evolving customer-privacy landscape, you might wonder, how exactly is LinkedIn operating within GDPR regulations and policies?
The "social" nature of a platform such as LinkedIn makes it clear that, upon signing up, users automatically agree to share their own data. In return, they'll have access to other fellow users' data for professional purposes.
LinkedIn is the data controller and processor and, therefore, completely responsible for protecting the personal information of all its members. As long as the members communicate and interact with each other on LinkedIn – through Matched Audiences and Lookalike Audiences, for example – LinkedIn and GDPR go happily hand in hand, and there are no violations of the law.
However, this changes if you decide to download your LinkedIn contacts and feed them to your email marketing software. When downloading that data from LinkedIn, you automatically become the data controller and are therefore responsible for its protection and GDPR compliance.
Keep in mind that any email marketing activity generated from a LinkedIn list of contacts will result in heavy fines and legal proceedings.
More of LinkedIn's marketing features
In addition to customer match, engagement insights, and LinkedIn metric tracking tools, the platform offers other features to improve your marketing experience.
LinkedIn Offline Conversions API
The LinkedIn Offline Conversions API works by integrating your CRM with LinkedIn Ads. This helps to collect data related to your offline conversions, such as website visits or in-store purchases, and sync it with your LinkedIn Ads account.
By doing so, you can track the performance of your LinkedIn Ads campaigns accurately, measure the ROI of your advertising spends, and optimize your campaigns to yield better results.
With LeadsBridge, you can set up the LinkedIn Offline Conversions API within minutes, without the need for any technical knowledge or coding skills. The API supports multiple CRM platforms, including Salesforce, HubSpot, and Zoho CRM, among others.
Learn more about LeadsBridge's all-in-one automation solution for your data management needs.
LinkedIn Audience Network
The LinkedIn Audience Network is a native advertising solution that enables businesses to promote their ads on high-quality, brand-safe websites, resulting in higher engagement rates and improved Return on Advertising Spend (ROAS). The network comprises over a million desktop and mobile websites, providing advertisers with a wealth of options when it comes to targeting their audience.
Reach a wider audience by extending your LinkedIn Sponsored Content ads to professionals who are active on our Audience Network, and scale your message with additional reach based on a variety of different criteria such as job title, company size, industry, and location. This ensures that your ads are being shown to a highly targeted and relevant audience, which increases the likelihood of them converting into leads or customers.
LinkedIn Lead Gen Forms
Lead generation is the main driving force of any marketing campaign. This lead acquisition process must also be from a reliable source to guarantee high-quality leads that are worth your efforts. Nevertheless, generating good leads is challenging for about 65% of businesses.
To address this pain point, LinkedIn Lead Gen Forms was introduced to help marketers generate massive targeted leads for their businesses. Statistics show that LinkedIn Lead Gen Forms have an average conversion rate of 13%, which is five times higher than the average conversion rate of landing pages.
With LeadsBridge's Lead Gen Integration, you can increase your conversions even more. These data bridges help you transfer the info between any point of your marketing stack automatically and in real time. You can then run timely follow-ups and make your campaigns 21x more effective.
Pardot-LinkedIn integration is one of the most popular data bridges. Here's how to set up LinkedIn Lead Gen Forms & Pardot integration through LeadsBridge.
Learn to connect LinkedIn lead generation forms to your favorite marketing tools.
LinkedIn Events
There's never an event without attendees. LinkedIn Events is a community-centered tool that helps create and promote professional events (meetups, online workshops, seminars, etc.) for both ordinary LinkedIn members and advertisers.
While it allows marketers to host better events and grow their businesses, it helps LinkedIn users find and join communities, network, and learn new skills.
All in all, this feature enables you to announce your event to an extensive target audience through an event ad campaign. LeadsBridge offers integrations to connect LinkedIn Registration Forms with your preferred email marketing or CRM platform:
Discover more about LinkedIn Events and how to set up your own LinkedIn Event.
What to take away from this?
The LinkedIn Matched Audiences tool offers exciting features for businesses. It reduces your advertising costs and extends your brand's reach to prospects with decision-making power. It also helps you to achieve better ROI and create a variety of high-converting audiences from your contacts.
With LinkedIn Matched Audiences, you can know how people respond to your ads through metrics such as the number of views and clicks. It's worth mentioning that these features have turned LinkedIn into a powerful competitor against Facebook or Twitter.
Explore all our integrations between LinkedIn Matched Audiences & your favorite apps.