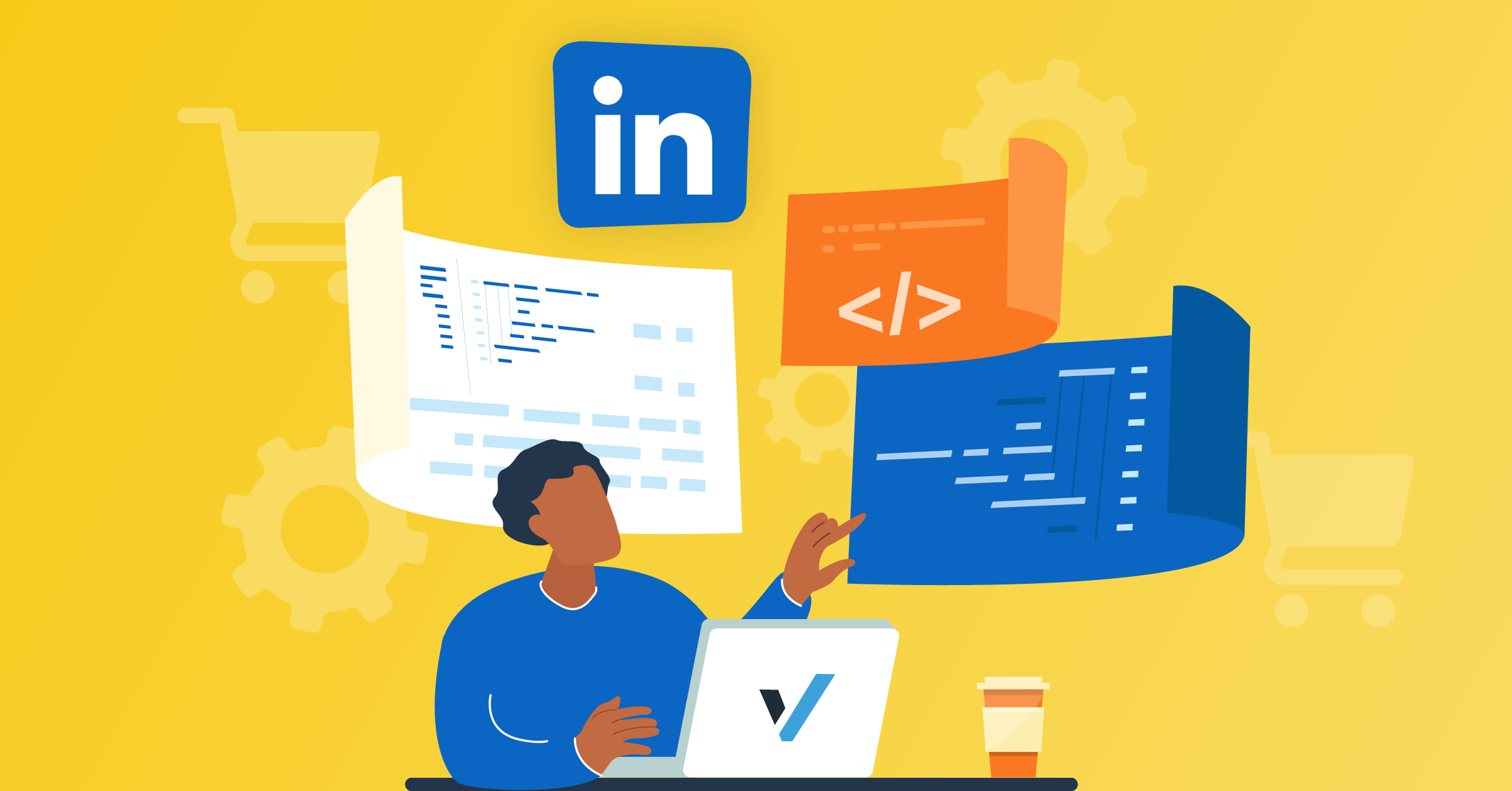 In today's fast-changing world of digital marketing, it is essential for marketers to stay ahead of the curve. One of the most powerful tools available to boost your LinkedIn marketing campaigns is the LinkedIn Insight Tag, also known as the LinkedIn tracking pixel or LinkedIn pixel. By using this cutting-edge tool, you can significantly increase your ROI and optimize your campaigns to achieve maximum results.
The LinkedIn Insight Tag provides a wealth of valuable information that can help you better understand your audience and track their behaviors across your website. With this tool, you can gain insights into which campaigns are working and which ones are not, so you can adjust your strategy accordingly and make data-driven decisions.
During this season of budget cuts, it is more important than ever to maximize your marketing efforts and get the most out of every campaign. With the LinkedIn Insight Tag, you can drive better results and achieve your goals faster and more efficiently.
In this comprehensive guide, we'll walk you through the process of setting up the tag and explain its essential role for marketers. Whether you're a seasoned pro or just starting out, this guide has got you covered.
What is the LinkedIn Insight Tag and why is it important?
The LinkedIn Insight Tag or LinkedIn tracking pixel is a JavaScript code that you can integrate into your website to track user interactions and collect valuable data about your website visitors. This data includes insightful information such as the pages they visited, the duration of their visits, and the actions they performed on your site.
This valuable information can enhance your understanding of your audience, enable you to optimize your marketing campaigns effectively and empower you to make well-informed decisions regarding your LinkedIn ad campaigns.
Here's why the LinkedIn Insight Tag is crucial.
Precise audience targeting
With the tag in place, you can track user interactions and use this data to create highly targeted marketing campaigns. This means your ads reach the right people, increasing the likelihood of conversion.
Conversion tracking
Track conversions and make data-driven decisions to optimize your ad campaigns for better results. By tracking these conversions, you can better understand which aspects of your campaigns are most effective and adjust your strategy accordingly.
Retargeting opportunities
By tracking website visitors, you can retarget them with LinkedIn ads. This is a powerful way to remind potential customers about your products or services and encourage them to take action.
Informed decision-making
Gain insights into your audience's behavior, enabling you to create more effective ad content and marketing strategies.
How does the LinkedIn Insight Tag work?
Understanding how the LinkedIn tracking pixel works is the first step to making the most of its capabilities. The LinkedIn Insight Tag collects data from your website using first-party cookies. These cookies track user interactions and gather information about website visitors. The data collected is then used to create customized audiences for ad targeting, track conversions, and can also be used for retargeting purposes.
Data collection
The tag collects data about visitors to your website, such as page views, interactions, and conversions. This data is crucial for understanding your audience and measuring the success of your campaigns.
First-party cookies
LinkedIn uses first-party cookies to store information about website visitors. These cookies are placed on the visitor's browser when they land on your site. They help track their journey and interactions.
Tracking user interactions
The tag tracks specific user interactions, such as when someone views a page, completes a form, or makes a purchase. This data is then sent back to your LinkedIn ad account.
How to set up a LinkedIn Insight Tag
Now that you understand why the LinkedIn pixel is essential and how it works, let's get into the nitty-gritty of setting it up on your website. Follow these step-by-step instructions.
Step 1: Access Campaign Manager
Log in to your LinkedIn Campaign Manager account.

Step 2: Create a new Insight Tag
Click on "Account Assets" and select "Insight Tag" from the drop-down menu.
Click "Create Insight Tag."

Step 3: Configure your Insight Tag
Name your Insight Tag for easy reference.
Choose whether you want to track all website pages or specific ones.
Set the data-sharing options according to your preferences and GDPR compliance.
Click "Save."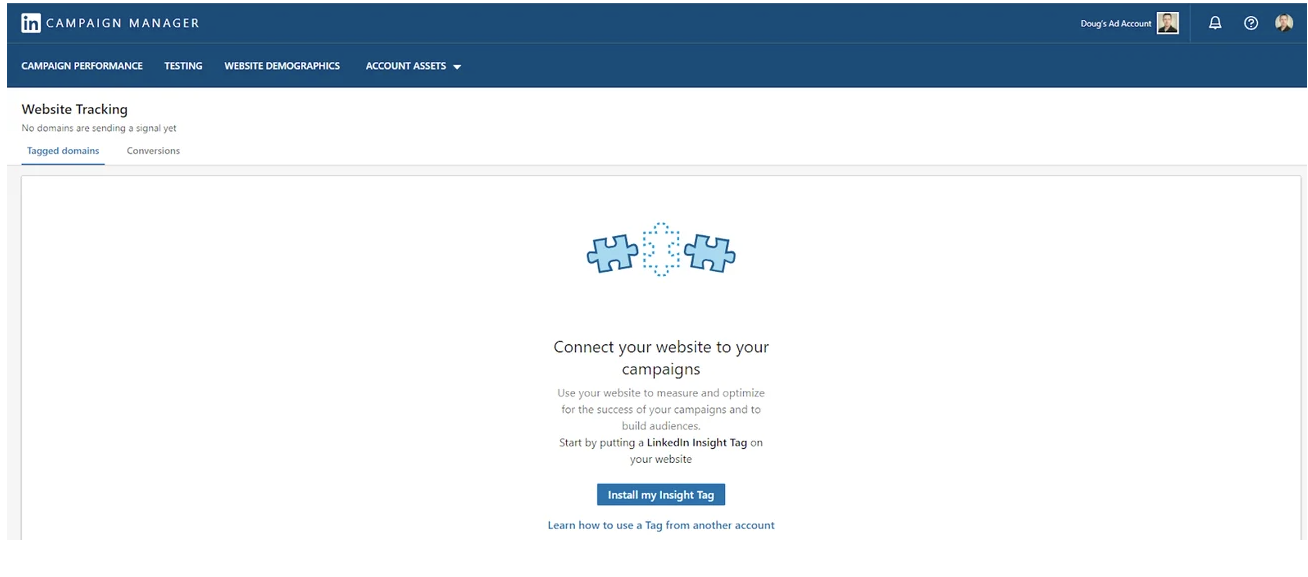 Step 4: Install the tag on your website
You'll receive a code snippet. Copy this code.
Paste the code into the header of your website, just before the closing </head> tag. If you're not comfortable with code, consult your web developer or use a tag manager like Google Tag Manager.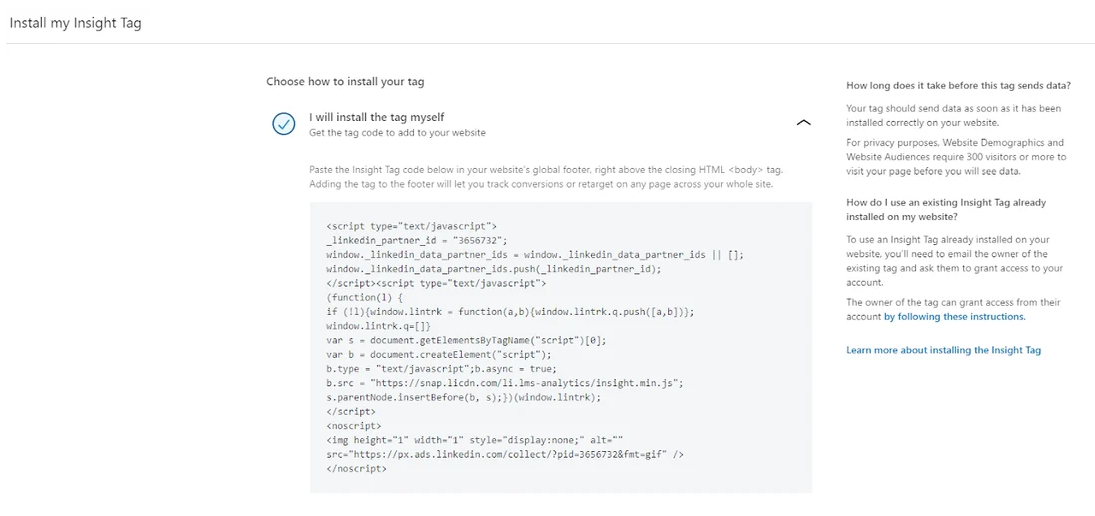 Step 5: Verify your tag
Return to LinkedIn Campaign Manager and click "Next" in the setup process.
LinkedIn will verify if the Insight Tag is installed correctly on your website.
Step 6: Start collecting data
Once the tag is verified, it will start collecting data from your website visitors.
How to check if the LinkedIn Insight Tag is working
It's essential to ensure that your Insight Tag is working correctly to make informed decisions about your ad campaigns. Follow these steps to verify its functionality:
Step 1: Campaign manager
Log in to your LinkedIn Campaign Manager account.
Step 2: Navigate to the Insight Tag page
Click on "Account Assets" and select "Insight Tag."
Step 3: Check for activity
You should see data about your website visitors' activity, including page views, conversions, and more.
This confirms that your Insight Tag is working as intended.
LinkedIn Insight Tag and GDPR compliance
When it comes to tracking pixel usage on LinkedIn, there are understandable concerns surrounding GDPR (General Data Protection Regulation) and other cookie-related laws. However, it's important to note that using LinkedIn Tag is compliant and secure as long as certain precautions are taken.
As a responsible marketer, you have the ability to configure data-sharing options during the tag setup process to ensure compliance with GDPR and other cookie-related laws to safeguard your users' privacy and maintain transparency.
LinkedIn has taken measures to ensure compliance with GDPR by creating a feature that allows you to enable a consent message for users. This option can be found in the "Advanced Settings" section of your Insight Tag settings. By turning on GDPR compliance and customizing the message visitors will see, you can rest assured that you are adhering to all regulations.
Overall, by utilizing LinkedIn Tag, you can successfully track your website visitors and retarget them with relevant content, while simultaneously protecting their privacy and complying with all necessary regulations.
Maximizing LinkedIn Insight Tag with LeadsBridge integrations
For those looking to supercharge their LinkedIn marketing efforts, LeadsBridge offers integrations that can take your campaigns to the next level.
Retargeting with LinkedIn Matched Audiences
As a first-party data source, LinkedIn Matched Audiences offers a powerful retargeting tool for businesses looking to boost conversions. With LeadsBridge's seamless integration, website visitors and leads can be targeted with precision, harnessing the power of LinkedIn's extensive user network.
LinkedIn Offline Conversion API integrations
Ensure that your conversion tracking is robust and reliable with LeadsBridge's LinkedIn Offline Conversion API integrations. This integration enables marketers to understand their campaigns' effectiveness using additional performance data, like in-person transactions, phone calls, or CRM segments.
LinkedIn Lead Generation
If lead generation is your focus, take advantage of LeadsBridge's LinkedIn integration for lead generation, LinkedIn Lead Gen Forms. LinkedIn stores your lead information from your LinkedIn Lead Gen Forms in a simple, downloadable CSV file and LeadsBridge allows you to seamlessly upload the information into your CRM in real time.
Final thoughts
In conclusion, setting up the LinkedIn pixel is a game-changer for marketers looking to maximize their ROI on LinkedIn. With the ability to track user interactions, optimize campaigns, and gather valuable insights, this tool is a must-have in your digital marketing arsenal. Plus, with LeadsBridge integrations, you can take your LinkedIn marketing efforts to new heights.
So, don't wait! Get started with the LinkedIn Insight Tag today and streamline your LinkedIn marketing efforts with the power of LeadsBridge.