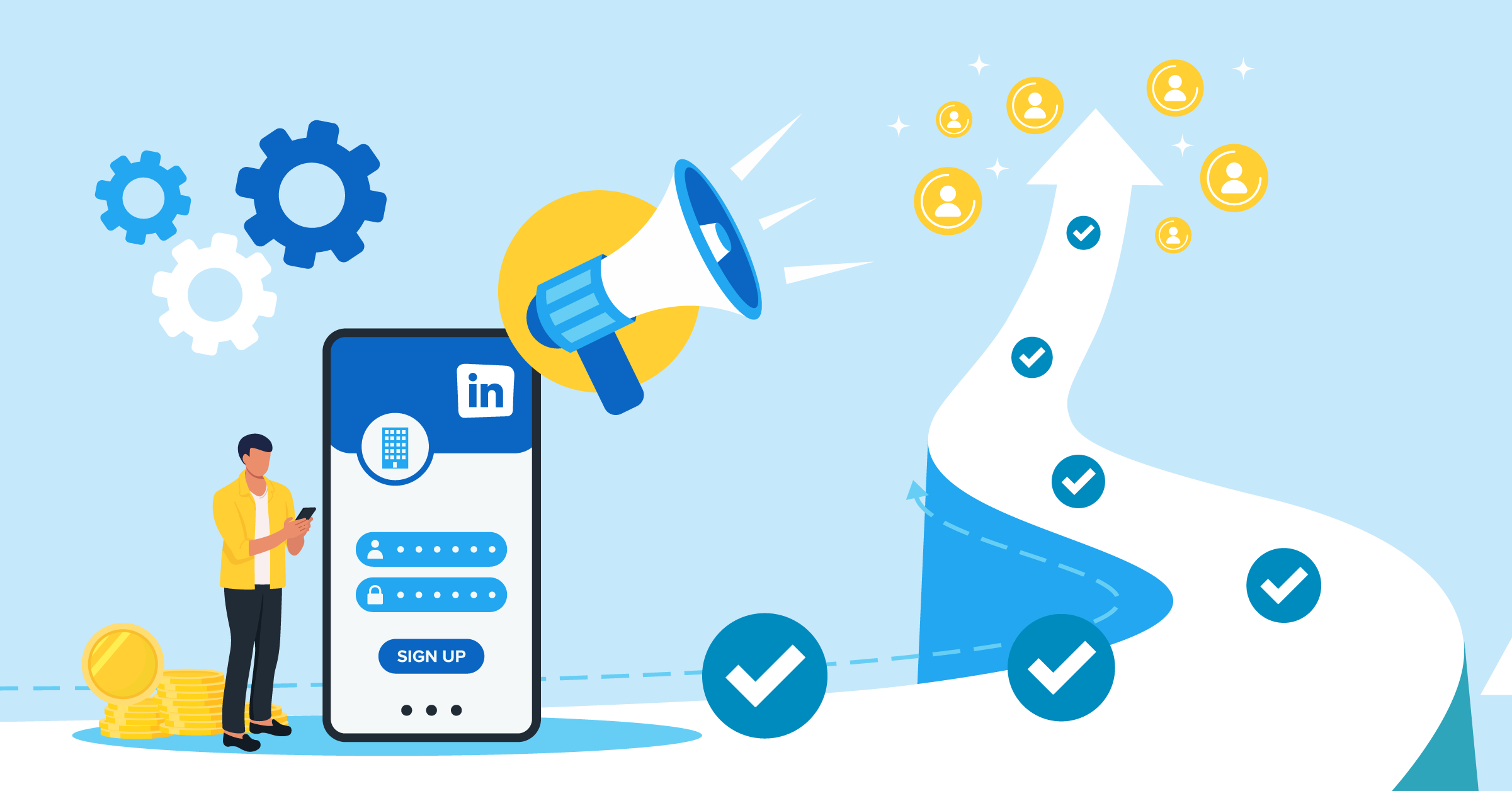 So you have decided to launch your first LinkedIn Ad, and you wonder how to create a LinkedIn advertising account? Similar to advertising on Facebook, LinkedIn ads are a bit tricky to master. But with the right information, you can easily create your first LinkedIn campaign AND get outstanding results.
In this article, we'll discuss the different LinkedIn advertising tactics, and their importance when it comes to results-driven marketing. We'll also introduce a few integrations to take your advertising on LinkedIn to the next level through automation, such as:
LinkedIn campaign objectives
When your ads are displayed, you want to encourage a specific action. That action is your ad's objective, which could target any part of your sales funnel from awareness to conversion.
Defining your objectives while strategizing and then selecting them should be a priority. LinkedIn's advertising features are built around an objective-based marketing experience. So by choosing your objectives accurately, the platform can simplify and customize your campaign creation.
Source: LinkedIn
While this is a great way to leverage LinkedIn's algorithm and reach your target audience, each campaign objective allows you to use specific ad formats and bidding strategies.
Below, you can find seven LinkedIn campaign objectives you can use according to your goals. Each of these categories also lets you use several formats according to your requirements, including Single image ad, Carousel image ad, Video ad, Text ad, Spotlight ad, Follower ad, Conversation ad, and Event ad.
Brand awareness
This category maximizes your brand's degree of recognition through impressions. Based on your bidding, LinkedIn helps you get the most views (impressions) in order to maximize your reach.
Website visits
Is driving traffic to your website your goal? Then this objective is for you. This category helps you get as many clicks as possible and takes every user who clicks on your ad straight to your website. It also lets you use a variety of formats and bidding prices.
Engagement
When it comes to social media advertising, most people concentrate on interactions such as likes, shares, reactions, comments, or Company Page follows (impressions). But it is, in fact, only one of the objectives.
LinkedIn calculates your ad's activity over time to understand how many people interact with your ad. These results are compared with other ads, which define a score for showing the ads with similar context to users; the ads with more interactions have a higher score.
This objective enables you to include a Follow button to your ads for an additional cost.
Video views
This is the easiest objective to use, designed to target the users who are more likely to watch your video. It aims to drive brand awareness more than generating leads.
Lead generation
Lead generation is a result-oriented objective using a native Lead Gen form to collect leads directly on LinkedIn. These forms keep users on the platform, which creates an uninterrupted experience for them and, ultimately, increases their likelihood of interacting with your ad.
In practice, this objective can generate the most leads, get the most clicks, or drive the most impressions through an ad.
Website conversions
Website conversions objective is also designed for lead acquisition and driving conversions. Unlike the lead generation objective, it redirects users to your website instead of a native form, when they interact with your ad.
When choosing this objective, LinkedIn focuses on generating more leads and, ultimately, conversions within your budget.
Job applicants
The last and best-known LinkedIn campaign goal is the Job applicant's objective. This feature has made LinkedIn unique by enabling users to post job applications or apply for them.
When using a job applicant format, users are redirected to the Company page once they click on the ad. But this can be done by using a Single image ad or Spotlight ad formats, which allows you to add a custom URL.
How to choose the best LinkedIn campaign objective
LinkedIn's advertising is similar to Facebook in many aspects, especially when it comes to providing advertisers with a user-friendly experience on their platform.
For instance, LinkedIn and Facebook Ads both have lead gen solutions: Lead Gen Forms on LinkedIn and Lead Ads (with Instant Forms) on Facebook. While sharing some notable similarities, Facebook and LinkedIn also have their differences which makes each of them unique from a marketing perspective.
LinkedIn's objectives have changed through the years, switching from checkboxes and bid types to sophisticated campaign goal settings for precise audience targeting. Once you are familiar with all the LinkedIn ad objectives, you need to select the ideal option to deliver your campaign.
Source: LinkedIn
As a general rule: choose the most relevant objective to your current advertising goal. Then, try to see whether you are trying to generate interest in your product, want to get people to start thinking about your business, or want to encourage users who are interested in your offering to purchase or use your product or service.
You can also run A/B tests for different campaign objectives and see what works best.
LinkedIn ad types
The platform offers several options for advertisers to match their marketing requirements with the ad types:
Single Image Ads: It lets you run native ads in the LinkedIn feed and allows you to create an engaging visual across desktop and mobile.
Video Ads: These LinkedIn ad types are great for creating engagement in every stage of the buyer's journey with native video ads.
Carousel Ads: If you want to capture the attention of your audience with an interactive story, this is your best option. Carousel Ads help you inspire viewers to take action.
Event Ads: Whether for webinars, live seminars, and any other community-centered events, the LinkedIn Event feature allows you to amplify your presence and maximize the number of your event's attendees.
Interested to know more? Check out the best LinkedIn ad type examples here.
How to create your first LinkedIn advertising account (step-by-step)
This step-by-step instruction allows you to cover every critical step when setting up your first LinkedIn advertising campaign.
The first step to advertising on LinkedIn is to create a LinkedIn account by navigating to the LinkedIn sign up page.
Once you have made an account, you need to create a LinkedIn ads account in the Campaign Manager section. Here, you can create and manage your campaigns, get performance metrics, and even perform more intricate tasks such as managing your account assets (i.e., Matched Audiences or conversion tracking).
How to set up a LinkedIn ads account
To set up your LinkedIn ad account, you can follow these simple steps:
"Sign in" to your LinkedIn account.
Find and select the "Work" icon right at the top of your homepage.
Click "Advertise". Here, you are redirected to the CAMPAIGN MANAGER page.
Insert an account name and the billing currency, and link to a LinkedIn Page_ This page appears on the welcome screen.
Click Create Account.
Remember that you can not modify the currency and the LinkedIn Page once the account is created.
LinkedIn provides a great set of performance metrics that help you track and optimize your campaign. Read this article to learn how to leverage LinkedIn metrics to maximize engagement and conversions.
Why advertise on LinkedIn? (Pros and cons of LinkedIn ads)
Source: RakaCreative
Some advertisers believe that there is no end to the benefits of using LinkedIn as advertising media, especially for B2B businesses. Yet, LinkedIn isn't always the best choice for every brand. So, let's go through some of the most highlighted pros and cons of LinkedIn ads.
Pros
It provides access to a huge number of high-value audiences in one place.
LinkedIn has about 830 million users, who are mostly working professionals and note-worthy influencers. So as the world's largest professional network, most users on this platform share a sense of professionalism and responsibility_ much more than other social network users. Additionally, they boast a higher purchase power (considering LinkedIn users' better education status and higher average salaries), which makes them ideal targets for advertisers.
LinkedIn maintains consistent and high professionalism standards.
LinkedIn focuses on providing professional experience and assisting career development. This way, users present the best possible image of themselves in order to stand out in a highly competitive professional world.
This culture is extended to brands and advertisers as well, by holding them against high professional standards. In return, advertisers are safe from irrelevant comments and idle interactions, which are quite common across other social networks.
LinkedIn assists in precise audience targeting.
The platform provides an extensive range of options to make audience targeting as accurate as possible. In practice, you can target the users based on various criteria, like their company, industry, skills, titles, education level, age, gender, geographic location, or those who visited your website.
Cons
Relatively high costs.
The cost of advertising on LinkedIn varies from business to business. However, it is relatively more expensive than other social media platforms. The cost per click price and the minimum daily budget for campaigns is higher. On average, spending $8 or more per click is the usual rate. But this price is paid in return for providing access to a large network of professional users.
LinkedIn's job hunters and new users.
Many people use LinkedIn to find employment opportunities or create network-backed portfolios. Unfortunately, most of this crowd isn't interested in advertising campaigns they come across while scrolling. However, when designing your campaign, it is best to select your target audience intelligently to keep these uninterested users out of your ad's reach.
LinkedIn is not best optimized for video advertising.
Back in 2018, LinkedIn introduced video into the sponsored content mix. However, it is not yet too centered on video advertising. Considering that 88% of people would like to see more videos from brands in 2022, the platform is not a great option for catching up with this current social media trend.
How much do LinkedIn ads cost?
As mentioned earlier, LinkedIn advertising costs depend on several factors, such as the audience you are targeting, the campaign objective, and the bid amount. Generally, LinkedIn ads' cost is about $5.26 per click, $6.59 per 1000 impressions, and $0.80 per send.
It is important to understand the factors affecting the costs and optimize them accordingly. This way, you can also lower your overall advertising costs.
Target audience: Advertisers compete with one another on LinkedIn. So the target audiences who are highlighted as "high demand" have a higher cost, mostly for their value and increased competition.
Bid: Again, the ad bidding system works similarly to Facebook advertising auctions: advertisers never exceed the bidding amount and only pay a portion of it. As a result, LinkedIn's ad auction winner will pay one cent more than the next highest bid. The bidding system incorporates different models, such as cost-per-click (CPC), cost-per-impression (CPM), and cost-per-send (CPS). You can choose any of these models based on your marketing strategy and budget.
Source: webFX
Ad relevance score: Ad relevance scores can lower overall costs. The higher the ad relevance score is, the lower the expenses will become. This design helps LinkedIn provide its users with relevant and attractive ads, while pushing advertisers to get more creative about it.
Moreover, this platform allows you to set different models to manage your budget for your LinkedIn campaigns.
Total budget: It requires you to spend just a minimum of $10 per campaign.
Daily budget: For continuously active campaigns, you need to decide on a daily investment. Here, you can set a daily budget with a minimum of $10 per campaign.
Setting bids: If you choose to pay for clicks, impressions, and other options, you can set up a minimum bid amount of $2 for each click. This is perhaps the most convenient way to control the budget for many advertisers.
LinkedIn ads management
Once you've created your Linkedin advertising account and launched your ad, keeping your ads optimized should be your next concern. In practice, LinkedIn ads management is necessary to improve your ads according to your campaigns' performance reports and goals.
Using the advertise section, you can find your ad campaigns that are associated with your LinkedIn ad accounts in a single place. These entries include information on campaign settings, status, performance, and budget consumption_ which are all essential to running successful campaigns.
To optimize your campaigns, you first need to access your LinkedIn ad settings, by following these simple steps:
"Sign in" to your LinkedIn account.
At the top of your LinkedIn homepage, find and select the "Me" icon.
Find "Settings & Privacy" from the dropdown and click on it.
Select "Advertising data".
There are several ways you can use this data to your advantage. By accessing these settings, you can manage general ad preferences, control data collection on LinkedIn, and decide how the collected third-party data is used in your ads.
Best practices for LinkedIn campaign optimization
Optimizing your ads for the best performance takes experience and the knowledge of up-to-date techniques, especially when it comes to LinkedIn ad best practices. Use these LinkedIn campaign optimization tactics to get the maximum results and impact. And to do that, you'll need to use the right tool to get the best out of LinkedIn lead gen forms for your lead generation and all that comes with it such as lead data sync and CRM management.
LinkedIn Lead Gen Forms integration with Google Sheets
LinkedIn Lead Gen Forms and Salesforce®
Learn all you need to know about how to download leads from LinkedIn.
Finding the lowest CPC bid: Advertisers can use the bidding strategies to drive efficient results. If you are new to LinkedIn advertising, use auto bidding to take the guesswork out of your budget management. The platform's automated bidding system uses the historical data from your existing LinkedIn campaigns and your LinkedIn members' collected data.
Using CRM lists to retarget prospects: LinkedIn allows you to use relevant display ads to attract your customers. This way, you are using data from first-party platforms, which allows you to reach prospects who have stopped interacting with your marketing content while keeping the interested prospects engaged. Now, managing these processes manually is a time-consuming and unproductive task. Your best bet is to automate the process through an official, third-party integration provider such as LeadsBridge:
HubSpot integration with LinkedIn Matched Audiences
Pipedrive integration with LinkedIn Matched Audiences
Zoho CRM integration with LinkedIn Matched audiences
Precise conversion tracking: You can track conversions on LinkedIn Ads with LinkedIn's conversion tracking. This allows you to measure ROI and overall performance, manage your leads as they come in, and optimize ads based on metrics.
Running seamless A/B Test Ads: The general idea behind running an A/B test is to change one variable at a time and see if it increases your campaign's performance. This way, you can understand what works with your audience and refine your campaigns through optimization to increase conversions.
Checking demographics to optimize your ads for reaching the right audience: The best audience includes several highly relevant and interested users. Through LinkedIn's demographic reporting, you can get access to anonymized information on who is interacting with your ads based on various demographic factors (titles, industry, age, etc).
Choosing the best ads type: By defining your advertising objectives, you can optimize each one of the campaigns against your end goals. This also helps LinkedIn's algorithm to show your ads to the right audience. Additionally, it decreases your overall ad costs and increases your relevance score in the long run.
Achieve your campaign objectives on LinkedIn with LeadsBridge
After choosing your objective and launching your first LinkedIn ad campaign, it is time to take additional steps to make sure your ads stand out and drive better results. You can surpass your objectives by using LinkedIn integrations to create seamless processes, despite your objectives (generating leads, creating awareness or getting your prospect to convert).
LinkedIn Lead Gen Forms enables you to generate B2B leads for your business by providing interactive forms that are easier to fill. Integrating LinkedIn Lead Gen Forms with third-party tools through LeadsBridge, such as Salesforce, Marketo, and Gmail, allows you to reach your leads and follow up with them as they come in. Some more integrations you can use include:
LinkedIn Lead Gen Forms integration with Pardot
LinkedIn Lead Gen Forms integration with HubSpot
LinkedIn Lead Gen Forms integration with Email Notification
LinkedIn Matched Audiences allows you to target decision-makers and influencers on this platform or collect data with lead generation campaigns. This allows advertisers to improve their audience targeting since they can get insights about how people respond to their ads.
Integrating your marketing platform to LinkedIn through third-party software like LeadsBridge helps you automate the entire process.
HubSpot integration with LinkedIn Matched Audiences
Zoho CRM integration with LinkedIn Matched Audiences
Discover more about the best LinkedIn CRM integrations for your ad campaigns here.
Final thoughts
Why advertise on LinkedIn? According to statistics, the users on this platform have 2x the buying power of the average buying audience. Additionally, it is an outstanding platform for B2B lead generation from many aspects.
So if you're not already using LinkedIn as an advertising medium, you are probably missing out on its many benefits. However, using this guide, you can get started with your very first LinkedIn ad campaign and create your Linkedin advertising account in no time, and succeed with it.
Start using LeadsBridge today to maximize your results and outperform your LinkedIn advertising competitors.