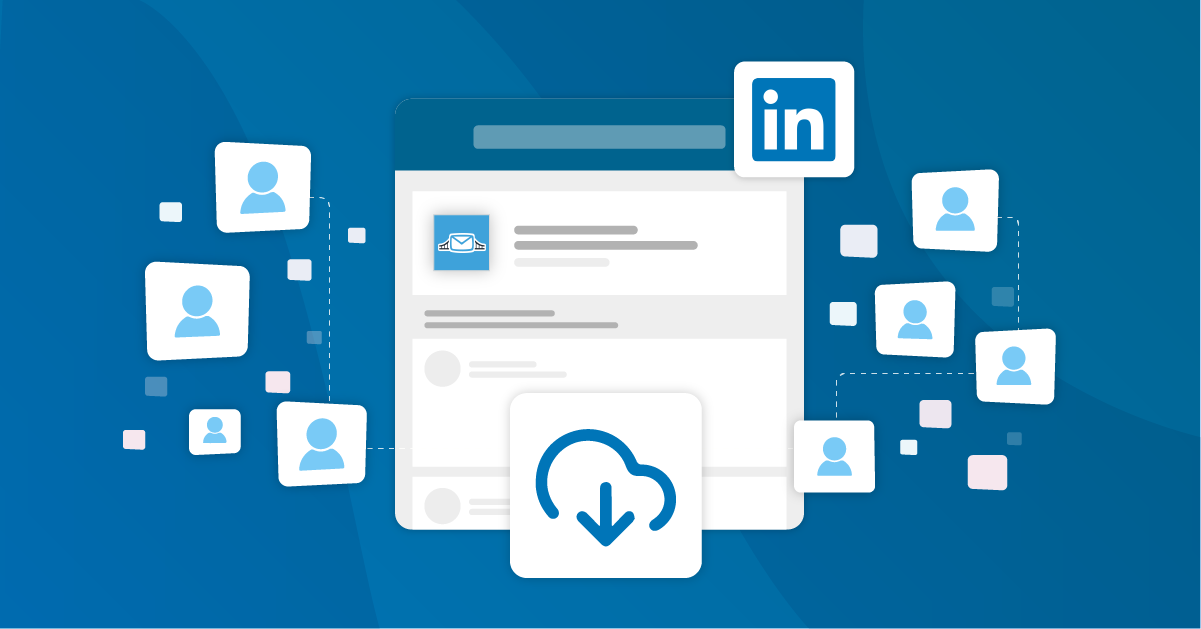 LinkedIn is the powerhouse of lead generation for B2B businesses. A study revealed that out of all leads generated from social media, 80% of B2B leads come from LinkedIn. This is thanks to the company's lead generation tool (known as LinkedIn Lead Generation Form) which allows businesses to capture users' details in a pre-filled form on LinkedIn. With the lead generation form, businesses can generate quality leads, track the ROI of campaigns and download leads from the campaign manager, or integrate with preferred CRM or autoresponder tool.
If you are a marketer using LinkedIn Lead Gen Forms but don't know how to download leads either manually or automatically, this article is for you.
In this article, you will learn how to download leads from LinkedIn.
Lead acquisition and Lead generation on LinkedIn
In a study of over 5,000 businesses carried out by HubSpot, it was revealed that traffic from LinkedIn generated the highest visitor to lead conversion rate at 2.74%, almost three times 277% higher than Twitter (.69%) and Facebook (.77%).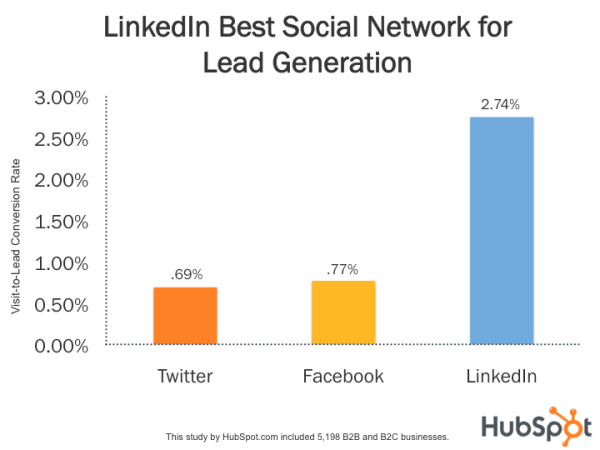 Source: HubSpot
One of the best lead generation tools on LinkedIn is the LinkedIn Lead Gen Form. It displays a form to Users with the fields pre-filled with their profile details. Another great option for lead generation is the Linkedin sales navigator.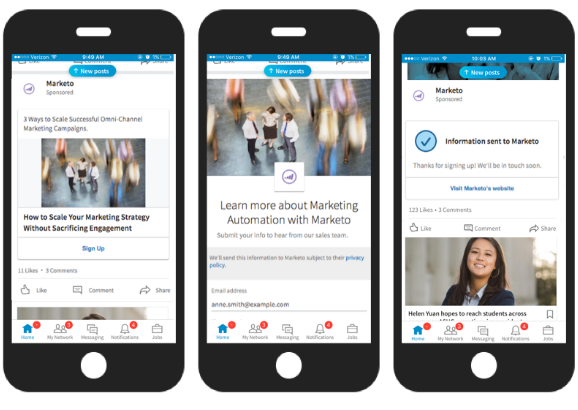 Source: JFmarketing
All they need do is to confirm their details and submit the form. This helps to reduce the time and effort it takes to fill the form, producing high conversion rates. Did you know that the average conversion rate of a LinkedIn Lead Gen Form is 13%? The ads are also effective because they are optimized for mobile devices. This is why 90% of B2B marketers reduced their cost per lead with the form. This is the reason marketers are using it to generate leads.
Here is the link to a detailed post on LinkedIn Lead Gen forms: Everything you need to know on LinkedIn Lead Gen Forms.
How to download leads from LinkedIn to your CRM or marketing automation tools manually
LinkedIn stores your leads from your LinkedIn Lead Gen Forms and it is downloadable in a CSV file. You can integrate your account with your CRM or autoresponder tool to export leads from LinkedIn automatically. Downloading your leads manually in a CSV file takes time, and it is a repetitive task you will need to do again and again as you run campaigns.
Also, it can cause a delay if you offer downloadable content through your LinkedIn Lead Gen Forms. Since they will have to wait for it. But if you integrate your account through a third-party partner such as LeadsBridge, you can automatically collect your leads into your CRM directly. With this, you can send your welcome email and offer immediately to your leads as they come in.
This will give leads a seamless experience and you will also increase the conversion rates.
Let's look at the manual download first and then you will learn how to integrate your LinkedIn account with your CRM tool.
Downloading leads from LinkedIn manually
LinkedIn provides two ways for you to download your leads manually: Either through the form or through the campaign.
Downloading leads manually by form
The first way you can download leads generated from LinkedIn Lead Gen Forms is by using the form feature. Find the step-by-step process shown below.
a.  Go to the campaign manager and click your account name.
b.  Click the account asset tab and select Lead Gen Forms, as shown below.

Source: LinkedIn
c. Click the box next to the Lead Gen Form(s) you want to download.
d. Click the arrow on the Leads' time range to select the start and end date.
e. Click download leads and then click on download from the window that appears.
Then, you will see your leads download as a CSV file.
2. Downloading leads manually by campaign
The second way you can download leads manually on LinkedIn is by the campaign. Follow the steps below to do it.
a.  Go to the campaign manager on your LinkedIn account and select the account and the campaign group
b.  Choose the start and end date for the leads you plan to download
c.  Click on the export button and select the leads as report type
d. Click on export and your leads will download as a CSV file.
How to download leads from LinkedIn to your CRM or marketing automation tools automatically
Don't want to go through the manual download? Here, you can learn how to download LinkedIn leads automatically. LinkedIn makes provisions for businesses to download, leads to CRMs or marketing automation tools through a third-party provider like LeadsBridge. At LeadsBridge, we create bridges that connect your LinkedIn Lead Gen Forms to over 160 CRM/Email software, such as HubSpot and Salesforce.
Here is a link to the step-by-step instructions and a video on how to download your leads from LinkedIn to HubSpot through LeadsBridge.
How to connect LinkedIn Lead Gen Forms to HubSpot | LeadsBridge
LinkedIn Lead Gen Form integration with HubSpot
If you use Salesforce as CRM and you would like to export leads from LinkedIn to Salesforce, click here to follow the step-by-step instruction provided and also watch the video below.
How to connect LinkedIn Lead Gen Forms to Salesforce® | LeadsBridge
LinkedIn Lead Gen Form integration with Salesforce
Below are other LinkedIn Lead Gen Forms integrations provided by LeadsBridge.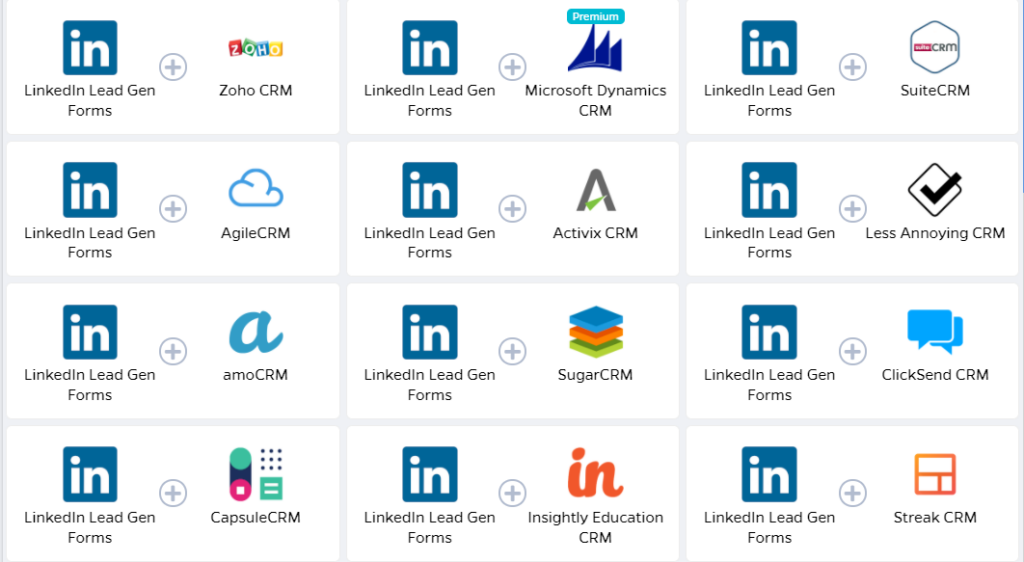 How to use LinkedIn leads/contacts for email marketing and lead nurturing campaigns
Now that you have acquired your leads, what's next? The truth is 80% of new leads never translate into sales and companies that excel at lead nurturing generate 50% more sales-ready leads at a 33% lower cost. It is time to create nurturing campaigns that will help you turn leads into customers. Below are four ways to nurture leads coming in from LinkedIn.
1. Follow up with leads quickly
One thing that can help you become effective at turning leads to customers is quickly following up with your leads. This is why it is advisable for you to integrate your LinkedIn ad account with your CRM through LeadsBridge. When you do this, you can quickly send welcome emails to your subscribers as they come. Thereafter, send nurturing content to them. Here are two detailed blog posts that will help you to understand lead nurturing better:
a. The importance of lead nurturing in your marketing strategy
b. 6 Original lead nurturing strategies to boost your Facebook campaign
2. Send personalized emails
A study revealed that 74% of marketers say targeted personalization increases customer engagement rates and it also generates a media ROI of 122%. Personalization helps you to send the right emails to the right leads. This, in turn, helps to improve your conversion. You can send personalized emails to prospects that click links in your emails, engage with your content or read content on your website. Check out this blog post on "The Complete Guide to email nurturing for businesses"
3. Score your leads
Lead scoring is the act of assigning numbers to lead according to their value to your business. For instance, you can assign numbers to prospects that open your emails, click any links and visit your website. This will help you know the leads to prioritize in follow-up processes. Here is a blog post on "How to create a lead scoring strategy".
4. Use multiple touches
Before now, email marketing is the only way to nurture leads. But currently, lead nurturing is evolving. You can nurture your leads in several ways, which include using social media, blog posts, whitepapers, direct emails, etc. You need to get in touch with your prospects about 5 – 10 times for them to convert to customers.
Conclusion
To sum everything up, there are two unique ways to download leads from LinkedIn: The first is to do it manually by downloading the leads in a CSV file from your account and uploading it to your CRM or autoresponder for follow-up. The second way you can download your leads is by linking your CRM to your LinkedIn account through a third-party service like LeadsBridge. This helps to reduce your effort and increase efficiency.
Discover LeadsBridge integrations for LinkedIn Lead Gen Forms.