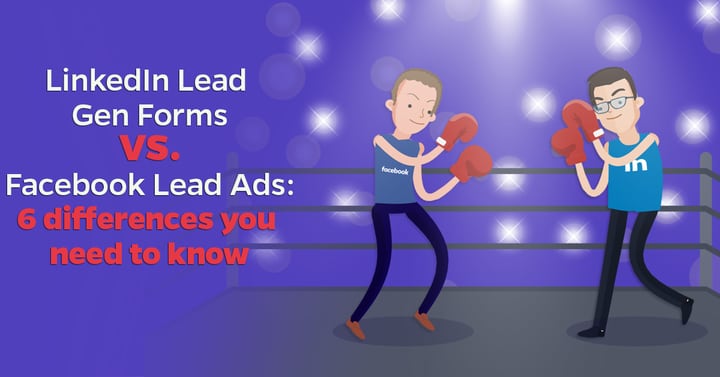 Want to collect more leads?
Have you thought about using native lead generation ads on Facebook and Linkedin to boost lead generation?
A native lead generation ad is a type of ad specifically designed to collect leads designed into the social network – the same platform that provides the ads.
Facebook rolled out the Lead Generation Ads ads in 2015. Such type of ads has revolutionized the advertising world, because they allow marketers and business owners to collect leads without using a website landing page.
Moreover, by clicking on a Facebook Lead Ad, people see a pre-populated contact form filled with their data (phone number, name, email, etc). To subscribe to a list, they just need to tap a submit button.
(Hey…if you want to see this type of ads "in action", click HERE)
Recently, LinkedIn rolled out a very similar type of ads for its platform called Lead Gen Forms.
In this article, youll discover 6 differences between Facebook Lead Ads and Linkedin Lead Gen Forms you need to know, to decide which platform fits best for your business.
1) The type of audience
Depending on the audience you want to reach, Facebook and Linkedin can have a huge impact to your business.
At the moment, Facebooks targeting options may fit better for you if you dont need to be very specific about your potential clients career.
In fact, Facebook allows you to target people who have the same connections with one or more pages, behaviors, income and more.
Through Facebook, you can also target an audience that shares similar interests or based on their jobs.
The targeting options you can use on LinkedIn may be more effective for your business for two reasons:
First of all, because people fill their entire CV on Linkedin, so the information LinkedIn has about its users are more detailed in comparison to Facebook.Moreover, LinkedIn allows to target peoples specific professional identity: where they work, their position, their field of study, and much more.
For this reason, B2B marketers may find Linkedin Lead Gen Forms very effective for their businesses.
Does it mean that Linkedin is better than Facebook for B2B marketing?
Not really.
Facebook Lead Ads is an effective tool to generate B2B leads too, there are much more differences you need to know before to decide which social network wins the battle!
2) Potential reach
According to the NY times, users spend an average of 35 minutes per day on Facebook.
On the other side, the same stats show that time spent on Linkedin is just 2 minutes per day.
Why are these stats important?
Everybody who runs a Facebook Ads campaign knows that people can connect to Facebook multiple times per day.
Such behavior determines an audience saturation – after a certain time, ad set's performance may start to decline even if you're still getting impressions.
However, LinkedIn does not allow you to saturate an audience so quickly, because people dont connect to the social network so often as they do on Facebook.
Which means that, in order to reach all your audiences on LinkedIn, you need to run longer campaigns.
3) Type of ads
A difference you may find significant for your advertising concerns the creativity of your marketing.
Facebook Lead Ads allows you to create multiple types of ads to test which works better.
For example, you can connect a Lead Ad form to a traditional promoted post, a carousel ad and to a video ad.
Such variety allows you to get better results in terms of engagement and, consequently, more people can be driven to your sign-up forms.
On the other side, the only way you can drive people to a Lead Gen Form on Linkedin is by promoting a sponsored content: a link, an image and an update of your page.
4) Ads creation
The way you create a lead generation campaign using Linkedin Lead Gen Forms is very different than how you build a Facebook Lead Ads campaign.
Facebook allows you to create an unpublished post – a post on Facebook that your pages fans wont see as an organic post.
If you are used to run your ads through unpublished posts on Facebook, Linkedin ads may confuse you, because you cant promote a post thats not published on your Linkedin Page.
Thats why before to run an ad you need to create a public post on your page and, then, you can promote it in order to drive people to your Lead Gen Form.
5) Quality of the leads
Lets hit a huge score for Linkedin Lead Gen Forms now.
One of the biggest problems of Facebook Lead Ads has always been the quality of the leads.
You may know that Facebook Lead Ads pre-populates the sign-up forms with the information that the users provide when they create their personal profiles.
The problem is that Facebook only allows you to open a personal profile by using email addresses from free providers such as gmail, hotmail, yahoo and more.
In other words, you cant create an account using an email address like yourname@yourbusiness.com
Collecting such type of addresses often doesnt allow you to create effective email marketing follow ups after the leads subscribe to your lists.
Sometimes people dont use them any more. Sometimes the email providers identify your messages as SPAM.
For these reasons, after creating the revolutionary technology used for Lead Ads, Facebook developed the context card (now called welcome screen), a tool that helps advertisers improve the quality of their leads thanks to an intermediary page between how the lead ad appears in the news feed and the subscription form.
However, LinkedIn users are allowed to create a profile using their business email – and people often use it.
Thats why the data youll collect through LinkedIn will be better for you if you need B2B leads, without necessarily using an additional, qualifying step that may slow down the lead generation process.
6) Devices
Although it was initially designed as a lead generation tool mobile devices, Facebook Lead Ads are now available on desktop as well as mobile since June 2016.
At the moment, Sponsored Content campaigns with LinkedIn Lead Gen Forms are only served via Linkedin mobile app, but developers said that they will be expanded to desktop in the coming months.
Conclusion
Facebook Lead Ads and Linkedin Lead Gen Forms represent a step forward for advertisers who want to generate more leads.
However, Im quite sure that these platforms will continue evolving, especially LinkedIn, to offer more advanced solutions for marketers and business owners.
What do you think? Do you use the new native lead generation ads to collect leads for your business? What tips can you offer for creating a successful plan? Please share your thoughts in the comments below.