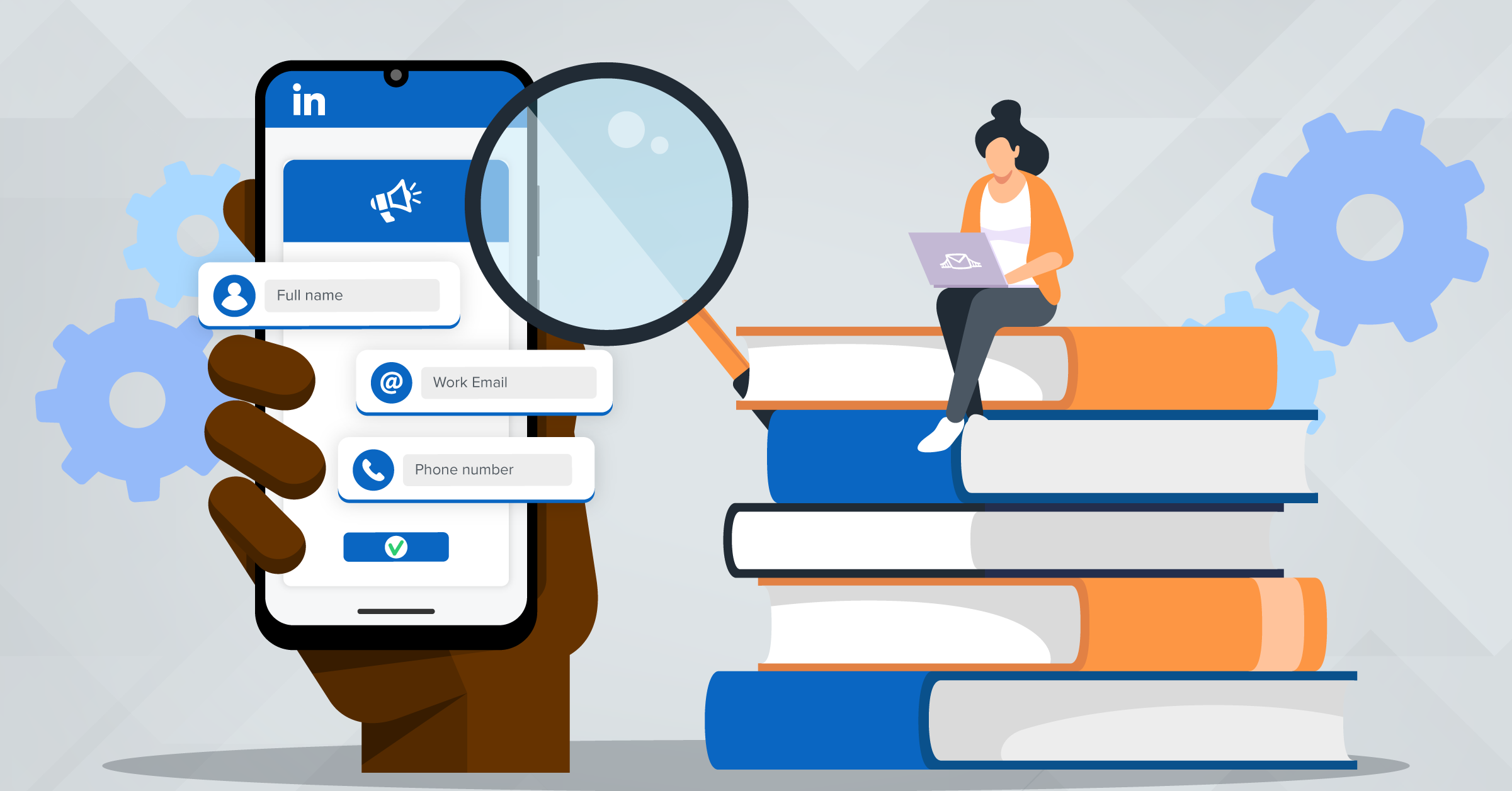 With over 830 million users in over 200 countries worldwide, LinkedIn has become an established platform for businesses to acquire qualified leads. It's ranked as the second most popular platform among B2B marketers and the most trusted social network in the U.S.
One of the best marketing tools for generating leads on this platform is LinkedIn Lead Gen Forms. These forms use a mobile-optimized technology that allows advertisers to collect leads directly on the social network without redirecting the users to a landing page.
However, that's not the only reason why 89% of B2B marketers use LinkedIn Lead Gen Ads. This is mostly due to the ease with which users can fill in these forms and submit them just by clicking a button.

In this article, you'll learn all you need to know about LinkedIn Lead Generation Forms and how to use them to boost your B2B marketing.
Benefits of LinkedIn for lead generation in B2B marketing
Before discussing how LinkedIn Lead Gen Ads are revolutionizing the B2B lead generation industry, let's clarify why LinkedIn is considered so powerful in B2B marketing.
LinkedIn is a place to reach decision-makers and influencers
LinkedIn has a huge professional database: four out of five people drive business decisions, and there are 61 million "senior-level influencers" on LinkedIn that businesses can target in their campaigns. This makes LinkedIn a great place to reach high-value potential customers when promoting products or services.
2. LinkedIn is an effective tool for content marketing
B2B buyers constantly search for content online before making purchases, which moves them forward in their customer journey. This is why there are nine billion content impressions in LinkedIn feeds every month.
According to LinkedIn Business, LinkedIn is the number one network that B2B marketers use to distribute content, followed by Twitter and Facebook. It's no longer only a place where people look for jobs anymore, but also a place where professionals go to research, find information and read the content published by LinkedIn's influencers. Its large database of professionals allows your content to be seen by a large audience, including decision-makers.
This is why 93% of B2B content marketers use LinkedIn to generate organic social marketing traffic.
Source: LinkedIn
3. LinkedIn is a traffic generation tool
The HubSpot State of Marketing report 2022 reveals that generating more leads on LinkedIn will remain a top marketing priority moving forward, especially for B2B companies. They are more likely to use LinkedIn and find it effective. Additionally, 47% of all companies use this platform to grow their brand authenticity, optimize for the customer or prospect experience, and build relationships rather than prioritize sales
.
Source: HubSpot State of Marketing
4. LinkedIn generates leads and sales
A report revealed that 80% of B2B leads come from LinkedIn vs. 13% from Twitter and 7% from Facebook. This means that LinkedIn is not only a place to connect with potential leads and share content with them but also a platform where you can generate leads for your business. In fact, 43% of marketers say that they have sourced a customer from LinkedIn. This makes LinkedIn's Lead Gen Ads more effective for B2B marketers than the lead generation practices on any other social media platform.
The benefits of LinkedIn for B2B marketing are countless. But the question is, how do businesses generate B2B leads and sales consistently without the LinkedIn Lead Gen Forms? The answer is by using traditional LinkedIn Ads.
Read this article to learn about the anatomy of LinkedIn ads.
The traditional way to generate B2B leads with LinkedIn Ads
One way businesses generate leads on LinkedIn is through LinkedIn Ads. These ads allow users to link their banner with a landing page. This way, when a user clicks on the ad, they will be directed to the advertiser's website, as shown below.
Source: Comcast business
There they can fill out the landing page form and read more about the product or service the advertiser is promoting. But this strategy comes with some challenges for marketers.
When a web page takes too much time to load, people leave the page. Statistics show that if a page takes more than three seconds to load, over 50% of visitors will leave the site.
More people browse the Internet through mobile phones. In fact, over the second quarter of 2022, 58.99% of global website traffic was generated through mobile phones. If your website landing pages aren't 100% mobile-oriented, you'll lose this traffic.
Adding too many fields to your lead gen forms reduces leads. In 2019, HubSpot revealed that the average web form length is 5 form fields, resulting in the highest conversion rates. Anything longer than that will reduce your conversion. That's why it's great to have a tool that fills the empty fields (more leads, fewer costs).
This is where LinkedIn Lead Ads come in.
What are LinkedIn Lead Gen Forms?
LinkedIn Lead Gen Forms is a tool that allows advertisers to incorporate a specific form in their ads that are pre-filled with users' information from their profiles on LinkedIn. This helps to improve the user experience and reduce the number of form fields to be filled manually, which keeps your users on LinkedIn rather than redirecting them to your website.
To acquire lead information, you can incorporate the form into your sponsored content campaigns. You can use them on new campaigns or add them to old ones. It works with the different ads available on LinkedIn sponsored content and InMail, which is accessible through mobile and desktop.
Advantages of using LinkedIn Lead Gen Forms
LinkedIn Lead Gen Forms are explicitly designed for mobile use, which is very important in marketing today. 57% of LinkedIn's traffic comes from mobile. That is huge! Reach this massive audience by using the LinkedIn Lead Gen Forms.
LinkedIn Lead Gen Ads make it easy for users to convert to leads by removing friction. Your prospects can avoid filling out long booking forms with lots of fields. All you need from them is a few clicks — click to open the ad, the call to action, and to submit the information. This straightforward process helps to generate lots of leads. With LinkedIn Lead Gen Forms, you can also ask for more information from users without reducing conversion rates. All you need is to design the right experience for completing the form and include as much data as you need. The information is pre-filled from the users' profiles, meaning they won't be forced to fill the form manually.
LinkedIn Lead Gen Ads give you a double conversion. You have the user's email once they sign up or follow your call to action, and then when they click your link on the "Thank You" page, you lead them to your website or a page where you can nurture them further and target them with another offer of your choice.
How do LinkedIn Lead Gen Forms work?
LinkedIn allows users to do in-app registration, download, or click on any call-to-action you specify on your LinkedIn Lead Gen Ads.
When a user clicks on your Ads, a pre-filled form with information from their profile is shown to them. All they need to do is confirm the information and submit it. Then, a report of the user – including their name, email, company name, job title, location, and any other information you specified in the LinkedIn Lead Gen Forms – will be sent to you. Here is a LinkedIn Lead Gen Ad example.
After a user clicks on the "Sign up" button, they are presented with a lead gen form.
Next, they will see a "Thank You" page with your message and a link back to your website or where you want to send the lead.
How to set up LinkedIn Lead Gen Forms: Steps & a few examples
Setting up a LinkedIn Lead Gen Form is easy. Below is the step-by-step method to set it up.
Go to "Campaign Manager" and find "Assets" on the left sidebar menu. Then click on "Lead gen forms".
Click on "Create form".
The LinkedIn Lead Gen Form is divided into four parts:
The form details
Lead details & questions
Confirmation
Hidden fields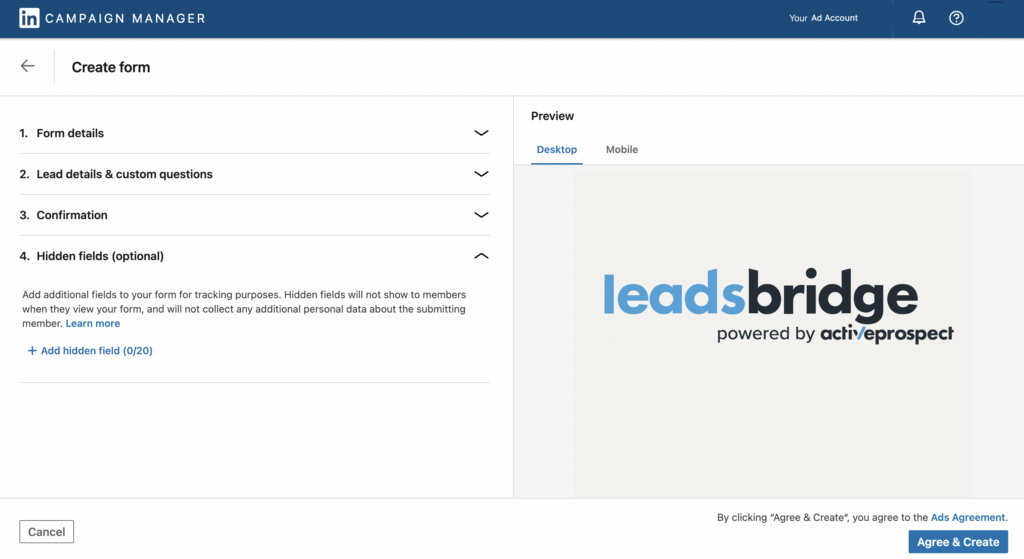 a) The form details.
To build your form, follow the steps below to do it.
Provide a "Name" for your form.
Choose a "Language". Ensure that your form language matches the profile language of your ad campaign.
Create an attractive "Offer Headline" that is less than 60 characters.
Write your "Offer details". This is a description of your offer stating its benefits to the user. You have 160 characters for it, so create a compelling description.
Add the "URL" that links to the Privacy Policy on your website.
Add the "Privacy Policy" text in the box provided. You'll have a 2000 character limit for this field.
b) Lead details & custom questions
This is where you specify the data you want to collect from your potential leads as they sign up on your form. There are different questions you can select. Follow the steps below to do it.
1. Select the "Contact Information Details" you want e.g., First Name, Last Name, Email address, Phone number, etc.
2. Select the "Work" details such as job title, position, company, etc.
3. Add the "Education" details such as the degree, field of study, graduation details, etc.
4. Select the "Demographics" of the user, i.e., Gender.
Users don't need to fill in most of the fields in this part of your form as they are automatically pre-populated for them. However, fields such as Email address, Phone number, or Gender cannot be automatically pre-filled.
5. Custom questions and Custom checkboxes
In these parts, you can customize the form by adding your own questions and checkboxes. LinkedIn lets you add up to three custom questions and five custom checkboxes.
c) Confirmation
The next part of the form is the "Confirmation" setup. This is the "Thank You" page your user will see after converting.
Create a thank you "Message" and state how you will communicate with the user afterward.
Provide a "Landing Page URL" with useful information.
Select a "Thank you message call-to-action" relevant to your offer from the drop-down menu.
d) Hidden fields
This part is optional, and it requires integration with a third-party marketing automation platform.
The hidden fields are hidden from the user. Such details include a hidden agency ID so you can identify the lead coming in from your forms. It can also be a product ID to help you identify the product you are selling to users in the ad.

5. Once you have completed all four sections, click "Agree & Create".
That's all you need to set up LinkedIn Lead Gen Ads. For more information, check out this article about how to create your first LinkedIn advertising account.
LinkedIn Lead Gen Form Privacy Policy
It is mandatory for you to enter a privacy policy URL in the form details section when creating your LinkedIn Lead Gen Ads. The URL's page should contain only the privacy policy. You are also required to disclose how you will use the leads you get from the campaign.
You'll need to obtain the user's consent based on how you will use their information. This is done by enabling the custom checkboxes so that they can be displayed close to the use descriptions. For example, you can write, "We'll use your information to educate you more about our products and services". That is one of the ways businesses use people's information.
How to test LinkedIn Lead Gen Forms
You can test your LinkedIn Lead Gen Ads to make sure everything works perfectly. This is especially important if you integrate it with third-party marketing automation or a CRM provider (more on that later). In addition, it will help to know if the process is successful. Below is the step-by-step process to test your LinkedIn lead Gen Form.
Sign in to the Campaign Manager.
Click the account, campaign group, and the name of where you saved the form.
Click on the "manage" button from the pop-up.
Click the …more icon and choose Preview from the drop-down.
Click the call to action button in the preview.
Click the privacy policy check box, then click on submit.
Close the preview window and click the back arrow to go back to the account overview page.
Click the account assets tab and select Lead Gen Form.
Click download leads.
A CSV file will download to your device.
Please remember that when you open the report, you will see values of TRUE or FALSE. True means a test lead, while FALSE shows a real lead. So, in this case, you will see TRUE.
LinkedIn Lead Gen Ad: examples
Below are a few LinkedIn lead gen ad examples from different businesses.
DocuSign
DocuSign ran an ad promoting a downloadable guide for creating business processes, as shown below.
When users click download, it takes them to a pre-filled form where they are required to submit their email, phone number, and company size.
They use the emails and phone numbers for future marketing and the company size data to know more about their target audience.
2. Marketo
These LinkedIn Lead Gen Forms by Marketo aim at advertising their latest post on Omnichannel marketing automation. Users are directed to fill in their details to find out more about the post and submit them.
3. Driftlock
Driftrock created a LinkedIn Lead Gen Ad that serves as a great example to help generate targeted leads for your business. They offer a free pdf guide — "The Ultimate Guide to Lead Generation" – to encourage users to sign up and download it.
4. Leadfeeder
Above is another great LinkedIn Lead Gen Ad example created by Leadfeeder. They also offer users a free guide, "The Ultimate Guide to Website Visitor Identification", in exchange for users' information.
Best Practices for LinkedIn Lead Gen Forms
Use a compelling headline and description
When designing your LinkedIn Lead Gen Forms, use a catchy headline and a description. This helps users to take further action to complete the form. The headline should describe the offer you have for them. Then, the description explains the benefit of the headline and what they will get by completing the form.
For example, in the DocuSign LinkedIn Lead Gen Form above, the title is:
Why it Pays to Use eSignatures
The description is:
Learn how transitioning to electronic signatures can help improve customer satisfaction, employee productivity, and lower costs with greater efficiency.
As you can see from the above example, the description explains the topic.
2. Use a few form fields
LinkedIn recommends using three to four form fields for your LinkedIn Lead Gen Ads. Anything more than that can lead to having fewer leads or low conversion rates. The truth is, less is more. If you notice that your click-through rates are high, but the number of users completing the forms is low, it means you are using too many form fields.
3. Don't use fields that need manual input
It takes extra effort and time for users to fill out forms manually. This reduces the number of users completing it and your conversion rates. Only request the information available on user profiles to make it easy for them to confirm and submit the information. Fields that are not listed on users' profiles, such as the phone number or gender, should be avoided.
4. Use the Thank You page for more conversions
LinkedIn Lead Gen Forms are designed to make users stay on their platform. However, it also offers an opportunity for double conversions. As users give you their email in the sign-up form, they will see your thank you message and a link to your website. Through this, you can lead them to a web page where they can sign up for a webinar, register for an event, download an ebook, etc., and convert them one more time. Some of the best webinar software or contact management apps will enable you to automatically use the registration feature to collect new emails and to send automatic thank-you messages to the registrants.
5. Build the Lead Gen Ad on LinkedIn like a landing page
Considering that users will not visit your website until the very end of the process (if at all), you must treat the form text as a landing page. Put some time and effort into crafting your form text, as you usually do for a landing page. Users are deciding if they're willing to give their information in exchange for what you're offering, and if you undersell it, they're not going to share it with you. Like any landing page, use the "Offer Headline" and "Offer Details" sections of the LinkedIn landing page to tell the users what benefit they'll get from filling out the form, strengthen your value proposition and increase your chances for conversion. Text characters are limited, so try to be concise but appealing. Here is a LinkedIn landing page example.
6. Add a URL to your LinkedIn landing page
As we mentioned earlier, with LinkedIn Lead Gen Ads, users can fill out your form without ever visiting your landing page. But there is a way they can visit your site, and if they do, you should be ready to tag them just as you would if you were running regular sponsored content campaigns. In the "Confirmation" section of the form builder (your Thank You page), LinkedIn allows you to add a landing page URL to send users to your website. This can be useful if they're interested in getting more information about your business. You should treat this just as a normal LinkedIn landing page and add all applicable UTMs so you can track users and then create retargeting campaigns.
7. LinkedIn Lead Gen Forms integration with third-party tools
One good thing with the LinkedIn Lead Gen Forms is that you can streamline the data transfer using third-party automation integration provided by official partners like LeadsBridge.
LinkedIn Lead Gen Form + LeadsBridge
LinkedIn stores your leads from your LinkedIn Lead Gen Forms in a simple, downloadable CSV file. The problem with this method is that a manual download means the possibility of error, repetitive tasks, and wasting of time. Most importantly, when users sign up to download a document or a demo on a LinkedIn Lead Gen Form, they expect to get it immediately.
Welcome emails have the highest open rate, at a whopping 82%. This is because customers expect them to land in their inbox, once they interact with a business.
More than eight out of ten people will open a welcome email, generating four times as many opens and 10 times as many clicks as other email types.
The timeliness of the information is very important, which is why you need a solution that isn't manually downloading and uploading a CSV file to access your lead data.
These problems can be solved by using a LinkedIn CRM integration through LeadsBridge. Our platform connects your favorite marketing tools with hundreds of CRMs and email marketing software. By doing so, you can quickly and automatically follow up with your leads from LinkedIn Lead Gen Form, giving them a seamless and smooth experience that statistically increases conversions.
Moreover, LeadsBridge enables companies to sync their CRM to LinkedIn Matched Audiences for CRM and email remarketing. With the LeadsBridge integrations, you can segment your incoming leads into different forms you create. Also, you will receive an email receipt of each lead coming in.
Here's a detailed post on the best LinkedIn CRM integrations for your ad campaigns.
LinkedIn Lead Gen Forms Marketo
Integrate your LinkedIn Lead Gen forms through LeadsBridge with Marketo to enable you to insert and update leads in static leads and in the list.
Salesforce® LinkedIn integration
You can also connect Salesforce® with LinkedIn Lead Gen Forms through LeadsBridge's integration. This will enable you to insert and update leads in lead sources, campaigns, list views, tags, and reports. Doing so will help you to generate more qualified leads while reducing lead generation costs.
Pardot LinkedIn integration
LeadsBridge allows you to integrate your LinkedIn Lead Gen Forms with Pardot. This will enable you to automatically sync all incoming leads from your LinkedIn Lead Gen Forms Campaigns to Pardot.
LinkedIn Gmail integration
You can connect LinkedIn with Gmail through LeadsBridge's integration to not only create new ones, but also update existing Gmail Leads coming from LinkedIn Lead Gen Ads.
HubSpot LinkedIn integration
Sync leads from LinkedIn to your HubSpot CRM, automatically build a multi-touch outreach, engage those leads, send InMails, track and measure your campaign's insights and much more with the LinkedIn Lead Gen Forms HubSpot integration.
Pipedrive LinkedIn integration
Besides creating auto-synchronization, you can connect Pipedrive to LinkedIn through LeadsBridge to run LinkedIn campaigns from Pipedrive and enrich your CRM data at the same time. This integration also enables you to manage sales flows, track customers' journeys, and even define triggers to publish LinkedIn posts automatically.
Monitor your LinkedIn Advertising Campaign and Download Leads
Monitoring your LinkedIn Advertising Campaign is an important part of the process. Based on your objective, however, monitoring may look a little different from case to case. Here are three of the most common examples of campaign objectives:
Build brand awareness
Drive engagement and consideration
Generate leads and conversions
Based on the goals of the campaign, there are a number of metrics to track. For example, if the goal is to increase engagement, focusing on the following metrics is a good idea:
Clicks — The total number of clicks on an ad.
Impressions — The total number of times someone saw an ad.
Click-through rate (CTR) — The total number of clicks divided by the total number of impressions.
For leads and conversions, these are good metrics are good to focus on:
Conversions — The number of times a user took the call-to-action after seeing an ad.
Conversion rate — How often an ad results in a conversion.
Cost per conversion — Ad spend divided by conversions.
Leads — The total number of leads generated by an ad. This metric applies to advertising campaigns that use LinkedIn Lead Gen Forms.
Cost per lead (CPL) — The total number of leads divided by the ad spend.
Once a lead generation campaign has been launched, it's possible to download leads and measure the impact of a given campaign with metrics like the ones mentioned above.
Benefits of using LinkedIn Lead Generation for B2B companies
LinkedIn is, without a doubt, the greatest resource for lead generation purposes for all B2B businesses. In fact, 98% of B2B leads acquired on social media are sourced through LinkedIn.
If you're running a B2B company, you're more likely to discover your next lead on LinkedIn than on any other platform, with or without paid strategies.
For this reason, running LinkedIn Lead Generation for B2B campaigns provides a seamless interaction between your ad and the users and guarantees notable benefits for your business. Amongst others:
Acquire qualified leads: As you already know, LinkedIn is a social media platform specifically dedicated to professionals. Therefore, high-quality LinkedIn Lead Gen Ads can bring in new prospects and generate qualified leads that are specifically interesting for your B2B business.
Easily measure ROI: In your Campaign Manager, you can see metrics like lead form fill rate, cost per lead, conversion, and more. Real-time reporting makes it easy to analyze your ads' performance and then optimize your LinkedIn Lead Generation B2B campaigns accordingly.
Are there any downsides to using Lead Gen Forms?
Even though LinkedIn is considered an excellent platform for B2B lead generation, using Lead Gen Forms may pose a few common challenges, such as:
Leads who forget that they filled out the form
LinkedIn Lead Gen Forms remove a lot of friction from the lead generation process. So much so that many leads may fill out a quick form and forget that they've done so entirely. There are a few ways to solve this problem:
Use single-line input questions: Doing this will essentially force the prospect to stop and think about the questions that they're answering.
Add custom checkboxes: This will force the prospect to stop and read before clicking the box.
Use form fields that do not auto-populate: In this case, if there's any information that is not already on the user's profile, then they will have to manually fill those fields in.
Bridge your CRM to your Lead Gen Forms: Once you bridge the gap using a LinkedIn-CRM integration, contact these users as soon as possible, or simply add them to a marketing drip campaign.
Use this guide to connect your LinkedIn Lead Gen Forms to Pardot and other marketing platforms.
2. Lack of remarketing potential
Unfortunately, if a prospect clicks on your ad but refuses to fill out the form, there's no way to remarket to them. Basically, if they never make it to the targeted website, then they are lost as a lead because LinkedIn doesn't offer any sort of remarketing by engagement.
3. Too many field options
If the goal is to increase conversions, adding more than the recommended six to eight can hurt the campaign more than being helpful. With LinkedIn Lead Gen Forms, ten fields can be added, but that doesn't necessarily mean they should. Here are two points to keep in mind when deciding what fields need to be added:
What is the minimum amount of information needed on this form in order to follow up or qualify a lead?
Is the ad offering something that justifies the amount of information being asked to the prospects?
Using these two questions could prove to be useful as guidelines the next time a LinkedIn Lead Gen Form needs to be created.
All of the common challenges that one might face when dealing with LinkedIn Lead Gen Forms derive from the prospect. No matter how skilled an advertiser or marketer is, it all comes down to the prospect following through with their forms.
Takeaway
LinkedIn Lead Gen Forms is a great way to generate B2B leads for your business. It makes campaign forms easier to fill and this helps to improve campaign performances.
Integrating LinkedIn Lead Gen Forms with third-party tools through LeadsBridge such as Salesforce®, Marketo, and Gmail will help you reach your leads with perfect timing and follow up with them as soon as they come into your marketing funnel.