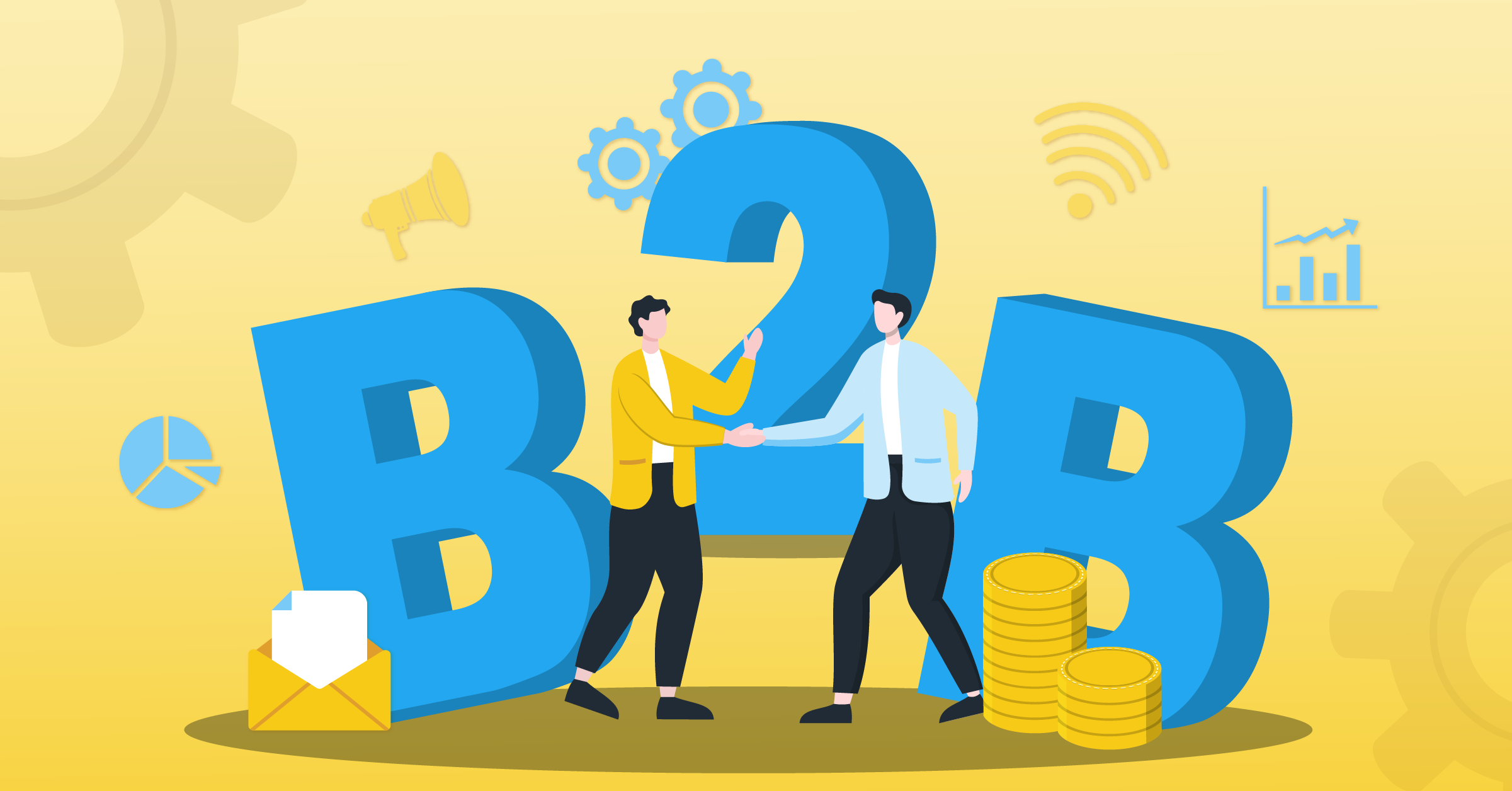 There are only so many hours in a day—how can you nurture more leads and increase productivity simultaneously without drastically growing your team?
The answer: B2B marketing automation.
Using tools to take over tedious, manual tasks helps you streamline and automate your marketing activities, free up team time, and speed up lead generation.
What is B2B marketing automation?
B2B marketing automation uses software to automate marketing activities for businesses that target other businesses (unlike B2C marketing automation, which is made for businesses targeting consumers).
This might include automating email sequences to go out to subscribers when they take specific actions, automatically optimizing your ad campaigns, or segmenting your audience. This way, you can send personalized communications that increase both your marketing campaign's relevance and user experience.
The benefits of marketing automation for B2B
Winning back a couple of hours every day sounds nice, doesn't it? But that's not the only benefit of marketing automation. Imagine having all your daily tasks chugging away in the background while you get on with activities that move the needle—that's the power of automation.
Generate high-quality leads: Get a better understanding of the people who are most likely to buy from you and target qualified leads.
Reduce human error: Automation eliminates the inevitable risk of someone entering a number wrong or reading an analytics chart incorrectly.
Improve marketing team's efficiency: Automating repetitive tasks helps your team save time and focus on activities that get results.
Nurture leads who aren't yet ready to buy: Warm up new leads with automated sequences and personalized communications on autopilot.
Make better business decisions: Use accurate data to inform future decisions about who to target and what activities to focus on.
Understand your customers: Get a deeper understanding of who your best customers are and what makes them tick so you can create content that resonates with them.
Personalize the customer journey: Create unique experiences for each individual customer to increase retention rates and secure long-term loyalty.
Bring marketing and sales teams together: Diffuse potential silos by encouraging seamless collaboration between different departments with a central source of truth.
8 B2B marketing automation strategies
1. Email outreach
Outreach can take up a huge chunk of your time. Your team has to identify potential prospects, research their pain points, and reach out with a personalized pitch. But, with automation, you can collect and curate a list of leads and create unique pitches in just a few clicks. Even better, this can all take place behind the scenes, with just a light human touch to make sure it's all ticking over nicely.
2. Lead tracking
Automation can ensure contact information is synced across platforms to create a single source of truth. Every new piece of data about a customer is automatically added to your CRM, where they can be added to a segment, given a lead score, or entered into a nurturing sequence.
3. Lead nurturing
Automatically send nurturing email sequences to new leads and existing customers to keep them warm. LeadsBridge integrates with top email marketing tools like ActiveCampaign and Klaviyo and uses information from your CRM to segment and send the right emails to the right people at the right time.
4. LinkedIn outreach
Scouring LinkedIn for potential leads can be a huge time-suck. By automating the process, you can send connection requests, personalized pitches, and follow-ups on autopilot while you work on other parts of the business. 
5. Ad campaigns
Automation tools can take the data you have about your customers in your CRM and create lookalike ad audiences or retargeting ad campaigns. This makes sure you're reaching people who match your target personas and are therefore more likely to convert. LeadsBridge integrations with Facebook can help you sync your Facebook leads with other marketing tools for a seamless cross-channel experience.
6. Social media campaigns
Managing multiple social media channels at once can be a headache—did you remember to post that update on Facebook? What about your latest blog–did you share that on Instagram and TikTok? Social media automation can reduce the manual labor (and headaches) involved in managing your accounts by automating post scheduling and handling basic customer support on your social channels.
Find out more about the latest social media trends you can use for your advertising here.
7. Audience segmentation
Automating audience segmentation means you can group like-minded customers and send relevant meaningful content. Giving people the exact information they need based on their unique struggles and pain points can dramatically improve conversion rates.
Want to improve your audience segments? Here's how to integrate behavioral marketing into your marketing mix.
8. Collect reviews and feedback
Reviews are an integral part of the sales cycle—they provide social proof and reassurance to potential customers. You can automate the review collection process to send out requests when a customer takes a certain action and build up your library of reviews on autopilot. Some tools even automatically populate your website and social channels with the latest reviews.
Top 6 best B2B marketing automation software
1. HubSpot
HubSpot is a powerful CRM that provides all the software and integrations a business needs to connect up its marketing, sales, and customer services activities and, ultimately, grow and scale. Integrating HubSpot with your favorite marketing tools through LeadsBridge helps fill the gap between your lead generation channels and your marketing and sales activities.
What else does HubSpot integrate with? Learn more here.
2. Marketo
Marketo is one of the best-known marketing automation platforms and creates a central hub for your marketing activities. By integrating it via LeadsBridge, you can segment customers, send timely messages, and sync leads generated from your ad campaigns.
3. ActiveCampaign
ActiveCampaign is a comprehensive email marketing platform that makes it easy to create automated follow-up sequences to nurture leads and clients. LeadsBridge's integrations for ActiveCampaign enable you to automatically connect up your CRM, sync leads data from Facebook, and segment target customers.
4. Zoho CRM
Zoho CRM is a multi-channel software solution that helps you bring together your sales, marketing, and customer support efforts in one place. Integrating Zoho CRM with the rest of your marketing stack via LeadsBridge automates multiple lead data management processes: It allows you to automatically sync contact information from various different channels, send personalized email sequences, and collect warm leads from ad campaigns.
5. Klaviyo
Klaviyo is another email marketing platform that uses powerful automation capabilities to segment subscribers, send out trigger-based email sequences, and convert more customers. Integrating Klaviyo with your advertising and marketing platforms via LeadsBridge allows you to streamline your contacts data sync to and from your CRM, and leverage this data to learn more about your customers.
6. Intercom
Intercom is an automated customer support tool that lets businesses connect with their customers in real time and automate responses to frequently asked questions. The LeadsBridge's integrations for Intercom help create automated data bridges to automatically manage user data with your CRM to get a big-picture view of each customer.
4 B2B marketing automation examples
Wondering where to start? Here are some ways you can start implementing B2B marketing automation in your strategy.
1. Create email sequences to warm up new leads
Nurtured leads have a 23% shorter sales cycle and make 47% more purchases than non-nurtured leads. But it's not time-effective to manually write out nurture sequences. Marketing automation for B2B tackles this by personalizing nurture sequences based on information gathered from your CRM or ad campaigns and sending them automatically to new leads.
2. Use data from your CRM to create powerful ad campaigns
Instead of throwing spaghetti at the wall and seeing what sticks, B2B marketing automation can take useful customer data from your CRM and use it to populate the target audience information in your ad campaigns. It can do this by creating lookalike audiences or retargeting people who have already interacted with your brand in some way.
3. Segment customers to personalize outreach
Segmentation makes companies 130% more likely to understand their customers' motivations and 60% more likely to understand their concerns. B2B marketing automation can segment customers based on actions they've taken, purchases they've made, and other defining factors to ensure the messages you send out are personalized to their unique wants and needs.
4. Generate leads from your top social media platforms
Social media is a great way to attract new leads—but it can be time-consuming to add new prospects to your CRM every time they connect with you on Facebook or LinkedIn. B2B marketing automation makes this process much easier by identifying potential leads on your social channels and automatically adding their details to your CRM.
How LeadsBridge levels up your marketing automation efforts
When you have multiple different platforms to manage, such as email marketing, social media, CRMs, outreach, and ad campaigns, it can be tricky trying to figure out where to start or how you can bring them all together in one place. LeadsBridge integrates with hundreds of marketing tools so that you can pull data and communications about each customer into one place.
It helps sync up all your marketing data to create an interconnected ecosystem–for example, you can connect your email marketing platform to your CRM, then connect your CRM platform to your ad campaigns, then connect your ad campaigns to your email marketing platforms, and so on.
By creating a tight loop of activities that work seamlessly behind the scenes, you can make sure that all these systems are aligned to increase productivity and data consistency.
Get started on your B2B marketing automation strategy today
B2B marketing automation can change the way you do business, nurture more leads, and create happier customers. Powerful integrations make it easy to connect the tools you use to create a marketing ecosystem that's best for your business and customers.
Discover all our industry-focused solutions and the best integrations LeadsBridge has to offer for your business.