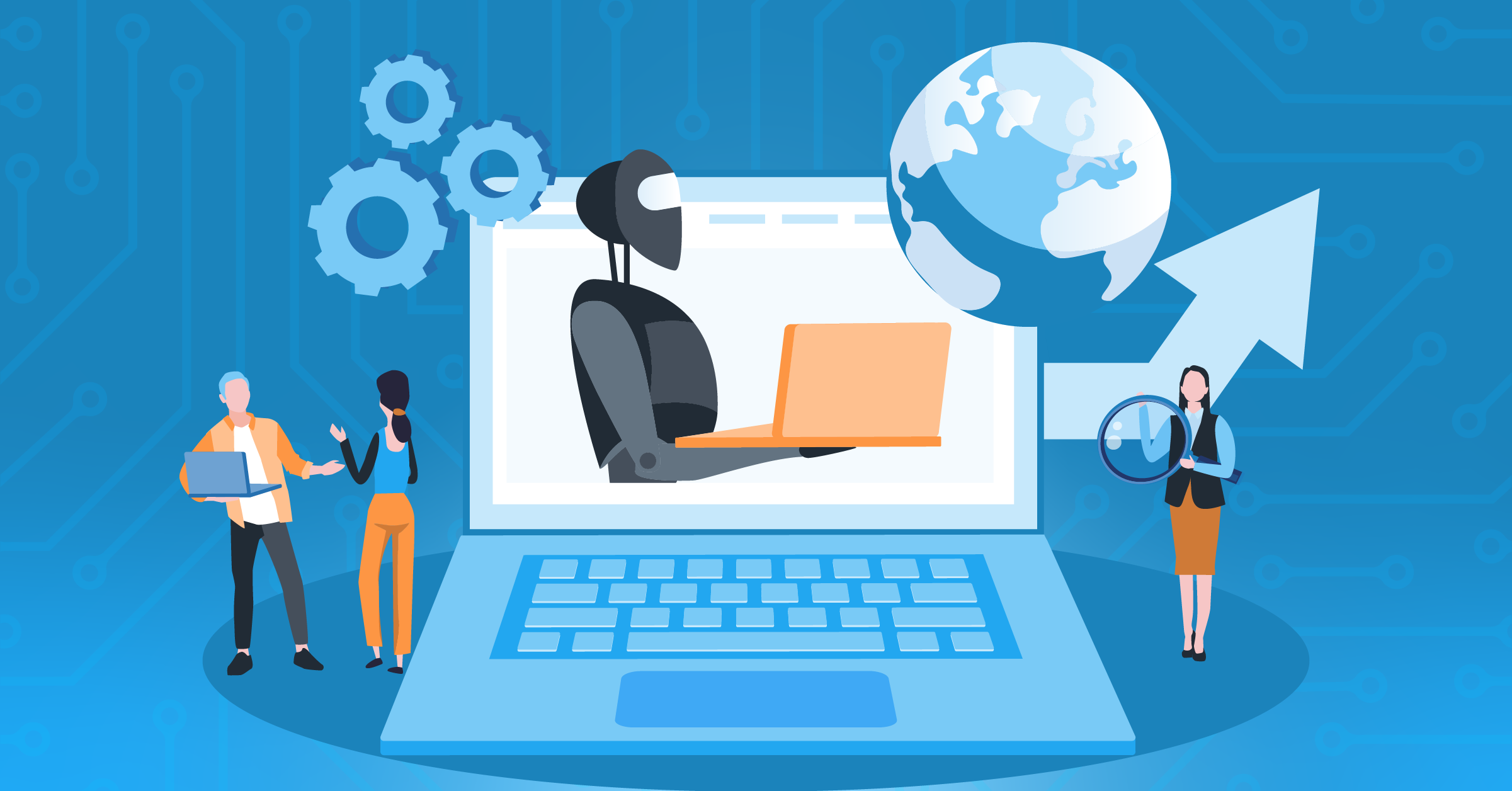 Marketing automation is the pillar of modern marketing, and is especially important for the oversight and coordination of end-to-end internal workflows in an enterprise. With many new tools on the market, however, finding the best marketing automation solution that meets your business goals isn't easy; what new software can help you unlock your marketing potential?
This article will cover the fundamental features of good automation software and a list of top enterprise marketing automation platforms. We'll also discuss some of the most popular third-party integrations with these apps so that you can take your marketing to the next level.
Request for a demo to assess how our custom integrations can benefit your business.
What is enterprise marketing automation?
Enterprise marketing automation is the practice of using an omnichannel software solution to organize, optimize, and automate multiple marketing-related operations.
In short, the enterprise marketing management (EMM) software helps unify marketing processes for an organization. Anything from running and tracking analytics, campaign and project oversight, to managing partnerships, overseeing customer experience, and everything in between.
There are platforms that streamline the management of EMM workflows. However, they may be a part of an all-in-one customer management software or operate as an independent app. Despite their differences, all these platforms share some similarities in purpose: to run different marketing programs in the organization and execute cross-channel marketing initiatives using automated workflows.
Why use enterprise marketing management software
When running an enterprise, your teams are already handling complex operations across several departments that range from micro to macro scale. That's why finding a solution that allows you to oversee and organize your multi-channel marketing within a single platform just makes sense.
The best enterprise marketing automation apps help integrate and simplify end-to-end processes across sales, marketing, operations, partners, and IT. By consolidating your internal systems, you can combine your marketing and sales efforts. But that's not all! There are numerous benefits to using marketing management software, such as:
Boosting both campaigns and teams' productivity
Enhancing internal collaboration
Reducing manual task handing
Accelerating the performance of your campaigns
Assembling an automated and multi-channel marketing system
Building intelligent audience targeting segments and triggered campaigns
Simplifying performance tracking
Reducing the overall costs
Delivering better UX and customer support
Increasing your return on investment
Main functions of an enterprise marketing automation software
We already established that a rich set of tools at your disposal enhances your marketing operation. Here are some of the must-have features to look for in an automation solution:
Interface & integration capabilities
Automation software should be able to sync data to and from other marketing tools to simplify task management and improve organization. It's best to find an app with a highly intuitive interface and easy setup process to make workflows efficient and minimize your staff training.
If your favorite automation software does not offer a certain integration, you'll need a third-party provider such as LeadsBridge in order to build certain data bridges.
Discover all the possible integrations you can use to make the most of your marketing campaigns.
Automated lead management features
An effective lead management strategy prevents letting leads fall through the cracks and boosts your communication with significant prospects. Accordingly, your automation platform should streamline several steps in your lead management process, improve data analytics, and consolidate all your lead information.
Automated email marketing
According to statistics, automated emails yield 320% more revenue than manually executed marketing emails. So using enterprise email marketing platforms results in scaling your across-the-board marketing efforts. This means your automation software should facilitate sending triggered emails, personalized communication, scheduled messages, segmentation of email groups, and performance tracking features- if not more.
Read this article to learn more about automated email marketing.
Automated segmentation
Intelligent segmentation of leads results in better management of time and financial resources, and above all, results in a higher ROI. Businesses can leverage automation to segment, trigger, and create target campaigns. And with many people vouching for receiving personalized communication from their favorite brands, this practice can promote an average of 77% increase in conversions.
The automation platform you choose should be able to manage, maintain, and screen customer data based on your marketing strategy.
Real-time analytics
Tracking your campaigns and scaling your performance are the grounds on which your marketing structure is built. Without them, you and your team cannot make data-driven decisions or optimize your marketing efforts. Always look for an automation tool that offers detailed insights and comprehensive reports.
Testing capabilities
Running A/B testing or multivariate testing is an essential practice to track overall marketing performance. This data also provides an outlook on strategy optimization or the effectiveness of your campaign's specific features.
Excellent data protection
A breach in the data you have collected from your customers could harm the integrity of your business or well turn into a legal suit. Using service providers and tools that guarantee data security is a must. With the new regulations, data privacy features are becoming more and more important in marketing tools.
Consistent support
Enterprise marketing automation platforms are often complex solutions, and having access to support when you need it prevents expensive downtimes. Find a provider that offers reliable and consistent support.
Best enterprise marketing automation software
Marketing automation products share various similarities, most notably helping businesses of all sizes solve their problems and employ more efficient workflows. However, small details can go a long way when matching users to an ideal solution. These could be features, pricing, setup, and installation that vary from business to business.
That's why we have gathered a list of the top enterprise business marketing automation platforms to help you find the right tools within the enterprise tool category.
Enterprise marketing tools categories
With the increasing number of marketing platforms appearing every year, finding the best tool that fits your business's needs is becoming more difficult. Before choosing the tool, however, it's essential to know the type of automation you need to boost your marketing efficiency and ensure the success of your organization. So to help you get started, let's have a look at the main categories of enterprise-grade platforms:
Customer relationship management (CRM) platforms
CRM automation focuses on a spectrum of functions across marketing, sales, and service activities. The enterprise CRM automation platforms are cloud-hosted or web-based tools that substitute high-touch processes with efficient solutions. Regardless of the CRM you are using, you can use CRM integrations to scale and optimize your marketing efforts.
Discover all you need to know about pre-built and custom CRMs by LeadsBridge here.
Statistics show that automated emails show 70.5% higher open rates and 152% higher click-through rates than generic emails. Consequently, enterprise email marketing platforms help you run robust retention and loyalty strategies. This could be from segmenting your target audiences, building personalized campaigns, to enhancing your customer support. In short, these tools help sync your emails with the customer buying cycle.
Search engine optimization (SEO) tools
Managing large sums of data manually and making time-sensitive decisions is virtually impossible! A well-planned SEO strategy focuses on driving organic growth, using tools and software to automate processes like site monitoring and data segmentation on the go.
Customer support & chatbot software
The average satisfaction rate of bot-only chats is over 87%. At the same time, end-to-end AI-driven solutions are becoming more popular for providing effective customer service. By using automation, businesses can reduce the costs and workload of their customer support operations while delivering a better customer experience.
Calendar & event management tools
You can easily streamline the booking system, events calendar, and point of payment. These tools allow you to build, measure and optimize your events, all in one platform.
Project management platforms
An automated project management software empowers your team to work within their individual roles, such as real-time editing, and manage and track multiple projects. Additionally, these tools help create seamless workflows for better organization of the projects.
Social media management software
Automation tools featuring social media publication, engagement, and management decrease the time spent handling accounts across different platforms. Besides reducing manual labor, this process streamlines basic customer service and delivers valuable analytics reports.
Automated marketing & sales software
An automation platform handles common marketing workflows such as email campaigns, behavioral targeting, lead prioritization, and personalized communication. Having all these tasks on one dashboard can provide better collaboration between your sales and marketing teams.
SMS marketing-exclusive campaigns are practical while offering an extremely high return on investment (ROI). Automating these campaigns means rationalizing your customer engagement, customer service, building loyalty, and much more based on logic-based functions. Combining the right automation tools with your SMS mobile marketing strategy ensures effective performance, relevance, and personalization of communications.
Must-have enterprise marketing automation platforms
Regardless of the type of the tool's function, suitable enterprise marketing automation platforms will benefit both sales and marketing departments; they help to define leads effectively and transiting them towards conversions and sales. Below, you can find the top automation platforms that are dominating today's marketing automation with their ouìtdtaing feature:
Salesforce®
Salesforce® is one of the top enterprise marketing automation platforms. In practice, Salesforce Automation is part of the Salesforce Platform, which provides specialized features for business-grade automation. It streamlines repetitive tasks like creating records, sending scheduled or triggered communication, creating workflows, etc. The main features include Workflow Rules, Process Builder, Flow, and Apex, each specialized in solving complex business problems.
Using a third-party provider like LeadsBridge, you can integrate Salesforce® with any of your favorite marketing tools, such as;
Read this article to learn how to integrate Facebook products with Salesforce®.
Adobe Marketing Cloud
Adobe Marketing Cloud enables you to optimize and manage campaigns across different communication channels. This tool carries out A/B test, CMS, and managing digital campaigns, allowing marketers to manage their campaigns more effectively and create more personalized communications with one integrated suite. It also incorporates the Marketo Engagement Platform, offering scalable results and account-based customer engagement.
For better integration, LeadsBridge enables you to seamlessly sync data from your marketing software with Adobe Marketing Cloud.
ActiveCampaign
ActiveCampaign facilitates a wide range of automated workflows such as triggered campaigns, follow-ups, segmentation, triggered email content, and more. It's designed to improve customer experience and requires no complex knowledge, thanks to its easy-to-use interface. Furthermore, you can customize its features to create perfect automation according to your enterprise stage, appointed metrics, and business goals.
The following pre-built automation workflows can take your automation experience to the next level.
Pardot
Pardot is a marketing automation platform that is powered by Salesforce®. It delivers email automation, targeted email campaigns, and lead management, and is specially designed for B2B sales and marketing organizations.
Salesforce Marketing Cloud operates automated workflows for email, social media pages, SMS, marketing data analysis, and launching advertising campaigns. On the other hand, Pardot offers developed features for running and optimizing email marketing campaigns.
Remember that to access Pardot, you must have a Salesforce license.
Integrate Pardot with the top marketing platforms for an omnichannel marketing operation:

Pardot is an ideal platform for running and monitoring lead generation efforts while tracking their journey. Accordingly, Pardot's LinkedIn connector has become one of the most popular integrations. It helps to create and optimize your campaigns on LinkedIn straight from Pardot.
To take your LinkedIn advertising to the next level, read this article about how to set up LinkedIn Lead Gen Forms & Pardot integration through LeadsBridge.
Eloqua
Eloqua is offered by Oracle, designed to automate cross-channel processes for marketing campaigns and sales lead generation. This tool's real-time performance is rooted in its data-oriented operation. It unifies all your prospect and customer marketing signals that are derived from customer profile and engagement data.
Eloqua is an ideal enterprise tool for handling large customer databases requiring complex segmentation. It also offers advanced programmatic abilities to improve automation and efficiency.
Integrate Eloqua with your entire marketing technology stack for higher efficiency:

HubSpot
HubSpot stands out for its intuitive UX and unified codebase while offering one of the most versatile tool kits for inbound marketing, sales, and customer service. HubSpot delivers a native enterprise marketing automation in CRM software.
It focuses on features that enable personalized marketing and sales outreach to improve your user experience through feedback surveys, on-time support, relevant nurturing campaigns, and more.
Using LeadsBridge HubSpot integrations, you can pass data to and from external/internal systems and the HubSpot ecosystem.
Adobe Campaign
Adobe Campaign is a unique automation tool that allows you to handle various marketing operations. Anything from creating marketing campaigns, managing your customer's data, building web pages without knowing how to code, accessing and analyzing campaign data, sending marketing communications, and more.
In short, you can use it to develop, orchestrate and deliver dynamic campaigns through email, web, mobile, and offline channels.
To enforce a multi-channel approach, integrate Adobe Campaign with other marketing tools you use daily.
Microsoft Dynamics 365
Microsoft Dynamics 365 is a cloud-based automation platform that integrates customer relationship management (CRM), enterprise resource planning (ERP), productivity applications, and AI.
In essence, it is an Enterprise Resource Planning software that enables cross-team and internal collaboration and day-to-day business task optimization, and long-term business growth.
Increase your productivity by connecting Microsoft Dynamics 365 with your existing systems:
Twilio
Twilio is the number one communication automation platform offering unique features for building and performing marketing strategies for making phone calls and sending SMS messages. It automates all workflows to help businesses communicate effectively and dynamically.
This cloud platform aims to provide excellent customer engagement through various channels, including SMS, Voice messages, Video, WhatsApp, email, etc.
Connect all your marketing channels with Twilio for sending and organizing bulk SMS messages and phone calls to your leads and customers.
LeadsBridge and workflow automation
Workflow automation means streamlining and automating a series of tasks within the apps you use. Instead of creating processes to fit the tools you use, automation allows you to develop processes that are aligned with your business goals.
Now, to be able to make the operational steps needed to complete a project efficiently, your marketing system must be connected; micro-level data sync leads to achieving macro-level goals. This is where LeadsBridge comes in handy. We connect your apps and services to keep your data stack up to date at all times.
Benefits of using LeadsBridge
LeadsBridge makes it possible to build data bridges between various platforms and transfer data in real-time and thus automate workflows effectively. Here are some more benefits of using our platform:
You can build complex marketing automation workflows by processing leads as they come in and integrating them into marketing campaigns. The Audience Targeting feature also helps you to automatically create retargeting lists based on events that occur in marketing campaigns and/or based on specific stages of the funnel. Some instances of these workflows include:

Contacts who visited Pricing Page but didn't complete the purchase -> Facebook Custom Audience
Contacts who didn't book an appointment -> Google Customer Match
Contacts who engaged with a particular marketing campaign -> Facebook Custom Audience

The Online-to-Offline Tracking feature allows you to sync contacts with conversion tools provided by social media platforms to track and measure conversions that surface both from offline and online campaigns. This data may include:

Contacts who schedule a phone appointment;
Contacts who requested a quote;
Contacts who placed an order.
The real-time lead data sync between apps and platforms helps reduce follow-up time, which consequently increases conversion rates.
LeadsBridge's filtering features and formulas will ensure that only qualified contacts will funnel into the marketing automation campaigns and that leads' data are correct and reliable.
Thanks to the auto-resync, you'll never miss a lead to avoid sync interruptions and data loss. The Platform-to-Platform feature keeps your database up to date automatically, so you'll have access to critical marketing data in real-time.
No storing policy to meet privacy and security requirements; Our platform is fully compliant with GDPR, CCPA, and more.
Features
Real-time lead sync with social media lead gen ads (FB, Google, Linkedin, TT)
Lead Sync with multiple lead gen sources (landing page builders, form builders)
Retargeting Sync with Facebook, Google, and LinkedIn
Conversions sync with Facebook, Google, and LinkedIn
Filters to accept only leads who meet certain criteria
Webhook and HTTP request to notify and send/receive data to and from external systems (i.e., call center)
Tailor-made solutions, best for integrating in-house systems, syncing data between 2+ systems, and creating personalized workflows.
Please note that this feature is only available through managed services.
Managed services and custom integrations in LeadsBridge
Most enterprises have unique automation needs that are challenging to meet. However, we can help you stay ahead of your competition by syncing data between various points in your marketing stack.
Instead of burdening your business with additional tasks and even building a team from the ground up, you can use LeadsBridge's managed services; use our custom-built integrations for enterprises to automate workflows and connect any of your marketing tools.
At an additional cost, you'll have access to Facebook, Google, and LinkedIn Direct Support, Partner Solution Engineers, and our developers with high-tech knowledge around the advertising platforms ecosystem. In addition, you can use this feature to create any integration needed to achieve your business goals.
Request a demo to see how our tailor-made solutions can help your business.
What to take away from this?
Enterprise marketing is all about managing and coordinating internal operations in an enterprise. It allows you and your team to offload repetitive tasks and enhance productivity on many levels. What's more, these platforms boost lead generation and conversions, lower costs, and help grow your business.
While there are many automation platforms out there, not all offer the same features or the qualities that fit your business. Signing up for trial periods helps you get first-hand insights about the tools, their interface, and features.
Discover all our pre-built and custom integrations to automate your enterprise's workflows.