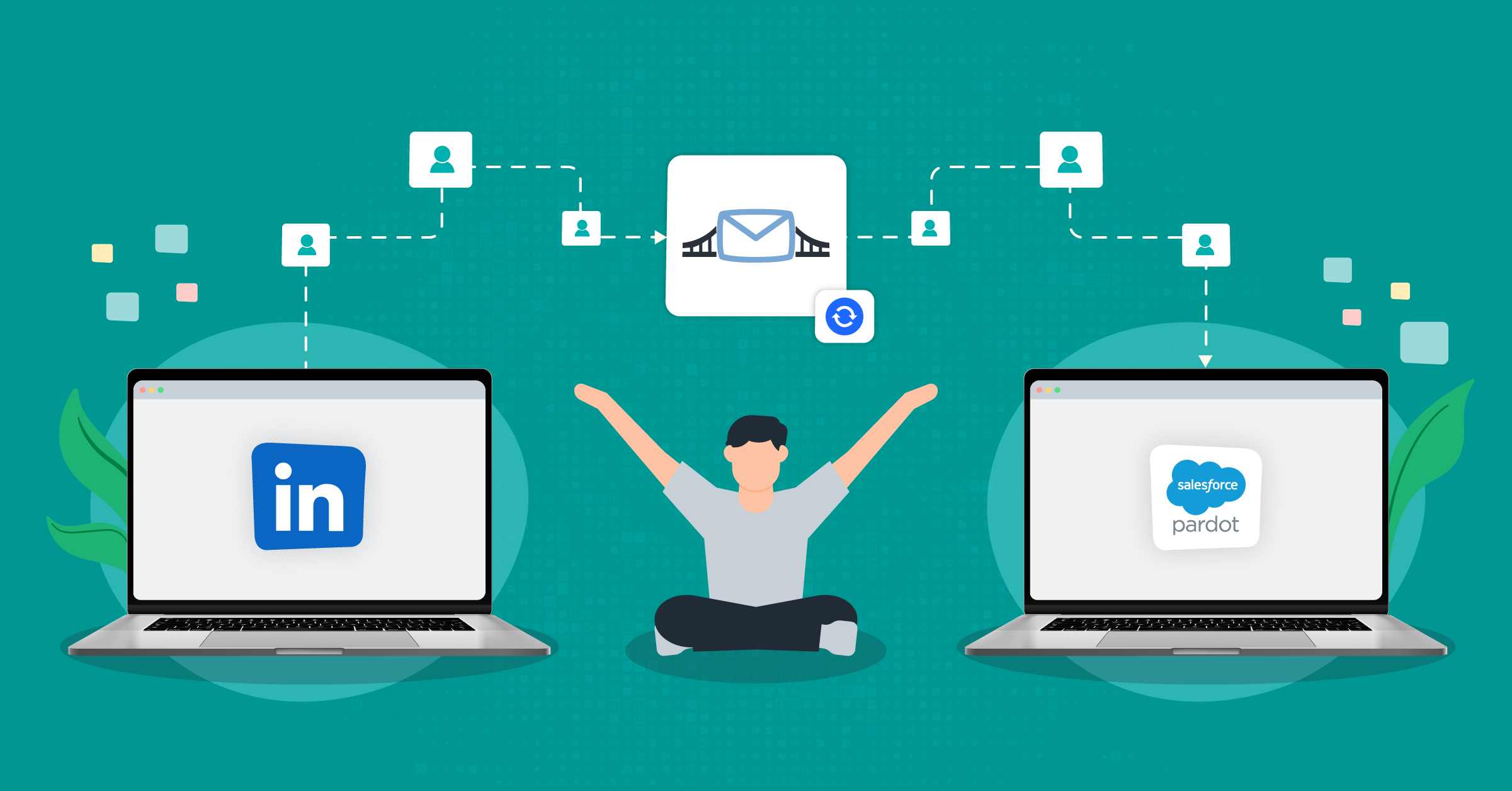 One of the many reasons why most businesses rely on a comprehensive automation software like Pardot is because it allows you to run and monitor all lead generation and prospects' activities in one single place. So, if you're using Pardot to run and keep track of your business, you certainly know about Pardot's LinkedIn connector, and how useful it is to help you stay on top of your LinkedIn activities, directly from Pardot.
However, the LinkedIn-Pardot connector only lets you in on profiles and social posting. In order to be able to transfer users' data from LinkedIn to Pardot, you need a LinkedIn-Pardot integration, such as the one provided by LeadsBridge.
In this article, we will go over what is Pardot's LinkedIn connector, how to connect LinkedIn to Pardot, and how LeadsBridge can help you enrich this feature further with its LinkedIn-Pardot integration.
What is Pardot's LinkedIn connector?
Pardot offers two LinkedIn native connectors: Social Posting and Profile Lookup.
Social Posting
With a Social Posting LinkedIn-Pardot connector, you can schedule LinkedIn social posts and updates right from your Pardot instance. When composing, you can see the character limit, as well as include any links, images, videos, and of course emojis.
The only thing you need to do in order to set up your LinkedIn-Pardot connector is to verify a LinkedIn user who has Admin rights on the company's LinkedIn page. Once the user has verified the connector, you can start scheduling LinkedIn posts directly from Pardot.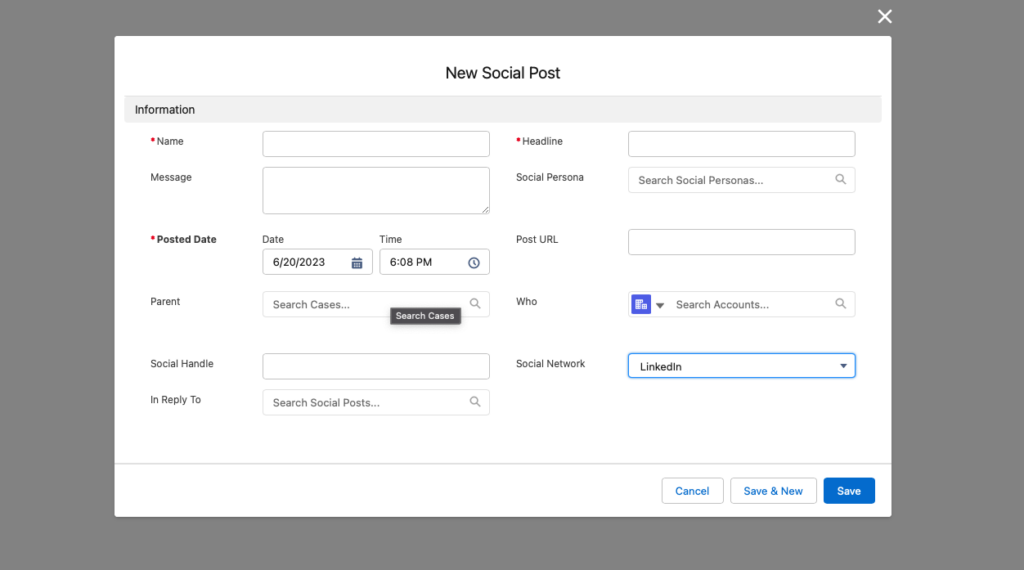 Profile Lookup
The Profile Lookup LinkedIn-Pardot connector allows you to navigate to the prospect's LinkedIn page right from their profile in Pardot.
The connector matches the user's data based on First Name, Last Name, and Company fields, so make sure these fields are set correctly in Pardot. You can access the link from the prospect profile, which will also give you access to the prospect's LinkedIn company page.
This LinkedIn-Pardot connector is extremely easy to set up, and you don't even need to use your LinkedIn credentials for verification. You can find this connector under Social Media connectors in Pardot. If you are unable to see it, it might already be enabled for you, since new accounts automatically include this feature.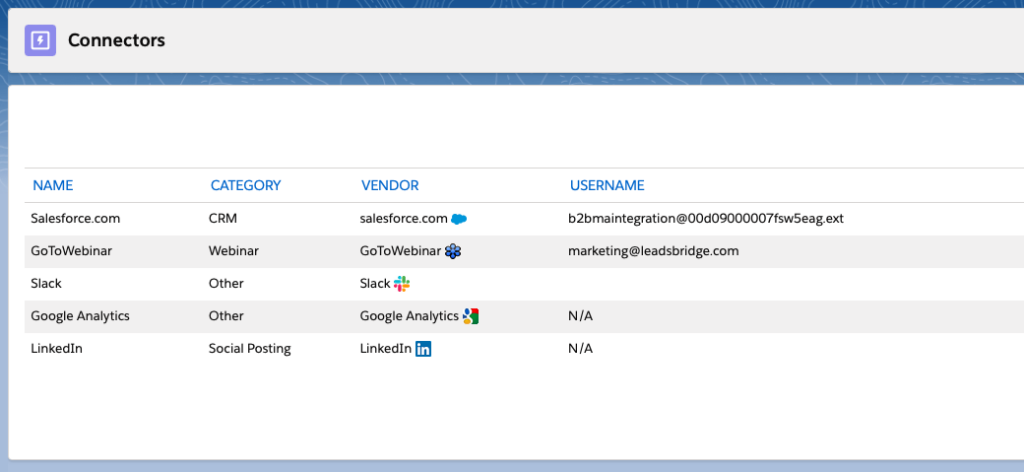 Why use Pardot's LinkedIn connector?
As a marketer, you might be able to guess why Pardot's LinkedIn connector is such a great tool. However, I will list a few reasons why you should definitely enable a LinkedIn-Pardot connector.
It saves time
Instead of having to navigate through two different platforms, a LinkedIn-Pardot connector allows you to save time by letting you access both platforms from one single environment.
It gives you direct access to valuable information
It's not ideal to have two separate systems housing different information about the same prospect.
If this happens and your sales team gets in touch with a prospect based on the information they have in Pardot alone, they are missing information that could be really valuable in order to lead to a successful conversion.
Overlooking information about a lead found in another system outside of Pardot would make your company come off as disorganized. So, giving your sales team access to all of the additional activities a prospect takes – directly within Pardot – makes it easier for them to spark a conversation and leverage on the pain points the prospect is most interested in discussing.
Which, of course, means they are more likely to convert the lead into a customer.
It automates data handling
Being able to access LinkedIn prospects' data directly from Pardot without having to manually move data from one platform to another is a safer and risk-free way of handling data.
Manual data entry – even though it's a simple copy and paste operation – can result in inaccuracies and human error that could cause you to miss the opportunity to convert a new customer.
It provides better tracking of ROI
A LinkedIn-Pardot connector makes it easy to match lead generation activities on LinkedIn with revenue generated in Pardot.
As a marketer, this allows you to prove marketing impact and ROI in a much easier way than having to manually match up lead generation sources with closed sales.
Why you should use Pardot for social media
Using Pardot for your social media activities guarantees you the following benefits.
Better understand your prospects' behavior
Pardot for social media offers visibility on what type of content your prospects' are engaging with. By tracking their website activities and matching them with their social profiles, you can get a comprehensive view of their digital behavior.
Strengthen your campaign tracking
As you do with the rest of your assets in Pardot – email workflows, landing pages, forms, etc. – you can assign your social media posts to a specific campaign. This allows you to build an even stronger campaign tracking, understanding which pieces of content performed best and which channels were the most successful.
Reach prospects on other channels
Pardot's feature Page Actions allows you to trigger automated activities – like sending a follow-up email or creating a task for a Sales rep to follow up – based on a Prospect's visit to a specific page on your website.
Similarly, Custom Redirects provides tracked links that redirect to another web page. So, by using Pardot for social media, you can reach your prospects on another channel to push them towards your website. And if they click, it will also trigger any designated automated action.
Retarget and re-engage your prospects
Inside Pardot, you probably have a number of lists of segmented users, based on different behaviors and how far along they are in the sales funnel. With a third-party tool like LeadsBridge, you can leverage your lists in Pardot to create custom audiences you can use to retarget and re-engage your prospects on LinkedIn.
LeadsBridge's LinkedIn-Pardot integration
Pardot's LinkedIn connector sounds great so far, but what if there was a way to enhance the potential of this native feature with a 3rd party tool? LeadsBridge's LinkedIn-Pardot integration allows you to connect your LinkedIn Lead Gen Forms with your Pardot to move leads into your system right away, as soon as they interact with your ad on LinkedIn and fill out your form.
This integration is 100% automated and moves leads in real time, in a matter of a few seconds.
How do I connect LinkedIn to Pardot?
Connecting LinkedIn Lead Gen Forms to Pardot with LeadsBridge is extremely simple and only takes a few steps. After creating your LeadsBridge account for free, all you need to do is:
Log in to your LeadsBridge account and click on Create new Bridge in the dashboard. If you don't have one, you can create one for free.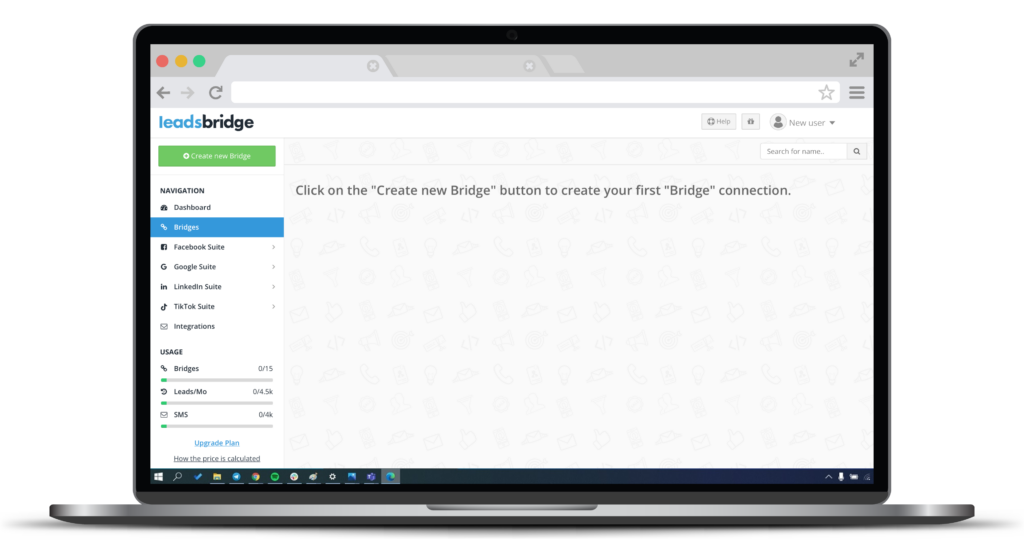 Select LinkedIn Lead Gen Forms as your source.
Select Pardot as your destination.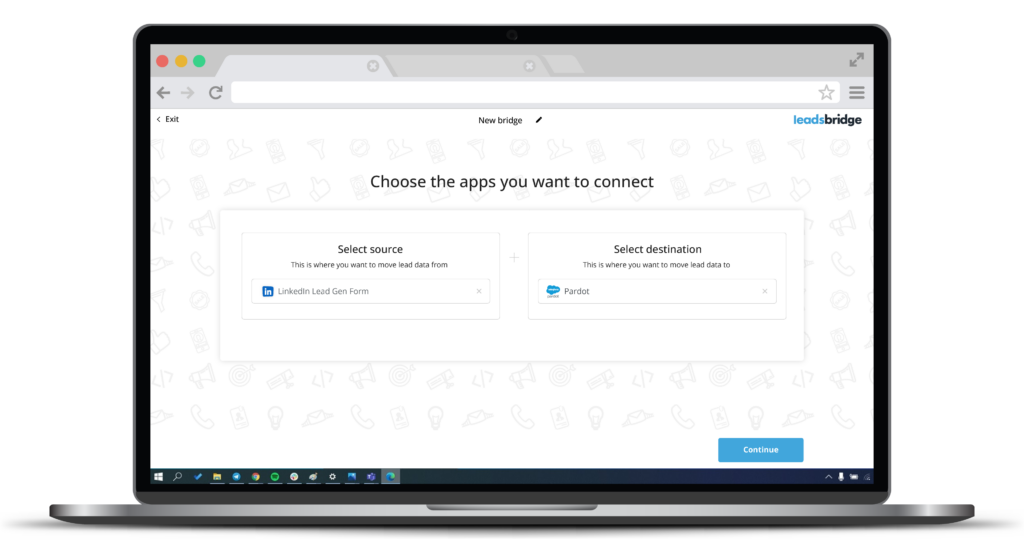 Grant LeadsBridge access to your LinkedIn and Pardot accounts.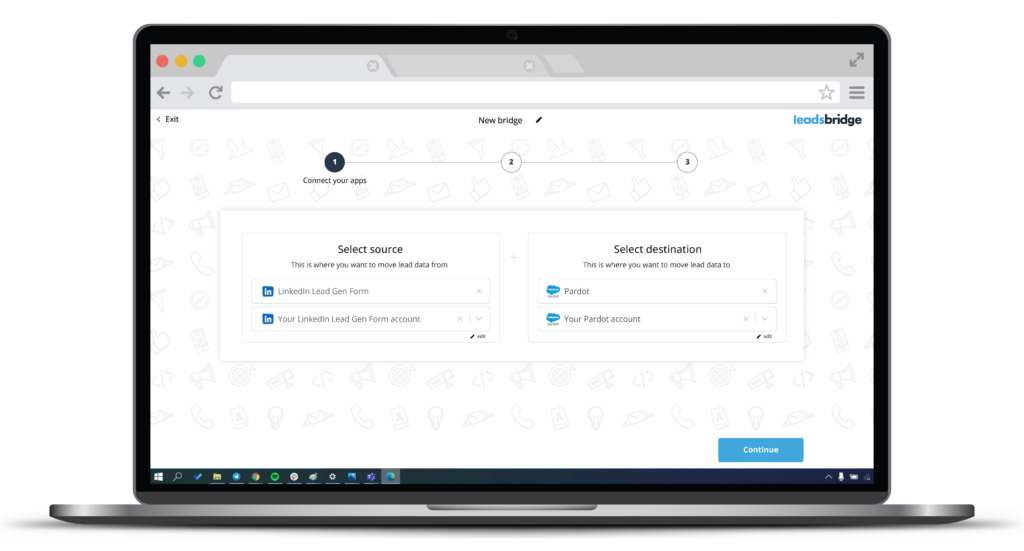 Make sure all fields are matched correctly between source and destination.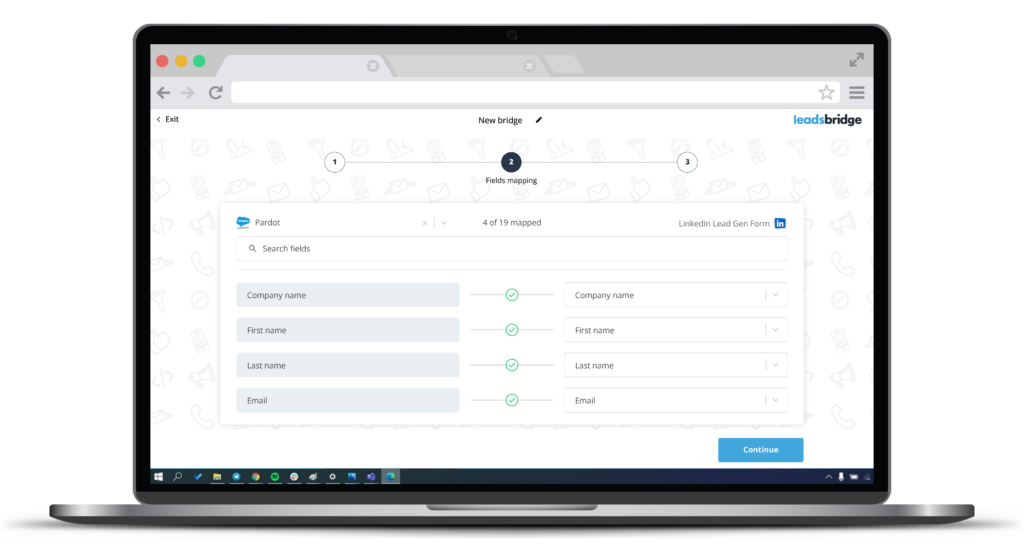 And voilà! Your bridge is active and it will start moving data for every new lead coming in.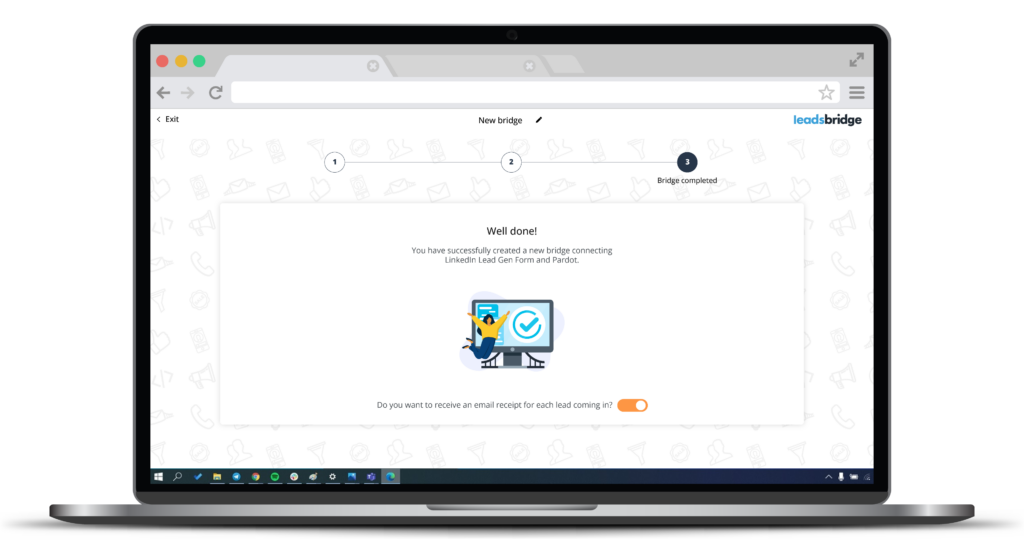 If you'd like to see a detailed step-by-step guide on how to connect LinkedIn to Pardot with LeadsBridge, all you have to do is read this article from our blog: How to set up LinkedIn Lead Gen Forms & Pardot through LeadsBridge.
The benefits of LeadsBridge's LinkedIn-Pardot integration
Integrating LinkedIn with Pardot through LeadsBridge allows you to build a seamless connection between LinkedIn Lead Gen Forms and Pardot so that they can share data automatically and in real time. This gives you the opportunity to avoid manual downloads and uploads of sheets filled with data and get in touch with your potential customers as soon as they interact with your business, therefore increasing your chances for conversion.
LeadsBridge's integration, along with Pardot's LinkedIn connector, allows you to build your own interconnected marketing ecosystem, where data is always shared across platforms automatically, for maximum visibility on your sales funnel.
What's great about LeadsBridge's LinkedIn-Pardot integration is that it's free! With LeadsBridge's Free plan, you are able to have 1 running bridge (connecting LinkedIn Lead Gen Forms and Pardot) to move 50 leads per month for free, forever.
If the threshold of the Free plan is too low for you, you can easily upgrade to the Pro plan and choose your desired lead volume. The monthly fee will adjust accordingly. To learn more about LeadsBridge's pricing plans, you can check out this article from our blog.
Final thoughts
Pardot's LinkedIn connector is a great way to gain visibility into your LinkedIn social activities and customers' profiles from one single platform. This allows you to save time and reduce the risk of human errors, resulting from manual data handling.
LeadsBridge then gives you the opportunity to further enhance the power of the LinkedIn-Pardot connector with a seamless, automated, real-time LinkedIn-Pardot integration, that transfers data from LinkedIn Lead Gen Forms directly to your Pardot.
This is the best way to avoid manual tasks, save time, and gain a head start over your competitors to increase the chances for a successful conversion.