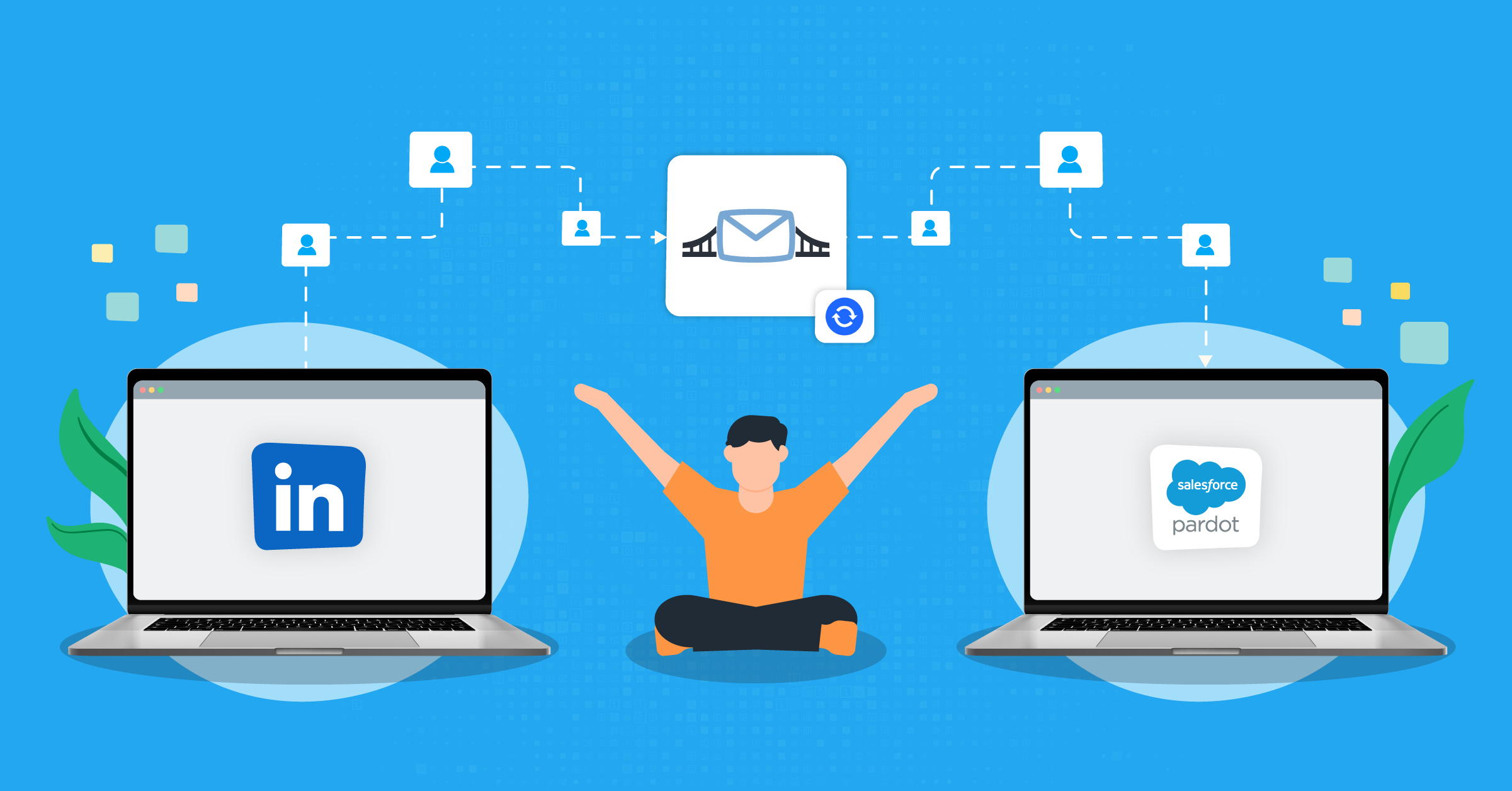 LinkedIn Lead Gen Forms offer a robust medium for any advertiser targeting the B2B market. Through this feature, the platform allows easy form completion for new leads. Capturing new prospects is quite straightforward, but how to process this data back into Pardot? Automation is the key.
In this article, we'll go through the step-by-step instructions for setting up your LinkedIn – Pardot integration through LeadsBridge.
What does Pardot integrate with?
Pardot integrates with various platforms including LinkedIn, in order to sync and manage data.
However, to reduce friction in data management processes, you'll need to automate the flow by configuring Pardot- LinkedIn connect.
Now, let's talk about getting form submissions from your LinkedIn Lead Gen Forms back into your Pardot account and how LeadsBridge can make that happen for you.
Without Automation, you'll have to do this manually which involves exporting the submissions from LinkedIn (as a CSV file in Campaign Manager), then uploading the lead data into Pardot. LeadsBridge, on the other hand, fills this gap by providing a data bridge that lets you run your Pardot-LinkedIn-connect process in autopilot.
How do I integrate LinkedIn with Pardot?
Here's an outline of what you need to do in order to get your Pardot-LinkedIn connection set up:
Before you start
LeadsBridge offers easy-to-use solutions. So without any knowledge of coding, you can set up your Pardot-LinkedIn integration in just a few clicks.
Before getting started, log in to your LeadsBridge account. You can create one for free here in case you haven't registered already.
Once your registration is completed, you'll have access to your personalized LeadsBridge dashboard.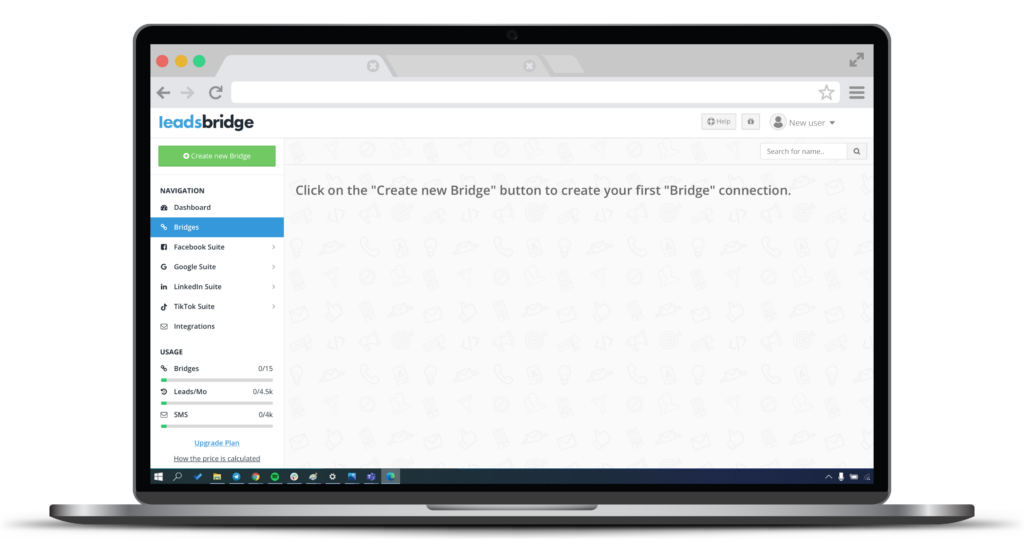 Step 1: Bridge's main information
At the top-left corner, find and click on the "Create new Bridge" button. Then, you'll be able to select the apps you want to connect:
Select "LinkedIn Lead Gen Forms" as the source for your bridge.
Choose "Pardot" as the destination.
Click "Continue".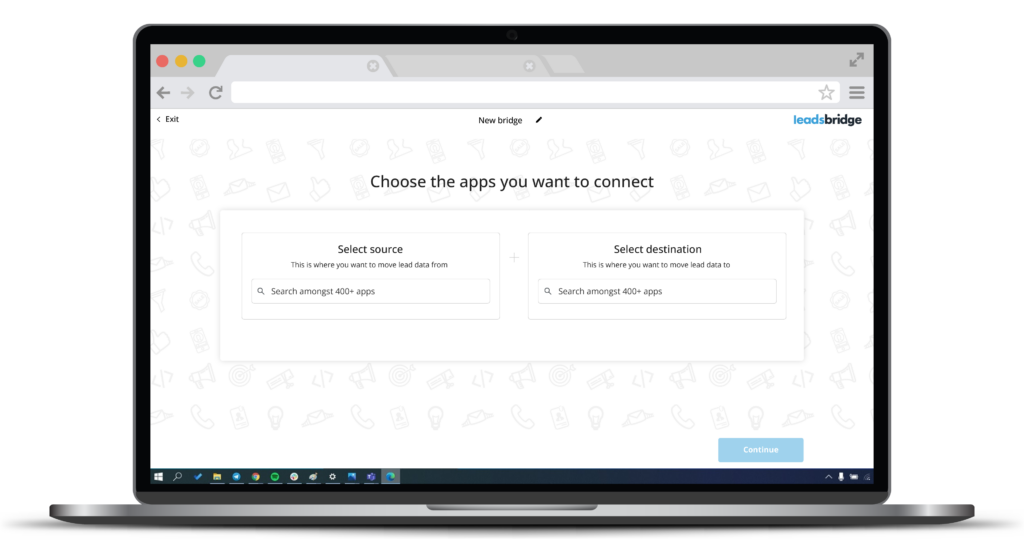 Click on the edit pencil icon at the top to name your bridge. This will make finding and managing your bridge more manageable later on your LeadsBridge dashboard.
Step 2: Connect your accounts to access each platform
Here, you'll need to connect your accounts and access each platform via LeadsBridge. In short, you'll have to verify your LinkedIn and Pardot accounts here.
Log in to your LinkedIn account. Remember that it's necessary to have Admin access to your LinkedIn company page (Company Page Admin or Lead Gen Forms Manager role).
Access your Pardot account using Salesforce credentials; you'll need Salesforce® Single Sign-on (SSO) to access the platform. If you are having trouble logging in, get in touch with your Pardot Admin for assistance.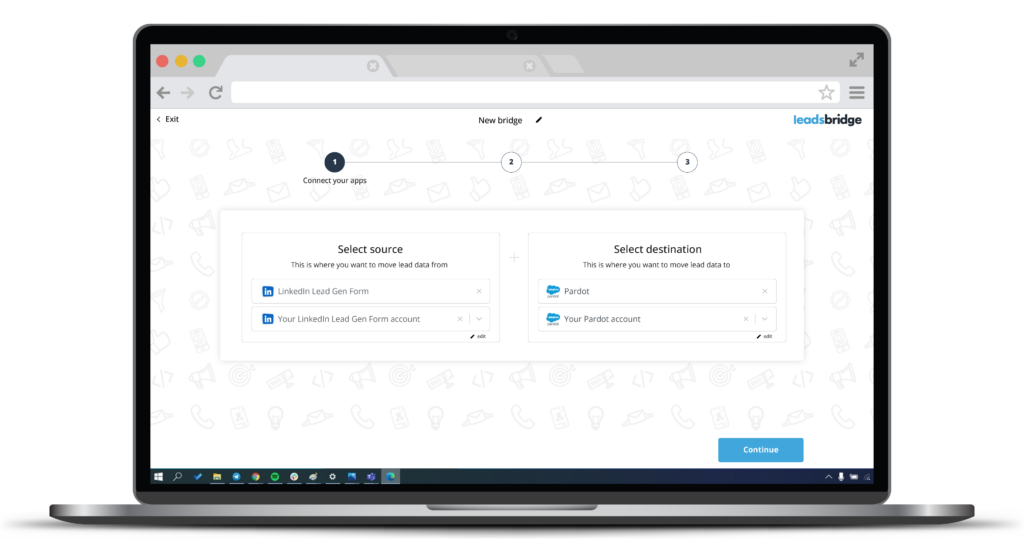 Once you've done this, you can move to the next step.
Step 3: Fields Mapping
As a technical part of the process, you'll need to map your source information with your destination fields to make sure all the data is transferred accurately.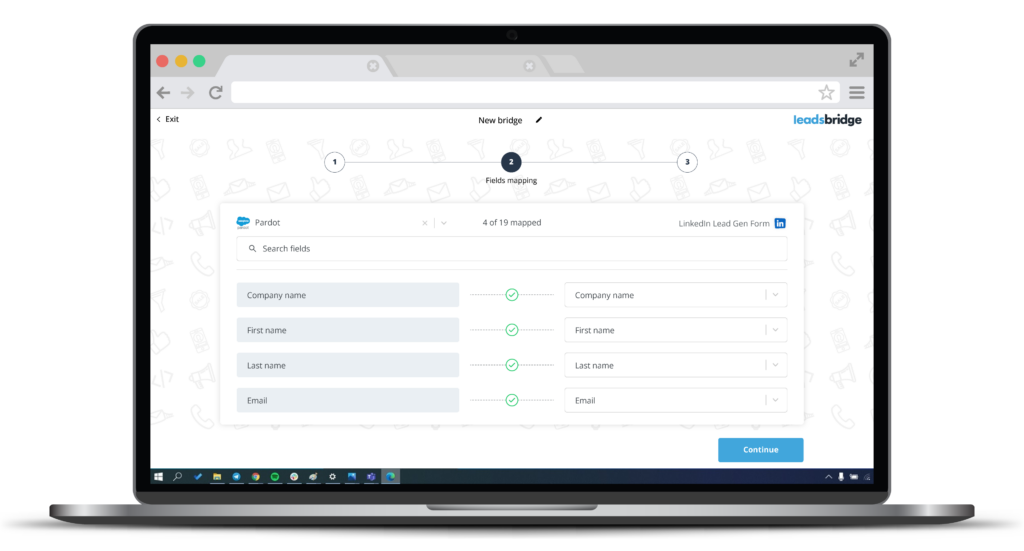 Verify all data fields are mapped accurately to have your LinkedIn-Pardot integration.
Examine all the fields; type or edit information manually as needed.
Click "Continue" to configure your settings.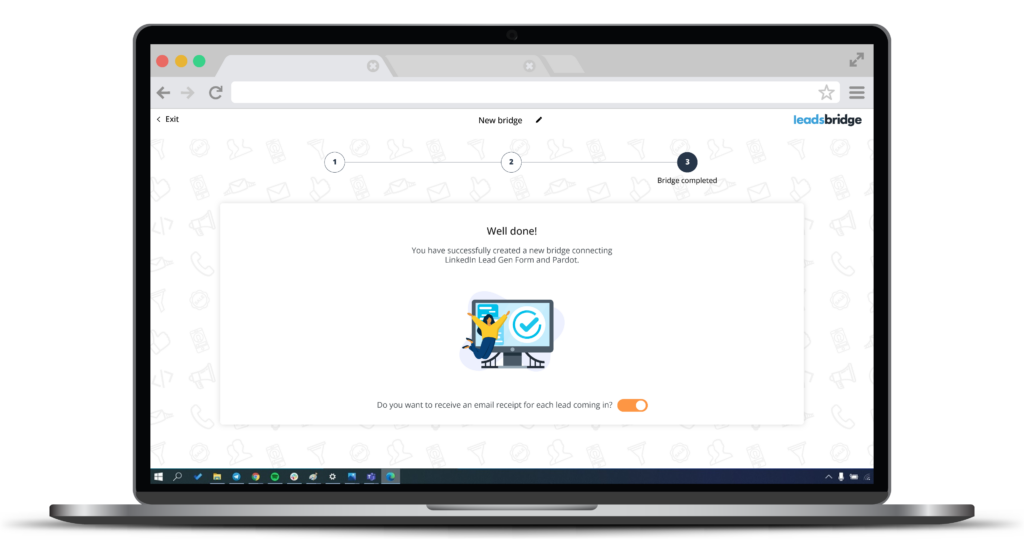 And that's all! Your bridge is now active.
Why is integrating LinkedIn Lead Gen Forms with Pardot through LeadsBridge the best option?
There are a few reliable options to streamline platform-to-platform data management, but getting a data bridge that is highly efficient, automated, and free of cost is rare to come by. Let's have a look at what LeadsBridge offers when it comes to Pardot-LinkedIn integrations.
Available via LeadsBridge Freemium
As the name suggests, LeadsBridge Freemium is our free tire automation program that offers you the same benefits as our paid services. The only difference is the number of leads you are allowed to process. So for a small startup or those testing out different automation providers, LeadsBridge integrations are great options available at zero costs.
Learn more about our Freemium plan here.
Better lead management
By adopting LinkedIn-Pardot automation, you'll spend less time looking for data or handling them, increase your campaign's success rate, and better scale your business with efficient lead management. Moreover, thanks to LinkedIn Lead gen Forms & Pardot integration, you will be able to enhance the potential of Pardot or LinkedIn native features, such as Pardot's LinkedIn connector.
Accurate and effortless lead sync
Manual data management is prone to error and high friction. Instead, automating your system gives you better control over your multiple cloud-based apps and their function.
Immediate follow-up
The best practices for effective lead follow-up enable a quick and appropriate response to prevent making your LinkedIn leads fall through the crack. And our Pardot – LinkedIn integration helps you do just that.
Run effective LinkedIn campaigns with Pardot
Using LeadsBridge, you can set up your Pardot LinkedIn connect configuration in no time. Additionally, you can run high-performing B2B campaigns on LinkedIn by leveraging automation to better manage your lead data and ultimately ensure higher revenue.
For more information, read our article on how to connect LinkedIn Lead Gen Forms with Pardot via LeadsBridge.