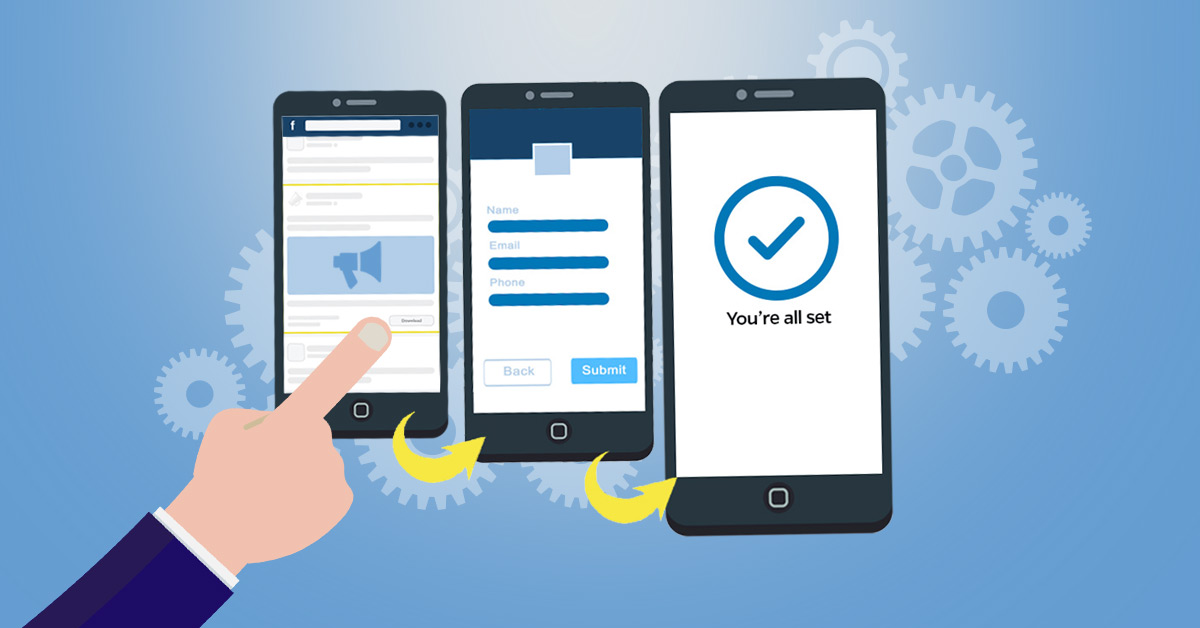 Get Inspired by These 13 High Performing Facebook Lead Ads
Are you struggling to attract new leads through Facebook?
Wondering how to create Facebook Lead Ads that get more clicks and conversions?
In this article, I will answer the most burning questions I received in the last months about how to generate qualified leads from Facebook.
The questions are:
"What's the best way to generate an astonishing number of leads effortlessly through Facebook Lead Ads?"
"How can you start to run a successful Facebook Lead Ads campaign from scratch?"
"How can you seamlessly sync leads from Facebook into your CRM?"
Let me tell you a secret.
Since I'm an Internet marketer, I noticed that many advertisers are always looking for a "new little-known method" to get more leads, more sales, and more money.
Of course, sometimes it comes out a new strategy or tool that can have a huge impact on your marketing – like Facebook Lead Ads itself.
However, often in marketing, you don't need to reinvent the wheel.
For this reason, the best tip I can give you to learn how to master Facebook Lead Ads, is embarrassingly simple.
You just need to:
Recognize what is working NOW.
Do the same stuff.
By scrolling this page down, you will discover 13 high-performing Facebook Lead forms examples created by Facebook marketing agencies like Voymedia to inspire you, and how they work.
It doesn't matter if you're an expert Facebook Advertiser or a marketing newbie. By following these Facebook lead form examples I'm about to share with you, you can create Facebook Lead Ads that convert.
Before getting started with the article if you are new to the Facebook lead ads world, and you want to get an in-depth explanation on this topic along with some tips to improve your performance with this Facebook feature, don't miss out on our step-by-step guide here. Also, here is a link to a blog post on Top performing Facebook Lead ads.
Let's get right down to it.
The "social proof" Lead Ads
The Social Proof principle is one of the most powerful triggers used in marketing.
When running a marketing campaign on Facebook, Social Proof work in many ways: for example, using testimonials and having a huge number of likes and comments can influence people about your brand's popularity and credibility.
The image below provides another example of Social Proof.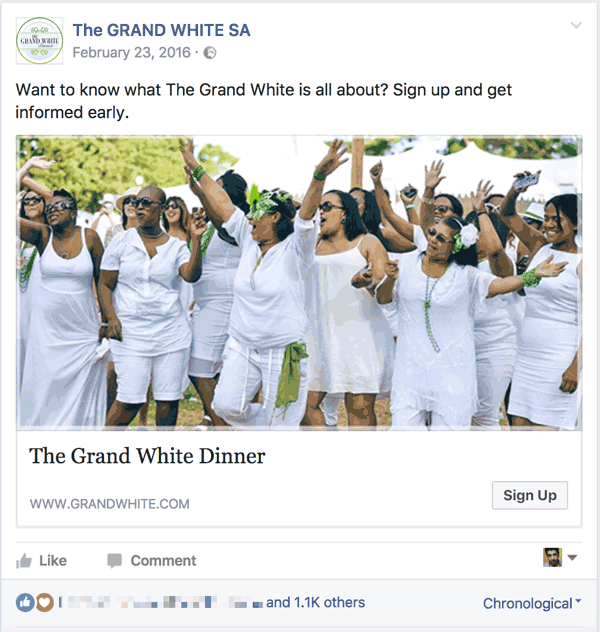 Source: The Grand White SA
The ad promotes "The Grand White Dinner" event, showing an image with many people who enjoy staying together, which builds a sense of Social Proof into the offer.
As you can see, the sign-up form requires many data – such as Name, Surname, email, and country.
However, the signup process remains very simple and fast, because Facebook Lead Ads automatically populates contact information that people have given.
Click HERE to see this Ad on Facebook.
The "benefit list" Lead Ads
One of the main questions you should ask yourself when creating a Facebook Lead Ads campaign is:
"Which benefits can I provide to my leads by joining my list?"
The ad below has the answer!
Source: Wealth Factory
This ad shows off a full list of benefits that prospects will receive thanks to the IRS, the topic of the Free Pdf they use as Lead Magnet.
Moreover, the information required to sign-up is just name and email, which makes the process of acquiring leads very short.
Click HERE to check out this Ad on your Facebook.
The "Carousel" Lead Ads
Have you ever tried to use a Carousel Ad for your Facebook Lead Ads?
Carousel Ads let advertisers showcase multiple images in the same ad, and there are many different creative ways to use such a type of ad to increase your results.
This Carousel Ad from Tokyowheel promotes a FREE 6 part e-course, and each lesson is shortly described by an image that users can scroll.
The guys from Tokyowheel included in their sign-up process a welcome screen to aware people about what they are getting by subscribing to their list.
Source: Tokyowheel
What's the welcome screen?
The welcome screen is, simply, the new name for a context card, an optional tile that pops up when people click on the ad in their news feed, right before they visualize the pre-filled signup form.
Facebook introduced this function to allow people to get more information about what they were signing up for prior to submitting the form.
This sort of additional step within the signup process helped many marketers and business owners to increase the leads' quality.
Finally, the ad requires only basic data to prospects such as name and email.
Want to see this Facebook Lead Ad in action? Click HERE!
The "Learn more" Lead Ads
Many marketers think that offering a lead magnet is the only way to generate leads.
I thought the same, before learning how to use Facebook Lead Ads.
Facebook Lead Ads, in fact, can be used to collect leads who simply want to learn more information about a topic.
Source: TalentMed
Moreover, thanks to its easy sign-up process, Facebook Lead Ads allows you to generate leads for consultations, sales calls, demos, and test drives.
If you want to learn more about how to boost such types of services through Lead Ads, click on the link below and learn everything you need to know about it.
How to boost sales calls, demos and test drives using Facebook Lead Generation Ads
The "Download" Lead Ads
Facebook Lead Ads are a great opportunity to share e-books, brochures, and many more downloadable documents with leads and prospects. Take a look at this example below.
As you can see, Airstream has used the carousel format to promote their downloadable brochures, and they even give a video presentation.
This is an excellent strategy for retargeting campaigns, as the main audience is people who have already visited your site, and are interested in what else you have to say. 
Additionally, the "download" Lead Ads could be used to share technical information and diagrams for various products, insights, and more. 
The "Limited time offer" Lead Ads
Everyone loves a good deal, especially if it's a limited-time offer. Facebook Lead Ads don't have to be just about a prospect opting for a newsletter. If done right, the lead can be put directly into the sales funnel. 
Source:  VirginActive
With a little persuasion trigger, Facebook Lead Ads can perform very well. In this case, this is a limited-time offer, adding a sense of urgency to customers. Virgin Active South Africa isn't offering any sort of discount, but a few months of membership for free. To someone looking for a good workout, this Facebook Lead Ads example probably looks very enticing. 
The "Discount/Promotion" Lead Ads
Lead Ads are designed specifically for one purpose: to generate more leads. This could be through a newsletter sign up, webinar, and so on. However, getting new leads to sign up without some sort of incentive can be hard to do. That's where the discount Lead Ads come into play. 
Source: Turners cars
As you can see from the Facebook Lead Ad above, Turners cars is offering $500 off as an incentive for prospects to click on the ad. In addition, it's a limited-time offer.
Although this is a great Facebook Lead Ads example, it is exactly that: just an example. A Facebook Lead Ad could be something as simple as offering a 5% or 10% discount code for their next purchase.
Alternatively, Facebook Lead Ads could be used to advertise some sort of promotion in general, dropping the prospect directly into the sales funnel. Something as simple as a buy-one-get-one campaign can really do the trick if timed correctly. 
The "Giveaway" Lead Ads
Discount Lead Ads are a great way to bring in new leads, but they can backfire if they're run too often. Eventually, customers might not feel the value of a discounted product or service. Instead, doing something like a giveaway might prove to be more effective in some cases.
Source: Hyperbits Music
In the Facebook Lead Ads example above, Hyperbits Music is offering a free PDF download for musicians that sign up using their email. This Facebook Lead Ad is proven to be highly effective. After all, who doesn't love free stuff? Read the success story here.
This Lead Ad in particular is very clever because Hyperbits Music knows exactly what their customers/prospects are looking for. For a 50 page PDF on mixing and mastering music, simple email signup doesn't seem so bad for a musician. 
The "Pre-launch" Lead Ads
Any time a brand launches a new product or feature, there's always some anticipation from the users/buyers. For example, car enthusiasts, or really people just looking to buy a car, might get excited to know about a new car being released. 
Brands like Nissan have mastered the strategy of harnessing that anticipation and using it to generate leads. Check out this Facebook Lead Ads example:
Source:  Nissan
Car brands use Lead Ads just like this one to get people excited about the new car before it's even available. It's sort of like watching the trailer to a movie. It gets the customer excited about what's to come. Want to improve the quality of lead generation for your automotive agency with ease? Click here.
With this particular Facebook Lead Ads example, Nissan gives the leads a few cool details about their new crossover and simply asks the customers to "stay tuned" and wait for more details.
This is a highly effective and high-performing Lead Ad because as time goes on, the anticipation builds, and Nissan gets an influx of leads and customers, even if it's only for a brief time.
The Lead Ads with emojis
Have you tried emoticons and emojis with your Facebook Lead Ads?
If not, please do it NOW.
Emojis are small, funny icons used for digital communications. These icons represent a "universal language" that everybody can understand immediately, and in today's world they have become an essential part of our text language on Social Media.
However, we recently tested emojis in our Facebook ads.
We wanted you to understand if, by using them, we could really improve Ads' engagement and CPA on Facebook.
The results that came out of it were just incredible: the ad with emojis obtained 2000% more leads than the same one with only text.
If you want to learn more about our test with emojis, just scroll down below on our next piece of content.
Psss… you can take a look at this ad on Facebook by clicking HERE!

The Facebook ads for email sign up example
Whether you are a small, medium, or big business, Facebook leads ads can help you get email sign-ups to your newsletters. One good example of Facebook ads for email sign-up is from Woodworkers Guild of America. They created a Facebook lead ad to help increase their email sign-up for their newsletter. In the description, you can see that they offer freebies such as how-to videos, projects, and tips weekly to attract users to sign up.
Source: Woodworkers Guild of America 
Facebook ads with lead magnets
Lead magnets are essential tools for capturing leads. It's been one of the ancient secrets of capturing emails on blogs and websites. However, with the availability of Facebook Lead Ads, you can easily create Facebook lead ads with lead magnets that will entice Facebook users to sign up to your email list and get the lead magnet in return. Below is an example of lead magnet facebook ads from Sleeknote. They create Facebook lead form ads and use a lead magnet – ebook to get users to sign up to their email list.  See it below.
Source: Sleeknote 
Facebook lead ads with a great visual imagery
Visuals are very important when it comes to Facebook lead ads. This is the reason why Facebook favors visual images over text because time has shown that users prefer to see visuals than text. This is where you need to use images that easily resonate with your audience in your Facebook lead ads. Ensure that the visual is crisp and clear as the example shown below from "practice social media".
Source: Practice social media 
In the image above, the colors are evenly balanced so it attracts your eyes to where the advertiser wants it to be. The image in the ad makes it stands out in the stream in the news feed.
Facebook Lead ads with personality
A business is run by someone – a person. So creating Facebook Lead ads with personable and informative text is very important. It can help you stand out from other ads in the Newsfeeds. A good example of a brand that creates personable facebook lead ads is Airtable.
Source:  Airtable 
They created an ad that speaks to their customers' pain points, while still showing they are human. For example in the description, they wrote – "We get it". That is like saying "We feel you".
Conclusion
I know first-hand that collecting leads through Facebook can be a headache. But it doesn't have to be.
As you can see, there are many ways to increase your Facebook Lead ads results, if you know how to do it.
In this article, I shared with you some interesting Facebook lead form examples that will, hopefully, inspire you to make the most out of this fantastic tool.
You've seen many uses and ways to create more effective Facebook Lead ads:
The "Social proof" Lead Ad

The "Benefit list" Lead Ad

The "Carousel" Lead Ad

The "Learn more" Lead Ad

The "Limited time offer" Lead Ad

The "Discount/Promotion" Lead Ad

The "Giveaway" Lead Ad

The "Pre-launch" Lead Ad

The Lead Ad with emojis

Facebook ads for email sign up example

Facebook ads with lead magnets

Facebook lead ads with a great visual imagery

Facebook Lead ads with personality
Now it's your turn.
How will you use these models?
Do you find them useful?
Let me know which type of ad is most inspiring for you, and how are you going to use this Lead Ads swipe file to bring your next lead generation campaign to the next level.

How emojis improved our Facebook Ads by 2000%
If you already crashed into our blog, you may have noticed that, here in LeadsBridge, we always love testing ideas and strategies in order to find the best solution for our marketing and (most importantly) for your business.
This time, we had fun performing a particular funny test!
We tested emojis in our Facebook ads 🙂 And the results that came out of it were just incredible…
Let's have a look. But before the start… Do you know why we are always crazy about testing our ideas? Why do we invest so much time and money in testing?
The problem is that, when you run a business without testing your advertising campaigns, I can tell you that you are not acting in a way to make the best out of it.
Here it is, what I discovered from my experience: testing is crucial, and it is important for two core reasons:
Understand customer needs. You never know how your target audience will react to your headline or campaign. By testing, you can find out what would be the best formula for your campaign.
Budget. Although testing, on one hand, involves a bigger economic effort at the beginning, on the other side, finding the perfect formula enables you to invest in the most profitable direction and therefore make your investments more efficient.
Testing is the basis for any marketing efforts. Investing time in testing your marketing campaigns, will ensure that you connect with your target audience in the best possible way.
So let's get back to our test results 🙂
This time we tested how emojis perform on Facebook Ads and how they can affect the CTR.
If you are wondering what an emoji is or why it is so important, just keep reading… If you're already a master of this topic just skip this paragraph and jump to our test.
What is an Emoji?
Emoji was initially born as a visual element to express a feeling through an image.
The first emoji was used in 1982 by Scott E. Fahlman to underline the irony in his sentence, due to the fact that sometimes it was difficult to understand the humor through words.
The real launch of these funny small icons into our digital communications is dated back to 2011 when Apple decided to add emoji support on the iPhone for the first time. Since then, emojis have been totally blowing up, infiltrating our lives and cultures all over the world and they have undoubtedly become an essential part of our text language.
Today, we can firmly say that emoji is a fundamental element of our conversation in order to express our feelings, objects, or faces in our social network world (ambient). Along with the skyrocketing of this new language, the brands started to pay attention to these trends and using them in their marketing in order to deliver catchy messages.
Why are emojis so powerful as a communication form?
Emojis are part of a universal language. Consequently, there are no foreigners, cause independently from the language that you know, you can surely "speak emoji" as well.
Emojis are immediate and easy to understand. That makes messages explanatory and much more compelling than the ones that people spend their time trying to understand. The less time it takes to understand the message, the more effective your marketing message will be.
Do emoji really improve Ad's engagement and CPA on Facebook?
Data and statistics collected until now underlined that emojis are effective communication tools that can improve engagement and CTR on your Facebook Ads. Let's have a closer look:
Almost half—46%—of young adults aged 18-29 believe it's acceptable to use emojis in emails and other communications
Amazed by these data, we have decided to test the effectiveness of the emojis.
We decided to run a simple test in one of our Facebook Lead Ads.
For those who don't know, Facebook Lead Ads is a tool specifically designed to generate "cheap" leads, allowing you to collect emails and other personal information easily from both mobile and desktop users. 
If you are not feeling comfortable with this tool, don't worry. You can quickly check out our step by step guide to successfully set your first Lead Ads campaign.
And now, back to our Facebook Lead Ads campaign and the two tested samples:
As you can see from the image above, there is no usage of emoji in our post description.
So, we have decided to use emoji in our short but effective description.
The results achieved were unbelievable: the second ad obtained 2000% more leads than the first one.
Without Emoji
With Emojis
Facebook Lead Ads post with emoji undeniably prevailed on the one without the emojis producing an extremely low cost per lead as well!  😆
Why such a huge difference?
As told previously, emojis are extremely engaging in comparison to normal words and very efficient in bringing some color and personality into the otherwise monochrome text.
Furthermore, they play an important role in an eye's catch effect when positioned into the post description, where the attention of the reader is more likely to be caught on the emoji post. That's why people are more stimulated to click.
At this point, you are probably thinking something like this:
"Ok Mark, but how can I insert emojis in ads?"
First of all, create a new Ad on Facebook or use an old one that contains only text.
Then, connect to Emojipedia where you can find a full list of emojis for Facebook.
Below, a quick tutorial on how to find the right emojis for your ad.
When you are in, you can jump directly to the "Most Popular" category, or use the search bar to find a specific emoji (for example, "fire").
You will display a page where you can Copy and paste the emoji you selected by clicking on the "copy" button.
Now, simply paste it into the text of your ads, headline or CTA.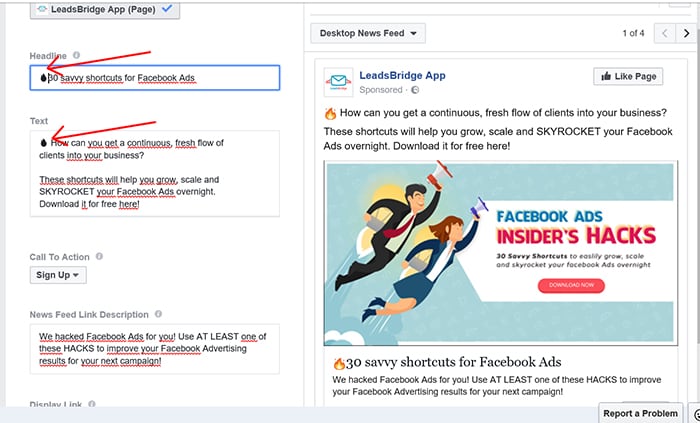 In addition, here you can find all the new Facebook emojis, or download the full list in PDF.
Conclusion
Above are engaging and effective Facebook lead ads examples. One way to increase the results you generate from your Lead ads is by adding Emojis. Emojis are engaging and efficient in adding color and personality to monochrome texts. This is why it is advisable you add it to your Facebook Leads ads campaigns. It is also efficient in generating an extremely low cost per lead for your ad campaigns.
Facebook ads represent a strong opportunity to generate leads and clients for your business, and only by testing, you can discover the perfect ROI formula for your marketing campaigns that suit your business needs.
Discover Leadsbridge Facebook Lead Ads integration for your favorite CRM and Autoresponders.