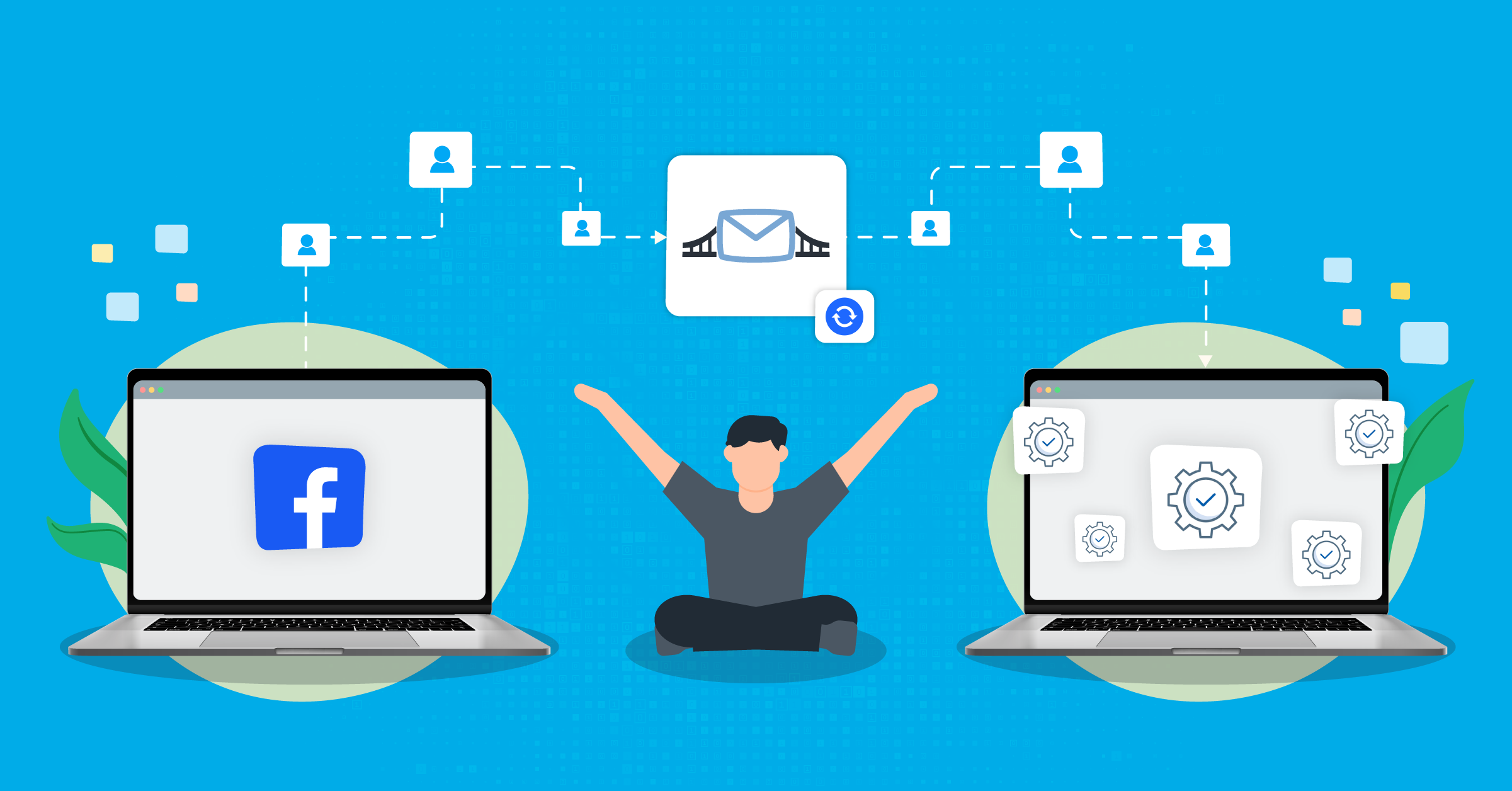 In this article, you'll learn how to set up a bridge to connect Facebook Lead Ads and your favorite marketing platform through LeadsBridge.
Benefits
Facebook Lead Ads is an advertising feature specifically designed to collect leads. While traditional ads redirect traffic to website landing pages, Facebook Lead Ads offer an easy solution to generate leads right on the platform.
Users who click on a Facebook Lead ad are presented with a registration form that is already pre-populated with their account information. They can submit the form in a few clicks and without leaving the social network.
The majority of users log in to their accounts through mobile devices. Accordingly, Facebook Lead Ads are compatible with mobile navigation, allowing advertisers to run optimized campaigns and collect leads from smartphone and tablet users easily.
When using LeadsBridge integrations, there is no longer a need to download Facebook leads manually. Instead, you can run everything from lead list updates, follow ups and welcome emails to managing conversions on autopilot.
Most Facebook Lead Ads integrations are included in our Freemium Plan. It means that you can use our integrations to connect Facebook Lead Ads with your favorite CRM or Autoresponder, and automate your workflows for free.
Check out these high-performing Facebook Lead Ads integrations.
How to set up your Facebook Lead Ads integration for free: The step-by-step tutorial
Before you start
Before you start to connect Facebook Lead Ads with your favorite marketing app, you need to log in to your LeadsBridge account. If you don't have an account yet, you can create one for free here.
Once logged in, you are presented with your personal LeadsBridge Dashboard.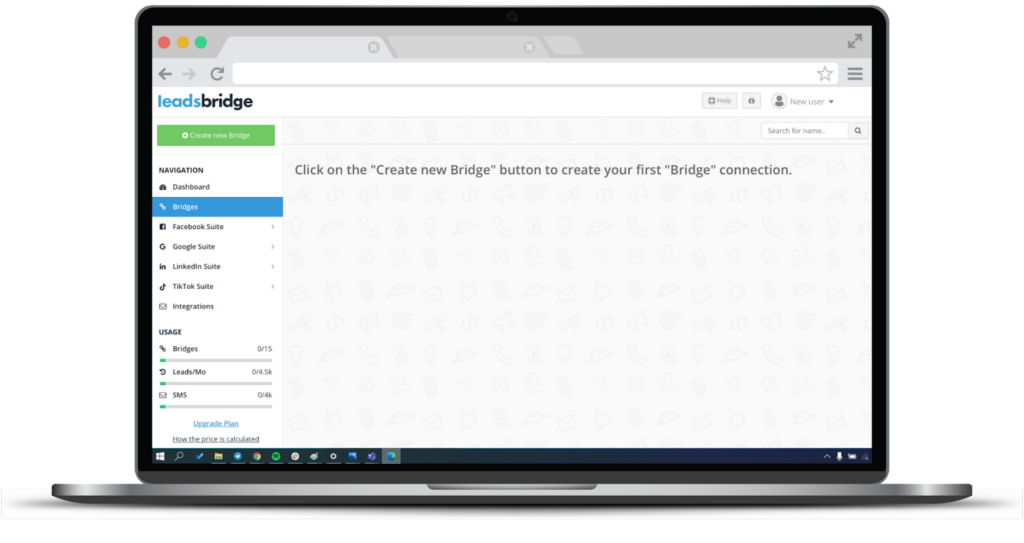 Step 1: Add in the main information of your bridge
Follow these steps to learn how to connect Facebook leads to a CRM, autoresponder, or other marketing tools.
Click on the "Create new Bridge" button on the left side to create your first "Bridge" connection.
Add the required information.
Select the apps you want to define the integration. Here, choose "Facebook Lead Ads" as the source for your bridge and your marketing app of choice as the destination.
Name your bridge by clicking on the edit pencil icon at the top. This will help you to find your bridge easily.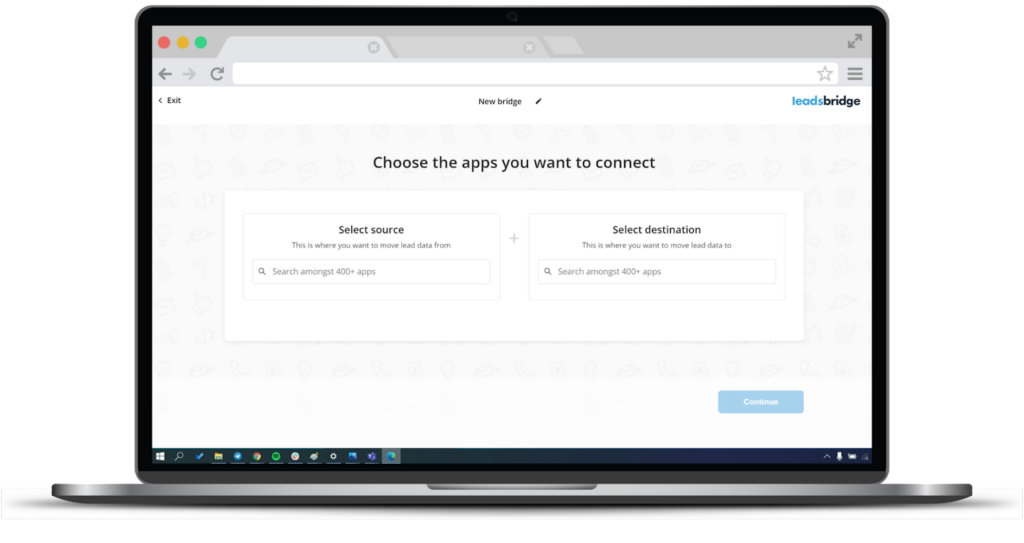 Step 2: Connect your accounts to access each platform via LeadsBridge.
To connect Facebook account, follow these simple steps;
Add Facebook Lead Ads as your source.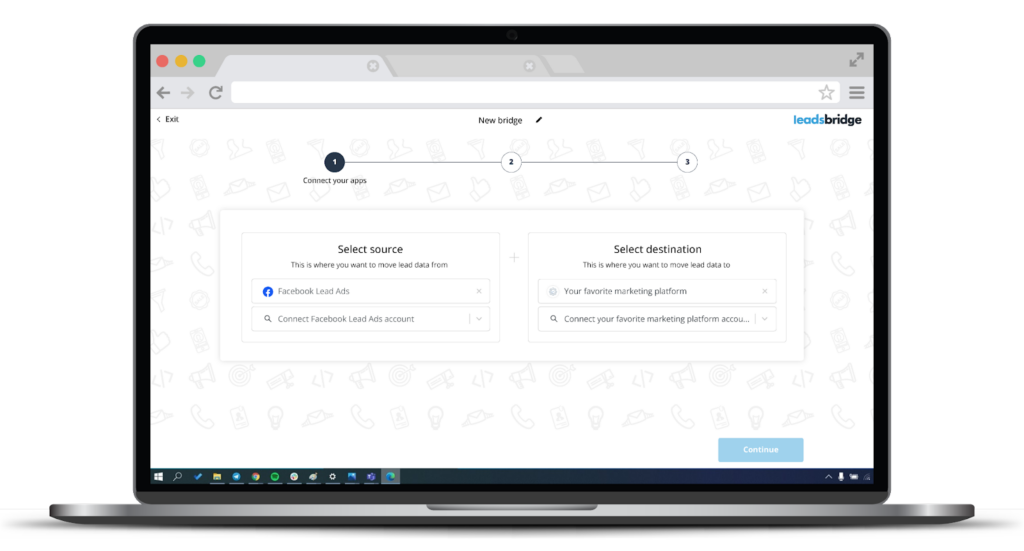 Then, authorize the connection to your Facebook account by logging in. Make sure to use an account that is attached to your Facebook ad account.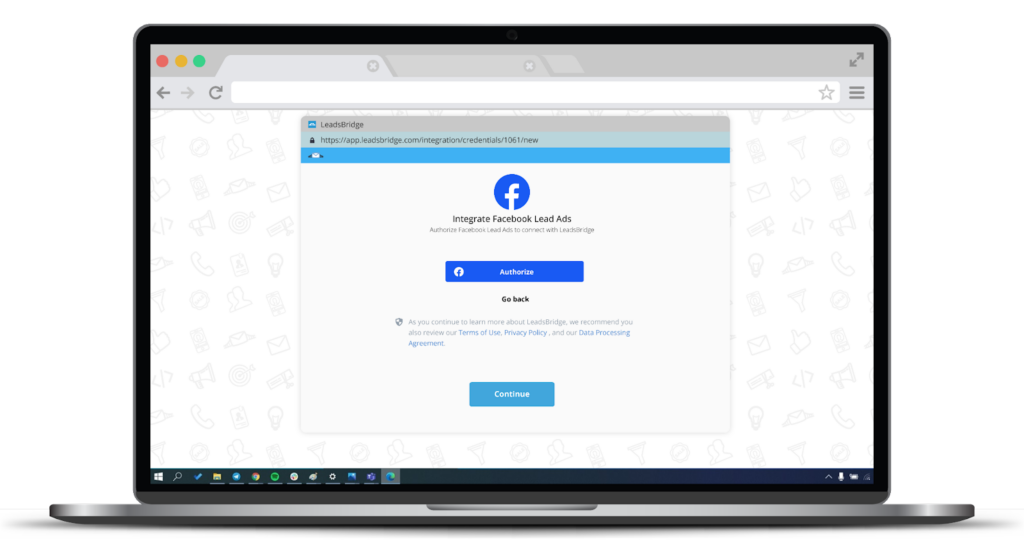 Once you get the following message, click "Continue".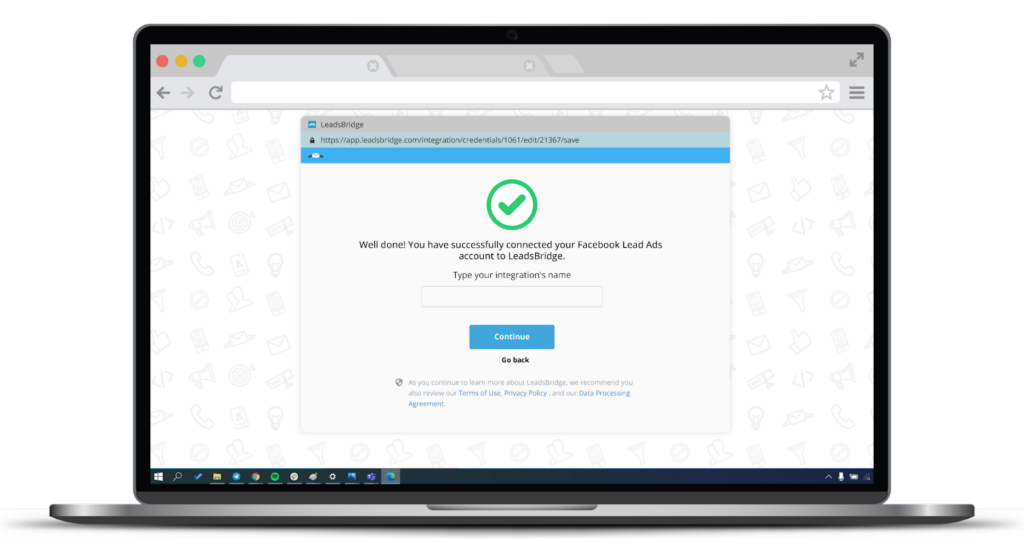 Here, you'll need to "Choose settings" by selecting your Facebook Ad account.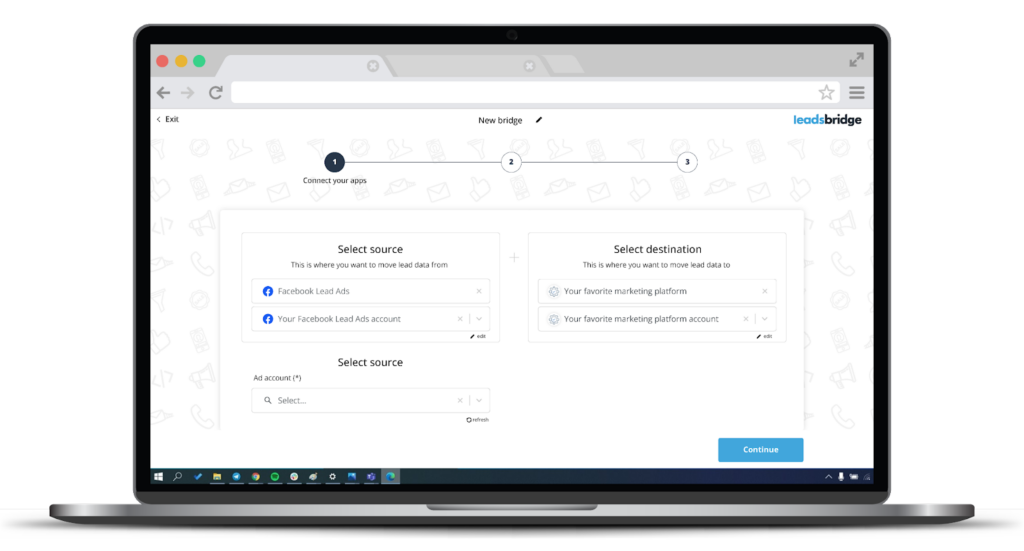 Click "Continue".
At this point, you'll need to integrate the destination app by connecting the designated account. As an example, find the complete process to connect Facebook Lead Ads to Email Notification here.
Step 3: Fields mapping
Ensure all data fields are mapped accurately to enable your CRM – Facebook Lead Ads integration to run correctly.
You can edit the information manually and pass it as a static value. Use the functions to customize information like reformatting dates and times or modifying text, phone numbers, etc. You may also leave some fields blank if you don't want to send specific information.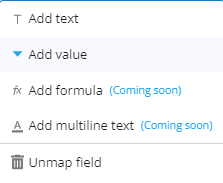 Double-check all the data, and match the information you wish to pass along from Facebook Lead Ads to your app of choice.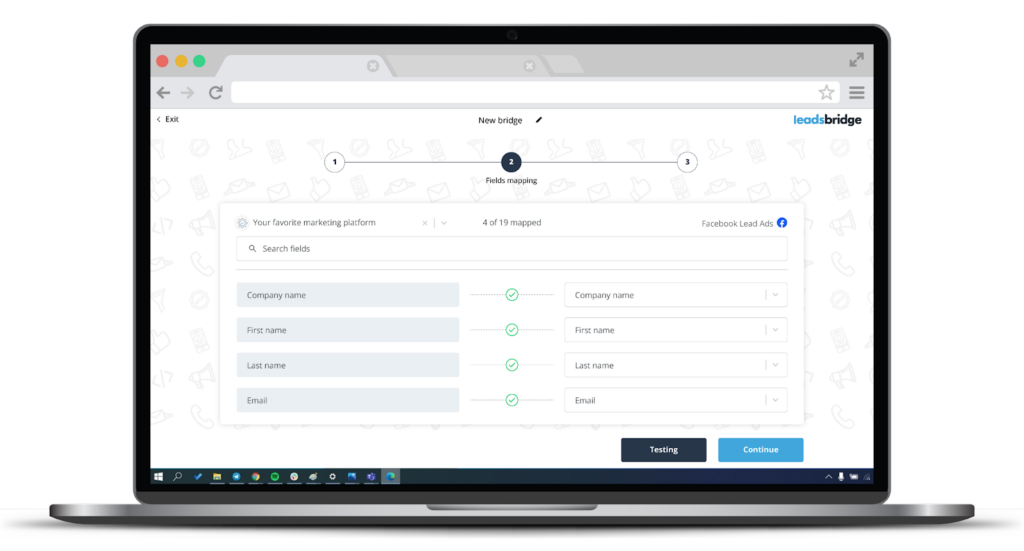 Run a test
Your bridge is almost ready. But before you finalize it, you can run a simple test with a mock-up lead to see if the configurations work properly.
Under the Field mapping setting, click on "Test connection".
Fill in the required information such as name and email address.
Click on "Run test".
If everything is configured properly, you'll receive the following message.
4. Click "Save & publish".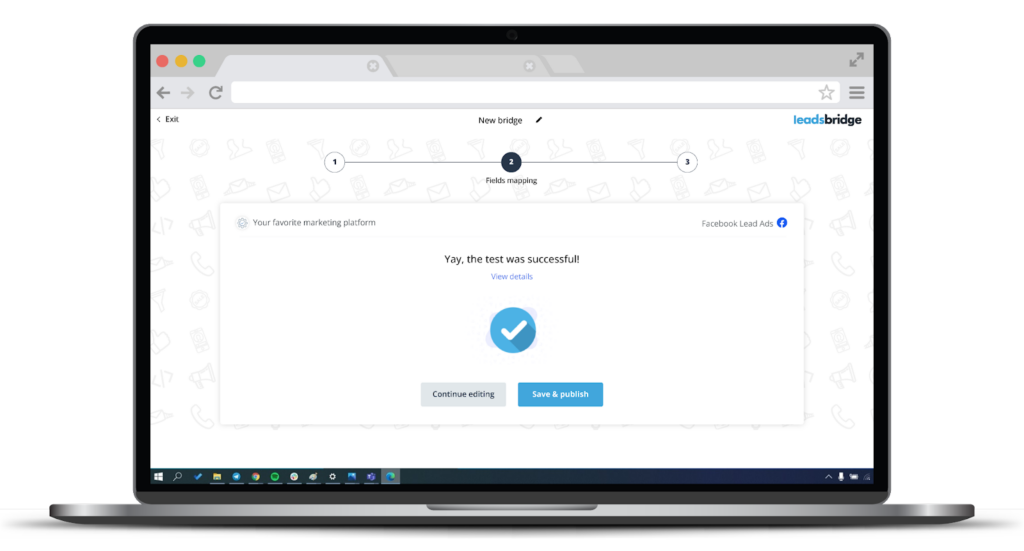 Congratulations! Your bridge is now active.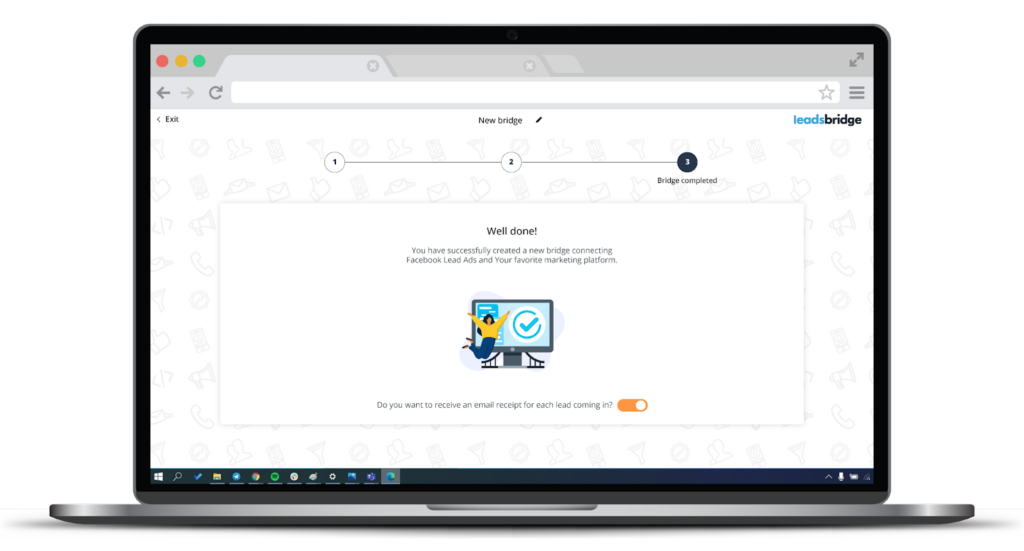 Actions
Once you've learned how to add a CRM to Facebook Lead Ads, you can streamline tasks through LeadsBridge. Each of these data bridges creates an Action; they enable more systematic and repeatable tasks by extracting data from a source, Facebook Lead Ads, and performing rule-based mapping to achieve a target outcome. Some efficient bridges to connect Facebook Lead Ads to a CRM include:
Discover more about the best Facebook Lead Ads integrations here.
Get more information
To find more information on how to add CRM to Facebook through LeadsBridge, take a look at the common questions on our LeadsBridge Help Center, or request a demo.