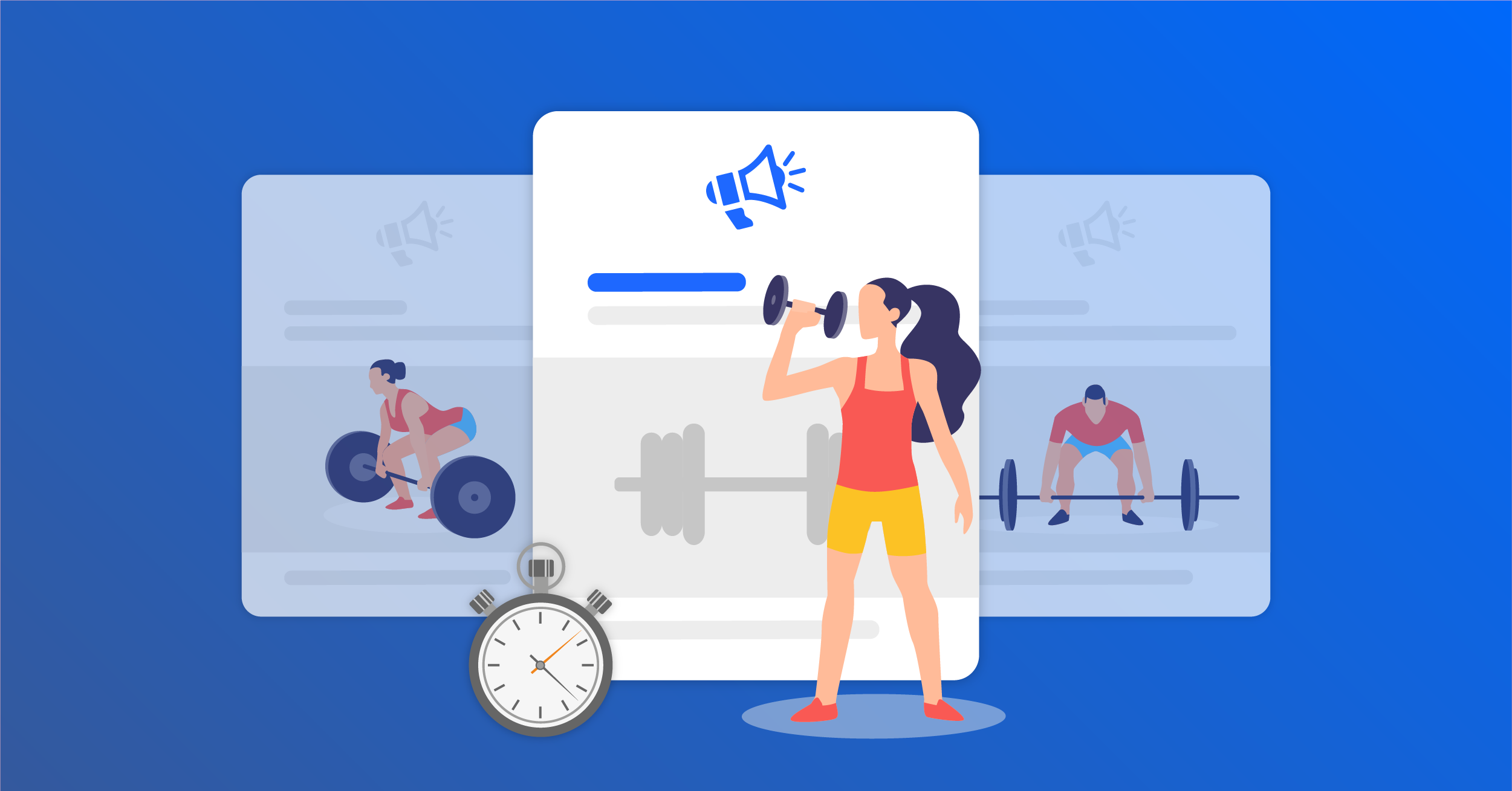 Facebook Ads offers a highly targeted and customizable approach to social media marketing that provides more than fifteen (15) types of objectives, six (6) formats, and around thirteen hundred (1300) targeting options. Understanding how to properly utilize these features for your gym ads or fitness/health club business can give you an edge and allow your company to craft a campaign that correctly translates into significant results.
In this article, we will explore the formats available for Facebook gym Ads and analyze the merits of each type, including a run-through of when they may be used and for what purpose.
There are different objectives that Facebook Ads allows users to select for their campaigns. Facebook Ads objectives simply mean the goals you are trying to achieve with your Gym Ads campaign. Whether you would like to direct viewers to your company website or boost membership and registrations, Facebook Ads offers a comprehensive list with which you can directly specify your objectives and goals for your Gym ads.
Types of Facebook Ads Objectives
Facebook Ads uses the browsing and content preferences of users to display personalized advertisements to each user. This means that each advertisement can be directly targeted to a specific type of user having some particular interests. Deciding on an objective that meets your requirements means that the likelihood that your Gym Ads are shown to users who are already interested in that specific topic increases tenfold.
Facebook Ads objectives can be categorized into three parent groups, each having its purpose and strategy. Each objective represents a different stage of the sales process, and often, working with all three objectives in multiple campaigns is a good formula for success. These categories are:
Awareness
Consideration
Conversions
This categorization also helps companies identify which stage of the sales cycle they want to target with their Ads campaign. Each of these primary objectives also has a list of micro-objectives that again serve to target your audience ideally.
Awareness Ads
This objective is meant to increase the exposure of your company to Facebook users. It has the following sub-types:
Brand Awareness
Local Awareness
Reach
These objectives are all aimed at helping users discover your company or brand and increase the outreach of your business to as many users as possible, whether globally or locally.
Consideration Ads
These objectives are aimed at helping users begin considering your brand, company, or business by providing them with a list of services, products, or options which they can view and choose. This step is aimed at the middle of the sales funnel and is the most crucial step for driving conversions. These include the sub-categories:
Traffic to your website
Engagement
Page Likes
Post Engagement
Offer Claims
Event Responses
App Installs
Video Views
Lead Generation
Messenger Ads
Conversion Ads
These objectives are meant to encourage sales, conversions, or subscriptions to your product or service. They target the final step of the sales funnel and users that are most likely to complete their engagement/purchase. They include the following sub-types:
Conversions
Product Catalog Sales
Store Visits
Now that you know the various Facebook Ads objectives, it is time to take a look at the Facebook Ads formats and how each can be used for the best results.
Facebook Ads Formats
Facebook Ads formats are designed to give companies the option to present different kinds of information to their target audience while maintaining a means of information retention on the part of the audience. Facebook users will be exposed to multiple advertisements and different types of content during their usage cycle. Thus, for your Gym ads to be successful, it must grasp the audience's attention while giving them information in such a format that they can easily recall while also providing ways to drive engagement or take action.
Image Ads Format
This format allows users to create an advertisement based on an image paired with a call-to-action and a short description and title. According to the Official Guide, Facebook recommends keeping the text in pictures lower than 20% for better performance. This type supports several image formats and various common aspect ratios. Combined with a high-resolution image, your company logo, and some catchy text, these types of advertisements can be very successful and engaging by allowing a single, simple action to be executed.
Gym Facebook Ads Tips:
The Official Guide recommends using an aspect ratio of 1:1 or 4:5 for best results with image dimensions at least 1080×1080 px, a title of 25 characters, and a description of 30 characters or a total count of 125 characters if there is no call-to-action or link attached.
Best Gym Facebook ads Example 1:
Why this Gym Ads Work?
This is one of the best examples of Gym ads. The image format shows how to grasp the audience's attention effectively while sending a clear and concise message. The picture features the product and service that the company is trying to highlight while providing a link to send a message. Its simplicity and direct targeting are what make this kind of Gym ads quite effective. As you can see, the image does not contain any additional text, thus it is perfectly following the guidelines from Facebook while highlighting the benefits and qualities of their product or service.
Video Ads Format
Video advertisements are meant to show off your brand, service, or product with short videos that appeal to the users. These can be used to capture the attention of the audience quickly and promote a single action such as liking a page, buying a product, or delivering more information. They are perfect for showcasing your business story or a model customer journey that clearly outlines the benefits and outcomes that the audience can expect from your business or company. These may include simple short videos showcasing your product, or customer testimonials that convey the message and motto of your business effectively. When paired with a link for a call-to-action, this format can drive more engagement and conversions, as the audience can pause scrolling and view the complete advertisement, leading to more consideration and evaluation time. The video can also be a short slideshow of images display in a sequence.
Gym Facebook Ads Tips:
The Official Guide Recommends using an aspect ratio of 9:16 or 16:9, an optimal length of 15 seconds, and recommends using subtitles and sound for better accessibility.
Best Gym Facebook Ads Example 2:
Why these Gym Ads Work?
The video advertisements displayed in the Gym Ads examples above are a great way to see how the final advertisement should look. The Gym Ads not only follow all guidelines for aspect ratio, video quality, and video length to the point, they also clearly and concisely put their point across by directly offering a package or service in the description text while describing and elaborating on the product in the form of an engaging video. This combination of description and detail works effectively to convince the viewer and make them start considering using your product or service by seeing the benefits and characteristics of the video.
Carousel Ads Format
This format allows users to display two or more images or videos along with a call-to-action link or headline in a scrollable format that lets users combine their sales objectives into a single advertisement. Companies can start by displaying a video or image to boost awareness, show a catalog of products or services, and then move forward with a final suggestion to complete the sales or engagement objective. This format is best for displaying multiple products or packages and combining them with an image or video meant to convince the audience.
It is best used by gyms or fitness/health centers to showcase their packages, products, or membership benefits along with testimonials from existing customers or images and videos of the facilities provided by the company.
This format can be used for various purposes, such as displaying multiple products or service options, highlighting the features of a single product or service, or showing a product from different angles with additional information. It can also be used to tell a story or display a business or customer journey to create a narrative or explain a process or sequence of events.
Gym Facebook ads Tips:
The Official Guide recommends using between 2 and 10 cards in a combination of images and videos, best used in a 1:1 aspect ratio with pictures with 1080 x 1080 pixel dimensions and less than 20% text. It is recommended to use post text consisting of 125 characters, 25 characters for the headline and 30 characters for the description.
Best Gym Facebook ads Example 3: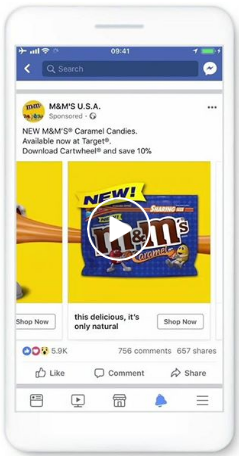 Why This Gym Ads Work?
These types of Gym Ads are effective at providing several convincing options to the viewer and engaging the audience by being interactive. As seen in the examples, the Gym Facebook Ads combine a listing of products with a video description that not only showcases the products or services but also gives viewers a chance to study them in detail through the video. By then offering several options, the psychological aspect of the sales process comes into play and gives your viewers the freedom to deliberately select one of the options that suit them best.
Lead Ads Format
This format is specifically designed to help users create new leads for their company or business. The format uses an integrated approach to forms by allowing users to submit pre-filled forms that are populated with the user information already available on their Facebook profile. This way, the audience can skip the process of manually filling out each entry in a form and only completing certain specifics that may or may not be required. This means that people can easily submit simple forms to your company, which can be pursued as a lead by your business. The added benefit of integrating easily with many existing CRM's is that the Facebook Lead Ads format is the perfect option for creating high-quality leads in a short amount of time. Apart from forms, Lead Ads can also be used to deliver quotes, demo requests, newsletter subscriptions, event registrations, appointment booking, store visits, and more. Check out the different integrations for Facebook Lead Ads.
A Success Story of one of the best Gym Facebook Ads
LeadsBridge is committed to providing robust solutions to our clients. A great example of using Facebook Lead Ads is reflected in our customer journey with Fisique Boston, a health/fitness club in Boston, that wanted to grow its membership base. Using LeadsBridge CRM paired with Facebook Lead Ads and Facebook Custom Audiences, they were able to generate an ROI of 21x on an investment of $265 in total.
"The results were extraordinary, and now we're splitting into more campaigns."
Eugene Mann – Founder of PPL Labs
This Gym Ads example shows how leveraging the right tools and strategies can contribute to unprecedented success when executed with careful deliberation and a strong knowledge base. You can view more statistics and information regarding this campaign here.
Gym Facebook Ads Tips:
The Official Guide recommends using images with a resolution of 1,080 x 1,080 pixels and a 1:1 aspect ratio with around 125 characters for the text, 25 characters for the headline text, and 30 characters for the description. Videos are recommended to be approximately 15 seconds in length, with an aspect ratio of 4:5 with the same recommendations for text.
Supported CRM Integrations:
An official list of supported CRM's can be viewed [here]. For information on how to integrate Facebook Lead Ads with LeadsBridge, please view our documentation.
Best Gym Facebook Ads Example 3:
Why These Gym Ads Work?
The Facebook Lead Ads shown in the examples above display how you can combine different advertisement formats with your business objectives to achieve maximum success. As far as the examples are concerned, we can see that one uses the Carousel format, while the other uses the Image format, each being equally effective when used properly. The images are clear and deliver the message and association to the audience at first glance without being clouded by extra unnecessary text. The links attached to the Gym Ads redirect to the Lead Ads option of their choice, which helps them bring in more customers and clients. Whether you combine different formats or opt for one, it is always necessary to keep the idea clear, concise, and easily understandable.
The Workout Ad
The Body Boss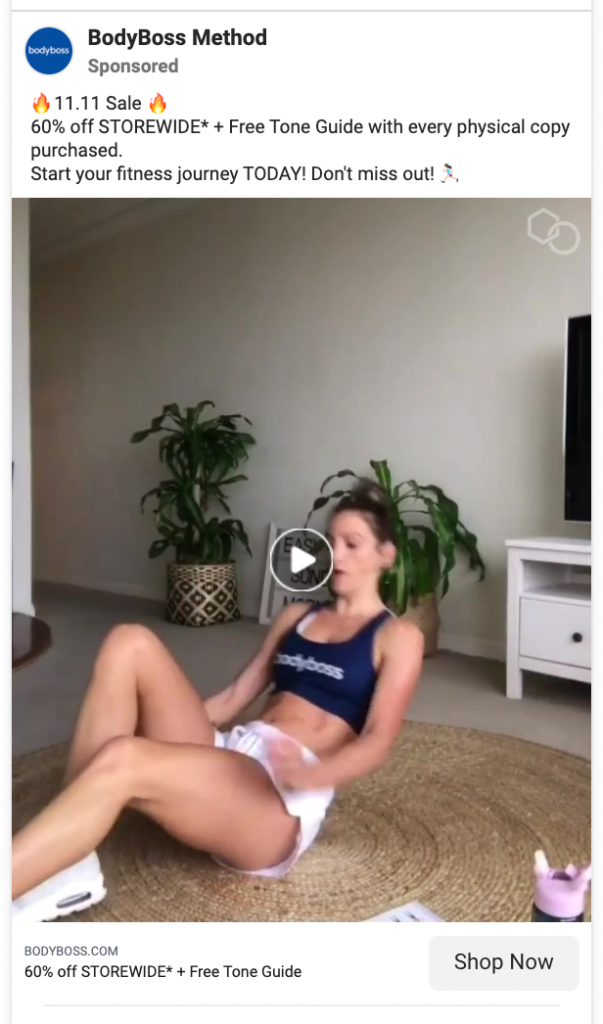 Source: Laptopempires
Why the Workout Ad Works
The workout ad above shows what people can enjoy if they join the Body Boss fitness classes. The copy of the ad is crystal clear and the call to action encourages viewers to act.
Facebook Ads for Personal Trainers
Are you struggling to get clients for your personal training business? If your answer is yes, then you need to advertise on Facebook. It is one of the best ways to grow and scale your business easily and fast too.
Facebook provides an easy to set up ad platform you can use to create your ad campaign in under 30 minutes and start running it. With your personal trainer's ad on Facebook, you can get users to engage through likes, shares, and comments, drive traffic to your personal trainers' website, get more direct messages (DMs) from prospects, and also get more inquiries for your business. In fact, you can literally get your ads in front of the desired target audience.
How to advertise personal training on Facebook
Below is the step-by-step process you need to follow to advertise personal training on Facebook.
1. Create goals for your personal training Facebook Ads
Want to advertise your personal training business on Facebook? The first thing you need to know is what you plan to achieve with the ads. Examples of goals you can consider are:
a. To generate subscribers for your email list
b. To generate requests for free personal training sessions
c. To get clients for your personal training business.
Make sure you have only one goal. For example, if your goal is to generate subscribers for your email list, you can create an ad for it. Thereafter, you can nurture your prospects to become clients.
2. The Facebook ad offer
The second step is to determine what offer you want to give to those who click on your ad. There are different offers you can create, such as E-book, checklists, free 1-hour training sessions, and a 7-day free pass to the personal training class. Ensure that the offer solves the most pressing needs of your audience and it has real value.
Find a good example below from Vision personal training.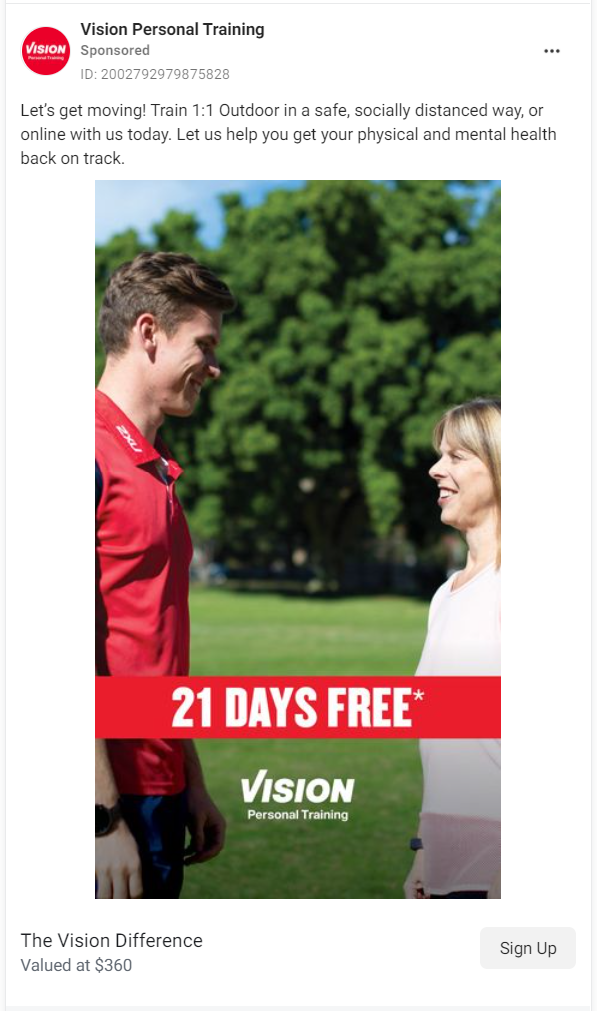 They are offering 21 days of free personal training that is worth $360.
4. Create a custom audience
The next thing to do when you want to advertise your personal training business on Facebook is to create a custom audience of people who have engaged with your business in the past. For example, you can create a custom audience of people who watched your videos. Then you can promote your program and products to them, knowing that they already showed an interest in your business. Don't know how to create a Facebook Custom Audience? Check out our step-by-step guide to Facebook Custom Audiences.
5. Use a catchy headline, image, and CTA for the ad
The headline of your Facebook ad is very important. It should capture the attention of the reader. To do this, you need to ensure that you target their needs. For example, if you are in the student loan niche and your target audience is students in California, the headline can read "Attention California Students". This specifically addresses students in California.
The image you want to use for the ad should clearly stand out from the rest of the ads. Ensure you choose the right background for the image. To get the best result, ensure you A/B test the image to know the right one to use.
The Call to Action button should also attract them to click on your ad.
6. Use the right Facebook ad
Facebook Lead Ads is the best way to collect leads for your personal training business. It keeps the user on the Facebook platform while filling the form. This reduces friction. For more information on how to create a Facebook Lead Ads, read our step-by-step guide to Facebook Lead Ads.
7. Connect your Facebook Lead Ads to your CRM or Autoresponder
When your leads start coming in on the Facebook ads platform, you need to send them to your CRM or autoresponder where you will nurture them. There are two ways to do this: manually or through integration. The manual method involves downloading the leads in a CSV file and uploading it to your CRM or autoresponder. This method takes time and it can also result in errors. The integration method involves connecting your CRM or autoresponder to the Facebook ad platform through a third-party service such as LeadsBridge.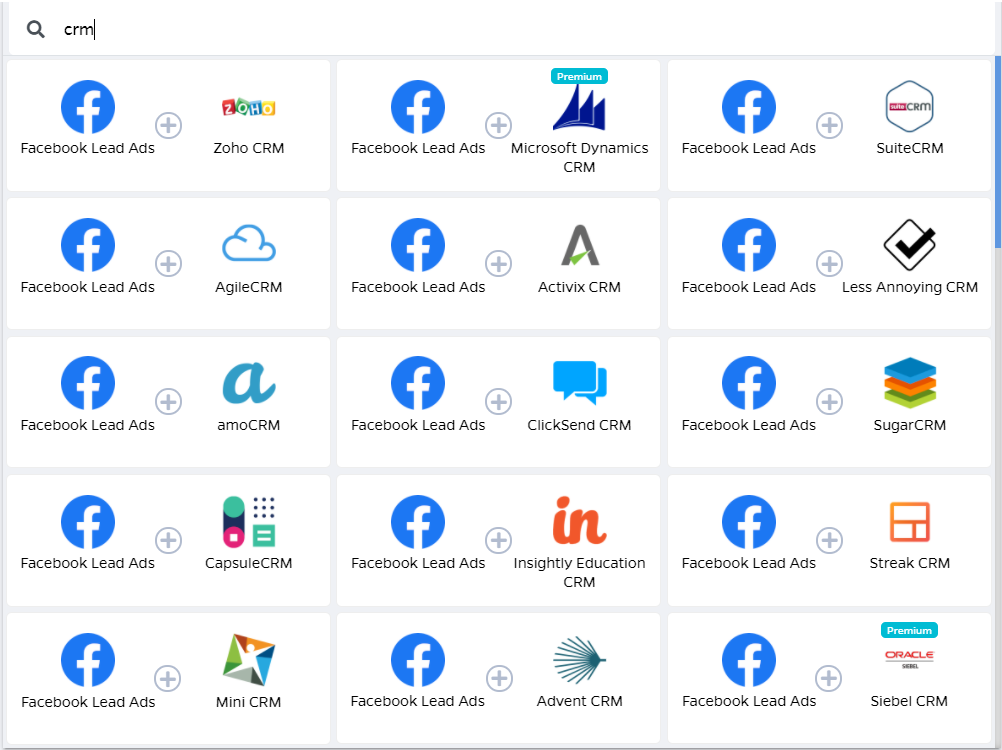 The leads are automatically funneled to your CRM. This saves time and effort and also ensures that your leads receive the promised offer on time before they get cold.
8. Test, Test, and Test your ads
Test your ads again and again to determine the winning ads. Once you have them, use them repeatedly to get better results.
A positive example of health and fitness advertisements
Positive fitness advertisements have the right kind of tone and color that can create a positive impact on people. It is the kind of ad that keeps body positivity in the mix. Such ads are also not misleading. A good positive example of a health and fitness advertisement is an ad that promotes body confidence. See it below.
Source: Hellogiggles
A negative example of health and fitness advertisements
Negative advertisements abound so much in the health and fitness industry. This is especially true when it comes to weight loss. Many fitness companies claim to help users lose weight quickly. Some companies provide misleading and negative fitness advertisements to coarse people into joining their club. A good example of a negative fitness advertisement is from Reebok's Easytone shoes. The company created a series of ads for the Easytone and RunTone shoes in 2009 and 2010 claiming that Tone shoes can work your hamstrings and calves up to 11% harder and tone your butt up to 28% more than regular sneakers by walking.
Those are misleading information. The shoes actually forced you to use more muscles when you moved. The FTC investigation found that the EasyToen shoes make it uncomfortable to walk. So, Reebok had to refund over $25 million in purchases. Below is one of the ads.
Source: Glamour
Facebook Ads Audiences
Now that you have become familiar with the objectives and formats of Facebook Ads, you can now discuss a crucial point for the success of your Gym ads campaigns — creating the perfect audience. Facebook offers users the ability to design their audience specifications for the targeting of their advertisements, and businesses can utilize this feature to completely isolate a niche of users that is ideally suited for their aims and objectives. For this purpose, we shall explore two elements, the Facebook Custom Audiences feature and the Facebook Lookalike Audiences feature.
A Quick Look at Facebook Audiences
Facebook breaks down its Ads audiences based on demographics, location, interests, and behaviors. These audiences are analyzed and categorized based on the following, which are also the variables that you can adjust to create a highly targeted audience for an Ads campaign.
Age And Gender
Relationship Status
Education Level
Job Role
Top Categories
Page Likes
Top Cities
Top Countries
Top Languages
Frequency Of Activities
Device Users
These options can let you create an audience that targets Facebook users broadly or explicitly, depending on your company's or business's objectives. Facebook also provides more advanced features for the creation of audiences based on existing data from your company or business, called Facebook Custom Audiences, which is explained below.
Facebook Custom Audiences
Facebook Custom Audiences is a targeting feature that allows users to specify an audience by customizing various options such as location, demographics, and interests. These audiences can also be determined based on several existing sources such as your companies' mailing list, your current customers or active subscriptions, or any such data related to clients/users that have associated profiles on Facebook. Thus, companies can target their advertisements to a particular group of people already engaged with the company in one way or another and upsell or deliver awareness about new products or services. Facebook allows users to create up to 500 Custom Audiences per Facebook Ads account.
For a Gym or Fitness/Health-related business, using this feature in conjunction with their existing customer lists means being able to deliver information about new packages or services and promotional content directly to the Facebook Feed of their customers to drive more engagement and awareness.
This feature extends into another similar option called the Facebook Lookalike Audiences, which we shall explore below. To learn more about Facebook Custom Audiences, please refer to this article or view our documentation on how to integrate Facebook Custom Audiences with LeadsBridge.
Facebook Lookalike Audiences
Facebook Lookalike Audiences target users that are similar to your existing Facebook Audiences in terms of interests, demographics, and behaviors that are not engaged with your company or business presently. This type of audience is created by selecting an existing Custom Audience, as explained above. Facebook then extracts data from this selection to determine the characteristics of your current audience. It then uses that information to display advertisements to people who are similar in aspects to an existing audience.
This feature is great for automatically finding users that already match an existing customer base and can deliver more precision if the Lookalike Audience size is kept smaller. In contrast, larger audiences decrease accuracy and may not completely match your specifications.
Facebook recommends using a source audience of between 1000 to 50,000 individuals for best results and using your best customers rather than all your customers as a source.
Lookalike Audiences are limited by geographical location; thus, a specific geographic range must be specified during the creation of a Lookalike Audience. Facebook allows users to create up to 500 Lookalike Audiences from one source audience, and multiple Lookalike Audiences can be used for a single advertisement.
This allows companies to target specific users in a broad range of locations and settings and define multiple variables for better matching and precision. For a more detailed guide on using Facebook Lookalike Audiences, please refer to this guide.
Facebook Conversion API
Facebook Conversion API, formerly known as Facebook Server-Side API is created to help businesses maintain data privacy and deliver personalized advertising experiences to customers and audiences. Sharing data through Conversions API is more accurate than any other method in the mid-funnel and lower funnel. This is especially true because you don't have to worry about any data getting lost due to a browser crash or an ad blocker.
Conversions API gives businesses control over the data they share. This means that you can implement the Conversions API in addition to Pixel and decide what to share and when to share it. Combining both Pixel and Conversions API gives you full-funnel visibility. This is the reason why Facebook encourages advertisers across the board to implement the Conversions API in addition to Pixel for optimal full-funnel tracking and data sharing that is much more reliable. This way, you can transmit a larger array of data in order to back your advertising efforts. With the implementation of Conversions API, data such as CRM data/lower funnel events can be captured.
With Facebook Conversion API, you can track events like Leads, Affiliate payments, Find locations, Phone calls, Form submissions, Purchases, Email subscriptions, and Subscription changes.
In order to get the most out of Facebook Conversions API, you're going to want to integrate it with your favorite CRM. Through LeadsBridge, you can automate the process. Connecting Conversions API to your CRM transfers the data to the Facebook platform and the results are being recorded properly.
Here is a complete guide on the Facebook Conversion API and how to set it up.
Leadsbridge's Integration with Mindbody
If you use the Mindbody app for your health and fitness company, Leadsbridge has integrations you can use. You can connect the Mindbody app to Autoresponders, CRM, and other tools such as:
1. Facebook Lead ads integration with Mindbody
2. Mindbody integration with Facebook Custom Audiences
3. Mindbody integration with Facebook CAPI
4. Mindbody integration with ActiveCampaign
5. HubSpot integration with Mindbody
With these integrations, you can create new email notification leads with Mindbody, sync Facebook Custom Audiences sales of Mindbody, update your subscribers' list, etc. Learn more about other Leadsbridge's integrations with gym & fitness management.
Conclusion
For a gym or health and fitness center, creating awareness and spreading the word means creating more potential customers and clients. A short Gym Facebook Ads campaign can result in some significant long-term gains if each feature is utilized correctly with a targeted, inclusive strategy. We are sure that this article, although not exhaustive, has been able to deliver a firm and solid understanding regarding the many features, intricacies, and options that go into crafting a successful Gym Facebook Ads campaign. Readers may also refer to the Facebook for Business Help Center or the Facebook Ads Guide for further information or read up on other articles on the LeadsBridge Resources page for relevant information and guidelines.
Discover other Leadsbridge's integrations with Gym & Fitness Management.