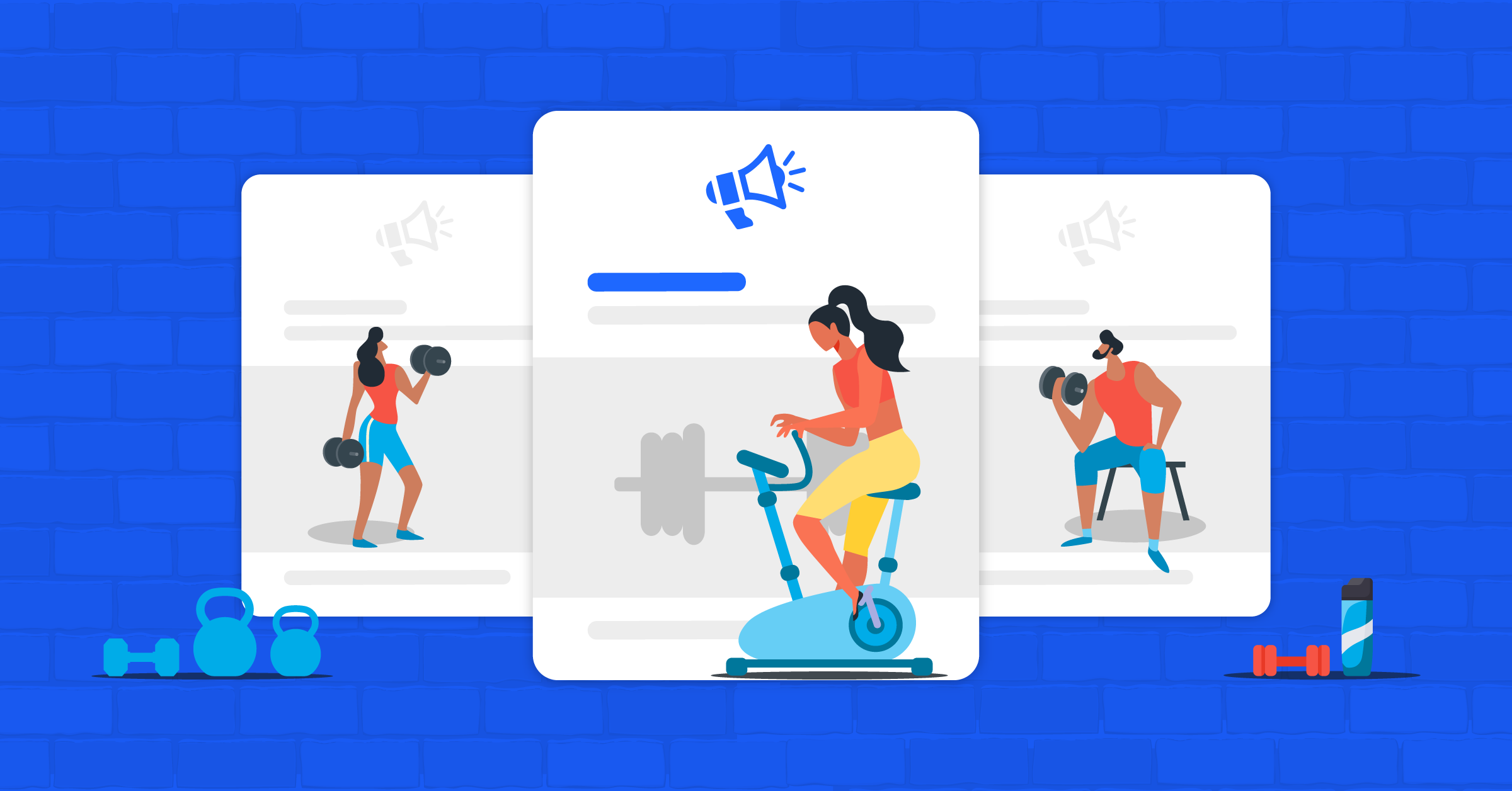 Facebook Ads is the best solution for maintaining a highly targeted and customizable system for social media marketing. It provides more than eleven types of objectives, six formats, and around thirteen hundred targeting options. Understanding how to properly utilize these extensive features when designing your gym ads or fitness & health club business allows you to run well-performing campaigns.
Facebook provides different Facebook Ads objectives, so marketers can select the perfect fit for their campaigns. These objectives are designed to match your goals for each Gym Ads campaign. Whether you would like to direct viewers to your company's website or encourage membership and registrations, Facebook Ads offers a comprehensive list that helps specify your goals when designing your Gym ads.
Ads and analyze the merits of each one while having a look at when and how they may be used.
What's more, this article introduces the best integrations to automate your Facebook Lead Ads campaigns and advertising workflows and improve your Gym Ads performance. Sign up to use this integration for free.
Types of Facebook Ads Objectives
Facebook Ads collects the users' browsing and content preferences to display personalized advertisements to each user. This means that each advertisement can directly target a specific type of user who has shown some intent in the past. Practically, Facebook Ads objectives are designed to increase the likelihood that your Gym Ads are shown to users interested in that specific topic.
Facebook Ads objectives can be categorized into three parent groups, each having its purpose and strategy. Every objective represents a different stage of the sales process. However, working with all three objectives in multiple campaigns is the best formula for success. The categories include:
Awareness
Consideration
Conversions
This categorization also helps companies define which sales cycle stage they want to target with their Ads campaign. Each of these primary objectives also has a list of micro-objectives that serve to ideally target your audience.
Learn more about the anatomy of Facebook ads here.
Awareness Ads
The Awareness Ads objective is designed to expand a brand's reach to Facebook users. It has the following sub-types:
Brand Awareness
Local Awareness
Reach
It aims to help users discover your company (awareness) and expand the reach of your business —whether globally or locally— to as many users as possible.
Consideration Ads
The Consideration Ads objectives help Facebook users consider your brand by providing them with a list of services, products, or options they can interact with (engagement). This step focuses on the most crucial stage for driving conversions, the middle of the sales funnel. It includes the following sub-categories:
Traffic to your website
Engagement
Page Likes
Post Engagement
Offer Claims
Event Responses
App Installs
Video Views
Lead Generation
Messenger Ads
Conversion Ads
The Conversion Ads objectives are a powerful option to encourage sales, conversions, or subscriptions. They target the bottom step of the sales funnel, where users are most likely to finalize their engagement/purchase. They include the following sub-types:
Conversions
Product Catalog Sales
Store Visits
After understanding the various Facebook Ads objectives, it is time to explore the Facebook Ads formats and how they can be implemented for the best results.
Facebook Ads formats
Facebook Ads formats allow businesses to present various kinds of information to their target audience. These formats also allow marketers to create and maintain information retention. In practice, Facebook users are exposed to multiple advertisements and different types of content during their usage cycle. They must grab the audience's attention while giving them information so your Gym ads are successful. This way, besides rendering your brand memorable, they provide ways to drive engagement or entice action.
Image Ads Format
The Image Ads Format lets users design an advertisement that combines an image paired with a call-to-action, a short description, and a title—according to Facebook's Official Guide, keeping the text in pictures lower than 20% for better performance.
This type supports several image formats and various common aspect ratios.
Combined with a high-resolution image, your company logo, and some catchy text, these ads can be very successful and engaging, using a single call to action.
Gym Facebook Ads tips for Image Ads format
The Official Guide suggests using an aspect ratio of 1:1 or 4:5 for best results with image dimensions at least 1080×1080 px, a title with 40 characters or less, a description with 30 words or 125 characters, and a link if there is no call-to-action attached.
The best Gym Facebook Ads example no. 1
Why does this Gym Ads work?
This is one of the best examples of Gym ads. The image format shows how to effectively grasp the audience's attention while sending a clear and concise marketing message. The picture features the product and service that the company is trying to highlight while providing a link.
Its simplicity and direct targeting are what make this kind of Gym ads quite effective. As you can see, the image does not contain any additional text. Thus, it perfectly follows Facebook's guidelines while highlighting the benefits and qualities of their product or service.
Video Ads format
Video advertisements make your brand, service, or product more visible with short videos that appeal to the users. They are used to capture the audience's attention and encourage a single action, such as liking a page, buying a product, or delivering more information. They are perfect for showcasing your business story or mapping out a customer journey model that clearly outlines what the audience can expect from your business.
These may include simple short videos showcasing your product or customer testimonials that effectively convey your business's message and motto. When paired with a link for a call-to-action, this format can drive more engagement and conversions, as the audience can pause scrolling and view the complete advertisement. This provides them with more time to consider and evaluate the ad's offering. The video can also be composed of a short slideshow of images displayed in a sequence.
Gym Facebook Ads Tips for the Video Ads format
The Official Guide advises using an aspect ratio of 9:16 or 16:9, a length of 1 second to 241 minutes, and including subtitles and sound for better accessibility.
The best Gym Facebook Ads example no. 2
Why do these Gym Ads examples work?
The videos in the Gym Ads examples above are precisely how the final advertisement should look. These Gym Ads observe all the Facebook guidelines for aspect ratio, video quality, and video length. They also get their point across in an articulated and brief message.
Except for offering a package or service in the description text, it describes the product in the form of an engaging video. This text-video combination is an effective example of how to make the viewer consider using your product or service by offering its benefits and characteristics in the video.
Carousel Ads format
This format allows users to display two or more images or videos along with a call-to-action link or headline in a scrollable format. This composition will enable advertisers to integrate multiple sales objectives into a single advertisement. For example, companies can start by displaying a video or image to boost awareness, add a catalog of products or services, and then move forward with a final suggestion to finalize the sale or engagement objective. This format is best for displaying multiple products or packages and combining them with an image or video meant to convince the audience.
Gyms or fitness/health centers use this format to showcase their packages, products, or membership benefits. It also helps them to include testimonials from existing customers or images and videos of their facilities.
Moreover, this format can be used for various purposes, such as displaying multiple products or service options, highlighting a product's features, displaying it from different angles, and offering additional information. Some marketers use carousel ads format to tell a story of a business or customer journey to create a narrative that describes a process or sequence of events.
Gym Facebook ads tips for Carousel Ads format
The Official Guide suggests using between 2 and 10 cards in a combination of images and videos in a 1:1 aspect ratio. The recommended image dimensions are 1080 x 1080 pixels and less than 20% text. When it comes to text, the guideline mentions a 125 characters limit for the primary text, 40 characters for the headline, and 20 characters for its description.
The best Gym Facebook Ads example no. 3
Why do these Gym Ads examples work?
This type of Gym Ads provides several compelling options to the viewer and engages them with its interactive features. As seen in the examples, the Gym Facebook Ads combine product listing with a video description, giving your ad's viewers a chance to study the products in detail.
Then, it uses the psychological aspect of the sales process by offering several options to your viewers. For the end-receiver, this implies a sense of freedom, so they are encouraged to deliberately select one of the options that suit them best.
Lead Ads format
This format is specifically designed to allow users to generate new leads. It enhances the users' experience by creating a shortcut in the subscription process. When you use this format, your audience can submit pre-filled forms that are populated with their information which is derived from their Facebook profile. This way, people don't have to manually fill out each entry form. Instead, they only have to complete certain specifics that may or may not be required. This feature makes the submission process easy, contributing to a more effective lead generation.
For creating high-quality leads in a short amount of time, you can integrate Lead Ads with the most popular CRMs and streamline the data sync process using the Facebook Lead Ads format. Besides forms, Lead Ads are used to deliver quotes, demo requests, newsletter subscriptions, event registrations, appointment booking, store visits, and more.
Check out the different integrations for Facebook Lead Ads:
Facebook Lead Ads integration Email Notification
Facebook Lead Ads integration Mailchimp
Facebook Lead Ads integration with Google Sheets
The best Gym Facebook Ads example no. 4 (with metrics)
Here at LeadsBridge, we are committed to providing robust solutions to our clients. A great example of using Facebook Lead Ads is seen in our customer journey with Fisique Boston. This Boston-based health & fitness club wanted to grow the number of its membership subscriptions. Using LeadsBridge CRM paired with Facebook Lead Ads and Facebook Custom Audiences, they generated an ROI of 21x on a total investment of $265.
"The results were extraordinary, and now we're splitting into more campaigns."
Eugene Mann – Founder of PPL Labs
This Gym Ads example shows how leveraging the right tools and strategies can contribute to achieving exceptional success when executed with careful planning and the right knowledge.
Discover more statistics and information about Fisique Boston's campaign here.
Gym Facebook Ads tips for Lead Ads format
The Official Guide recommends using images with a resolution of 1,080 x 1,080 pixels and a 1:1 aspect ratio. Other suggestions for the text in this format include a limit of 125 characters for the primary text, 40 characters for the headline text, and 30 characters for the description. The best practice for the videos is to observe a length of approximately 15 seconds and an aspect ratio of 4:5.
Facebook Lead Ads supported CRM integrations
An official list of supported CRMs can be viewed [here]. Find out more information about how to integrate Facebook Lead Ads with LeadsBridge here.
Facebook Lead Ads integration with Zoho CRM
Facebook Lead Ads integration with ActiveCampaign
Facebook Lead Ads integration with Klaviyo
The best Gym Facebook Ads example no. 5
Why do these Gym Ads examples work?
The Facebook Lead Ads shown above display how you can combine different advertisement formats with your business objectives in order to create high-performing campaigns. As far as the examples are concerned, the Carousel format and Image format are equally effective when used properly. The images are straightforward in delivering the message and show relevance to the audience at first glance.
Once clicked, the links attached to the Gym Ads redirect the user to the Lead Ads option, which helps them to move more leads and customers down the funnel. Whether you combine different formats or opt for one, it is always necessary to keep the idea intelligible.
Want to get the most out of your ad campaigns? The right tools play an important part. Check out our top picks of the best free marketing tools.
The Workout Ad
Source: Laptopempires
The workout ad above shows that people have a good time if they join the Body Boss fitness classes. The ad's copy is transparent in conveying the message, and the call to action prompts the viewers to interact with the advertisement.
Looking for more Facebook Ads examples? Get inspired by these 14 high-performing Facebook Lead Ads examples.
Facebook Ads for Personal Trainers
Are you struggling to get clients for your personal training business? If yes, then you need to advertise on Facebook. It is one of the best platforms to use for growing and scaling your business quickly and efficiently.
When you create your Facebook ad, there are some best practices to follow, such as the right image and including a "hook". Here are some instances:
Selecting a suitable image for your personal training advertising
Using a headline to draw attention to your ad copy
Keep your fitness ad as simple as possible
Add your "hooks" to the mix.
Upgrade your system with automated marketing tools
When running a personal trainer ad, using the right tools is as important as designing the ad itself or implementing the right strategy. Marketing platforms such as CRMs are essential but bridging the gaps in your marketing system is a whole different matter.
This helps to increase the functionality of your system, automating a wide range of tasks, and making your business function as a whole which you can only do by using third-party integrations such as LeadsBridge.
If the overall costs are a concern, you must know that these integrations will pay for themselves and much more in the long run.
However, LeadsBridge has taken a step beyond to address this issue by offering a Free Forever Plan, where you can test the waters and discover the integration benefits before committing to them.
Discover all perks that LeadsBridge's free plan could offer you.
Facebook provides an easy-to-set-up ad platform, where you can create your personal training advertising campaign in under 30 minutes and start running it. When running your Facebook personal trainer ad, you can get users to engage through likes, shares, and comments, drive traffic to your personal trainers' website, and get more direct (DMs) from prospects and inquiries. In fact, you can literally display your ads to the desired target audience.
Is cost a barrier to your personal trainer ad on social media? Learn everything you need to know about online ad costs here.
How to advertise personal training on Facebook
Below is the step-by-step process you need to follow to advertise personal training on Facebook.
1. Create goals for your personal training Facebook Ads
Want to advertise your personal training business on Facebook? The first step is to know your purpose for running these ads. Examples of goals you may want to achieve are:
a. to generate subscribers for your email list
b. to receive requests for free personal training sessions
c. to get clients for your personal training business
Make sure to focus on a single goal when creating each ad. For instance, if your goal is to generate subscribers for your email list, you can design an ad to encourage subscriptions. After that, you can use different campaigns to nurture your prospects to become clients.
2. Define your Facebook ad offer
The second step is to determine what you offer to those who click on your ad. You can create different offers, such as E-book, checklists, free 1-hour training sessions, and a 7-day free pass to a personal training class. The most effective approach is that your offering should solve the most pressing needs of your audience (pain point) and have real value.
Here is an outstanding example of offering true value adopted by Vision personal training.
In this ad, they are offering 21 days of free personal training worth $360.
4. Create a Custom Audience
When you want to advertise your personal training business on Facebook, the next thing to do is to create a Custom Audience of people who have previously engaged with your business.
For instance, you can create a Custom Audience of the people who watched your videos. Then, you can promote your program or products to them, knowing that they are already interested. Don't know how to create a Facebook Custom Audience? Check out this step-by-step guide to Facebook Custom Audiences.
Check out these popular integrations for integrating Facebook Custom Audiences into your system:
not-free-widgets
Mailchimp integration with Facebook Custom Audiences
Google Sheets integration with Facebook Custom Audiences
ActiveCampaign integration with Facebook Custom Audiences
5. Use a catchy headline, image, and CTA
The headline of your Facebook ad is a crucial element in advertising and must be eye-catching. To do this, you need to ensure that you target their needs. For example, if you are targeting the student loan niche and your target audience is the students in California, the headline can read "Attention California Students". This explicitly addresses the students who are located in California.
The image used in the ad is also important and should make your advertisement stand out from the rest. Ensure you choose the right background for the image. You can also run an A/B test using different images to know which performs best.
Last but not least, the Call to Action button should also be attractive enough to get clicks.
6. Use the right Facebook ad
Facebook Lead Ads is the best way to collect leads for your personal training business. It keeps the user on the platform when filling out the form. This reduces friction, leading to higher engagement rates.
For more information, read our step-by-step guide to create and run Facebook Lead Ads.
7. Connect your Facebook Lead Ads to your CRM or Autoresponder
When you start generating leads from your Facebook campaigns, you need to transfer the lead data to your CRM or autoresponder, where you will nurture them. There are three ways to download data from Facebook Lead Ads: manually, using API, or through third-party integration.
The first option is to manually download the leads in a CSV file and upload their data to your CRM or autoresponder. This technique is time-consuming and prone to human error.
Transferring this information using API is more secure, but it requires performing complex tasks. The API method is rated as difficult and also time-consuming, especially for non-tech-savvy users.
Using a third-party integrator is by far the easiest and most effective method available. It involves connecting your CRM or autoresponder to the Facebook ad platform through a third-party bridge such as LeadsBridge integrations.
This way, the leads are automatically synced into your CRM, which saves you both time and effort. It also ensures that your leads receive the promised offer on time before they get cold.
Discover the best Facebook Lead Ads integrations for your campaigns.
8. Test, Test, and Test your ads
Test your ads, again and again, to determine which are your highest performing ads. Once you have outlined these ads, use them repeatedly to get better results.
Use this guide to learn how to create high converting B2B Facebook Ads.
A positive example of health and fitness advertisements
Winning fitness advertisements have the right kind of tone, composition, and color that can positively impact people. This kind of ad blends the ad's copy and other elements( images, headlines, etc) in its structure.
In addition, they are never misleading or present false claims. For instance, a good positive example of a health and fitness advertisement is an ad that promotes body confidence. This promotion is not false or misleading. See below.
Source: Hellogiggles
Here is another example of health and fitness advertisements that positively impact its end-receiver.
Some say that Blink Fitness has a notably positive example of health and fitness advertisements. By lowering the workout standards, this campaign makes exercise an attainable objective for the average person. Their aim was to focus more on the feel-good and less on the physical appearance, which Blink named as "Mood Above Muscle".
It is great to see people with perfectly ultra-fit bodies working out or enjoying a healthy run. This scenario is, in fact, your usual health and fitness advertisement. To a person who has not exercised for a long time, this could mean impossible fitness to achieve.
Following this unique perspective, Blink made an announcement to its Instagram followers in 2016. They requested them to talk about their confidence and explain why they should be selected as winners of the "Mood Above Muscle" campaign. Next, they filtered through 2,000 submissions and selected 50 semi-finalists. The selected group was auditioned in front of a celebrity panel; actress Dascha Polanco and former NFL punter Steve Weatherford.
Ultimately, they chose 16 people who represented the diverse shapes, sizes, and fitness abilities of the Blink members.
Source: ClubSolutions
In essence, this was more than just another one of health and fitness advertisements. It was a stand against the work towards unrealistic body images, while cultivating the wholesome belief that "The best body is your body".
A negative example of health and fitness advertisements
Negative advertisements are somewhat common in the health and fitness industry, especially for weight loss. Many fitness companies claim to help users lose weight in practically impossible durations. Some companies use misleading and negative fitness advertisements to coerce people into joining their clubs.
Here is an example of a negative fitness advertisement from Reebok's Easytone shoes. The company created a series of ads for the Easytone and RunTone shoes in 2009 and 2010, claiming that Tone shoes could work the hamstrings and calves muscles to become up to 11% harder and tone your butt up to 28% more than regular sneakers.
This is an example of misleading information.
While the shoes forced you to use more muscles when you moved, the FTC investigation found that the EasyTone shoes make walking uncomfortable. So, Reebok had to refund over $25 million in purchases. You can find one of their ads below.
Source: Glamour
Let's have a look at another negative example of health and fitness advertisements. VitaminWater marketed its product as a healthy alternative to soda, while the drink was actually made with large amounts of sugar.
The marketing tagline was "vitamins + water = all you need", which relied on inaccurate messaging to hide the fact that each bottle contained an unhealthy dose of eight teaspoons of sugar.
The Center for Science in the Public Interest investigated the product and discovered the company's false claim, as is the case with other negative fitness advertisements. VitaminWater was requested to add "with sweeteners" to its labeling.
Source: Food for Net
The above examples should provide enough insights and what negative fitness advertisements look like and what to avoid.
Facebook Ads Audiences
Now that you have become familiar with the objectives and formats of Facebook Ads, you can now discuss a crucial point for the success of your Gym ads campaigns — creating the perfect audience.
Facebook offers marketers the ability to design their audience specifications for targeting or retargeting campaigns. Marketers and businesses can use this feature to isolate a niche of users that ideally suits their marketing objectives and tactics. For this purpose, you should familiarize yourself with Facebook Custom Audiences and Facebook Lookalike Audiences.
A quick look at Facebook Audiences
Facebook segments its Ads audiences based on demographics, location, interests, and behaviors. These audiences are analyzed and categorized as shown below.
Each of these subcategories is an adjustable variable that you can use to create a highly targeted audience for an Ads campaign.
Age And Gender
Relationship Status
Education Level
Job Role
Top Categories
Page Likes
Top Cities
Top Countries
Top Languages
Frequency Of Activities
Device Users
These options let you create an audience that targets Facebook users broadly or explicitly, depending on your business's objectives. Additionally, Facebook provides other advanced features for segmenting audiences based on your business's data, called Facebook Custom Audiences.
Facebook Custom Audiences
Facebook Custom Audiences is a targeting feature that allows users to specify an audience by customizing various options such as location, demographics, and interests.
These audiences can be determined based on several existing sources such as the company's mailing list, current customers or active subscriptions, or any data related to clients or leads with associated profiles on Facebook. Accordingly, companies can target a particular group of people who have already engaged with their brand in one way or another, and run campaigns to upsell, cross-sell or deliver awareness about new products. Facebook allows marketers to create up to 500 Custom Audiences per Facebook Ads account.
For a Gym or Fitness & Health-related business, using this feature in conjunction with their existing customer lists enables them to promote new packages or services directly on their customer's Facebook Feed to drive more engagement and awareness.
Learn more about Facebook Custom Audiences here. For more technical info, explore how to integrate Facebook Custom Audiences with LeadsBridge.
Facebook Lookalike Audiences
Facebook Lookalike Audiences target users that are similar to your existing Facebook Audiences in terms of interests, demographics, and behaviors that have not engaged with your company in the past. This type of audience is created by selecting an existing Custom Audience. Facebook uses this selection to determine the characteristics of your current audience. Then, using the extracts data, it displays advertisements to people with similar interests to an existing audience.
This feature is great for automatically finding users who already match an existing customer base. In addition, the smaller your Lookalike Audience size is, the more precise the selection will be. Consequently, larger audiences decrease accuracy and may not completely match your specifications.
Facebook recommends using a source audience of between 1000 to 50,000 individuals for best results and using your best customers rather than all your customers as a source.
Lookalike Audiences are limited by geographical location. A specific geographic range must be specified when creating a Lookalike Audience. Moreover, Facebook allows users to create up to 500 Lookalike Audiences from one source audience, while multiple Lookalike Audiences can be used for a single advertisement.
These features allow companies to target specific users in a broad range of locations and settings. They also can define multiple variables for better matching and precision.
Learn all you need to know about Facebook Lookalike Audiences and how to use them.
Facebook Conversions API
Facebook Conversion API, formerly known as Facebook Server-Side API, is created to help businesses maintain data privacy and deliver personalized advertising experiences to their customers and audiences. Sharing data through Conversions API is more accurate than any other method for targeting the mid-funnel and lower funnel. Using a Facebook Conversion API integration, you don't have to worry about any data getting lost due to a browser crash or an ad blocker.
Conversions API gives businesses control over the data they share. You can implement Conversions API alongside tracking Pixels and decide what to share and when to share it. Combining both Pixel and Conversions API also gives you full-funnel visibility. This is the reason why Facebook encourages advertisers to implement the Conversions API in addition to Pixel for a reliable full-funnel tracking and data sharing experience. This way, you can transmit a larger array of data in order to back your advertising efforts. Besides, Conversions API lets you capture data such as CRM data or lower funnel flows.
With Facebook Conversion API, you can track events like leads, affiliate payments, locations, phone calls, form submissions, purchases, Email subscriptions, and subscription changes.
Here is a complete guide on the Facebook Conversion API.
To get the most out of Facebook Conversions API, you're going to want to integrate it with your favorite CRM. Using LeadsBridge, you can streamline your data sync process and connect Conversions API to your CRM.
ActiveCampaign integration with Facebook Conversions API
Mailchimp integration with Facebook Conversions API
Zoho CRM integration with Facebook Conversions API
LeadsBridge integration for health and fitness advertisements
Let's check out some of the most effective integrations to use for automating the lead generation process, streamlining workflows throughout the entire sales funnels.
LeadsBridge integrations with Mindbody app
Mindbody app helps consumers find fitness, beauty, and integrative health businesses in their area and interact with their services(book appointments, subscribe, etc).If you use the Mindbody app for your health and fitness company, you can use LeadsBridge integrations to automate your workflows.
Using these integrations can boost both your customer satisfaction and ROI. You can connect the Mindbody app to Autoresponders, CRMs, and other tools such as:
Facebook Lead Ads integration with Mindbody
Mindbody integration with Facebook Custom Audiences
Mindbody integration with Facebook Conversions API
Mindbody integration with ActiveCampaign
HubSpot integration with Mindbody
These integrations also allow you to create new email notifications for the leads coming from the Mindbody app, sync Facebook Custom Audiences sales of Mindbody, update your subscribers' list, and much more.Discover all other LeadsBridge integrations for your gym & fitness business.
LeadsBridge integrations with Clickfunnels
For many coaches and personal trainers, it is challenging to balance serving existing clients while attracting new ones. And with the market's high competition, the option to ruin your campaigns and maintain your leads manually is out of the question.
Statistics show that 80% of small businesses consider that automating the lead generation process supports their lead generation process. Learn more about how Clickfunnels for coaches can help automate your lead generation process.
Facebook Lead Ads integration with ClickFunnels
ClickFunnels integration with Email Notification
ClickFunnels integration with Salesforce®
Final thoughts
Creating awareness and spreading the word for a gym or health & fitness center means generating more potential leads and customers. Running a simple Gym Facebook Ads campaign can result in significant and long-term gains if a good strategy and the right tools are in place. In this article, we touched on key factors and essential tools to deliver a solid understanding of all the details of crafting a successful Gym Facebook Ads campaign.
Want to know more? Check out Facebook for Business Help Center or the Facebook Ads Guide.
Established as the very first official Facebook integrator, LeadsBridge specializes in all-things-Facebook. You can find all extensive guides, announcements, tools introductions, and more on the LeadsBridge Resources page.
Explore what LeadsBridge has to offer for streamlining your Gym & Fitness Management.