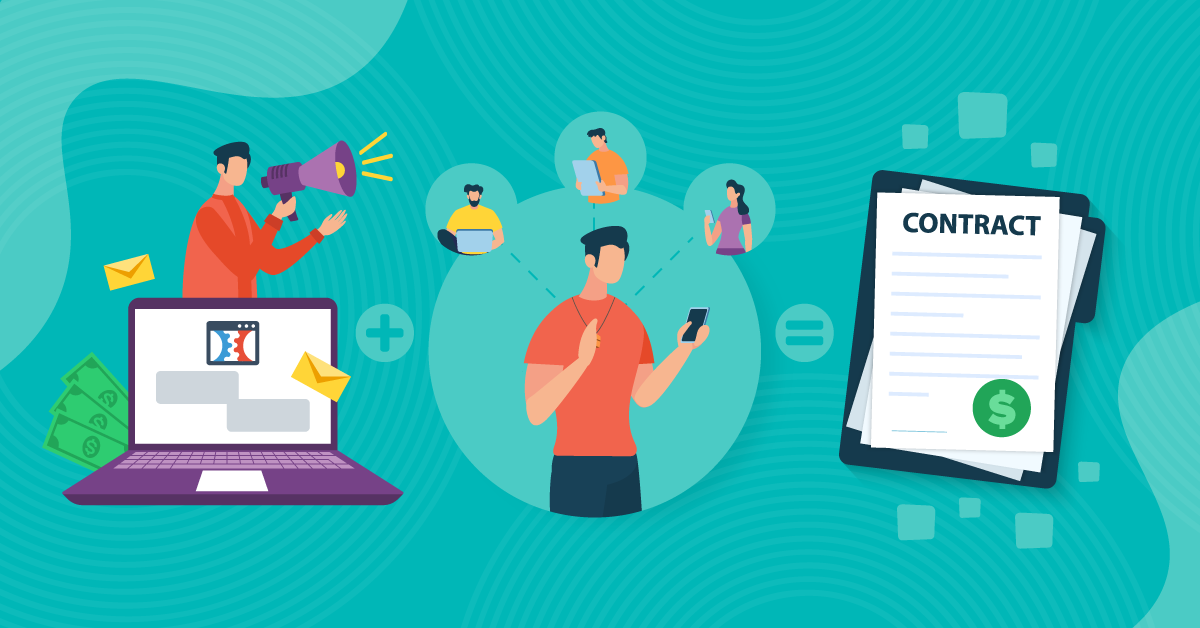 You've tried and tested your services and clients are getting amazing results, but how do you get more leads?
For many coaches, it's a balancing act between serving existing clients and attracting new ones. And, when you've got very little time to manually find prospects and reach out to them, acquiring new clients can become a drain on your resources.
But keeping your lead pipeline full is important if you want to consistently land new clients and grow your coaching business. 
According to research, 80% of small businesses believe that automating the lead generation process helps them get more customers. Here's how Clickfunnels for coaches can help automate your lead generation process with a powerful funnel.
What is ClickFunnels?
You might have already heard of ClickFunnels for coaches – it's a popular tool for service-based businesses. But, if you haven't, here's a rundown. At its core, it's a drag-and-drop funnel creator and editor that allows even the least tech-savvy creators to build out marketing and lead funnels to fill their pipeline and turn prospects into clients.
The tool lets you create landing pages, sales pages, accept payments, and manage multiple sales funnels with just a few clicks.
How ClickFunnels for Coaches Works
ClickFunnels automates the lead generation process by piecing together different parts of the conversion funnel into a streamlined journey for prospects. Users can build out entire sales funnels from start to finish and make them as simple or as complex as necessary.
Your sales funnel might look something like this:
Opt-in page: a landing page geared towards collecting leads. Maybe prospects can download a free book or watch a video series if they provide their email address. This example offers potential leads a free report when they sign up:
Source: ClickFunnels
Case study page: once a lead has entered their email address in the opt-in form, they might be directed to a case study page where you outline how you've helped a previous client achieve their desired results. This adds social proof and cements trust, but also acts as a good lead-in to the next part of the funnel.
Application page: leads have shown their interest by giving you their email address, they've read a case study, and now they want to get the results for themselves. An application page (or an "add-to-cart" page) pushes them towards the sale.
There are various different funnel templates you can utilize in ClickFunnels which we'll dig into further down the piece, and the type you choose will depend on your ultimate goal and who your ideal clients are. For example, if you're selling high-ticket one-to-one coaching sessions, you'll need to instill a sense of trust throughout the funnel and tackle any objections someone might have for handing over that much money.
On the flip side, if you're selling a low-ticket video course or a quick-win ebook, your funnel might be a lot simpler.
The great thing is you can create each of the touchpoints you need within ClickFunnels and it automatically pulls them together to make a seamless funnel. Leads are directed from one touchpoint to the next without you having to do anything.
The Benefits of Using ClickFunnels as a Coach
Generating leads is a goal for many coaches and service providers and ClickFunnels has plenty of benefits that take the headache out of this process.
Set and forget: create as many funnels as you like and have them run on autopilot in the background while you focus on what you do best. The only time commitment is creating the funnel elements upfront.
Drag and drop: no tech know-how is needed thanks to the intuitive drag and drop builder. You don't need to know code or have any complicated design skills, since ClickFunnels has a range of templates to choose from.
Make payments easy: you can integrate a payment system and start collecting payments in minutes. This avoids taking potential clients out of the funnel to another payment method that might put them off.
Advanced analytics: easily track the performance of your funnel and each touchpoint within it. Notice that your opt-in page isn't getting a high percentage of signups compared to traffic? Experiment with different copy or visuals to see if that changes anything.
Send follow-ups: nurture new leads to warm them up before they make a purchase. This increases long-term customer loyalty and brand awareness.
Dramatically increase ROI: the amount of effort that goes into creating a funnel is far outweighed by the return on investment. This coach created a funnel for their high-ticket offering and generated a 4,034% ROI.
Source: ClickFunnel
Tips for Using ClickFunnels as a Coach
Leverage the Pre-Made Funnel Templates
ClickFunnels for personal trainers and coaches has plenty of pre-made templates. Whether you're looking to sell a high-ticket offering, get leads to book a session, or are promoting your online course, there's a template to suit your needs.

The top ClickFunnels for gyms include:
ClickFunnels' high ticket funnel
This funnel makes it easy to sell one-on-one high ticket products and sessions by showcasing your expertise through webinars and video series. Using this funnel, you can not only make more money by selling videos but also establish & grow your personal brand online.
ClickFunnels' book funnel
The book funnel helps coaches sell their written work by highlighting the benefits readers will get and offering low-cost tripwires once a potential lead has shown interest.
ClickFunnels' online course funnel
Many coaches and personal trainers sell online courses today (thanks to the pandemic!). The online course funnel lets you add a webinar sequence or a video series sequence to your funnel to qualify leads and solve a problem they might have.
High ticket coaching funnels make it easy to sell spots on your courses or in-person sessions without you having to lift a finger.
Stay On Brand
Keep your funnel cohesive to your branding by ensuring each element and page features your brand colors, logo, and tone of voice.
Tackle Objections
Use your funnel to tackle potential objections clients might have, especially if you're selling a high-ticket item. You can do this by sharing testimonials, highlighting case studies, and answering common questions a potential client might have.
Incorporate Video
ClickFunnels makes it easy to add a video to your landing pages and funnel to provide a more "human" approach. This is a good opportunity to showcase your personality if clients will be working with you directly so they can see if you'd be a good fit.
Make the Most of Integrations
Integrating Clickfunnels with other tools or even free marketing software tools can help make your funnel more robust and automate every single aspect of it. LeadsBridge has a number of integrations for ClickFunnels especially for gyms and fitness, including Mindbody, a business management app that helps people find and book spots at gyms, with personal trainers, and with other services professionals. Learn how to use the integration here.
Facebook custom audiences integration with Clickfunnels
Clickfunnels integration with Mailchimp CRM
Clickfunnels integration with Google Sheets
Facebook Lead Ads integration with Mindbody
Mindbody integration with HubSpot CRM
Gmail integration with Mindbody
Track and Measure Results
Experiment with different page designs, tweak your copy and run A/B tests to see which versions convert best. Remember to measure your results to see how well your funnel is performing and to identify any potential areas for improvement.
It's Time to Get Started With ClickFunnels for Coaches!
The simple and intuitive funnel-building process makes ClickFunnels for coaches the perfect option. The selection of pre-made templates for selling high-ticket offers and one-to-one sessions makes it easy to capture new leads on autopilot.
Get started with the LeadsBridge ClickFunnels integration that lets you connect with new leads and nurture them until they're ready to buy.