One of the most popular business management, marketing, and appointment scheduling software in the market today is Mindbody. Mindbody is dedicated to offering solutions to companies and professionals who work in the Health & Wellness industry (gyms, fitness, salons, spas, massage centers, dance schools, yoga studios, etc.). 
The wide variety of integrations available for Mindbody, such as the integration with Zoom Meeting to carry out sessions and online classes, make this management tool extremely flexible, as we will see later in this article.
Mindbody Overview
MindBody was created in 2001 and has over 50,000 businesses using it. It is one of the best options for business owners in its industry. An industry that, as shown in the chart below, is big and keeps growing year after year. 
Mindbody offers a business and marketing solution that aims to fill the industry's gaps with a highly focused app.
Customers seem to be really satisfied by Mindbody, which is ranking number one on Finances Online for the Club Management Software category.
What does the Mindbody app offer?
The Mindbody app lets businesses of the health, wellness, and beauty industries access to very sophisticated and focused management and marketing solutions. Mindbody allows them to easily keep in touch with their target audience, have customers book appointments through the website or iOS/Android apps, and send automatic notifications, confirmation and reminders to minimize the possibilities of people not showing up to the appointments.
Below are the robust features provided by the Mindbody app.
MINDBODY MARKETING FEATURES
The Mindbody marketing features are designed to help you attract new clients, increase their frequency visits, get back lost customers, improve word of mouth marketing and receive feedback.
The marketing tool consists of two sections. The first section (Mindbody app and web, promoted intro offers, dynamic pricing and partner network) helps get prospective customers "in the door". The second section (automation, campaigns, contact lists, feedback and reviews, and referrals) helps keep existing customers come back for more. 
Get people in the door
1. Mindbody App and Web
This feature enables you to gain more exposure for your business. With it, you can list your business on the Mindbody consumer website (Mindbody.io), making it easy for clients to find and book your services through the Mindbody app and Google.
2. Mindbody Promoted Intro Offers
Mindbody Promote Intro Offers feature is a tool that helps you promote your business to potential customers. Its native integration with Facebook and Instagram improves your online presence on different platforms. With this tool, you can make offers to attract new clients, retain existing ones and keep them coming back for more.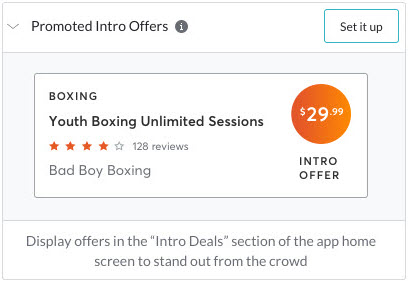 3. Mindbody App Partner Network
The Partner Network feature helps to increase the visibility of your brand on the search and social media networks such as Google and Peerfit. These partners will help you to drive targeted traffic that can book your classes through a call to action button on your listing as shown below.
4. Mindbody Dynamic Pricing
The Dynamic Pricing tool allows you to create the right price at a specific time to attract your targeted customers. You can create prices that help to fill up open spots of your classes. You can set minimum and maximum prices as you want.
Keep them coming back
1. Mindbody Automations and Campaigns
This feature helps you to bring back lost customers and keep existing customers engaged with branded emails and texts designed from templates. You can set the messages up to deliver them automatically based on specific criteria. You can use this feature to share important updates and special announcements such as event hosting, holiday promotions, opening of a new location and launching a new service or product.

2. Mindbody Contact lists
The Contact Lists feature makes it possible to build segmented lists that update in real-time according to your customers' interaction with your messages, satisfaction, and visit history. With it, you can manage your static and smart lists, as well as creating new ones.
3. Mindbody Reviews, Referrals, and Feedback
Mindbody Reviews, Referrals, and Feedback tool is designed to help you collect customers' feedback. For example, you can ask customers to tell you about their perception of your business and collect feedback to improve your services. It encourages customers to leave a review on your social media channels, website, and Google. It increases referrals as you can reward users for referring to family and friends.
 Mindbody Online Booking & Scheduling
Mindbody allows clients to easily book appointments with trainers, coaches and professionals in the health and wellness industry through the app, branded web tools, and social media.
As soon as a client book a session or cancels, Minbody updates your schedule automatically. You can also set a class size and offer clients an option to join a waitlist and notify them when the class spots start.
You can see and manage your schedule from a dashboard (as shown above) and see who registered for what classes, their membership plans, and balance. This helps to know members who are new and those who are yet to pay for their classes.
MINDBODY Point of Sale (POS)
The POS service that the MINDBODY app offers includes a variety of benefits, from easy payment in loco to setting up recurring payments, and credit card processing.
The Mindbody point of sale helps you process credit card payments on your website or using the branded app. You can use it on your front desk with the aid of the credit card reader, a mobile POS reader, a mobile barcode scanner, a thermal receipt printer, and a cash drawer.
Mindbody is security conscious about your customers' information, so it stores their credit card information and gives you the ability to set up recurring billing for regular customers. This feature makes it easy for clients to purchase anything they want for their classes. Businesses also use it on online retail stores. You can track inventory and adjust product prices as you want.
Mindbody app Client Tools
Mindbody provides both a customer-side app and a client-side app. Customers can easily book and manage their appointments from their devices. They can log in to their accounts and add their billing information, view payment, check their history and redeem their reward points and gift cards. 
On the other side, you can access your client's profile, see their purchase history and their relationship with other clients. This will help you create personalized experiences for each one of them. The feature also allows you to send alerts and notifications to your clients such as birthday wishes, positive and negative balances and appointment reminders.
Mindbody
App Staff Resources
Offering a tool that helps with staff management makes Mindbody to be a very convenient app for health & wellness business owners who'd like to see their business from day-to-day life to marketing strategies.
Mindbody makes staff management a breeze. All your staff members can have unique logins to enable them to manage their individual schedules from anywhere. Mindbody makes it possible to easily know the hours your staff worked, calculate their pay, commissions, and rewards through the Mindbody payroll processing.
This takes manually calculating paychecks out of the way. You can check out your staff performances by generating their sales reports individually.
Mindbody Reports
The Mindbody app offers a robust report tool that helps you to keep track of your business, and the work input by you and your staff. Mindbody has over 100+ reports to help you track and optimize your business.
They include sales reports, payment processing reports, client reports, staff reports, inventory reports among many others. These reports give you an insight into trends in sales, popular pricing option clients are choosing, payroll processing and it helps you to know your big spenders. The reports help you take better decisions to optimize your business for greater performance.
Mindbody Automation
This very thorough app has automation features to help you automate some tasks you do within the app. 
Mindbody's automation feature is an advanced drip campaign platform you can use to keep your clients' communication going throughout the sales cycle. It allows you to send emails, text messages to clients depending on their preferences when signing up.
You can select the recipients of the automation, design promotional emails and choose an interval to send them. You create it once and subsequently new clients that match the criteria are automatically enrolled to receive the emails or the texts.
Mindbody Integrations and Add-ons
Mindbody allows you to integrate third-party apps in order to help you attract more customers, nurture them and offer them specific ad campaigns. At Leadsbridge, we offer different integrations with Mindbody. Find some of them below:
1.  Mindbody and Facebook
Leadsbridge helps you to connect your Mindbody app with Facebook tools such as the Facebook lead ads, Facebook custom audiences, and Facebook Offline Conversions.
2.  Mindbody and email marketing software
With Leadsbridge, you can also integrate your Mindbody app with Email marketing software such as Mindbody and MailChimp, Mindbody and Activecampaign, Mindbody and Aweber, Mindbody and GetResponse.
3.   Mindbody and CRMs
Leadsbridge helps to connect your Mindbody app to your favorite CRMs such as HubSpot, Infusionsoft, Zoho CRM, and SuiteCRM.
4.   Mindbody and Zoom Integration
As said at the beginning of this post, it is possible integrate Mindbody and Zoom to carry out online classes or one to one sessions with your gym subscribers'.
Thanks to LeadsBridge you can integrate Mindbody with Zoom  in few clicks. Check out our step by step guide and learn on how to integrate Mindbody with Zoom.
Below some important features of Zoom Webinar:
a.   Zoom Video Webinar
Zoom video webinars can host from 100 up to 10,000 interactive video participants. As a webinar host, you can share your screen, video, and audio in a webinar with attendees. The attendees can interact with you through chat or question and answer options. 
You can integrate CRM systems, video platforms and marketing automation software such as Eloqua, Pardot, Salesforce, Marketo, Kaltura and Panopto using LeadsBridge. 
It has simple and intuitive host controls for users and interactive options for attendees from different devices such as desktops, laptops, mobile phones, and conference rooms. You can do live broadcasting on different social channels such as Facebook Live and YouTube. 
You can monetize webinars with the PayPal and Zoom integration through Leadsbridge. You can hold webinars once, in a series, or the same session held various times. Businesses can use Zoom video webinars to generate leads, launch products, do customer training and organize events for employees.
b.   Webinar Reporting
The Zoom Video Webinar has reporting and analytics capabilities where users can generate different reports such as the registration report that shows the lists of registrants and their registration details. Attendees report shows details about each attendee. 
The performance report highlights engagement statistics on registration, attendance, and feedback. The question and answer report show questions and answers from the webinar. The polling report shows each attendee poll results. All these reports can be downloaded in a CSV format for further actions. The reports are available on the platform for the previous year. Only the webinar host, admin user or someone with a role has access to the report section.
c.   Registration page
Users can set up pre-registration with the option for the webinar host to add custom registration questions. It is also possible to turn off registration so that attendees can join by clicking a link when the webinar is on. There are two approvals for the webinar registration. You can manually approve registrants or decline them. If a registrant is approved, they will get an email with details on how to take part in the webinar. You can also automatically approve registrants. 
This means all registrants will receive a confirmation email with information on how to join the webinar. You can customize webinars that require registration with webinar reports and other custom fields. You can set an end date for the registration, such as deciding to end the registration when the event is over. You can add your brand identity and business email to the registration form.
d.   Recordings
Zoom video webinar recordings offer two major ways of recording webinars. There is cloud recording, which is recording stored in the Zoom cloud. You can store the video, audio and chat texts from a webinar to the Zoom cloud and download the file to a computer or streamed it from a browser. The webinar recording can be done in different recording layouts such as the active speaker, gallery view and shared screen. The second webinar recording is the local recording, available for free and paid subscribers. It allows users to record webinar videos and audio to computers locally. You can upload the recorded files to Dropbox, Google drive or stream it on YouTube or Vimeo. Meeting participants can also record the webinar locally to their hard drives.
Recording your webinar video makes it possible to share the webinar with those who couldn't attend the event. You can also gate your recording to collect leads.  
Other webinar software you can also integrate include Webinar Jam, EverWebinar, and Gotowebinar.
MINDBODY health and wellness marketing app review: Its PROs and CONs
Mindbody apps like all other apps have advantages and disadvantages. They are enumerated below: 
Mindbody app review: The PROs
Business App:

 Mindbody gives you the possibility to do everything from your smartphone, through an app dedicated to health and wellness business owners.

Constant updates:

The team always works on improving the app and offering better options for customers.

User-friendly:

The app's layout is easy to understand and appealing.

Easy access

while having a well-protected account.

Flexible plans:

 Mindbody offers a wide range of services and options that suit any business size.

Services and options:

You can customize Mindbody to suit your own needs.

Customer service:

They have a great support team that helps their customers.

Information:

Having information at hand, with the possibility to perform several actions is crucial to a lot of business owners.

Customer information:

Customer information is readily available for your use. 
Mindbody app review: The CONs
Refresh delay:

Some customers have reported experiencing a delay while refreshing during check-in.

Difficult to modify/delete information:

Business owners have experienced an impossibility to delete the client's information or correct any mistakes done during the first insertion.

Overwhelming:

The richness in options of

 MINDBODY

 could be confusing for some users.
Mindbody alternatives
Mindbody is one of the popular appointment scheduling and marketing software for the wellness industry. There are other software available for the same industry. If you don't totally like Mindbody, you can try other alternatives to see whether you will find a suitable scheduling app for your business. Below are 5 alternatives to consider:
1.  Zen Planner
Zen Planner is also an appointment scheduling software developed for the wellness niche such as the gyms, yoga studios, fitness studios, etc. Although Zen planner is not as comprehensive as Mindbody, it still serves as a good alternative with features like easy billing, stored customer data, online check-in and integration with third-party apps such as email marketing platforms.
It also allows you to track member's attendance and performance with a robust analytics system.
2. Virtualgym
Virtualgym is specifically designed for coaches, trainers and fitness clubs to help them manage daily work processes. Initially, it has major features like workout and nutritional plans, but recently it adds scheduling and management services. You can use it to boost client engagement and promote your fitness club brand.
The app allows third-party integrations with your favorite software. It has an automated online payment system to help you accept various payment methods such as cash and debit cards.
3. 10to8
10to8 is a cloud-based appointment and booking app like Mindbody. It has staff management features, sales reporting, and payment processing features and an excellent communication system.
With this, you can create branded appointment reminder messages and send them to clients through their email address, text, slack or chat features on 10to8 dashboards. Clients can reply to messages directly to change or cancel their appointments. 
4. TeamUp
Teamup is an online booking system specifically created for the fitness business. It has a lot of features such as class scheduling, membership management, marketing, payment processing, and reporting.
It's signed up feature helps clients to register and also makes payment. It allows third-party app integration with email marketing platforms such as MailChimp, Infusionsoft, and ActiveCampaign. You also have the opportunity to analyze customer behavior and target potential customers.
5. Square appointments
Square appointments is an appointment and booking software for the service industry. With the app, clients can book appointments online through another booking website.
You can embed a widget on your website to take clients directly to the booking site. You can integrate the app with Google calendar and other third-party apps. Other features include light inventory management, sales reporting, automatic appointment reminders via text or email.
Mindbody recommendations for potential users
The health and wellness app will help you manage, market and boost your health and wellness business and marketing productivity.
Mindbody is not only a management and marketing tool for the health and wellness business, but it also sells retail hardware such as credit card readers, cash drawers, barcode scanners, receipt printers, and label printers. Mindbody allows you to create a branded mobile app for your customers and you can also offer fitness performance software through FitMatrix. They offer professional advisory services. 
One great thing about the app is that it is easy to set up. If you cannot do it, Mindbody has a service that can help to set it up. Mindbody has Premium onboarding packages that help businesses to handle manual work and to tailor the software to your company's needs.
A great way to take advantage of Mindbody is by connecting it to your CRM, marketing automation platforms, or any sources you may collect leads from to really boost its capabilities by using LeadsBridge.
Conclusion
Mindbody is one of the most popular apps for the health and wellness business. It is an app that goes beyond scheduling sessions or appointments for business. It is great for business management and marketing. It can help you expose your wellness business to potential clients of over 3.5 million users. If your business sells membership plans, you can track your member's performance. You can also generate a report to make it easy to analyze your business performance for profitable decisions.
One of the best things about the Mindbody app is that it allows you to integrate your favorite CRM, autoresponders, webinar software, Facebook tools and all other third-party apps that will help your wellness business to grow.
If you are a Mindbody user don't forget to discover ad hoc integration. Check it out!