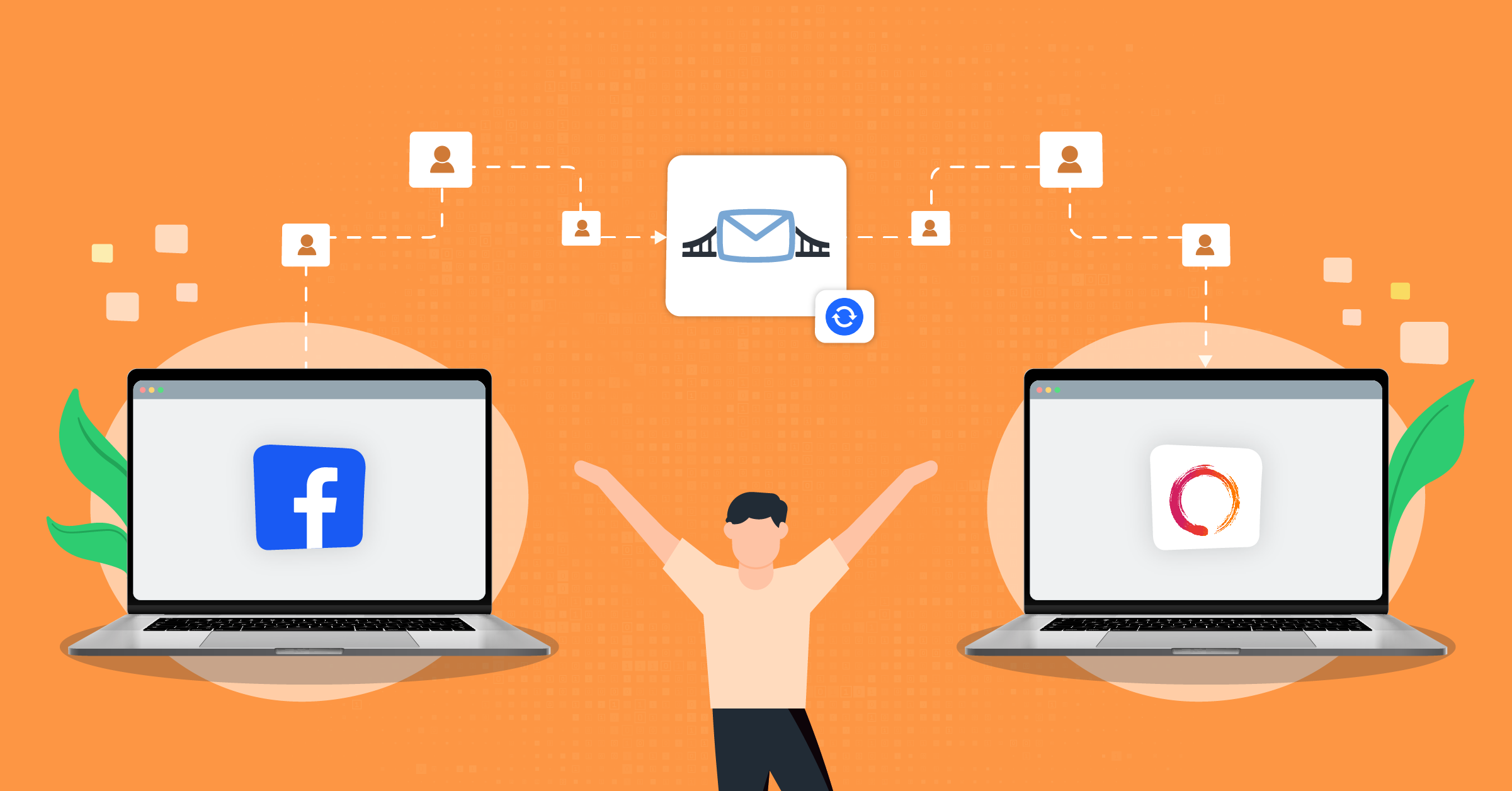 By establishing a Mindbody Facebook Ads connection, you can combine the capabilities of each platform to significantly enhance your wellness business operations and drive lead generation.
Within this article, you will discover the benefits of connecting the Mindbody software with Facebook Ads, along with valuable tips and best practices to follow when using this integration.
Benefits of a Mindbody Facebook Ads integration
Mindbody is one of the most popular management softwares chosen by businesses within the wellness industry. When partnered with the advertising opportunities offered by Facebook, businesses can watch their lead generation and conversion skyrocket.
Mindbody offers a comprehensive scheduling feature, allowing you to display your booking availability wherever your target audience schedules their appointments. Therefore, when you upload Mindbody client data into facebook ads, leads can discover your offering, register their details through the pre-populated form attached to the clicked ads and book their appointment.
This simplifies client management for gyms, personal trainers and similar wellness industry businesses.
With LeadsBridge, you can fully automate the entirety of your Mindbody Facebook Ads campaigns, enabling you to maximize the capabilities of both platforms and perform complex tasks.
This includes;
Syncing your lead data from Facebook Lead Ads with your Mindbody CRM in real-time, allowing you to instantly interact with leads, efficiently move them through the pipeline and increase conversions
Creating custom audiences of leads within your Mindbody CRM according to common traits, enabling you to target them at every stage of the funnel with Facebook Lead Ads.
Tracking online-to-offline conversions so that you can optimize your marketing strategies, reduce ad spend, and track the true return-on-investment of your advertising
With these actions, facilitated by LeadsBridge, you can begin to convert high-quality leads for your business and expand your clientele.
Manage Facebook leads on Mindbody CRM with LeadsBridge
Facebook lead ads can facilitate the acquisition of greater user data by making it more accessible for your existing and potential customers to submit their information.
People simply click your Facebook ad and are presented with a pre-populated form featuring their Facebook contact information. This form is then submitted to you directly. This advertising tool can be used to drive objectives throughout the entire funnel, from brand awareness all the way through to customer acquisition.
Facebook Lead Ads offer a multitude of benefits to owners of fitness and wellness business, that can be fully accessed when used in tandem with Mindbody.
An integration of Facebook Lead Ads with Mindbody provides you with the opportunity to garner greater leads, as you are exposed to the vast audience that comprises the Facebook platform.
Additionally, this advertising model is designed to make the process of reaching your targeted audience easier. You will have the ability to sync your new lead data from Facebook lead ads with your Mindbody CRM, enabling you to then configure your Mindbody flows to better manage your leads.
This way, you can instantly follow-up with new prospects as soon as they enter the funnel through automated campaigns, including text messages, personalized emails, etc.
Establishing a Mindbody Facebook Ads integration may seem complex. However, LeadsBridge delivers an easy and affordable solution to help you automatically connect these two platforms. Our team of experts have substantial experience in integration creation.
As well as this, we are official Meta partners. This allows us and our customers to have easy and fast-tracked access to direct support.
Alternative Mindbody Facebook Ads integrations
There are a number of Facebook tools that you can integrate with Mindbody to optimize your advertising, including the following;

MindBody and Facebook Custom Audiences
The Facebook Custom Audience feature enables your business to precisely segment and target your customers. This is a valuable tool to take advantage of as you can advertise to both existing and potential customers at every stage of the funnel.
Using the demographic data of existing clients within your Mindbody CRM, you can create 'lookalike' profiles of Facebook users that share similarities with your current buyers, allowing you to target a whole new range of leads. This data includes age, location and interests
Advertising to this new audience gives you an opportunity to expand your customer base in a cost-effective way by targeting leads that are likely to complete a desired action.
MindBody and Facebook Conversions API
The Conversions API can help you to accurately measure your advertising performance and attribution across the full scope of the customer journey. This can help your business to gain a deeper understanding of the impact of your digital advertising, both online and offline.
This funnel visibility precedes actionable insights that can be used to alter offline and online activity.
When used in conjunction with MindBody, automated, real-time lead data sharing will be enabled. Although Facebook does have data about its users, your MindBody CRM contains all of your customer's details. Therefore, you can leverage this information to build better-targeted ads, according to a customer's place within the funnel, and increase sales.
MindBody and Facebook Conversion Leads
Within Facebook lead ads, you can choose the delivery option for your lead generation campaign.
Conversion Leads affords you the opportunity to optimize your Facebook ads to increase the quality of your leads. This is done by displaying your ads to prospects within your audience that are most likely to become customers.
By connecting Facebook Conversion Leads with your Mindbody CRM, you will be able to use information from this system to reach higher-quality leads that exist within your audience.
Discover more about how to streamline your data management process with a Mindbody Facebook Conversion Leads integration.
Best practices for using Mindbody with Facebook Ads
There are a couple of tips and best practices to keep in mind in order to ensure that your business is getting the most out of your facebook advertising campaign.
These include the following;
Install branded web tools
Displaying widgets, such as appointment or class lists, on your Facebook page will create an additional access point for clients to connect with your business.
Installing these widgets will allow your clients to view and book classes, enrolments, and appointments directly from your business page, as well as your website.
Add links and images to posts
When posting on your Facebook page, you should ensure to provide a link to your website or Mindbody software.
You can do this by using engaging images with embedded links. Keep in mind that your Facebook posts should prompt users to complete a specific action with your business.
Include "Book Now" call-to-action buttons
Located in the top menu of your Facebook page, the "Book Now" call-to-action button is an effective way to redirect clients to your scheduling page or website.
Managing appointment booking through Mindbody Facebook Ads integration
How can I link Mindbody appointments to Facebook?
There are a number of different ways that customers can book appointments using Facebook.
The most popular way to do this is by creating the "Book Now" call-to-action button that we have referenced above. This button links directly to your business on the Mindbody consumer website.
Additionally, incorporating the aforementioned branded web tools on your Facebook business page is an alternative way to link Mindbody appointments to Facebook. This can help to increase website traffic and encourage your Facebook audience to book more classes, enrolments, and appointments using these widgets.
How can I add Mindbody schedules to Facebook?
To add Mindbody schedules to Facebook, you can follow these simple steps;
1. Direct your customer to log into your site using Consumer Mode. Then, click on the 'MY INFO' tab.
2. Click on 'My Schedule'.
3. For scheduled classes that you wish to make available online, click on the Facebook icon located under the Share column.
4. A pop up will then appear. From here, you should enter your Facebook login info.
5. Your schedule will now be posted to your business' Facebook page.
How can I share Mindbody classes on Facebook?
Creating an effective Facebook advertising campaign can be a multifaceted process. In order to achieve this, there are a number of central aspects that you should bear in mind.
These include;
Targeting
When curating your Facebook ads, you must determine the audience that you are attempting to reach. There are a number of factors upon which you can target prospective customers, including age, location, common interests and behaviors.
Custom and Lookalike audiences are more advanced targeting options that you may use. These audiences allow for the leveraging of existing and new customer information.
Engagement
The text and imagery included in your advertising should effectively convey your message and encourage your audience to take action.
Consider using a simple and clear headline that captures lead attention. When composing your text, ensure that you keep your target audience in mind, writing according to their needs. Additionally, include engaging imagery that identify with your brand.
Inspire action
Ensure that your advertising features concise, compelling call-to-action buttons that clearly instruct customers what action you want them to take.
There is a range of suitable CTA's that you can implement according to specific objectives. Experimenting with these options can offer valuable insight into what language prompts action.
Key takeaways
Any business operating within the fitness and wellness industry should consider utilizing the Mindbody software, as it affords the opportunity to improve operations through the automation of a variety of tasks.
Combined with Facebook Ad capabilities, your business can expose itself to considerable lead generation opportunities.
You can discover more about the value of a Mindbody Facebook Ads integration here.