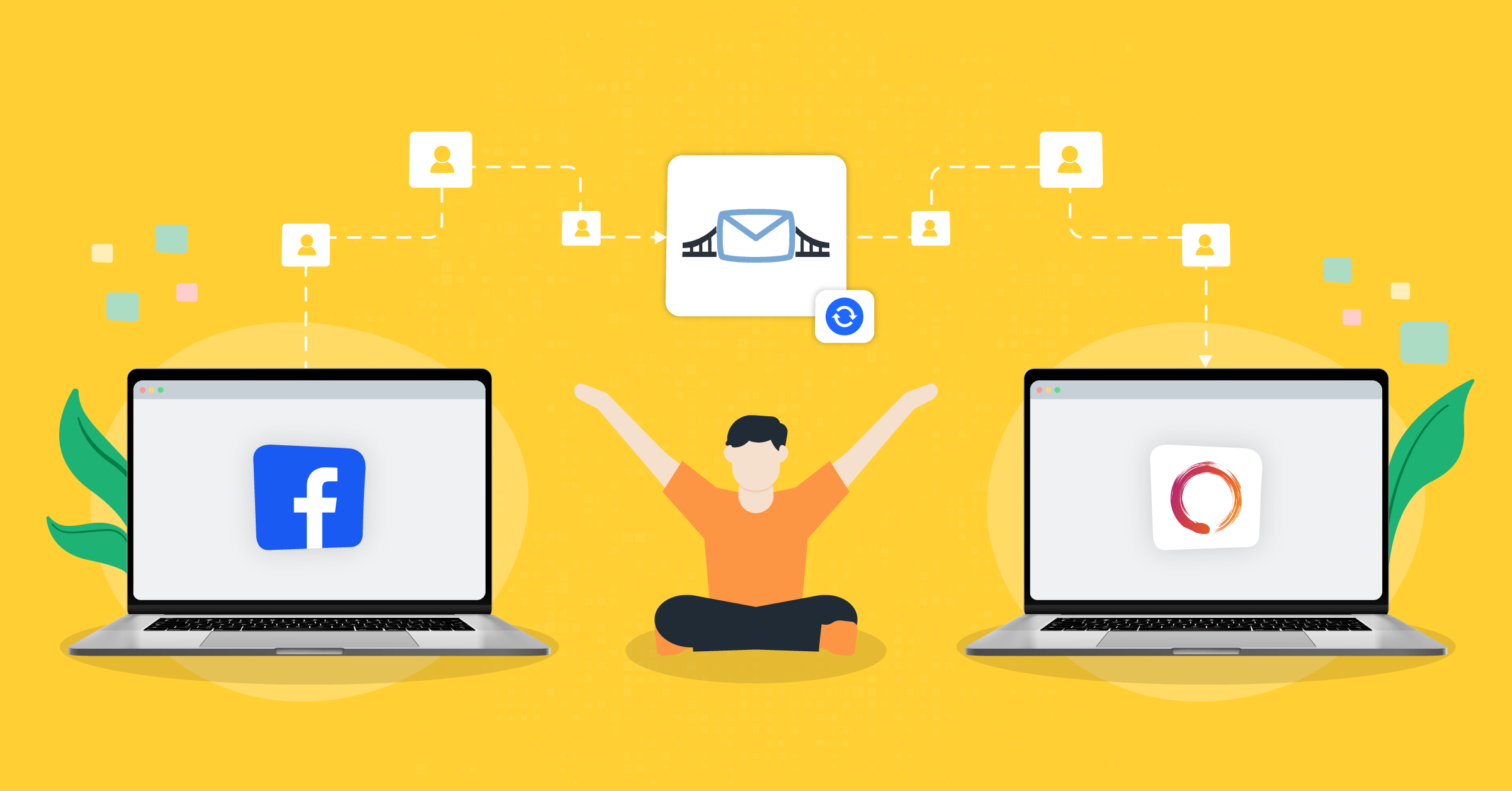 In this article, you'll learn how to set up the Facebook-Mindbody bridge and connect your Lead Ads to the Mindbody app through LeadsBridge.
Benefits of Facebook-Mindbody integration via LeadsBridge
Facebook Lead Ads are specialized ads specifically designed to collect leads. Unlike traditional ads that drive to website landing pages, with Facebook Lead Ads, generating leads on this social network becomes much easier.
This is how Facebook Lead Ads work; when users click on a Lead Ad on Facebook, a registration form pops up. This system uses opt-in forms that are pre-populated automatically. Users can submit the form with just a few clicks and without leaving the platform, which decreases the conversion fraction.
Mindbody is the go-to application for fitness, beauty, and integrative health services and classes. This app allows your existing customers to book on the app while new customers can discover your offerings. It also helps you perform micro tasks such as automating business tasks, payroll processing, creating custom gift cards and promotions, etc.
Using LeadsBridge, you can automate the entire Facebook-Mindbody workflows.
LeadsBridge Facebook integrations help businesses to get the most out of both platforms and perform complex tasks such as;
Besides Facebook Lead Ads and Mindbody integration, you can use these high-performing Facebook Lead Ads integrations to take your Facebook Marketing to the next level.
The setting up of the Mindbody-Facebook integration may seem complex. However, LeadsBridge delivers an easy and affordable solution to help you connect these two platforms automatically.
do you want to get more out of your Mindbody app? Check out these must-have integrations:
How to set up your Mindbody-Facebook integration: The step-by-step tutorial
Before you start
Before you start to connect Facebook Lead Ads with the MindBody app, you'll need to first log in to your LeadsBridge account. If you have not created an account yet, you can sign up for free here.
After logging in, you'll have access to your personal LeadsBridge Dashboard.
Step 1: Add in the main information of your bridge
Follow these simple steps to connect Facebook leads to MindBody.
1. On the left side, find the "Create new Bridge" button. Click on it to create your first "Bridge" connection.
2. Fill in the necessary information.
a) Select "Facebook Lead Ads" as the source for your bridge and MindBody as the destination.
b) You can also name your bridge by clicking on the edit pencil icon at the top (e.i, Facebook-Mindbody bridge).
Step 2: Connect your accounts
1. First, you'll need to follow these simple steps to connect your Facebook account in order to authorize LeadsBridge to build a data bridge between the two.
a) Click on the drop-down menu and add Facebook Lead Ads as your source.
b) Authorize the connection by logging in. to your Facebook account. Remember to use the account that is linked to your Facebook ad account.
c) After getting the following message, click "Continue".
d) "Choose settings" by selecting your Facebook Ad account.
e) Once completed, click "Continue".
2. At this point, you'll need to integrate the destination app by connecting your MindBody account.
a) Fill in the requested information such as Username, Password and Site ID to connect Mindbody with LeadsBridge.
b) To connect your Mindbody account to LeadsBridge, you'll require your Site ID, also known as Studio or Client ID.
This ID is listed on the Mindbody subscription screen: ​​First, log in to your site as Owner. Find your name and click on it to expand the dropdown menu. Then, click on Mindbody Subscription.
Your ID is also available at the bottom right corner of your site.(OPEN LINK)
If you're a Mindbody Experience software user, you can find your ID at the bottom of the main menu.
c) To authorize the connection, use your credentials (Username and Password). These are the same credentials you use to login into your Mindbody personal account.
d) Once completed, click "Continue" to proceed to the next step.
Step 3: Fields mapping
1. Here, check if all data fields are mapped accurately to ensure your Mindbody – Facebook Lead Ads integration operates flawlessly.
2. Use the "Showed unmapped fields" button to add or edit the information manually and pass it as a static value. These functions are used to customize information like reformatting dates and times or modifying text, phone numbers, etc. You can also leave specific fields blank if you don't want to consider them.
Test
At this point, your bridge is almost ready. However, you can run a simple test to see if the configurations work correctly.
a) Under the Fields mapping setting, select "Test connection".
b) Type in the necessary information, such as name and email address.
c) Click on "Run test".
d) "Go back" to edit the fields if necessary. However, if the test shows that the bridge is working properly, you'll receive the following message.
4. Click "Save & publish".
That's all! Congratulations.
You'll be redirected to the bridges section of your account with a green success message at the top right of the page and your bridge will now be active.
LeadsBridge's email receipt feature
Before heading back to the main dashboard, you can choose to activate LeadsBridge's Free Email Receipt feature. It allows you to keep track of your lead generation efforts and get notified as leads come in. This option is available for all our integrations.
At the bottom of the bridge completion page, find the switch button next to the question, "Do you want to receive an email notification for each lead coming in?" Once activated, you'll start receiving notifications in your mailbox.
To automate your email communications with your leads, however, read this guide about how to connect Facebook Lead Ads with Email Notifications.
Get more information
Learn more about how to add Mindbody to Facebook Lead Ads through our platform, take a look at the common questions on our LeadsBridge Help Center, or request a demo.
You can also find more information about the Mindbody integration with LeadsBridge here.