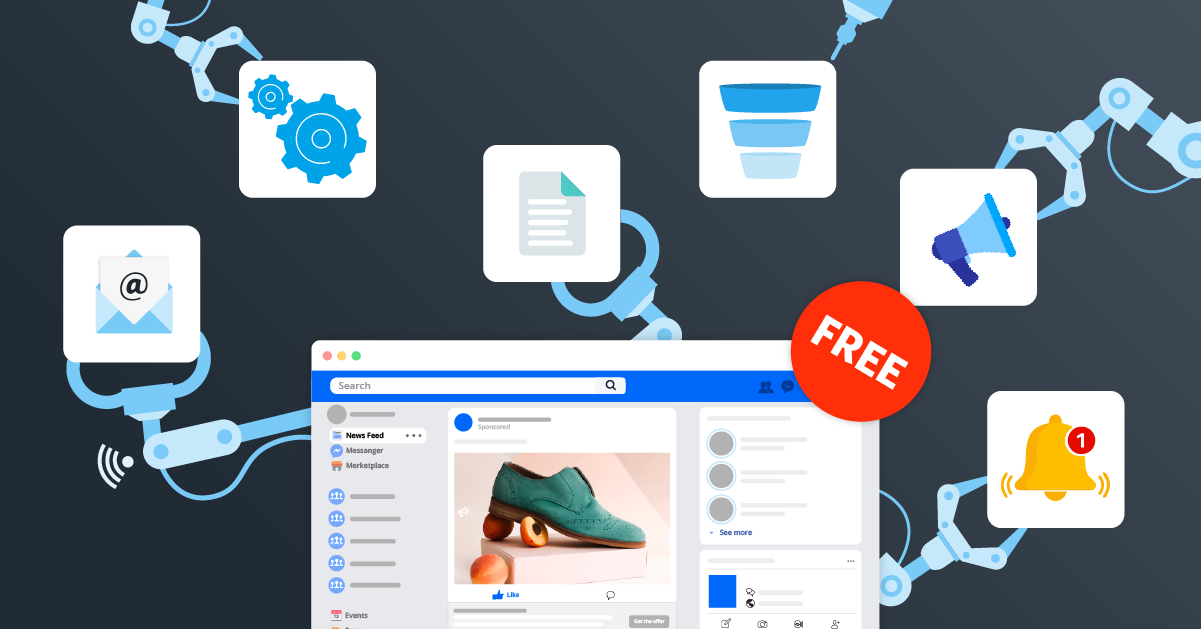 Marketing software is an invaluable operational tool for every business. By allowing you to manage your leads more efficiently and save time on manual tasks, these tools can elevate your conversion rates and drive greater sales.
When in need of a tool that simplifies and automates everything from project management and email marketing to data and analytics and the uploading of content, your total monthly software spend can shoot through the roof, as these are expensive assets to acquire.
However, there are a wealth of tools that are available for free, either for a trial period, as a base plan or in their entirety. This way, you can save funds on automation efforts and pour these finances into more appropriate aspects of the business.
Throughout this article, you will discover some of the best free marketing software tools on the market, which you can use to leverage your operations and garner greater qualified leads.
What is the value of a CRM?
A CRM system enables you to optimize sales and marketing activities across the entire breadth of your organization, as well as improve upon performance based on in-depth and actionable insights.
Insightful customer data tracking within your chosen CRM affords you the opportunity to offer targeted, customized communication to leads in an automated manner. This means that you can reach the correct audiences, more efficiently whilst yielding greater results. After all, 74% of businesses stated that a CRM software offered them greater access to valuable customer data.
Why do you need a CRM software?
Choosing an effective and suitable CRM software is one of the most important decisions that you will make for your business.
They can help you track your existing customers and new leads at every stage of the buyer's journey, all whilst automatically analyzing specific high-intent actions. Therefore, your sales department and customer service teams can act accordingly to undertake the most effective activity to prompt a conversion.
Additionally, many of the best free marketing software tools, or CRM's, allow you to fully automate the output and delivery of your advertising campaigns and communications. This means that you never miss an opportunity to nurture a prospect, maintaining a steady stream of contact.
How much should CRM tools cost?
Taking all of the above into consideration, it is important to acknowledge that you do not have to allocate astronomical funding to secure a quality CRM system.
Your chosen relationship management software should be reflective of your needs and objectives. Therefore, if you have a small team it may be wise to opt for a more basic tool, free from unnecessary advanced features. This way, you can avoid wasting financial resources and remain within a realistic budget.
Luckily, you can avail of some of the best free marketing software tools on the market, allowing you to remain conscious with finances whilst garnering results.
The best free CRMs for small businesses
HubSpot
HubSpot is one the most popular choices of CRM tools currently available to businesses. With a lightweight, highly effective free-starter plan, you can store up to one million contacts within your CRM system, as well as registering an unlimited number of team members.
This tool enables you to track sales, store individual contact information and leverage features such as email scheduling and content publishing as a method of lead nurturing.
As expected, engaging with the free version of this tool will result in the limitation of some CRM features that are included within the paid version. However, by using LeadsBridge, you can increase the functionality of the HubSpot CRM, including automation features. We offer HubSpot integrations that power greater capabilities than that of the free plan.
Zoho CRM
Zoho CRM is one of the best free CRM's for small businesses, offering incredibly detailed analytic features, bolstered by a long-standing, positive reputation amongst past and current users.
The following integrations can be used in tandem with this software to streamline your lead management process and automate customer communication;
Streak
The Streak software, which is designed to cater to Gmail users, facilitates efficient and effective email marketing activity. This means you can monitor the open status of emails, deliver mass send-outs, establish follow-up schedules and much more.
In addition to this, the strengths of this tool include data organization and heightened productivity via G Suite integrations.
Why do you need email marketing tools?
Email marketing is one of the most impactful methods used to nurture relationships and drive sales, with 87% of B2C marketers leveraging automation as part of their email marketing strategy.
Therefore, an emailing automation system is one of the best free marketing software tools a business can have in their arsenal.
The value of using email marketing tools
There are a wealth of benefits that you can expose your business to by utilizing email marketing tools, which include;
Leveraging customizable templates that are used to curate highly-engaging communications.
Testing features that allow for a preview of emails before final sends are carried out.
Creating segmented audiences that enable the delivery of targeted, personalized campaigns to relevant audiences.
Establishment of autoresponders based on triggered actions.
Detailed analytics on open rate and click-through rate data, giving way to improved future campaign performance.
These free marketing software tools for email are incredible, and they can help you advance your campaigns significantly.
How much should email marketing tools cost?
There are various email marketing tools available, ranging across the pricing scale.
However, there are so many exceptional emailing softwares that you can access entirely for free.
Some of the best free marketing software tools are perfectly suited to small businesses, as they can take full advantage of minor audience segmentation features that allow for an increased reach. This means that you can avoid investing heavily in software features that you do not use.
The best free email marketing software for small businesses
Mailchimp
With over 20 million customers, Mailchimp is one of the best free email marketing softwares currently available for small businesses.
Mailchimp offers a free plan that boasts extensive features. These include the storage of up to 2,000 contacts within its database, single-step automation, implementation of sign-up forms and the leveraging of brand tools.Using LeadsBridge, you can establish more advanced and extensive Mailchimp integrations, increasing the value of the tool.
HubSpot
HubSpot's free email marketing tool fully integrates with its free CRM software, which we have previously discussed above (see Hubspot integration here).
With this, you can create branded email campaigns and content that are responsive across both mobile and desktop devices. Additionally, communications can be fully customized, tailoring email content to each subscriber within your database.
Aweber
Aweber offers ​​ automation capabilities that can revolutionize your businesses email marketing campaign delivery. This email marketing automation platform allows for the creation of mailing lists that can be enriched with vital lead information, including attributes and behaviors.
Benchmark Email
Benchmark Email is one of the best free marketing software tools for small businesses as the free plan offers multiple features that can facilitate substantial growth and development.
This easy to use interface allows you to store an unlimited number of contacts, along with a drag-and-drop email builder and newsletter sending.
Free sales automation tools
Pipedrive
The Pipedrive software is a web-based CRM that affords your business the opportunity to plan your sales activity and monitor the subsequent deals that come from these activities.

This free plan enables lead management, communication tracking and the elimination of repetitive tasks through automation.
Copper
Copper is an easy-to-use CRM, popular amongst small businesses owners the world over. This tool facilitates the management of greater numbers of sales leads and nurturing of customer relationships.
This tool is designed to keep you informed as to where every lead is in the sales pipeline, making the planning of upcoming activities more accessible with customizable drag-and-drop pipelines.
Free B2B lead generation app
Sumo
Sumo is one of the best free B2B lead generation apps available. By allowing you to exponentially grow your email list and generate campaigns, you can send a maximum of ten thousand emails per month, along with having an unlimited number of users.
Typeform
The best free marketing automation tools
Marketing automation software is one of the best investments you can make for your team, especially if it's free. Let's take a look at the free marketing automation software for small businesses.
Why do you need marketing automation tools?
Marketing automation and integrations tools allow you to set up marketing integrations between different third-party tools so that you can facilitate automation, setting up triggers to result in specific consequences.
For example, someone can send you an email and your team would get a notification in Slack. Or you could have a lead convert on a Facebook Lead Ad and have their information immediately pushed to your CRM.
You can even add a new contact who you added to your CRM to the appropriate audience segment on your email list, all without having to do anything after setting up the automation.
The automation and third-party integrations allow your existing tools to work together for you, saving you an immense amount of time and energy to focus on tasks that actually need your attention.
How to choose marketing automation software
With a highly saturated market of automation software available to choose from, committing to a single selection can be challenging.

Therefore, it is best practice to keep the following aspects at the forefront of the decision making process when questioning how to choose marketing automation software;
Features
Perhaps one of the most important elements to consider when trying to decide the best free marketing software tool to use is whether the features of the tool are aligned to help achieve your objectives.
Consider the email marketing support offered by the software, the richness of the contact management capabilities, as well as how well the customer journey can be articulated.

Remember, marketing automation drives 14.5% increase in sales productivity, so you must ensure the features of your chosen tool can help facilitate this success.
Company size
Although ambition is good, you must remain realistic when choosing your marketing automation software.
For example, a small business will not need to subscribe to a plan that intends to succeed over five thousand leads per month.
However, it is vital that you choose a software that has the flexibility to develop along with your business, being scalable over time and having the capacity to support this growth.
Ease of use
No matter what software you choose, it is imperative that your team can navigate and operate the tool as easily as possible. Therefore, it is advisable to request a demo or speak to a customer service representative before committing to a subscription.
All the best features are null and void if you cannot correctly and seamlessly use the system according to your requirements.
When you should & shouldn't pay for marketing automation tools
If you're unsure about whether or not you want to go beyond free marketing automation tools, start small. Start with the free trial, make sure that you're using it, and then invest in a paid plan.
The best times to upgrade are if you need access to any "Pro" or upgraded integrations or features that are locked behind a paywall, or if you need help with custom integration as we offer here at LeadsBridge.
The best free marketing software tools for start-ups
We may be biased here, but LeadsBridge is one of the best free marketing tools for start-ups.
That's right! With our Free forever plan, marketers & advertisers can connect all the top advertising platforms – including Facebook, Instagram, Google, Youtube, LinkedIn, and TikTok – with their favorite marketing tools, to move leads across platforms automatically & in real time, for free.
This plan includes 1 bridge and allows you to move 50 leads per month.
If you'd like to learn more about our Free plan, you can take a look at this article from our blog.
We have an extensive list of marketing automation integrations that clients can choose from, and every plan comes with plenty of customer support to help get you started and keep you going.
At LeadsBridge, we have released a new audience add-on, which allows you to target new leads and re-market to existing ones within your CRM software and your custom audiences on platforms similar to Facebook, including Google and LinkedIn.
Using new customized solutions, LeadsBridge offers integrations that allow you to advertise to your audience more affordably. This new solution counts the maximum size of your reached audience, in contrast to the previous model that counted an audience each time a contact was added or removed.
This audience targeting add-on enables you to ascertain your required audience size, charged at a flat fee. The value of this system is that it gives you greater flexibility in the running of your campaigns, free from interruption.
To initiate this audience counter on your current custom audience plan, you can contact our sales team by booking a call today.
Final thoughts
It can be difficult to choose which marketing tools are best suited to your business objectives, as well as how to appropriately allocate a budget for this.
However, sometimes you can acquire all the value you need without having to sacrifice substantial financial resources.
Now that you have gained a deeper understanding of some of the best free marketing software tools available to your business, you can begin to plan how to use the features of your preferred systems to your advantage. Discover how LeadsBridge can help you increase the effectiveness of your lead generation and management with over 380 CRM integrations.