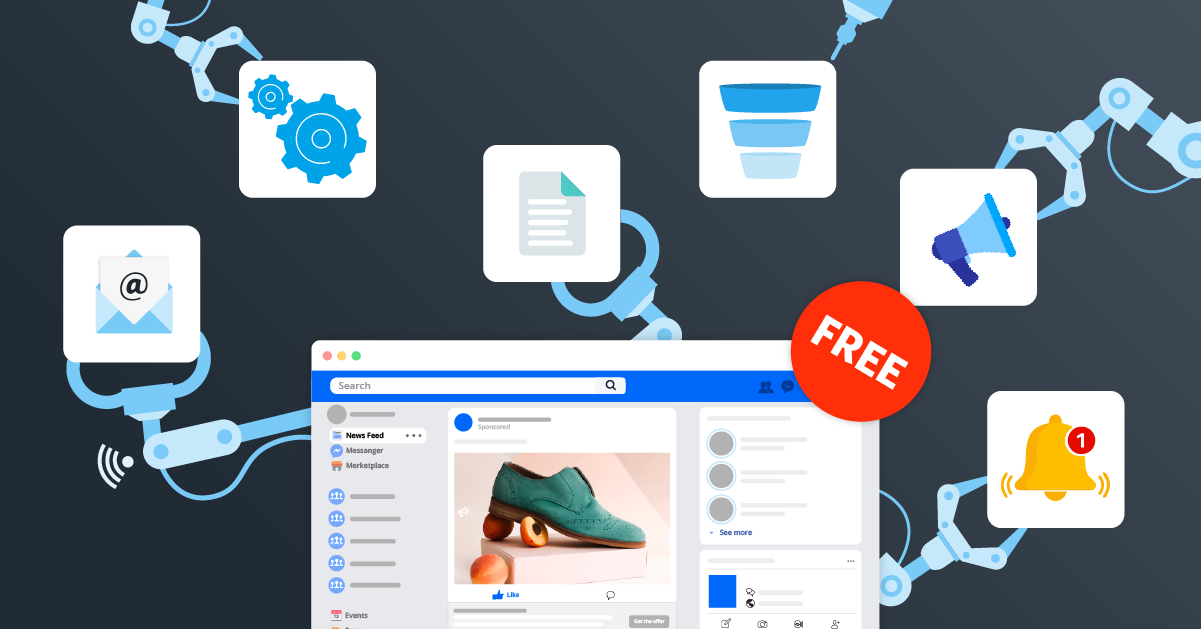 Marketing software can be invaluable… but it can also be incredibly expensive.
When you seemingly need a tool for everything from project management, copywriting, email marketing, content uploading, data and analytics, and so much more, your total monthly spend on tools can go through the roof.
The good news is that there are plenty of tools out there that are available for free, either in trials, in their base plans, or in their entirety. And why would you spend money when you don't have to? You can invest those funds elsewhere in your business, including pouring it back into the marketing budget to run more or higher-quality campaigns.
We want you to save more money, so let's take a look at the best free marketing software tools on the market right now that you can leverage for your business, including CRMs, email marketing tools, and marketing automation tools.
The Best Free CRMs for Small Business
Customer Relationship Management (CRM) software is one of the most important marketing tools that many businesses will choose. This means if you can find free marketing software tools that act as CRMs, you're golden.
It often comes with customer data tracking so that you can not only follow up and offer custom deals on a personalized basis, but so that you can also leverage marketing automation to reach your existing customers and cold audience members similar to the target audience you already have
Why You Need CRM Software
Think you "don't need a CRM tool?" Think again.
CRM software can help you track your customer and leads at every stage of the buyer's journey while automatically tracking specific high-intent actions so that your sales or customer service teams can act accordingly. This can double as lead management software and ultimately allows you to sell more. 
Plenty of CRM tools today even offer advanced sales forecasting features, giving you detailed analytics with truly actionable data.
Why You Don't Need CRM Tools That Are So Expensive
That being said, we do want to acknowledge that you don't need a CRM in every circumstance, and most brands definitely don't need an expensive one. If you have a particularly small team, sometimes opting for basic tools without a ton of advanced features is an easier option.
You might be able to rely instead on free email marketing software or marketing automation tools we'll take a look at later in the article. You can even track customer data in your own records, even in free Excel or Google Sheets documents. There are plenty of free marketing software tools that can work as CRMs even if they aren't technically CRM.
The Best Free CRMs for Small Businesses
HubSpot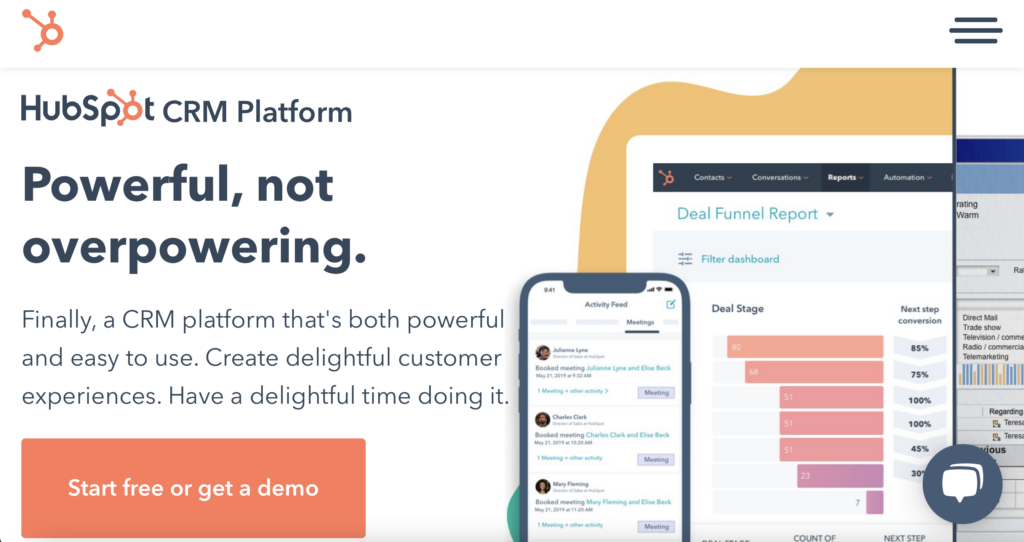 The best free CRM tool on the market right now is Hubspot's. They offer a free starter CRM plan that's lightweight but highly effective. You can store up to a million contacts (yep, you read that right) and have an unlimited number of members on your team.
You can also track sales, store company information that's associated with individual contacts, and leverage some basic tools like email scheduling.
You do miss out on a few features of the paid options like automation, so leveraging a free automation tool like LeadsBridge can help increase the functionality of this software. We offer Hubspot integrations and automation that the free plan of the tool doesn't offer itself. Find some of them below.
If you're looking for other free CRM competitors, these are great options that also integrate with LeadsBridge.
Zoho CRM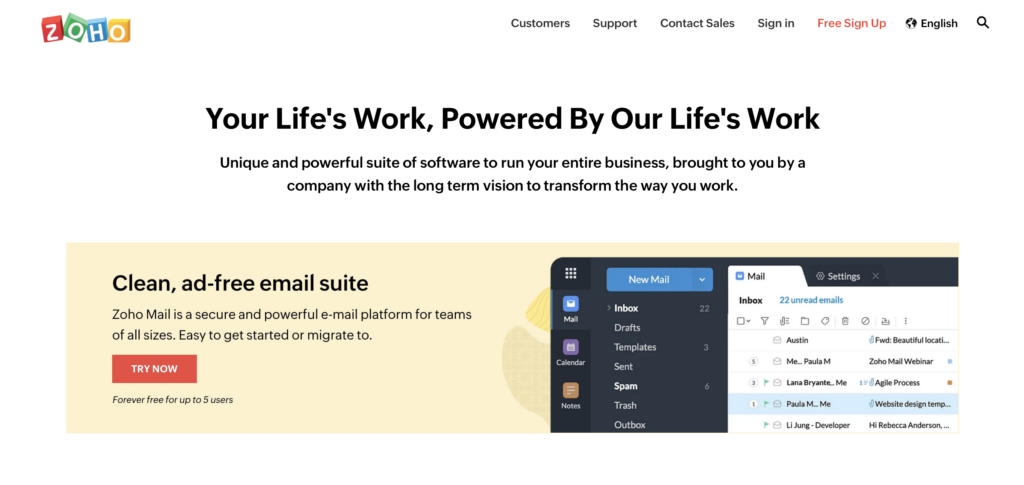 Zoho CRM, which has incredibly detailed analytics and is right up there with HubSpot in terms of excellent reputation. Find examples below.
Streak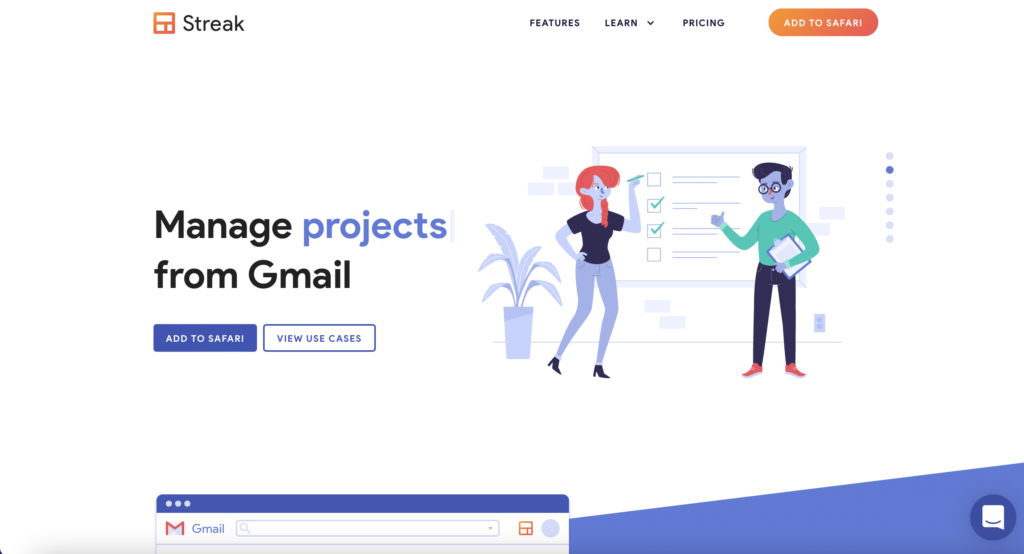 Streak, which was designed as the ideal CRM for Gmail users. See some of our Streak integrations below.
The Best Free Email Marketing Tools
Email marketing is one of the most impactful ways you can nurture relationships and drive repeated sales with warm audiences and existing customers. And while most tools marketers use are valuable, email marketing software is something that every business needs. Let's take a look at why.
Why You Need Email Marketing Tools
If your business has more than 20 customers (and maybe even if you only have 20 customers), you want to take advantage of email marketing software.
The tools available today allow you to do just about everything you can imagine, including:
Leveraging dozens (or even hundreds) of customizable templates to generate gorgeous emails that you likely wouldn't have been able to create yourself otherwise
Testing emails to preview how they'll look before they're sent
Creating segmented audiences so that you can deliver specific and personalized campaigns to relevant groups
Setting up autoresponders based on triggered actions through your site
Gaining detailed analytics like open rates, click-through rates, and more to improve your email marketing campaigns in the future
These free marketing software tools for email are incredible, and they can help you advance your campaigns significantly.
Why You Don't Need to Pay for Email Marketing Tools
There are plenty of email marketing tools out there that cost an arm and a leg and they offer a million and one great feature.
That's great… but the biggest reason that you don't need to pay for email marketing tools is that there are so many exceptional ones that you can access for free (or nearly free).
This is particularly true for small businesses who want to use minor audience segmentation features to reach their growing audiences but aren't too worried about advanced campaign testing. There's no need to invest heavily in email marketing software to pay for features you don't actually need.
The Best Free Email Marketing Software for Small Businesses
Mailchimp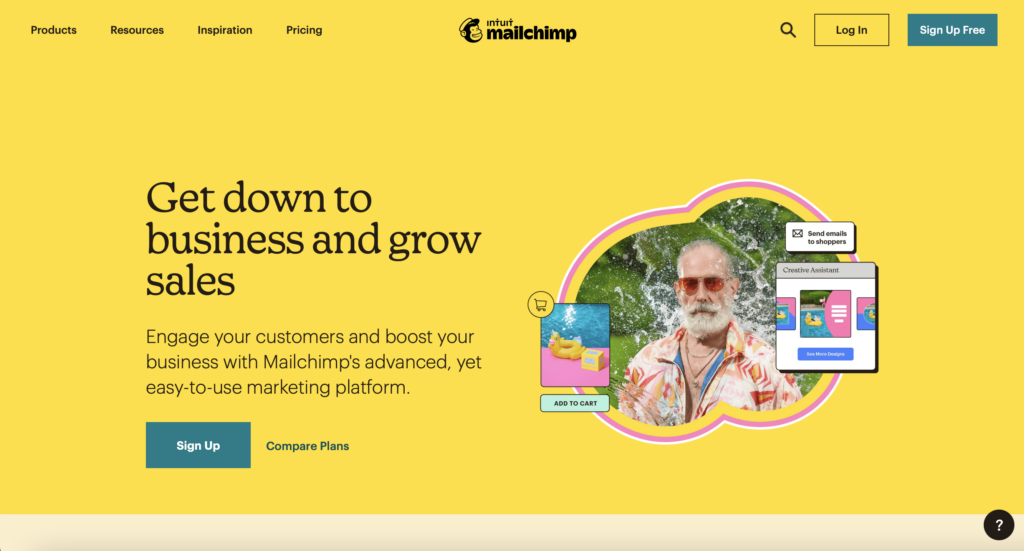 The best free email marketing software for small businesses right now is Mailchimp.
Mailchimp has a free plan that boasts extensive features that allows you to keep up to 2,000 contacts stored in the database. You can use simple one-step automation, get help with your subject line copy, take advantage of signup forms, leverage brand tools, and more.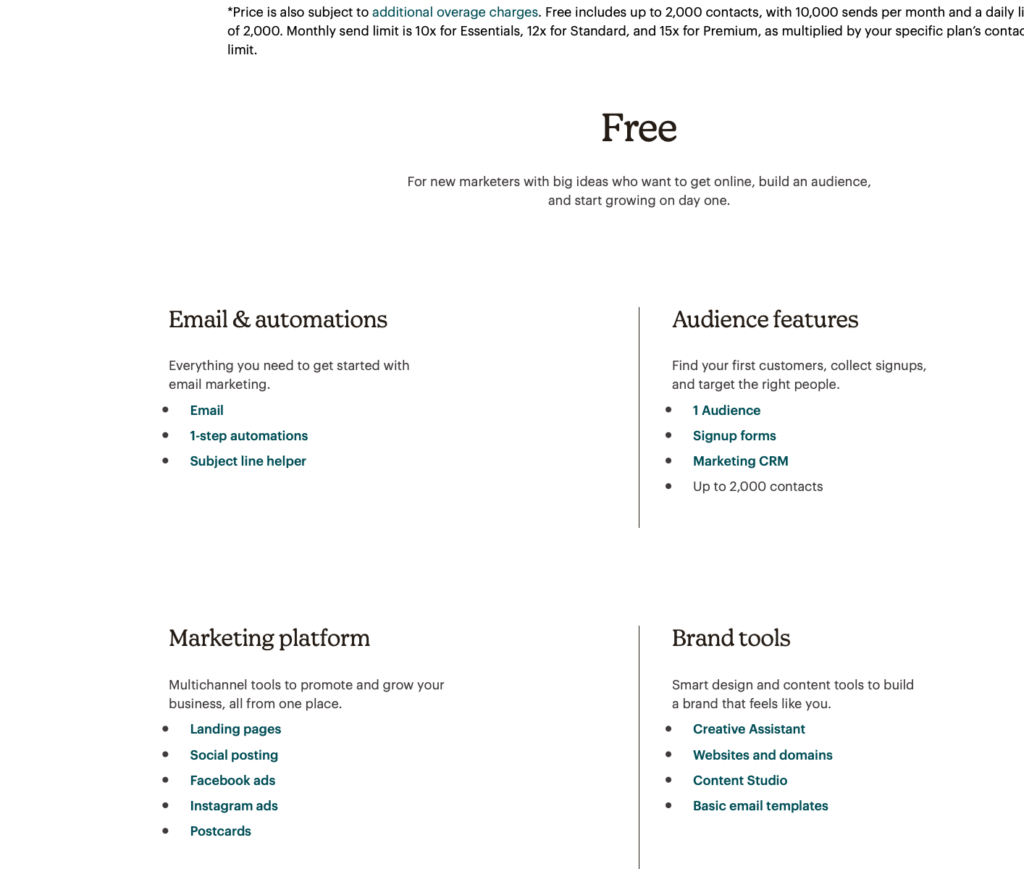 If you're a relatively small business, this is really everything that you need and more, and you can always scale up if you ever need to as your brand grows. This is particularly true since you can use LeadsBridge to set up more advanced and extensive Mailchimp automation and integrations to make the tool even more valuable. Find some integrations below.
If Mailchimp isn't really your speed, check out the following free email marketing alternatives alongside our email marketing integrations.
HubSpot
HubSpot's email marketing tool integrates with its free CRM, which we've discussed above (see the integration here).
Aweber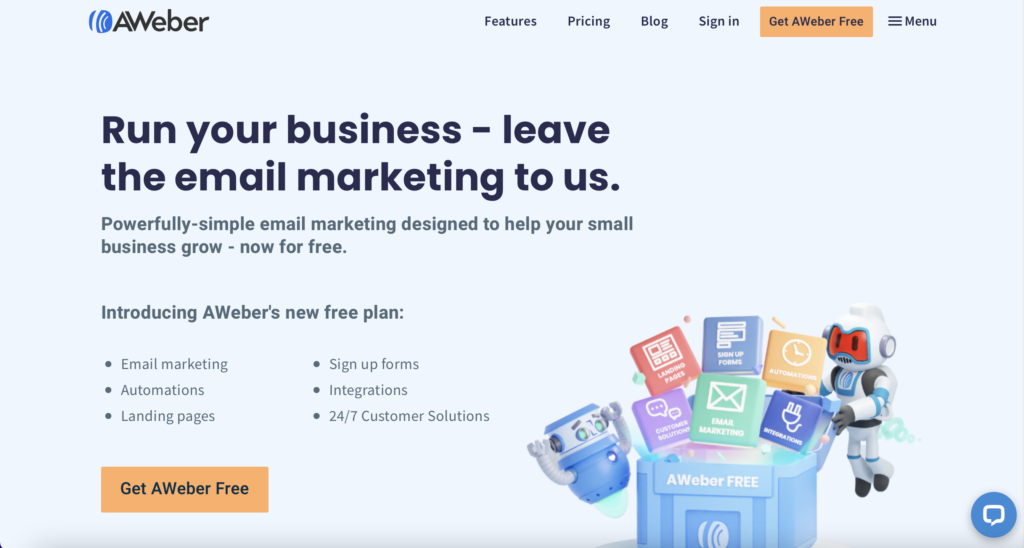 Aweber, which has great email deliverability rates. See some integrations below.
Benchmark Email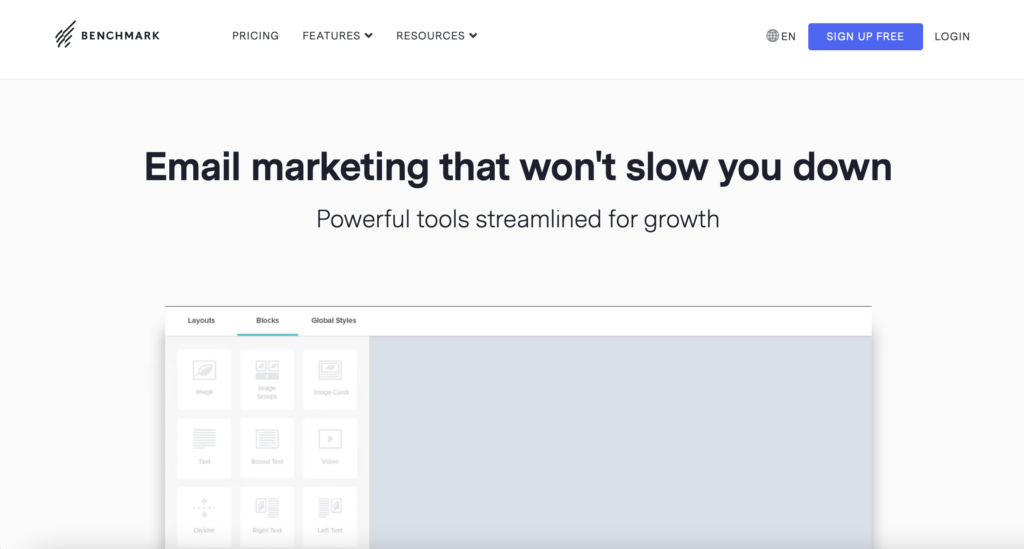 Benchmark Email, which has a great code editor if you want to build your emails truly from scratch. See an example below.
The Best Free Marketing Automation Tools
Marketing automation software is one of the best investments you can make for your team… especially if it's free. Let's take a look at the free marketing automation software for small businesses.
Why You Need Marketing Automation Tools
Marketing automation and integrations tools allow you to set up marketing integrations between different third-party tools so that you can facilitate automation, setting up triggers to result in specific consequences.
For example, someone can send you an email and your team would get a notification in Slack. Or you could have a lead convert on a Facebook Lead Ad and have their information immediately pushed to your CRM.
You can even add a new contact who you added to your CRM to the appropriate audience segment on your email list, all without having to do anything after setting up the automation.
The automation and third-party integrations allow your existing tools to work together for you, saving you an immense amount of time and energy to focus on tasks that actually need your attention.
When You Should & Shouldn't Pay for Marketing Automation Tools
If you're unsure about whether or not you want to go beyond free marketing automation tools, start small. Start with the free trial, make sure that you're using it, and then invest in a paid plan.
The best times to upgrade are if you need access to any "Pro" or upgraded integrations or features that are locked behind a paywall, or if you need help with custom integration as we offer here at LeadsBridge.
The Best Free Marketing Automation Software Tool
We know we're biased here, but LeadsBridge is the best free marketing automation tool for small businesses.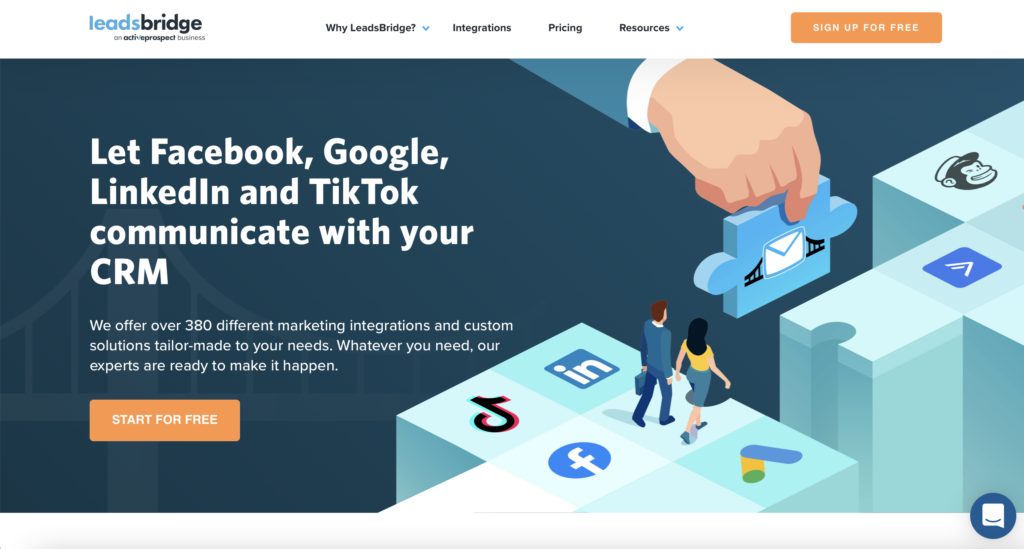 That's right! We just recently released a new Free forever plan: Starting now, marketers & advertisers can connect all the top advertising platforms – including Facebook, Instagram, Google, Youtube, LinkedIn, and TikTok – with their favorite marketing tools, to move leads across platforms automatically & in real time, for free.
This new plan includes 1 bridge and allows you to move 100 leads per month.
If you'd like to learn more about our new Free plan and how our pricing has changed, you can take a look at this article from our blog.
We have an extensive list of marketing automation integrations that clients can choose from, and every plan comes with plenty of customer support to help get you started and keep you going.
Final Thoughts
It can be difficult to choose which marketing tools on the market are best for your business, but sometimes you don't need to worry about the "you get what you pay for" motto. In some cases, like with the software we've discussed above, you can get exactly what you need for free (or close to it).
Look at your existing deck of marketing tech, and see what other free options are out there. You may be surprised what you can find and where you can trim, expanding your marketing budget significantly along the way.
Looking to increase the effectiveness of your existing CRM by setting up integrations with third-party tools? Check out our CRM integrations and start automating with LeadsBridge, for free!