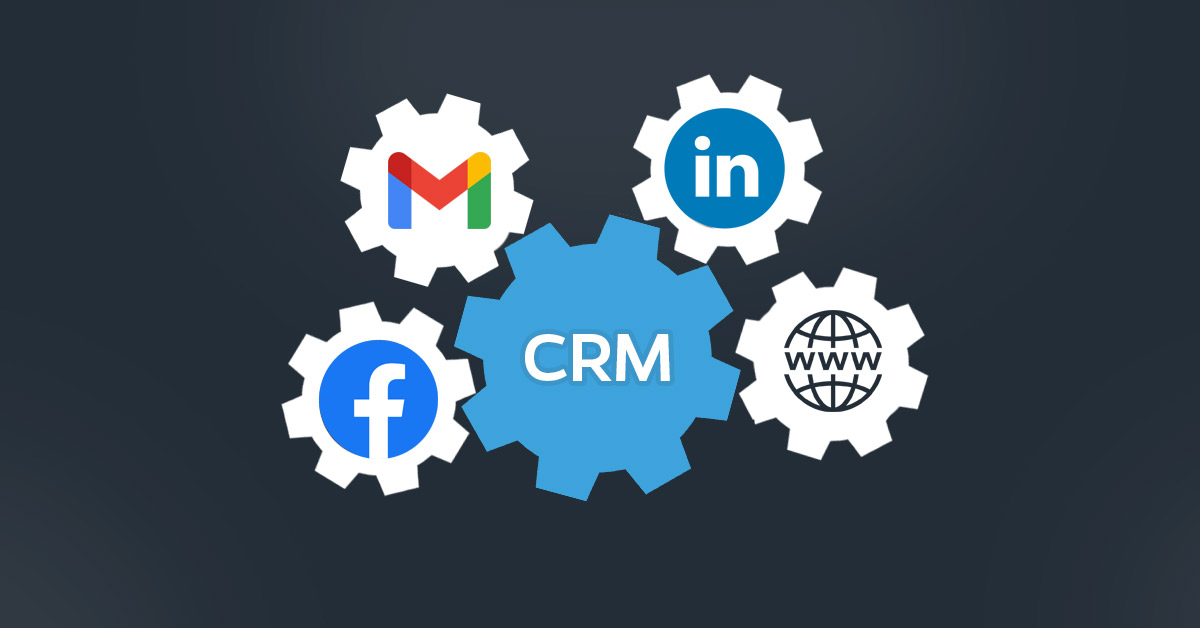 Going back and forth between applications and processes is time-consuming and can lead to bottlenecks and mistakes.
It's easy for something to go wrong if you're constantly having to switch between apps to input information, not to mention the added time it takes to log in and out of various tools.
Add to that the lengthy process of attracting prospects and communicating with them, and you have very little time for anything else. 
CRM integrations can help reduce the time it takes to attract and communicate with prospects by automating the most repetitive tasks and inputting information into one central place. 
Just some of LeadsBridge's available integrations
Integrating your CRM with other tools you regularly use will streamline the prospecting, lead generation, sales, and onboarding processes, leaving you time to work on big-picture goals. 
What Does CRM Integration Mean?
CRM integrations connect the activity between your dedicated CRM software and third-party applications, like your email provider, contact forms, and the communication tools you use to speak to clients and your team. 
They help expand the functionality of your software and reduce the need to switch between tools, programs, and applications because they bring everything together in one place. 
Which CRM is Best for Me?
Your CRM assignment is the baseline of your integrations. It's where everything comes together and you store all the information you need about prospects and clients. So, with this in mind, it's important to choose the right one for you.
A lot of this will depend on what kind of company you're part of and the kind of clients you work with, but as a general rule, you should consider the features you need and what you'll use the CRM for.
Consider things like:
What kind of analytics you need access to

Whether you want to receive customized reports

The features you need to achieve your business goals

The apps you regularly use and whether the CRM integrates with them 
The LeadsBridge and Zoho CRM integration provides tons of lead generation, campaign segmentation, and nurturing features, but there are other options available. It's worth taking the time to research CRM integration tools to see what will suit your needs best, and then try out a few to see them in action. 
CRM Integration Strategies
Keep Your Contact List Up to Date With a CRM Website Integration
The majority of prospects probably find you via your website. 
They might land there via a Google search, a recommendation from a colleague, or from a social media post. Regardless of how they get there, you ideally want to create a "funnel" with integrations that turn over all the information you gather from your website to your CRM. 
This includes information like contact details entered via web form integrations, chatbot integrations, and email list subscriber forms. 
For example, if a prospect asks a support question via your website chatbot, you can submit that to their CRM listing to create personalized experiences for them in the future. 
Doing this keeps your contact list up to date and automatically adds prospects to your lead generation process so you don't have to do it manually. 
Streamline the Outreach Process With Email Integrations 
Email is one of the easiest ways to connect with your prospects, but it can also be incredibly time-consuming. Not to mention the resulting endless email threads that can make it difficult to find key pieces of information. 
Spend less time in your inbox by integrating your emails with your CRM and using something like a CRM Gmail integration if that's the provider you use. This will help you log all emails, create and access templates, and store contact data to streamline the outreach process.
All communication will be delivered straight to your CRM, so when you want to read up about a certain prospect, you'll have all the information you need right at your fingertips without having to scroll through never-ending email threads. 
Automate Marketing with CRM and Social Media Integrations 
Connecting your social channels to your CRM can help you gain valuable insights into your audience. You can see what content prospects share and engage with the most, and automate your own posting schedule to stay visible and attract new leads. 
Take the Zoho CRM Facebook integration feature, for example. It lets you connect the Facebook profiles of prospects into your CRM so that you can keep track of conversations, but it also lets you monitor what people are saying about your brand and respond directly to comments through the CRM.
Improve Your Prospecting Efforts With Prospecting Software Integrations 
Instead of manually identifying and reaching out to prospects (which, let's face it, is a huge time-suck), streamline the process with a CRM integration. 
A CRM that integrates with LinkedIn, for example, can pull contact information from relevant prospects. 
Using an integration that pairs up your CRM with a built-in feature like LinkedIn Lead Gen Forms lets you collect data entered into LinkedIn forms, or track the action a prospect took with a CTA and add it to your CRM, giving you access to new leads. 
With LeadsBridge, you can also connect up your CRM with LinkedIn Matched Audiences to serve relevant ads to the right people and collect data about the people you're advertising to. 
Make Collaboration Easy With Team Communication Integrations 
Communicating with your team is an integral part of the business. But, if everyone's holding conversations on different platforms, it can be difficult trying to find the right information at the right time. 
If one team prefers chatting via Slack, while another has an ongoing email thread, it's easy to accidentally double up on tasks and hard to see who's working on what. 
Avoid this by connecting up your communication tools with your CRM to store all internal communication about a prospect or project. This will eliminate any overlap and keep projects moving forward. It also means you don't have to flick back and forth between apps to communicate with different teams about the same thing. 
Create a Smooth Experience With Customer Success Integrations 
Your customer success process helps clients make the most of your product or service but knowing what each individual client needs can also make it easy to personalize their experience and make it more engaging.
Feed all customer support queries and solutions into your CRM and match them up with prospects or customers so you can get a snapshot of their history with your brand. 
You can also connect tools like Zendesk or Freshdesk with your CRM to glean useful insights for future sales and stay up to date with the needs of your customers.  
Make Life Easier With Strategic CRM Integrations
Businesses today have a toolkit bursting at the seams with apps and third-party software. Everything from email and social media to lead generation and customer support has its own set of tools to tap into, and it can get complicated trying to manage them all at once.
CRM integrations work by bringing everything together in one place so you can get an overview of a client's entire relationship with your company in a single snapshot. You no longer need to spend your day logging in and out of different apps which frees up time you can now spend on building customer relationships and bigger-picture goals.

Check out our CRM integrations here.