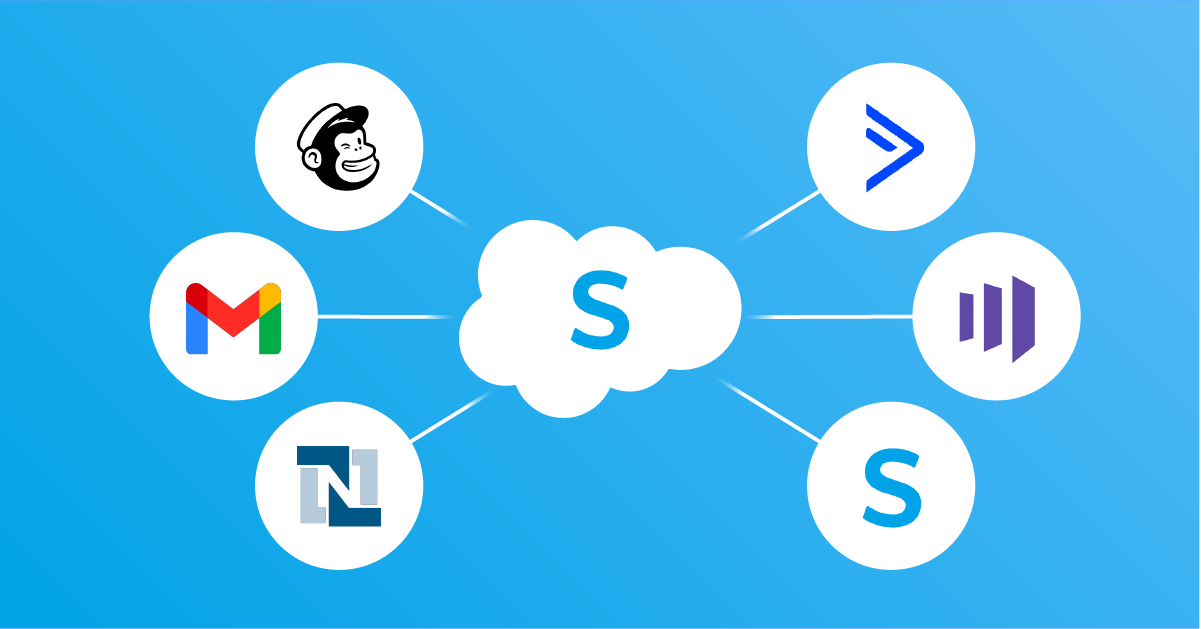 Salesforce® is one of the most popular sales forecasting and CRM tools on the market today for small businesses and enterprise-size companies alike. They can help you track every customer interaction, nurture leads, and get a better understanding of what's driving sales so you can optimize your pipeline moving forward.
Salesforce® has a number of incredible features on its own, but integrations can really help businesses up their game and increase the value they get from the tool further. In this post, we're going to look at the best Salesforce® integrations for 2021 so you can get the most out of the platform.
What Are Integrations in Salesforce® & Why Do They Matter?
Salesforce® can do an awful lot on its own, with extensive features that you don't often find with many other platforms. Integrations can make tools more useful, however, by offering new capabilities thanks to more data, more features, and more automation depending on the integrations that you choose.
Business automation is a key factor here. It allows you to streamline your processes and ensure that nothing is missed while delivering results with more immediacy. As soon as users submit lead forms, for example, you want them delivered straight to your sales team and email marketing software action can be taken; you don't want to wait a day or more to manually transfer that data.
Salesforce® third-party integrations allow you to share data and triggered actions between its CRM platform and other tools that you're already using. You can have new leads added to segmented email lists, for example, or have new lead information from Facebook Ads go straight to Salesforce®.
With the right Salesforce® automation features, your team can put their energy where it's needed instead of trying to maintain outdated data or chase down data that could just appear in front of them.
What Are Salesforce® Integration Tools?
Salesforce® integration tools are third-party services that make it easier to set up a number of integrations, including some custom integrations you may not find on the two brands' sites.
LeadsBridge is designed to help you connect the SaaS tools that you're already working with, including Salesforce®. We can streamline the integration process while also offering additional possibilities for automation thanks to triggered actions and results that may not have been available without our services.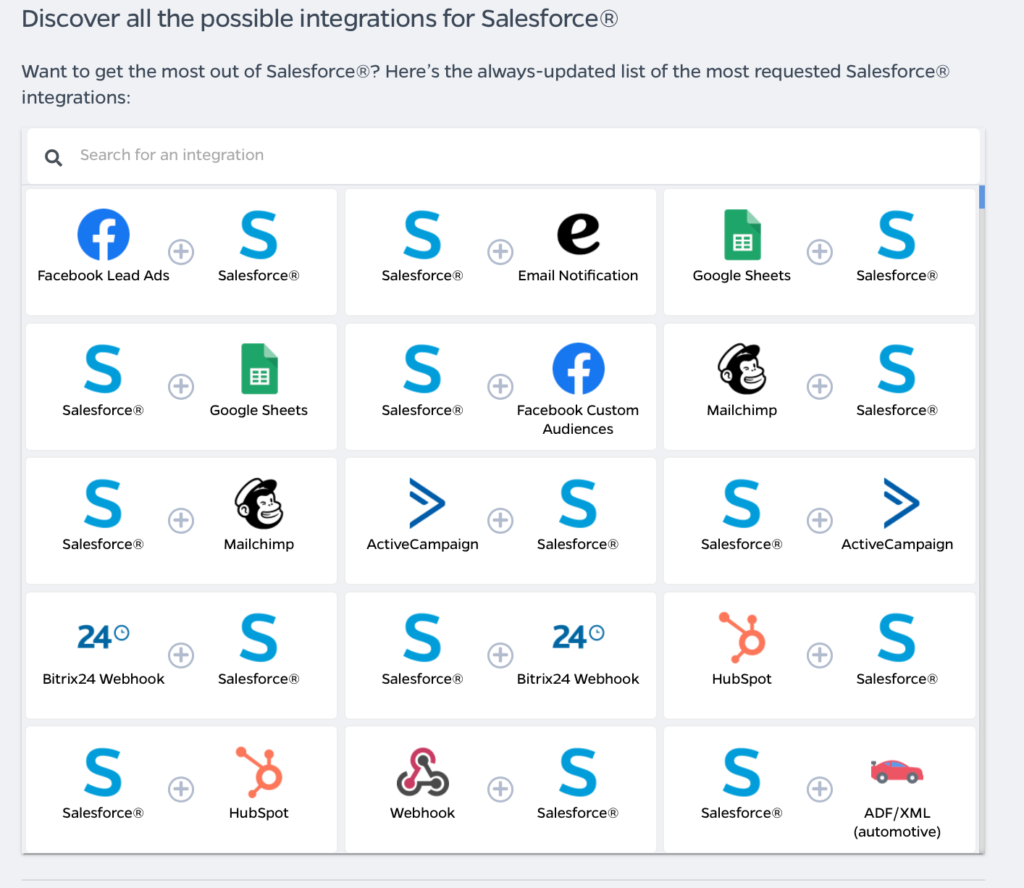 Installation takes just a few clicks, and then you can customize the integration as you see fit. We can even help you create custom triggered actions and results if you can't find an integration that offers exactly what you're looking for.
Fortunately, these Salesforce® integration tools are exceptionally easy to set up. See how to set up Salesforce® within LeadsBridge here:
The Best Salesforce® Integrations for 2021
There are plenty of Salesforce® integrations that you can choose from on their site, and there are even more available through LeadsBridge. Let's take a look at some of the best Salesforce® integrations available in 2021.
MailChimp Salesforce® Integration
Email marketing tools and your CRM tools are at their most effective when fully integrated. This makes the MailChimp and Salesforce® email integration particularly important.
You can create new email subscribers as contacts or add them to lists in Salesforce®. You can also organize MailChimp subscribers into Salesforce® groups based on activity This is an easy way to keep two core data sources connected while providing your sales team vital information about the customer journey on an automated basis.
See how to set it up here.
Salesforce® Gmail Integration
While many businesses do use company email addresses, many more use individual Gmail accounts. As a freelancer, I use a Gmail account for my own business communications, and I'm far from the only one.
Salesforce® and Gmail integrations, therefore, can be particularly useful.
With this integration, you can create new leads from Gmail in Salesforce®, or update them at any time based on the progression through the digital sales funnel. This sounds simple, but when you're a small or single-person business, these two features make it much easier to track leads across the board.
You can see how to set up this integration here.
NetSuite Salesforce® Integration
NetSuite is a strong business management software with an Enterprise Resource Planning (ERP) solution. It only makes sense that integrating your business management software with your CRM and sales forecaster could benefit your business.
Our NetSuite and Salesforce® integrations allow you to do the following (and more):
Create new NetSuite leads with Salesforce® (or create them in saved searches with Salesforce®)
Create NetSuite employees with Salesforce®
Update NetSuite prospects with data from Salesforce®
Update or create NetSuite partners in saved searches with Salesforce®
See how to integrate NetSuite with Salesforce® here.
Marketo Salesforce® Integration
Marketo utilizes strong automation features to help businesses track, identify, and nurture customers and leads. Its lead management software is exceptional, so integrating it with Salesforce®'s CRM can be a powerful combination.
Our Marketo and Salesforce® integration allows you to share lead data between the two platforms so you can create or update leads in static lists on Salesforce®. This gives you more immediate and actionable information that you wouldn't have had otherwise, giving your team new tools to convert leads faster.
See how to set up this integration here.
ActiveCampaign Salesforce® Integration
ActiveCampaign is another automation-focused tool that's centered around creating email marketing messaging and autoresponder follow-up sequences to nurture leads and customers. Pairing up the data you pull from ActiveCampaign with the data you have in Salesforce® makes both tools much more actionable.
Our ActiveCampaign Salesforce® integration can do the following:
Create and update new ActiveCampaign contacts as tags in Salesforce®
Create and update new ActiveCampaign contacts as lists in Salesforce®
Create and update new ActiveCampaign contacts as segments in Salesforce®
You're basically getting updated information about your audience from ActiveCampaign into your CRM on a regular basis. See how to set up this integration here.
Pardot Salesforce® Integration
Pardot is actually a Salesforce® tool that focuses on automation and email solutions for B2B brands. A Pardot and Salesforce® third-party integration, therefore, makes plenty of sense.
Our Pardot and Salesforce® integration offer a number of capabilities including the following:
Create and update Salesforce® accounts in Pardot
Create and update Salesforce® accounts as leads sources in Pardot
Update Salesforce® leads in Pardot reports
Update Salesforce® person accounts in list views in Pardot
You're sharing more actionable data back and forth between the two platforms for a better understanding of what's happening with your audience while delivering strong marketing messaging in the process. See how to set up our Pardot and Salesforce® integration.
Facebook Salesforce® Integrations
So far we've looked at specific individual integrations, but we also wanted to look at a list of integrations available for Facebook and Salesforce® with LeadsBridge.
We offer individual Salesforce® integrations for multiple Facebook tools, including Facebook Lead Ads, Facebook Conversions API, Facebook Dynamic Ads, Facebook custom audiences, and more.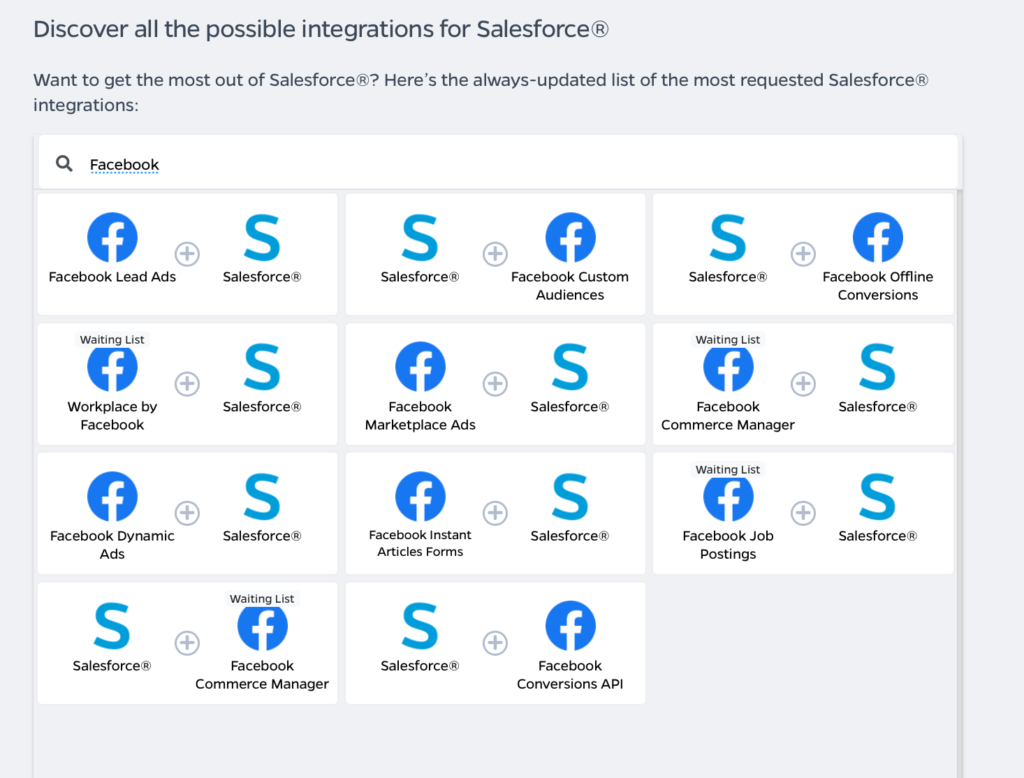 These integration options are expansive, and the idea is to give you full control over the tools you use so you have the integrations you need to improve your workflow and nothing else.
You can use the Lead Ads integration to send new lead information captured from on-platform leads straight to Salesforce®, and then have a Salesforce® and Custom Audiences integration set up so you can add that new lead to a Custom Audience for retargeting on Facebook.
Some of the most useful integrations for most businesses may include:
Tracking offline conversions from Facebook and sending the data to Salesforce®
Importing job applicants into Salesforce® after they're submitted
Tracking Facebook conversions from their Conversions API and sending it to Salesforce® directly
Sending lead information from Lead Ads to Salesforce®
Sending Salesforce® to Facebook Custom Audiences in segmented lists
You can learn more about the different options here.
Final Thoughts
Automation is a necessity in today's fast-moving world. You need your sales and customer service teams to have the ability to act on immediate and up-to-date data at all times, whether they're looking to extend new offers or to follow up with existing leads.
The Salesforce® third-party integrations that we've discussed above all use automation and strategic streamlining to improve your team's workflow and the customer experience all at once. This saves you time and money while making it easier for you to convert sales in this always-on-the-move world.
As a reminder, this post only contains a list of our favorite Salesforce® integrations; there are hundreds more integrations available with different tools, so check out the full library of Salesforce® third-party integrations we offer to see if other tools you use are on the list.

Want to streamline your workflow further? See our full list of Salesforce® integrations here.