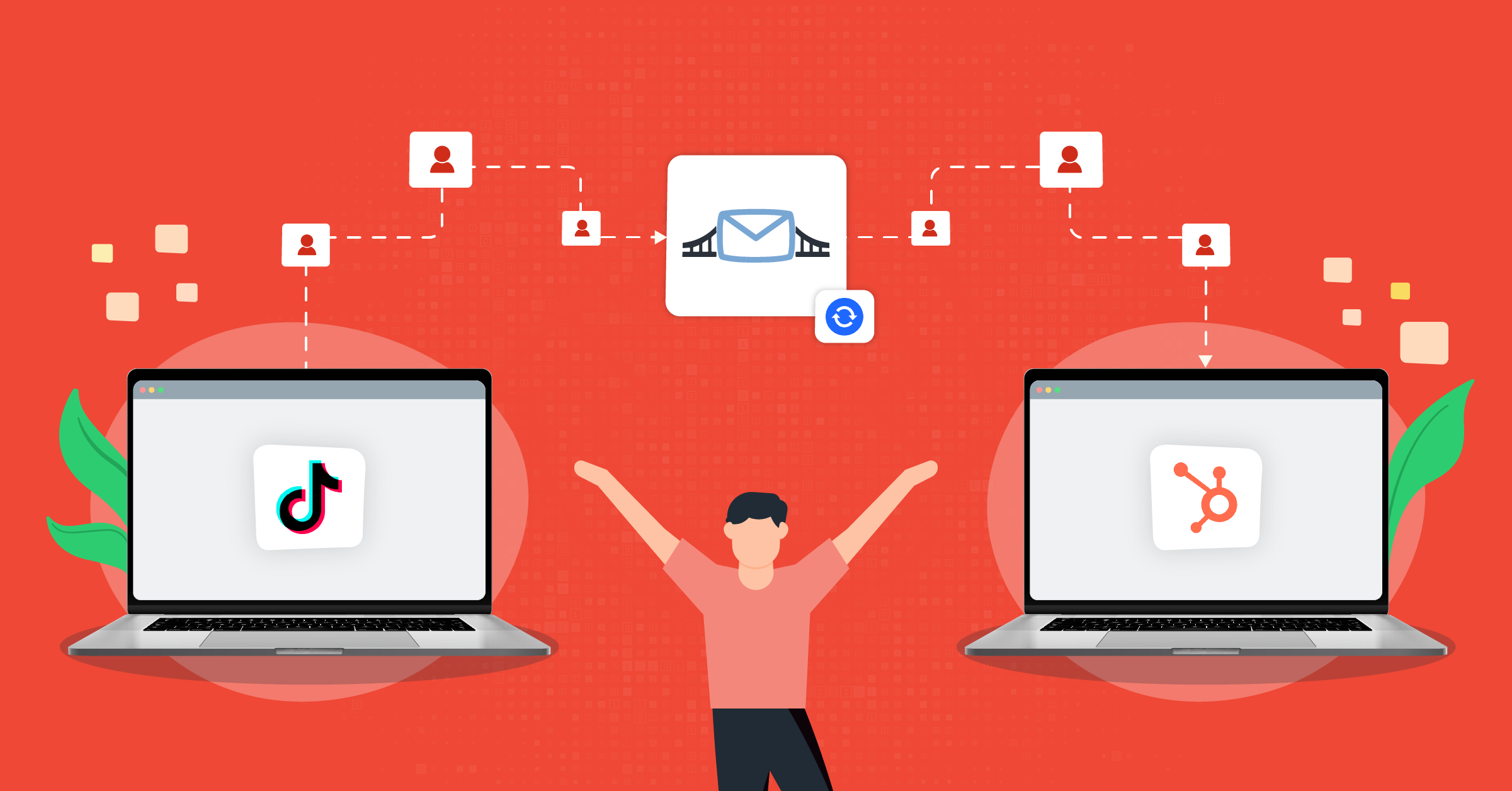 HubSpot is a comprehensive marketing software that can be tightly coupled with the top advertising platforms, including TikTok. These data bridges, such as HubSpot-TikTok integration, help you prioritize personalized inbound marketing in order to attract, nurture and convert more leads.
In this article, we'll discuss more on what HubSpot integrates with and how to create these integrations through LeadsBridge.
Why advertise on TikTok?
A large user base: It's currently the world's most popular app, providing reach to a massive global audience.
Creative ads & high engagement: It offers fun features and imaginative content formats, which you can also use to generate high engagement rates.
Great audience targeting: It has excellent audience-targeting features to help you connect with potential customers.
Comprehensive Tracking features: TikTok workflows for tracking allow you to measure your ad's performance and access detailed data and customized reports.
Official third-party integrations: TikTok has partnered with third-party providers like LeadsBridge to improve your advertising experience through automation.
How do HubSpot integrations work?
Often, companies have to use several applications simultaneously to achieve a single objective. HubSpot fixes this problem by combining everything you need to deliver an outstanding customer experience in one single place.
Alternatively, HubSpot integrations allow you to connect this CRM with other marketing platforms and send data to and from external/internal systems.
Essential HubSpot workflow examples
It's important to know what HubSpot can do for your business, besides functioning as a CRM. Using automation, HubSpot's workflow tool gives you a full marketing suite to manage and streamline repetitive marketing, sales, and customer service tasks.
With these workflows, you can better scale your business, be more efficient, and build a successful lead management system.
Check out these essential HubSpot workflow examples you should start using today:
Set up form submission notifications to notify your team
Specify criteria and organize your leads based on their life cycle
Set up automated email workflows such as welcome emails, nurturing emails, event reminders, etc.
Define HubSpot score contact property to qualify leads
Create tasks and assign them to your team members
Format, fix, and maintain your CRM data through automation
How does HubSpot integrate with TikTok & other platforms?
HubSpot doesn't offer any native integrations for TikTok. Instead, they recommend using LeadsBridge integrations.
With LeadsBridge, you can integrate HubSpot with TikTok or any of your marketing and sales apps in just a few clicks. In short, our platform lets you streamline just about any workflow without needing to code.
You can also check out all our top HubSpot integrations here.
How to create HubSpot – TikTok integration through LeadsBridge
Here's a step-by-step guide you can use to set up your HubSpot – TikTok integration:
Before you start
With our no-code user interface, you can build your integration in just a few clicks and start using HubSpot for lead generation TikTok.
But before getting started, log in to your LeadsBridge account. If you haven't registered already, create one for Free here.
After signing up, you'll have access to your personalized LeadsBridge dashboard.
Step 1: The Bridge setup
Click on the "Create new Bridge" button at the top-left corner. From the drop-down menu under each section, select the apps you want to connect:
Select "TikTok Lead Generation" as the Source.
Select "HubSpot" as the Destination.
Click "Continue".
Click on the pencil icon ✎ at the top to name your bridge. This makes it easy to find and manage your bridge on your LeadsBridge dashboard whenever needed.
Step 2: Account authentication
Here, you'll need to connect each app to enable LeadsBridge to access your TikTok Ads and HubSpot accounts. This is necessary for creating a data bridge between the two platforms; we'll never store or use your lead data for any reason.
Log in to your TikTok business account or create one by following the steps mentioned.
Access your HubSpot account or register for one here.
Once you have authenticated both accounts, move on to the next step.
Step 3: Fields mapping
At this point, you'll need to map your source information with the destination fields. This is done to check whether all the data is transferred correctly.
Ensure all data fields are mapped accurately for setting up a flawless TikTok-HubSpot integration.
Review all the fields, and type or edit information manually as required.
Click "Continue" to finalize your settings and kick off your integration.
Congratulations! Your bridge is now active.
How does TikTok integrate with HubSpot?
As mentioned before, you can integrate your marketing system with an official service partner like LeadsBridge to build easy integrations and start leveraging each platform's full potential. These integrations create automated data bridges that transfer your lead data between your favorite tools.
So when it comes to TikTok, what else does HubSpot integrate with? Let's go through the top HubSpot integrations with TikTok.
TikTok Lead Generation & HubSpot
TikTok Lead Generation and HubSpot integration automatically syncs the new leads' data into HubSpot. Then, you and your team can contact them instantly, run nurturing campaigns and push them down your sales funnel toward conversion.
HubSpot & TikTok Custom Audiences
TikTok Custom Audiences is essentially a TikTok targeting option that lets you reach users who have previously interacted with your brand.
LeadsBridge's upcoming TikTok Custom Audiences and HubSpot integration allows you to connect your audiences from different apps you use with TikTok, so that you can upgrade your TikTok ad targeting through automation.
To be one of the first few users who get access to our TikTok Custom Audience integration, join the waiting list now.
Learn more about TikTok Custom Audiences here.
HubSpot & TikTok Conversions
The TikTok Conversions lets advertisers share website visitor events from the audience segments directly to TikTok. This data is shared through the Events API and is processed similarly to TikTok pixel and TikTok SDK business tools.
This integration with TikTok Conversions destination lets you define the mapping between the data segment in your HubSpot CRM and sends it to TikTok.
So if you are running complex workflows such as dynamic showcase ads, custom targeting, campaign optimization, or attributions on TikTok, this integration is just what you need.
Join the waiting list to get notified about our upcoming HubSpot – TikTok Conversion integration.
Get more information
Book a call to learn more about how to add TikTok Lead Generation to HubSpot Lead Ads through our platform. Alternatively, take a look at the common questions on our LeadsBridge Help Center.
Find out more about setting up your TikTok-Hubspot integration through LeadsBridge here.