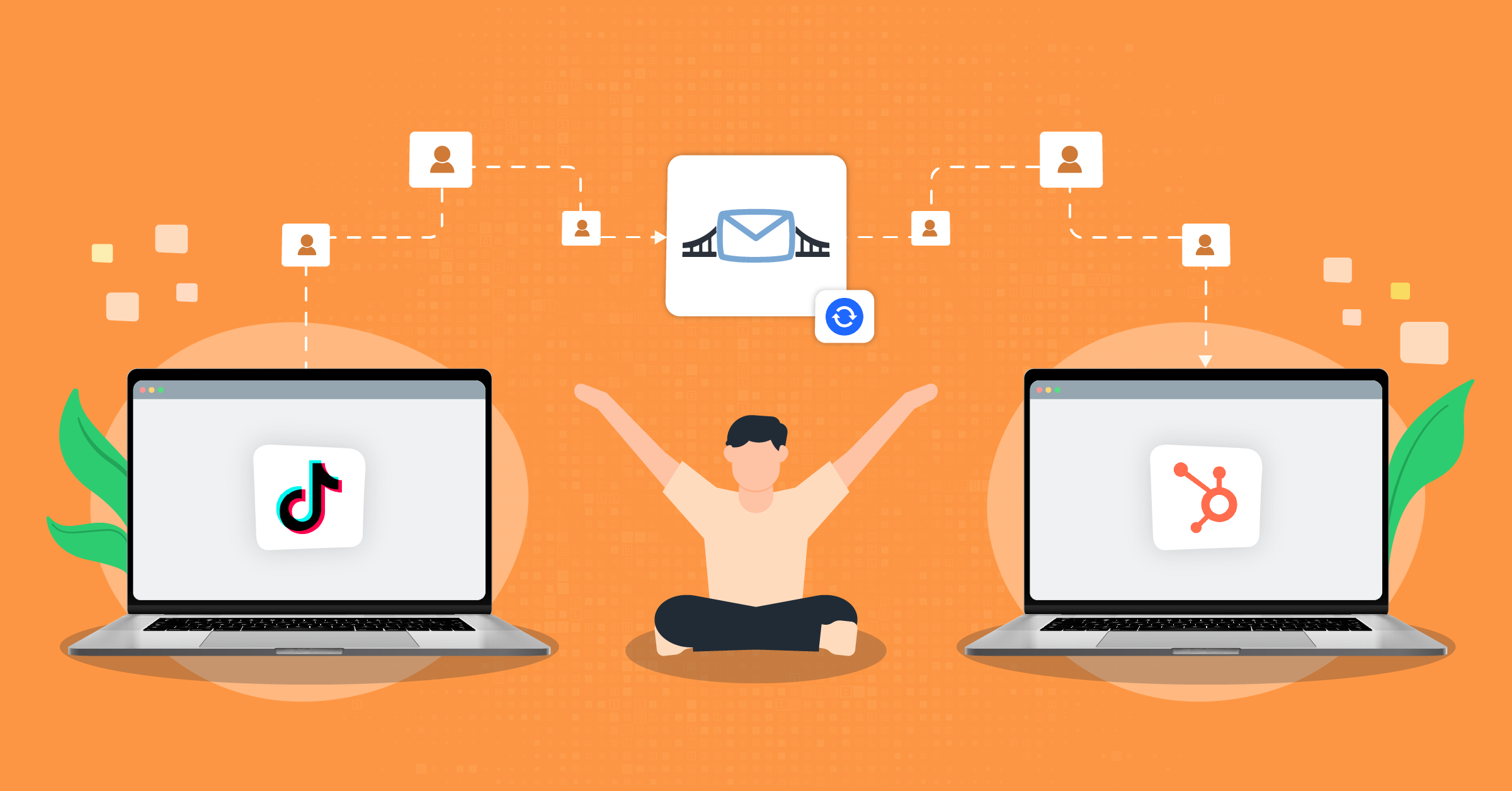 No matter the size of your business, advertising TikTok ads are a great tool for lead generation and sales. However, you'll need to manage and set up numerous workflows in order to generate high-quality leads, i.e., creating lead lists, following up with new leads, running nurturing campaigns, and more.

Handling all of these time-sensitive tasks through manual operations is almost impossible. That's why you'll need to use TikTok-HubSpot integration to streamline the data processes between the two platforms and run ad campaigns that genuinely engage and convert.
How to set up your TikTok ad account
To start using HubSpot for lead generation on TikTok, you'll need a TikTok business account first.
Step 1: Log into your TikTok business account.
If you have not registered yet, create one here.
Step 2: Add your business details.
To finish the setup, TikTok requires some information about your business, such as your country, phone number, currency, billing information, etc.
Step 3: Choose your Payment Type (automatic or manual).
Step 4: Select your favorite Ads Manager mode.
Now, you can choose between custom and simplified modes to set up your ad.
Step 5: Add your campaign's details.
Once logged in, you'll be redirected to the Ad Manager page, where you can define your "Advertising objective".
Then, you'll have to configure your ad's "settings", including the ad's name, targeting options, content exclusion, budget and ad schedule, bidding, and the final optimization.
Remember, the minimum budget required to start a campaign is $20.
Step 5: Create your ad's content.
You'll need to include a catchy ad name, Identity (of who's behind the ad), and set up the ad's content by defining the format, interactive add-ons, etc.
You'll also have the option to set up "Tracking" and measure your performance.
Step 6: Review your ad.
Make sure there are no errors that might prevent your ad from being published. In addition, your ad should comply with both formatting regulations and TikTok's advertising policies.
TikTok shows you a preview of your ad in the right panel so you can see how it appears to your audiences before publishing it.
Once it's all set, click Submit.
How to generate leads on TikTok
Build an attractive business profile: For better lead generation on TikTok, ensure your brand identity is appealing to your potential customers. This includes your business's photo, bio, and links.
Optimize your landing pages: The links in your ads or bio redirect the users to your landing pages, which must be optimized for better conversions.
Use hashtags: The most ideal hashtags let people discover your brand on TikTok and get you more visibility. Also, you can create your own branded hashtags using your business's name, as do we; #LeadsBridge.
Tap into TikTok trends & challenges: Look for the popular trends and challenges in your niche and use them to get better engagement rates.
Advertise your brand through TikTok influencers: Get in touch with macro-influencers to generate brand awareness and micro-influencers to reach niche-focused audiences.
Optimize your TikTok content strategy: Create catchy and original content and optimize it for your leads' stage in your sales funnel, TitkTok's algorithm, seasonal offers, etc.
Tips for using TikTok as a business
Let's go over the top three factors to consider when using TikTok for business marketing.
Analyzing your competitors
Research your competitors to find out what trend or ad format performs well. Then, use their content as an inspiration instead of copying to remain authentic.
Setting solid goals & workflows
It's unlikely for you to become a viral content producer and massive lead generation on TikTok right at the start. Instead, aim for actionable goals and a road map for your TikTok marketing.
See how TikTok can help you accomplish each of your campaign's objectives. Then, use SMART goal structures for setting up a Specific, Measurable, Achievable, Relevant, and Timely framework to achieve those milestones.
Posting frequency on TikTok
Stay consistent with your posting schedule on TikTok as you would with any other social media strategy. It's best to plan out your content to ensure posting regularly and tapping into seasonally-themed posts, like Halloween or back-to-school.
Use automation tools to schedule your posts in advance and leverage the most optimal times of the day for better engagement.
Discover all you need to know about TikTok advertising here.
How to use HubSpot for lead generation (native features)
Other ways you use HubSpot for generating leads are through its numerous features. It allows personalizing your lead communications, running lead nurturing campaigns, and increasing data visibility across your marketing, sales, support, and operation teams:
Building contacts databases that integrate all your lead touchpoints across different teams
Making informed and timely follow-ups or providing support with accurate pipeline management
Accessing a single dashboard to organize leads and monitor campaigns
Setting up automated lead scoring based on user behavior
Creating hyper-targeted segments for sending triggered emails, personalize content, and other automation campaigns
The ability to design, send and track marketing emails
Building mobile-optimized forms and managing lead ads data
TikTok-HubSpot integrations & more with LeadsBridge
LeadsBridge offers several integrations for TikTok Lead Generation, TikTok Custom Audiences, and TikTok Offline Conversions that facilitate sending your lead data to and from HubSpot.
Besides HubSpot-TikTok integrations, our platform helps connect TikTok with other marketing and sales apps such as Salesforce®, Google Sheets, Klaviyo, etc. By creating these automated bridges, you can streamline data sync between the tools you use every day.

Here's a step by step guide you can use to create TikTok-HubSpot integration through LeadsBridge.
The takeaways
As a globally-popular app, TikTok offers a great opportunity to connect with high-value leads in time. Combined with HubSpot, you can prioritize and re-engage these leads on a better-personalized basis and achieve higher ROIs. All these factors make using HubSpot for lead generation on TikTok a popular practice.
TikTok-HubSpot integration bridges the gap between the two platforms so that you can reach out to your leads faster and stop them from falling through the cracks. This integration is easy to configure, and is also included in our Free Forever plan.
Want to automate your TikTok lead data engagement processes? Discover our TikTok Lead Generation integrations and join the TikTok Custom Audience waiting list to make the most of your TikTok campaigns.