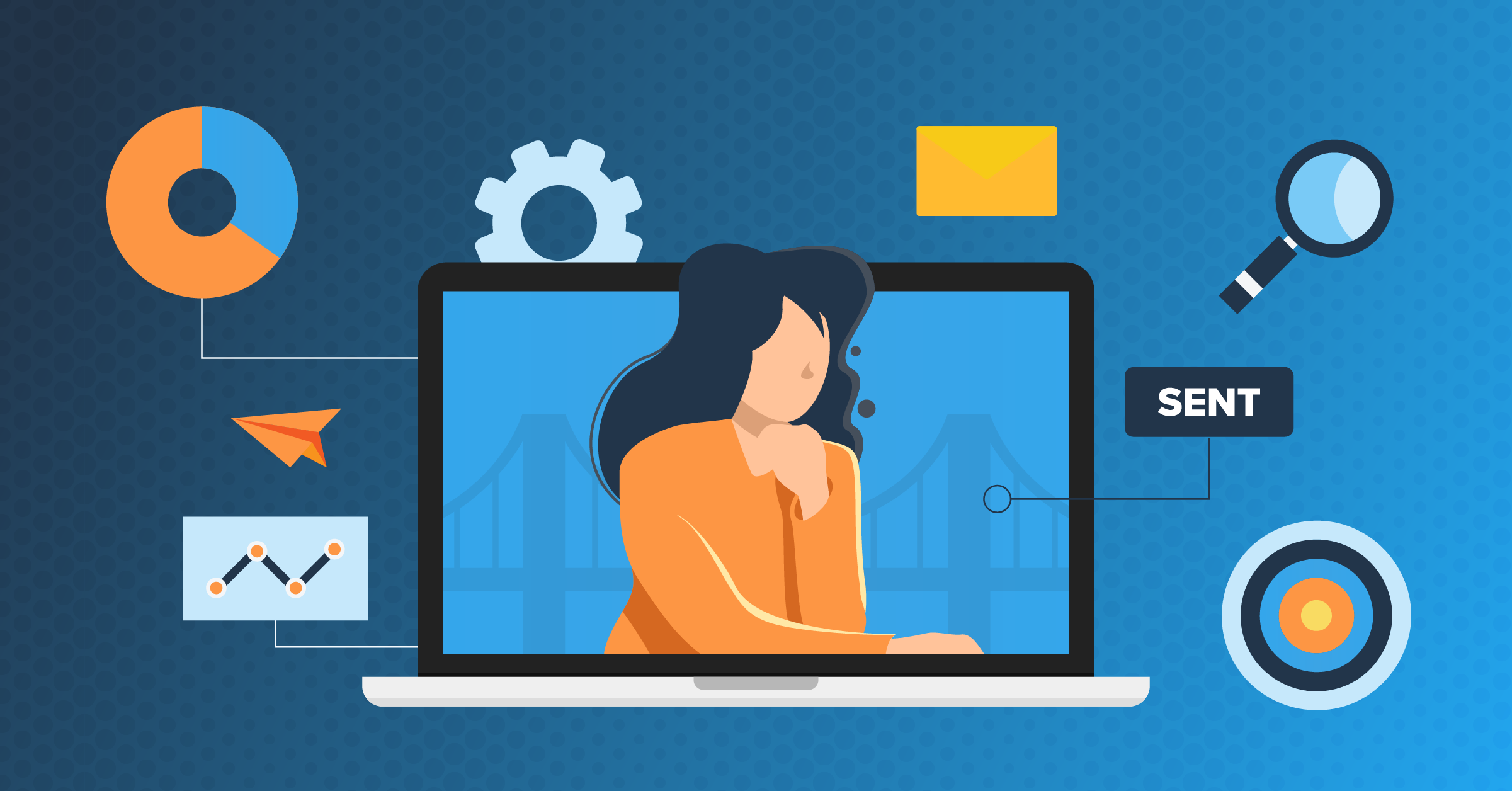 Marketing automation is becoming increasingly popular amongst businesses to streamline their digital marketing strategies. In today's fast-paced online world, marketing automation can help companies save time and resources, while also improving the effectiveness of their campaigns.
In this article, we'll provide five practical marketing automation examples, covering different sectors and tools to help you implement this approach into your own strategy. For example, we will see how LeadsBridge can help you connect the main advertising platforms with the rest of your marketing stack for immediate and automated lead data transfer.
What is marketing automation?
Marketing automation is all about simplifying the marketing process, making it possible to grow and expand businesses faster. In simple terms, it enables businesses to automate repetitive or time-consuming marketing activities through the use of technology.
By operating automatically, marketing automation frees up time and resources in the marketing process.
What are examples of marketing automation?
The list of things that you can do through marketing automation is endless, but here are some marketing automation examples that will help you understand how much time and effort you can actually save thanks to automation.
Email marketing automation
Drip campaigns: Automated email series that send targeted messages to subscribers at predefined intervals.
Behavior-based emails: Sending emails based on user actions, such as abandoned carts or website visits.
Lead nurturing: Automatically sending relevant content to leads based on their stage in the sales funnel.
Social media marketing automation
Scheduled posts: Scheduling social media posts in advance to maintain a consistent online presence.
Social media monitoring: Monitoring social media mentions and engagement in real-time.
Auto-responders: Automated responses to comments or messages on social media.
Content marketing automation
Content scheduling: Automating the publication of blog posts, articles, and other content.
Content personalization: Delivering content tailored to the preferences and behavior of website visitors.
Lead generation and management
Forms and landing pages: Automatically capturing leads through web forms and directing them to appropriate lists.
Lead scoring: Assigning scores to leads based on their engagement and behavior to prioritize follow-ups.
Customer segmentation
Segmentation rules: Automatically categorizing contacts or leads based on criteria such as demographics, behavior, or purchase history.
Dynamic content: Displaying personalized content to different segments of your audience.
Analytics and reporting
Performance metrics: Tracking key performance indicators (KPIs) such as email open rates, click-through rates, and conversion rates.
ROI analysis: Calculating the return on investment for various marketing campaigns.
A/B testing
Automating split tests to compare different marketing strategies, such as email subject lines, CTAs, or landing page designs, to determine which performs better.
E-commerce automation
Shopping cart abandonment: Sending automated reminders to users who leave items in their online shopping carts.
Product recommendations: Suggesting products to customers based on their browsing and purchase history.
Customer retention and loyalty programs
Automating loyalty point accrual and rewards redemption.
Sending automated follow-up emails to customers after purchases or on special occasions, such as birthdays.
SMS and mobile marketing automation
And these are just a few marketing automation examples, just to give you an idea of its immense potential. Now, let's get into the details of five practical marketing automation examples that will help you boost your marketing strategy.
1. B2B marketing automation examples
For B2B businesses, lead generation is critical. Marketing automation can help in this area by guiding potential customers through the funnel faster and more efficiently. For example, you can:
Implement a lead scoring system to gauge your leads' level of interest in your products or services. Once a lead has passed a certain threshold, the system will automatically pass it on to the sales team. This saves time for your sales team by allowing them to focus on leads that are more likely to convert and generate revenue.
Automate the lead capture process from your web forms or ad platforms. Streamlining the process of capturing lead data and sending it to your preferred marketing tool eliminates any errors that may occur with a manual input and also saves you time.
2. B2C marketing automation examples
For B2C businesses, it's essential to retain customers. To do this successfully, you need to understand their behavior and anticipate their needs. Here are some useful B2C marketing automation examples:
Send abandoned cart emails. When a consumer places items in their cart but doesn't complete the purchase, an automated email can be sent to remind them to finish the purchase. This process can be further enhanced by offering a discount code or free shipping to incentivize them to complete their purchase.
Send personalized, targeted emails based on consumers' purchase history. This can increase engagement rates and reduce churn.
3. Email marketing automation examples
Email marketing automation is where most businesses start when it comes to marketing automation. Personalized emails can be automated and sent to specific leads based on their interests, behavior, or other factors. Here are some easy yet effective email marketing automation examples to help you get started:
Set up triggered email campaigns based on specific actions, such as when a customer signs up or completes a purchase. You can also segment your email list according to interests and preferences and then automatically send targeted messages. Personalized email campaigns have a much higher conversion rate than generic newsletters as customers feel special and seen.
If you'd like to see a step-by-step- guide on how to set up a marketing automation workflow, check out this article: Top 5 marketing automation workflows to improve your business.
4. CRM marketing automation examples
With CRM marketing automation, the focus is on the customer relationship. You can easily manage your leads and customers' interactions, such as keeping track of their website visits, activity history, and social media interactions — all in one place. Some CRM marketing automation examples that you can find useful are:
Automating tasks, such as lead generation, sales tracking, and event registration. For instance, when a sales rep logs a sale, the customer is automatically moved to the next stage of the sales process – nurturing. This automation saves time and ensures no lead falls through the cracks.
Automatically assigning leads to the most appropriate sales rep based on their characteristics, interests, or priorities.
5. Examples of marketing automation tools
Marketing automation tools can help you streamline and automate business processes so that you have more time to focus on growing your company. Here are some examples of marketing automation tools that can help you optimize your marketing strategy.
HubSpot
HubSpot is a comprehensive inbound marketing and sales automation platform that includes tools for email marketing, lead management, social media scheduling, and more.
Pardot
Pardot is Salesforce's marketing automation tool, focusing on B2B marketing automation, lead nurturing, and lead scoring.
Mailchimp
Known for its email marketing capabilities, Mailchimp also offers automation features to create email workflows based on user behavior.
ActiveCampaign
ActiveCampaign provides email marketing, marketing automation, and CRM features, making it suitable for small and medium-sized businesses.
GetResponse
GetResponse is an all-in-one marketing platform that includes email marketing, automation, landing page creation, and webinar hosting.
LeadsBridge
LeadsBridge automates your customer acquisition workflows from major ad platforms with seamless integrations to your revenue tech stack. With over 380 integrations, LeadsBridge helps you sync your leads, target custom audiences, and track conversions to boost sales and productivity automatically and in real time.
Here are all LeadsBridge integrations specific for marketing automation.
Why you should automate your workflows with LeadsBridge
Amongst the examples of marketing automation tools presented above, LeadsBridge is specifically designed for marketers and advertisers who use social media's native forms to generate leads.
Here is why you should consider adding LeadsBridge to your marketing strategy.
​​Say goodbye to slow, manual, and generic lead syncs
Get in touch with new leads instantaneously by effortlessly synchronizing lead data from top ad platforms in real-time.
Cut down on time and effort with industry-specific integrations designed for marketing and sales workflows.
Sort and channel leads as they arrive, ensuring they reach the right funnel every time.
Discover your most valuable customers
Boost your return on ad spend by pinpointing your ideal audience.
Reduce your advertising costs by connecting with the perfect audience.
Create actionable customer segments from various sources and revitalize your marketing approach.
Measure the true impact of your online campaigns
Gain insights into campaign performance by attributing conversions from online advertising.
Enhance your funnel view with accurate data integration from Facebook Conversions API and Google Offline Conversions Tracking.
Final thoughts
Marketing automation is a great way of improving your efficiency, better targeting your audience and freeing up your time to concentrate on other more important marketing activities.
The power of marketing automation is immeasurable, and we've only highlighted 5 examples from a range of sectors and tools. As you can see, it's not just a tool for big businesses; it can benefit small businesses and start-ups just as well.
By automating your marketing activities, you can achieve better results with less effort, and optimize your customer experience for maximum impact. So why not try implementing some marketing automation processes to your business today?