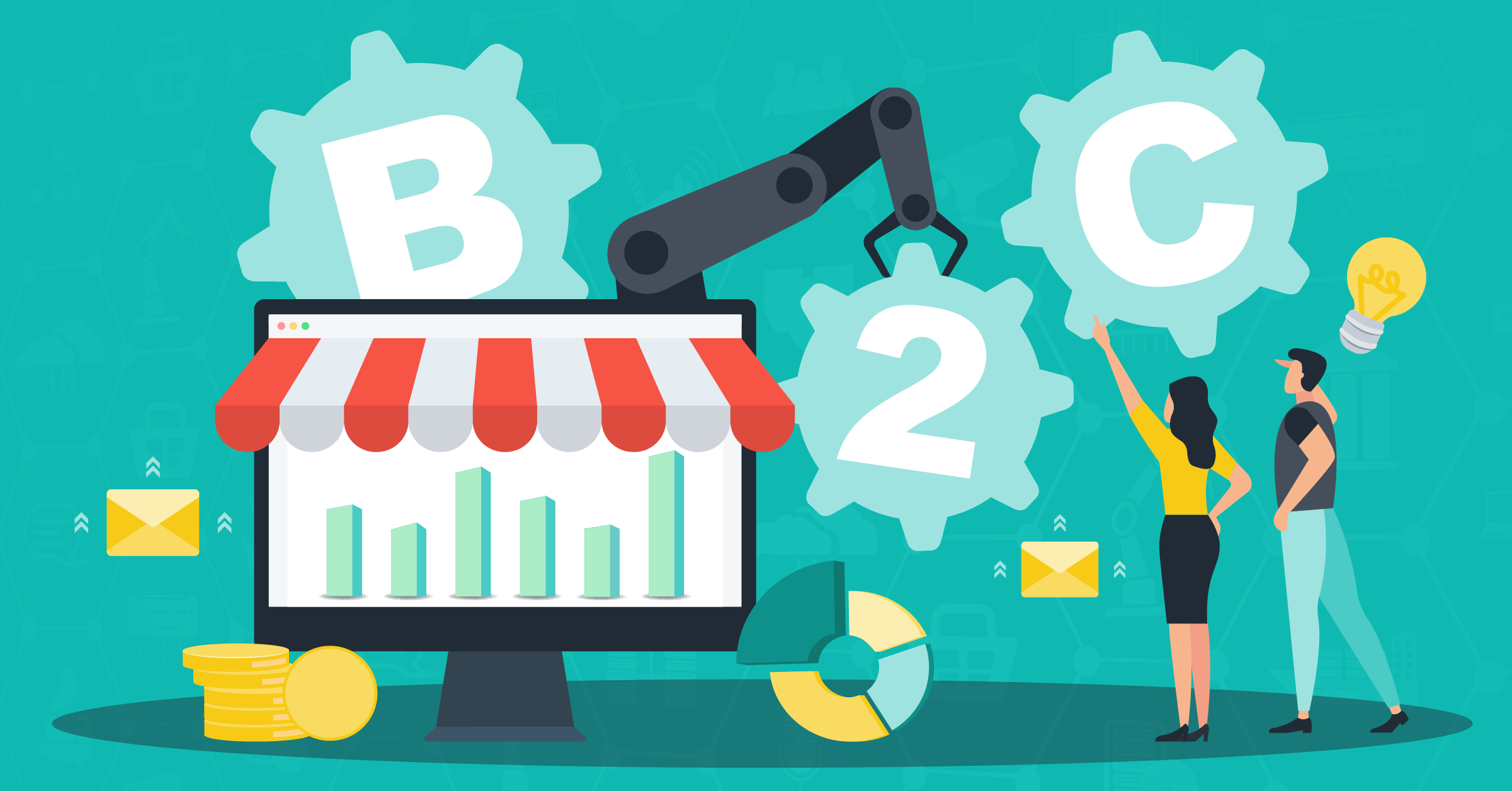 Consumers today crave personalization. They want to feel special, and they only want content that matches their needs. If they don't get that, there's a very good chance they'll go elsewhere. The consumer demands are clear: B2C brands must create personalized messages at scale, but it's impossible to manually personalize every bit of marketing communication.
This is where marketing automation comes into play.
Here's a guide to what marketing automation is, why it's incredibly beneficial for B2C brands, and how to create a marketing automation strategy ASAP. Additionally, we'll talk about the best integrations you'll need to automate your marketing on the top advertising platforms, such as;
What is B2C marketing automation?
B2C marketing automation is the act of using powerful software to automate marketing campaigns to attract new customers or build relationships with existing customers. It relies on technology (often machine learning) to collect customer information and use that data to serve personalized ads, emails, and other forms of messaging.
Why marketing automation for B2C is crucial
B2C brands must create campaigns that cater to a broad audience while still making each individual feel special and unique. Sound impossible? That's where B2C marketing automation can help. It allows brands to improve the customer experience by targeting people with the right message at the right time.
The benefits of this practice are many:
Higher conversion rates: Campaigns address customers' individual needs, which are more likely to lead to a conversion or sale.
Increased retention rates: Customers are more likely to make repeat purchases if they're served relevant, engaging content.
Fewer lost customers: Well-timed messages target distracted shoppers and reel them back in.
Less repetitive marketing tasks: Brands don't have to manually personalize messages, which can free up marketers' time to spend on other activities.
Impactful list segmentation: Marketing automation collects customer data and uses it to create unique customer journeys, ensuring the right content is being delivered to the right people based on their behavior and interests.
B2C marketing automation examples from real brands
Let's talk about some ways brands are using marketing automation to speed up processes, connect with their audience, and improve the customer experience. Here are some B2B marketing automation examples we love.
1. Welcome new customers
Greeting new customers with a personalized welcome message establishes a strong initial connection and reminds them why they signed up with you or bought from you in the first place. For instance, Airbnb encourages users to start their personalized search in its welcome messages. You can elevate yours by adding a discount or the next steps a customer can take if they want to make the most of your product or service.
Source: Airbnb
Choose a welcome email integration from LeadsBridge's list and check out our top email sequence examples for some fresh inspiration.
2. Audience targeting
Audience targeting can help you reach the right people with the right message. This is crucial if you want to resonate with potential buyers and kickstart the customer experience in a unique and personalized way.
LeadsBridge's Custom Audiences integrations can help B2C businesses like yours optimize campaigns by targeting and segmenting your audience. Our platform also allows you to collect lead data from various sources and bring it together in one place. Then, you can draw from that information to create Facebook Audiences and segment your email subscribers.
3. Generate reviews
93% of consumers read reviews before they make a purchase–but remembering to ask each customer for a review is time-consuming and not cost-effective. Instead, use marketing automation to automate the review process. You can send well-timed review request emails, add a QR code to your emails and link it directly with the feedback form. This will generate more feedback and you can use it to improve business moving forward.
Casper sends an automated email to each customer that encourages them to share their experience.
Source: Casper
4. Increase winback rates
Consumers can get distracted for a number of reasons–maybe they find a product in a better color, or they've got stuck in a wormhole on YouTube. Whatever the reason, you can use marketing automation to win them back. Take a leaf out of Nordstrom's book and serve abandoned cart campaigns (or winback campaigns) to get back customers who might have gone elsewhere.
Source: Nordstrom
5. Personalize offers
Every customer's journey is different, and marketing automation can help hand-hold every customer down their own unique path.
For example, H&M creates offers and solutions based on a shopper's specific needs and interests–here, they've suggested a relevant product based on the customer's previous purchase. You can do this too by serving automated personalized product recommendations, useful content, and relevant offers.
Source: H&M
6. Make customers feel special
When customers feel special, they're more likely to come back and recommend you–this is the crux of customer loyalty. Marketing automation can foster customer loyalty by sending messages to shoppers during life milestones (like on their birthdays) or through reward campaigns, as Pinkberry does.
Source: Pink Berry
7. Cross-selling and upselling
You can dramatically increase average order value (AOV) and customer lifetime value (CLV) by promoting the right products at the right time. Marketing automation can serve relevant cross-sells and upsells to the right customers–just take a look at how Crate & Barrel does it.
Source: Crate & Barrel
8. Online to offline tracking
It's difficult to track customers who learned about your products via the internet but who made their purchases in real-life. Use LeadsBridge's online to offline tracking tool to track conversions that can't be measured online (like in-store purchases), and combine those signals and data with other insights to get an entire 360-degree view of customers.
9. Lead syncing
Facebook Ads are most successful when they're laser-focused on each customer's unique wants and needs. Sync lead data from multiple sources to create powerful, highly-targeted Facebook Ads that continue to convert.
You can use data like past purchases, lead sources, and specific actions taken to build up a unique picture of each customer and ensure you're sending them relevant ads.
LeadsBridge's Lead Sync feature allows you to automatically create retargeting lists based on marketing campaigns and can be used alongside multiple integrations. You can use it in tandem with our Facebook Leads Ads feature for better campaign conversion rates and to collect leads at a lower price as well as with Google Ads Lead Form Extensions to create a webhook link between your CRM and the Google lead form campaigns.
B2C marketing automation tools: 4 tools to try
Marketing automation becomes considerably easier when you have a suite of powerful tools on your side. Our integrations with top marketing automation tools will help streamline your efforts and get the best results. There are over 380 different marketing integrations to choose from and we can tailor custom solutions depending on your unique company needs.
Here are our favorite tools.
1. ActiveCampaign
ActiveCampaign is an all-in-one solution that brings together your email marketing, sales, and CRM software in one place. Integrating it with LeadsBridge lets you create targeted customer segments and send emails based on previous customer data.
2. HubSpot
HubSpot is all about creating an excellent customer experience by connecting all your automation tools in one place. The LeadsBridge and HubSpot integration makes it easy to segment leads and send personalized emails, as well as create hyper-focused lists for Facebook Ad campaigns.
3. Klaviyo
Klaviyo helps brands deliver targeted communications across email and SMS. When Klaviyo is integrated with LeadsBridge, you can create segmented customer lists and send personalized messages based on previous customer behavior.
4. Salesforce®
Salesforce® is the best-known customer relationships platform out there. The LeadsBridge and Salesforce® integration lets you transfer hot leads to Facebook Audiences and send timely emails.
Start thinking about your marketing automation strategy
Marketing automation is a must-have for B2C companies that want to personalize their marketing efforts at scale. There are plenty of ways brands are using marketing automation for B2C to attract and foster relationships with customers. Take inspiration from these examples and think about how you can apply marketing automation to your business to improve the customer experience and generate more sales.
Check out LeadsBridge's robust marketing automation integrations.