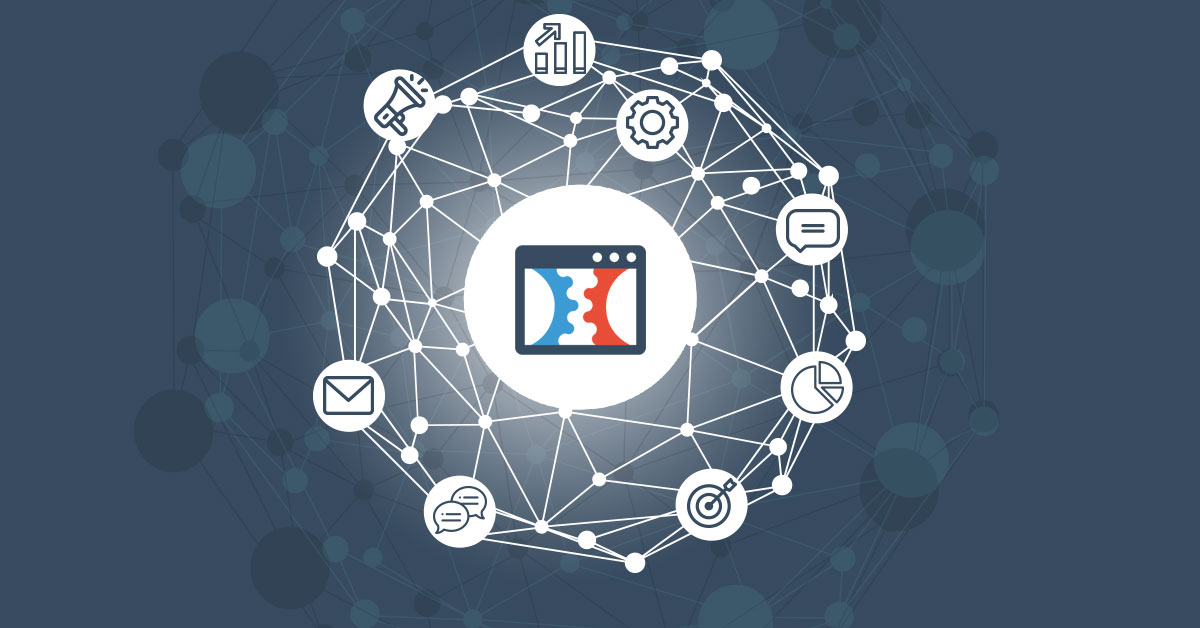 ClickFunnels was founded in 2014 by Russel Brunson and Todd Dickerson and has experienced exponential growth in just a few years. Currently, ClickFunnels has over 100,557 customers across the world. The great innovation of ClickFunnels consists in having created a platform that helps users to design advanced sales funnels for selling services and products without the need to code. It is a sales funnel builder, landing page software and a hosted solution combined in one, suitable for the needs of online businesses, entrepreneurs, and enterprises as well.
In this article, you will learn about ClickFunnels benefits and top ClickFunnels integrations.
Below are a few benefits of using ClickFunnels.
1. Build landing pages and funnels without coding
A study revealed that 10-15 landing pages can increase companies leads by 55%. ClickFunnels makes it easy to create landing pages and funnels by using professionally pre-built templates easily editable through an intuitive drag & drop system.
It has all the elements that make up quality sales pages such as widgets for texts, images, buttons, headlines, and video.
2. Create checkout pages for services and products
One of the common reasons why shopping cart abandonment is so high is a cumbersome checkout process. ClickFunnels allows you to build seamless, frictionless checkout pages for selling products and services by integrating different payment methods such as Stripe and PayPal to help process payments and orders from customers.
3.Create membership areas
ClickFunnels offers its customers a membership area to protect their content. Use this feature to launch online courses or any premium product or service to your audience.
4. Create lead generation surveys
With ClickFunnels instant survey generator tool, you can create surveys to segment prospects according to the question they answer. Next, target them with personalized content to help convert them to leads.
5.Create automated follow-up sequences and broadcasts
A study revealed that sending only one email without follow-ups gives a 16% reply rate on average, while people that send at least 1 follow up in a campaign receive a 27% reply rate. ClickFunnels Actionetics feature helps to set up email and smart lists, design email campaigns, action funnels and follow up funnels and track customer metrics. etc.
6. Advanced funnel stats
The funnel stats provide an in-depth view of the data in a funnel. Here, users can see page views, opt-ins, sales, earnings per page view, etc. The funnel stats shows how people are joining subscription lists so that users can create targeted and optimized marketing campaigns. It shows the funnels that are converting the best so users can focus on funnels that are producing better results.
7. Connect other platforms and tools through API
ClickFunnels can be integrated with third-party tools through its API. The tools users can integrate include autoresponders, payment gateways, and outgoing SMPT.
However, since the integration with other tools may require some technical skills, many customers use Leadsbridge to connect their ClickFunnels account with all the other tools they need to run their businesses.
Top ClickFunnels integration
There are different ClickFunnels integrations with third-party tools available through Leadsbridge. The most popular are:
ClickFunnels integrations with Mindbody

ClickFunnels integrations with Freshsales

ClickFunnels integrations with MailChimp

ClickFunnels integrations with ManyChat

ClickFunnels integrations with Infusionsoft
1. ClickFunnels integrations with Mindbody
Mindbody is a cloud-based business management software specifically created for the wellness services industry such as Spas, and Yoga studios. Currently, it serves 35 million clients in 130 countries of the world.
ClickFunnels with Mindbody integration through Leadsbridge helps to manage incoming leads from ClickFunnels account. This enables users to capture necessary details about leads such as name, email addresses and contact details.
This integration also helps to manage the customer base. It helps to know the stability of a businesss client base. A study revealed that the probability of selling to an existing customer is up to 14 times higher than the probability of selling to a new customer. Integrating ClickFunnels with Mindbody helps to quickly get in touch with prospects to nurture them, turn them into paying customers, thus, increasing the customer base.
2. ClickFunnels integrations with Freshsales
Freshsales is a sales CRM that offers AI-based lead scoring, built-in phone, email, activity capture, etc. With Freshsales CRM, you can use in-built phone and email, search for the best lead, have useful conversations and manage sales pipeline well.
Freshsales helps to capture website visitors automatically as sales leads and segment them based on how they interact with websites. With it, it is easy to access customers profiles and know their touchpointson a website as they are displayed on the dashboard, score leads and automatically update customers profiles.
The ClickFunnels integration with Freshsales through Leadsbridge makes it easy to send leads directly to a sales CRM.
This helps to manage customers' databases in one place, thus, saving time, effort and enhancing efficiency. It also helps to create targeted messages for users at each stage of the buyer journey.
3. ClickFunnels integrations with MailChimp
MailChimp is marketing automation and email marketing software that helps to build and manage email lists, send emails and track results. The integration between ClickFunnels and MailChimp, enables businesses to sync contacts from ClickFunnels with MailChimp lists.
Most LeadsBridge customers who use this integration usually collect leads from ClickFunnels and automatically import them into an email list on MailChimp, automating marketing and nurturing. With this, it is easy to exchange manual repeated tasks with automated campaigns, saving time and effort to focus on other tasks.
4. ClickFunnels integrations with ManyChat
ManyChat is a powerful marketing tool; thanks to an average open rate of 22.15% across all industries, that helps companies keep in touch with their audience and support leads and customers through interactive and targeted content. Automated responses are one of the most popular features of ManyChat, since they allow businesses to schedule messages and customize the customers journey.
LeadsBridge customers use Clickfunnel ManyChat integration to start a conversation with leads and customers coming from ClickFunnels. Moreover, if using Actionetics, the integration will help to send targeted emails and follow up to ManyChat leads.
5. ClickFunnels integrations with Keap (formerly Infusionsoft)
Keap (formerly Infusionsoft) is a marketing platform that helps businesses increase their leads and manage their customers base through advanced marketing automation. Keap (formerly Infusionsoft) provides automated follow up to make sure there are responses to customers needs. It helps to create a repeatable sales process on lead tracking, quotes, appointments, etc. with the goal of automating sales and marketing campaigns. Keap (formerly Infusionsoft) offers services such as email automation tasks and business automation tools.
ClickFunnels Infusionsoft integration through Leadsbridge helps to add leads from ClickFunnels campaigns to Keap (formerly Infusionsoft) database.
Make the most of ClickFunnels integrations
Integration with third-party tools is one of the best features of ClickFunnels. The ClickFunnels integrations provide an enhanced experience for users by making it easy to integrate third-party apps they are already using. Third-party tools are fast becoming an important part of marketing that helps to attract and retain customers.
With Leadsbridge, integrating ClickFunnels with favorite software such as Mindbody, Freshsales, MailChimp, ManyChat, and Infusionsoft is easy. These integrations save time and effort, thus improving efficiency and productivity.