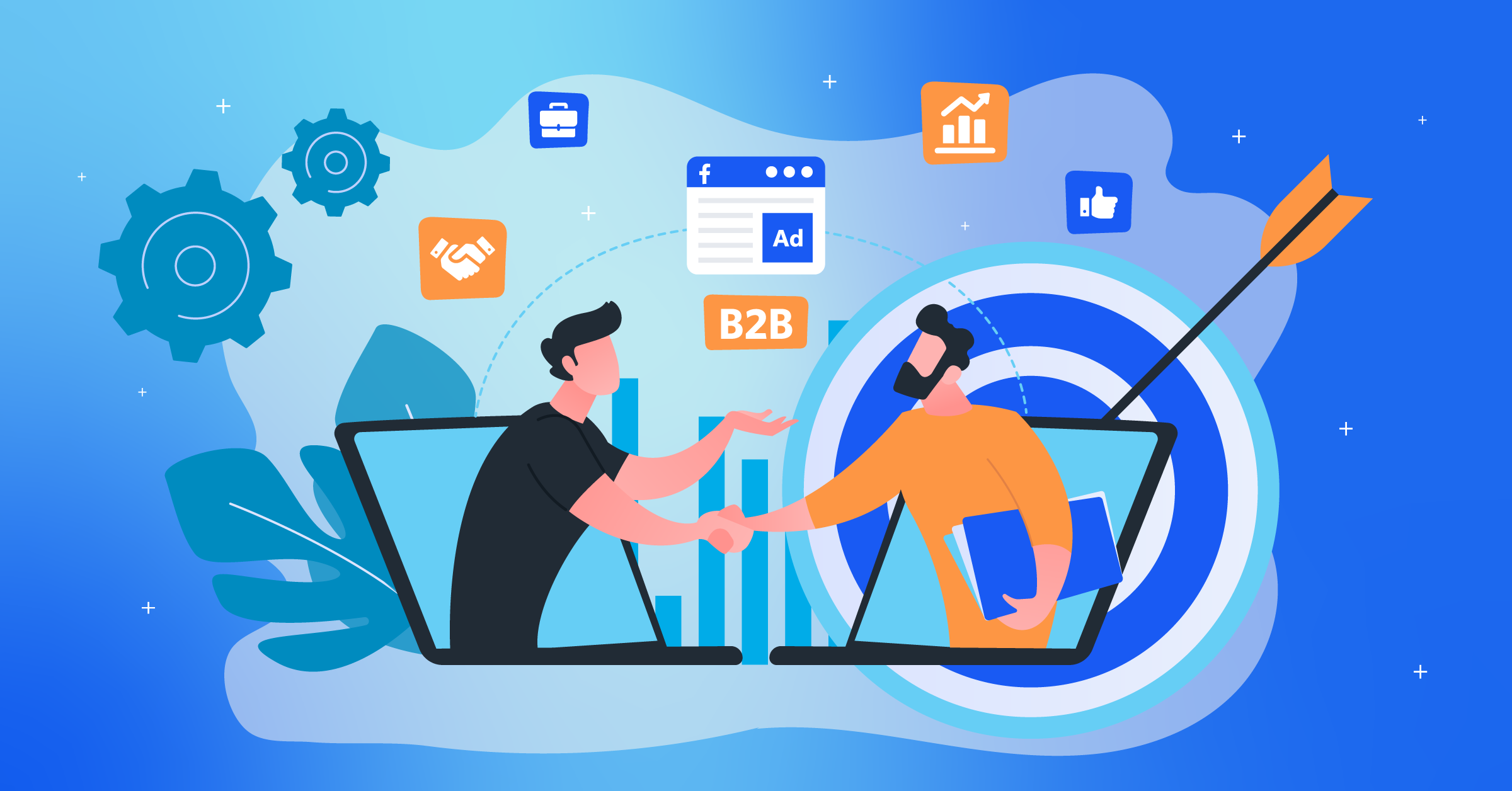 For years now, Facebook has been well-regarded as one of the best (if not the best) advertising platforms for most brands. They're easy to set up, manage, and optimize, especially thanks to Facebook's machine learning and automatic optimization.
B2B Facebook Ads, however, can be a little bit more challenging than most of the B2C ads that you see on the site. You need the right strategies in place and a strong understanding of how the B2B buyer cycle works in order to get real results.
Which brings us here today! In this post, we're going to look at how to create B2B Facebook Ads that actually work, including going over B2B Facebook best practices and B2B ads examples. Here, we also introduce a free integration to connect your CRM with Facebook Lead Ads to automate the workflow. Sign up for a seamless bridge.
Why B2B Facebook Ads are more difficult
B2B ads on Facebook are going to have different challenges than B2C ads.
For starters, the buyer's journey is both longer and more complex for the following reasons:
B2B ads often promote higher-cost products or services than many B2C ads; a well-targeted B2C ad may be trying to sell a high-value $120 dress on the high end, whereas a B2B ad is likely looking at a monthly minimum cost equivalent to that for the customer.
The buyer journey takes longer and involves more research. No one wants to make a business decision that backfires or doesn't work, whether it's for software, new office chairs, or a content marketing agency. It can chew up the budget and hurt the company, and even if you can shift products, the adoption or training times can be significant. There's more research and consideration as a result.
The end user isn't always the decision maker. When I was a salesperson, the executives were dead set on us using these tablets to process sales. The problem? The tablets sucked and consistently crashed so often that we actually lost sales. The decision maker (the executive) was not the person who actually had to use the tech.
This means you need to understand who your buyers actually are and what their pain points are; this will likely be different from the said end user.
People are more responsive to B2C ads. Most users aren't on Facebook thinking about business necessarily; this isn't LinkedIn. As a result, it may be harder to get clicks and conversions.
How ads can fit into a B2B Facebook marketing strategy
You can use Facebook Ads to enhance your organic Facebook marketing strategy, and you can also use them to create strong, thorough Facebook Ad funnels.
Keep the following in mind:
You can use B2B Facebook Ads that utilize lookalike audiences off of your B2B custom audiences to reach cold audiences that are similar to existing customers for discovery.
Lead ads can go a long way in helping you capture interest in mid-funnel users; this can be invaluable for B2B lead generation on Facebook.
Offer-focused B2B ads can make a big impact on driving conversions amongst interested users.
Keep in mind, too, that you can create original B2B ads on Facebook, and you can also boost existing posts. The latter can help strengthen your B2B Facebook marketing strategy.
6 B2B Facebook best practices for ads & campaigns
Want to create stronger ad campaigns that will actually get traction on the platform? Follow these 6 B2B Facebook best practices that will help you connect with your target clients.
1. Focus on benefits to the decision maker
The first thing that you'll want to tackle is the copy part of a Facebook Ad, and this should be created entirely with the decision maker in mind.
As we already mentioned above, the end user isn't always the same as the decision maker.
Imagine that you're selling social media marketing software. You have plenty of automation-heavy features to make the social media team's lives so much easier, which is what would be appealing to them.
If you center the copy around teamwork features and time-is-money-and-we're-saving-you-both features, you'll have better luck attracting the attention of a marketing manager or CMO.
Think about what benefits the decision makers are going to prioritize, and always make sure you mention how it can save them time or make them money (or both).
You can see a great B2B ad example from Freshbooks here:
2. Know you'll need to run split tests
Testing is a crucial part of any B2B Facebook marketing strategy, and split testing is invaluable for ads in particular.
Split tests allow you to test one factor of your ads at a time (like a changed audience targeting, bid, copy, image, or video) to see what helps you attract more of your target audience and drive results at the lowest cost possible.
Keep in mind that when you enter multiple sets of copy and/or visuals to test, Facebook will automatically create combinations and run them to see which are most impactful.
You can see different combinations of copy and images for similar offers from Hootsuite below:
3. Remember that B2B Facebook ads must be mobile-friendly
Most users are accessing Facebook primarily through their mobile phones. This means that your B2B Facebook Ads absolutely need to be mobile-friendly.
Mobile-optimized Facebook Ads should include the following characteristics:
Prioritize shorter copy, or include the most important part of the ad copy within the first two lines of ad text so it doesn't get cut off.
Use vertical images and videos that can be expanded to full screen when viewed.
Consider testing mobile-shot video, which looks like it was created by happy customers.
You can see in the B2B ad example below that Freshbooks has a desktop-focused video and one that's vertical for mobile users.
4. Take advantage of lead ads for B2B lead generation on Facebook
Lead Ads are easily the most effective option for B2B lead generation on Facebook. They're mobile-friendly, and they open up a lead form that automatically fills out when the ad is clicked. It streamlines the lead generation process.
Plenty of businesses will use lead campaigns to book appointments, demos, or calls. Others will attach lead magnets like an ebook to get a potential customer's email. You can see an example of what this ad looks like from Salesforce here:
And the good news is that with third-party tools, you can automatically sync your Facebook lead data to the CRM, email marketing tool, or sales tool of your choice. LeadsBridge's Facebook Lead Ads integrations can help with this. See how they work here.
Try any of these integrations for free to integrate your CRM or marketing tools with Facebook:
5. Promote resources & lead magnets
Sometimes the best way to get on a customer's radar— or to get their email information— is to go heavy on promoting lead magnets and resources.
Checklists, ebooks, webinars, templates, and more can all go a long way in attracting B2B audiences who could be interested in what our tool has to offer. As a bonus, they're automatically a great resource to promote on your site, too, so you can accrue benefits from them on and off Facebook.
You can see a B2B ad example promoting resources in this ad from KlientBoost:
6. Test different B2B audience targeting & retargeting options
Audience targeting can be tricky when it comes to B2B audiences, but testing out the right combinations of demographic, interest, and behavior options alongside retargeting options can be invaluable.
Custom audiences and retargeting can change your campaign performance quickly.
B2B Custom audiences allow you to target specific segments of users who have interacted with your business in a particular way, including both online and offline. You can use LeadsBridge to sync data using the Conversions API for retargeting users who have taken actions like visited a site or opened your emails.
Here are some of our popular integrations for connecting your marketing softwares with Facebook Conversion API:
You can see additional integrations for Facebook Custom Audiences, and how they work here.
Check out our top integrations with Facebook Custom Audience:
B2B retargeting ads make it possible to reconnect with users who are already familiar with your brand and show them hyper-relevant copy and offers based on their exact relationship with you right now. That shouldn't be underestimated.
Final thoughts
Facebook for B2B businesses can be a little tricky, and that's absolutely true for ads that are seeking to drive high-intent actions like leads or conversions. With the right B2B Facebook best practices for your ad campaigns, though, you can create stronger campaigns that will yield real results throughout your entire sales funnel.
The right tools can help. We know the importance of having access to quality automation tools, so we now have a free forever plan to get you started, which can be used with our Facebook integrations, including Facebook Lead Ads.
Want to streamline the B2B Facebook Ad creation and management process? See LeadsBridge's Facebook integrations work.