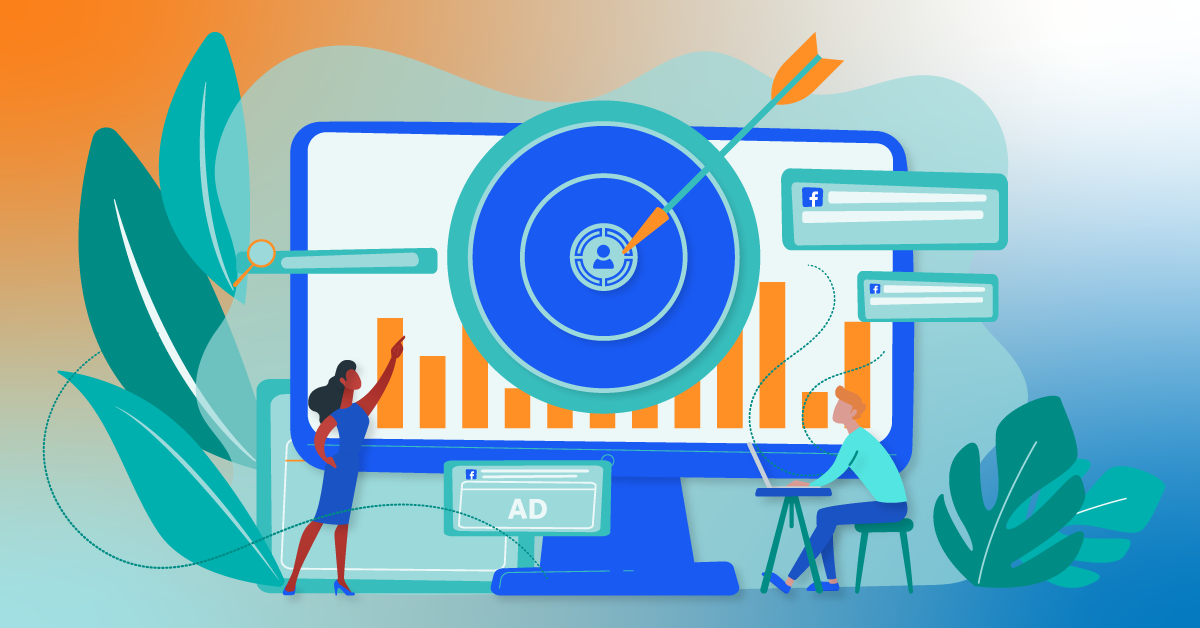 Visitors rarely buy the first time they visit your site.
At this point, they don't know who you are or what value you can provide. But the last thing you want is for them to check out your site, click away, and never come back.
Luckily, Facebook retargeting ads let you re-engage people who have visited your site or interacted with your brand in the past. These people are essentially the "low-hanging fruit" in marketing because they are already brand aware.
They know who you are and probably have a good enough idea about the value you can offer since they've visited your site before. This awareness makes it easier to convert them compared to new, unaware customers who are just landing on your site for the first time.
There is a lot of discussion around remarketing vs. retargeting; despite their technical application, the terms for these two marketing principles are often used interchangeably. However, understanding the differences is essential for digital advertisers.
For retargeting, you can use several approaches, such as paid ads, to re-engage target audiences who have already visited your website or social profiles. On the other hand, remarketing reaches out to the audience differently, mainly using email to re-engage the people who have already made a purchase from your brand.
Here, we will discuss the top tool integrations to automate your workflow, including performance marketing reporting software. Sign up for free to seamlessly send data between Facebook Dynamic Ads and other apps in your marketing stack.
To find the best Facebook retargeting strategy, you have to be tactical about how you set up and run a retargeting campaign on Facebook. If you're wondering how to retarget on Facebook, here are some best practices you can use this year to reap the best results.
How to retarget on Facebook in 2022
1. Recapture abandoned carts
The average abandoned cart rate is already high, and it's only getting higher.
Right now, it sits at just above 69%, which means less than 25% of people that put your products in their cart actually make it all the way to checkout. It's depressing, but it makes sense.
People will add items to their cart, get distracted, find a better offer, or something else will crop up, which means they never make it to checkout.
Facebook retargeting ads are great for capturing customers that have items gathering digital dust in their carts. You can show them the products they were initially interested in and entice them back to your site by jogging their memory with Facebook engagement retargeting.
Eton Shirts does this with their ads. They serve up a carousel of products that a customer has added to their cart and then gone on to abandon.
Seeing an item they put in their cart yesterday show up on their Facebook feed is a great reminder for forgetful or distracted shoppers and the best Facebook retargeting strategy for bringing back potential buyers.
And you can take it further by adding a discount or a limited-time offer for people that come back and purchase.
2. Lookalike audiences
Facebook's Pixel is great for gathering the information of your website visitors and creating custom audiences. Speaking of Facebook custom audiences, here's a step-by-step guide. It can track who's visited what page and when so you can serve them personalized ads based on their browsing behavior.
However, if you don't have a considerable amount of web traffic to draw from, it can be tricky to get the data you need to serve relevant Facebook retargeting ads. You can also use LeadsBridge integration to sync your Facebook Custom Audiences with your favorite CRM.
Likewise, if you have a small list of subscribers, it's hard to get the data you need to run Facebook retargeting to your email list.
Tackle this by using Facebook's powerful Lookalike Audience feature.
It shows your retargeting campaign on Facebook to customers similar to people who have already visited your site. They're more likely to be interested in what you're offering because they have the same job, live in the same area, or are interested in the same things as your actual customers.
Sync up your customer list, or subscriber list, and Facebook will use this information to find other similar people to serve ads to.
3. Test high-value audiences
High-value audiences are people who have bought from you in the past or have made a high-touch interaction with your brand, like getting in touch, adding products to their cart, sharing your social media posts, or leaving a review.
These people are some of the easiest to re-engage with Facebook retargeting ads because they've already made significant contact with your brand. Because of this, they're quite receptive to a variety of different ads and Facebook engagement retargeting methods, so it's worth testing out a few different kinds, such as:
Brand awareness ads
Product reminder ads
Social proof ads
Retargeting video ads on Facebook
E-Gmat has a retargeting campaign on Facebook that serves social proof ads to existing customers and high-value audiences. This social influence cements trust and continues to nurture the brand-buyer relationship.
4. Share special offers
Everyone likes to feel special. So bolster your relationship with existing customers and website visitors by sharing special offers, like discounts, referral rewards, or a gift for people that re-engage via Facebook retargeting ads.
Only do this for people who have already visited your site. Otherwise, the intention behind the ads becomes meaningless. 
TGI Fridays suggests these ads to existing customers around their birthday, offering them a free dessert through their Give More Stripes program.
5. Dynamic Facebook retargeting ads
Dynamic Facebook retargeting ads are personalized to the consumer's own experience. They show products the shopper has already looked at (even if they haven't put anything in their cart) to create a unique experience.
This is the best Facebook retargeting strategy for leveraging the power of personalization to drive conversions. This guide on our Facebook Conversion API dives into more detail, showing you how you can use LeadsBridge to generate full-funnel visibility, including tracking off-site conversions.
The following integrations can be used for generating full-funnel visibility.
Yumi Kim targets past website visitors and shows them the products they've already engaged with. A Google report revealed that customizing the shopping experience through dynamic Facebook remarketing ads can drive a conversion rate up to 5x higher than standard ad formats and Retargeting video ads on Facebook.
To run dynamic Facebook remarketing ads, you need a Business Manager account and a freshly-updated product catalog. Then, Facebook will use tracking Pixels to pull the right products into the right ads for each individual shopper. This process is usually referred to as app retargeting.
When using dynamic ads, your audience could automatically see your products or similar brands' products. This experience is provided through the visualization algorithm and based on what they have seen previously. You may use app retargeting with dynamic ads to suggest comparable products to which they've earlier browsed or purchased on your website, mobile app, Facebook Marketplace and Instagram Shopping.
Read our guide on dynamic ads to learn more.
6. Retargeting video ads on Facebook
Facebook is one of the leading platforms for video consumption, and advertisers are strategizing around this fact. Video ad spending is expected to grow 20.1% in 2022, which makes up one-third of the overall digital advertising budget. Moreover, a retargeted ad has a probability of 76% of getting clicked on, compared to a classic display ad. These statistics lead to a marketing focus on retargeting video ads on Facebook.
Whether you are already retargeting video ads on Facebook, or haven't considered it as of yet, this practice can help your brand in many ways. For example, retargeting video ads improves branded search efforts, allows you to offer discounts to the right audience, and helps grow your email list.
However, the best reason to run a retargeting video ad campaign on Facebook lies in the way this platform works. Facebook likes to prevent its users from being bombarded with ads. Therefore, its developers aim for a pleasant user experience, and limit the number of advertisements. At the same time, the platform's algorithms ensure only relevant ads are shown to users – which you can guarantee relevance in your ads through retargeting.
7. Keep messaging consistent
It's important that you provide a cohesive experience for customers, which means ensuring your Facebook retargeting ads and their messaging are consistent.
When a user clicks on your ad, where are they directed? Does the page make sense and reflect the message of the ad?
The landing pages (or product pages) you direct shoppers to should be highly relevant to the ad and branded with your colors and logos to establish trust.
PandaDoc maintains its strong branding elements across its Facebook retargeting ads so that users recognize who they're dealing with.
8. Link retargeting
Sometimes, you might want to reach people who haven't visited your website yet, but who might have interacted with your brand in another way, like on social media.
Retargeting is done by including a pixel on a Facebook page or website to record visitors and use these records for retargeting them with ads on other platforms. This practice is ideal for leading customers through various funnel stages and getting them to convert at a relatively low cost.
Link retargeting can be used without a tracking pixel on your advertising content. So instead, it uses a redirect to effectively connect the retargeting pixel with the shared link, hence enabling you to share just about any link.
For instance, if another business offers a similar service as your organization, you'll be able to share one of their reports by using link retargeting. Then, people who click on that link join your custom audience for potential retargeting ads. To fill those gaps, you can either use your own content or another company's to help a specific customer at a certain point of the lead lifecycle.
A link retargeting campaign on Facebook lets you serve Facebook retargeting ads to people who have engaged with a shared link on social media or another third-party platform. You can add these users to your Facebook retargeting email list since they've engaged with your brand in the past.
Once they're on your list, you can serve them Facebook retargeting ads that:
Remind them about your brand
Showcase some of your best products or services
Align with the links and content they have already interacted with
Feature retargeting video ads on Facebook to build connections
Claire Pelletreau directs retargeted users to blog posts to maintain their interest in her brand and to continue to serve value. This is the best Facebook retargeting strategy for building brand awareness and visibility.
9. Target based on behavior
Facebook retargeting ads let you target customers that have taken action on your website, whether that's visiting a specific page, signing up for your newsletter, or making a purchase.
You can take it one step further and target visitors on increasingly detailed behavior, including:
Visitors who've viewed more than one post
Visitors who've viewed a post and your pricing page
Visitors who've read a blog post and gone on to sign up for a freebie
Visitors who've used a certain device
Visitors who've interacted with emails via a Facebook retargeting email list
Visitors who've engaged with retargeting video ads on Facebook
The more granular you get with your target behavior, the easier it is to serve up highly-personalized Facebook retargeting ads geared for conversion.
10. Automate retargeting with LeadsBridge
You can create Facebook retargeting campaigns and follow-up with your leads in real-time by using retargeting automation. Additionally, you can sync your lead data instantly into your marketing tools or CRM platforms to follow through with your strategies.
To do this, you need to use an official third-party integration provider like LeadsBridge. LeadsBridge helps you to sync audiences according to their recent purchase data to target and re-target and implement immediate retargeting. Moreover, by using these integrations you can combine the audiences from different sources, exclude existing customers or add and remove leads from your Facebook based on your retargeting strategy. This way, your campaigns can become more accurate and effective. So you can directly retarget customers that are more likely to convert.
Following the usual automation sequence, your automated marketing stack triggers an instant follow-up journey once a Facebook ad form is submitted. Ultimately, your leads will receive a welcome email or are sent directly to your sales team. Here are some more of LeadsBridge integrations to enable a successful Facebook retargeting automation from start to end.
Synchronize leads from your retargeting campaign on Facebook
The people that engage with your Facebook retargeting ads are high-value consumers – that is, they are already warmed up and primed to buy. So sync up your leads from your Facebook retargeting ads with your CRM to continue to nurture buyers throughout the sales cycle and leverage your Facebook retargeting email list. Use this guide to learn more about Facebook Lead Ads and some of its best practices.
LeadsBridge uses powerful integrations and lead automation to employ Facebook retargeting automation and bridge the gap between Facebook ads and sales funnels to create a fluid customer experience between your website and ad platforms.
If you're keen to streamline your advertising activity and create the best Facebook retargeting strategy, you can integrate your marketing technology stack with Facebook ads to build trigger-based campaigns on Facebook and other social media channels.
With more than 370 out-of-the-box integrations available right now, you can easily connect your chosen software with Facebook to seamlessly sync data for your marketing workflows and leverage Facebook engagement retargeting.