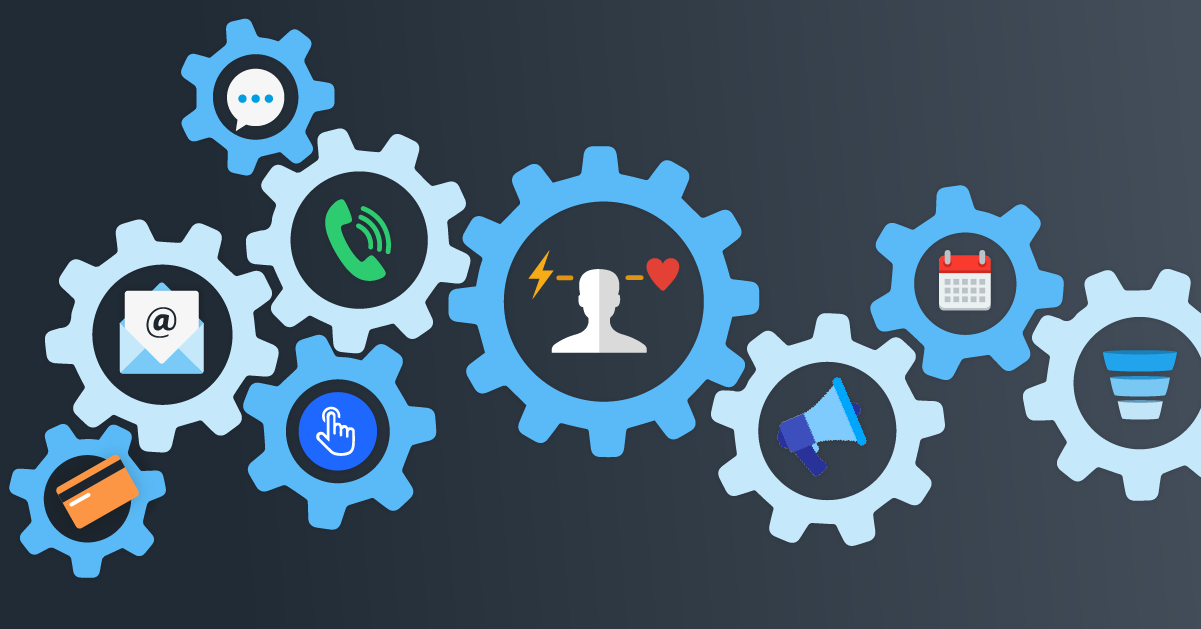 In recent years, behavioral marketing has become a game-changer for marketers. In the past, there was not much data on customers' actions, such as product page views, email sign-ups, clicks, content read, and browsing and purchasing histories. This does not offer the needed insight into what the customer actually wants. Because of this, marketers used less effective marketing strategies, such as pushing out unrelated ads and emails to prospects who simply ignore them.
With behavioral marketing, businesses can target users based on the different actions they take. Organizations that leverage consumer data outperform their competitors by 85% in sales growth and over 25% in gross margins.
In this article, you will learn all about behavioral marketing.
What is behavioral marketing?
Behavioral targeting definition, according to HubSpot, is "the method by which companies target audiences based on their behavior, interests, intentions, geolocation, and other metrics using web analytics, cookies, search history, and other insights."
Instead of pushing unrelated ads to customers and hoping that it works, behavioral marketing uses information such as purchase history, App data, social data, search history, browsing history, cookies, and website analytics to create specific profiles for users and thereafter, use this information to create effective marketing messages.
How does behavioral targeting work?
Behavioral targeting works when three important activities are carried out: data collection, audience segmentation, and data application.
Source: Smartyads
a. Data collection
The first step is to collect users' data. This can be collected from search engines, browsing histories, websites, mobile applications, IP addresses, social media, purchase history, cookies, chatbots, etc. Currently, social media platforms, email services, mobile applications, all collects data from users. Businesses use this data to create better content and campaigns that target users correctly. Then comes audience segmentation.
b. Audience segmentation
Behavioral market segmentation definition
The second step in behavioral marketing is to segment the audience. But first, what is behavioral market segmentation.? Behavioral market segmentation is the process of dividing customers into different parts based on the actions they took on your website or social media channels. With behavioral marketing, you can create a segment for each of your customers according to their actions. This will enable you to tailor products or services to meet their needs individually and not collectively as a group.
For instance, Facebook ads have a semi-automated method of segmenting users. All you need to do is to choose the audience you want to see your ads. Once you pick users' interests and other behavioral patterns, the Facebook algorithm will segment the target audience for you. Then you can create specific ads to target them.
How to segment customers
There are different parameters you can use to segment your customers. Find some of them below:
i. Demographics: This involves segmenting your audience into their genders (male or female), location, language, and birthdays.
ii. Behavior: Segment customers according to the actions they take on your websites, such as their purchase histories, the products or services they use, and the content they read. This is especially useful for b2b behavioral segmentation. It shows you the product users are interested in through demo requests, pricing page views, and purchase history. This will enable you to segment such users and send relevant information to them.
c. Data Application
It is time to use the data you collected from the demographics (i.e. the gender, location, and language), behavior (i.e. purchase histories, product or services the prospects are using and the content they read) to create ads, emails messages, website content, and other resources.
What is behavioral data in marketing?
Behavioral data in marketing is data produced by a customer's engagement with a business website, mobile app, CRM system, help desks, billing systems, and marketing automation systems. This data includes email sign-ups, product views, newsletter sign-ups, page views, clicks, content read, and previous purchases.
The behavioral data is tied to a single end-user which can be an individual or a business. The data is created and tracked as an "event". The format is different based on the platform in use. For example, in an analytics platform, it is tracked via event while it can be different for an email marketing software.
Behavioral data is much more than how a customer engages with your business. It helps you to analyze the reason behind the engagement. For instance, it will show you what a customer is looking for. This data will help you to continuously optimize your conversion, engagement, and retention rates.
How to use behavioral data
There are three ways to effectively use behavioral data for the growth of your business. They are – customer acquisition, customer growth, and customer retention.
1. Customer acquisition
Behavioral data is an asset you can use to acquire customers. Acquiring customers involves many touchpoints on different channels over a long period. In fact, a report stated that it takes an average of 8 touches to get an initial meeting or talk with a prospect, which is just the beginning. But with behavioral data collected from the sales journey, you can uncover golden and actionable insights. You can measure the success or failures of prospects along the line and also use the insights to personalize prospects' experience across the touchpoints. This will help you create offers that are relevant to the prospect's experience.
2. Customer Retention
Research shows that increasing retention rates by 5% can increase profits anywhere from 25% to a whopping 95%. Also, it is five times more expensive to gain a new customer than it is to retain an existing one. This means that customer retention is very important to the success of any business. One thing you can do to retain customers is by giving them excellent customer experiences.
A report by PWC revealed that 73% of U.S. consumers say that customer experience is a very important factor in their purchasing decision, so much so that even if they love a company or product, 59% will still walk away after several bad experiences and 17% will walk away after just one bad experience.
With behavioral data in place, you can spot this issue right on time with behavioral data before the customers churn and stop doing business with you.
A good example of this is from Netflix. They use behavioral data to know the usage rate of a customer every month. If a customer's monthly usage reduces, they will churn with time.
With this data, Netflix identifies customers with lower usage than normal and finds out the issues with them. Then they create a way to engage such customers by providing more personalized recommendations based on their interests and behavior. See an example below.
Source: Pointillist
Additionally, Netflix also makes use of customer behavior data to decide on the type of content to create and license. This helps to prevent churn and improves customer adoption and retention.
3. Use behavioral data to drive customer growth and expansion
It was Steve Jobs that said, "A lot of times, people don't know what they want until you show it to them". This is true for customers. They can convert well on cross-sell, upsell or repeat purchases, but you need to show them the right product at the right time. A good example of a company that does this well is Amazon.
Source: Amazon.com
They do it so well in the "Frequently bought together" section as shown above. These are known as cross-sells and upsells.
This is easy for Amazon because they use customer behavioral data such as the user's purchase history, shopping cart items, and what others have viewed and purchased. Not to mention that they have an awesome discount system that's being updated on daily basis.
Personalization and behavioral marketing
Personalization and behavioral marketing is a brilliant match that can skyrocket your business to another level. Behavioral marketing data helps you to create personalized content for your customers so that you can reach them at the right time with the right message. A report revealed that 80% of consumers are more likely to buy from a company that provides a tailored experience.
Source: Slideshare
In this section, you will see real example analysis.
Imagine showing different content and call to action for different customers. This feels like you are addressing them directly. Personalization uses behavioral data such as the location of users, keywords they used in searching, ads they clicked, and browsing histories. You can use this data to create personalized shopping experiences for each of your customers.
Here is a case study of personalization, and behavioral marketing combined in the right mix.
JD Sports ran an experiment on brands they owned. One of them is Millets.com.
They used the barriliance product recommendations engine to recommend products that each visitor preferred or is interested in. The engine made use of page types and product categories that users engage with as key data. For instance, they used "rule-based" cross-sell personalized recommendation on Millets.com as shown below:
Source: Smartinsights
The result was tremendous. The project generated 332% conversions rates on Millets.co.uk and 277% on Black.co.uk where a visitor chooses a personalized product recommendation. For every 1 pound they spent on personalization software, JD sports got 291.7 percent in revenue.
The result was tremendous. The project generated 332% conversions rates on Millets.co.uk.
Behavioral targeting pros and cons
Behavioral targeting, as good as it sounds, has its pros and cons, as shown below.
Behavioral targeting pros
1. Behavioral targeting can help to increase user engagement
With behavioral targeting, you can take notice of what the user does on the website or app, such as the type of content they engage with and the product they viewed. This information will provide insight into the types of content to produce more for your audience. You can also retarget them on social media channels with ads on the product viewed. This will in turn increase engagement on your website and click-through for your ads. A survey revealed that when companies used interest-based targeting open rates increased by 56.68% and CTRs increased by 147%.
Looking for how to do it? Read more about custom audiences in this blog post titled – A Step by Step Guide to Facebook Custom Audiences.
2. It increases conversion rates
Behavioral targeting helps businesses to get more from retargeting ads. When you retarget website visitors with ads based on the product they viewed, it will entice them to go back to your website to check out the product again. It is especially more effective if you discount the price of the product. It will bring them back to your website. This is because 80% of consumers are more likely to buy from a company that provides a tailored experience. With this, your conversion rates will skyrocket.
3. It improves customer experience
Behavioral targeting helps you to serve your audience better. For example, when you notice they consume more video content than blog posts, you simply create more videos than blog posts. Also, if they prefer a specific product, you can tailor your ads to fit their preference, increasing your click-through rate and conversions.
4. It creates efficiency for consumers
Behavioral targeting creates a faster route to purchase. It helps consumers to identify the product they want without searching for too long. This is because of the availability of relevant data that shows what the customers prefer to buy. This makes it easy for them to quickly get to the online/offline store to buy the product.
Behavioral targeting Cons
Below are the disadvantages of behavioral targeting.
1. It can lead to oversaturation of ads
Avoid bombarding your customers with too many ads. It can prevent them from engaging with your ads. No one would like to continually see different ads from the same company over and over. It can be tiring. Therefore, use behavioral targeting sparingly. It will help to reduce your ad spend and also target customers at the right time.
2. Behavioral targeting requires complete knowledge of your audience
As good as behavioral targeting sounds, you need to know your audience in order to produce tangible results. Knowing your audience means you know their likes and dislikes and what they respond to. Without this knowledge, your ads and content will not resonate with your target audience.
3. Complex Algorithms can supply wrong recommendations
Sometimes, the algorithm can recommend wrong content for users. For example, in Netflix, instead of making recommendations about what you've already watched, it can lead you to different and unrelated content.
Behavioral targeting tools
Behavioral targeting involves knowing your audience in detail. This includes their identities, such as browsing histories, IPs, geographical location, device type, and purchase history. Therefore, you need tools that will help you get to know them more. Below are some behavioral tools you can use to know more about your audience.
1. Mixpanel
Mixpanel is one of the best behavioral targeting tools. Mixpanel's behavioral analytics feature helps you to understand your users' behavior. This includes analyzing their behavior on your platform by their Geolocation, IPs, and other actions taken.
Source: Mixpanel
It works alongside your sales funnel to show users that convert and why they convert. You will also know if there are frictions in your funnel, so you can know what causes it and how to better engage prospects before they leave.
Mixpanel integrates with other third-party apps through LeadsBridge. Find some examples of integrations below.
a. Mixpanel integrations with Facebook Lead Ads
b. Mixpanel integrations with HubSpot
c. Mixpanel integrations with Facebook Custom Audiences
2. Sailthru
Sailthru is loaded with personalization features that help businesses to collect user behavior and interest data. It uses this information to recommend optimal content such as blog posts and products to your website users when they are on your website, mobile app, or reading your emails.
With Sailthru, you can create a customer profile with behavioral data to deliver personalized experiences for your customers and increase your conversions.
Source: Sailthru
Sailthru, through LeadsBridge, integrates with other popular software to help you use unique features to produce targeted and personalized campaigns that will increase your conversions. Below are examples of Sailthru Integrations.
a. Sailthru integration with Facebook Lead Ads
b. Sailthru integration with ActiveCampaign
c. Sailthru integration with SuiteCRM
3. Segment
Segment offers personalized and real-time customer experiences for your business. Segment allows you to understand the user behavior on your website. Understand the journey of the customer by looking at traits like the product they bought in real-time. From there, you can build audiences to use for campaigns, create an identity for the customer, and use the data to create personalized experiences for customers. Segment is a Customer Data Platform (CDP) and so it uses pixel to track info.
The best part of it all is that you can integrate Segment through LeadsBridge with any tools you use, such as autoresponders and CRMs. Find examples below.
a. Segment integration with MailChimp
b. Segment integration with Zoho CRM
c. Segment integration with Salesforce.
4. HubSpot
HubSpot has different personalization options in its marketing hub. This includes pop-up forms that allow you to design personalized lead capture forms and offers triggers based on website visitor behavior, personalization tokens to help in customizing email content, and lists that allow you to segment your audiences to different groups.
Source: HubSpot
The smart content feature allows you to show different website experiences and call to action to visitors based on device type, lifecycle change, and referral source.
At LeadsBridge, we offer integrations for HubSpot such as:
a. HubSpot integration with Facebook Lead ads
b. Salesforce integration with HubSpot
c. HubSpot integration with LinkedIn Lead Gen Forms
These integrations enable you to automatically funnel your leads from HubSpot to your autoresponders or other CRMs.
5. Optinmonster
Optinmonster uses the Smart Tags feature to help businesses personalize websites with useful content that will increase users' engagement and conversions. This means you can literally call your website visitors by their name, create content based on their data, such as their name, interests, and purchased products. Find an example below.
With Optinmonster's drag-and-drop pop-up building, creating a dynamic text for personalization is easy as shown below. All you need is to change the details, and your website is personalized for users.
Source: Optinmonster
This allows you to show relevant offers to your audience based on the day they visit, location, and the content they view.
Optinmonster integrates with other third-party apps through LeadsBridge, as shown below.
a. OptinMonster integration with Facebook Custom Audiences
b. OptinMonster integration with GetResponse
c. OptinMonster integration with AgileCRM
Social media network ads targeting options
A. Facebook
Facebook provides a feature for behavioral targeting in the Facebook Ads Manager. The options include targeting users by:
a. Demographics
b. Behaviors
c. Interests
d. Categories.
With behavioral targeting, you can select different parameters to target your audiences, such as anniversary, consumer classification, digital activities, and mobile device user as shown below.
Facebook also allows you to create Custom Audiences from your CRMs, website visitors, app and email subscribers, customers from your offline store, etc. You can upload the list of these customers to Facebook and create ads that will target them directly. The Facebook Custom Audience tool helps marketers to create users' re-engagement/exclusion in order to target the right contact with the right content and to not waste money on the wrong audience. Here is a step-by-step guide to Facebook Custom Audiences.
You can use a third-party tool such as LeadsBridge to create a Facebook Custom Audience and sync with your Facebook account. With this, you can create custom audiences from your list. This connection also helps you to keep your list updated automatically as LeadsBridge refreshes every 6 hours.
Below are some Facebook Custom Audiences integrations.
a. Facebook Custom Audiences integrations with HubSpot
b. Facebook Custom Audiences integrations with Salesforce
c. Facebook Custom Audiences integrations with Zoho CRM.
B. LinkedIn Matched Audiences
LinkedIn has a behavioral targeting feature known as LinkedIn Matched Audiences. With this tool, you can combine LinkedIn's data with first-party data to reach your audience on LinkedIn. This makes it easy to retarget website visitors, upload the email list of companies and integrate your CRM tool with the platform.
Source: Modernmarketingpartners
With this, you can retarget website visitors, promote your product and services to contacts on your CRM database and other marketing automation tools. Through LeadsBridge, you can integrate LinkedIn Matched Audiences with your CRM and other popular tools you use. Here are some popular integrations.
a. LinkedIn Matched Audiences integration with Salesforce
b. LinkedIn Matched Audiences integration with FreshSales
c. LinkedIn Matched Audiences integration with Click send
Here is a link to a detailed post on LinkedIn Matched Audiences.
C. Google Customer Match
Google also has a behavioral targeting tool for its Google ads known as the Google Customer Match. It allows users to use online and offline data to target customers on the search network, shopping, Gmail, YouTube, and the Display network. The Google Customer Match uses data collected from users on different platforms to show ads to similar customers. Here is a detailed post on Google Customer Match.
Google Customer Match integrates through LeadsBridge with other popular software to make it easy to pull data from your CRMs and autoresponders. Below are some integrations.
a. Google Customer Match integration with GetResponse
b. Google Customer Match integration with Infusionsoft by Keap
c. Google Customer Match integration with Zoho CRM
D. Social listening tools
Social listening tools such as Brandmention, Agorapulse, and Hootsuite help you learn more about your audience. It shows you the topics they follow, the brands they engage with, and where they spend their time online. With this information, you will know their interests and behaviors. This will help you create the type of content they will love and engage with and the marketing messages they will love and act on.
Behavioral targeting examples (Companies that use behavioral targeting)
1. Amazon
When it comes to using behavioral targeting, Amazon is top-notch. Research by McKinsey revealed that more than a third of Amazon's revenue comes from its recommendation engine. That is huge! Find some examples below.
Related to items you've viewed
There is a section called "related to items you've viewed". It shows items related to the ones you have viewed in the past.
Items inspired by shopping trends
It showed items inspired by shopping trends.
Browsing History
It shows the browsing history.
Frequently bought together
These are items that people have bought together in the past.
2. Netflix
Netflix uses behavioral targeting in its algorithm. This helps them to analyze and understand users' preferences. Examples include the genres the users watch and the ones they don't like. This data helps them to match users' with the content they preferred to watch to keep them longer on the platform. Netflix also recommends movies by getting into their users' minds. This resulted in Netflix's 214 million paid subscribers worldwide.
Source: Techcrunch
Their strategy on local content development and creative data applications has given them massive subscribers nationwide.
3. TED Talks
TED uses customers' data to create customized and personalized content they love. On their website, they provided different categories of interest and ask their visitors to choose the one they want.
Users will receive personalized talk recommendations on the platform and in their email inboxes. For instance, when I clicked on "business", it took me to another screen where I can narrow down my options as shown below.
Then, it provides recommendations for me right on the website.
Source: TED
4. Airbnb
Airbnb also uses behavioral targeting to retarget its customers. For example, they use booking confirmation emails to recommend what to do in the area the customer wants to travel to.
5. Neutrogena
Neutrogena is a popular beauty brand. They used their customer's shopping cart behavior to increase conversions. They discovered that 75% of customers purchased products from one segment of its range, so they used the customers' buying patterns and shopping cart data to create different product pairings to increase sales.
Source: Digitaltrainingacademy
They created banners, adverts, and videos showing the product pairing, information, and offering coupons to increase sales. They displayed the ads to customers according to their past purchasing histories. The result? They got a 5.84 pounds return on ads spend (ROAS) went above their benchmark of 289%.
Behavioral marketing challenges
As good as behavioral targeting sounds, there are challenges you will face why implementing the strategy. One challenge is the GDPR and CCPA compliance. So, the question is:
Is behavioral targeting in compliance with GDPR and CCPA?
Yes, you have to know where and when to ask for consent. People don't like companies intruding on their privacy by collecting their data. Although companies promise to keep customers' data safe. This is where you need to comply with the CCPA and GDPR policies.
To comply with GDPR, you need to get consent from users and provide a way for them to opt-out whenever they want. This is only impacting the EU users.
Behavioral marketing strategies
1. Use retargeting ads to bring back lost customers
Retargeting is an effective strategy that can help you bring back prospects to your website. Do you know retargeted customers are three times more likely to click on your ad than people who haven't interacted with your business before? This is why 68% of digital marketing agencies are shifting a larger portion of their budgets to retargeting.
Source: Financesonline
The best platforms to use for retargeting are Facebook, Google, and LinkedIn. Here are detailed posts on retargeting.
a. Everything to know about remarketing to make more sales
b. LinkedIn Matched Audience for your retargeting campaigns
c. Google Ads remarketing Tutorial
2. Use marketing automation & Integrations
Marketing automation is one of the best ways to execute behavioral targeting. After collecting your data and analyzing them, and creating content or ads to target them, you need marketing automation tools to help you customize your message for every individual. Marketing automation makes it easy to collect data on how customers move through your sales journey on your website, app, and landing pages.
Marketing automation is a great way to create and store your content. A-B test campaigns for the different target audiences in order to know what works and why it works. This is why 75% of marketers worldwide are using at least one marketing automation tool.
LeadsBridge offers a suite of integrations for your marketing automation tools. Check them out here.
3. Use reward systems
A survey report revealed that 61% of customers are hoping that you interact with them more through reward systems. This implies that giving your customers rewards on a regular basis will increase your bottom line tremendously. A good example of this is Starbucks.
Starbucks is the king of the reward system. They have the best loyalty programs with loyal fans. As of October 2020, the Starbucks rewards program generated 19.3 million members and nearly 50% of their revenue.
Starbucks uses its customers' data to keep them engaged on the mobile app. They created a reward system that allows users to customize and order drinks through the apps. They used users' purchase history and location to personalize the message. This brought huge sales of about 2.56 million dollars and the app also generated 6 million sales per month.
Below are some notable Starbucks reward systems:
Source: Bustle
4. Use behavioral email marketing campaigns
Email marketing is still one of the best marketing strategies that deliver the best ROI. For starters, email marketing produces an average ROI of $42 for every dollar spend.
Source: Oberlo
Email marketing, combined with behavioral marketing, increases the conversion rates even more. A good example is Birchbox.
They leverage customers' purchase history in sending recommendation emails. Find an example below.
Source: HubSpot
As seen from the email, they use customer data to create tailored messages. These types of messages breed customer loyalty and in turns increase sales.
Conclusion
Behavioral Marketing is one of the best marketing optimization techniques that work effectively for generating quality leads and converting them to sales. The ability to personalize customers' experience on your website and social media channels through behavioral targeting will help you get to know your customers well and also create content, products, and services that will be relevant to them. This will increase your ROI.
However, doing it manually without the use of tools can be hard and costly. That is why you need to integrate your marketing tools together through LeadsBridge.
Thanks to the behavioral data, you can understand the intent and the step of the funnel where the prospect/customer is. By using behavioral marketing, you can move the prospect/customer to the next step of the funnel. Thanks to automation and the right tool, everything can be easier and quicker.
Discover LeadsBridge's integrations for marketing automation.