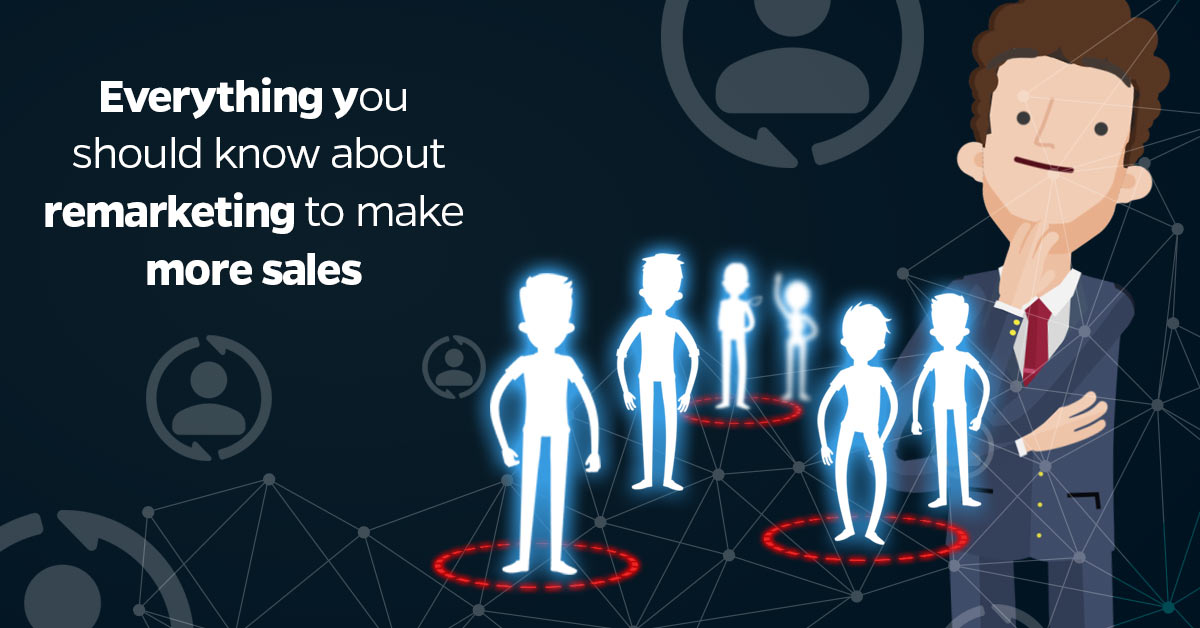 Remarketing can be an excellent way to boost your lead generation efforts and get more conversions. Knowing what is remarketing and how it can help your business is important. The thing is, it is not everyone that comes into contact with your business that will buy from you. A study revealed that only 2-4% of site visits result in transactions. Therefore, you need a strategy to show your customers your products repeatedly, until they probably take action.  This is where remarketing comes in.
In this article, you will learn about what is remarketing, the benefits of remarketing, Google remarketing, Facebook remarketing and CRM /list based remarketing.
Let's get started.
What is remarketing?
Remarketing is a broad term that entails promoting your products to prospective customers several times. It works both online and offline.
For example, you reach back your website visitors with relevant ads repeatedly. This means that remargeting can be done online (in this case, it's generally called Retargeting). Online remarketing involves adding a script to your webpages and whenever a visitor browses but takes none action; the cookie follows them to show ads to them so they can convert.
However – as said – remarketing can be done both online and offline.  In fact, you can remarket through billboards, phones, emails, and social media networks.
But is remarketing beneficial to your business?
Yes, it is. Look at the benefits below.
What is remarketing:  Benefits of remarketing
Remarketing helps to better profile your audience: With remarketing, you can develop your audience persona based on who visits your websites and the actions they take. This can be the pages they visit, what they read and click. You can use this information to tailor your marketing campaigns specifically to them. This will increase your return on investment greatly.
Remarketing increases your ROI: Remarketing helps you to market your product to your audience based on their interest. This makes it easy to show relevant ads to them and drive them through the sales funnel until they are ready to make purchases. The audience that is remarketed has a greater percentage of converting to sales. According to Wordstream, remargeting ads are 76% more likely to be clicked on than a regular old display ad. It can increase conversions by 51%.
Remarketing broadens your reach: With remarketing, you can reach out to more potential customers. For instance, if you use Google remarketing, the display network has 2 million websites and apps. With Facebook remarketing also, you are reaching many potential customers. So, remarketing increases your reach.
Remarketing keeps your brand in your users' thoughts: The thing is, it is easy to forget brands, especially when there are so many of them on the internet. But with Google remarketing and Facebook remarketing, you can keep your brand in your users' thoughts as they will continue to see your ads wherever they go until they interact with it.
Remarketing reduces your advertising cost: Remarketing ads are cost-effective. It doesn't cost an arm and a leg to reach your target audience. You only pay if the user clicks on your ad and it is cheaper than other search network ad on AdWords.
There are three major ways you can remarket your audience – they are Google remarketing, Facebook remarketing and CRM/list based remarketing.
Common Remarketing strategies
1 – Online Remarketing with Google:
Google remarketing also known as Google display network remarketing helps you to show specific ads to users who have been to your website. They will be shown your ads as they browse the internet, watch videos on YouTube and read news on websites. The Google display network is massive. It reaches about 90% of people on the internet, and you can reach 9 out of 10 of the customers using Google remarketing.
Google remarketing works by adding a piece of Google remarketing code to your website. When a visitor comes to your website, the browser cookies add them to your remarketing audience. You can add the code to different pages of your website.  Below is an example of a Google remarketing ad from Handy – a cleaning agency.

2 – Online remarketing with Facebook:
Facebook remarketing is also similar to Google remarketing. It allows you to create remargeting ads to target your website visitors. It works by placing the Facebook pixel on your website. When a visitor comes to your website, it adds them to your remargeting list. You can then target them with relevant ads on Facebook. The ads will show up in their news feed as they browse.
Facebook remarketing gives you different targeting options, such as targeting the visitors who visited a specific page.  Drilling down into super targeting will help to show your ads to people that are likely to convert.
Facebook remarketing is also cheap.Below is an example of a Facebook remarketing ad from Expedia.

3 – CRM/List based remarketing
The third way you can remarket your audience is through your email list. It works by uploading your customer's or prospect's email addresses to your preferred remargeting platform such as Facebook. Then, you create ad campaigns to target it at your email subscribers. Then, the Facebook remarketing platform will show the ads to users whose email addresses you uploaded.
Uploading the email list manually is clunky and time-consuming. But there is a software (Custom Audience Sync by LeadsBridge) you can use to Sync your CRM with Facebook so you can automatically upload your customer list audiences to Facebook. The tool also helps to keep your CRM list updated as customers subscribe and unsubscribe. This gives you an automated funnel with Facebook and email.
Now, with this automated list, you can automate your remarketing campaign. Don't know how? Check it out here.
The followings are information you can leverage to make more sales using your website or CRM data:
1 – Products bought
The first data you can use to remarket your CRM list is the products bought data. A customer that buys once from you is likely to buy again. Research carried out by Smile revealed that after a customer makes purchases for the first time, there is a 27% chance of them returning back to buy again. If they buy the second time, the likelihood can be as high as 45% and 54% for the third time. Also, according to statistics, only 8% of customers are repeat customers, but they provide for 40% of ecommerce revenue.
You can use this data to create ads that will target complementary products.
For example, check out this ad from Best Buy.
The ad targets customers who have bought cell phones. They know that buyers will want to protect their phones after the purchase. The product advertised, OtterBox is a protective case for phones.
This is another example from GoPro. The ad targets old customers who have an old version of their product – HERO4. They promised to give the new version – HERO5 in exchange for the old version plus a hundred dollars.

2 – Purchase behavior
The second data you can use to remarket your email list subscribers is through Facebook remarketing is their purchase behavior. For instance, if you sell subscription products (SaaS), and you offer a free trial. You can reach users who have tried your services before but did not upgrade to the next level. You could also show your ads to customers who have been on a lower plan for too long.
Find an example below from Sumo.
3 – Customer Lifetime Value
The customer lifetime value (CLV) is the amount your customer will spend on your product or service over a specific period of your business relationship with them. The question is, how is this useful for your Facebook remarketing? You can use this data to create ads to target them.
For example, a customer that buys a product from your online store every month has a higher lifetime value than one that buys twice a year.
EXTRA-TIP: you can also create lookalike audiences on the Facebook remarketing platform based on your best customers with high CLV, and create targeted ads to encourage similar people to become your clients.
4 – Interest in your product
One of the best data you can use to convert visitors to customers through Facebook remarketing or Google remarketing platform is by targeting prospects who already showed an interest in your product.  For example, you can target those who booked a call or a demo of your product but did not buy. You can create targeted ads showing them the same products but enticing them with discounts to bring them back to make purchases.
Conclusion
Now that you know what is remarking, let me suggest you our upcoming webinar on this topic where you'll learn how to drive strong business growth through audience based marketing campaign. Enroll to the webinar here!   Are you using the Google remarketing, Facebook remarketing or CRM/list based remarketing to target your prospects and customers? Share your results with us in the comment section.