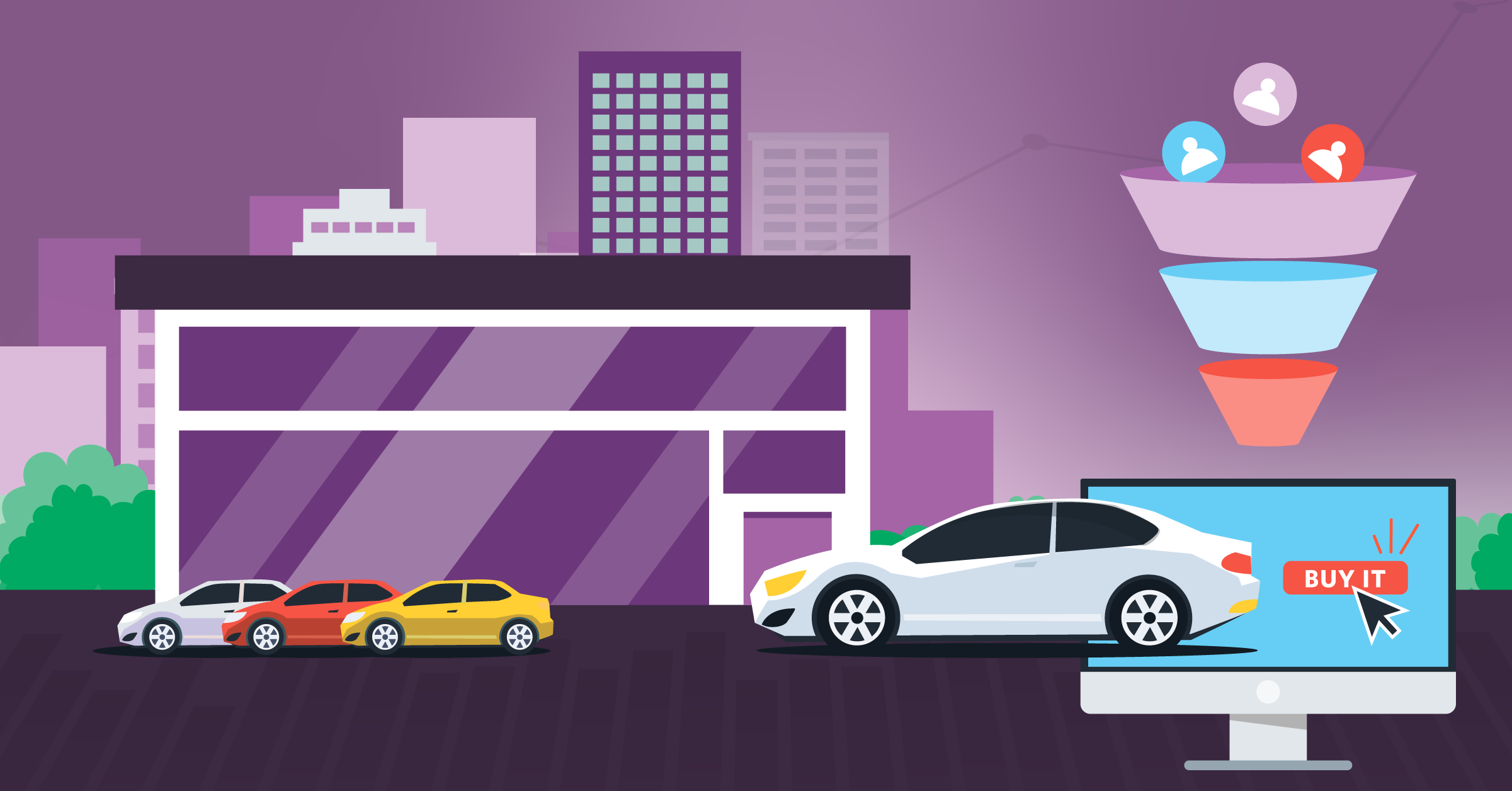 Car dealerships and salespeople have their hands full on a daily basis, with leads constantly coming and going.
Automotive lead management is a crucial part of their jobs, as they need to constantly balance lead nurturing in order to get interested customers into the cars they're looking for.
Having the right tools and some helpful best practices in your back pocket can be invaluable, and this complete guide to auto lead management will give you some insight into both.
What is automotive lead management?
Automotive lead management (also sometimes called "auto dealer lead management" or "car dealer lead management") is the practice of tracking and nurturing all leads for a car dealership.
It's common for individual salespeople to track their own leads that they've interacted with, whether online or in-person for test-drives or during a car dealership event. Many dealerships will have a single automotive lead management software tool, and may automatically distribute new digital leads randomly to different team members, so everyone gets an equal number of potential clients.
Because car sales is a high-value, high-stakes profession, it's essential to have a strong automotive lead management system that your entire team knows how to use to their benefit.
The distinct challenges of automotive lead management
Car dealerships have some unique challenges when it comes to lead management and nurturing, and it's important to consider each when tackling your lead management system.
These challenges include the following:
Many potential buyers will actively reach out to multiple different dealerships during their buying process. I reached out to four different Honda dealerships when I purchased my first car to see who was willing to give me the best deal. This means you need to act quickly, build rapport and trust fast, and be ready to move as soon as the customer is.
Dealerships may struggle with inventory. That's particularly true right now, with COVID-related shortages from the supply chain issues causing low inventories for a large number of makes and models. It may be harder to drive sales when it's harder to get specific cars in stock in the first place. You must know your customers' wants, so that you can be aggressive once there's something on the lot.
Customers may only be purchasing once every five to ten years. I reluctantly traded in my first car after eight years because of the new safety features. Some people will trade cars in sooner, around the four-year mark, and others will drive them until the wheels fall off. Either way, you're looking at one sale over an extremely long period of time. It's harder to keep past customers as potential leads, so you need to find ways to create an ongoing relationship and drive referrals from past customers.
4 Tips to improve your automotive lead management & get more sales
Want to get the most out of your car dealer lead management system? We strongly recommend implementing the four following best practices so that you can generate more sales successfully.
1. Capture all lead information upon first contact
You don't want to wait for customers to come in for a second test-drive or to get in touch later for more information.
The second that you've got them, get their information right away. Many salespeople will do this when people come into the dealership before they even move on to test driving the car. Name, email, phone number, and qualifying information like plans for financing or which models are preferred can give you a ton to work with— and the ability to reach out later.
And for digital car dealerships with salespeople who are taking advantage of the lead generation coming in through online automotive marketing strategies, make sure that those lead forms are giving you the information that you need to work with. If not, ask qualifying questions right off the bat so you can get the data you need to best serve the customer.
2. Have a referral system in place
One of the best ways individual salespeople can generate more leads effectively is to get referrals from past satisfied customers.
I've referred three people to the salesperson who helped me with my first car, and they all purchased from him. I got $100 for each person who bought a car, and took each friend out to a nice dinner.
Make sure that your dealership has a referral system in place and that your sales team is reminding customers about it regularly. Everyone loves making some extra cash, and it's a win-win for everyone involved.
3. Follow up to ask about ongoing preferences
While some customers may stroll in, see a model they like, and walk out with it the same day, that's not the reality for most clients.
It takes an average of 89 days to complete the buying process. That's a long period of time, so you'll want to stay in touch to gauge a lead's interest in new deals or prices, different models coming onto the market, and new financing options.
Follow up regularly. Make sure you note in the lead management software whether the customer prefers email or phone (and find out when you first gather their info). This is crucial to keep the customer engaged and increase the odds that you'll be the one to get the sale.
4. Use a lead management system
The best way to manage your auto leads is really to use automotive lead management software.
This software is typically going to be a CRM-focused tool that works exceptionally well with (or even was designed for) car dealerships. You can enter information about what models the lead was looking for, such as what financing options they're open to.
We're going to take a look at the best options for this in the next section, but remember to take a look at a few and find one that will work for your dealership and your specific sales team.
The 5 best automotive lead management systems
When it comes to automotive lead management software, we've got five recommendations that come from three types of tools.
Automotive lead management CRM tools
First, you're going to want an automotive-friendly CRM. This allows you to track lead data like contact info and car preferences (and even notes like how many kids they have or if they love off-roading), and it makes it easy to see when you should follow up or where in the pipeline they are.
For these tools, we strongly recommend the following, each of which is fully functional CRMs tailor-made to help car dealerships track leads and drive sales:
VinSolutions
VinSolutions is one of the most popular automotive lead management systems on the market today.
This tool has outstanding features for data syncing, lead follow-up, pipeline tracking, and remarketing campaigns so that you can keep your audience engaged— and purchasing.
They've got great data visualization to help you understand how many customers are converting and where leads are in the sales process. They also have a feature designed to allow you to store sensitive user information in a secure way, like pictures of their driver's license or car insurance. 
LeadsBridge integrates with VinSolutions; see the documentation here.
Facebook Lead Ads integration with VinSolutions
JotForm integration with VinSolutions
Webhook integration with VinSolutions
elead
elead comes with marketing, sales and communication-focused features all in one tool. You can use it to optimize the customer journey, follow up thoroughly, and identify potential sales opportunities.
Facebook Lead Ads integration with elead
Google Ads lead form extensions integration with elead
elead's interface may look a tiny bit dated, but this tool has all the essential features many car dealerships need. You can schedule activities and assign them to yourself or different team members, including tasks like "phone follow-up." Take notes on every interaction, and track info like the vehicle the user wants and what they have to trade. You can add the entire sales team to a single lead, so everyone gets credit on the sale.
Check out all the available LeadsBridge's elead integrations, or see how it works here.
DealerSocket
DealerSocket is next on our list. If you want to automate any of your workflows, this is an automotive lead management system you might want to consider. It's got rave reviews, and it provides analyzed customer data to help you sell more.
Facebook Lead Ads integration with DealerSocket
Google Ads lead form extensions integration with DealerSocket
DealerSocket offers inventory management, CRM, marketing, and digital retail features for an all-in-one tool. You can actually configure the platform to be exactly what your dealership needs, while getting strong insights that will help you convert more leads. Data storing is exceptional and secure, and you can streamline workflows across your entire team.
And one more important feature to note: They offer data mining features to connect with high-quality leads. See more here:
See more about our DealerSocket integration and how it works.
Want to know more? Discover our top 13 CRM solutions for your automotive business here.
ADF/XML Integrations
Next, you're going to want to have an integration set up with your CRM or tool of choice to sync with the ADF/XML. This is the industry standard for sharing lead information for auto-dealers, allowing you to sync data across multiple tools.
Here at LeadsBridge, we offer integrations for ADF/XML and other tools of your choice. See how it works here.
Facebook Lead Ads integration with ADF/XML
Webhook integration with ADF/XML
Google Ads lead form extensions integration with ADF/XML
Automation-focused integration software
And finally, we strongly recommend that all auto dealerships use automation-focused integration software for their lead management system. Here at LeadsBridge, we offer integrations for most major auto dealer tools, including everything we've discussed so far in this post.
No matter which tools you choose, LeadsBridge can help. We'll sync new lead data to your CRM right away, so a lead is never missed, and keep your data updated across multiple tools (including your email and remarketing platforms).
Take a look at our automotive integrations.
Final thoughts
Automotive lead management can be complex and challenging, but having the right tools and strategies in place can go a long way. The tips discussed above can go a long way, and the automotive lead management software reviewed can be a game-changer for your dealership.
Want to learn more about how LeadsBridge can help you get the most out of your automotive lead management software? Check out our automotive solutions here.