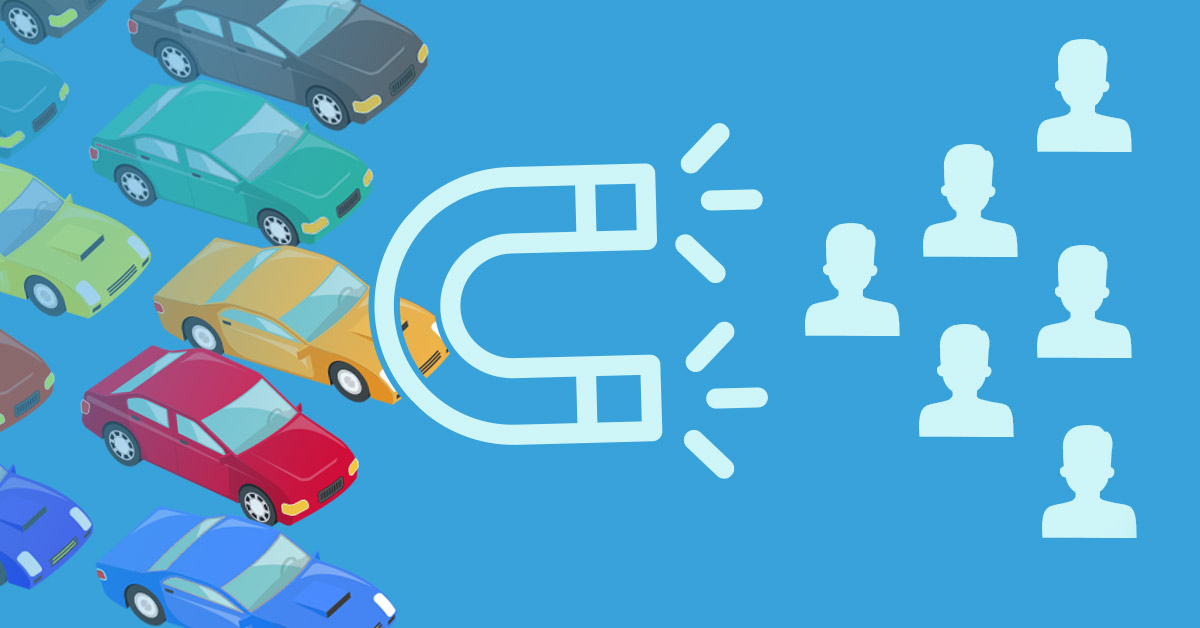 The automotive industry is unique compared to most others. When you look at standards for customer journeys and even customer engagement, the data from other industries typically don't apply here.
Unlike most B2C purchases, more research is typically involved, more steps are taken, and the customer journey is longer. 
In this post, we're going to walk you through the automotive customer journey map to car purchase and how to increase lead generation and conversions for your dealership. 
Why the Automotive Customer Engagement & The Automotive Customer Lifecycle Are Unique 
Car buying behavior is not going to be consistent even with other "major" purchases, like a new oven or television. This is a high-value, high-cost purchase that often requires financing, and in some cases will ideally last someone 10-20 years.
There are different audience segments, which can impact the automotive customer lifecycle and buying behavior, too. 
Some customers, for example, care about status, style, or prestige; they may be likely to trade in their car every few years to get the latest model. Others prioritize reliability and safety, and may only want to upgrade once extensive new safety features have been launched.
Understanding your target market is important, as these customers are about to drop tens of thousands of dollars with the salesperson who is able to convince them that they have what's needed. Research is important (though not always quite as much as you'd think, which we'll discuss in a minute), and understanding what your audience needs and following up at the right time are key.
The Automotive Customer Journey: What We Know 
The automotive customer journey aligns with the standard digital sales funnel, which includes the following steps: 
Awareness, when a customer first discovers your brand

Research, where they are considering buying options 

Consideration, when they are actively considering purchasing 

Purchase, where they cross the i's and dot the t's 

Loyalty, where they may refer other customers to you and purchase again in the future 
Let's take a look at what we know about each stage of the customer journey to car purchase and automotive customer engagement. 
1.   Awareness 
The awareness and research stages are sometimes fused in car buying behavior, especially if the lead comes across your dealership only once they're actively looking for options near them.
A simple strategy is to Google Ads to target audiences who are actively researching car sales to generate awareness. You can do this for search ads by clicking on "Audiences" when creating your ad, and then choosing to target users who are actively researching or in the market to buy a car.
You can also collect reviews on your dealership's Google My Business page, as this can help you earn trust and it gives you a rise in search visibility, too.
2. Research 
When customers are thinking about buying a new car, some start researching options as far as a year in advance. This isn't typical, however; around two-thirds of customers spend less than three months and a total of ten hours researching. You need to strike while that iron is hot. 
Keep in mind that all customers are different. Some may only consider a newer model of what they already have, while others will read reviews of different makes and models extensively. If this is the case, they'll often use sites like Edmunds or Kelley Blue Book to assess factors like safety, resell value, mileage, and more. 
To accommodate potential customers at this stage of the automotive customer lifecycle, it's crucial to have plenty of information on your site. You want to be as transparent as possible about features and pricing, and encourage people to get in touch for a free, no-obligation call. 
Most people research online before walking into a dealership, even if you have an event going on; make sure that your online funnel and lead generation practices are ready. Have a CTA button on all product pages to encourage users to get in touch. 
3. Consideration 
As soon as a lead signs up for more information, you want to get in touch and stay in touch with them. The first salesperson who does may very well be the one who gets the sale.
This is where lead syncing tools are essential for dealerships. LeadBridge has automotive solutions included with our lead syncing tool, which synthesize your leads from multiple platforms (including Facebook Ads, Google Ads, LinkedIn Ads, and third-party automotive platforms) with your CRM and email software.
Your sales team will immediately see new leads and be able to contact them right away, making this an essential customer lifecycle management tool. Try to get them in for a test drive as soon as possible so someone else doesn't beat you to it. 
Test driving is an important part of the customer journey to a car purchase, with 70% of customers saying it's a crucial part of their decision. Some customers may need to test drive a single car multiple times to feel confident in their decision. 
 People will visit 2.3 dealerships on average, and it may even include multiple dealerships of a single car marker in an attempt to score the best deal. 
Once automotive customers are at this stage of the car-buying journey, it's important to follow up frequently. You'll want to discuss pricing and promotions, and try to get them back in or pre-qualified with financing.
4. Purchase 
Follow up consistently leading up to the purchase, using a CRM and a customer lifecycle management tool like LeadsBridge that will keep all of your data up-to-date in real-time across multiple platforms. 
We'll help you get in touch with your lead, use remarketing to remind them you're there and automate email campaigns to stay at the forefront of their mind through email. You can offer leads updated deals and new bonuses that come with purchasing. 
During this stage, offer to get some of the paperwork done in advance so that it's all ready to sign when the customer comes in; many don't like waiting hours at the dealership to make a purchase, so doing what you can to make the process go quickly is best. 
5. Loyalty 
Even once the customer has signed the paperwork, completed their journey to a car purchase, and driven off the lot, the automotive customer lifecycle isn't actually over.
While the frequency of purchase in the auto industry is much lower than many others, plenty of customers will come back to purchase another car from the same salesperson and dealership years later. They'll also refer others to you if happy, so customer satisfaction in the automotive industry is crucial long-term. 
Send email marketing campaigns to past customers with high customer satisfaction survey ratings, reminding them of referral programs that you have. 
You can also use remarketing campaigns through LeadsBridge several years after their purchase, or to alert customers of models with major new additions like a significant mileage decrease or enhanced safety features. Dynamic ads can be used to show customers cars that they'd be most likely to purchase based on their history. 
You worked hard for the first sale; use the momentum of automotive customer engagement and the right tools to stay in touch for additional sales down the line, too. 
Final Thoughts 
Car dealerships need to be actively focused on lead capturing, generation, and nurturing. So much research happens online that people are more likely to check out your site than come strolling right into a dealership right off the bat. If you don't have lead generation efforts set up, your competition will likely capture the lead instead.
Interested in learning more about how LeadsBridge can help your dealership nurture, track, and convert leads? Check out our automotive solutions for leads.