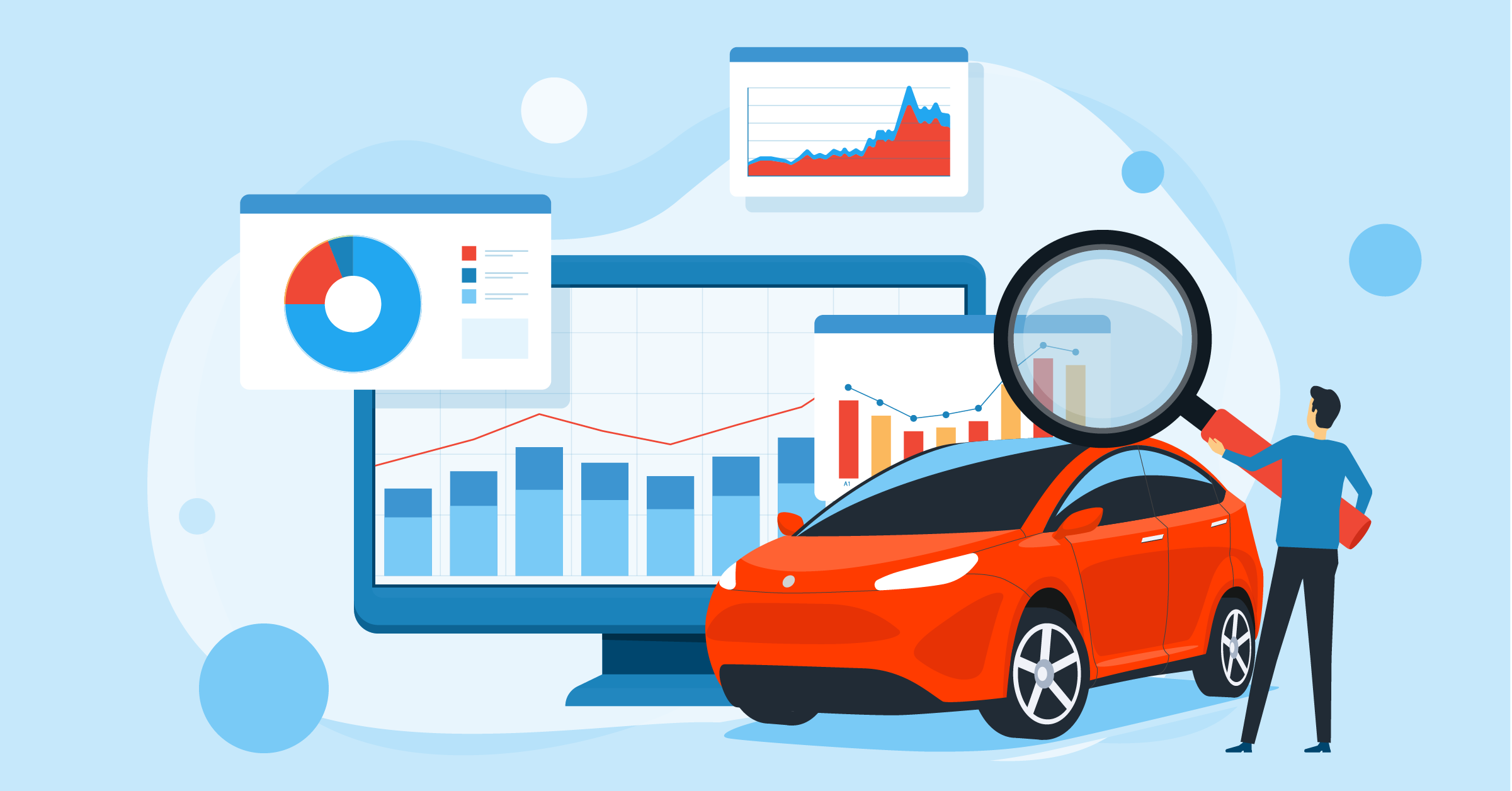 The automotive industry is highly competitive, which makes marketing in this area a high-stakes, challenging operation. Advertising strategies that would have driven results in the past, do not have the same effect today, as the digital landscape is constantly changing.
Consumers are more away than ever of their wants and needs, as they have more options at their disposal. Therefore, you may be asking yourself "How do I ensure my automotive marketing is effective in standing out from the crowd and boosting lead generation for my business?"
You must keep in mind that you are advertising to customers who purchase relatively infrequently, who research more, and who are making high-cost purchases. This means that it is essential to have the right strategies in place in order to help your dealership compete.
Throughout this article, you will discover the top five automotive marketing strategies that dealerships and car salespeople can use to thrive in 2023, as well as a number of integrations that you can easily implement to skyrocket your results.
What is automotive marketing automation?
Marketing automation helps businesses within the automotive industry to streamline, automate and carry out their marketing workflows. From the initial piquing of interest, through to an entire nurturing campaign and landing at a final purchase, automation facilitates a simplified, frictionless experience for both automotive business and customers.
Automotive marketing automation works by using a single platform to monitor all digital engagement with your automotive business, from social channels and website visits to form submissions and email opens. Using this system affords you access to valuable insights into custom behaviors and knowledge of how users interact with your online presence.
This insight can then be used to curate informed strategies and advertising campaigns, targeted toward specific audiences on certain channels.
By setting triggered actions within your automation system, such as emails and feedback forms, based on a customer's position within the sales funnel and behaviors, your business can maintain a steady stream of communication with leads and continue to offer value at the right time, every time.
Top 5 automotive marketing strategies to implement in 2023
Now that we have established what automation marketing entails and the associated benefits for your business, let's take a look at the top five marketing strategies that automation businesses should implement in 2023.
1. Engage existing customers
Tapping into your existing and past client base is one of the most effective car dealer marketing strategies that you can implement. Oftentimes, businesses can become consumed with generating ideas to acquire new customers, when in actual fact there are sales opportunities existing and waiting to be acted upon within their current customer pool.
Retargeting to those who have made a purchase in the past, shown interest in your products or simply engaged with you on a social platform can be worthwhile, as you may be surprised at how a customer's purchase intent has developed.
Aside from standard upgrades and new model offers, you can offer maintenance promotions or refueling packages as a method to draw eyes back to your business.
These smaller purchasing actions help to build relationships with clients, keeping you at the forefront of their mind when it comes time to commit to a larger purchase.
2. Use referral marketing
If not already, referral marketing should be an integral part of your automotive marketing strategy.
When entering a car dealership, the majority of people are operating from a place of skepticism. Consumers are aware that salespeople often want to keep cars at a higher price point, because this gives way to higher commissions. Therefore, establishing trust and good faith in your dealership is a primary objective.
When a peer that you know and trust recommends a dealership that they have dealt with, naturally, you become more willing to participate in a purchasing conversation. This means you're more likely to convert.
Incentivizing referrals can also be a lucrative way to generate leads. You can do this by establishing official programs set up for cash rewards, meaning that if someone refers a new customer, they each get $100 when a purchase occurs.
3. Maximize Google Ads' features
Google Ads is an outstanding platform for outreach-focused automotive marketing strategies.
Search ads are deeply impactful and can help gain exceptional visibility for searches related to the cars that you sell. You can target keywords like a specific make, model, and/or year to capture high-intent users who are searching for cars that you sell. Automotive ads can significantly help you to attract customers who are in the research process.
You can also use display ads to show cars to users who have recently visited your site, requested information, or come in for a test drive and show them the specific model they have demonstrated interest in.
If you want to appeal to customers who have not yet gotten in touch, but who are actively researching a purchase, Google's display targeting allows you to target these customers. In doing this, you can be as specific as you like, targeting searches such as "eco-friendly cars" or "midsize cars."
4. Consider automation for lead nurturing
Lead nurturing is a non-negotiable aspect of achieving conversions. The reality is that even if your dealership has a substantially influx of qualified leads, if they are not nurtured correctly they transform into sales opportunities for competitors.
Making automation a key player in your automotive marketing strategies should become a priority, as you can set every nurturing action to take place based on a triggered action. This may be a form submission, an ad click or a showroom booking. By doing so, you never miss an opportunity to connect with a lead using the right content, at the right time.
This means that when leads come through applications such as Facebook or Google, they will be pushed to your CRM. From this database, you can add these leads to custom audiences on multiple platforms and continuously re-engage them with social media ads.
LeadsBridge offers a variety of automation solutions that can be synced with your CRM of choice (including those specifically designed for the automotive industry), as well as integrations with additional third-party tools.
Take a look at a few of our most popular integrations;
Don't see a tool that you would like to use in our full list of automotive integrations? Don't worry! We can develop custom integrations to help automate exactly what your dealership needs.
5. Collect reviews
Reviews play an integral role in every business, so they should be featured within your automotive marketing strategies for 2023.
Online reviews of your dealership can help you in a number of ways, including the following;
You want reviews to showcase the unique quality of your dealership, along with the level of service and ease of experience.
Therefore, in order to encourage more customers to create a review, you can make it a common practice to reach out to users after they engage with your dealership to leave a review of that experience.
American Trucks, an aftermarket truck parts marketplace, is a great example of this. All products featured on their site include honest reviews, which allow customers to see how other users have fared with a specific part or component.
Tips for automotive digital marketing
As with any approach to generating leads online, there is a set of best practices that you are advised to follow when carrying out digital marketing for the automotive industry.
These are as follows;
Take SEO into consideration
Effective SEO is the foundation of any strong online presence. Establishing a usable search engine optimization strategy will allow your automotive business to create a solid online presence, whilst simultaneously improving your search engine ranking, making you more discoverable to prospective customers.
These are the top three components of great SEO that you should consider first;
Keywords – Put simply, these are the terms that help users find your business on search engines. You must develop an understanding of what people are searching for within the automotive industry in order to build a keyword strategy and drive traffic. Once you have done this, you can use Google AdWords Keyword Tool to research the competition for that keyword.
Meta tags – this refers to the title and description of a page that appears in the search engine results page. These play an important role in good SEO as Google looks toward your meta title as an indicator of keyword relevance. Both your meta title and description should contain your chosen keyword and remain within the respective character limits (55 max. for titles and 155 max. for descriptions)
Content – In regard to on-page SEO, it is safe to say that quality content holds weight. Aside from offering more value to the user, producing quality content is one the best ways to rank for a keyword on search engines. This includes the length of your text. On average, it is best to aim for at least 500 words, with the longer the content, the better. However, it is important to uphold the quality of the content throughout in order to hold a lead attention.
Feature customer testimonials
A clever way to establish trust amongst prospects and begin to form customer relationships with longevity is to share past successes in the form of testimonials. This can be done by sharing interview-style video content of a customer who has recently made a purchase, or simply sharing a positive review on your social media channels.
Lean into multi-channel
Taking a rounded, thorough approach to your automotive digital marketing by implementing a multi-channel strategy will afford your business the opportunity to deliver consistent messages to leads wherever they hold a presence online. This means that you can expand your brand awareness whilst simultaneously ensuring that you are not neglecting any opportunities to capture lead interest.
If your automotive marketing strategies typically reply on the use of traditional channels, such as newspapers or radio, a multi-channel strategy online will allow you to diversify your advertising.
Tips for social media marketing for the automotive industry
Social media is a powerful tool that can expose your automotive business to a whole host of added benefits, including greater engagement, acquisition of a larger online following on channels like Instagram.
Here are three social media marketing automotive industry best practices to take into consideration;
Harness the power of video
Video content is one of the best ways to capture user intrigue, giving you a greater opportunity to showcase your brand and offering in a diverse capacity. Video content allows you to highlight your business in a way that cannot be achieved with images.
Additionally, video content gives way to huge creative opportunities. For this industry, you may consider publishing product demo videos, car care tips, event reels, model comparisons or behind the scenes content.
Use social advertising objectives
Social media has become one of the most popular, cost-effective ways to generate leads and build a database. Therefore, it would be wise to take advantage of the opportunity provided by the likes of Facebook and TikTok within your automotive marketing strategies.
As two of most widely used social platforms, Facebook Lead Ads and TikTok Lead Generation provide an ad objective that displays an instant form to users anytime they click on your ad. Using information within the lead's profile, this form is pre-populated with relevant information and used to enter a prospect into your funnel.
The frictionless experience offered by an instant form is popular amongst leads, as they are not required to manually input their information. They must simply confirm their consent and submit.
Run competitions and shareable promotions
The social media competition is a longstanding tactic that rarely fails to generate traction amongst users. With the vast majority of people today owning a vehicle, automotive businesses are in a unique position to draw significant attention by offering even the smallest promotion or competition, be it a car clean or tire change.
Running these types of events not only creates shareable content and boosts your online engagement, but it creates goodwill amongst existing customers and prospective ones, as they can see that your business is willing to give something back to your clientele.
The best automotive marketing automation tools
With so much choice available, decision fatigue can take a toll when attempting to choose the best automotive marketing automation tools to accelerate your dealership's activity.
To remedy this, we have chosen three solutions that you should begin to consider first. These are as follows;
VinSolutions
VinSolutions is an automotive industry-specific customer relationship management system. This cloud-based platform boasts a broad range of operational features that can enhance your lead targeting and nurturing practices. With its automated outreach solution and detailed reporting, your dealership can better identify sales opportunities and increase conversion rates.
VinSolutions provides access to fully customizable lead reports, meaning you can make highly informed decisions regarding both your management and marketing efforts using this automotive marketing software.

With tools including TargetPro and Connect Campaigns available in this CRM, VinSolutions enables your dealership to maximize the sales opportunities of every lead that enters the funnel. These marketing tactics can be fully automated, delivering a prompt nurturing strategy to every service user.
DealerSocket
DealerSocket is an automotive lead management system that helps to automate workflows whilst providing analyzed customer data designed to aid your business in driving more sales.
This automotive marketing automation tool provides inventory management features CRM capabilities and marketing and digital retail functions, all within a single tool. With refined data storing, you can configure the platform based on the exact needs of your dealership.
Additionally, DealerSocket offers a data-mining feature that solution that your dealership can use to generate new sales opportunities from within your existing database, as well as access high-priority leads and insights throughout your CRM to facilitate relevant, targeted communication.
elead
elead, an automotive CRM software solution, is used by over 9,000 dealerships worldwide to automate workflows and drive greater conversion rates.
This automotive marketing software enables businesses to organize, view and analyze lead data, tying user information to customer records and providing personalized follow-up processes that are tailored around a specific customer's needs.
elead's shopping intelligence features allows your dealership to track and analyze a lead's behaviors and patterns across websites and alternative applications, providing information to customers based on what platform they have a presence in order to encourage purchasing decisions.
This tool's multi-channel marketing solution helps to ensure that you are delivering the right message at the right time, every time.
How LeadsBridge can help
LeadsBridge is the first choice tool for automotive businesses' lead management strategies. This connection between your automotive CRM and advertising tools allows you to define your target audience more precisely, giving way to better-optimized campaigns.
By facilitating a seamless connection between your CRM and automotive integrations of your choice, LeadsBridge enables you to place greater focus on achieving objectives and driving conversions, whilst spending less time completing tedious tasks such as manual lead data transferral between platforms.
Take a look at 30 of our available integrations suitable for the automotive industry here.
Key takeaways
Having clearly-defined automotive marketing strategies is an essential part of attracting new buyers and returning customers alike to your dealership. Demand for vehicles is considerably high at present, which means it is crucial to have strong marketing strategies in place to attract clientele to your business
The above car dealership marketing strategies all focus heavily on relationships and trust-building. These are two factors that can go a long way in helping you to attract and retain clients with lifetime value.
Looking for new ways to make your current automotive marketing strategies more effective? Check out how LeadsBridge's automation can help with our automotive integrations here.