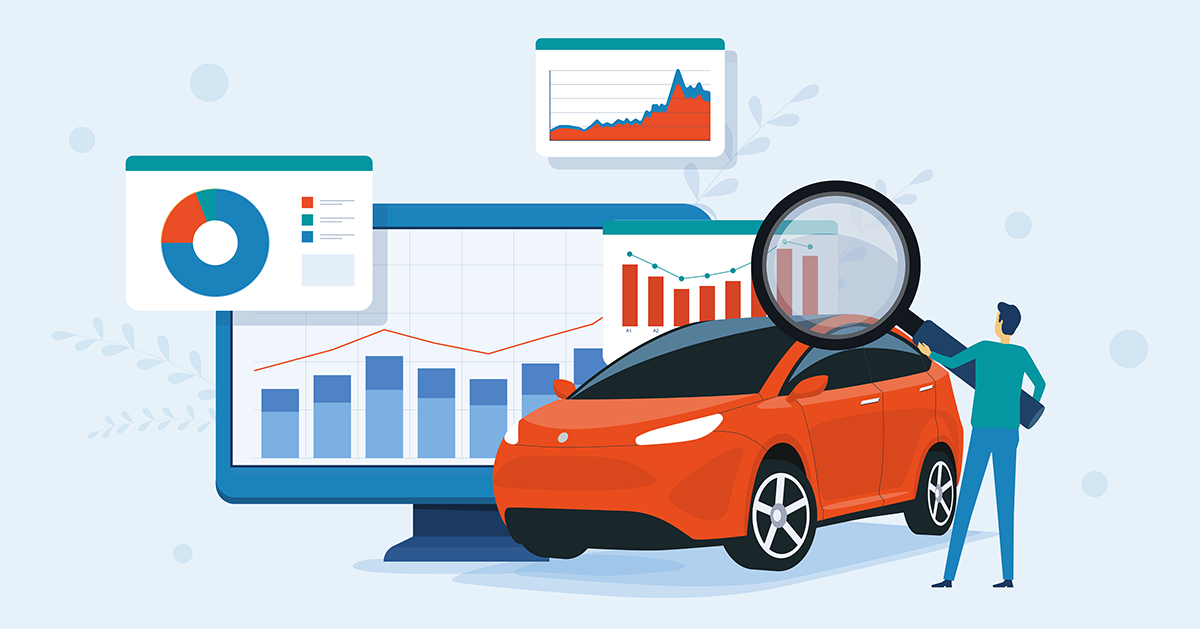 Automotive marketing can be particularly challenging. It's a high-stakes and highly competitive industry; consumers typically research carefully, often looking at prices and model information online from multiple dealerships before they make a purchase.
Because you're working with customers who purchase relatively infrequently, who research more, and who are making high-cost purchases, it's essential to have the right marketing strategies in order to help your dealership compete.
In this post, we're going to look at the top 5 automotive marketing strategies that dealerships and car salespeople can use to thrive in 2022. 
1. Always Reach Out to Your Existing Customers
This is one of the most effective car dealership marketing strategies out there: Tapping into your existing and past client base.
It's all about customer engagement.
My husband almost upgraded his car because someone reached out to him with a timely offer. Our friend did upgrade their car from a similar offer from the same dealership.
Even if you shoot an email or postcard offer to 50 people and you get 49 saying no, that's one person saying yes, which is a decent commission. You can also use tools like LeadsBridge to set up custom audiences and retarget based on your existing CRM records.
You can reach out with more than just standard upgrades or new model offers, too. These might be reminders to get maintenance or an invite to a dealership event.
I bought my first car eight years ago now. The same salesperson followed up every few years to make sure that the car was working okay and to offer to help set me up with maintenance appointments. They'd send automated messages (like you see below) but also personal ones to check-in.
I went back and purchased from him two months ago when it was finally time for me to get a new car. I'm the perfect example of why these marketing ideas for salesmen can be so effective.
Building a personal relationship means building trust. Trust combined with staying at the forefront of customers' minds means that they're most likely to reach out to you whenever the time is ready to purchase.
2. Use Referral Marketing
Referral marketing should be a priority, and it should be a core part of your car dealership marketing strategies.
Most people naturally distrust car salespeople when they walk into a dealership. They know that salespeople often want to keep cars at higher prices because it can mean higher commissions. Finding a salesperson that you trust, therefore, is often the goal.
When someone you know and trust tells you that they just bought from the best salesperson ever— knowledgeable, a straight-shooter, and patient— then you go in more open. This means you're more likely to convert.
After my experience with my salesperson, my parents both bought cars from him. Over the years, I sent two more friends his way who also purchased from him.
Incentivize referrals. Have official programs set up for cash rewards; if someone refers a new customer your way, they each get $100 when a purchase happens. Make sure that you offer to give the individual a few cards, and send an email after the purchase to ask for referrals.
When it comes to marketing ideas for car salesmen as individuals, this one is invaluable: You get some control in the marketing process and it can bring customers not only to your dealership but straight to you.
3. Use Google Ads' Suite of Features
Google Ads is an outstanding platform for outreach-focused automotive marketing strategies.
Search ads are deeply impactful and can help gain exceptional visibility for searches related to the cars that you sell. You can target keywords like a specific car make, model, and/or year to capture high-intent users who are searching for cars that you sell. Automotive ads can absolutely help you to attract customers who are in the research process.
You can also use Display ads to show cars to users who have recently visited your site, requested information, or come in for a test drive. Show them the specific model they're looking at. In terms of car dealership marketing strategies, this offers a lot of potentials.
If you want to try to appeal to customers who haven't gotten touch yet but who are actively researching a car purchase, that's an option, too. Google's Display targeting lets you target customers who are actively researching or planning specific buying decisions, including cars. This can get specific, like "eco-friendly cars" or "midsize cars."
4. Use Automation for Lead Nurturing
Lead generation and nurturing are everything, and the reality is that most dealerships have a solid chunk of leads coming in fairly frequently that they then have to qualify and reach out to.
Automation should be a priority here, to the point where it becomes an automotive marketing strategy for car dealerships.
If you're letting leads slip between the cracks, all that work you went through to acquire them is for nothing.
Automation tools like LeadsBridge will sync with your CRM of choice (including CRMs specializing in car dealerships) and integrate with other third-party tools.
When leads come through Facebook or Google, they'll be pushed to your CRM. When someone opens an email, your team can know. And you can add these engaged users to custom audiences on multiple platforms to continually re-engage them with social media ads.
Your team knows when new leads come in and they can act right away as needed. And LeadsBridge handles the rest. Since so many customers reach out to get quotes from multiple dealerships at once, this is crucial; you want to be the one that reaches out first to build that connection and set up the test drive.
These are a few of the tools we offer integrations with, all of which sync to different social media platforms, lead generation platforms, CRMs, sales forecasting software, analytics tools, and email marketing software:
Autoraptor integrations
Dealersocket integrations
DriveCentric integrations
Don't see tools here that you're using or want to use in our full list of automotive integrations? Don't worry— we can develop custom integrations to automate exactly what your dealership needs.
5. Collect As Many Reviews as Possible
Reviews are an essential part of automotive digital marketing, so they should play an important role in your automotive marketing strategy for 2022.
Online reviews about your dealership can help you in the following ways:
They can help you increase visibility in search on different platforms (including Google and on Facebook)
They build social proof and trust quickly
They help you stand out with your target audience
You want reviews talking about how great your dealership was, how non-slimy the salespeople were, how patient the finance team was to get you the best deal, and how great the repair shop is.
To get more reviews, take advantage of the following tactics:
Email users within several days after any appointment, purchase or car maintenance and ask them to leave a review
Have your sales team reach out to customers they have good relationships with, and ask for "a personal favor" to leave a review
Let users know that they can leave reviews on multiple platforms; this can help increase visibility no matter where users find you
And for marketing ideas for car salesmen, remember that you can ask users to mention you by name in the reviews. This not only brings people to the dealership but to the individual salesperson.
Final Thoughts
Having a clearly-defined automotive marketing strategy is an essential part of attracting new buyers and returning buyers alike to your dealership. Even right now, while the auto supply is relatively low and demand is considerably high, it's so crucial to have strong marketing strategies in place so that customers are coming to you instead of someone else.
The above car dealership marketing strategies all focus heavily on relationships and trust-building. That's intentional since these are two factors that can go a long way in helping you to attract and retain clients as a car dealership. Both your dealership's marketing department and your individual sales staff should be taking these strategies into account.
Looking for new ways to make your current automotive marketing strategies more effective? Check out how LeadsBridge's automation can help with our automotive integrations here.