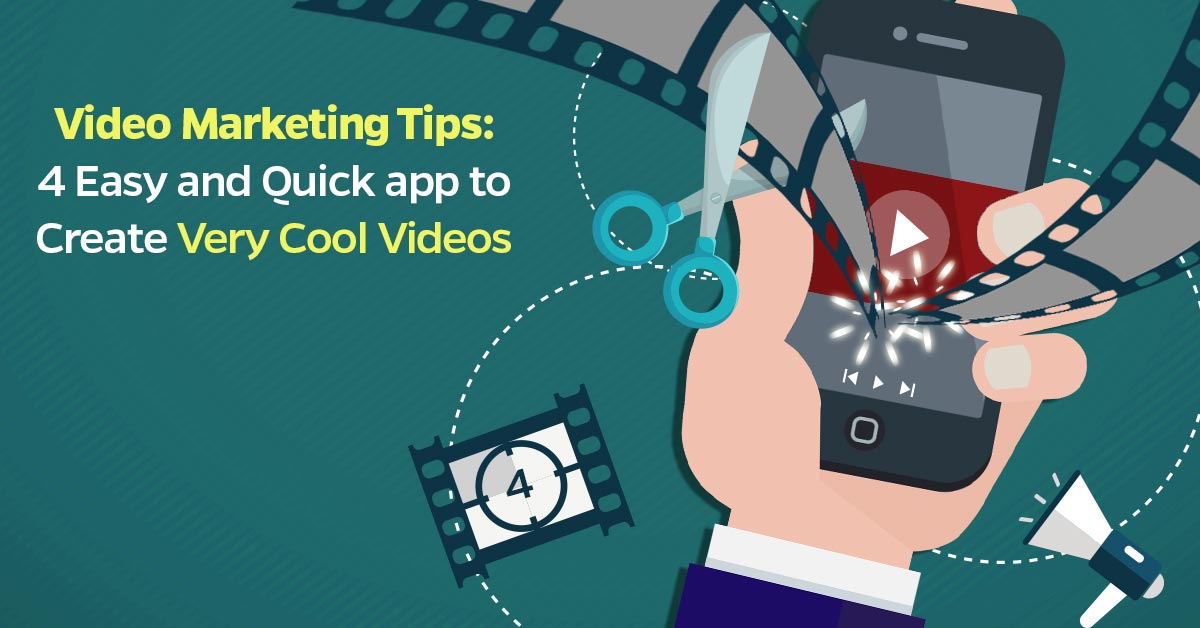 If you?re looking for the best video marketing tips, then we have a fantastic piece of advice. Make sure that you are using at least one video marketing app. With a video marketing app, you can make sure that it?s simple and fast to create videos that will generate interest, build up buzz and impress customers.
Video is a powerful tool for content marketing. With social videos you can create content that users can interact and connect with. But do you know one of the most important video marketing tips? When you create video they do need to look and feel professional. They need to be unique too and stand out with lots of cool ideas and attractive possibilities. Do this and you will build a solid reputation for your company online. So, what is the best video marketing app available today? Let?s look at a few of the possibilities.
FIlmoraGo
Filmora is already well known on the market for their high-quality video editing software. If you need some video marketing tips, then this company has plenty! So, it shouldn?t come as a shock to anyone that the video marketing app FilmoraGo is also of this same standard. Whether you want to add filters, trim a clip, create subtitles or speed up the content, this app will be able to do it for you. These are some of the basic features that this app allows you to do, but further than this you can also add music which will play in the background throughout the video.
Also it does not stamp a watermark or give you a time limit for your video clip. Your video can be shared with your friends on a range of different social media platforms such as Facebook, YouTube, Instagram and so many more. It?s easy to use which is one of the other big selling points of this app. It is quite literally a three-step process where you pick from your gallery, add your music, themes, filters and so on before saving to your gallery and sharing with your friends. Thanks to the simplicity presented in this video marketing app, anybody can use it! Video marketing tips often include making the video easy to follow, so ensure that you have done this.
This all in one video editor has so many features to choose from so you are never going to have an issue here. If you are not happy with how the color of your video has turned out, all you have to do it use the color adjustment tool to change the brightness, contrast and saturation. Or, if you want to do something cool, you can create a reverse video where the video you shot plays backwards. There are endless possibilities when you use FilmoraGo.
You will find this on the video marketing app on the app store for free, but it does have in-app purchases that you can buy should you wish to. You can get it for iOS and Android, and it beats a lot of other apps in the industry when it comes to video editing.
Adobe Premiere Clip
If you?re looking for another fantastic video marketing app, why not consider, Adobe Premiere Clip? This is a cool app from a big brand. You might have experience using the desktop version of this software. Well unlike the desktop version, the app has simple features and a user-friendly design to ensure that it?s quick to edit, create and share videos online. It?s perfect for marketing and one of the best video marketing tips is to make sure you don?t spend hours creating content. With this app, you won?t have to.
Once you begin using this app, you?ll find that there are two editing styles. The freeform editing, you?ll be able to select your video, ad sequences, complete manual editing and trim it down. Alternatively, you can think about using the automatic editing option. With the automatic option the app actually creates the clip for you! We told you it was simple and, once the clip has been created you can add extra options. For instance, you can change the pacing, the music and the order of the clips. This will help you fulfill another of the best video marketing tips – make it stand out!
Music is obviously going to be a top priority here. With music you can make a piece of video marketing more interesting and immersive for users. There are some great options here too. For instance, you can choose for the music to fade in or out when you are running the video. A smart volume option will also ensure that any audio constantly plays at the same volume. This helps you avoid any of the more obvious and indeed common technical difficulties.
Another big benefit that we think makes this a brilliant video marketing app is that it?s completely free. Another of the best video marketing tips is to keep your budget under control. You don?t want to spend a fortune creating and editing videos. With this app, that won?t be a concern and there?s no need to upgrade to a paid plan to get the full potential from this possibility.
Overvideo
This is the only app on the list that caters solely to iOS devices, so if you are an Android user, you might want to skip onto the next one. Don?t worry there are plenty of great video marketing tips that suit both Android and iOS.
While all the current social media platforms give you the option to add text to your video before you post it, it can be a pain to do this three different times. For example, if you want to post a video on Instagram, Facebook and Twitter, you are going to have to add the text separately. But, not with Overvideo because this video marketing app will allow you to add the text anywhere on the screen, decide how long it stays there for and allows you to save it so that it doesn?t disappear. This will save you from typing out the same thing numerous times.
Further than this, one of the great video marketing tips includes making the video your own by putting your unique style on it. Overvideo allows you to do this by letting you add music to the background of your video, and adjusting the opacity of the text, as well as the size and color. Offering you a range of stylish fonts, you can make the perfect video for any occasion. This app is free to download, but you can also purchase a paid version of this video marketing app which will allow you to edit your video a little more with features such as cropping, and clip trimming.
You can create a story from start to finish. Narrate it, put music over it, and make it completely your own. This is great because one of the best video marketing tips is to tell a story with your video, and this is what Overvideo allows you to do.
Quik
Designed by GoPro, Quik goes beyond the typical video marketing app. It?s designed to make sure that you can create videos ready for publication on social media in just a few minutes. Again, this matches one of the best video marketing tips – keep production times short. How easy is this app to use? Well, it will take just a few clicks on the app to add anything from images to music or even other videos to your content. This basically means that you could create an entire piece of content and get it ready for marketing in seconds.
Remember another of the best video marketing tips is to ensure that your content is unique. This video marketing app certainly provides you with a way to do that because it has features you won?t find anywhere else. That includes the option to auto-sync music – one way to create a cool video – and an automatic tool that selects the best moment. This is perfect when you want to draw attention to your vid online. If you?re not happy with the moments that the app has chosen, you can manually add your own.
Do you want another one of the great video marketing tips? Make sure that you create videos that are fun and friendly for max shares. Again, this video marketing app is key with the ability to add emojis. These fun little icons are still popular and will increase your shares.
This app is available for desktop, Android and iOS so it opens up a range of possibilities. Looking at great video marketing tips you?ll find that using all resources is always at the top of the list. Well, with Quik, you?ll be able to share on email and text too, still in a matter of minutes.
Conclusion
We hope this helps you if you?re searching for the best video marketing tips. Remember, it doesn?t matter how much skill you have or how creative your ideas area. If you don?t have the video marketing app to bring them to fruition, your company could still be ignored and completely forgotten online. With a video marketing app you have the power to take your video content to the next level and create some truly unforgettable, astounding concepts that generate shares, clicks and hits.
Watch our latest video on our?You Tube channel!