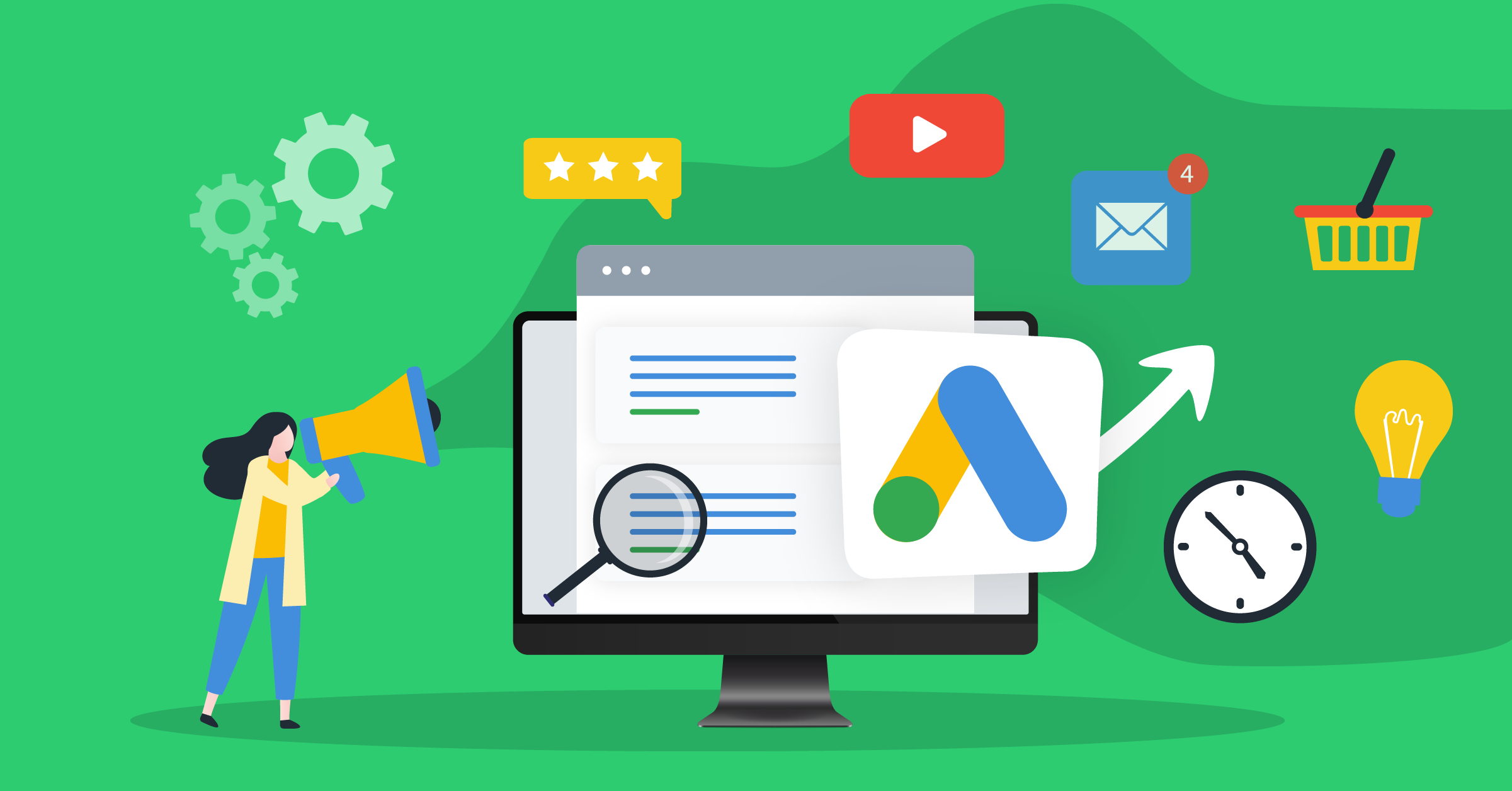 Keeping up with Google's ad changes can feel like a full-time job. It feels like every week there is a new update to get to grips with and the tactics that were successful two years ago aren't the same as today.
So how do you know you're using the most up-to-date methods? Here's a collection of best practices for 2023.
What is Google Ads?
Google Ads is an online advertising program that allows companies to pay to get their sites listed in the search results. You can set up and run online ads by choosing the keywords you want to target so that people searching those terms will see your website.
Running Google Ads is a great way to drive qualified traffic to your site and attract good-fit customers who are looking for exactly what you're selling without having to wait until you rank organically. In fact, you can start generating traffic immediately.
Google has a library of different ad types you can run, but these are the most popular:
Responsive search ads: Input multiple headlines and ad copy and let Google automatically test and choose the winning combination.
Dynamic search ads: Target searchers based on their unique search terms and serve the most relevant landing page (particularly good for ecommerce brands with multiple SKUs).
Display ads: Serve ads on relevant websites using eye-catching images and ad copy.
Video ads: Run an ad campaign on YouTube or on websites and apps that use Google video partners.
Shopping ads: Create product-focused ad campaigns that show up at the top of the search results.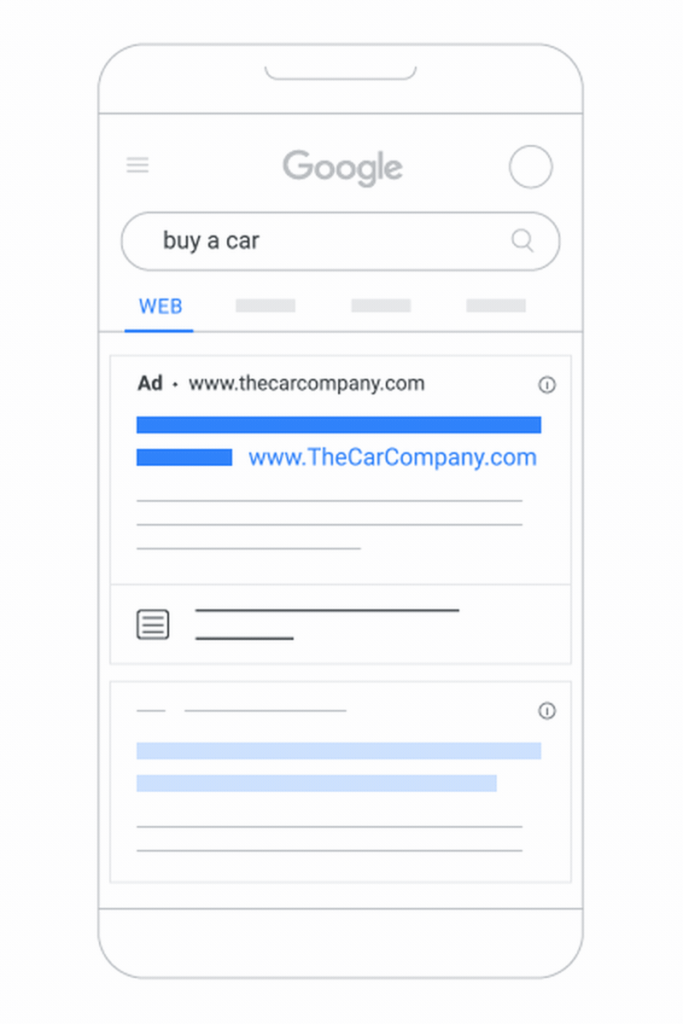 Here's a real-life list of Google Ad examples that work in 2023.
The best way to use Google PPC
Google PPC (or Google's pay-per-click) is an advertising solution where businesses bid on keywords relevant to their brand to show up in the SERPs—you only pay when someone clicks on an ad.
There are several ways you can benefit from PPC campaigns:
Target past website visitors, app users, or customers
Target people who are searching for your brand name
Target people who are similar matches to your existing segments
Target people at different stages of the funnel
For all of these approaches, you have to choose relevant keywords, set a daily budget, and choose how much you're willing to pay per click.
How to choose Google Ads keywords
The first step in setting up a Google Ads campaign is choosing the right keywords. This will determine which search pages your website will show up in and ultimately impact who you're targeting.
For example, if you target the keyword "how to make tea", you're going to generate traffic from people who are looking for educational content. If you choose the keyword "green teas", you're more likely to reach people who are actively looking to buy tea.
Use these Google Ads keyword best practices to choose the best, most relevant keywords.
Think like your customers
What words and phrases are they searching for? Dig into your analytics to find out what people are searching for.
Use Google's Keyword Planner
Type in a word or phrase into Google's dedicated Keyword Planner. The tool will then suggest relevant short and long-tail keywords that you can use.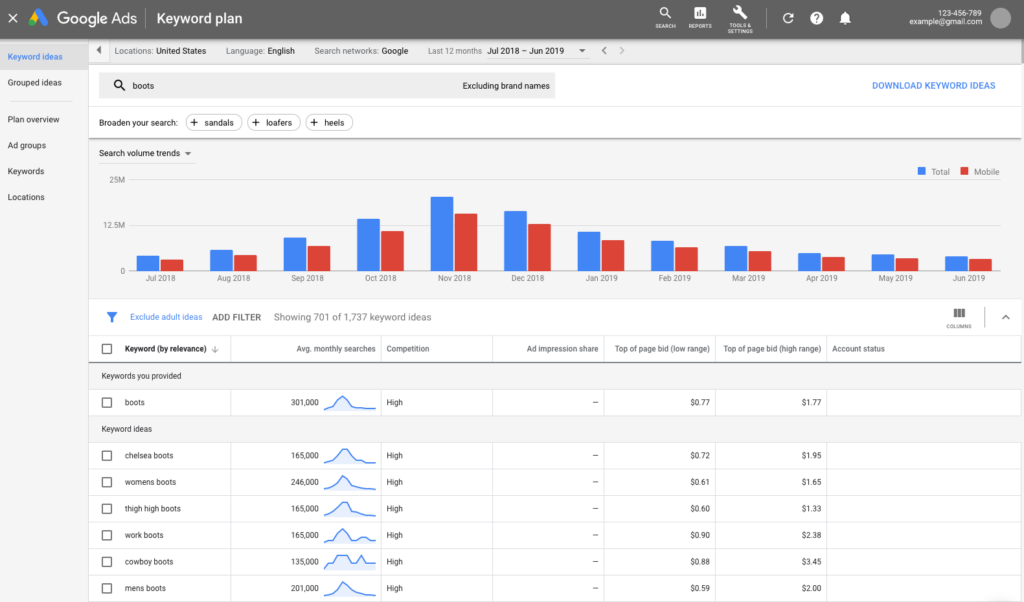 Use a keyword research tool
Once you have a list of relevant keywords, you can enter them into a dedicated keyword tool, like Ahrefs or SEMRush, to get more specific results. This will help you drill down into search intent and find competitor content gaps you can fill.
Exclude negative keywords
Choose words that aren't relevant to your brand to exclude from search terms. If someone includes that in their search, your website won't show up.
Consider search volume vs. competition
Choose keywords that have a relatively high search volume but have a low competition in comparison—it means there's not as much competition to show up but also enough traffic to warrant spending money on it.
How to optimize your ads landing pages
Running a successful Google Ads campaign isn't just about choosing the right keywords. Once you've captured the attention of searchers, you need to follow through—and that means creating a landing page that's highly optimized.
Follow these Google Ads landing page best practices:
Make sure the context matches the ad a searcher has clicked on (include similar words and phrases, colors, and branding)
Give the important information upfront and make your offer very clear
Use short, snappy calls-to-action to drive conversions
Limit or remove all other navigation options apart from the CTA
Use eye-catching images and visuals
Use scarcity and urgency tactics to compel searchers to take action
Google Ads best practices for 2023
Ready to get started? Here are some Google Ads best practices to keep in mind when setting up and running Google Ads in 2023.
1. Automate your ad campaigns
"Set it and forget it" with a tool that automatically optimizes your campaigns and uses data from existing customers to make sure you're targeting the right people.
2. Set clear goals
What do you want to achieve with your campaign? Choose one goal for each ad and use that to craft your ad copy, landing page copy, and CTA. Google lets you choose what goal you want to achieve and uses that input to serve your ads to people who are likely to take the desired action.
3. Use broad match keywords
Sometimes searchers won't type in the exact keyword you want, but broad match keywords still serve your ads to the right people.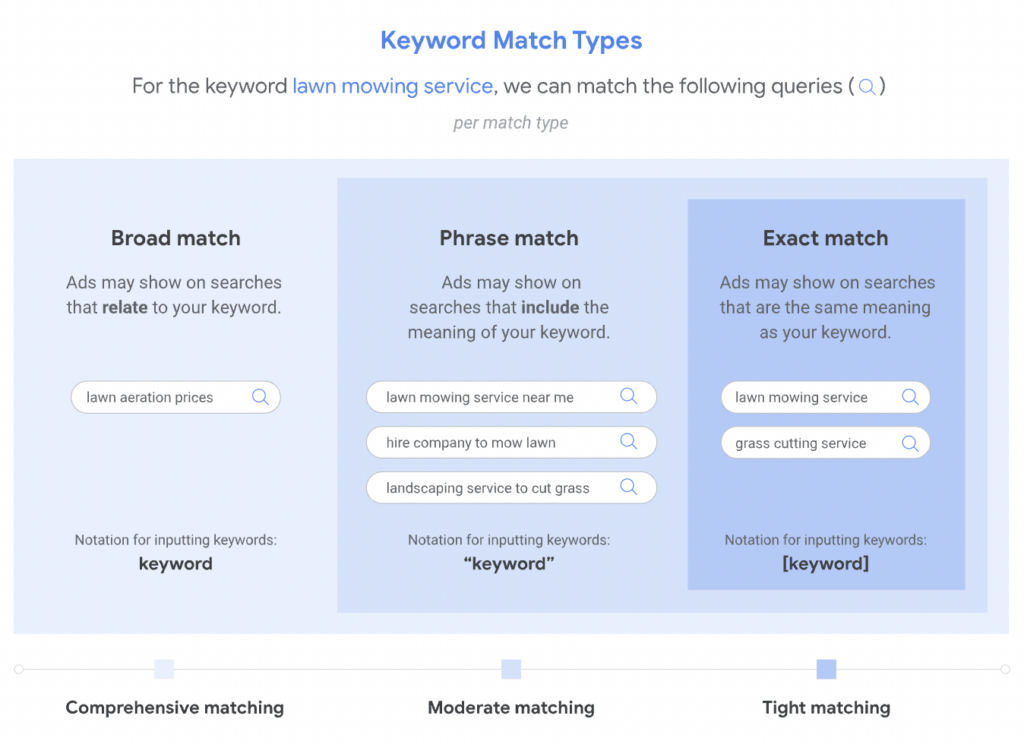 4. Let Google's new automated solutions do the hard work
From May 1st, Google is scrapping its similar audiences feature so that brands can make the most of their first-party data. Instead, it will offer automated solutions like optimized targeting, audience expansion, and Smart Bidding–all of which are geared toward optimizing your marketing objectives.
5. Remove low-performing keywords
Eliminate keywords that aren't performing well to reduce your budget and optimize your campaigns. Make a regular habit of going into your Ads account to monitor the performance of each campaign and removing any keywords that aren't getting the results you want.
6. Use first-party data to tighten up your targeting
Collect data from multiple platforms, including your CRM, lead gen forms, and social media platforms, and integrate it with Google to provide a comprehensive view of who you want to target.
7. Create specific ad groups
Create groups of similar ads and use corresponding ad copy for each of them. This will help you streamline your efforts and ensure your messaging remains consistent across similar campaigns.
8. Remarket to existing customers
Serve ads to people who already know and love your brand–they already trust you and are more likely to click and buy.
Google Ads automation benefits
Running Google Ads can become incredibly time-consuming if you're constantly in your account tweaking keywords and updating your targeting selections. But if you automate the process, you can scale your ad efforts while ensuring you continue to reach the right people.
The benefits of marketing automation for Google Ads:
Boost ad performance by automatically optimizing and tweaking ad campaigns
Cut advertising costs by automatically removing irrelevant keywords and low-performing ads
Scale campaigns by duplicating existing ads
Save time by leaving campaigns to run by themselves (no need to keep going back into your account to tweak them!)
But where do you start?
LeadsBridge's Google Ads integrations
LeadsBridge has a library of integrations that help streamline Google Ads campaigns:
Google Ads lead forms extensions: Integrate lead forms from other platforms, spreadsheets, and your CRM with Google Ads to populate your target audience and make sure you're reaching people who already know who you are (and are, therefore, more likely to click).

Google Customer Match: Match your existing customers with similar profiles to ensure you're targeting good-fit prospects and people who are likely to be interested in your products and services. Here's a detailed guide to using Google Customer Match.

YouTube Trueview for action form ads: Integrate leads from existing lead gen forms and other platforms with YouTube to serve ads to relevant people.

The integrations are designed to bridge the gap between advertising platforms (like Google) and your chosen marketing tools which, as you can imagine, removes a ton of the tedious, manual labor.
Advantages of using LeadsBridge integrations for Your Google Ads
LeadsBridge essentially gives you complete clarity over your entire Google Ads strategy and the powerful integrations can help you:
Increase your revenue by automatically guiding new leads through the funnel
Reduce the number of manual tasks you and your team need to do (so you can spend more time on activities that actually move the needle)
Increase team efficiency by creating a slick, optimized ads funnel
Save time by automatically populating your Google Ads with audience data and information from other marketing tools
Reduce human errors with watertight connections between your favorite marketing tools and Google ads
Improve your campaigns with these Google Ads best practices 2023
Google Ads remains an effective way to reach new customers and stay front-of-mind with existing customers. Use these Google Ads best practices 2023 to give your campaigns the best chance of success and automate the process with powerful integrations from LeadsBridge.
As an approved Google Partner, our integrations work seamlessly with your ad campaigns to improve results and continue to optimize your new and existing campaigns.