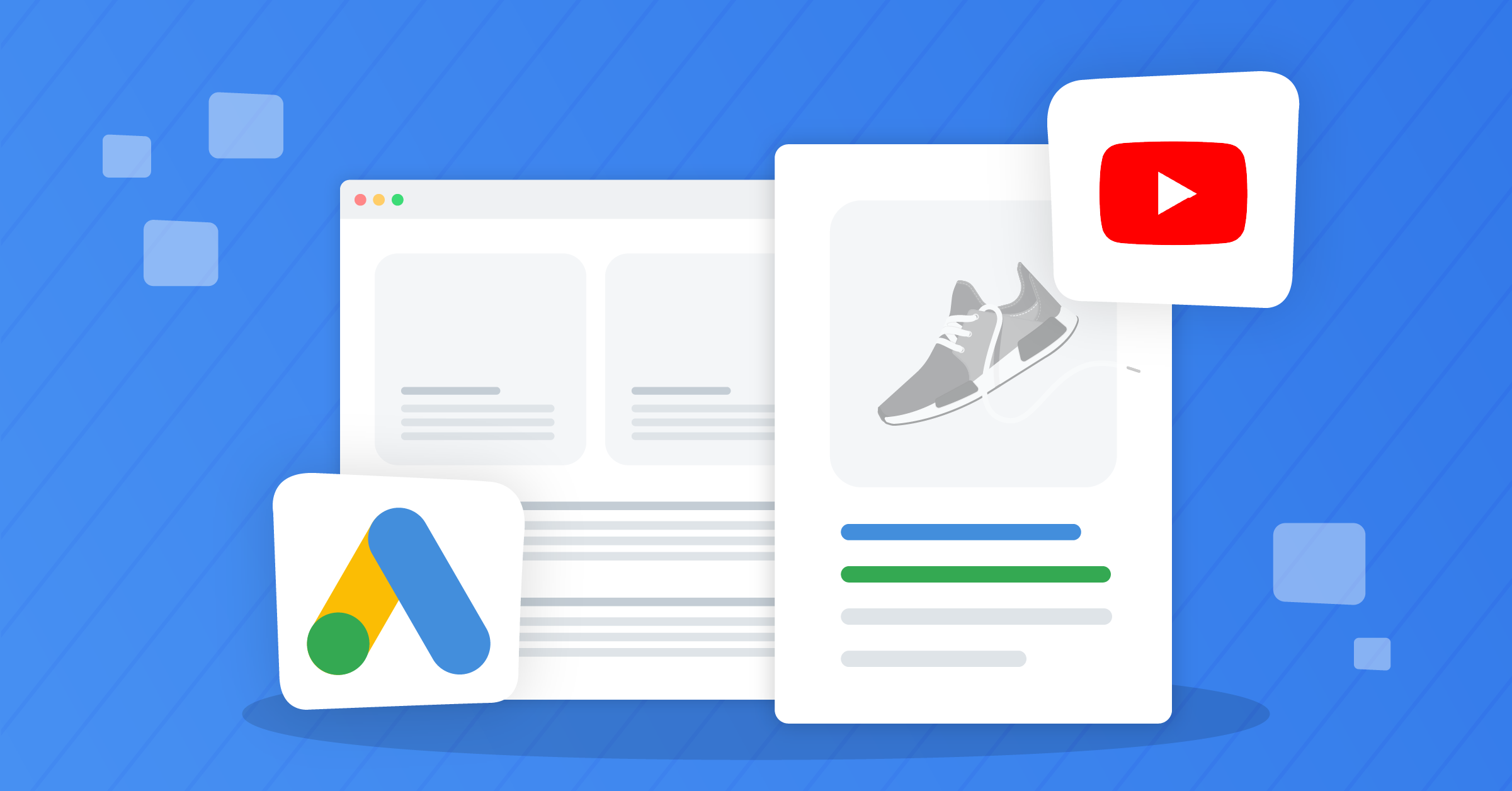 Around 2.14 billion customers do their shopping online as the trend continues to grow. If running a business, you want to use the most popular channels to reach these digital shoppers and use optimized ads to present your product to them. And with Google shopping ads' 85.3% click rates, anyone would call this advertising platform a safe bet.
All you need to guarantee the success of your campaigns is a basic knowledge of Google Ads, some successful Google Ad examples, and a bit of hands-on experience.
In this guide, we'll discuss strategies to grab the searcher's attention when running your ad campaigns using effective Google Ad examples for 2023. Also, we'll discuss tools and integrations that help you optimize your campaigns and deliver incredible results_ as well as a $500 ad credit you can receive as a LeadsBridge client.
What is Google Ads & how it works
Google Ads is a paid advertising medium that uses a pay-per-click (PPC) system. This marketing process allows advertisers to pay per (each) click or impression on an ad.
Google Ads is optimized to drive qualified traffic, drive website traffic, generate leads, and boost in-store visits. How? This advertising tool's philosophy is all about being at the right place at the right time.
By sharing conveniently placed ads with a target audience, the platform helps your business show up on the search engine results page (SERP) right when users are looking for similar products or services. The search could take place on Google Search or Google Maps and, to some extent, on YouTube. As an advertiser, you have a myriad of tools to design and display ads that are most optimized for your business needs_ which we'll touch on in the following Google Ads examples.
Google Ads Best Practices
With Google's prominence on the web, facing a highly competitive sphere is only natural. You may have tried advertising on Google with little luck, but that doesn't mean you should stop trying. Using the right approach, you can create campaigns that bring home results. Here are some of our favorite Google Ads best practices.
Strategize and plan your PPC campaign: This means setting campaign goals that guide strategic decision-making.
Optimize your keywords: You can improve your audience targeting using specialized and narrowed-down keywords: General keywords target lower-quality audiences, resulting in fewer clicks, and higher ad costs.
Optimize your ads' headline and ad copy: your ad should resonate with the searcher's intent. It requires a headline and ad copy that solve a pain point while containing the keyword.
Work on your ad's Quality Score (QS): The Quality Score (QS) means how much Google favors your ad over the rest. Higher QS means you have a better chance at rank and placements on the SERP.
Maintain an optimized landing page: Google focuses mainly on user experience, which extends from how they see your ads, all the way to your landing page. An optimized page allows users to experience smooth growth through the conversion stages.
Test, test, and test: Keywords, ad copy, headlines, messaging, formats, and the list goes on_ test out and tweak until you find a combination that yields the best results.
Understand Google's advertising lingo: Learn the right terminology to set up, manage, and optimize your Google Ads.
Learn all about ways you can optimize your quality score, and Google Ads costs here.
Google Ads lingo
Most of the terms specific to Google Ads are typically related to PPC. Understanding these terms gives you a better insight into what every button and tool does, and you can better navigate your ad campaigns on your Google Ads dashboard.
Here are some of the most important ones.
AdRank: It specifies your ad placement.
Bidding: This system depends on the maximum bid amount advertisers are willing to pay for a click on their ad.
Cost-per-click (CPC): The cost of each click on an ad.
Cost per mille (CPM): The cost of one thousand ad impressions.
Cost per engagement (CPE): The cost of a predetermined action with an ad.
Click-Through Rate (CTR): The number of clicks an ad gets.
Conversion Rate (CVR): It measures form submissions as a proportion of total visits to your landing page.
Campaign Type: It refers to Google Ads' seven campaign types: search, display, video, shopping, app, smart, or performance max.
Search Ads: They are text ads displayed on the search results on Google properties.
Display Ads: They are image-based ads displayed on web pages within the Google Display Network.
Video Ads: These are short videos that are displayed on YouTube.
Shopping Ads: They show on search results and the Google shopping tab.
App campaigns: They appear ads across websites using your app information.
Smart campaigns: It helps you to optimize audience targeting.
Performance Max: It allows advertisers to access all Google Ads inventory through a single campaign.
Display Network: It is a network of websites that permit ad display on their web pages for Google Ads.
Ad Extensions: These are supplements to an ad with additional information at no extra cost.
Keywords: These are the common queries that users type into the search field.
What are Google Ads made of?
Advertisers use Google Ads to promote their business, sell products or services, increase brand awareness, and channel organic user traffic to your landing page.
Google Ads accounts are managed online, where you can design and modify your ad campaign by including elements such as ad text, settings, and budget. When it comes to composition, the standard Google Ads are made of a headline, a text copy and a CTA (embedded in the text or a separate button).
Here's an uncurated Google Ad example by LeadsBridge:
Google Ads headline
Keyword placement is a principal part of Google Ads' composition: you'll need it in your URL slug, headline, and description. Let's have a look at this Google Ad headline example. When I typed in the query for searched for Restaurants in Miami, Florida, Google's first result was pretty much keyword base (you can also see the relevant keywords in the description):
In most Google Ads headline examples, you can find up to 30 characters per headline, which is also the recommended length.
Google Ads copy
To start with writing the description of your ad, you must create an ad group and choose 1-3 related keywords. Then write ads by incorporating a mix of those keywords.
Your ad description must be concise and on-point. This takes some copywriting skill here, to make the description persuasive enough to evoke action. For instance, having the viewers click to find out more. It's recommended to use up to 90 characters for each description.
Always try adding more variation to your ad copy and see their performance through A/B testing.
Here's a great Google Ad description example by FAES:
While the Google Ad description example above is keyword-heavy, Anglia Ruskin University takes another approach. It uses outcome as a persuasive element to encourage students who want to achieve these outcomes.
For an optimized CTA placement, try testing ads with a CTA in the headline vs. a CTA in the description text. The result may differ depending on the industry, product, current trends, and other factors.
Types of Google Ads campaigns
Google Discovery Ads examples
Discovery ads are designed to help advertisers reach people who are potentially interested in discovering and engaging with a brand. You can find the Discover Ads examples on YouTube Home and Watch Next feeds, Discover, and the Gmail Promotions and Social tabs. In practice, you can decide where to display these ads with a single campaign, using Discovery ads in a Discovery campaign.
Let's have a look at GWI's YouTube Discovery Ads example that was displayed on the homepage. It includes a catchy headline, a brief description and a cover in a bright magenta color that is visually attractive.
YouTube Ads examples
At some point, you must have come across a creative assortment of YouTube Ad examples because of the variety of formats available:
Skippable in-stream ads.
Non-skippable in-stream ads.
In-feed video ads.
Bumper ads.
Outstream ads.
Masthead ads.
Depending on your campaign, the varied formats can help you meet your objectives. A noteworthy example of YouTube Ads belongs to LeadsGorilla, a lead acquisition solution provider.
The ad explains the value proposition in just a few seconds, while showing the viewer what makes them stand out from the rest. The CTA button 'Get offer' takes the visitor to their landing page where everything is optimized for a seamless conversion process.
Another fun YouTube video ad example to watch belongs to elementor; it shows how their website-building platform world, who can benefit from it, and what makes them different from other website builders_ all put in a fun and lighthearted tone.
Both of the above-mentioned ads are also considered YouTube TrueView Ad examples; TrueView is YouTube's skippable ad format.
Alternatively, YouTube TrueView for Action is a new ad format on YouTube. It aims to generate leads and conversions for a linked account using a mix of skippable in-stream ads and in-feed video ads within a single campaign.
How to write clickable headlines for YouTube Ads
A headline for YouTube Ad is as important as a text ad headline. However, the difference between the two is the audience's intent. People who search on Google are looking for information: they need scannable and concise headlines and descriptions.
On the other hand, most people on YouTube are seeking entertainment, so if you want to stick around and watch your ad to the end, creativity is a must. Use titles that are unique, entice interest, and are creative. If done right, headlines alone are a huge contributor to YouTube Ads' conversion rates.
Check out this YouTube Ad headline example by Grammarly, the writing and editing assistance software:
While the CTA is rather straightforward, the title gets you thinking for a moment: how can I turn my ideas into actions? Answer: by adjusting the tone of my written content.
Google Ad extension examples, uses & integrations
Before diving into the examples, let's talk about Google Ad extensions and why they have become so popular.
What are Google Ad extensions?
Google Ad extensions are additional pieces of info that you can display alongside your Google Ads. They offer unique composition, including links that take the users to specific subpages on your webpage, a call button, product pricing info, etc.
Alternatively, Google lead form ad extensions are extensions that can be created in your Google Ads account, which you can attach to your campaign. According to Google, "Lead form extensions help you generate leads by letting people submit their information in a form directly in your ad."
You'll need to leverage the true potential of these extensions by automating your lead management. No matter how many leads you generate per hour, if you leave them unattended, you might as well consider them cold or even dead leads. A good integration helps you automate your lead data as they opt in through your Google Ads in real-time.
Why use Google Ads extension integrations via LeadsBridge
As a Google Premier Partner, LeadsBridge has a direct line with Google, and all our Google integrations are Google certified. When running your advertising on Google products, you can stay ahead of your competitors by receiving our advanced Google product training, direct Google support, Customer Match, and Offline Conversions tracking.
And join the waiting list to be the first to get notified about our Google Offline Conversions tracking integrations.
See our detailed guide of Google lead form ad extensions for more specifics on exactly how they work.
Get a $500 Google Ad credit as a LeadsBridge customer
Google offers all the LeadsBridge customers a $500 advertising credit once they create a new Google Ads account. Then, our users get to use this money to expand their marketing campaigns.
In order to redeem this credit, all you have to do is:
Create a LeadsBridge account (it's free).
Create a new Google Ads account through the LeadsBridge platform.
Start running ads on Google and automatically manage your lead data with LeadsBridge.
This offer is only available to new Google advertisers, who must spend at least $500 on Google Ads campaigns within the first 60 days.
After reaching $500 in ad spend, they'll receive a $500 Google Ads credit to spend on their campaigns. The promotion is automatically applied inside your Google Ads account (Tools → Billing → Promotions).
Google Ads extension examples
To help you understand how the ad extensions work, let's have a look at some well-ranking Google Ad examples.
Madkudu uses an ad extension that has several clickable links, such as site link, demo request, snippets, free trial request, and more. They have composed this ad to replace a traditional landing page experience with an inline lead capture tool and reduce friction for users interested in their offerings. Once clicked, the Request a Demo link takes the viewer directory to a lead generation form.
Among other mentionable Google Ad extension examples is the ad belonging to OVYVO. This is a medical weight loss center based in Pennsylvania that has used the full potential of its Google Ads, using straightforward and clickable CTAs.
.




When clicked, you can schedule an appointment directly from the ad by clicking on the Schedule Your Appointment button. Then, the user will be redirected to a page where they fill out a contact form. Additionally, their ad makes a great Google Ads headline example.
Google's image extensions allow advertisers to attach a single image to a search ad. Previously, paid search ads only contained a description text and a headline. With strict character limits, image extensions serve as a great way to enhance the text ads and convey more through visuals.
Additionally, they make your text ads visually appealing, which drives better performance. According to SterlingSky, image extensions can increase click-through rates (CTR) and conversions when compared to other ad extensions.
Here's an example of a Google Ad image extension:
Niche-specific Google Ad examples & integrations
B2B Google Ads & automation
There are many B2B Google Ads that bring in the buck; Insurance, Marketing and Advertising, Internet and Telecom niches, and many more. No matter the industry, you'll need to employ B2B marketing automation to successfully nurture more leads and win over the competition.
Today, every business handles multiple different apps and platforms to run advertising campaigns and manage their lead data. However, as the first search engine across the globe, Google remains the go-to advertising and marketing medium. If done right, these ads generate a significant number of leads.
Then again, all the incoming lead data from Google Ads should be processed and sent to email marketing, social media, CRMs, outreach, and ad campaigns. LeadsBridge integrations let you create an interconnected system with the top marketing tools and manage your lead data seamlessly.
Find the best automation solutions for your industry here.
Profitable B2B Google Ads examples
What really makes a good B2B Google Ad example? As with all B2B advertising, You'll need to focus more on relationship building than sales. The B2B audience seeks information and authenticity. If your Google ads can provide the answers they are looking for, you can create a winning relationship that overtime, results in better conversions.
Check out this B2B Google Ad example from SegmentStream:
Instead of a salesy approach, this Google lead form extension example offers a demo, which is both a learning experience in itself and a means of evaluating their marketing models.
But they are not the only ones that suggest a "try before you buy" strategy in their ad extension. Here's another example from Twilio:
Besides being compelling and focused on user benefits, they have centered their ad on bespoke benefits, including a demo and custom features.
Automation & Real estate Google Ads examples

With a massive user demand, real estate businesses grow their marketing efforts on Google for better lead generation. Google Ads for real estate are rather effortless to manage and easily improve conversion rates. They get even better when it comes to using form extensions for real estate promotions or brand marketing.
But the marketing journey does not end with lead generation. In order to turn these leads into customers, you'll need to run nurturing campaigns that are timely and personalized. With automation, you are able to get real-time updates about your leads, send automated messages, and make the most out of their data by creating lookalike audiences, customer audiences, etc. LeadsBridge allows you to create automated data bridges that allow you to streamline all your lead data processes. Once you receive an opt-in from your Google real estate extensions, our integration automatically syncs this information from Google into your CRM, autoresponders, or other realtor-specialized marketing tools. This is a real-time data sync that allows you to streamline your real estate marketing like never before.
Read our quick guide on Google Ads for real estate to learn more.
Real estate Google Ads examples
A good real estate Google Ad enables agents to collect data from the users who search for your real estate on Google from their phones or tablets, as well as desktop browsers. This user-friendly process simplifies and speeds up the interaction of potential customers with the lead form, leading to more leads and even higher conversions.
Let's have a look at the components in this real estate Google Ad example from Roberts Communities:
The ad offers a clear headline, offers value in the description, and gives users the option to get in touch with a couple of clicks.
Another great example belongs to Joan Pletcher:
Besides the strategic use of keywords, their ad copy is copy concise and specific about what they offer and where they are located. They have even kept the extensions' CTA simple, which prevents decision fatigue. Moreover, their Google lead form extension example shows how you can gently nudge the ad viewers to 'Learn more'.
On the lookout for a unique advertising edge? Check out these exceptional real estate lead generation ideas.
Final thoughts
When it comes to ads, Google focuses on the 'search experience' rather than the 'advertising experience'. This means correct use of keywords, user-friendly ad descriptions, and optimized landing pages – which are the essential elements of a PPC campaign.
By studying different Google Ad examples, you can see how different brands have different approaches and get inspired by their creativity. It could be the type of extensions they use, how they draft the copy, whether they include particular CTAs, how their ads' headlines grab the users' attention and many other factors. All of these will result in different outcomes for their advertisers.
In addition to having the right elements, you'll need to consider how you'd manage your leads' data as they come in. LeadsBridge enables you to automatically manage your lead data and leverage the full potential of your Google Ad campaigns.
Discover all the possible integrations to streamline your Google advertising.